New Bloggers Blog Hop 2015
Hi, Welcome to my stop on the 2015 New Blogger's Blog Hop . We are a group of 70 quilt bloggers who have been blogging for less than 2 years and are being mentored by 4 quilt bloggers,Terri Ann of Childlike Fascination, Stephanie at Late Night Quilter , Cheryl of Meadow Mist Designs and Yvonne of Quilting Jet Girl.  who graduated from last years's group. We have spent the last month getting to know each other building friendships and working to improve our blogs to build a hopefully larger following in the future.
My name is Shelley and I have been quilting for over 20 years. I will have been blogging for a year at the end of July and will possibly written my 100th blog post by then as well. My Dad is a Carpenter, so thus the name The Carpenter's Daughter.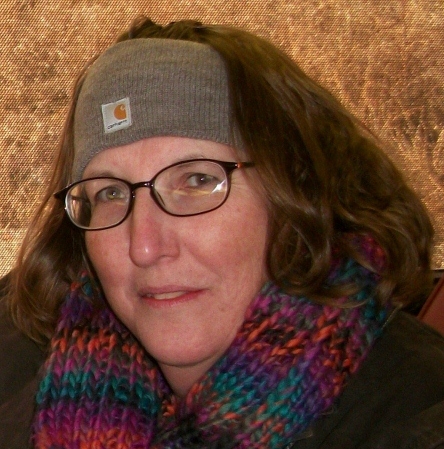 (It is the middle of July and the most recent photo of me is from December. I do not need the scarf today with a heat index over 100.)
I started making baby quilts for my nieces and nephews and through the twenty some odd years of quilting, those same kids have received graduation quilts and now are starting to receive baby quilts for the next generation. Many of my quilts that I have blogged about were made in the last three years. Quilting provided me a release while I worked on some family issues. I guess I must not have slept much as I ended up with quite the stack of quilts. Quite a few were never photographed.
I would like to share a couple of my favorites.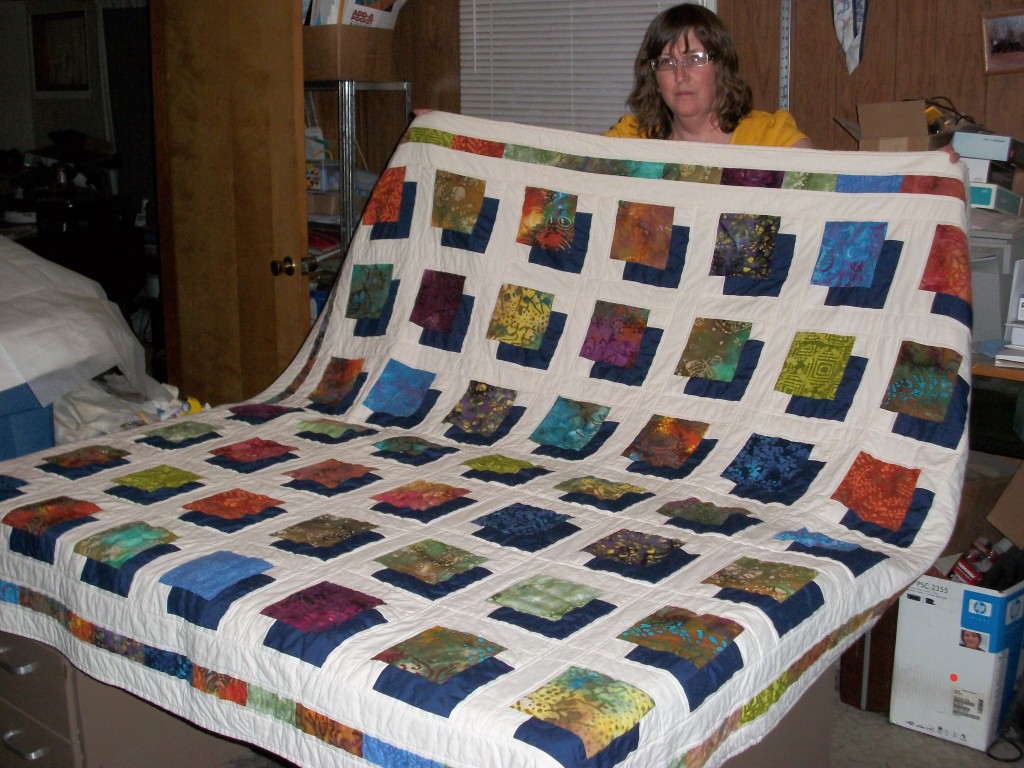 This is my Batik Shadowbox quilt. I used over 20 different batiks. I had seen a photo of a similar quilt in a magazine but could not locate the pattern name at time, so I drew up my own version on graph paper. I discovered the name later and found out that I was pretty close to original. Mine is made with 6 inch blocks and one pattern used charm squares. I wish I had better photos of it. This is of course taken after one of those all nighter quilt finishes. Too tired to smile at 3 AM. Someday I hope to make another one for myself.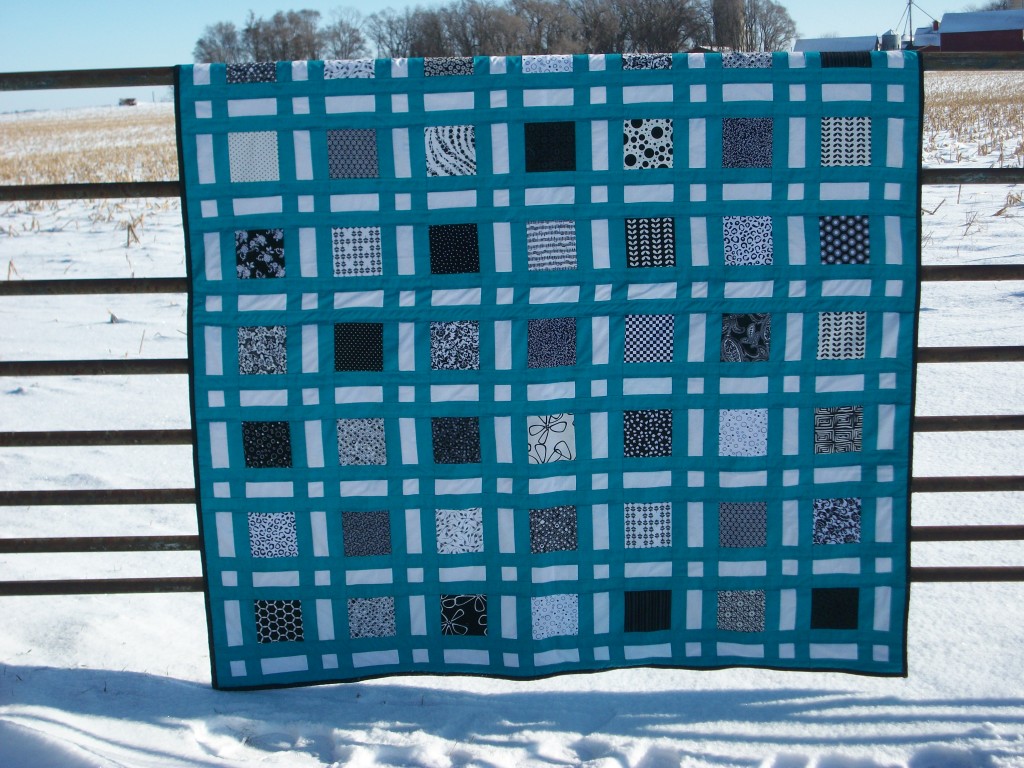 This is my Broken Frames quilt made from a Meadow Mist Designs quilt pattern. I made it from 39 different black and white prints. This was made for a favorite Aunt. I have a coordinating king size quilt top made from these same prints and turquoise solid that is made from the Charming quilt pattern which also was a Meadow Mist Designs pattern. I made that top over a year ago and it still  needs to be quilted.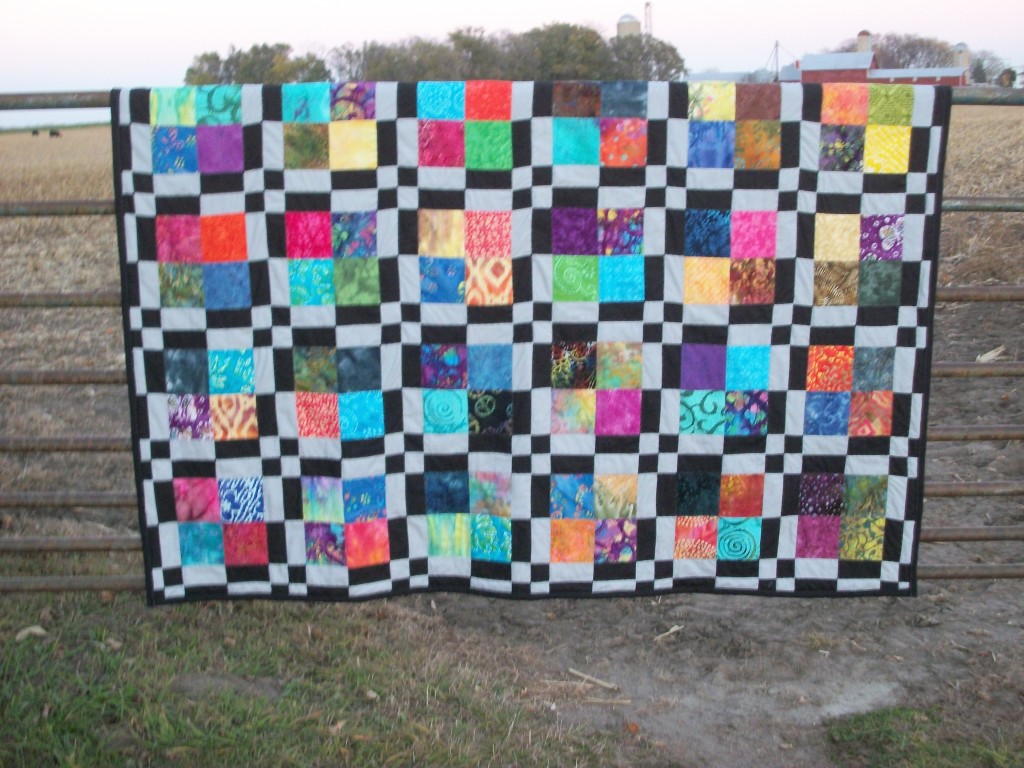 This is my Batik High Tea quilt which I pattern tested for a New Zealander quilt blogger, On the Windy Side. Pieces of the Shadowbox quilt fabrics show up in this same quilt. This quilt was gifted to our daughter inlaw's grandmother. She always liked the Shadowbox quilt so was happy to receive this one.
Random Trivia about Me:
My name is Michelle. In my baby book, was the lyrics to the Beatles song Michelle which was published the month and year I was born. I have had numerous guys over the years sing me the song, even a French professor. My husband never sang this to me.  There was also a photo of the lady who played Uhara on the original Star Trek as her first and last name was listed same as mine. It was years later that we actually found out her name was really Nichelle.
I like to read to unwind. I do not get the time to do it much lately. My husband has kidnapped my Kindle. He swore he would not like to use the thing. I have read all of the Stephanie Plum series of books. I like Patricia Cornwell. I did read all three Shades of Grey books and that is a week I will never get back. I do not think I will be bothering to see the movies.
I enjoy cooking and baking. I just hate having to do all the dishes afterwards. I love to make bread from scratch and can make a mean bagel. My latest favorite is pretzel pizza dough. I make my own pasta dough and own two different pasta rolling machines. My other specialities are my Hot German Potato Salad and my baked cheese cake.
( Link to the Pretzel Crust Recipe I use that is successful as followed. Link to Homemade Pasta Dough recipe. Most times I am using 5 Tablespoons of water depends on your climate and your flour.)
My favorite color is blue. My daughter gives me alot of grief on all my blue shirts.
To start some fun conversation, What quilt pattern or other craft projects are on your bucket list?? I still love the Swoon quilts and want to make one someday. I would like to learn how to manage curve piecing and Y seams. A wedding ring quilt would be an awesome project.
I hope that you all learned a little something new about me. I am learning alot spending time with this group of bloggers. They all have some wonderful quilts to share.  I hope that you will take the time to check out my fellow group members who are introducing themselves this week on the New Blogger's Blog Hop.
Our hoppers this week: Week 3 – Monday July 13th
Abby @ https://hashtagquilt.wordpress.com/
Shelley @ http://thecarpentersdaughterwhoquilts.com/
Mary @ http://quiltingisinmyblood.com
Megan @ www.sewstitchingcutequilts.com
You can also catch up on the past two weeks of blog hoppers here:
Week 1 – Monday June 15th
Ashley @ www.craftyashleyb.com
Gayle @ pedalsewlightly.blogspot.com
Sarah @ http://123quilt.blogspot.com/
Hayley @ Www.moobird.blogspot.com.au
Week 2  – Monday June 22nd
Cristy @ www.iloveyousew.com
Patty @ www.walnutstreetquilts.com
Sarah @ www.goer.org/sarah
Eileen @ eileeninstitches.blogspot.com/
Many thanks to our group's mentor Cheryl of Meadow Mist Designs.
Thank you for stopping by. Hope you all have a wonderful week!
Happy Sewing,
Shelley
19 Responses to New Bloggers Blog Hop 2015
Twitter