Hi, I am happy to share that I completed a new quilt top this week. I had the honor of pattern testing for blogger Christie, of Lemon Squeezy Home and her first quilt pattern called Safflower. It was a fun pattern to work with and is a nice throw size of 56 inches square. Christie will be releasing the pattern later in the month of August for purchase.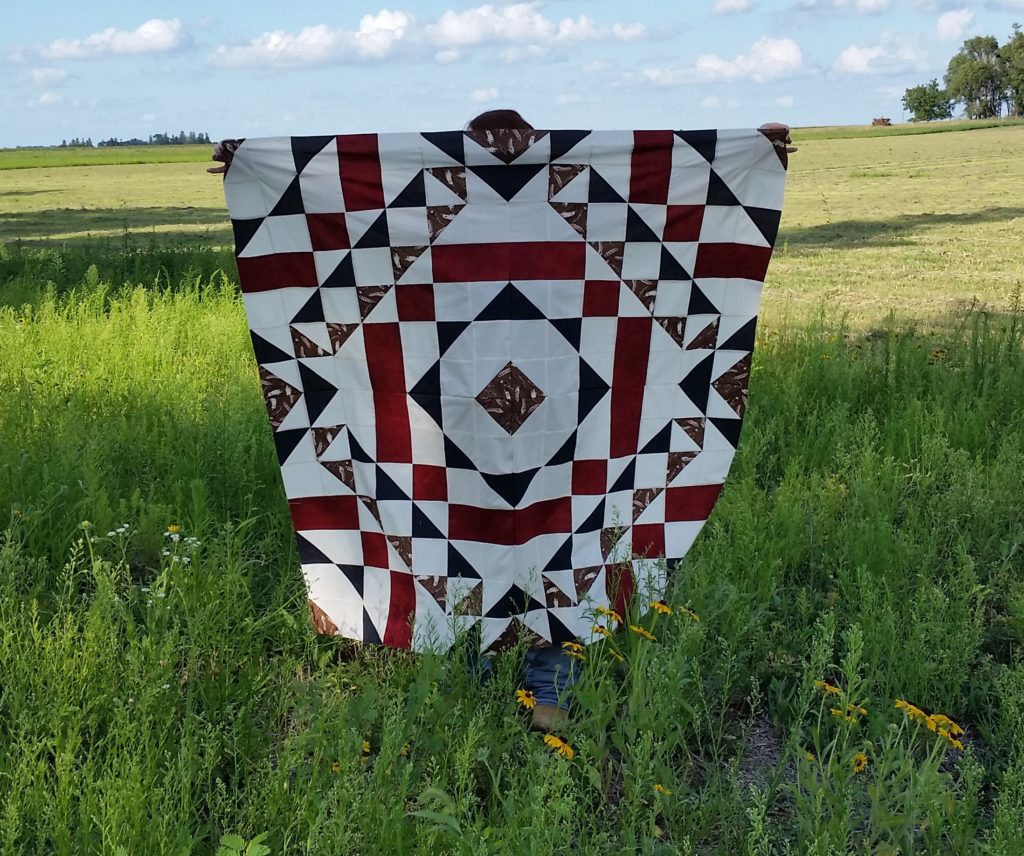 The Safflower quilt got it's name from the field of Safflowers that Christie took her initial pattern photos of her finished quilt in. I decided to use the wildflower pollinator plot that is new this year to our family farm. The yellow coneflowers are starting to come up nicely. The plot had been mowed off a few times over the summer and more flowers are starting to show up.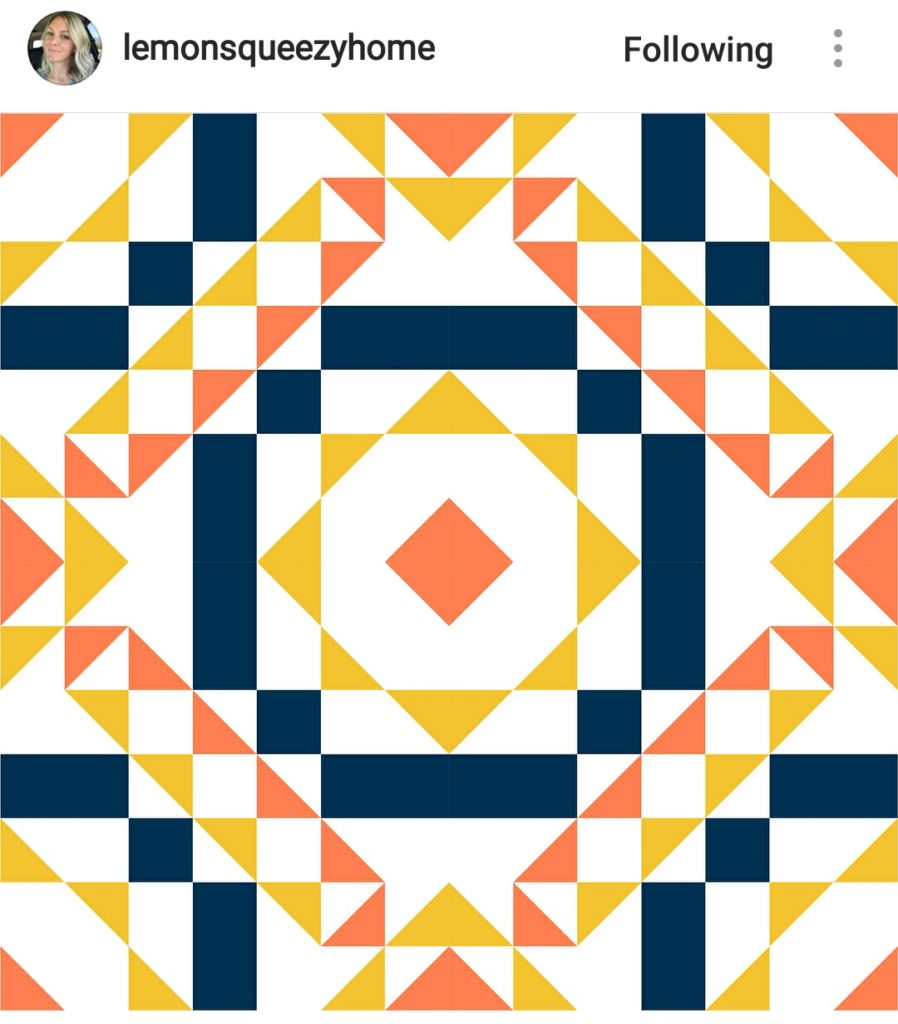 This is the original quilt design graphic that we worked with.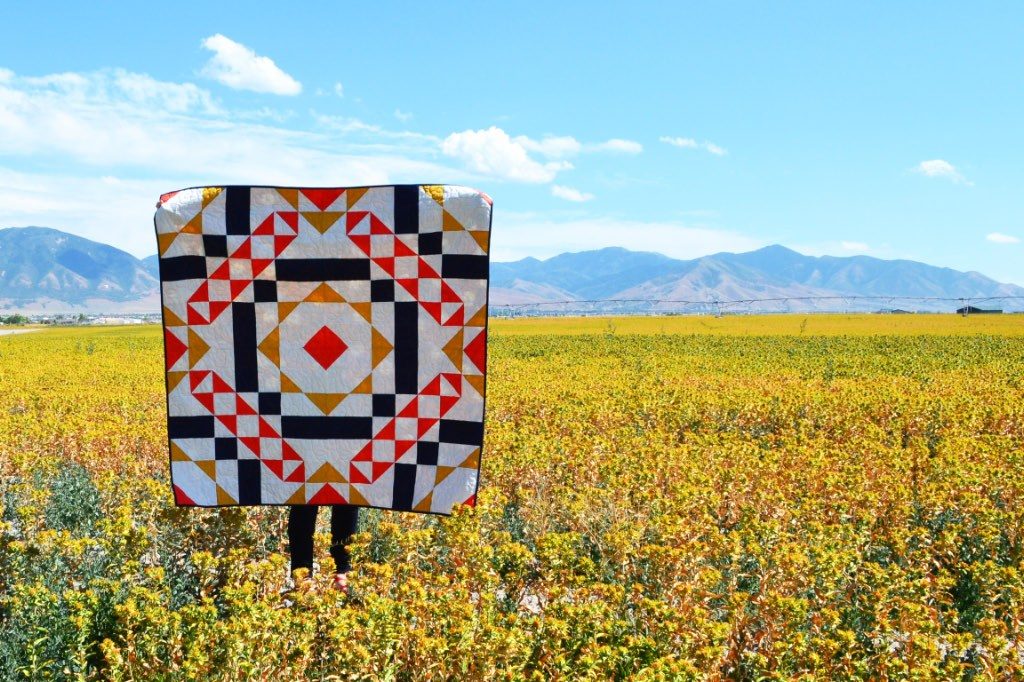 This is Christie (Lemon Squeezy Home's) photo of her quilt in the safflower field. Thus inspiration for my photo of my quilt.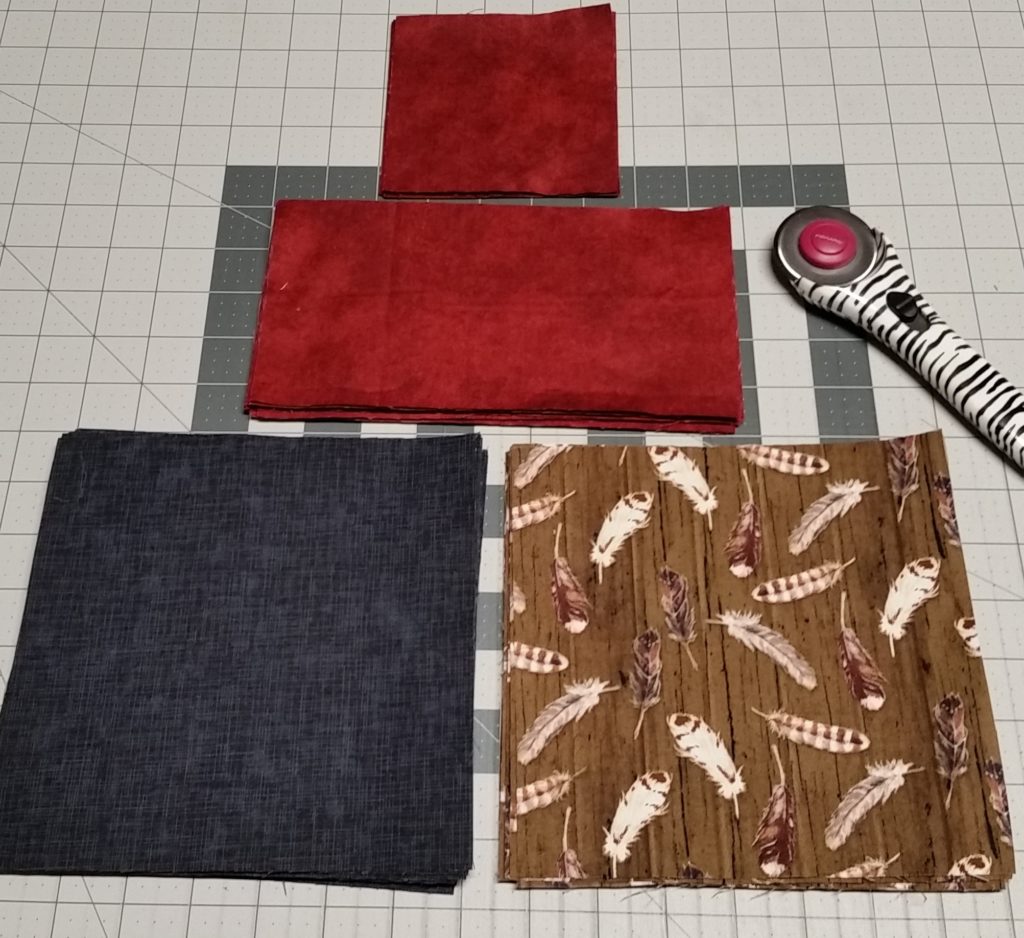 These are my fabric choices. The dark red is Shadow Play 513 by Maywood Studio. The black is Robert Kaufman Quilter's Linen in Screen Print D# 9864 coloring. The feather print is Moose Lodge by Jan Shade Beach for Henry Glass & Co. I love the feather print and it also comes in a barn red background. I think I could come up with a way to use a whole bolt of this fabric. I ended up using cream muslin as my background as I had a bolt on hand and couldn't find my other cream colored cottons. Yardage was all ready cut into another project.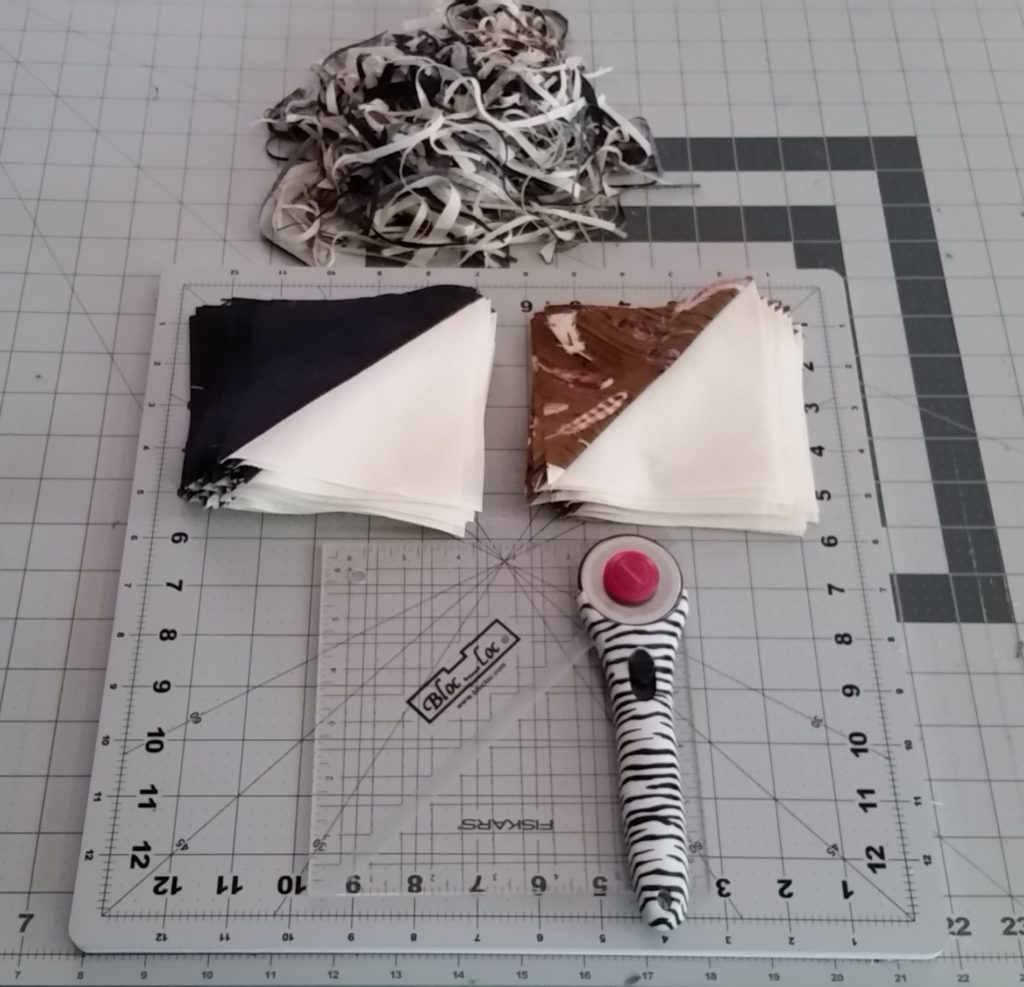 This pattern is made from lots of HSTs. Christie shows a great way to make 4 at a time. Her starting square measurement size ends in 1/8 of an inch. I decided for personal reasons to round that up to 1/4 inch as I have a hard time cutting 1/8 inch accurately. This didn't seem to affect the amount of fabric she gives for the needed pieces. The Bloc-Loc ruler is my saving grace once again.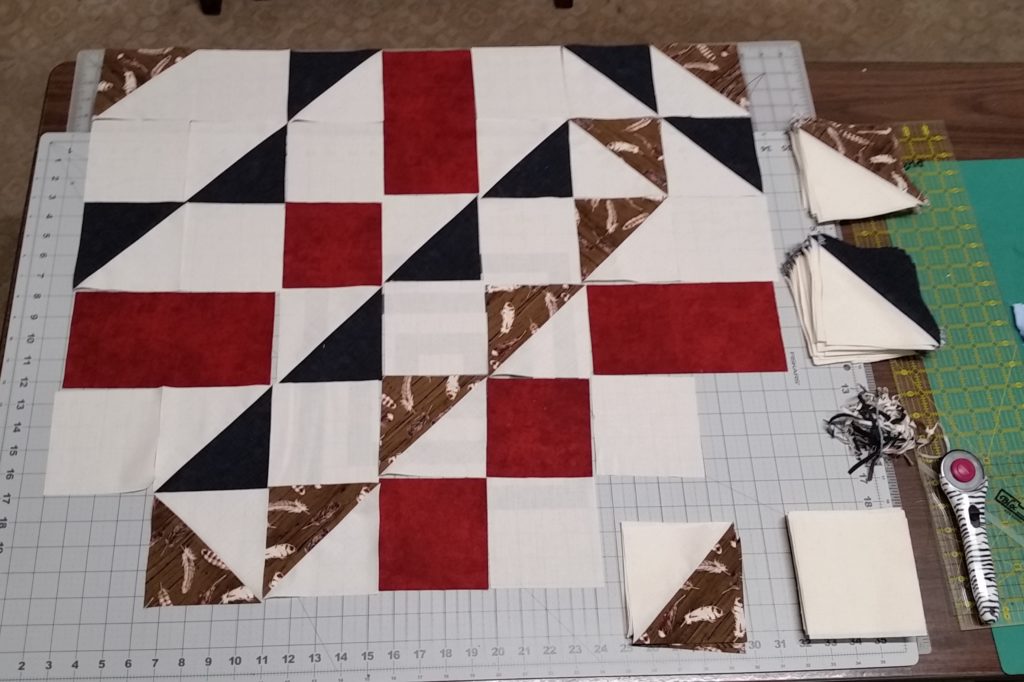 I had to do a mock layout to see how the design was going to look before I got all my HSTs trimmed down to size.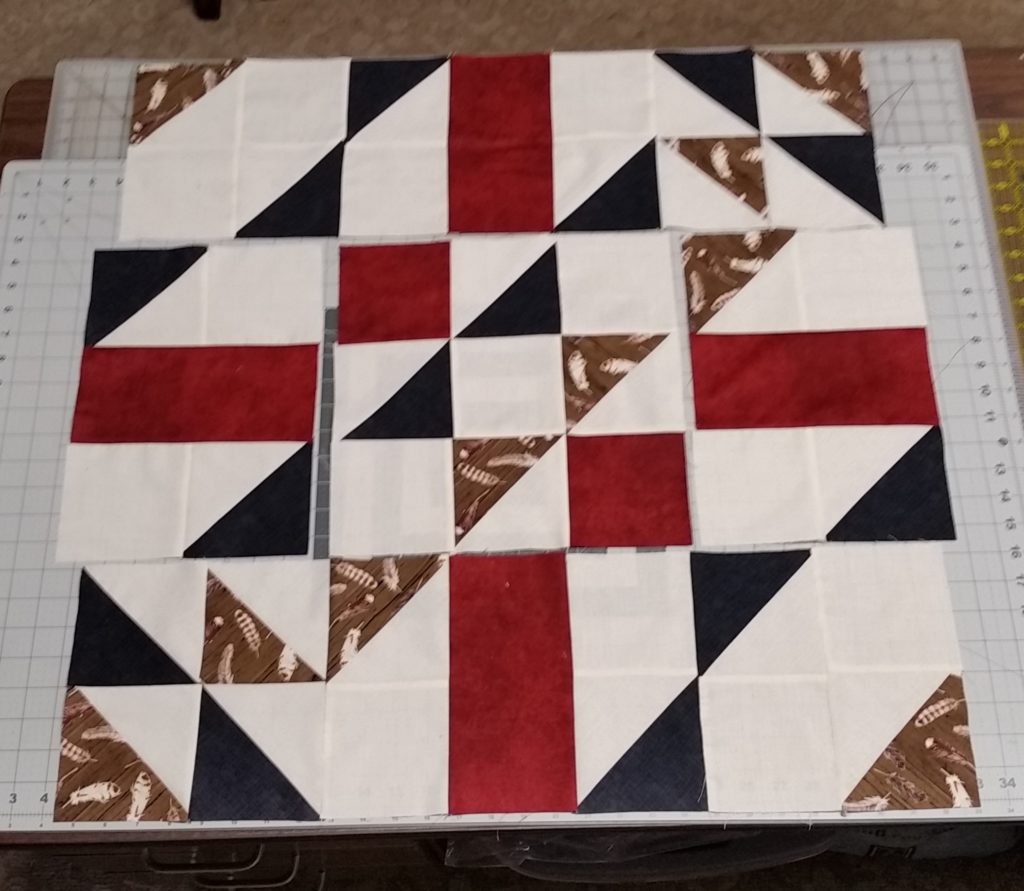 Here are all the main sections pieced. I pieced one quadrant and once together correctly, I then laid out all the other pieces in same directions and pinned them and placed into piles for speedy machine piecing. You make 4 of the same 23″ large pieced block to make the quilt.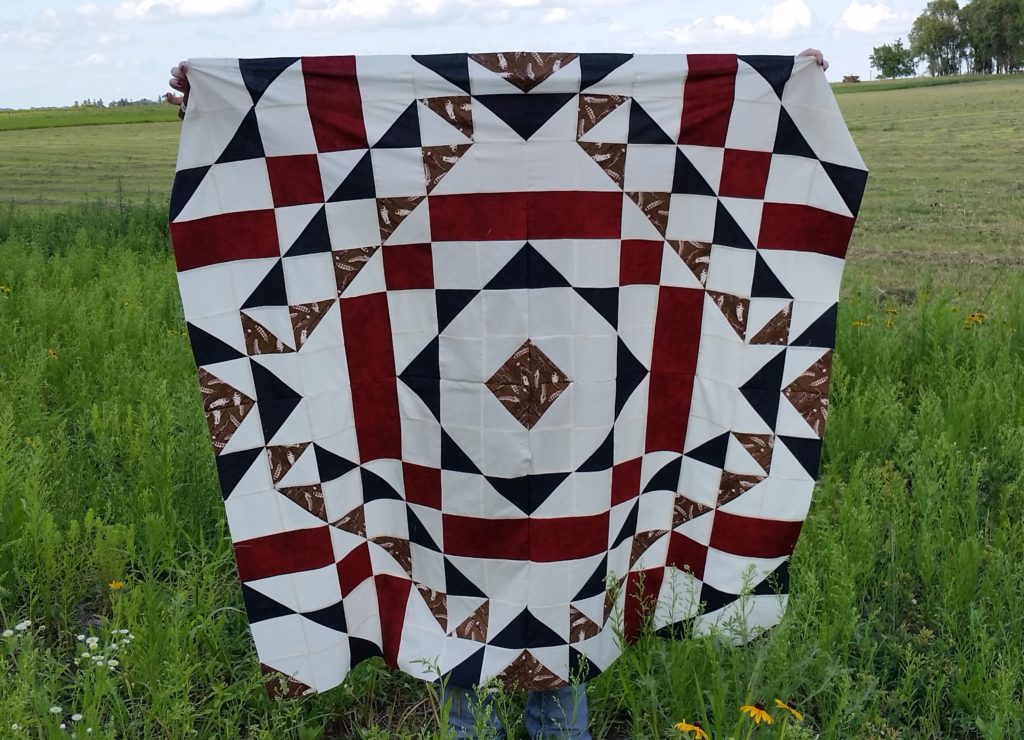 I really love how this quilt top turned out. I am used to making larger quilt tops. It was a refreshing change to be able to whip out a top in just a couple days. It makes a nice size throw. I can see that the design would look awesome in many prints or colors. I can also see this design expanded by making it 4 times and it would make a king size quilt of approximately 112 inches square.
Thank you for reading my blog. I hope you will consider giving Christie at Lemon Squeezy Home some quilt love and purchase her first quilt pattern when released later this month. I think you will enjoy making it.
I was quite happy to finish this top on Thursday this week. I am going to try and spend the weekend deciding on what to cut out next for another memory quilt. I am pretty excited to have found a longarm quilter within 15 minutes from my farm that might be able to help me baste all my memory quilts. I need to work on making backings for more of them.
I will be sharing this post on Show Off Saturdays, Can I get a Whoop Whoop Friday? and TGIFF .
Have a great weekend.
Happy Sewing,
Shelley
Save
Save
Save
Save
Hi, I am happy to share that I have completed another memory quilt top made from Dad's plaid shirts. This makes 10 different quilt designs that I have made for memory quilts so far. I used the Dogs in Sweaters by Elizabeth Hartman quilt pattern. It is a fun design. It does take a bit of time to make as each dog has 57 pieces and many of them are quite small. There was 150 little 1 inch squares needed for this quilt. I cut and labeled everything into individual ziplock sandwich bags.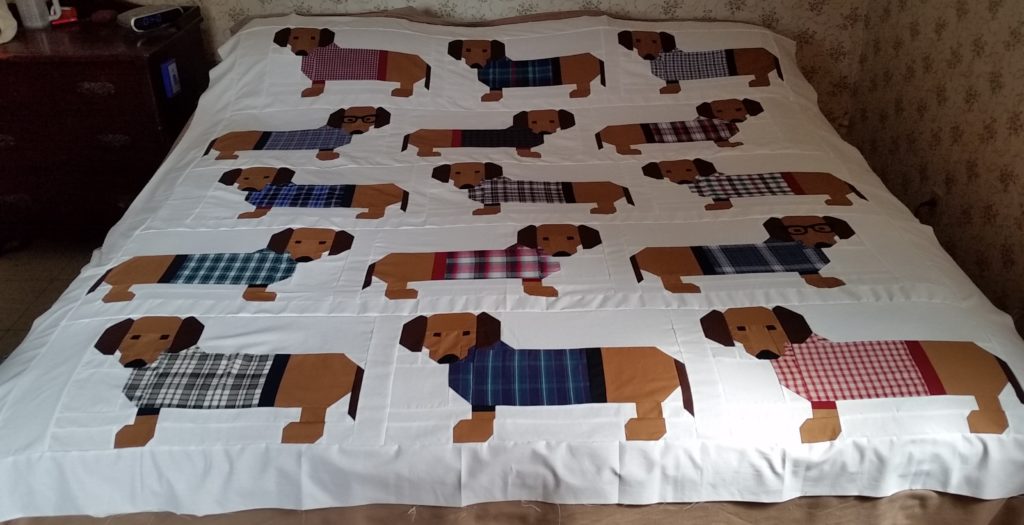 I used 15 different shirts for my dog sweaters. The pattern is written that you can use 5 prints and cut 3 dog sweaters out of each color. I chose to add sunglasses to 2 dogs as my applique fabric was large enough to cut 2 from.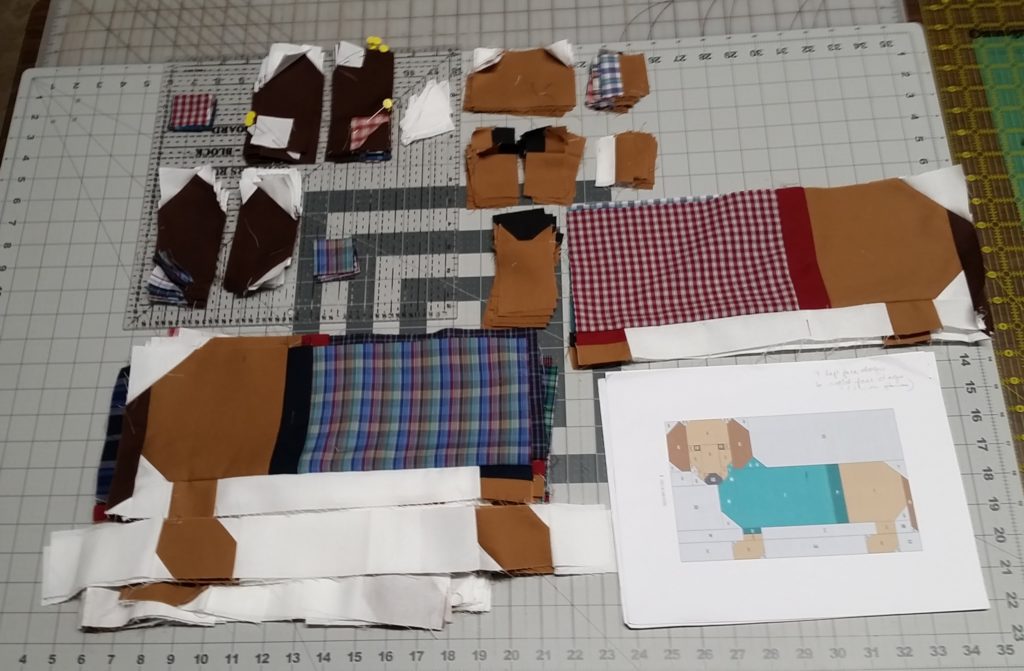 These are the initial parts all pieced for building our dogs.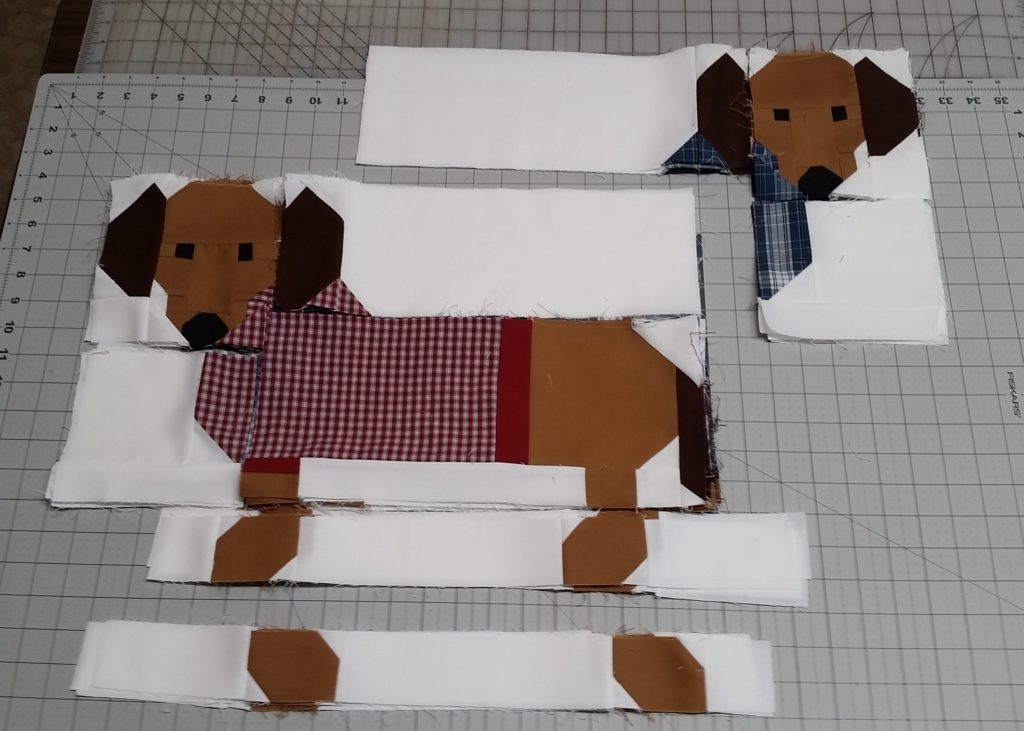 More building of the dog bodies. I had initially laid out my dog sweater plaids in rows so I knew where I wanted the colors to end up. I wish I would have snapped a photo of it. I just did my best to always keep the largest sweater pieces in the same order. Always trying to remember that 9 dogs faced left and 6 dogs faced right.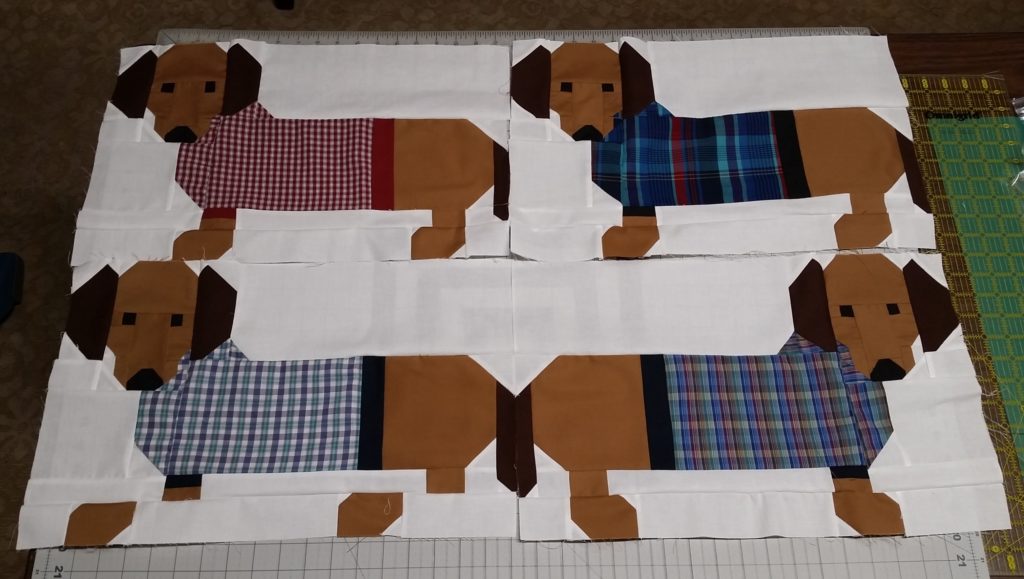 Dogs 1 through 4. I shared this photo on my Instagram and thankfully, someone told me that dog 3 had his legs going in the wrong direction. I would have been very upset to have pieced the entire top and missed that.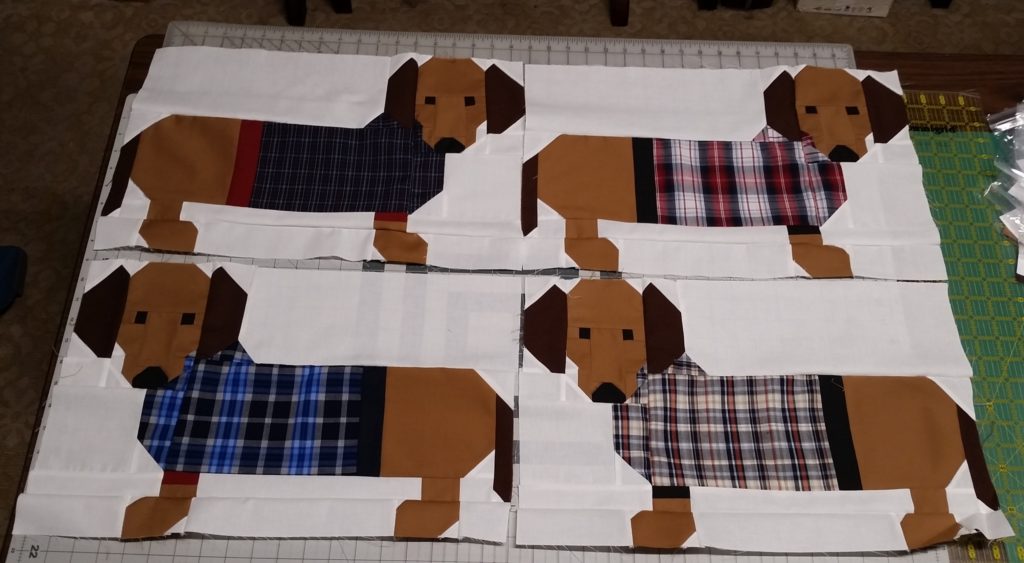 Dogs 5 through 8. I chose red, navy and black as my sweater bands. I did my best to mix them up each row.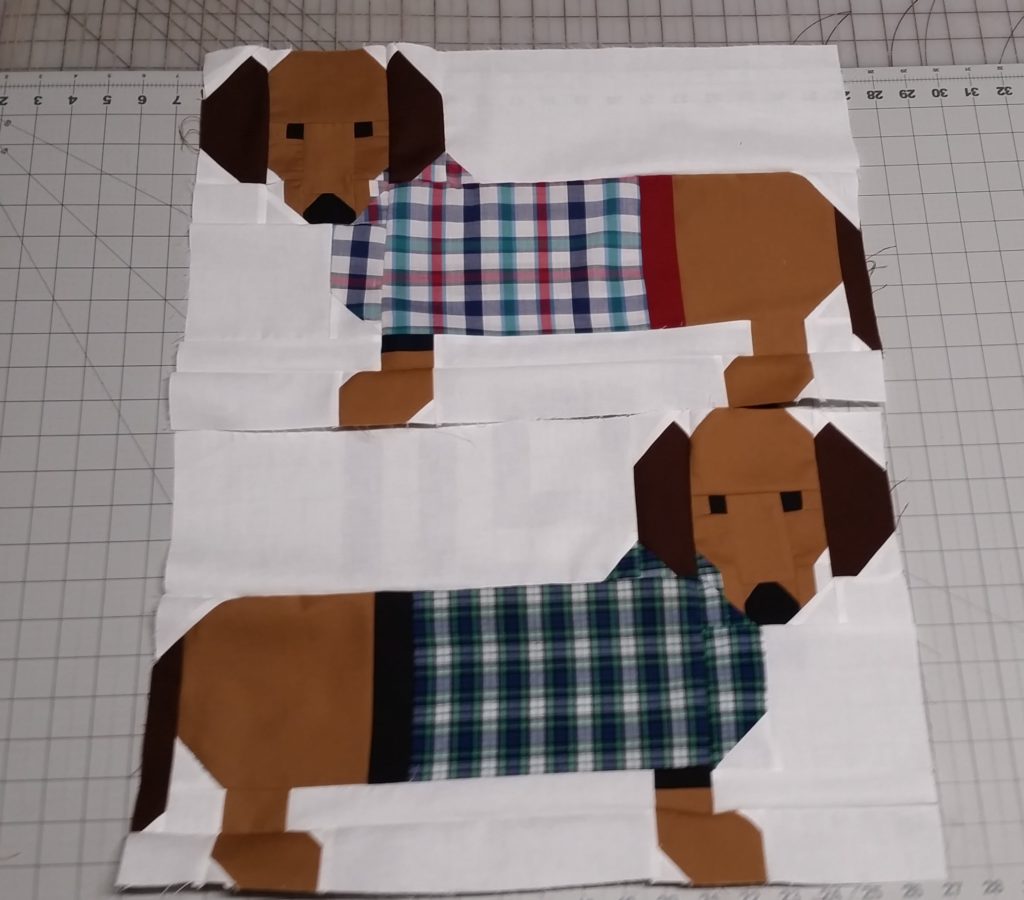 Dogs 9 and 10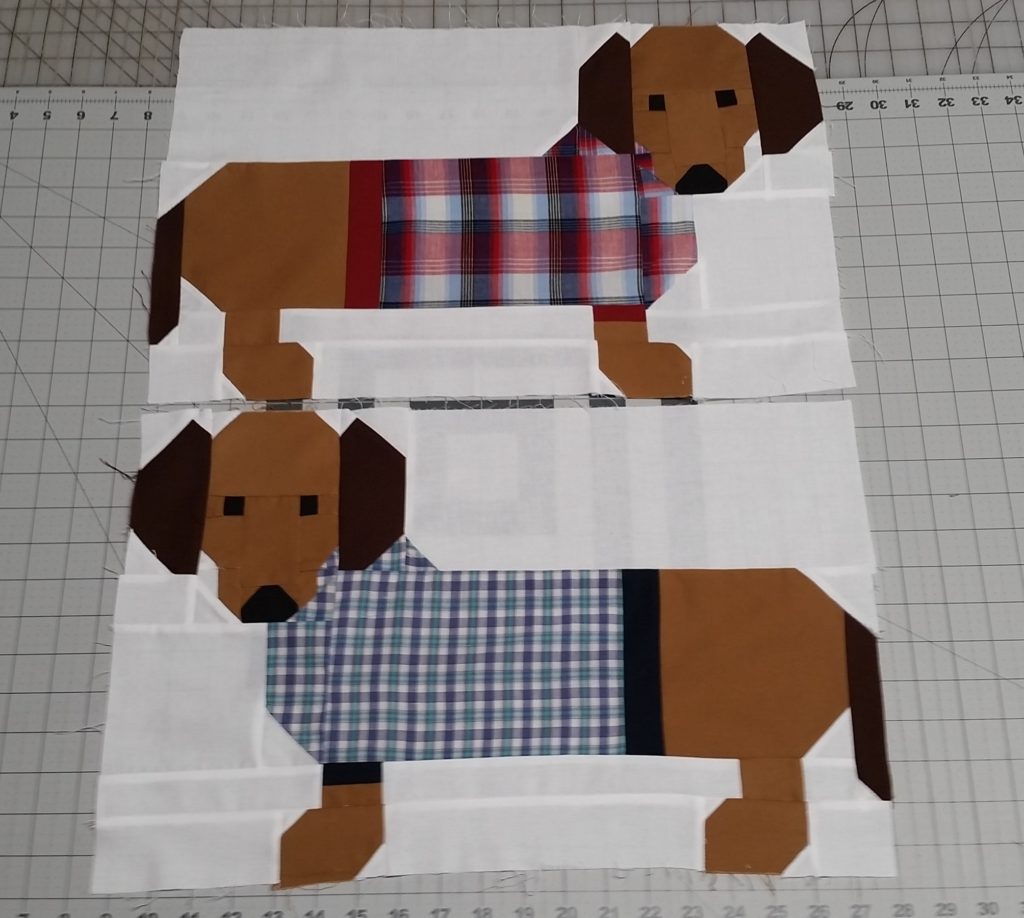 Dog 11 and Dog 3 now with his legs going in the "right" direction or that is facing left.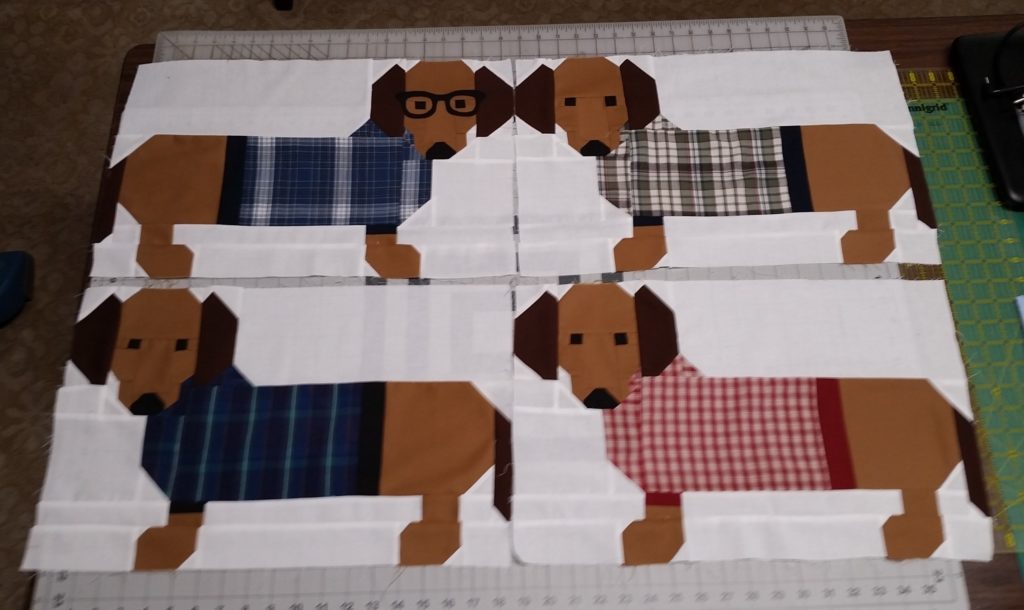 Dogs 12 through 15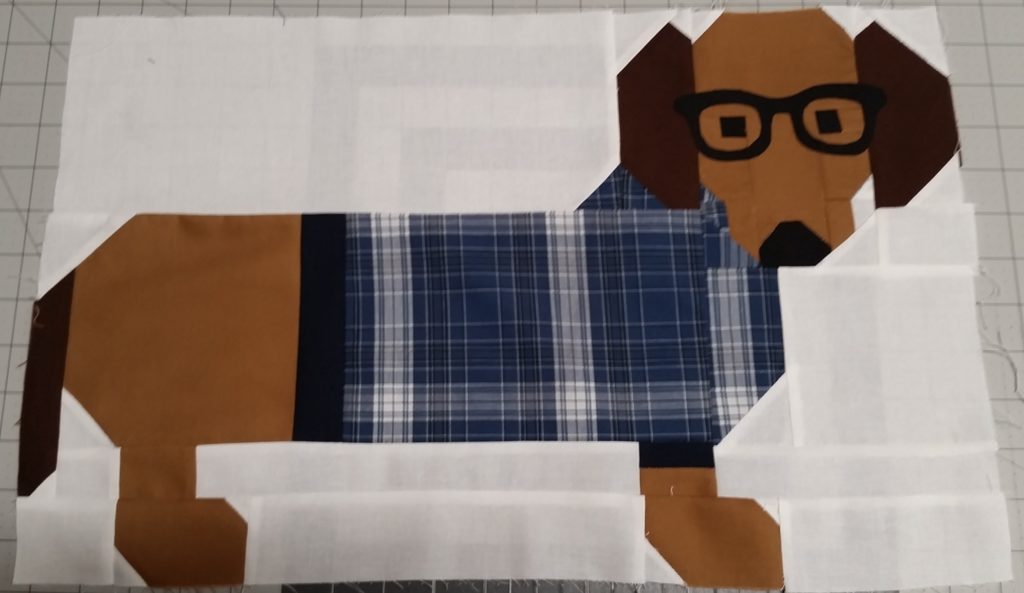 Dog 12 is made with my favorite of Dad's shirts. I also used that plaid as the focus print in the Workshirt Mosaic quilt I made.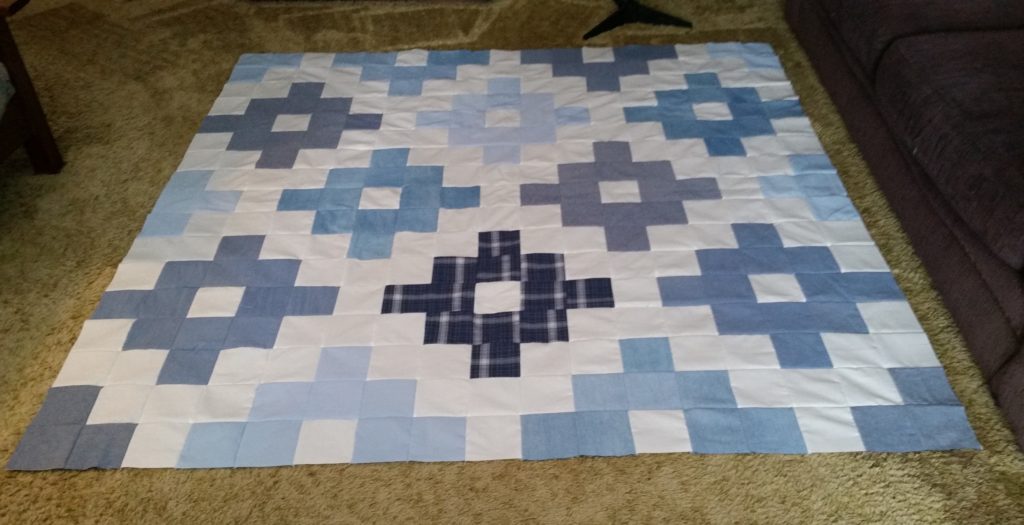 This is the Workshirt Mosaic quilt I made from Dad's workshirts.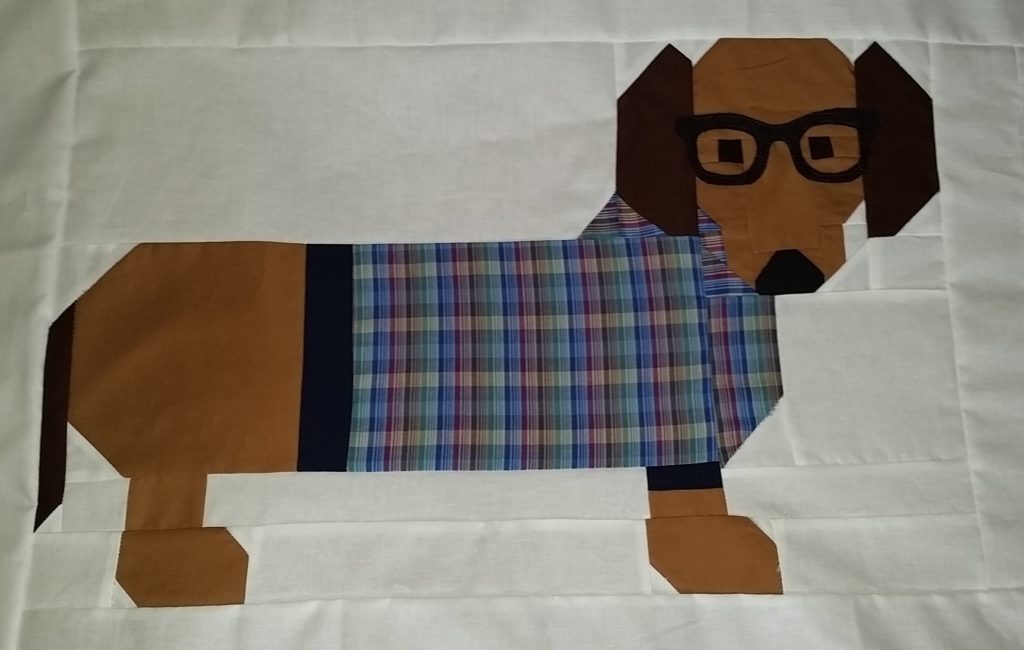 I decided to add glasses also to dog number 4.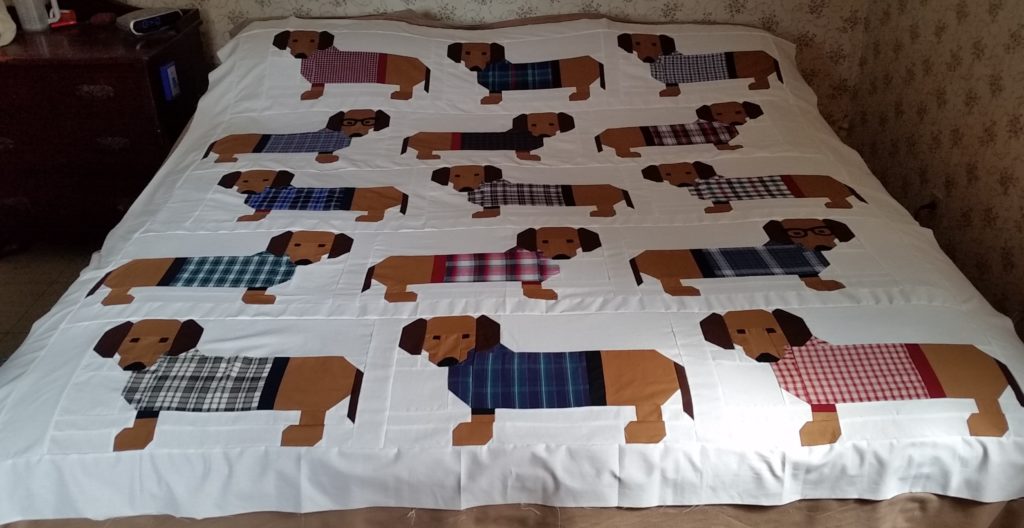 Here is another look at the full top pieced together. I am still deciding how I can quilt it. I found a blue bandana paisley type print fabric with dogs in it that I think I will be using to piece the back. I am going to show it to my son first to make sure he approves of it.
I will be linking up this flimsy finish with Show Off Saturday, Can I get a Whoop Whoop Fridays? , Needle and Thread Thursday and TGIFF.
Happy Sewing,
Shelley
Save
Save
Save
Save
Save
Hi, what do you do when you can not be quilting or sewing?? Do you think about quilting alot, plan new projects when you should be completing other projects??? My home life the past few months has been all over the board. I have not been able to spend time with my sewing machine and the enormous pile of quilt tops or WIP that need tending too. I spend Alot of time on Pinterest, A Lot of time… that is where I am at first thing in the morning while drinking my coffee. I have found numerous new quilt patterns and ideas. I have purchased quite a few new ones in the last couple months. I try to purchase the newest patterns from my favorite designers when they release them as many will sell at a discount for a couple days. Fat Quarter Shop had a great anniversary sale last month and had a one day flash sale with 40% off so I stocked up on some favorites at that time.
I thought I would share my new pattern acquistions with you all. Maybe some of these will be new for you too?? I will provide individual links to each pattern and seller below.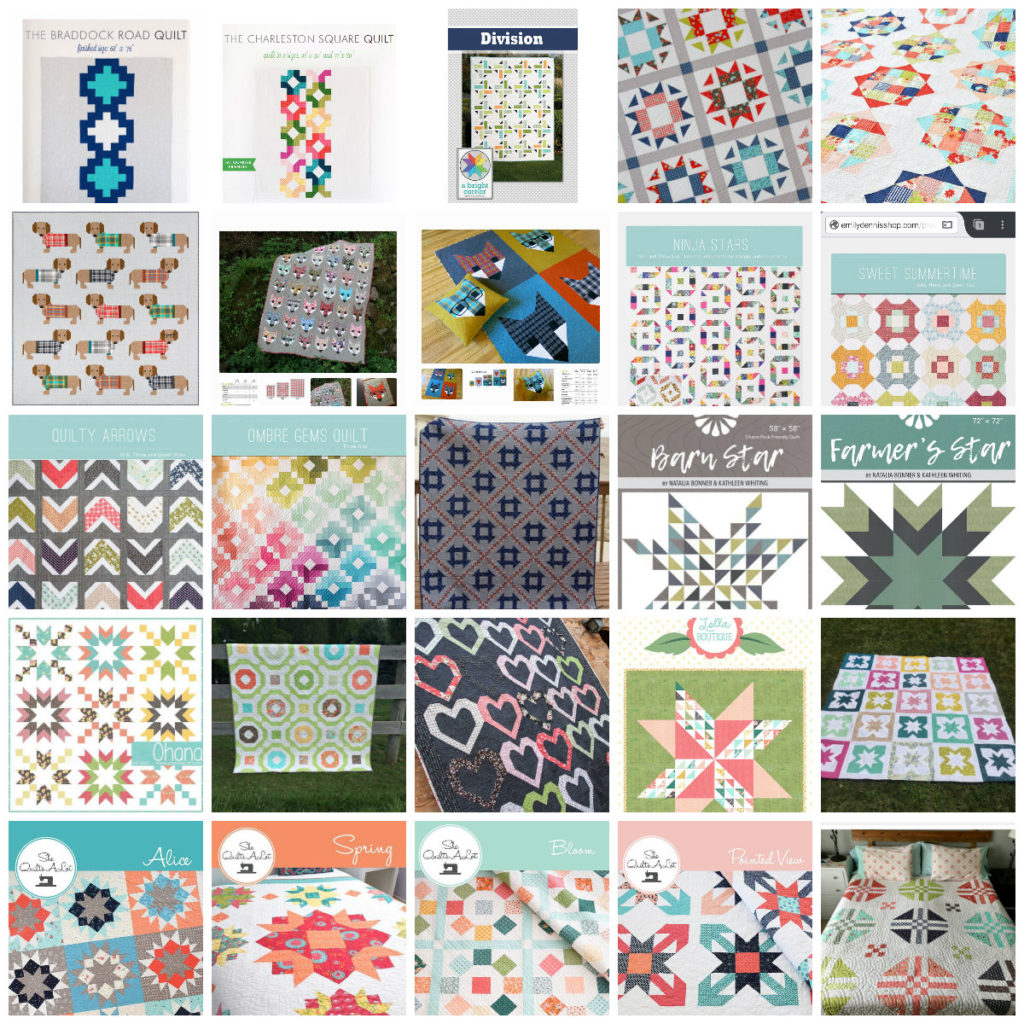 The Braddock Road Quilt by Swim Bike Quilt. I love the big bold geometric patterns of this quilt.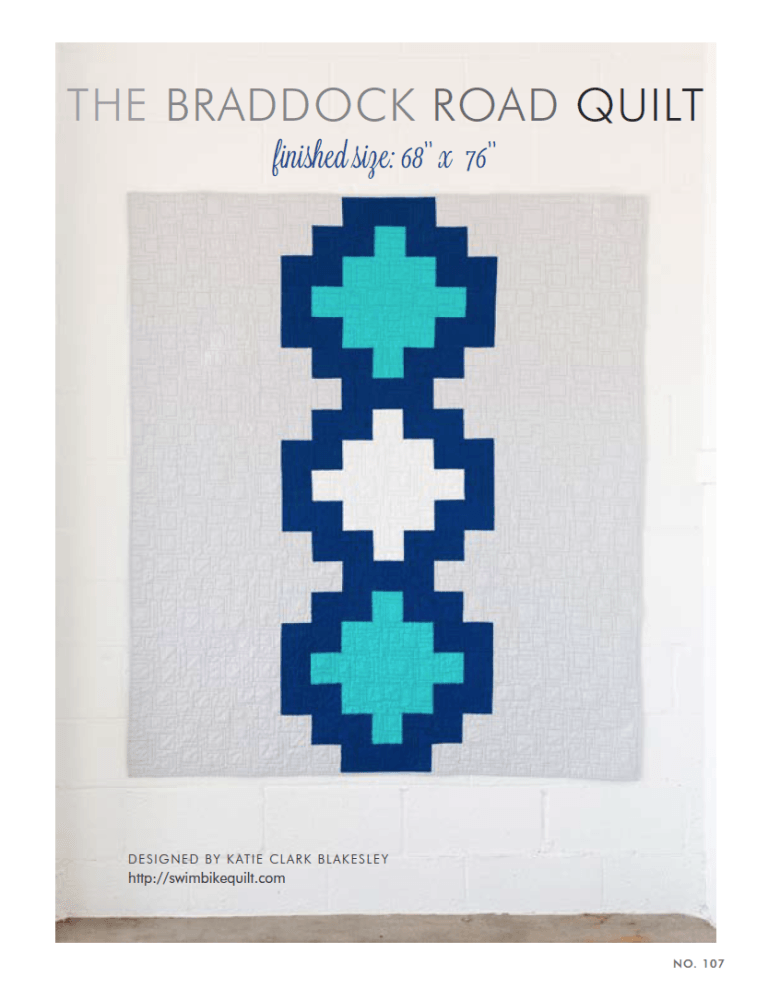 The Charleston Square by Swim Bike Quilt. I thought this pattern might work for some of my plaid scraps for a memory quilt.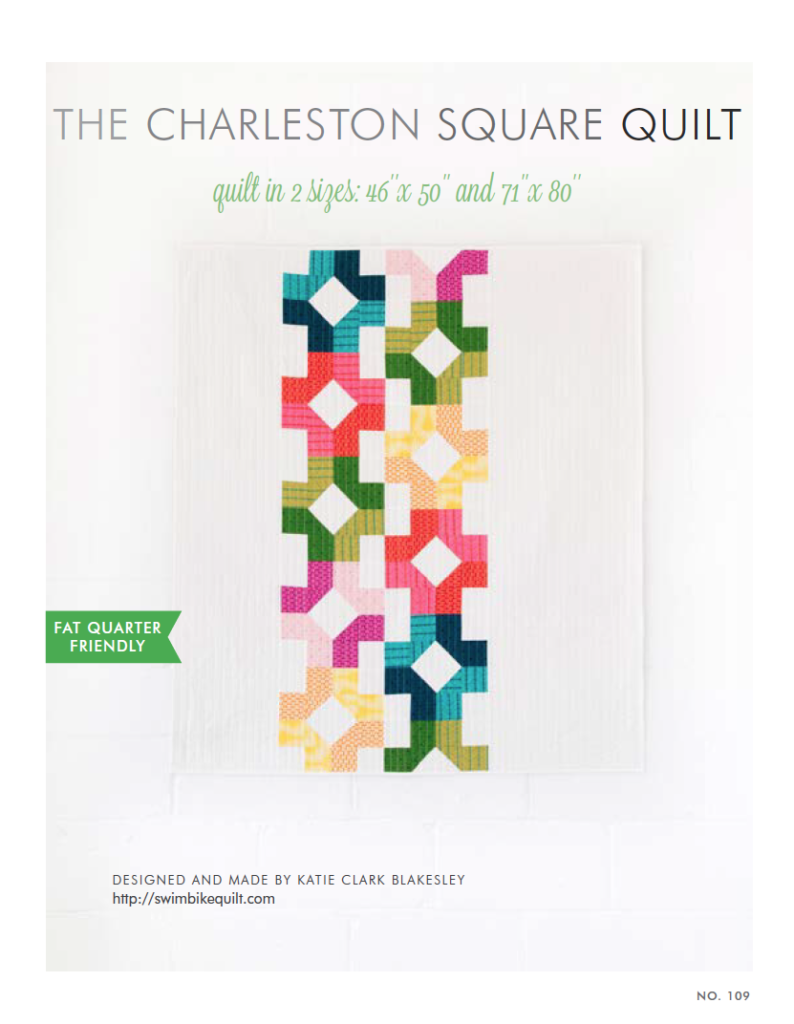 Division by A Bright Corner. This pattern would look nice in all colors or patterned fabrics. It is another option for a scrappy memory quilt.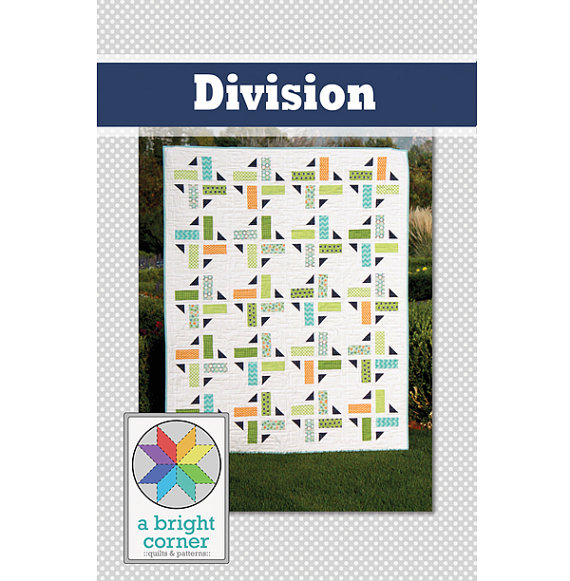 Skipper by A Bright Corner. This photos of this quilt caught my eye on Instagram. This could look nice in patriotic prints which I have alot of or some of my plaids with a coordinating solid for each block.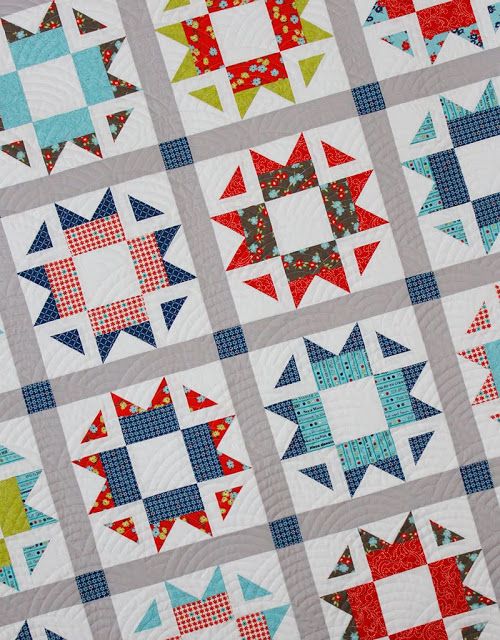 Rise and Shine by Thimble Blossoms. I chose this pattern as a way to use up scraps from my Patchwork Swoon quilts.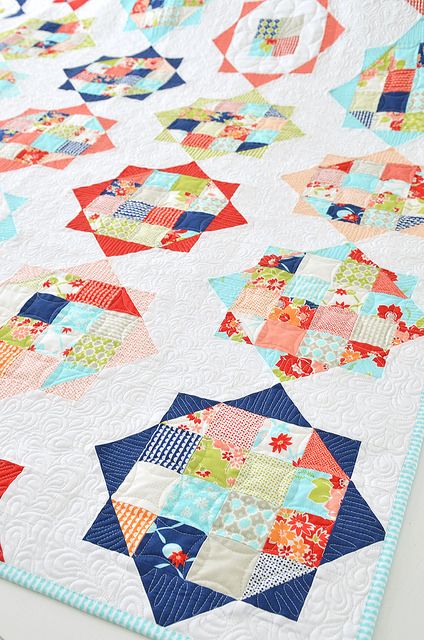 Dogs in Sweaters by Elizabeth Hartman. I followed this pattern on Instagram and had to purchase it the first day it was available. This is going to be my son's memory quilt from Grandpa's shirts. I am in the process of cutting the fabric for it this week. Each dog block has 57 pieces.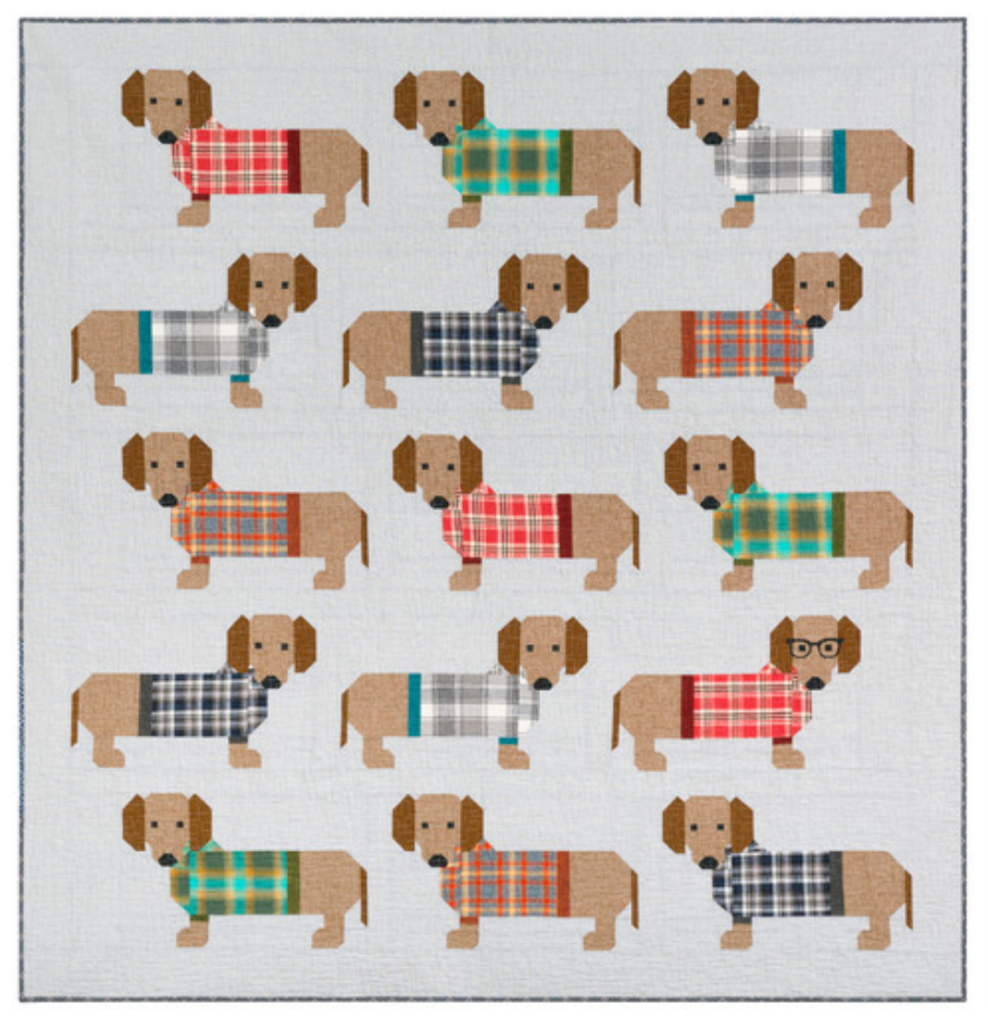 Fancy Foxes by Elizabeth Hartman. There are so many photos of this quilt online made in so many different fabrics and they all look awesome. This maybe my daughter's memory quilt from her Grandpa's shirts or the next version of the foxes quilts.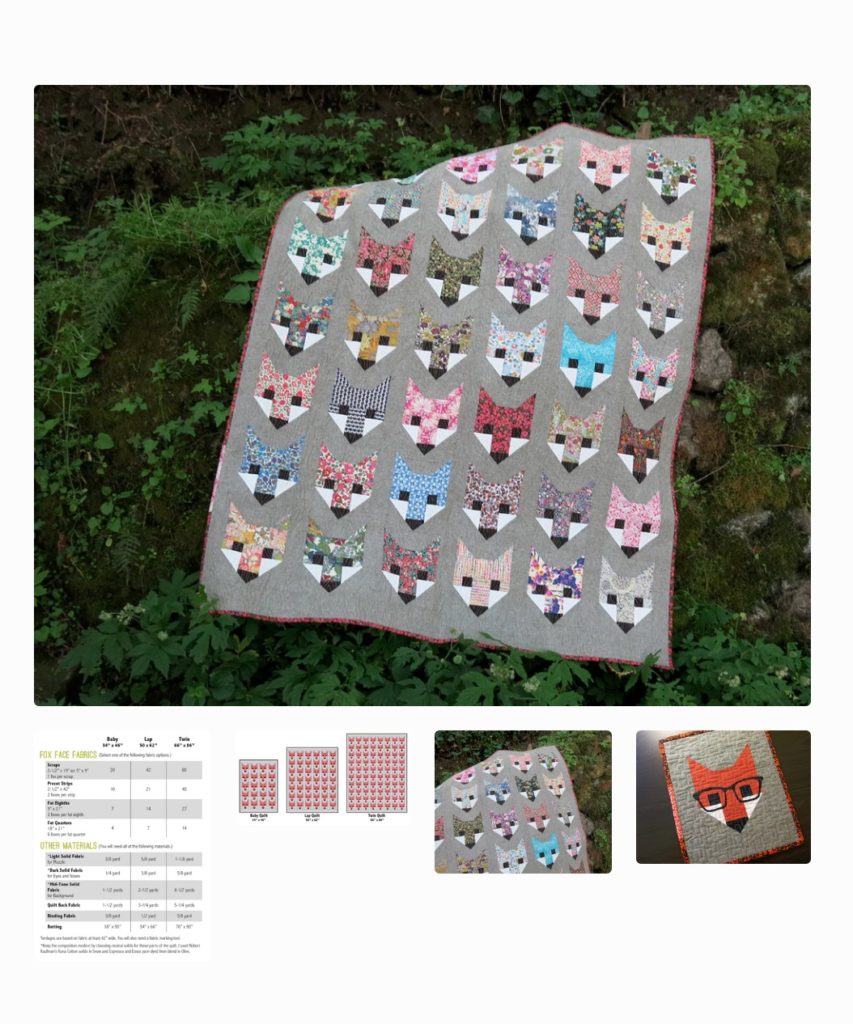 Fancy Foxes II by Elizabeth Hartman. These fox are so cute in all sizes and colors. The eyeglasses are so cute! I think I remember someone posting on Instagram a sampler quilt made from all the sizes of fox from both patterns. We will see what we have for fabric to work with.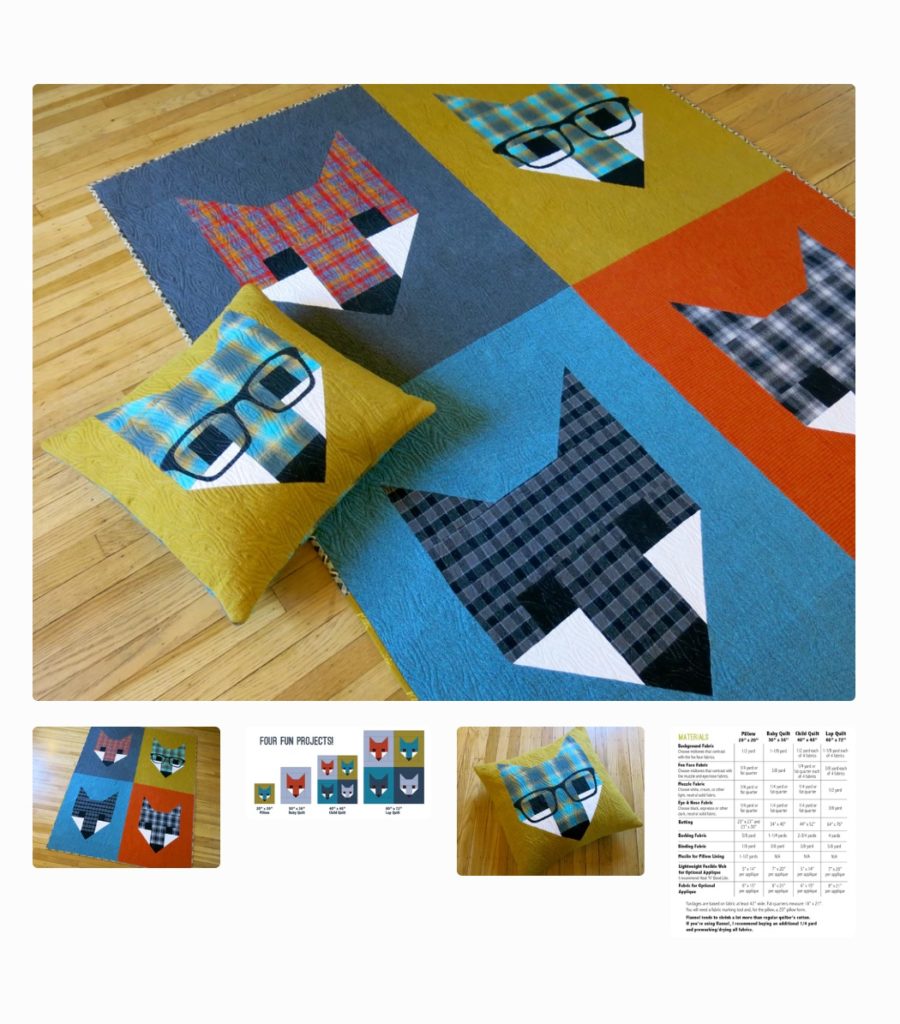 Ninja Stars by Emily Dennis. I simply love all of Emily's patterns. I love the scrappy version of this quilt and I do have lots of scraps.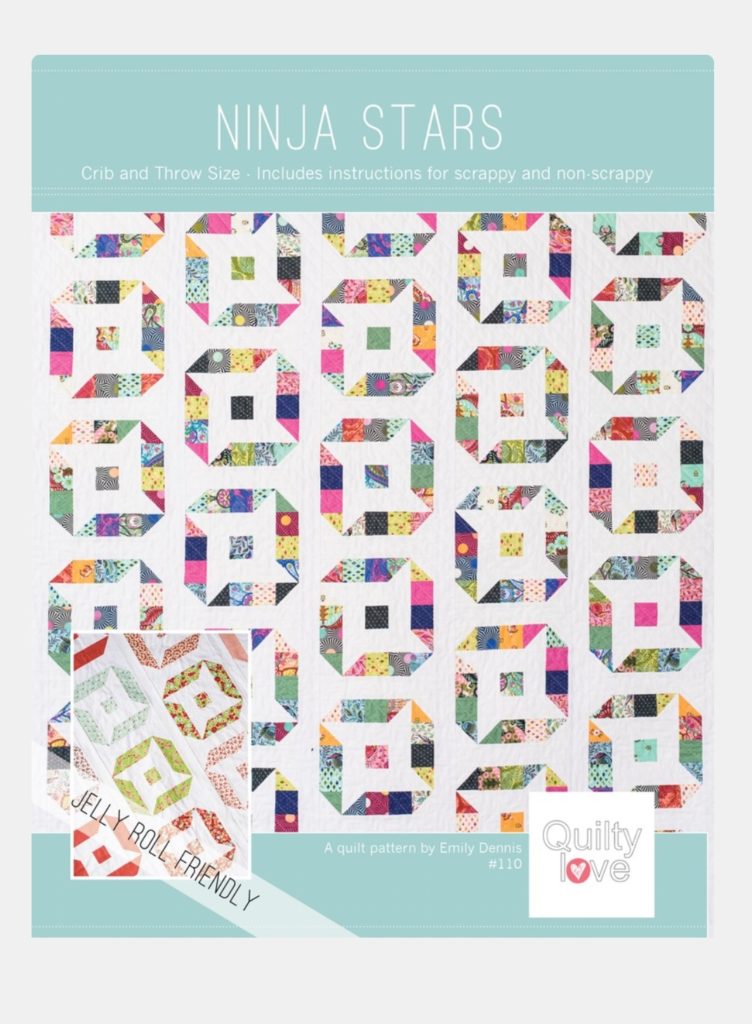 Sweet Summertime by Emily Dennis. I followed this quilt on Instagram and Pinterest. So many possibilities. I have a couple sets of fat quarters in my stash and am still deciding which one would work best.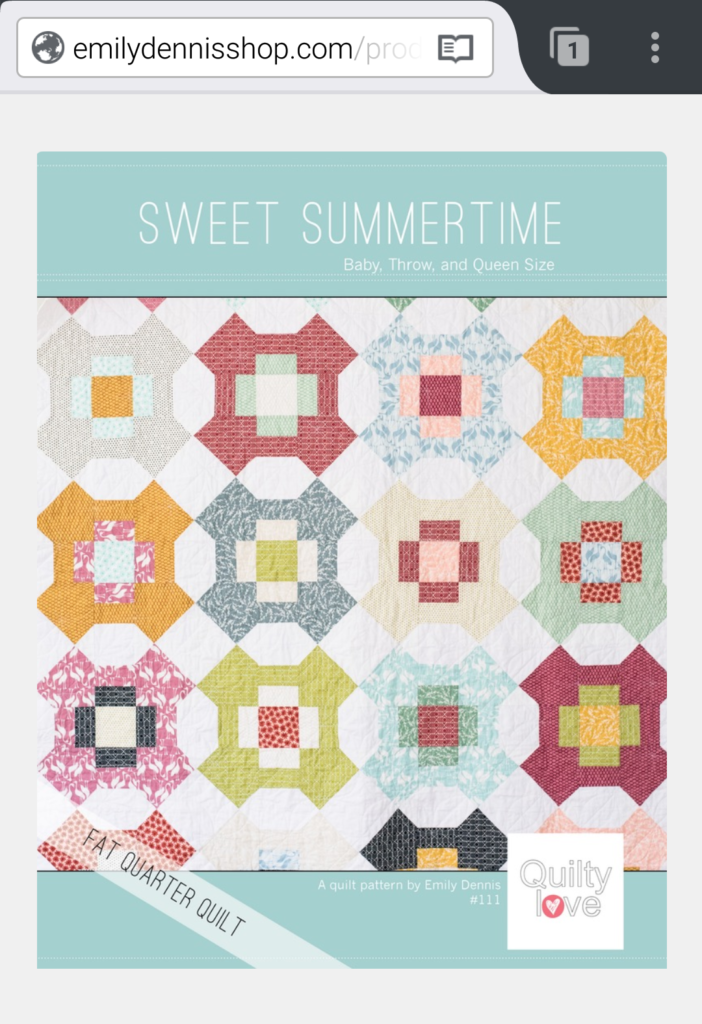 Quilty Arrows by Emily Dennis. Another fun pattern with lots of fabric choices.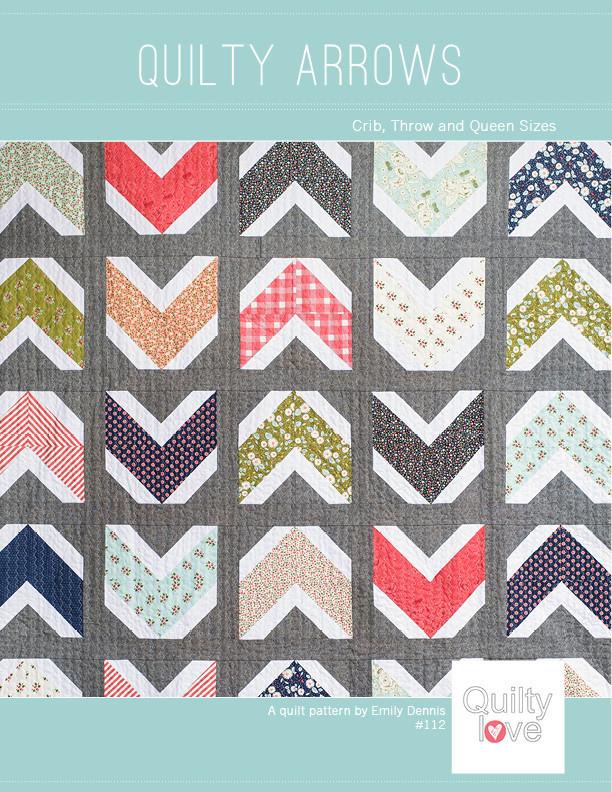 Ombre Gems by Emily Dennis. The quilt was first in Love Patchwork & Quilting magazine issue 36. Emily added coloring sheets to her printed pattern version. This is very helpful in designing your own quilt. There was a quilt along this Spring. I did participate in that but I am still working on my quilt top. I chose to use my Sweetwater Authentic fabrics that have been in my stash since 2010.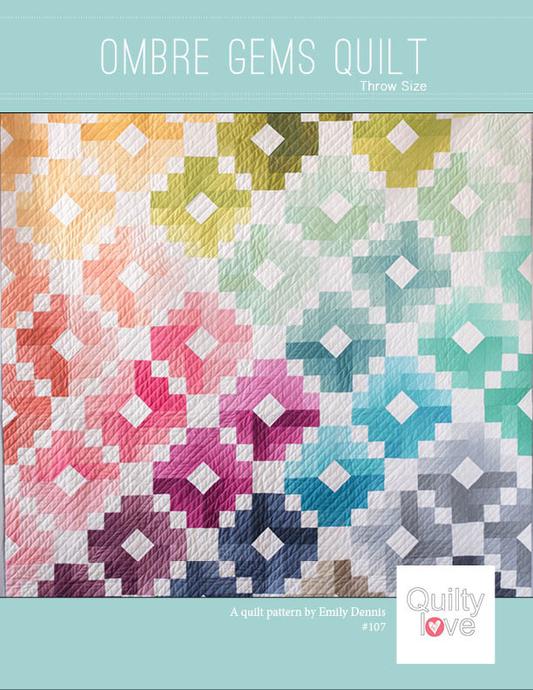 A Dash of Chains by Alycia Quilts. I love Churn Dash blocks and Irish Chain quilts. This is a cool combination. Alycia loves plaids even more than me and I love all her work making quilts for our Veterans.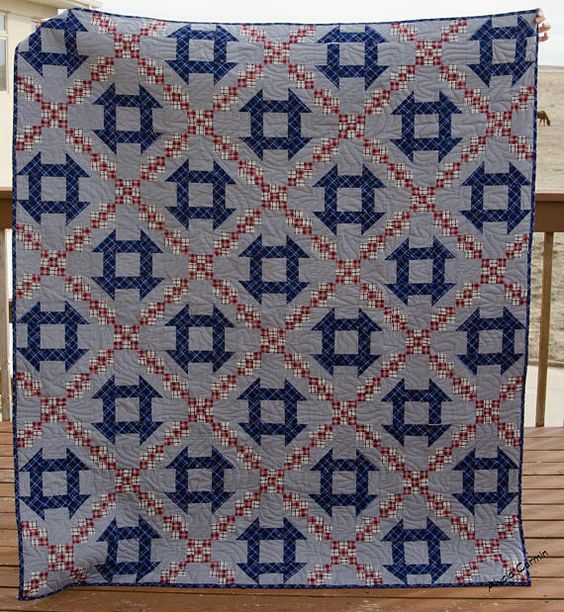 Barn Star by Piece N Quilt. Lot of possiblities with this one. You can use those extra charm squares. Yeah!!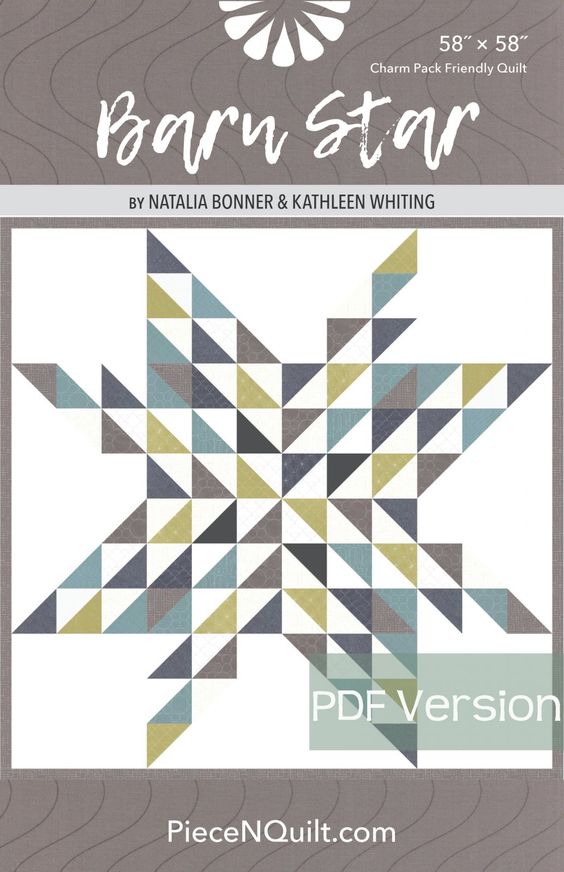 Farmer's Star by Piece N Quilt. I love this one!!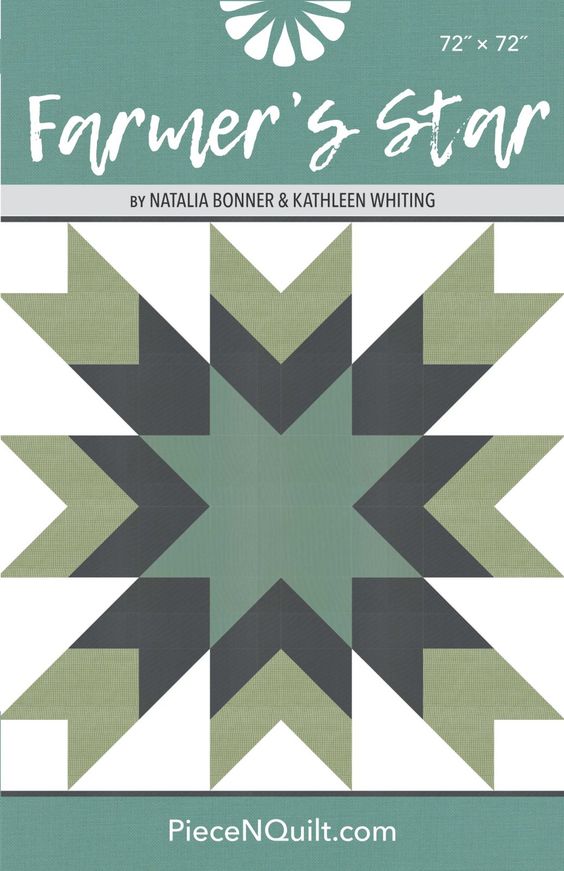 Ohana by Piece N Quilt. I bought all three Piece N Quilt patterns during the Fat Quarter Shop anniversary flash sale. Ohana means family. This pattern was first sold to help raise money for her Mom's cancer treatment. This definitely would make a nice memory quilt with all the special meanings behind it.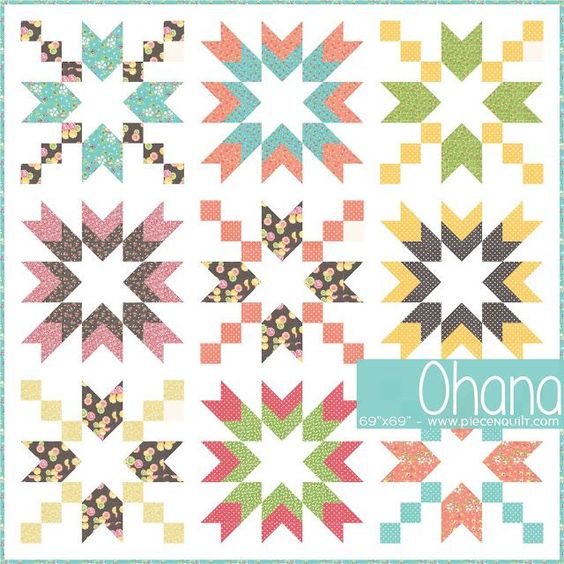 Wheelhouse by Coriander Quilts. Coriander Quilts has been offering up different patterns for her for $5.00 each week. I have been following along on Instagram. I like the two color version of this quilt.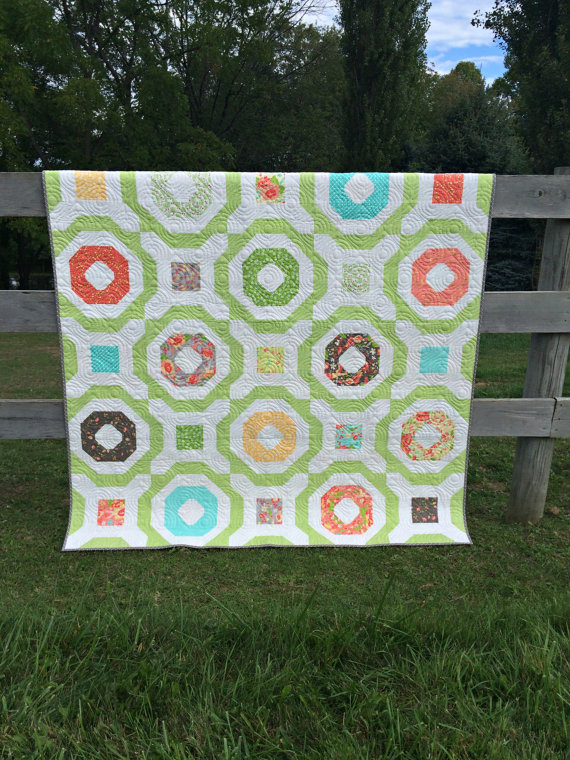 Open Heart by Lella Boutique. I love this quilt. I am looking to use it as a special memory quilt. I am attempting to cut this quilt out after I cut out the pieces for Dogs in Sweaters.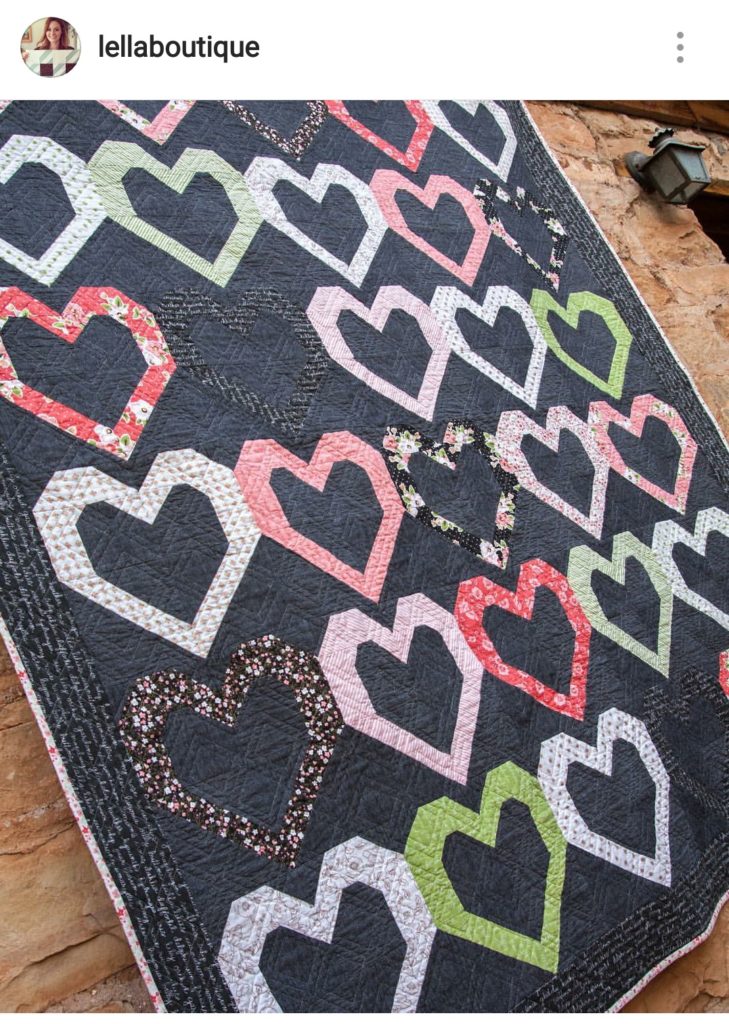 Sugar Cookie by Lella Boutique. Another neat charm square pattern. You only need 1 pack and you can make a 72″ quilt.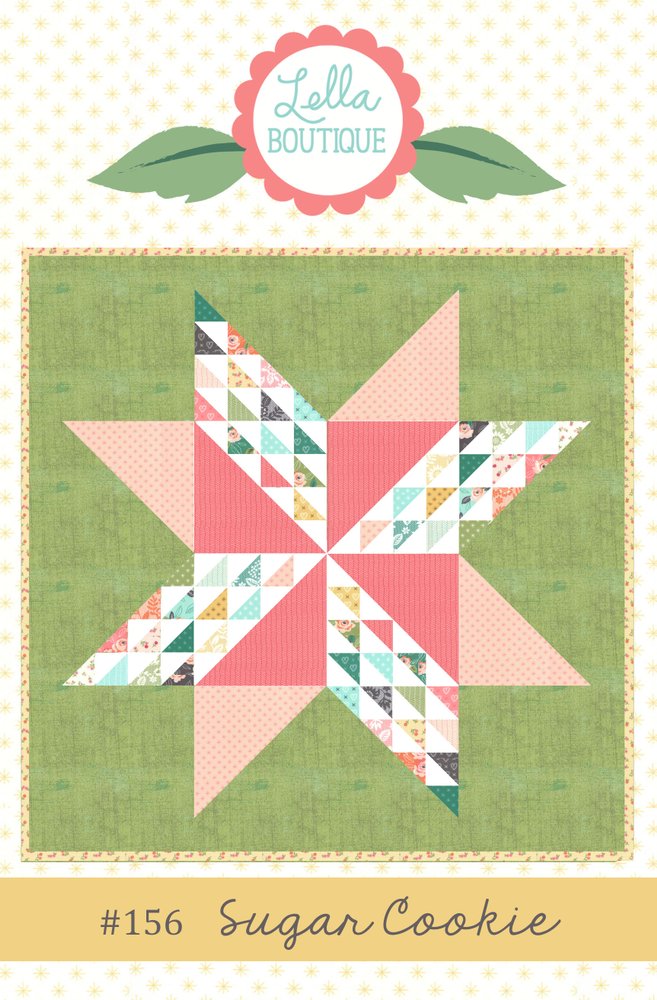 Geode by Blossom Hearts Quilts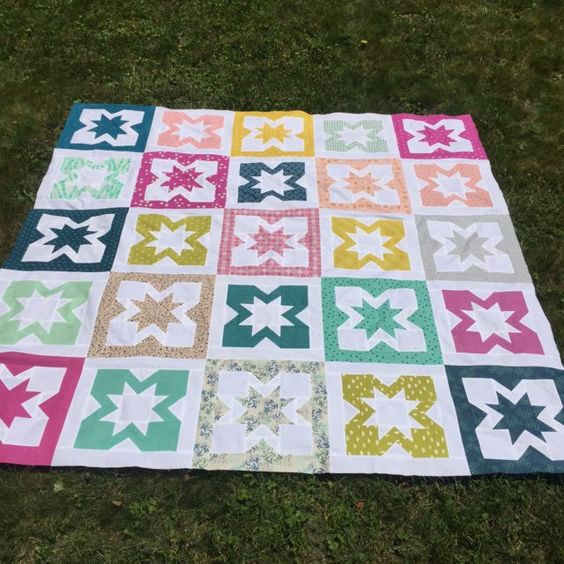 Alice by She Quilts Alot. I have been following Peta and her quilts on IG and I receive her newsletters. She had a pattern sale last month and I picked up 4 of my favorites.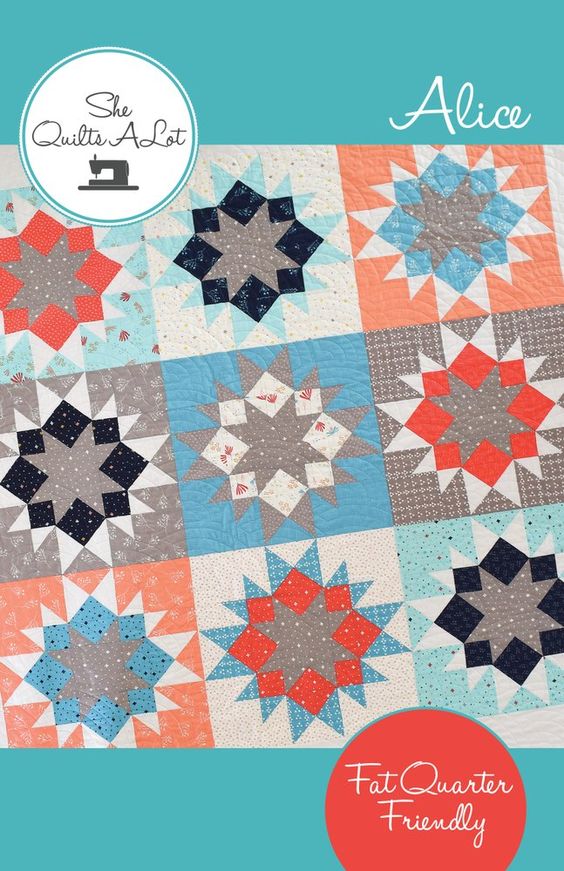 Spring by She Quilts Alot. I love that some of the blocks are 30 inches. I Love big blocks!!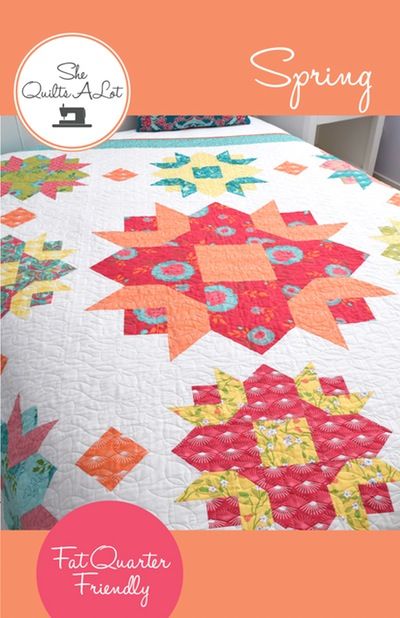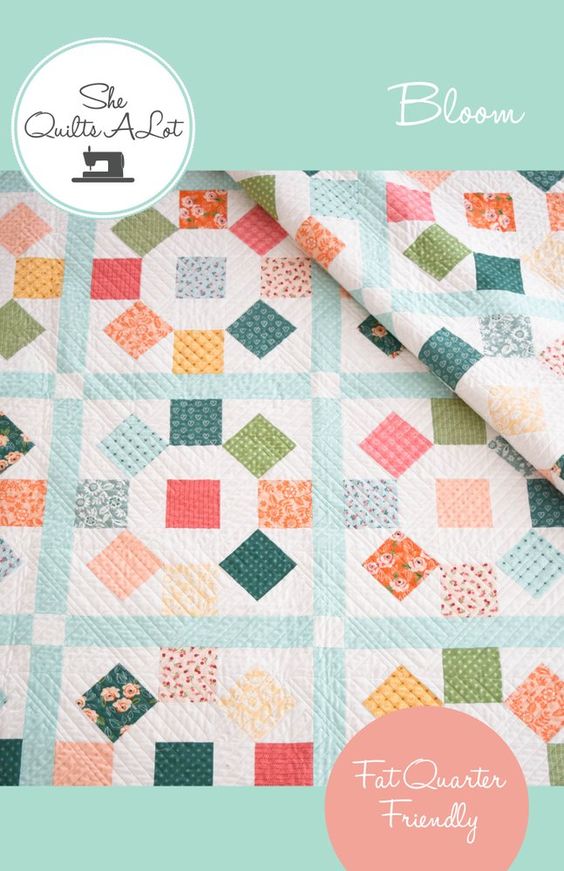 Pointed View by She Quilts Alot. I love the secondary pattern this design creates.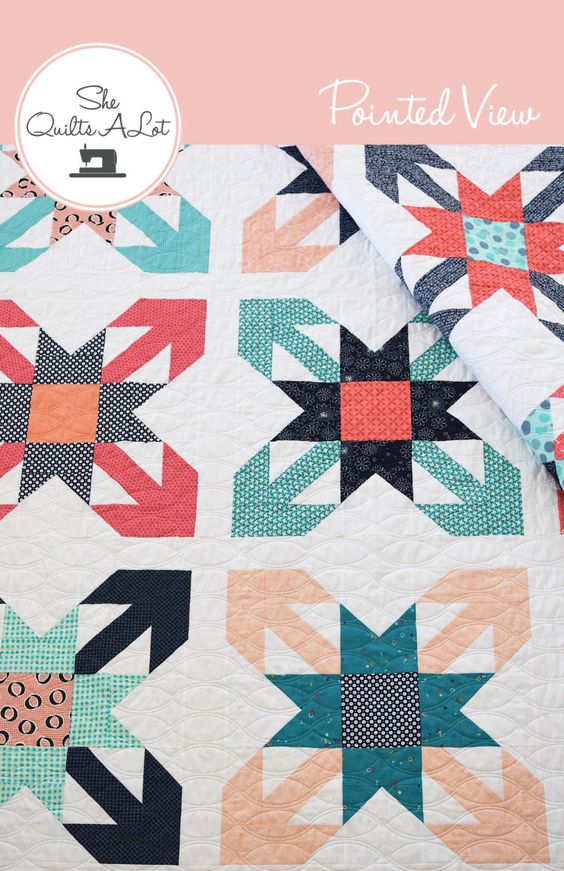 Big Dreams by Sterling Quilt Co. I love this pattern. This was my most recent purchase. It uses fat eighths. I have a set of fat eighths in Denyse Schmidt Hope Valley that I purchased from a detash sale from a fellow quilter on Instagram last year. I think this pattern is calling for them. Sterling Quilt Co. designed the Katie's Compass quilt pattern that I have all ready made.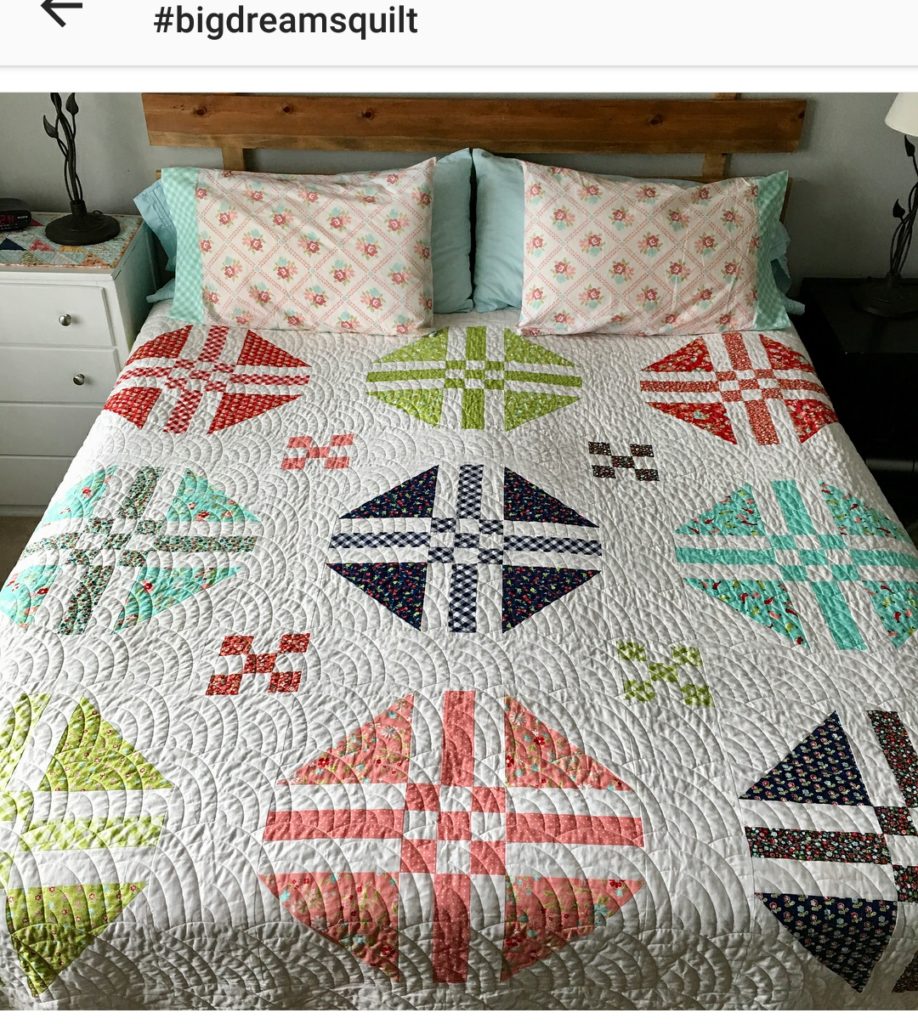 Hope that you enjoyed seeing all the lovely quilt patterns. If there is something you like, be sure to share the love and obtain a new pattern for yourself. Do you have any new favorite quilt patterns to suggest???
I heard back from the shop that my Mom purchased the Viking 990 sewing machine from. They stated that my problem with the walking foot continuing to sew after I take my foot off the foot pedal could mean that there is a bad part in the foot pedal or the circuit board is going out on the machine. They said you have to take the machine and pedal to a repair shop. If it is the circuit board, they are No longer Available for this machine. They did not state I could or should bring the machine to them to determine which problem it was. I did ask if they still repair the Viking Designer 1 machines as that is Mom's other machine. Yes, they do but there are some parts that might not be available. I am not sure what to do. The Viking 990 does seem to sew fine when not using the walking foot. It did fine last year after the first incident. I have pieced 12 quilt tops since then. No problems. I did quilt two tops this year before this last one when it acted up. Maybe it was over hot and the machine dirty. I don't know but I am going to try to sew with it again. I will watch it carefully and if something is wrong, I will stop using it. My sister and I have plans in the upcoming weeks to get together and teach our selves how to sew and embroider with our Designer 1s. It is not doing the machine any justice just sitting there.
I am linking up this post with Let's Bee Social and Needle and Thread Thursday and Finish It Friday.
Hope that everyone has a good weekend.
Happy Sewing,
Shelley
Save
Save
Save
Save
Hi, I am happy to share that I finally got my oldest WIP quilted and bound. It is my I SPY quilt that I started piecing the blocks on Super Bowl Sunday. It has upwards of 150 different fun prints that either boys or girls should find something they like in it.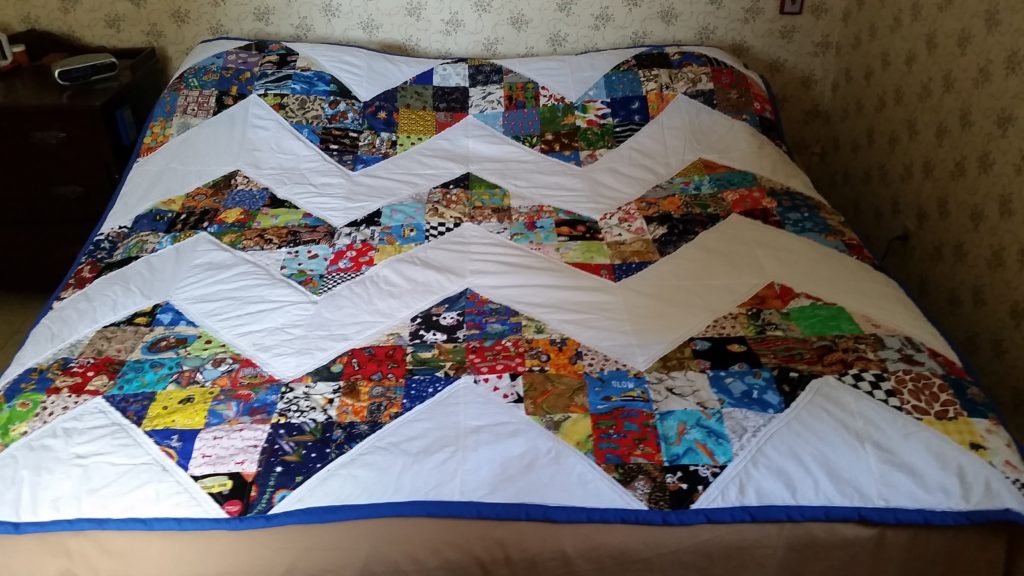 I quilted 1/4 inch in from the seams on the white chevrons with a multicolored Aurifil thread. It was my first time using it. I quilted 1/4 inch in from the charm squares with white thread.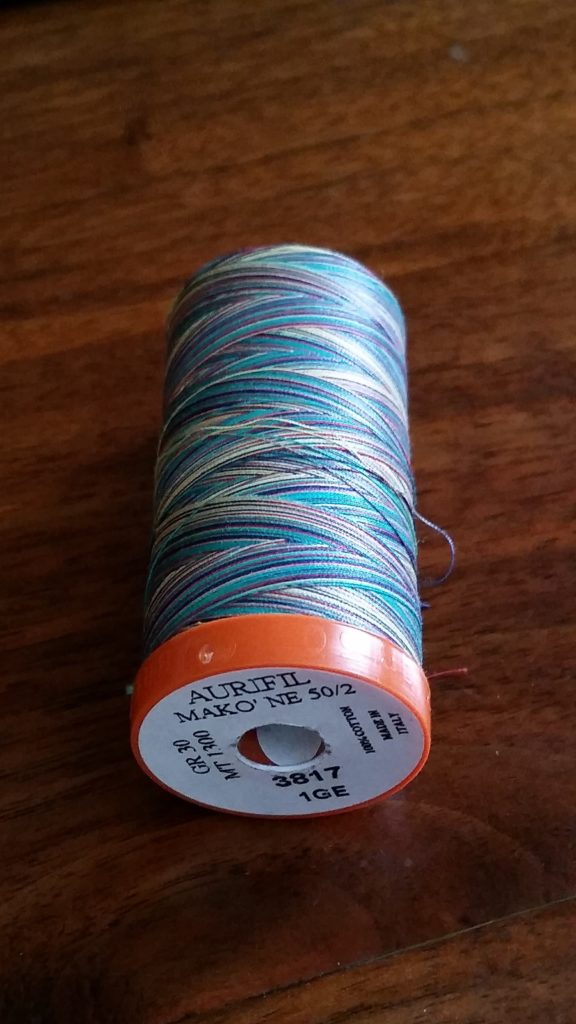 Here is a closeup of the quilting.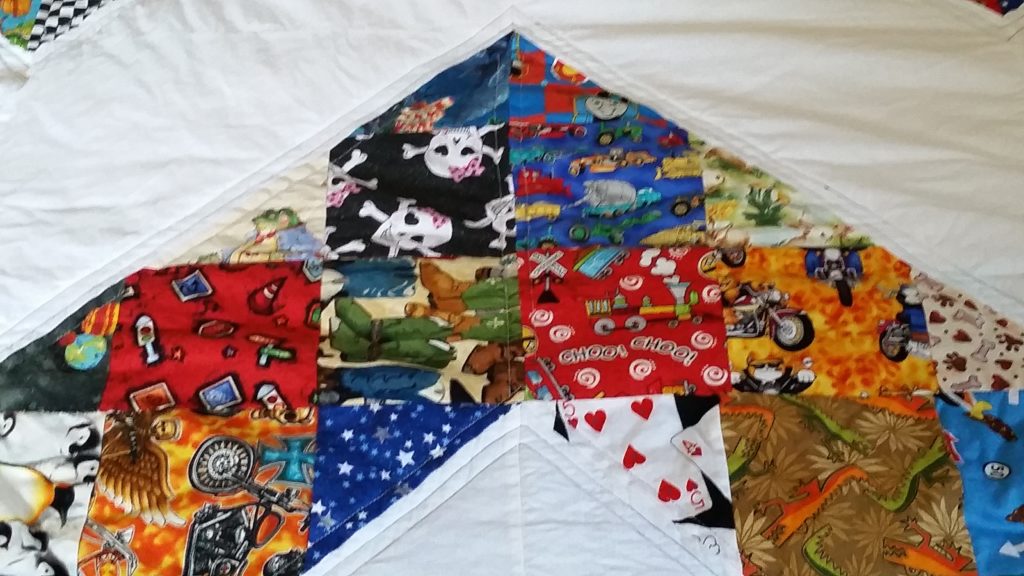 I chose a fairly simple backing using fabrics from my stash. Hoping that they would work for either boy or girl.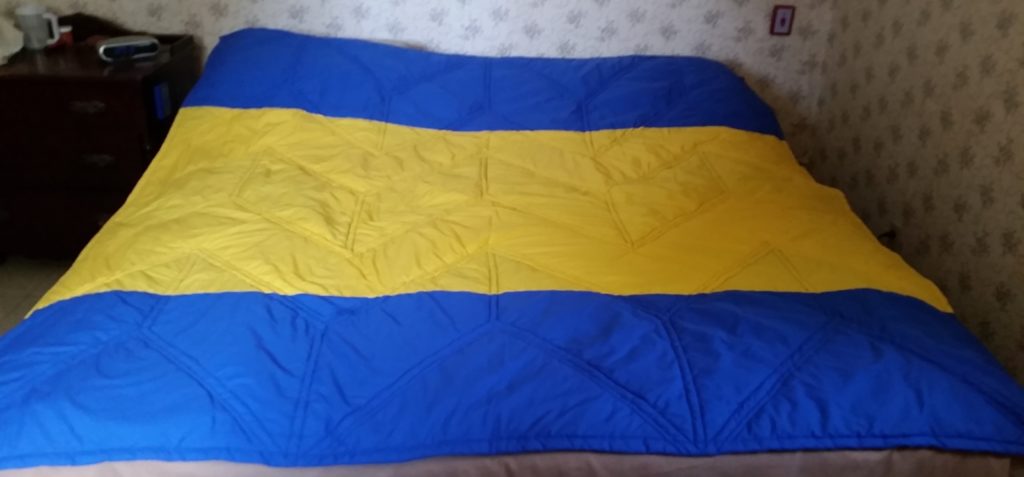 The quilt has been washed and dried and it quite puffy. It has a nice weight to it. It should stand up to lots of play and any needed trips through the wash and dryer. It finishes at around 74 inches square. You can read more about the quilt here. I am putting this quilt up for sale and would like $125 plus shipping.
While finishing quilting this top, my sewing machine started acting up. It is a Husqvarna Viking 990 computerized sewing machine. I was using the walking foot and when I would stop quilting and take my foot completely off the foot pedal, the walking foot would continue to walk or sew for a couple inches. It was kind of freaky the first time it did and luckily my fingers were out of the way. It didn't do it everytime but started doing it more times than not. I did have this happen once last year when it was a really hot spell. It was warm last week but not that hot in my sewing room. I didn't think I had been over working the machine this time. I thought I was working too hard last year. I have tried researching possible problems and solutions and don't really know what to think. It could be the foot pedal or something in the machine. A capacitor? Electricial problems scare me. So it is unplugged. I have tried pricing replacement foot pedals and of course they sell the main power cord for the sewing machine separate from the foot pedal. If you can find both, they can be around $180 together and one place said if they have them, there can be a 4 to 6 week wait. I inherited this machine when my Mom passed away. My Pfaff 1473 CD quit working 2 days before my Mom passed away. So this is a very touchy subject to say the least. I do have her Viking Designer 1 that was her baby and pride and joy. I have only used it once in 4 years as I have been using this one. I really didn't want to push that one through all the quilting that I do. I am sure it could handle it but she used it for her embroidery. It isn't doing it any justice sitting covered and not being used. She wouldn't be happy about that either I am sure. I have emailed the shop she bought all her machines for help. The tech guy was gone on Friday but they say they will get back to me on Monday.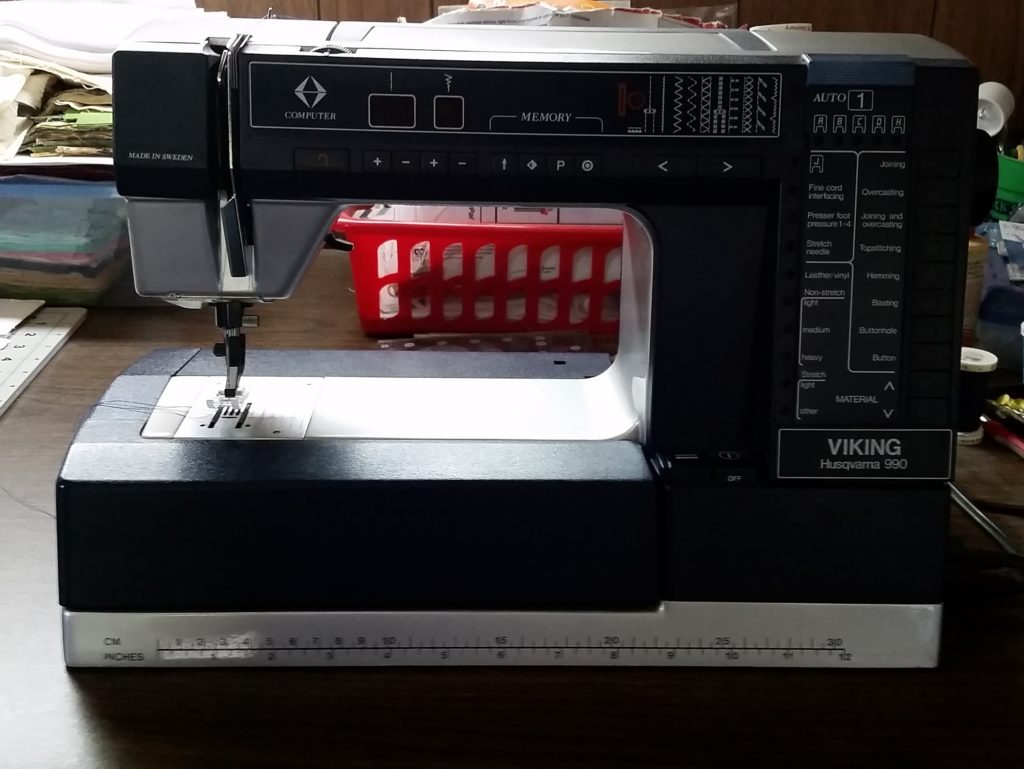 I still have my Jelly Roll Slice quilt for sale. I was asking $175 plus shipping but would drop that down to $150 plus shipping.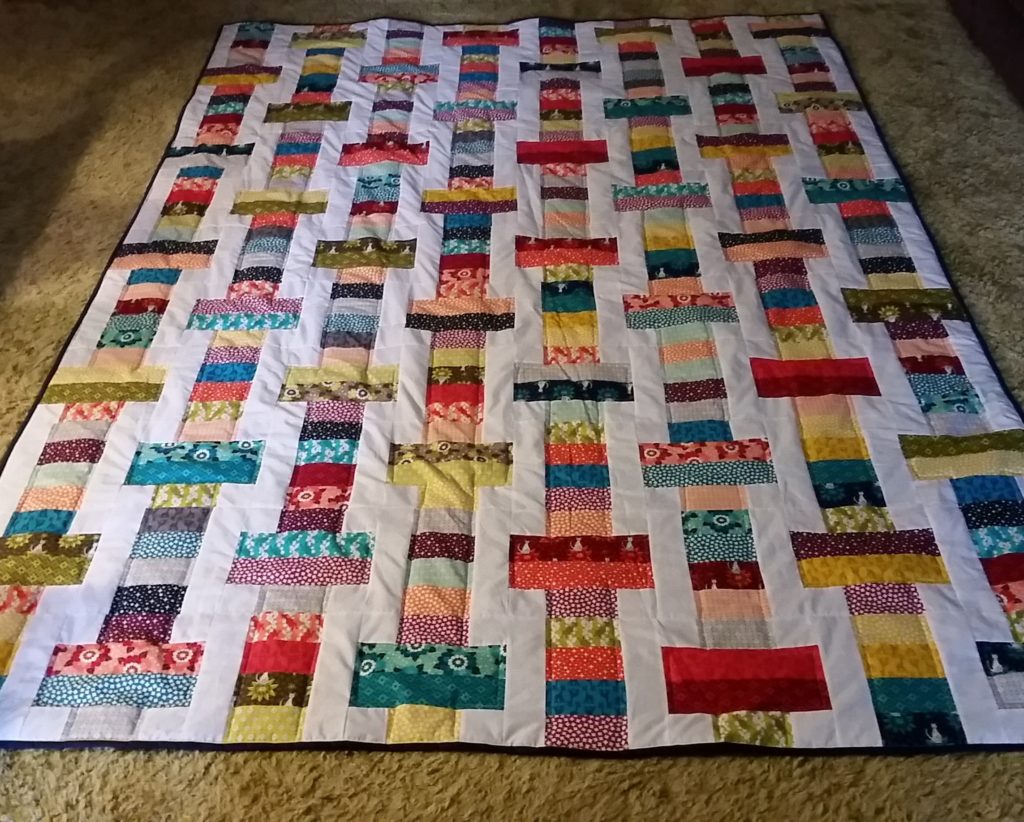 You can read more about the Jelly Roll Slice quilt here.
I am linking up this finish with Crazy Mom Quilts Finish It Fridays. and Oh Scrap.
Hope every one has a great weekend.
Happy Sewing,
Shelley
Save
Hi, I am Shelley and I blog as the Carpenters Daughter who quilts. I am hosting Thank Goodness It's Finished Friday. My project this week was to finish the flimsy that was my oldest WIP. I made an I Spy quilt using Jeni Baker's Patchwork Chevron quilt recipe from Moda Bake Shop. I started piecing the blocks on Super Bowl Sunday in 2012.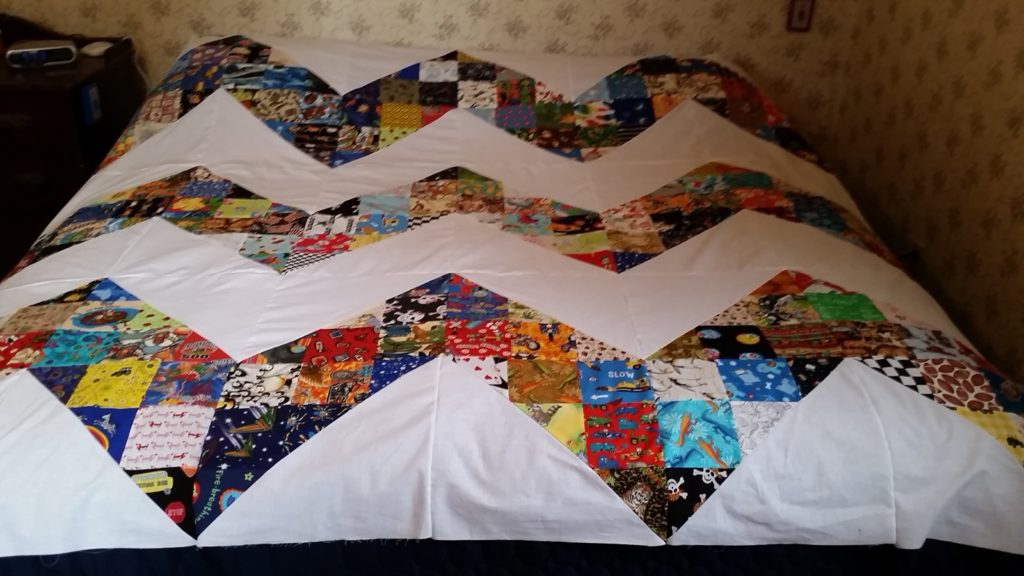 It is 78 inches square so it completely covers the top of our king size bed. I collected I Spy charm squares from sellers on Etsy and Ebay. I had over 200 charms and eliminated squares that didn't have that much of a design centered on them or I wasn't sure a kid would understand what it was depicting. There are a couple duplicates with there being over 150 different charms.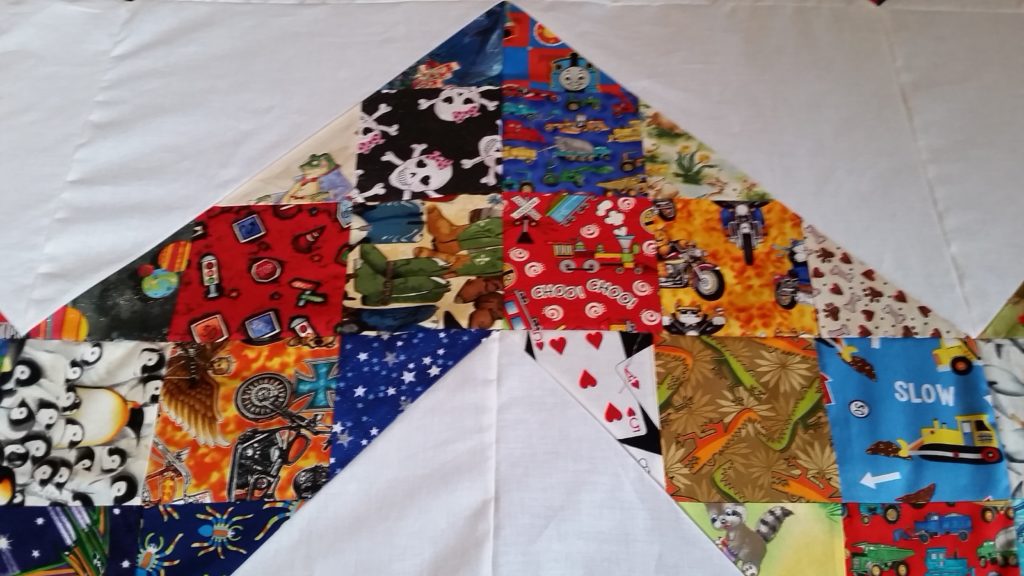 Here is some close ups of the fun prints.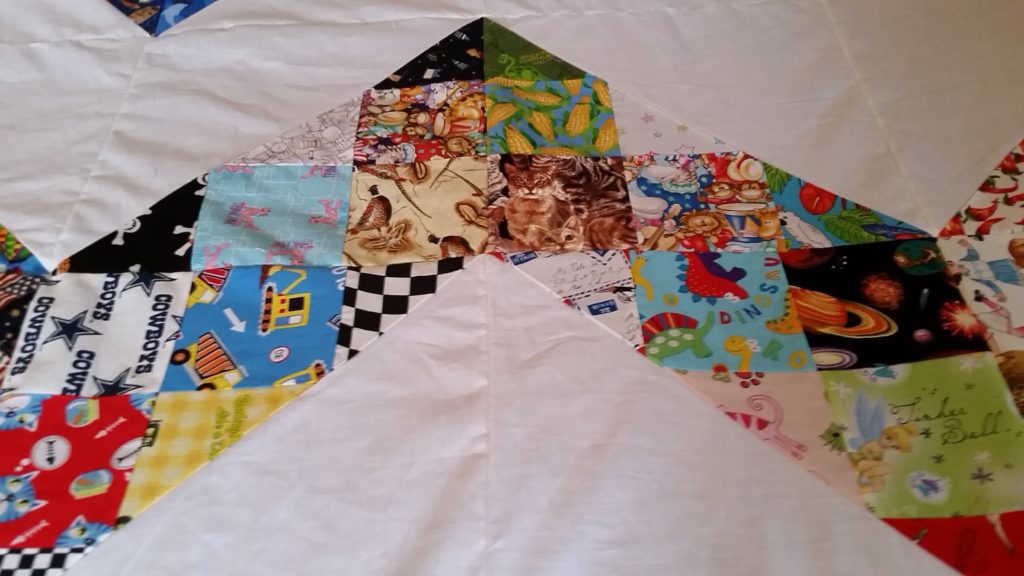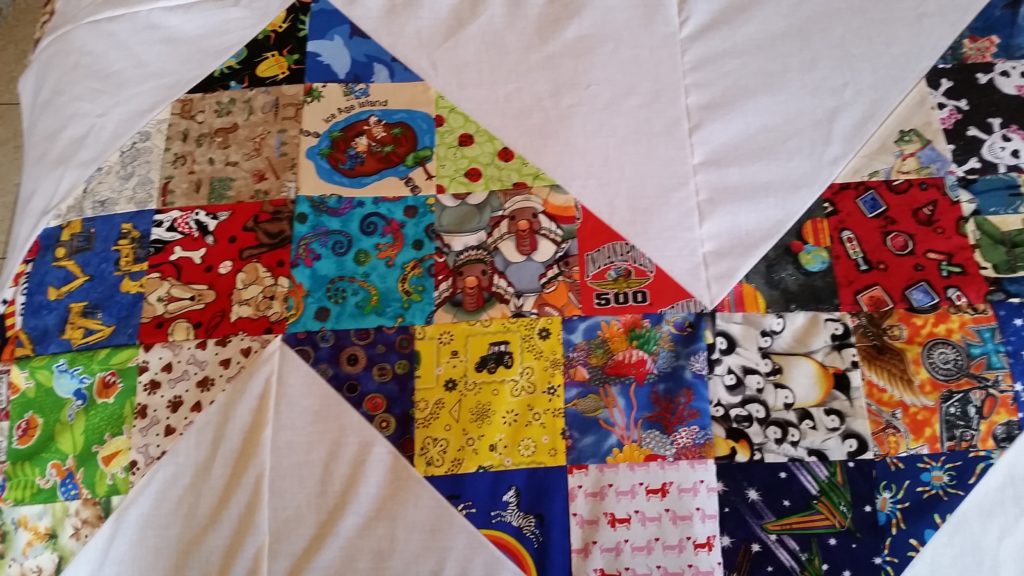 I love the turkey print. There is something that should appeal to both boys and girls in this quilt. I am planning on offering it up for sale after it's completed. I plan to make up some I Spy items lists so the kids can play the game and locate all the items.
I am currently working on quilting this quilt. I hope to at all possible have it completed by the end of this linky party and will link up my finish, if completed on time.
I did complete quilting two quilts that were tops from last year. They have their own blog post.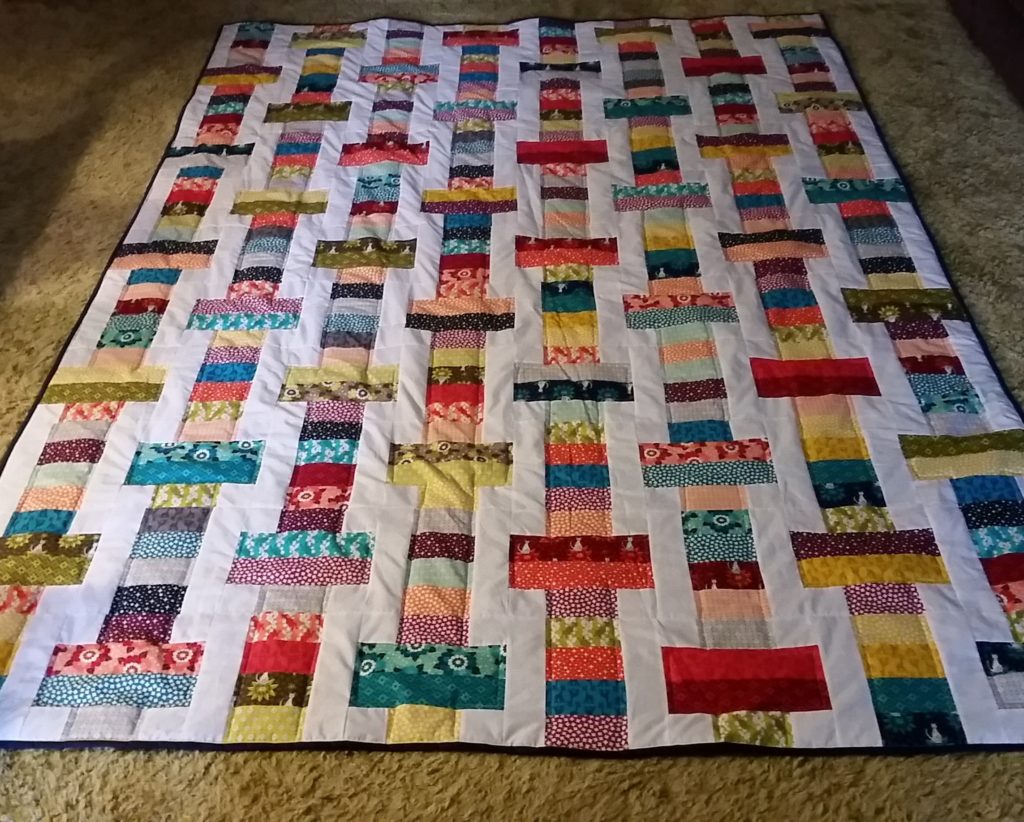 Jelly Roll Slice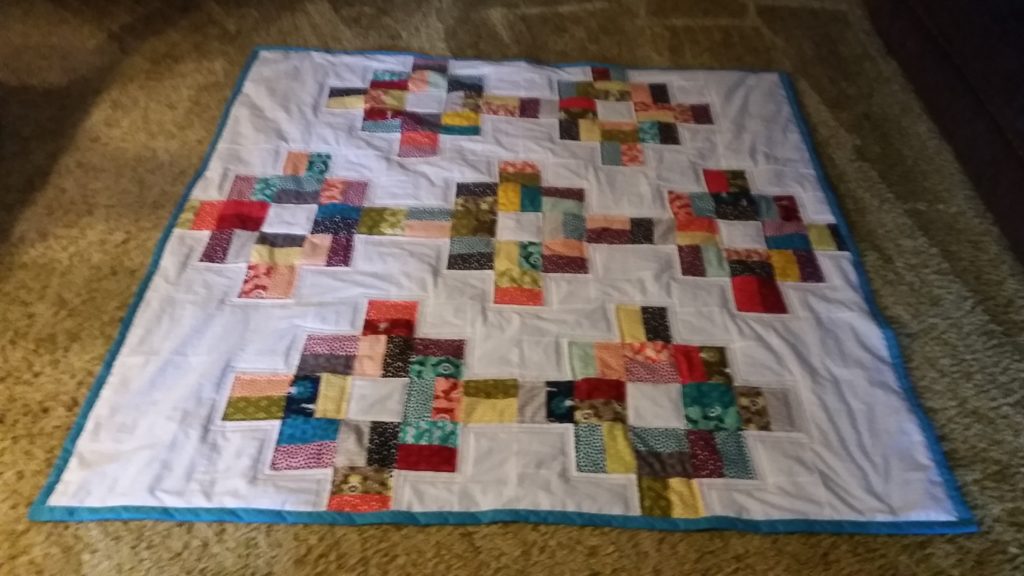 Katie's Compass which was created from leftover strips from the Jelly Roll Slice.
I decided to take a week off from working on my memory quilt projects. I need to make some room to be able to start quilting on them. I am up to 9 quilt tops from Dad's shirts.
Let's start this week's linky party. Please link up your week's finished projects and be sure to go check out as many of the other linky partiers as you can.
Happy Sewing,
Shelley
Save
Save
Save
Hi, I am happy to share this week that I got two quilt tops quilted last week that have been waiting for attention since last year. My Jelly Roll Slice top that I made for the shortcut tutorial series that Fat Quarter Shop puts on. I did have my top completed in time for event but it was not quilted. Life was very hectic last year. I also finished my Katie's Compass quilt top that was made from the leftover cut pieces from the Jelly Roll Slice.
I quilted the Katie's Compass first as it needed to be completed by Friday morning last week, so my Mother inlaw could take it along to deliver it to our little cousin. Katie's Compass is a pattern by Sterling Quilt Company.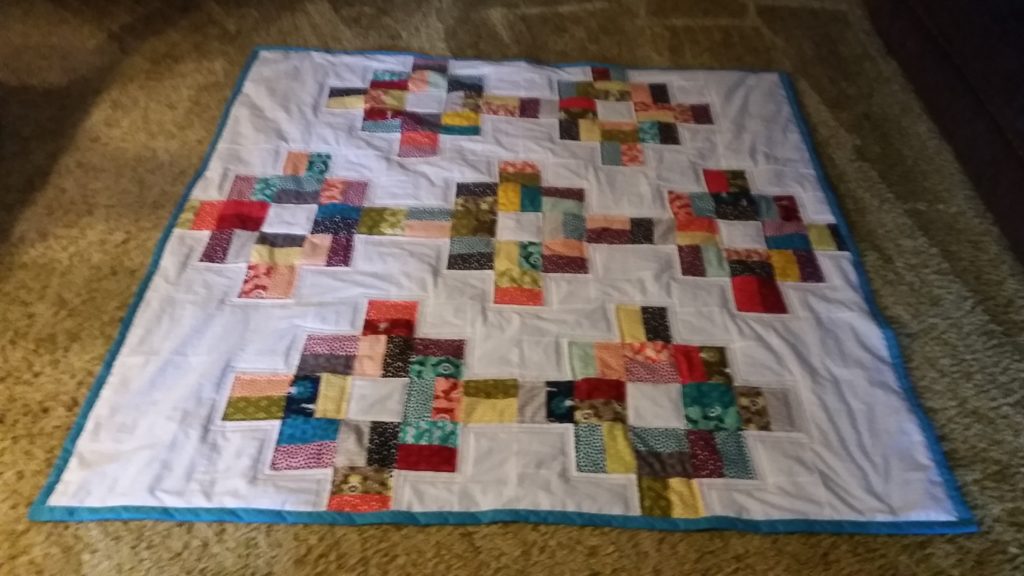 I quilted within the colored blocks with white thread and then used a variegated thread to quilt 1/4 inch out doing two rows in all the white areas.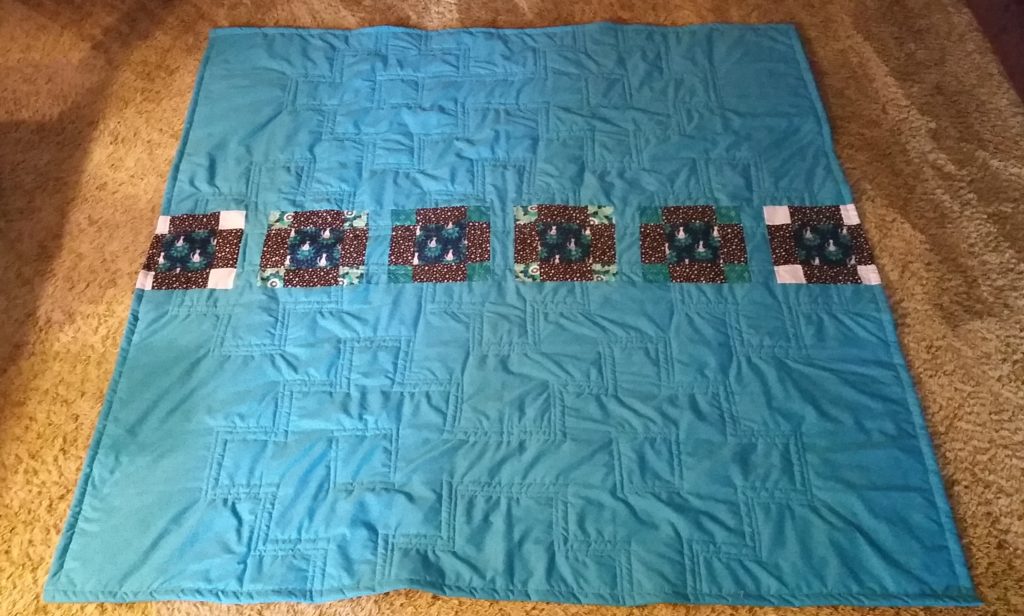 I attached my binding to the back and pulled towards the front and machine stitched in the coordinating colors. Washing this quilt turned out to be a bit of a nightmare. I first washed it in cold with woolite type soap with a color catcher. Well, there was turquoise spots all over the white of the front of the quilt. We live in the country and have a well that can be sandy and it decided to throw up sand and grit into my washing machine when washing this quilt. I pretreated the spots with Era clothes soap, wiped the sand up out of washing machine and threw 3 color catchers in with the Era soap. Thankfully, every spot washed out. I was amazed that all three color catchers were a bright turquoise. I have never had a color bleed quite like that.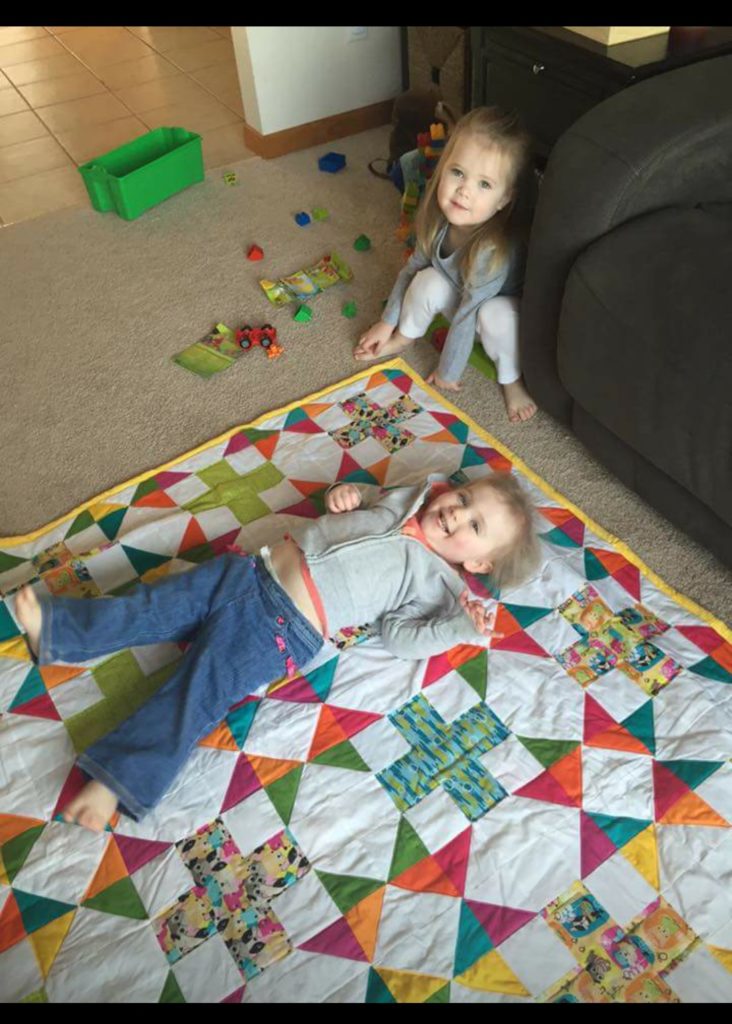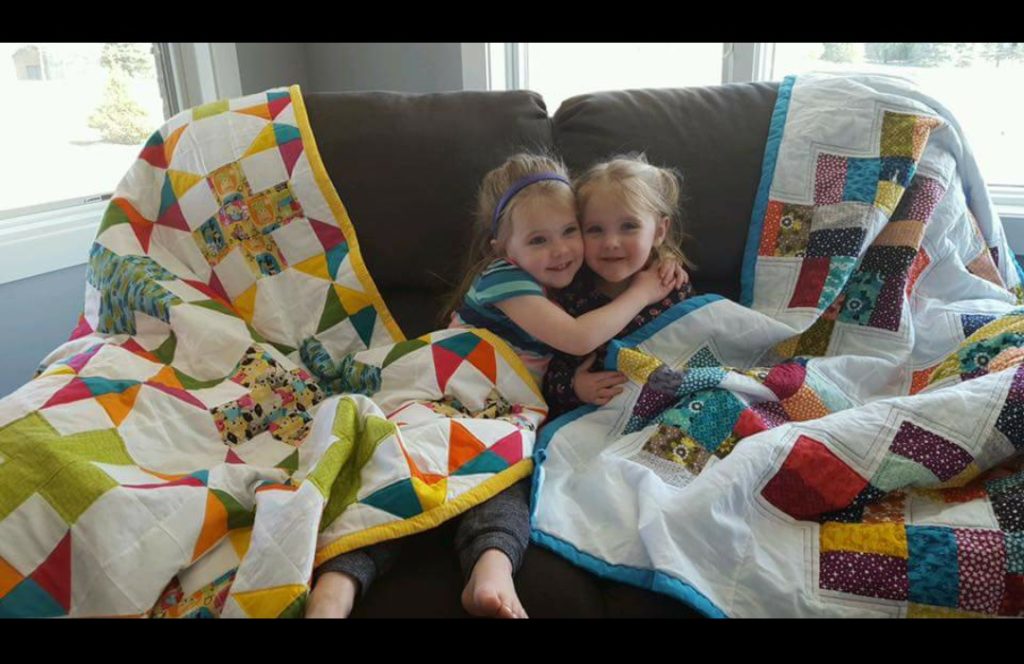 Our little cousin loved her quilt. This family lives quite a distance from us and we only get to see them a couple times a year. I was behind in making baby quilts. Her older sister received the Puppy Stars quilt last year. This is why I do not make the traditional "small"sizes that are considered baby quilt size. Baby gifts might not get to them until they are 2 and 3.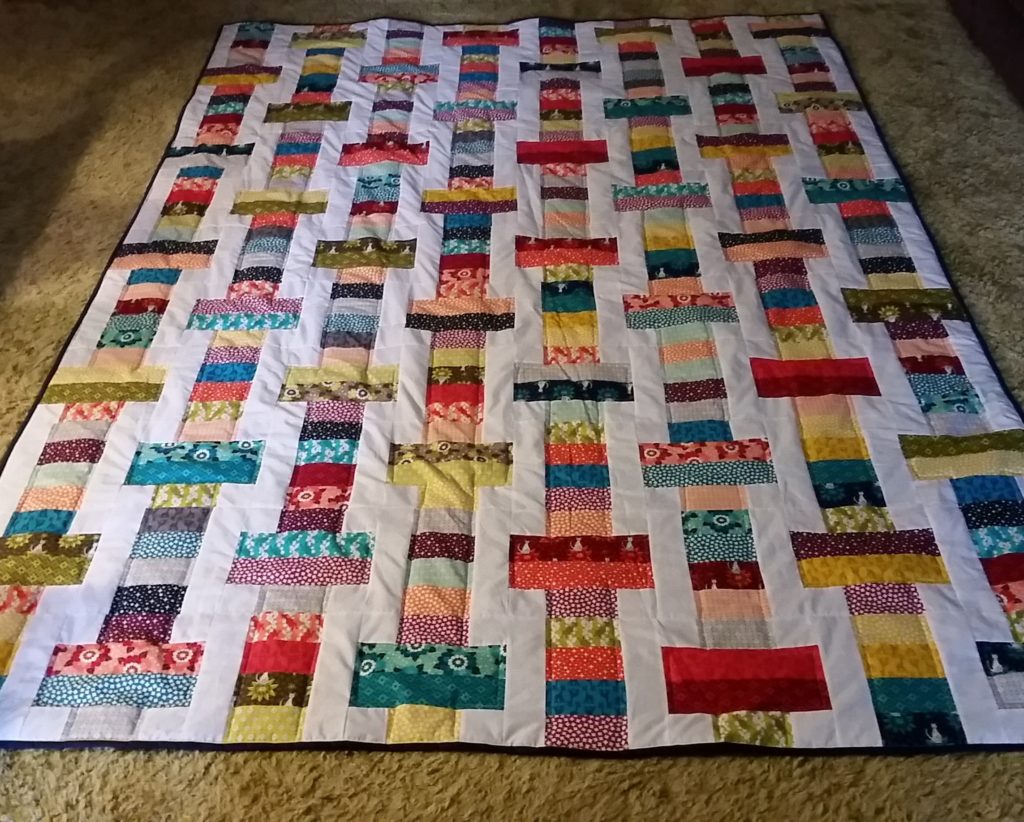 Here is my Jelly Roll Slice quilt completed. It does have a navy blue binding that ended up getting pulled pretty tight it seems. This was attached to the front and machine stitched to back.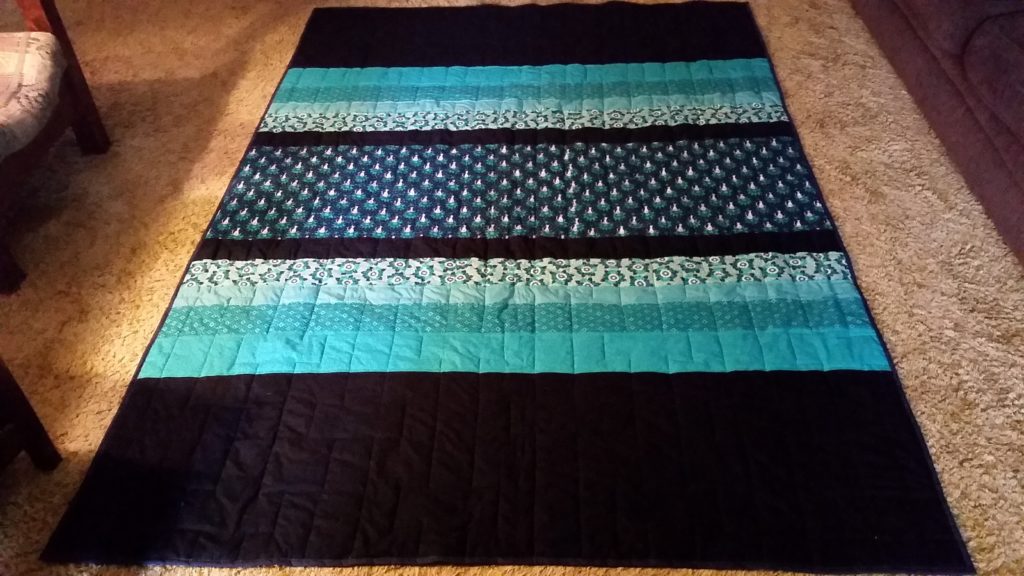 This is the back. I was pleasantly surprised that there was no color bleed from the navy blue and thankfully no sandy well water mess in this load so I didn't have to wash it twice.
Here is a link to the pattern for Jelly Roll Slice on the Fat Quarter Shop website . It is free and comes in multiple sizes. I made the twin that used 2 jelly rolls but that had alot of leftover strips.
I am hosting Thank Goodness It's Finished Friday this week. I will be making another blog post about my most recent completed project this week. It is one of my oldest WIP.
Happy Sewing,
Shelley
Save
Save
Save
Save
Hi, I am hosting Thank Goodness It's Finished Friday again this week. I have been busy working on quilting and finishing some of my oldest works in progresses. I look forward to sharing them with you all. It was great fun to see everyone's latest projects when I hosted 2 weeks ago. I hope to see more this week.
Happy Sewing,
Shelley
Hi, I am Shelley who blogs as The Carpenters Daughter Who Quilts and I am hosting this week's TGIFF:Thank God It's Finished Friday. I have been busy since December creating memory quilts from my Father inlaw's plaid shirts for as much of our family that I can from 30 shirts. I am now up to 7 quilt tops with plans for maybe a total of 11 quilts before I am down to just cuffs,pockets and collars.
I have become a bit obsessed with Swoon quilts. I have just finished my fourth one (tops that still need quilting) in about 2.5 months. I have been sharing on Instagram with the quilt alongs that you can find under the #swoonqal and #swoonqal2017. I am a bit late to the game with making my first Swoon. I have had pattern for years so why not use stashed fabrics from 2010 to start my first one.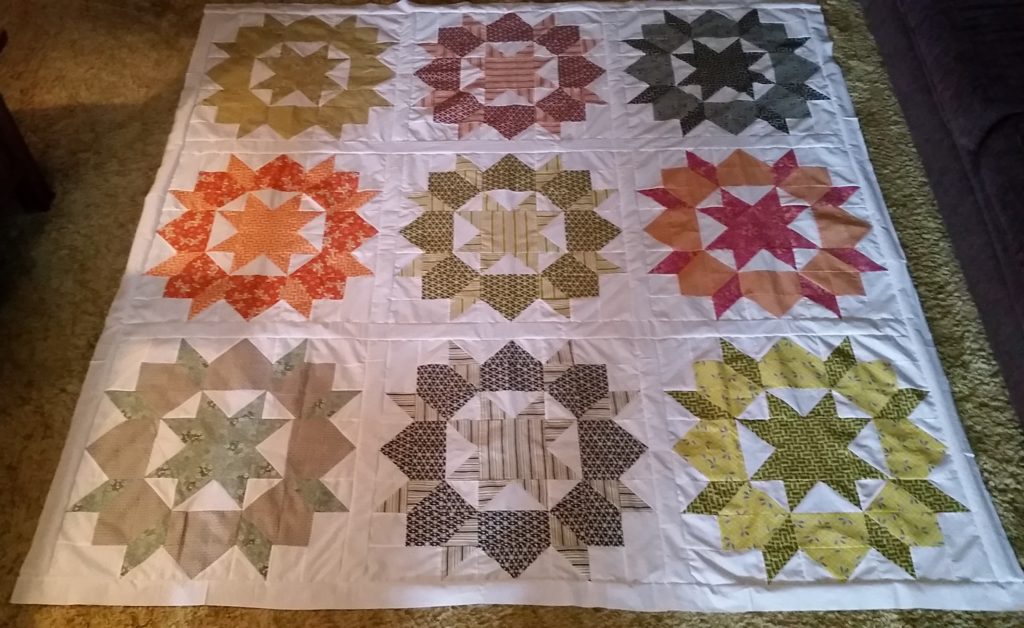 I shared photos of different Swoon quilts with my three sisters inlaws that I needed to make memory quilts for yet. And one decided on the original 24 inch block version and the other two decided they both wanted the scrappy patchwork Swoons.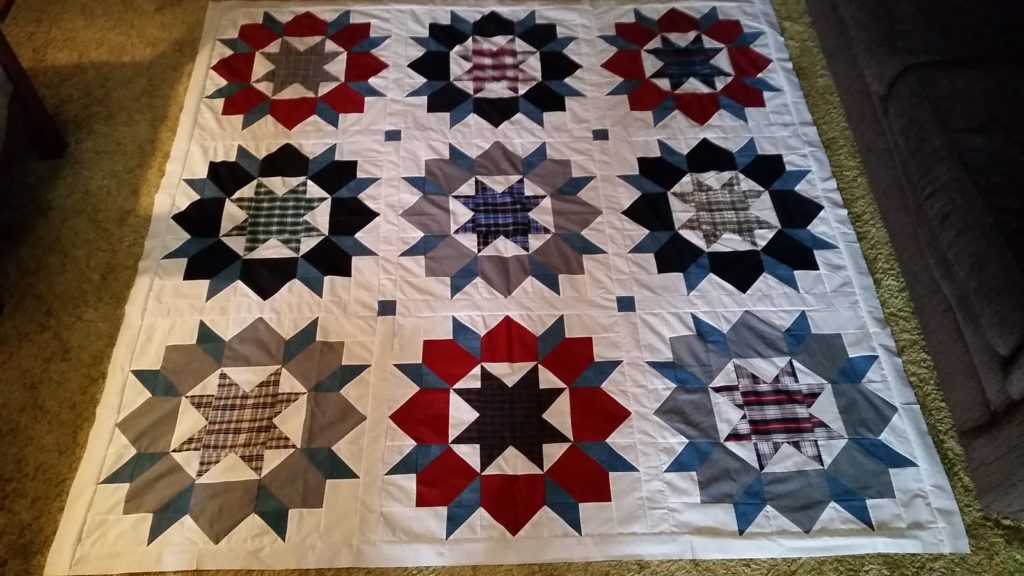 This quilt top has to be one of my favorite to date. It is going to be so hard to turn over to my husband's sister when completed.
I did write an entire separate blog post on these two Swoon quilts and can be found here.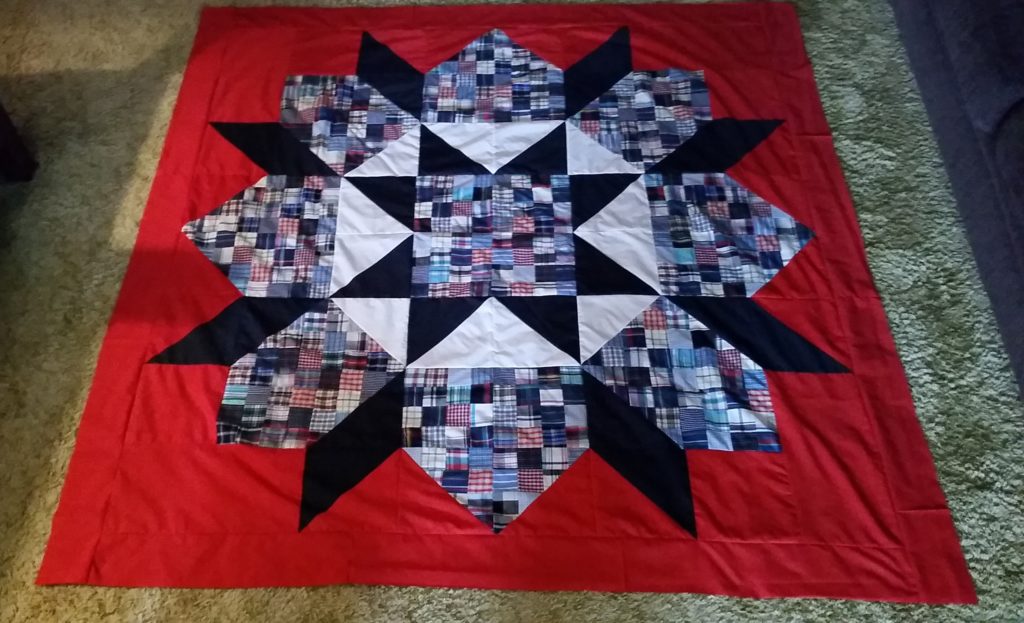 This is the first scrappy patchwork Swoon that I created. It uses all 30 of Dad's shirts.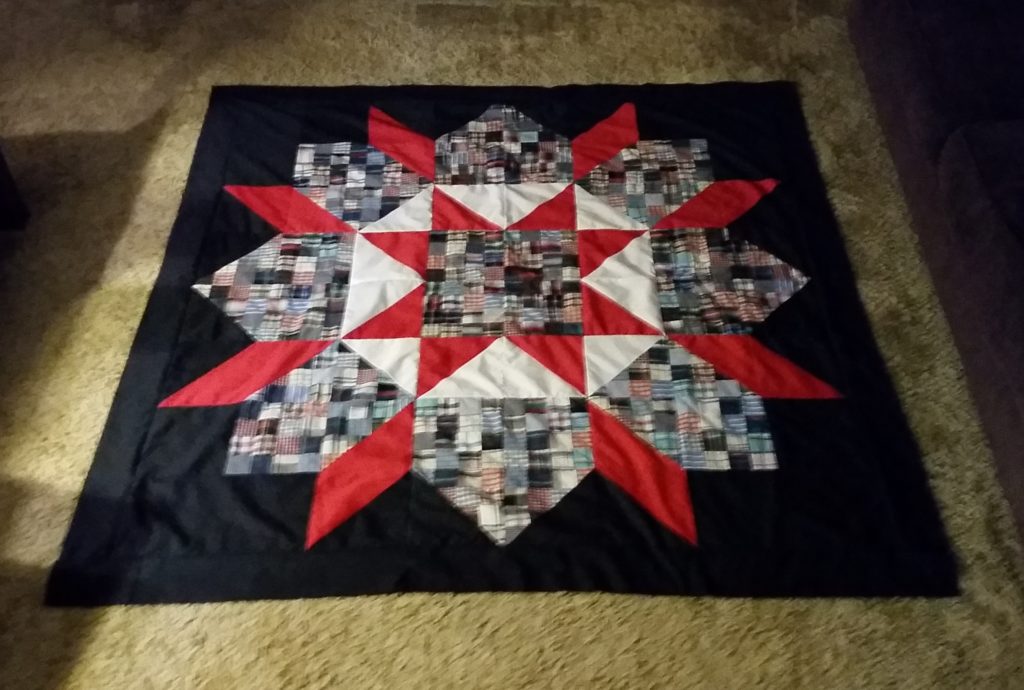 This is the second scrappy patchwork Swoon that I made from Dad's shirts. The navy isn't as dark in person.
I have written an entire blog post about the two Patchwork Swoon quilt tops and it can be found here.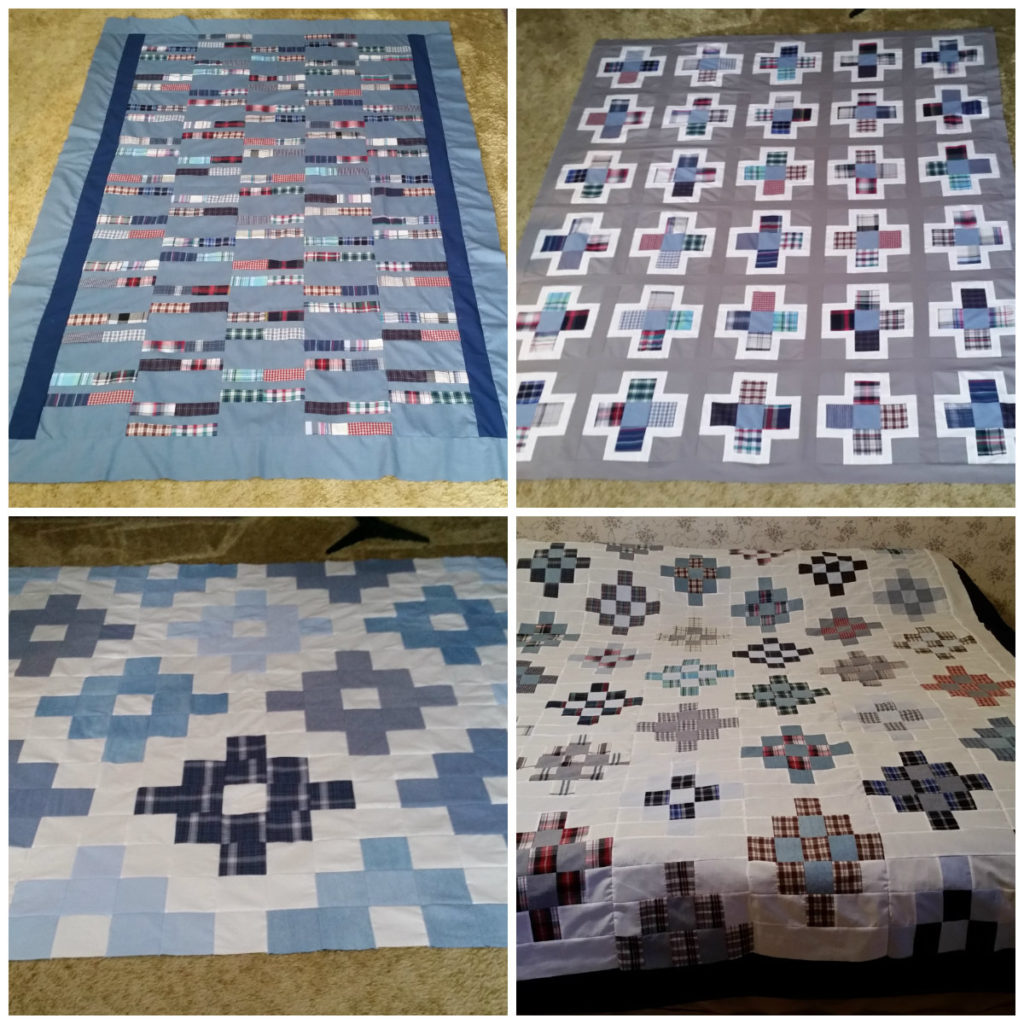 This is a quick peek at the other memory quilts that I have completed since December. They can be found on my blog.
How about we start this Friday's party?? I look forward to seeing what everyone else has been working on lately. Please link up your finishes below and be kind and visit as many of your fellow linky party participants' pages and share the comment love.
Hope everyone has a great weekend!
(If you are wanting to comment and do not see box directly beneath the blog post, you can click on title of blog post to open the post and there should be a comment box there.)
Happy Sewing,
Shelley
Save
Save
Hi,
I am happy to share more of my completed Swoon quilt tops this week. In this post, I am sharing the scrappy patchwork Swoons I have created for my two sisters inlaw from Dad's plaid shirts. They chose coordinating solid colors so it was easy to create quilts that were opposites of each other.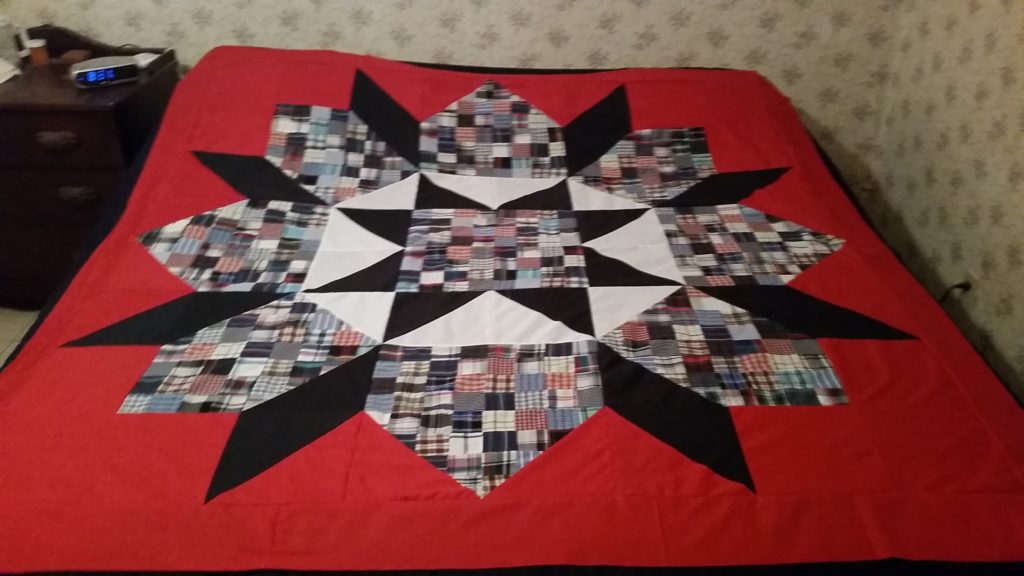 This quilt has 576 little patchwork plaid squares. The overall construction of the quilt design uses the same faster techniques you would learn from the Swoon 16 quilt pattern. This quilt is red and navy but the navy shows up way darker than it is in person. We chose to make the outer border the same color as the background. It finishes at 72 inches square.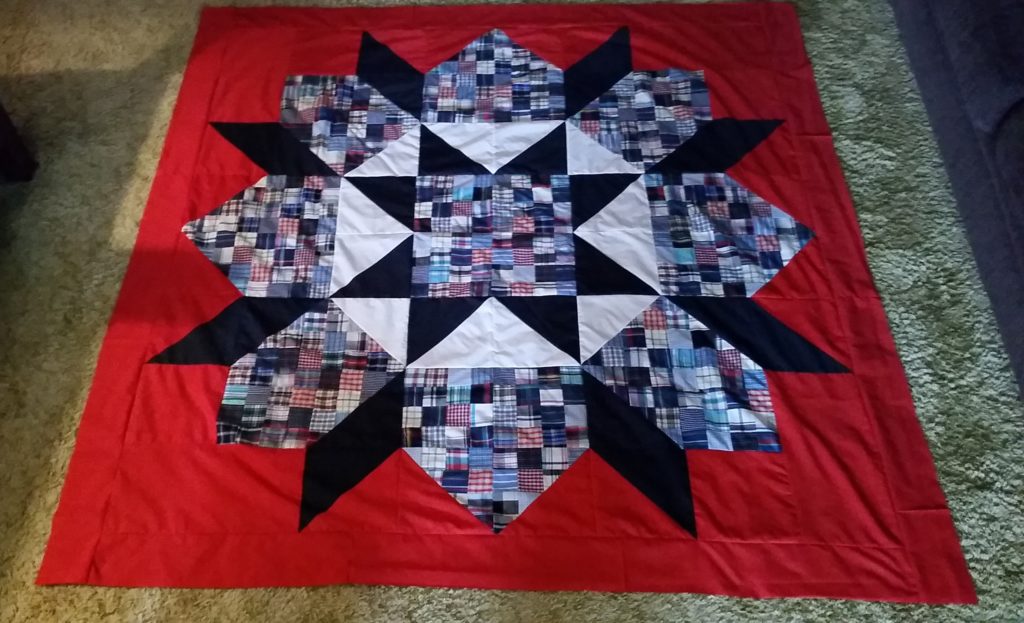 There are so many ways one could quilt this design. I wish I had FMQ figured out on my machine but I do not. And it is not in the budget to send these memory quilts out to be long armed. I saw a friend online did a nice allover crosshatch to the scrappy one she finished earlier this year, and she said it took her 20 hours. That doesn't scare me.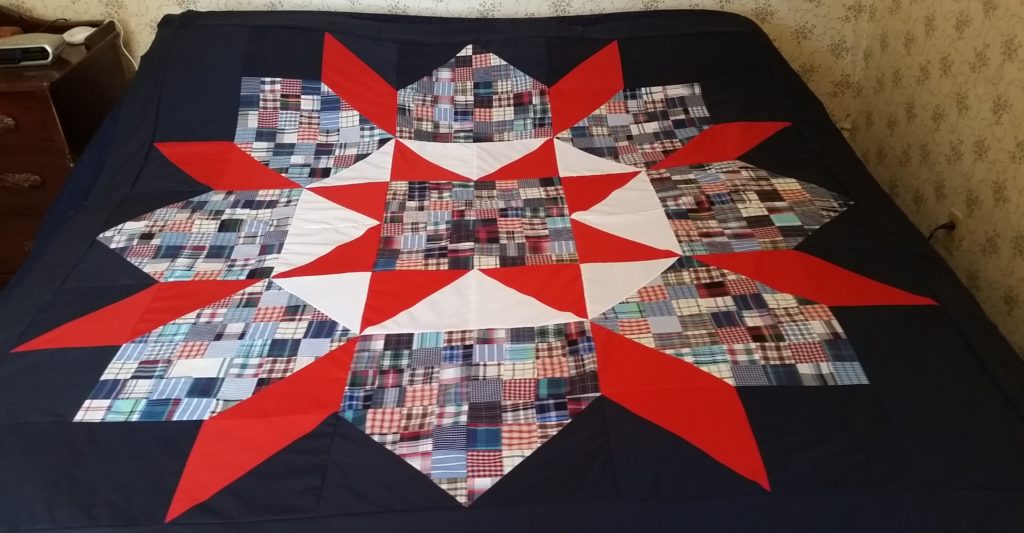 This is the second scrappy patchwork Swoon. Opposites of the first. This is a little more true to the color of navy blue. It seemed to take longer to create all the 64 patch blocks for this one. I counted and counted and continued to sew and thought for sure I was going to have cut more strips from the shirts. I did end up with 10 extra 16 patch blocks.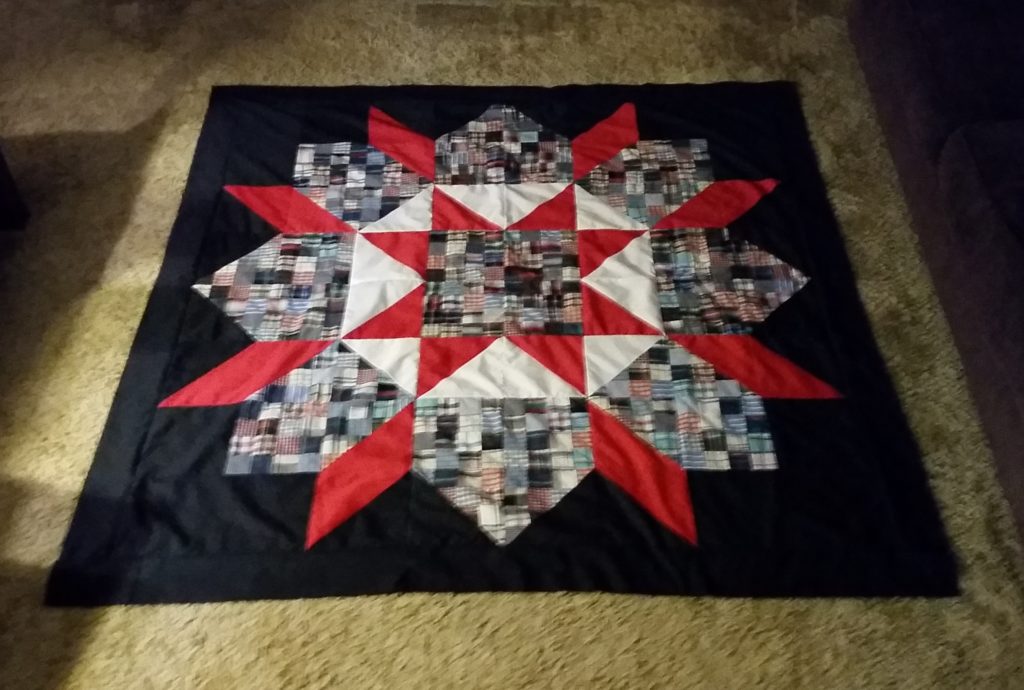 I didn't notice until taking this photo today, that I have a few rather dark plaids clustered together in the center block. Too late to change that.
When making this you are creating HSTs from the patchwork pieced squares, there is too much time and effort in this to just toss those extra pieces so I drew an additional line and created a smaller HST. Since I am making two quilts in same colors that makes double the newly created HSTs and add in those extra sewn 16 patch blocks, I am on my way to creating a third quilt design from the extra pieces.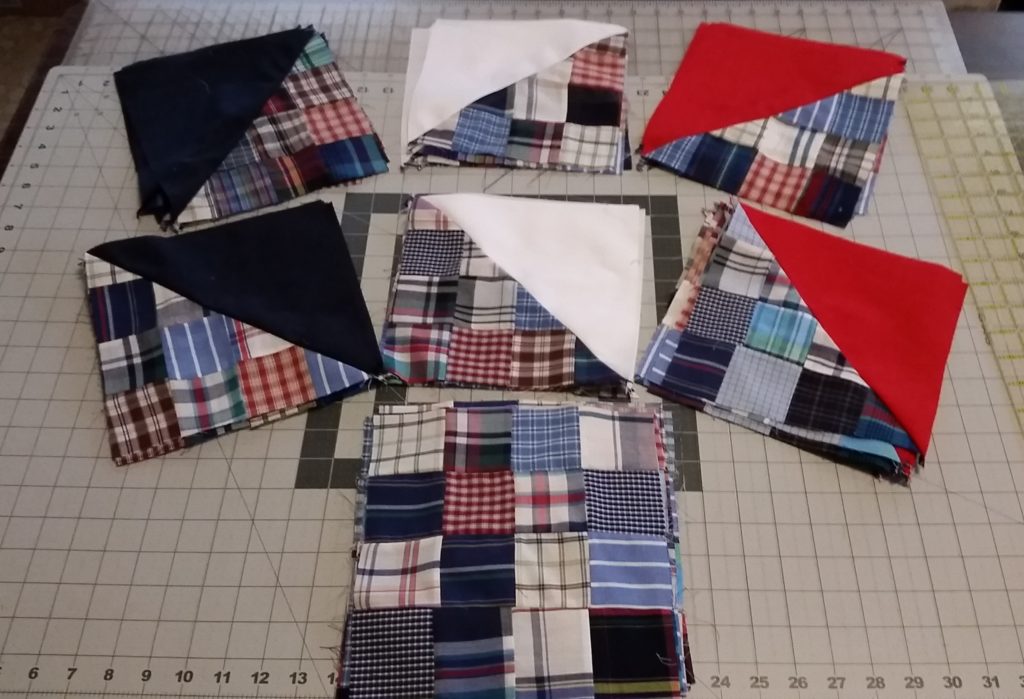 This would be too much fabric to toss into the scrap bin.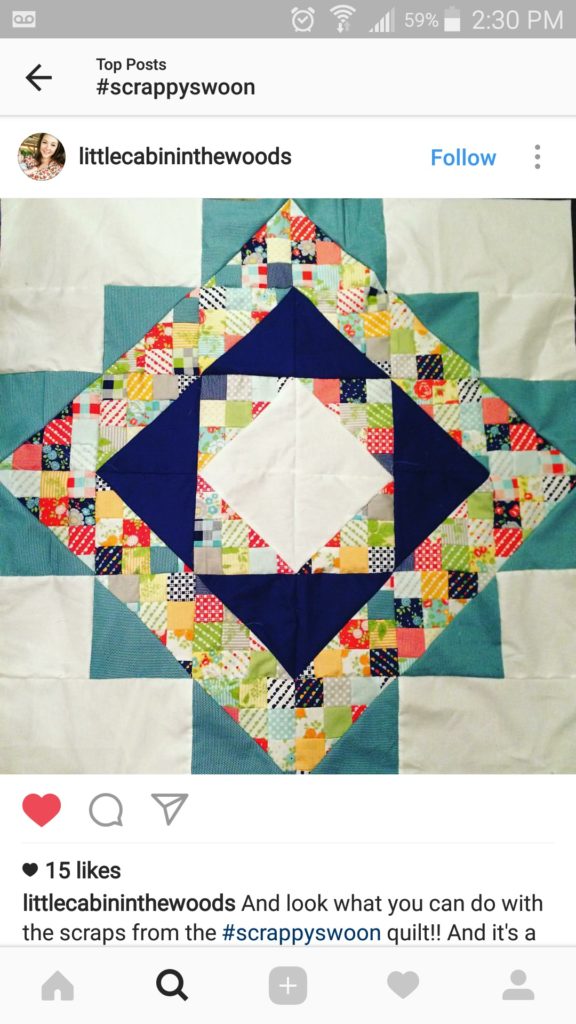 This of course is a screen shot off of Instagram on what I have ideas to create from all my extra pieces. Littlecabininthewoods on IG stated that hers was 43 inches before adding white borders. This would be a great start to making a medallion center for another quilt. I can make two of these medallions with opposite colors in the two sections which would be a starting point for two more quilts for family members. Or somehow put them all together into one large design. I am leaning towards the two quilts. The originals go to the two sisters and the opposite coordinating additional quilts could go to one of their daughters.
I hope to lay out my pieces and come up with a design this weekend or beginning of the next week. I have two other quilts that need to be quilted this week before I start on any of the memory quilts. I have one basted and need to get the other basted. They are pieced from similar fabrics so maybe I can use similar thread colors to quilt. They have been on the pile to quilt for way to long and the one can be delivered to it's recipient next week with a quilt that they purchased earlier this year from me.
I am hosting the Thank God It's Finished Friday linky party this week. There will be a separate post for the linky party. I will probably summarize these two posts and give links back here if someone wanted to read more on the finished tops.
Hope you all have a great weekend.
Happy Sewing,
Shelley
Hi,
I am happy to share some of my latest completed quilt tops. I have been sewing and quilting along with the #swoonalong and #swoonqal2017 groups on Instagram since the middle of January. I have four different Swoon quilt tops made in around 2.5 months time. I have made two of the original Swoon pattern that is made from 24 inch blocks and I have also made two of the scrappy patchwork Swoon pattern which is one large 72 inch patchwork pieced block. I will blog in a different post about the scrappy patchwork tops.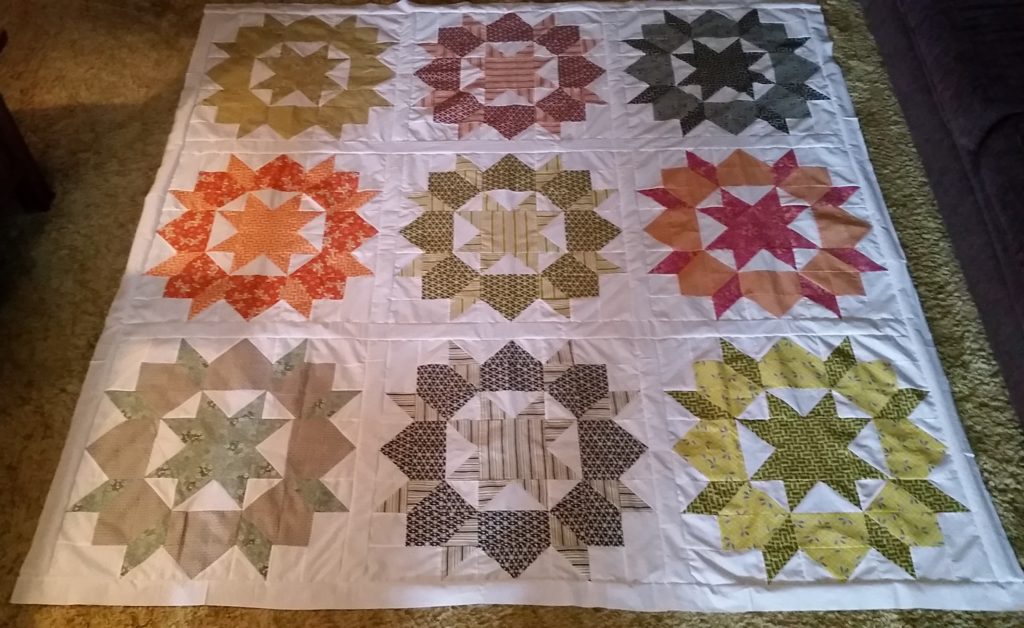 This Swoon is created from Denyse Schmidt's Hope Valley fabric line that I had in my stash since 2010. This was the first of the Swoon's that I started piecing. I had the blocks all pieced before I started on my memory quilt Swoon quilts. I had the other three completed before I finished sashing this one. I actually just finished this one last night. The sashing fought me on this one. I added the small pieces between the blocks and added the full sashing strips to the first and second rows. The first and second rows didn't want to join properly the first time. I had to take apart the middle of the row and flip it over and attempt to ease it back together. This seemed to work. Thankfully adding the last row went alot easier.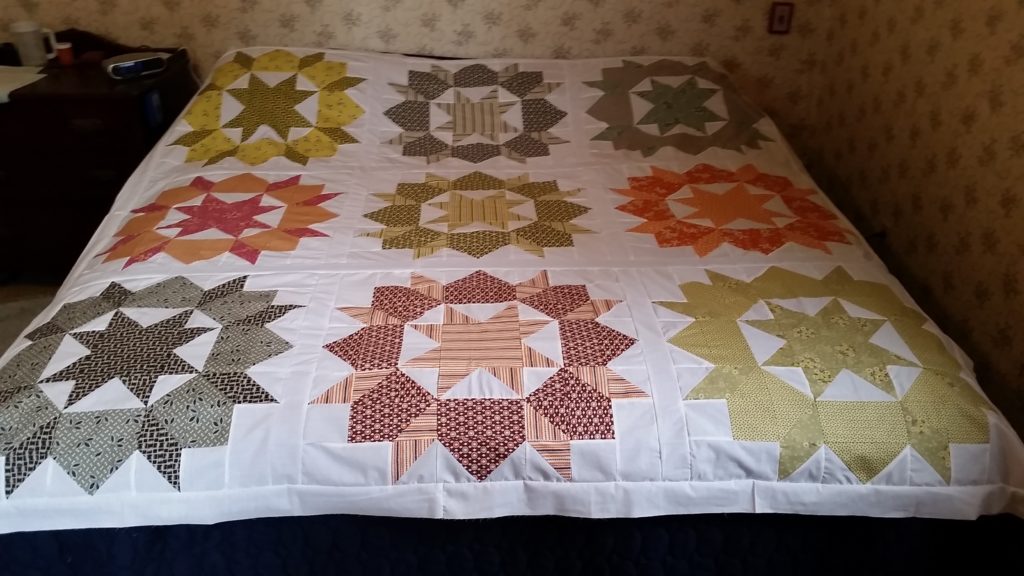 I always have to take a photo of the quilt on our king size bed to get the allover look of the finished top. It finishes at 80 inches square.
I decided to use up the extra six fat quarters in my set and make three additional blocks that I will piece in a strip across back of the quilt.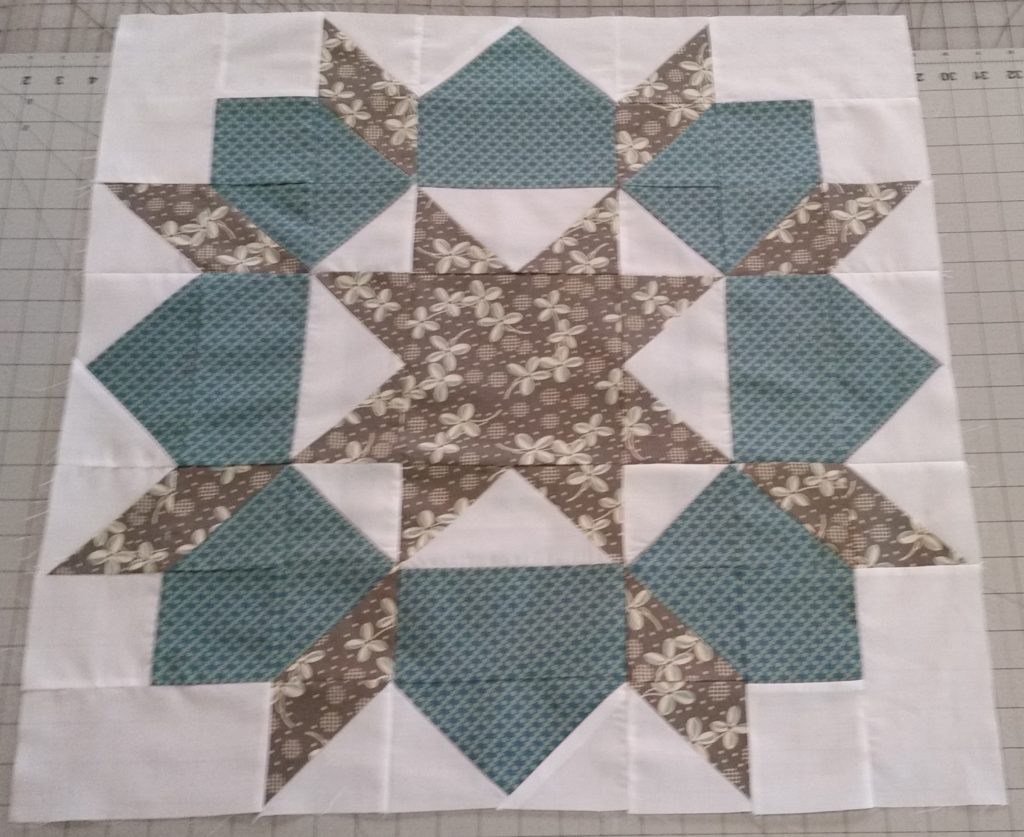 Block 1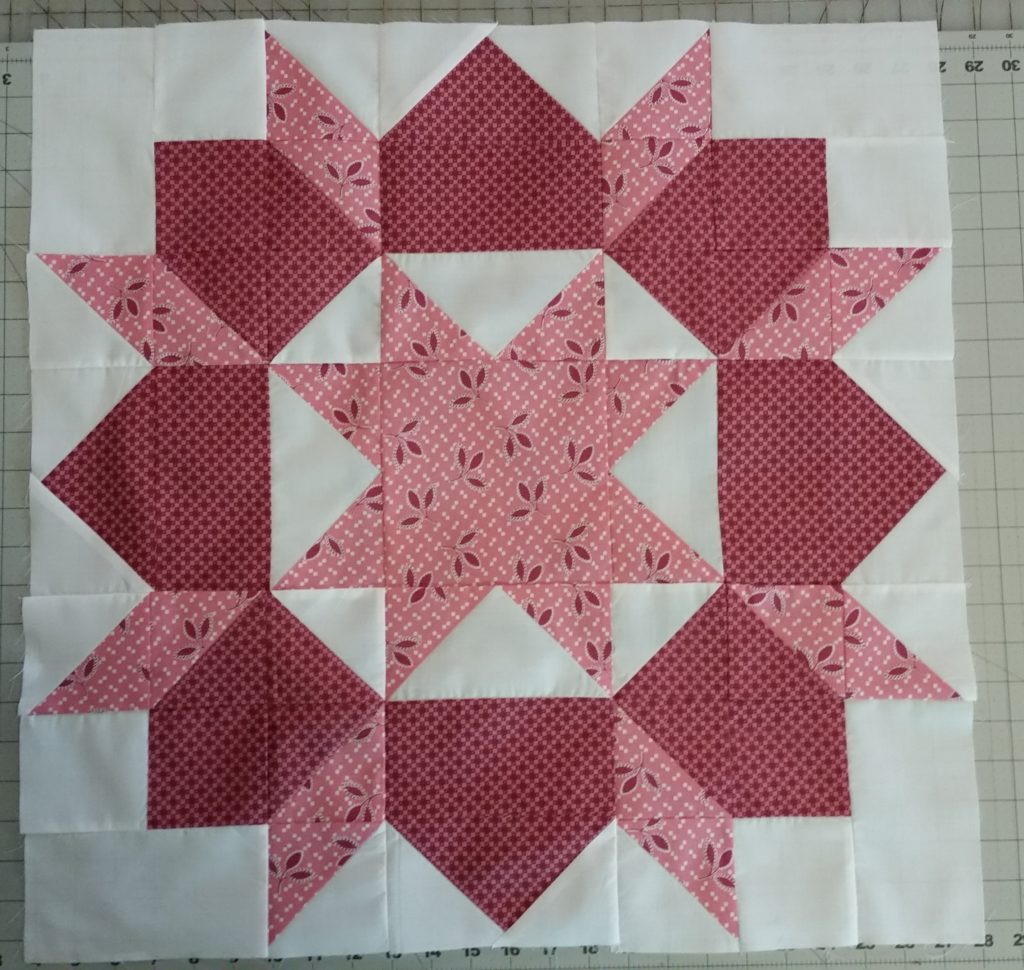 Block 2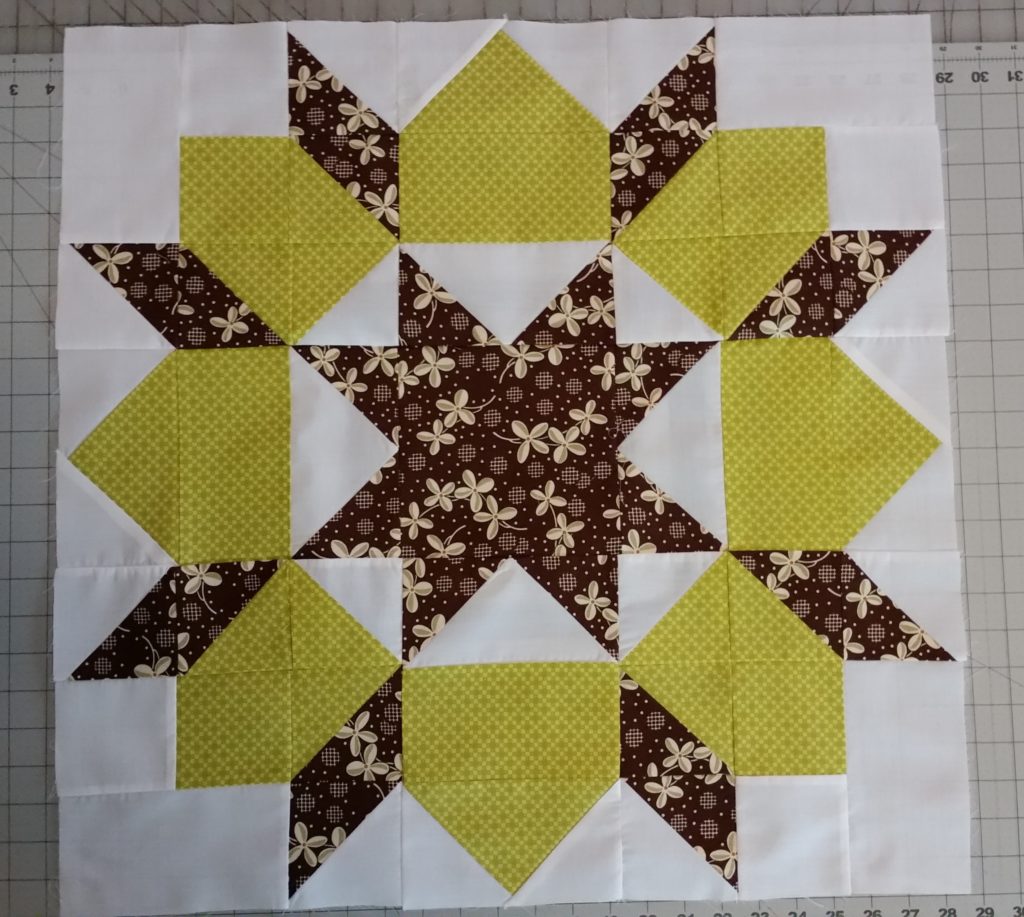 Block 3
These three blocks were made from more contrasting prints than the rest of quilt so they have a bit of different look to them. Actually the best Swoon blocks have lots of contrast or you can lose the design.
I haven't decided yet how I want to quilt this top yet. I originally wanted to try QAYG but after piecing the other tops decided to just get this one sashed as well so we could call it a completed top.
I have been making memory quilts from my Father inlaw's shirts since before Christmas. I had four quilt tops created so far and decided to ask my three sisters inlaw what they might like. I had plans for the next one but asked them if they liked the idea of it or gave them some options. I told them about the Swoon quilts and shared some photos off of Pinterest and Instagram. One sister decided on the original size Swoon and the other two decided they both liked the scrappy Patchwork version. I actually own all four Swoon patterns and said I would have been fine making the 24 inch, the 16 inch and a scrappy. Both liked the scrappy one.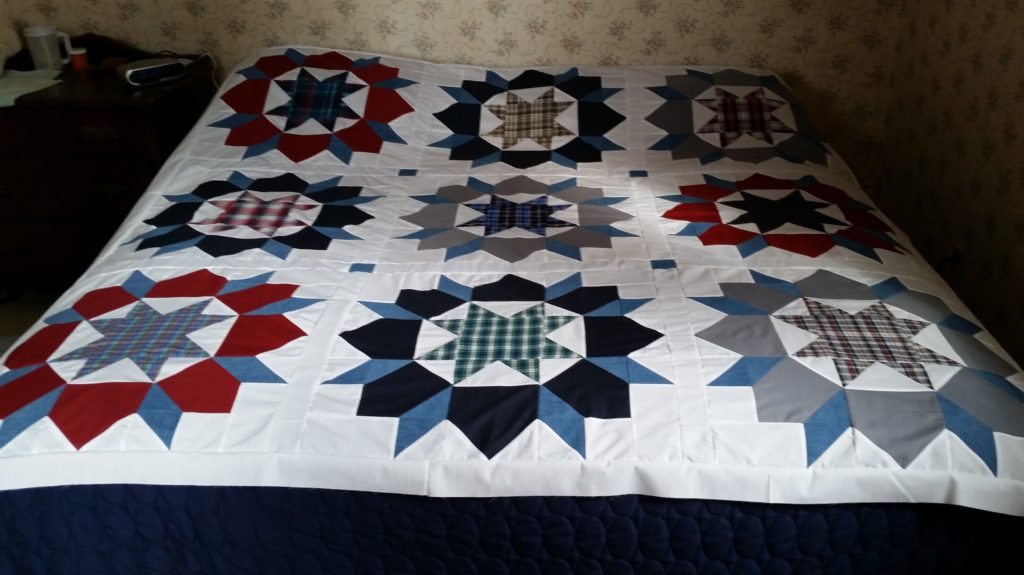 I love this quilt so much! It is the 24 inch block version of Swoon but I used the faster piecing technique from the Swoon 16. Boy,do this make it so much more fun to piece. I got inspiration from a photo on Pinterest to add the colored sashing stones. I have seen a really neat version where they added half square triangles to corners or snowballed the corners and with adding these sashing squares or stones, it will create a small churn dash block. Jenny Doan of Missouri Star Quilt Co has shown this technique on some of her quilts. The denim blue points in each of the Swoon blocks is all cut from one Carhartt denim shirt. It is wonderful material but added extra bulk I didn't need. I really think the Swoon 16 way of piecing the blocks helped eliminate even more bulk of the denim.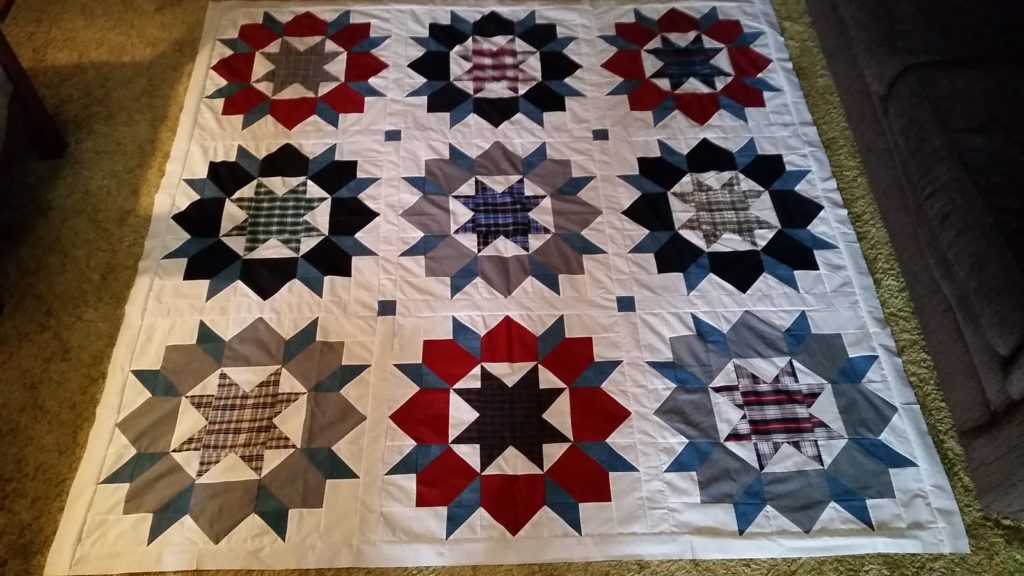 My husband really likes all of the memory quilts made so far, but when I showed him this one he said Wow! It is really going to be hard to give this one up. But I will… I have set aside what is left of these fabrics and I have extra of the solids (I really liked the pop of red, which surprised me). I hope I have enough to make myself a Swoon 16 since I haven't made that one yet. I would want to make extra blocks to make a larger quilt. I have to make a couple other family members quilts yet before I cut into this project.
I apologize for having been away from blogging the past couple months. I have been busy and dealing with some personal and family issues. Unfortunately many things on my blog have been taken care of and I hope to get back on track and share more of what I have been working on.
I am hosting Thank God It's Finished Friday this week. You will find a separate blog post for the linky party. I look forward to seeing what everyone has been working on this week.
Happy Sewing,
Shelley
Twitter