The Cowboy Way: Grande Scrappy Tiles Flimsy Finish
Hi, I am excited to share today my finished quilt top made from Grande Scrappy Tiles that I am pattern testing for Meadow Mist Designs. I completed it before midnight, so that still counts as a Friday Finish, right? (Hard to take photos that late, if someone is sleeping in the bed. lol)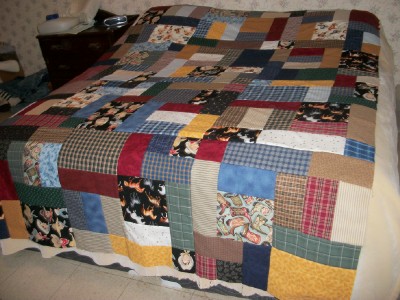 This is made with 30 different prints from stripes, plaids to cowboys, horses and boots. I was worried about combining all of them together, but I think they all mesh together nicely. Nice flow of color as well. I like it the pattern so much, that I can see it in possible patriotic prints which I have a ton of or all different plaids as I have a ton of homespuns. Some of the focus prints are upside down or sideways, but that is just the nature of the block. This quilt is just One Block and you flip it this way and that. I would think about cutting certain prints differently, if it was important that they be upright. The pattern uses fat quarters or 1/4 yard cuts. I used both, so it make it just a little more tricky cutting out. But Cheryl has a great chart telling you exactly how many of each block segment you need. So you can cut this top easy from your scraps and stash of fabrics.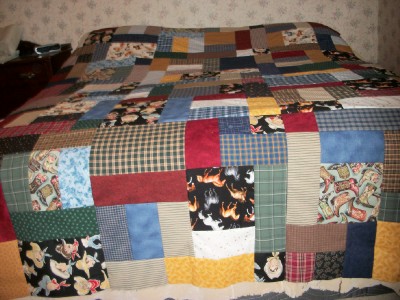 This is a twin top on a king size bed. It is 72 inches by 96 inches.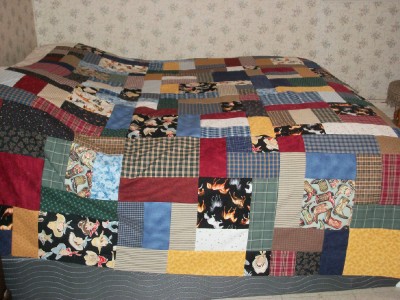 Turned sideways on bed. There are so many of my old favorite fabrics in this quilt. I can not wait to start quilting on it. I am hoping to draw out a plaid type quilting on it. Use the arm extension on the walking foot and painters tape?? I have to figure out what to use on the backing. I still have lots of the same scraps. My daughter wants to save back the black background cowboy face print as we have had that set aside to use as lining in a leather purse we are designing to make.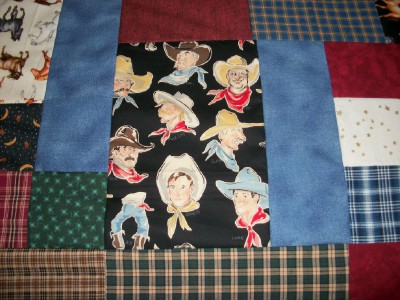 I love this cowboy print and Mr. PoleCat is in the center of the block. He is my favorite. It makes me think of Doc Holliday.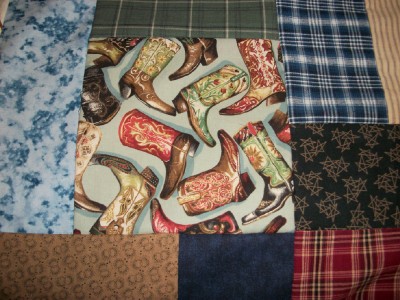 I also love the cowboy boot print fabric. I had to use this fabric in the quilt. My daughter loves her cowboy boots. She has 7 pairs of Tony Lamas.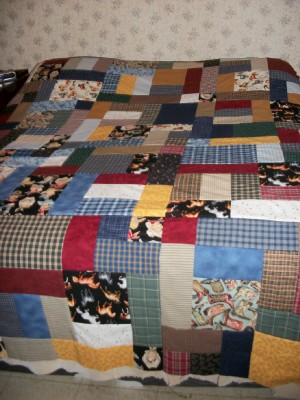 It is fitting to get this top completed this week as my daughter starts her internship at the horse farm on Monday.
I will be linking up this finish with Crazy Mom's Quilts, Can I Get a Whoop Whoop?, TGIFF, Oh Scrap and Prairie Sewn Studios Craft Comment Karma and Scraptastic Tuesday.
Thanks for stopping by.
Happy Sewing,
Shelley
24 Responses to The Cowboy Way: Grande Scrappy Tiles Flimsy Finish
Twitter