Plus Plus Flimsy: Fri. Finish
Hi, It's Friday and I have a Friday Finish to share. I have finished putting together my queen size Plus Plus top that I pattern tested for Meadow Mist Designs.
I have never been more happy to see all 121 blocks finally come together. I really like how it turned out.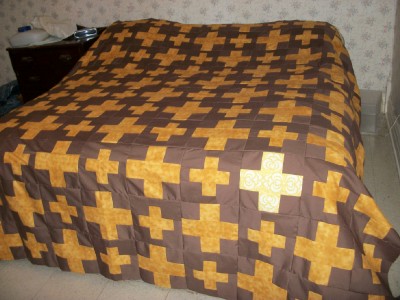 This is a queen size top on a king size bed. It is 99 inches square. It covers the bed from pillows to floor, and almost covers both sides of entire mattress. (One more row of blocks or a 6 inch border strip added to both length sides would finish off the size of top we like on the bed, but this will work nicely as well. )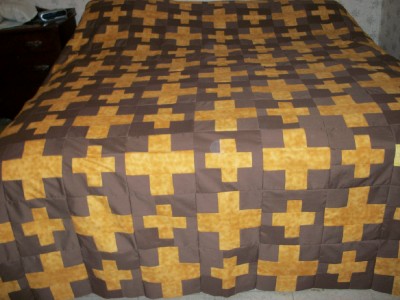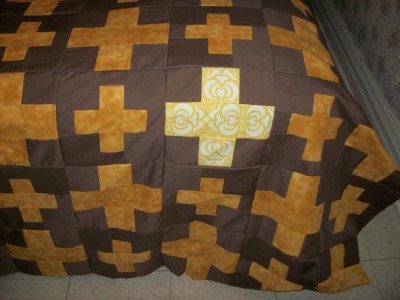 There just is not enough room in our bedroom to get the whole bed in the photo from this angle. I was standing in the closet, maybe next time will push the clothes aside and go further back and it will finally get the full bed in the photos.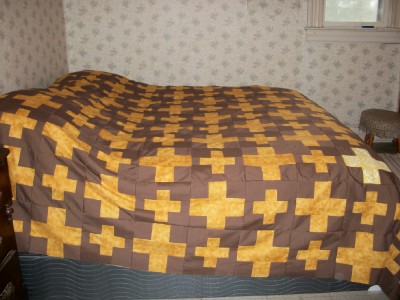 I tried turning the quilt top around the other direction of bed to see if that would work better??
I plan to use the accent plus' fabric (Amy Butler's Midwest Modern) as an accent stripe to back of the quilt. I am also looking at quilting it in an allover checkerboard grid which will call for adding the spacer arm to the walking foot.
The Plus Plus quilt pattern is two complete patterns in one. Today, Cheryl is showing her versions on her blog, Meadow Mist Designs. She is today's stop on RJR Fabrics What Shade are you? blog hop. Cheryl is having an introductory sale on the Plus Plus pattern on her Craftsy and Etsy pattern pages for $6.00 til May 3rd.  Be sure to go check out her posts as her two Plus Plus quilts turned out so awesome!
I will be linking up my Friday Finish with Crazy Mom Quilts, Can I Get a Whoop Whoop?, TGIFF and Prairie Sewn Studios' Crafting Comment Karma.
Thanks for stopping by.
Happy Sewing and Have a great weekend,
Shelley
16 Responses to Plus Plus Flimsy: Fri. Finish
Twitter