Old School NFL Team Jersey Baby Quilt Flimsy
Hi, I am sharing my Friday quilt top finish for the week. It is a regular size Adding Up Nicely designed by Meadow Mist Designs. This is the lap throw size of 50 by 68 inches.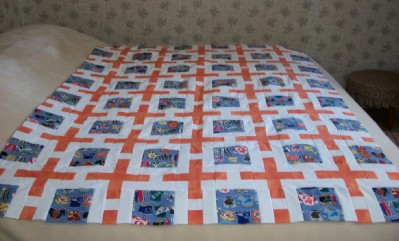 This quilt will be for my little nephew Casey who turned 1 year old yesterday. I used to make his Dad and my son clothes when they were little. I made quilted baseball jackets, where I quilted up fabric yardage and then cut out the necessary pattern pieces using a fun themed fabric for main part of the jacket and a solid color as the sleeves. When my nephew wore his Cowboys (on horses fabric) jacket I made him, he was almost attacked by a lady at McDonald's asking where he got the jacket as she had just spent hundreds of dollars decorating her son's bedroom in the western Cowboy's theme. My sister inlaw told her that his talented Aunt made it for him and that she was not likely to find another.
The fabric for this quilt is an Old School NFL football jerseys and uniforms themed fabric. My nephew is a big Chicago Bears fan. This fabric has a copyright from 1996 on the selvage. I know it is saved from when I still made my son and nephew clothes. I have pulled this fabric out a few times over the years to maybe use it, but put it back. I thought this was the perfect time now that my nephew has his own son. It's because of his love of the Chicago Bears I pulled a mottled orange cotton fabric from my stash. The white background is the same fabric from my Uncle Max's Eagle Landing quilt top I finished a couple weeks ago.
I am still working on what I want to do for the back of the quilt. I have one special touch that will tie a connection to my Mom, who passed away in 2013. Mom helped me with my special Chicago Bears quilt project that I presented to a friend who was a retiring Marine. She machine embroidered a fabric patch that was a kitschy version of the Lord's Prayer written for the Chicago Bears and their run for the Super Bowl in 2007. She gave me her sample of it and I found it in my stash of fabrics last week. I was pulling fabrics for another quilt idea when I found this Old School NFL fabric. I had the embroidered quilt block but put it back as I did not have a use for it currently. Now a week later, and frantically searching for it for two days I still can not find it. I had wanted to do a crazy attempt to finish this quilt top today, but since I could not find that sample I have decided to take a step back and see if it will show itself. I think it would be a true keepsake to my Nephew to have something his Grandmother made, since she did not meet his son.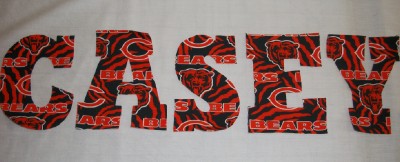 What I did find what some actual Chicago Bears licensed fabric left over from Sgt. Walker's Bears quilt made in 2007. So I traced them on to fusible web and have them ready to iron on my quilt back and machine applique them. To come up with the most fitting back for this special quilt is taking longer than I hoped, but I am sure it will be treasured by my nephew and his son.
I had some nice comments about my photos of my Mr. Bird metal sculpture that my husband made me in my last blog post. For fun, I thought I would share what Mr. Bird looks like without his quilted wings and he has a mate, Mrs. Bird. She is actually taller than Mr. Bird and lives across the drive in a raised flower bed, which is now just full of grass.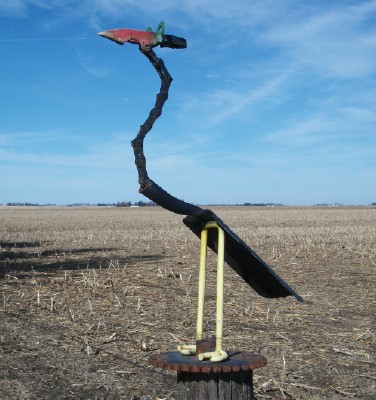 (Mr. Bird)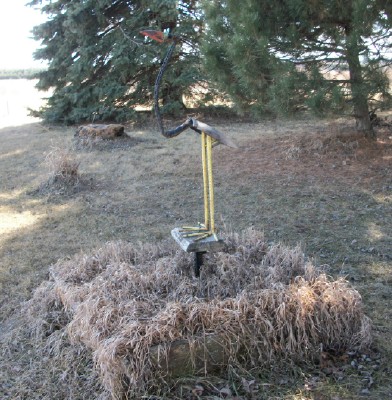 (Mrs. Bird, has longer legs, different feet and a different shovel as her body base.)
I will linking up my flimsy finish with Can I Get a Whoop Whoop Friday?,TGIFF linky party  and also And Sew We Craft Together Week 12.
Hope everyone has a great weekend. We are celebrating our 28th wedding anniversary today. I had a good evening with my husband and daughter eating out for supper with my Dad and various aunts and uncles. Dad's birthday is St. Patrick's Day so it was a double celebration.
Happy Sewing,
Shelley
4 Responses to Old School NFL Team Jersey Baby Quilt Flimsy
Twitter