TGIFF: Catawampus Flimsy
Hi, I am Shelley and I blog as The Carpenter's Daughter who Quilts. I am hosting TGIFF (Thank Goodness It's Finished Friday) linky party this week.
I have been working on creating a queen/king sized batik quilt from the pattern Catawampus by Freckled Whimsy this past week. I have used scraps from 27 different batiks that I have used previously in 4 different quilts over the last 5 years. (I have blogged about 3 of them, Buttonholes, Shadowbox and High Tea.)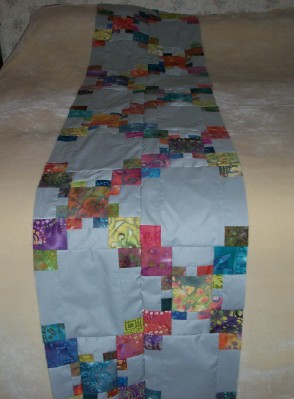 The quilt top will be 100 inches square and will fit our king size bed fairly well. I layed the first part of my flimsy across the bed from head to toe and side to side. It would be great if the pattern was 110 by 100 inches and it would fit more how I think it should fit the bed. The background color is a soft gray but looks rather blue in the photo.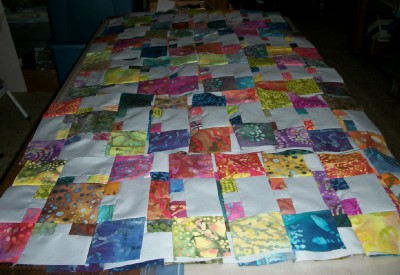 Here are the rest of my rows of blocks. I had hoped to have the whole flimsy together before the time I needed to start up this week's linky party. I do hope to have it finished on Friday so I can still have a Friday Finish. I have put many hours into sewing in the last two days. I am pretty excited to see this top finished. I hope that all my quilting friends that have ventured to QuiltCon have a great time and hope they will share what they learned and saw when they come back home.
I look forward to seeing what everyone has to share this week.
Please link up your latest finishes to TGIFF. Please take some time to look around at what our other quilty friends have been working on and be sure to leave some great comments for encouragement along the way.
Happy Sewing,
Shelley
7 Responses to TGIFF: Catawampus Flimsy
Twitter