Quilty Flashback Friday: My version of Crazy Mom Quilts' Fair and Square quilt
I am linking up this week with Elizabeth Dackson's Don't Call Me Betsy blog. She is holding her first ever Quilty Flashback Friday by sharing one of her first quilts and asking other quilters to share some of their quilting history. I have been a long time reader of her blog and thought it would be fun to participate as well.
Elizabeth and a few of the other quilters were sharing quilts they made from 2010 and earlier. I am sharing my first quilts I made our grandsons in 2010. My actual first quilts were made in the early 90's and quite a few of them I either did not get photos taken of them or have misplaced the photos over the years.
I made our grandson a John Deere quilt using Crazy Mom Quilt's Fair and Square quilt tutorial. I had purchased two sets of fat quarters of 7 different John Deere prints. I had used some of the fabric to make a charity quilt that was auctioned off for a friend who had health issues at the time. Our grandson loves tractors so I thought I would have him a quilt for his bedroom.  The Fair and Square quilt tutorial had great instructions and made a fun quilt.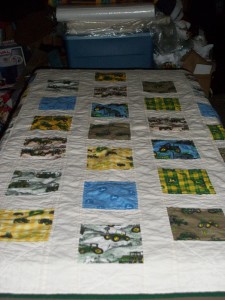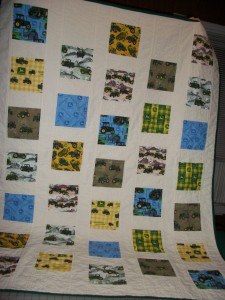 I decided to get extra creative and make the quilt more personalized by appliqueing his name Shaderek to the back of his quilt. I found a font that I liked and sized the letters to the size I wanted and printed them out. I used a light heat and bond to fuse the letters to my quilt backing. I used a satin stitch to machine applique the letters to finish off the edges. I have used this technique to add names to other quilts and all the recipients have loved them.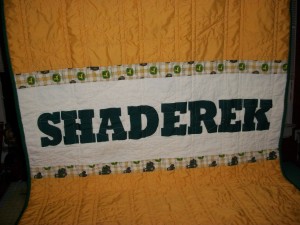 I had some extra fabric left over and decided to play with my circle cutting ruler and cut out circles of the various John Deere fabrics and make a smaller quilt that my grandson could take with him in the car so he could leave the other one at home on his bed.  I cut the circles in 4, 5 and 6 inch diameters. I fused and machine appliqued them in the same fashion as the other quilt and just applied them in a pleasing random row pattern.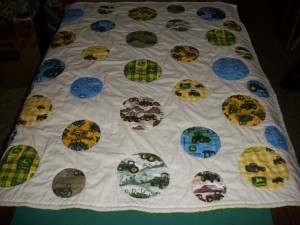 I am linking up with Crazy Mom Quilts Finish It Up Friday.
8 Responses to Quilty Flashback Friday: My version of Crazy Mom Quilts' Fair and Square quilt
Twitter