Plus Dash Test Top Almost Complete
Hi, I thought I would share how my pattern testing for Plus Dash by Jan at The Colorful Fabriholic. I have made great progress in two days. I have my top completed except for the outer two borders.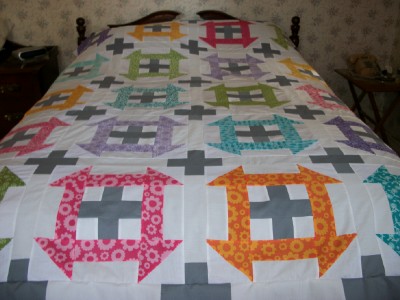 This is what I had two days ago. This laid out on my 5 foot slate top desk. I use this desk as my design wall/table. I do need to finish my design wall. I have white felt to complete it. I just need to determine a place that it will be secure to attach my wip together on it.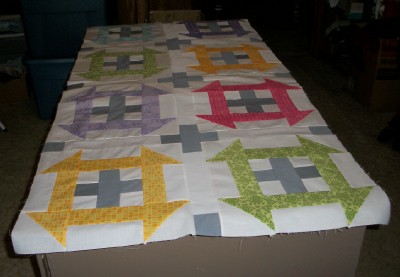 After making quilts for upwards of 20 years, I still fight alot of doubt on my color choices. I picked out these five colorations of prints in fat eighth sets almost 2 years ago. I did not know what to do with them in the end, so they stayed put in my fabric chest of drawers. When I saw that Jan was picking all sorts of prints for her version of this quilt, I decided to give these a go. It's very bright and colorful to say the least. I do love the pewter gray pluses. I plan on giving this as a special gift to a good friend. I hope it brings some happiness and comfort to her during the hard times she is dealing with currently.
I had a great find in my fabric stash. I found 30 precut 2 1/2 inch white strips of fabric so it made cutting out this quilt a whole lot easier. I also had some odd sized about the size of a fat quarter of white fabric that was left over from cutting borders for another quilt that I was able to cut many of the pieces I needed for this quilt. It was like winning the quilter's lottery.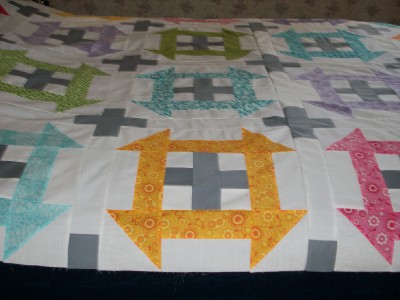 Here is one side of the quilt and after adding the last two borders, it will complete the last row of gray pluses.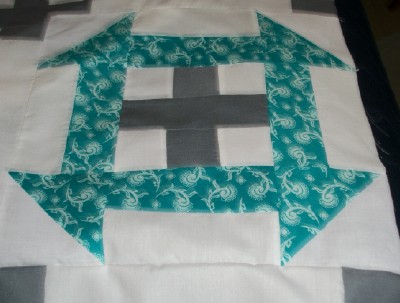 And this would be one of my favorite prints from the whole set of fabrics.
I hope to get the last borders completed maybe yet tonight or most likely tomorrow. We are supposed to get some measurable snow this weekend, so it is a good time to sew and quilt. I have to make backs for my Broken Frames quilt, also for my Patriotic Square in a Square quilt and my Looking Glass quilt. I am hoping to have them quilted by Thanksgiving. Do not hold me to that, but is definitely a plan that I am shooting for. I will quilt Looking Glass first as it needs to be completed for a blog hop on the 21st, and the other two I hoped to give as early Christmas gifts to family I hope to see for Thanksgiving.
I will be linking this wip with various linky parties this weekend. Thank you for stopping by.
Happy Sewing,
Shelley
5 Responses to Plus Dash Test Top Almost Complete
Twitter