Max and Whiskers: A Dogs and Cats Quilt for a Veterinary Student
<a href="http://www.bloglovin.com/blog/12532307/?claim=3frwe3n49kn">Follow my blog with Bloglovin</a>
I would like to share today the final one of three quilts I made for our graduating nieces last year. I had come across what I thought was a fabric line of some really cute dog and cat prints. It would make an awesome quilt for upcoming veterinary student.
The fabric I chose was called Max and Whiskers by Basic Grey for Moda. I had purchased a layer cake of the fabrics and searched for a quilt pattern that would showcase the cute prints to their fullest. I came across a new to me designer from Australia, Roslyn Mirrington of Bloom.  She had designed a neat column based quilt design that you could use a layer cake and make two quilts from. The design is called Abracadabra. The pattern makes a twin size bed quilt and a nice size throw that would work for a toddler quilt. You can change things up for the second quilt by adding a different background and applique a name on it.  I do not use too many precuts so when I do, it is important to me to get the most mileage out of my fabric choices.
The instructions to Abracadabra are pretty straight forward with two cuts to the layer cakes, you can get creative on where you lay out your squares and rectangles. There is alot of sashing to be attached to the rows. And with careful pinning, the larger quilt went together nicely. I had a problem piecing the smaller quilt. I had to change sewing machines between the time of piecing the large quilt and the smaller one. I was having a problem with the presser foot of my Pfaff not going all the way down to resting on the feed dogs like it should. There must have been a difference in my seam allowance as the first 6 rows of the small quilt went together but some how the last two rows and the sashing seemed to have grown in length and there was no way they wanted to match up. I did not have a person in mind for the smaller quilt so it was no problem to scrap this one for the time being. I had just thought it would make a cute kid's quilt.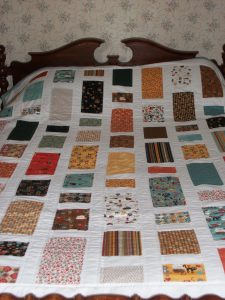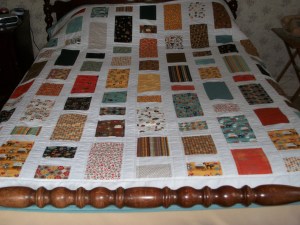 For the back of this quilt, I found a neat dot print that had all the colors of the Max and Whiskers fabrics in a single fabric. I purchased it from JoAnn's. I pulled a brown solid from my stash and added the golden mustard marble print as a striped accent to the back. The mustard marble also came from JoAnn's. I finished it off with a light blue. It might have been a Moda solid but I do not recall now which color it was. I like how it shows off the quilting so nicely.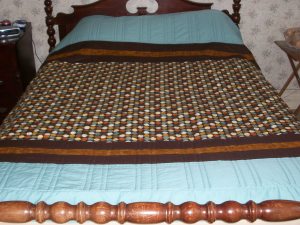 I really like how this quilt turned out. I like the columns and find the differing sizes of squares and rectangles give alot of interest. A little more fancy than just a simple coin quilt design. Our Vet student niece really liked the quilt and has taken it off to college with her. As for the pieces from the smaller quilt, I am thinking of reusing them to design a matching pillow. I have scraps stashed away from the other nieces' quilts, Chain Linked and Pegs that all could be used to design pillows.  These are on my future WIP list for possible Christmas gifts. Fun projects to try out the quilting modules on my inherited Designer 1 sewing machine.
I will be linking up this quilt finish with Anything Goes Mondays,  Show and Tell Tuesdays, Linky Tuesday, Fabric Tuesday,  I Quilt Thursdays,  Needle and Thread Thursdays,   Fabric Frenzy Friday,  TGIFF,  Can I Get a Whoop Whoop?  ,  Link A Finish Friday , and  Show Off Saturday .
4 Responses to Max and Whiskers: A Dogs and Cats Quilt for a Veterinary Student
Twitter