Safflower Quilt Pattern Testing: Flimsy Complete
Hi, I am happy to share that I completed a new quilt top this week. I had the honor of pattern testing for blogger Christie, of Lemon Squeezy Home and her first quilt pattern called Safflower. It was a fun pattern to work with and is a nice throw size of 56 inches square. Christie will be releasing the pattern later in the month of August for purchase.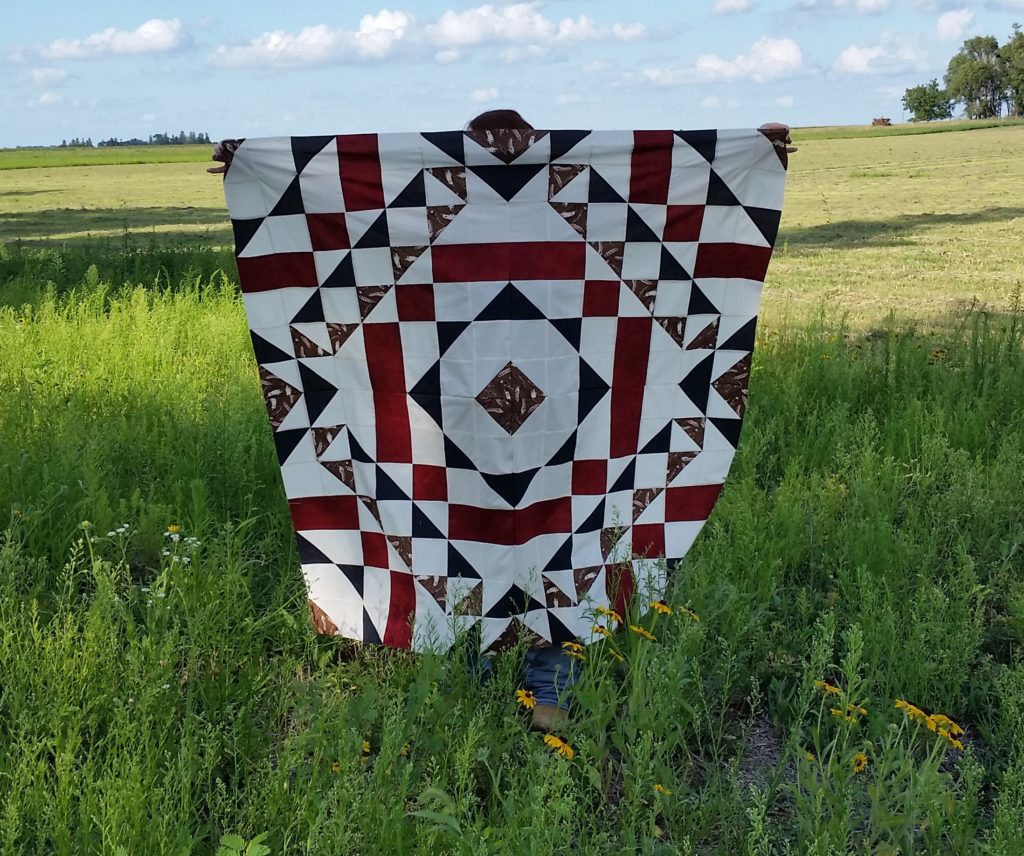 The Safflower quilt got it's name from the field of Safflowers that Christie took her initial pattern photos of her finished quilt in. I decided to use the wildflower pollinator plot that is new this year to our family farm. The yellow coneflowers are starting to come up nicely. The plot had been mowed off a few times over the summer and more flowers are starting to show up.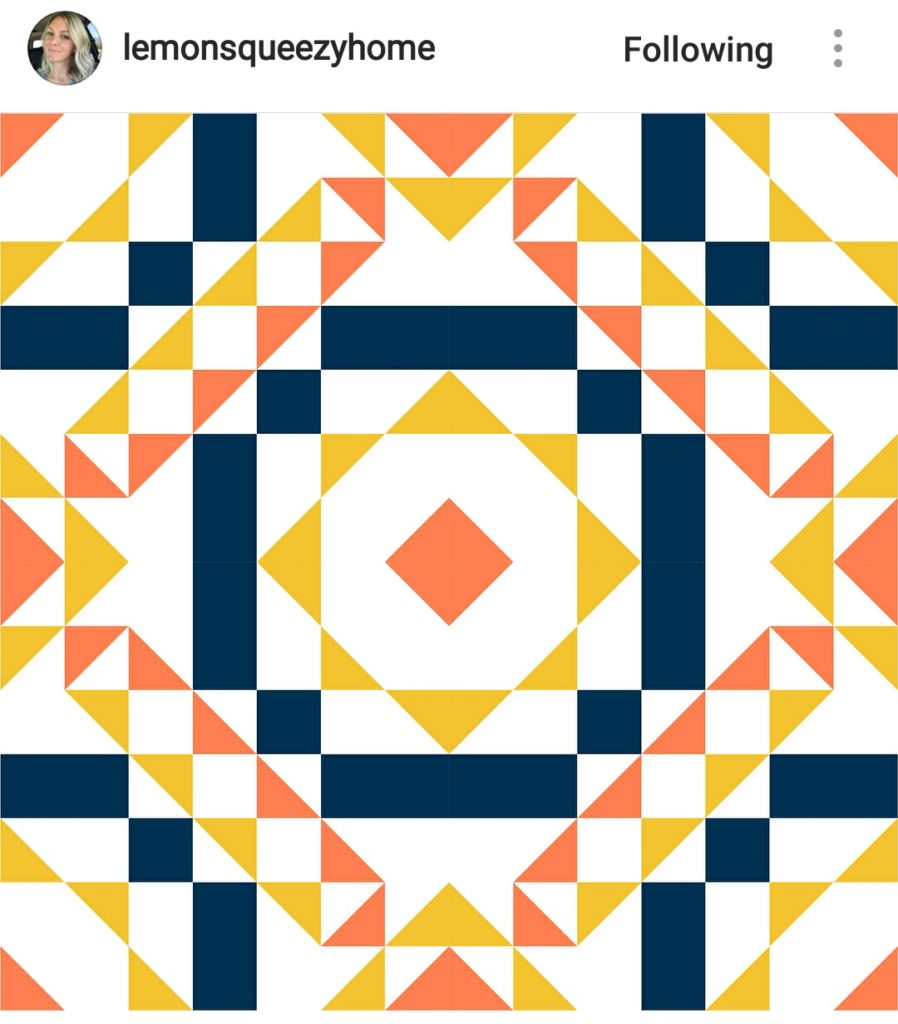 This is the original quilt design graphic that we worked with.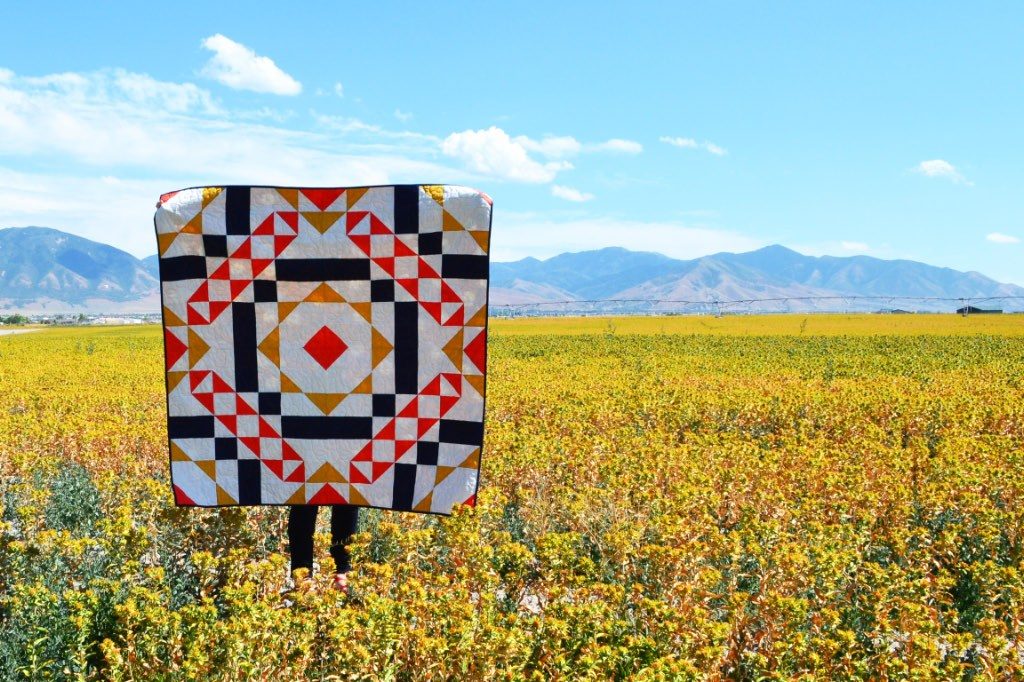 This is Christie (Lemon Squeezy Home's) photo of her quilt in the safflower field. Thus inspiration for my photo of my quilt.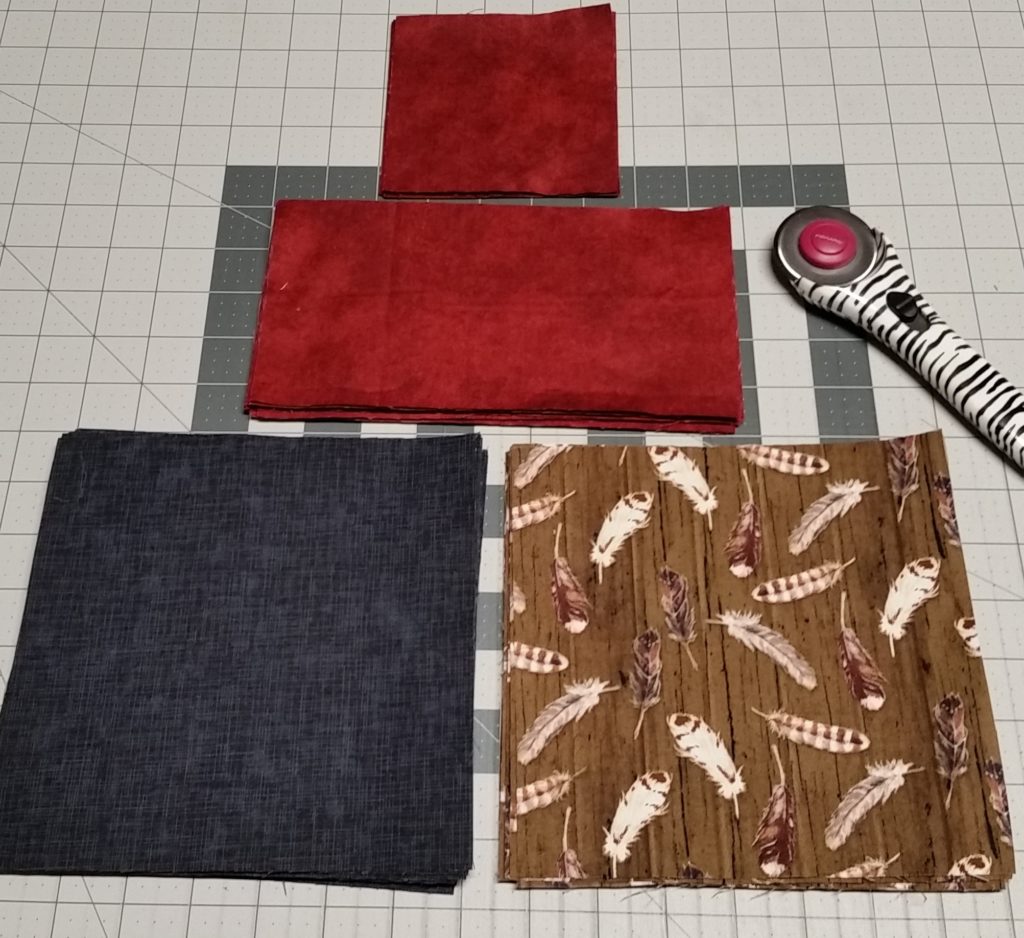 These are my fabric choices. The dark red is Shadow Play 513 by Maywood Studio. The black is Robert Kaufman Quilter's Linen in Screen Print D# 9864 coloring. The feather print is Moose Lodge by Jan Shade Beach for Henry Glass & Co. I love the feather print and it also comes in a barn red background. I think I could come up with a way to use a whole bolt of this fabric. I ended up using cream muslin as my background as I had a bolt on hand and couldn't find my other cream colored cottons. Yardage was all ready cut into another project.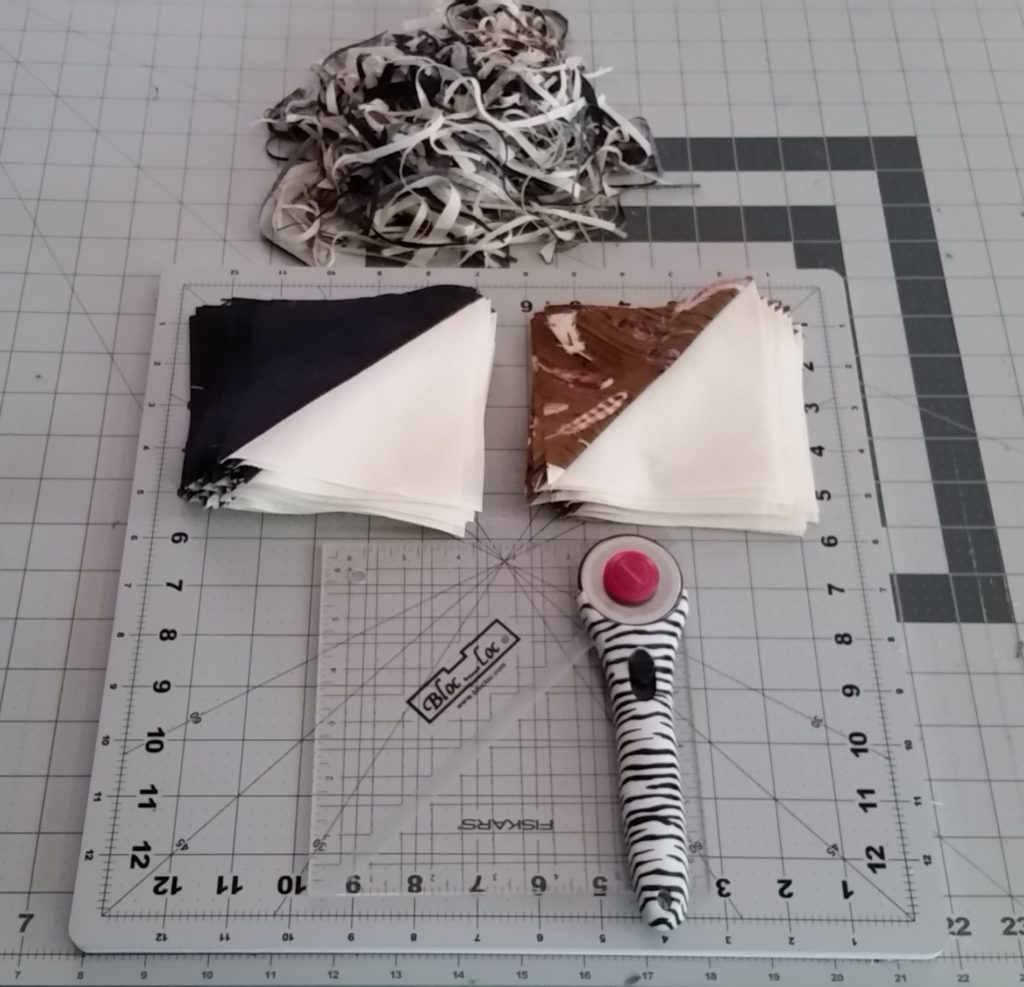 This pattern is made from lots of HSTs. Christie shows a great way to make 4 at a time. Her starting square measurement size ends in 1/8 of an inch. I decided for personal reasons to round that up to 1/4 inch as I have a hard time cutting 1/8 inch accurately. This didn't seem to affect the amount of fabric she gives for the needed pieces. The Bloc-Loc ruler is my saving grace once again.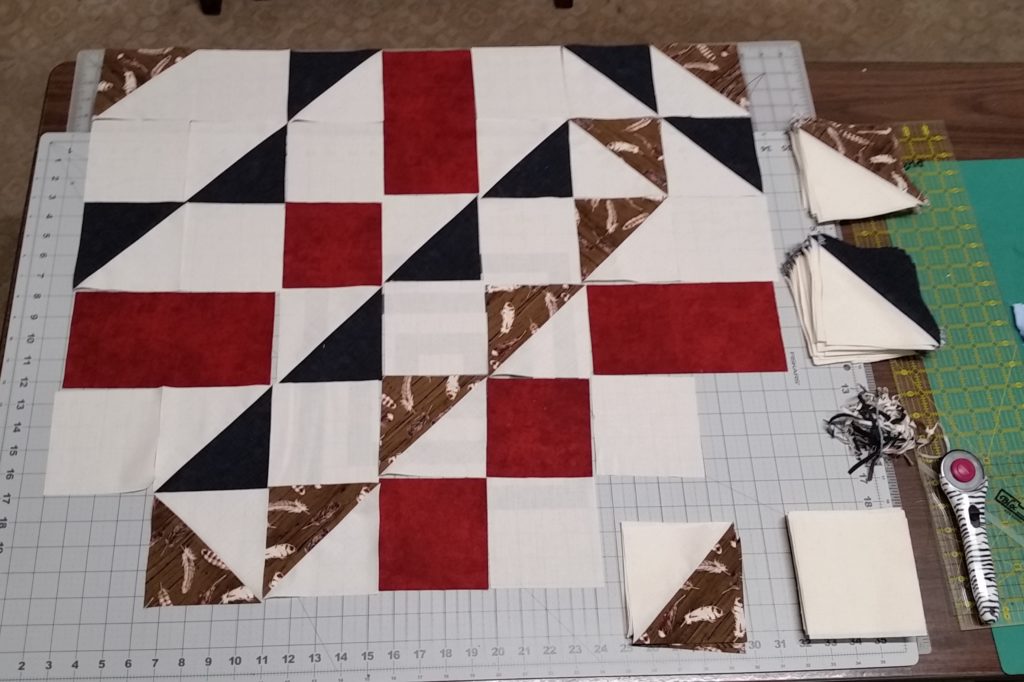 I had to do a mock layout to see how the design was going to look before I got all my HSTs trimmed down to size.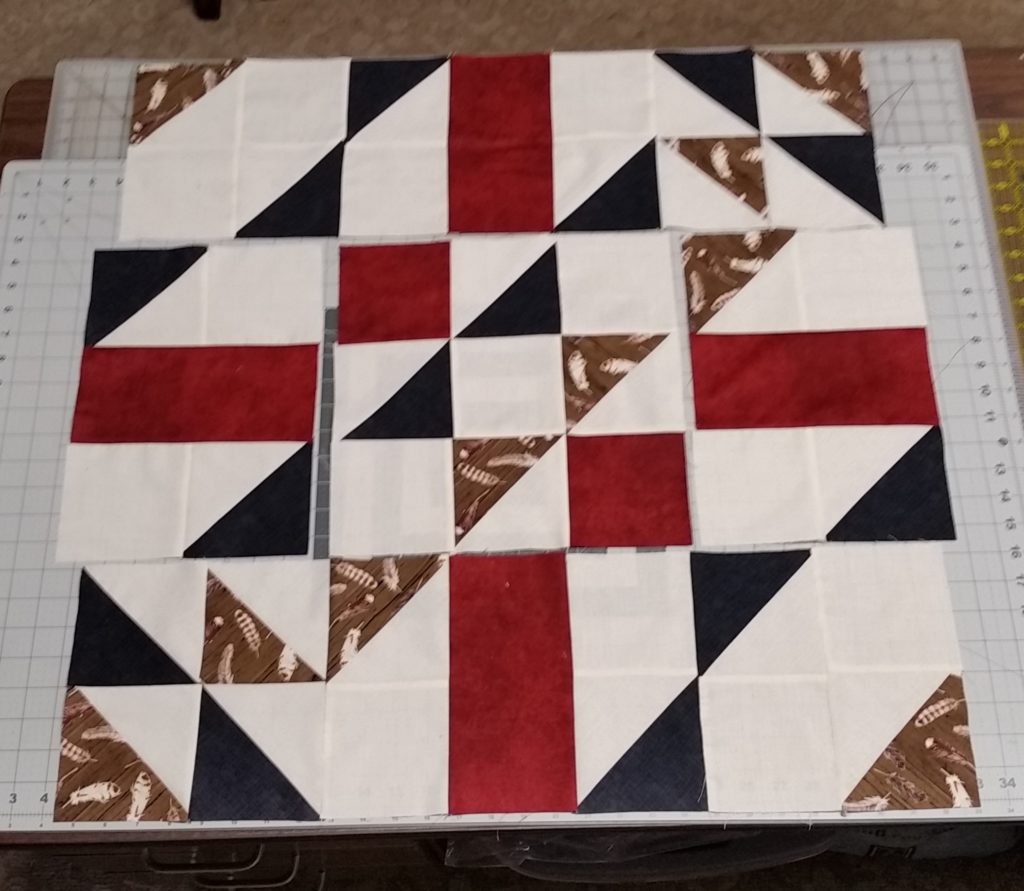 Here are all the main sections pieced. I pieced one quadrant and once together correctly, I then laid out all the other pieces in same directions and pinned them and placed into piles for speedy machine piecing. You make 4 of the same 23″ large pieced block to make the quilt.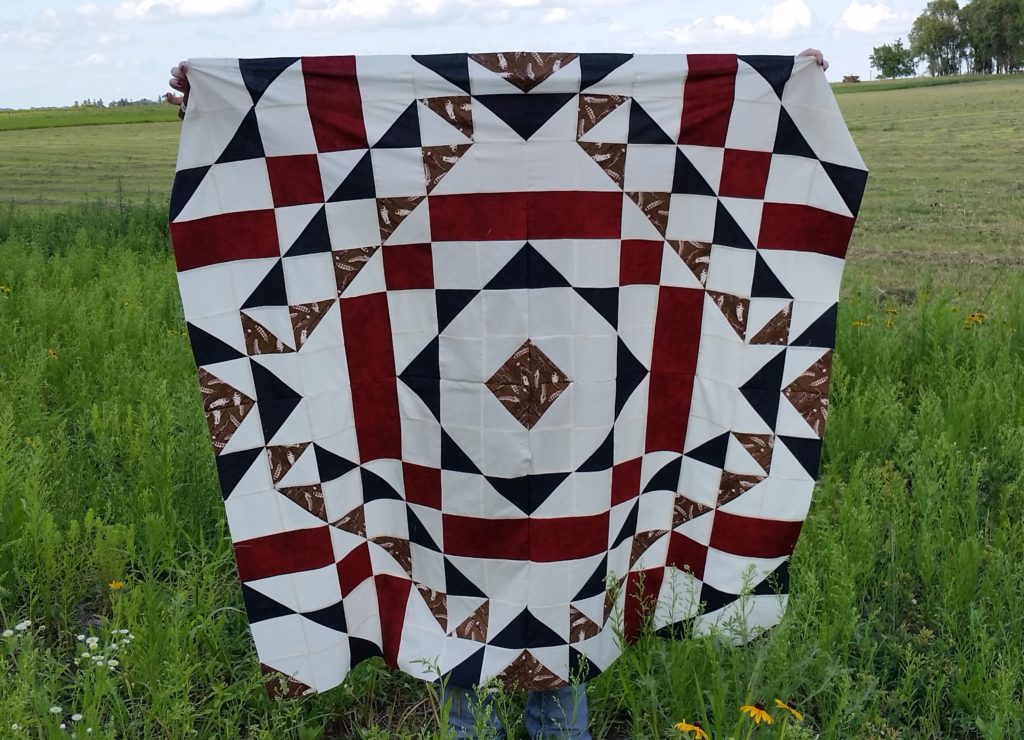 I really love how this quilt top turned out. I am used to making larger quilt tops. It was a refreshing change to be able to whip out a top in just a couple days. It makes a nice size throw. I can see that the design would look awesome in many prints or colors. I can also see this design expanded by making it 4 times and it would make a king size quilt of approximately 112 inches square.
Thank you for reading my blog. I hope you will consider giving Christie at Lemon Squeezy Home some quilt love and purchase her first quilt pattern when released later this month. I think you will enjoy making it.
I was quite happy to finish this top on Thursday this week. I am going to try and spend the weekend deciding on what to cut out next for another memory quilt. I am pretty excited to have found a longarm quilter within 15 minutes from my farm that might be able to help me baste all my memory quilts. I need to work on making backings for more of them.
I will be sharing this post on Show Off Saturdays, Can I get a Whoop Whoop Friday? and TGIFF .
Have a great weekend.
Happy Sewing,
Shelley
Save
Save
Save
Save
3 Responses to Safflower Quilt Pattern Testing: Flimsy Complete
Twitter