Dogs in Sweaters: Dad's Shirts Memory Quilt Project
Hi, I am happy to share that I have completed another memory quilt top made from Dad's plaid shirts. This makes 10 different quilt designs that I have made for memory quilts so far. I used the Dogs in Sweaters by Elizabeth Hartman quilt pattern. It is a fun design. It does take a bit of time to make as each dog has 57 pieces and many of them are quite small. There was 150 little 1 inch squares needed for this quilt. I cut and labeled everything into individual ziplock sandwich bags.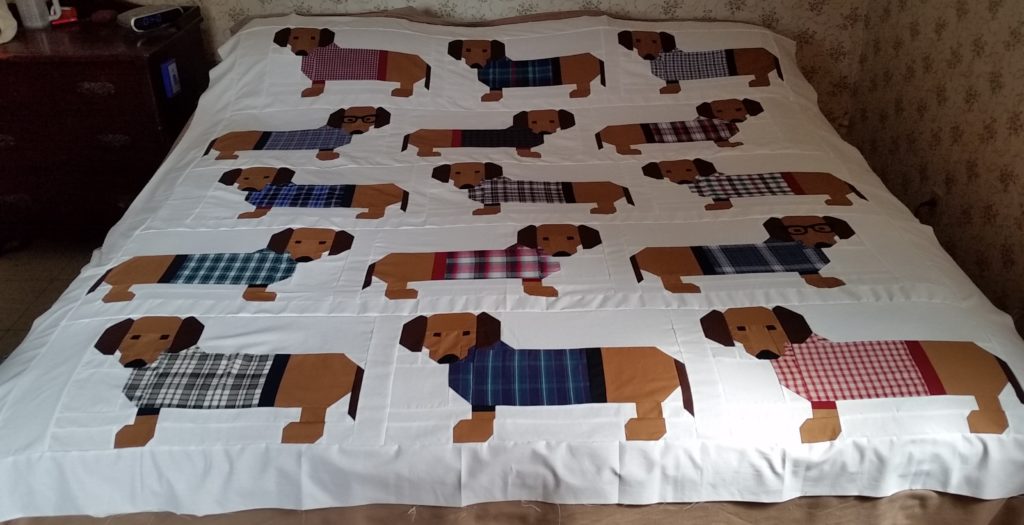 I used 15 different shirts for my dog sweaters. The pattern is written that you can use 5 prints and cut 3 dog sweaters out of each color. I chose to add sunglasses to 2 dogs as my applique fabric was large enough to cut 2 from.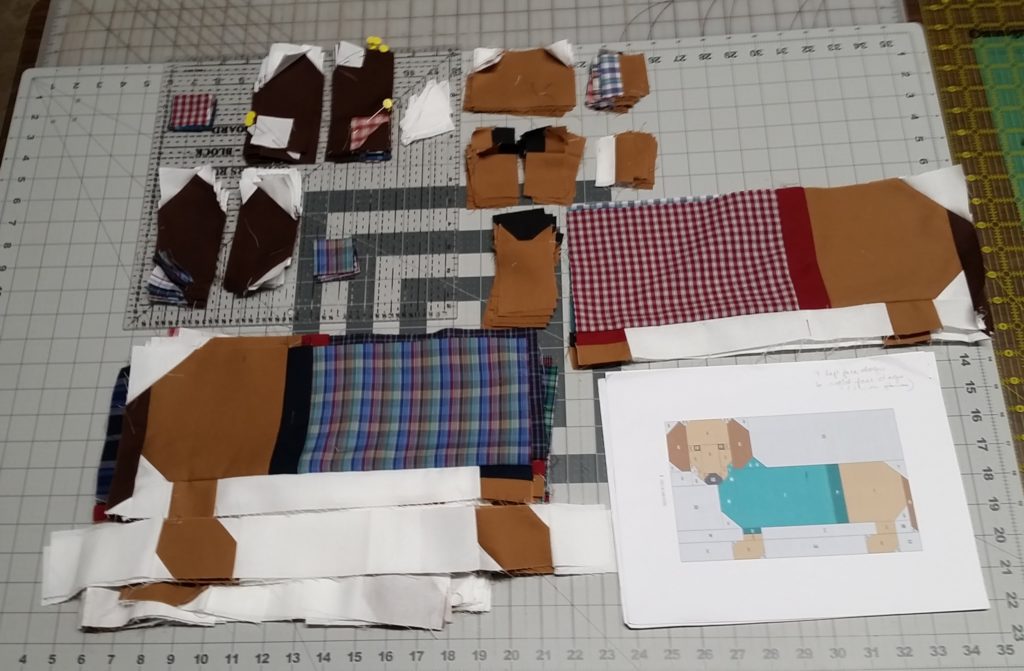 These are the initial parts all pieced for building our dogs.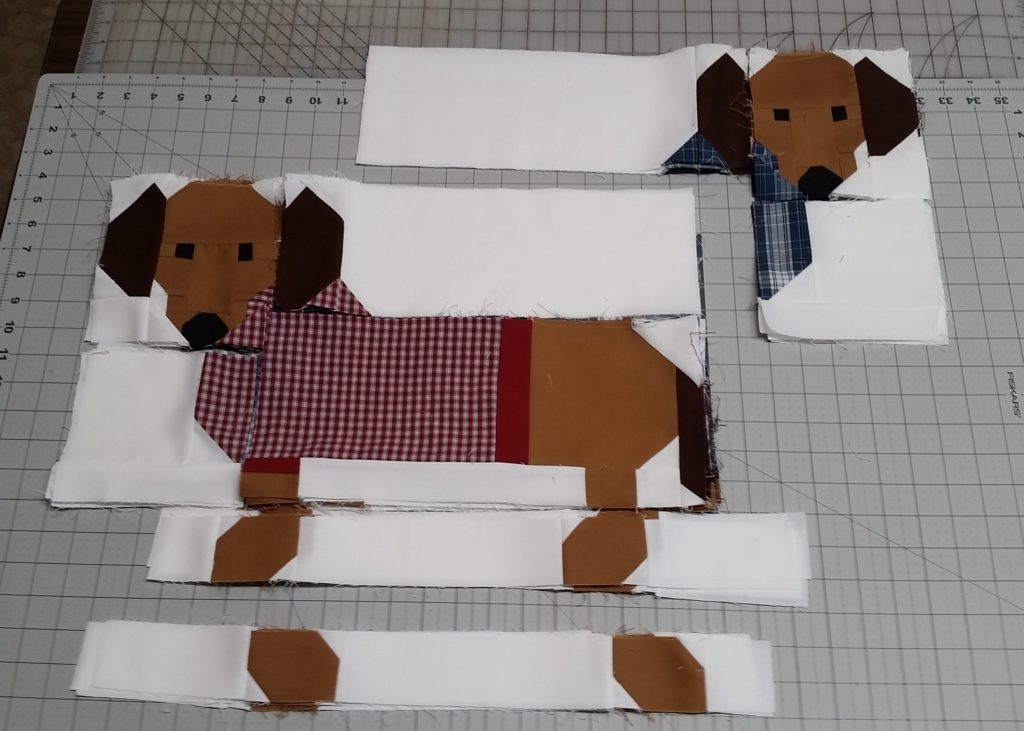 More building of the dog bodies. I had initially laid out my dog sweater plaids in rows so I knew where I wanted the colors to end up. I wish I would have snapped a photo of it. I just did my best to always keep the largest sweater pieces in the same order. Always trying to remember that 9 dogs faced left and 6 dogs faced right.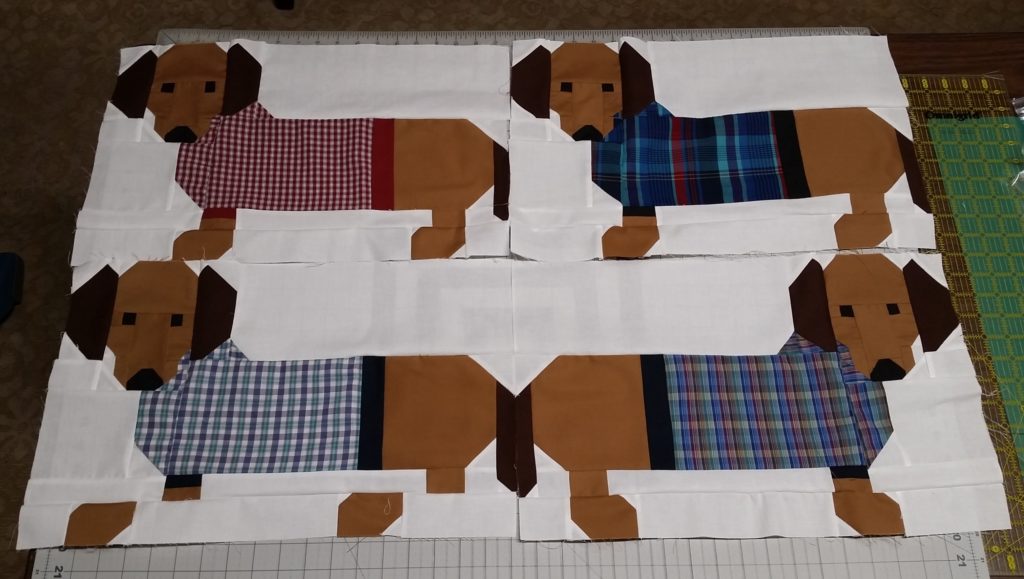 Dogs 1 through 4. I shared this photo on my Instagram and thankfully, someone told me that dog 3 had his legs going in the wrong direction. I would have been very upset to have pieced the entire top and missed that.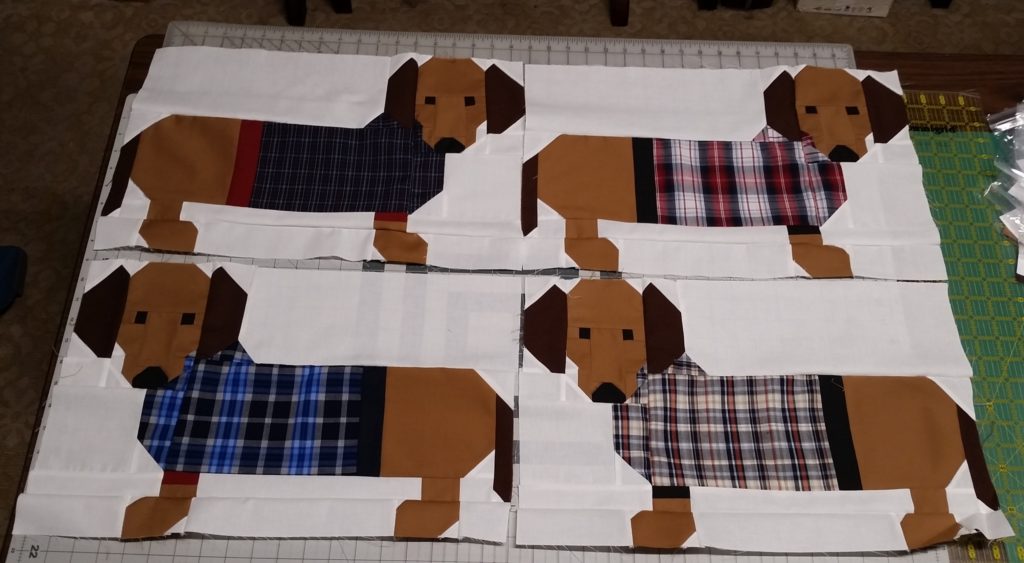 Dogs 5 through 8. I chose red, navy and black as my sweater bands. I did my best to mix them up each row.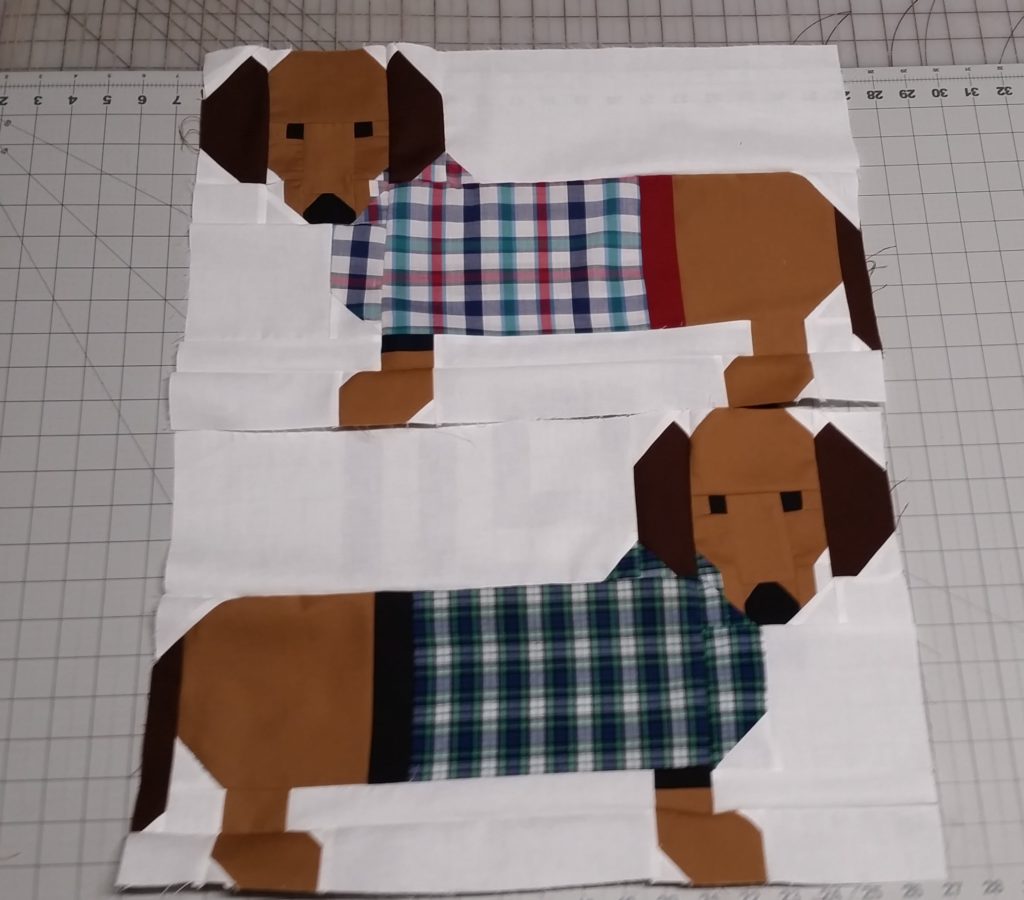 Dogs 9 and 10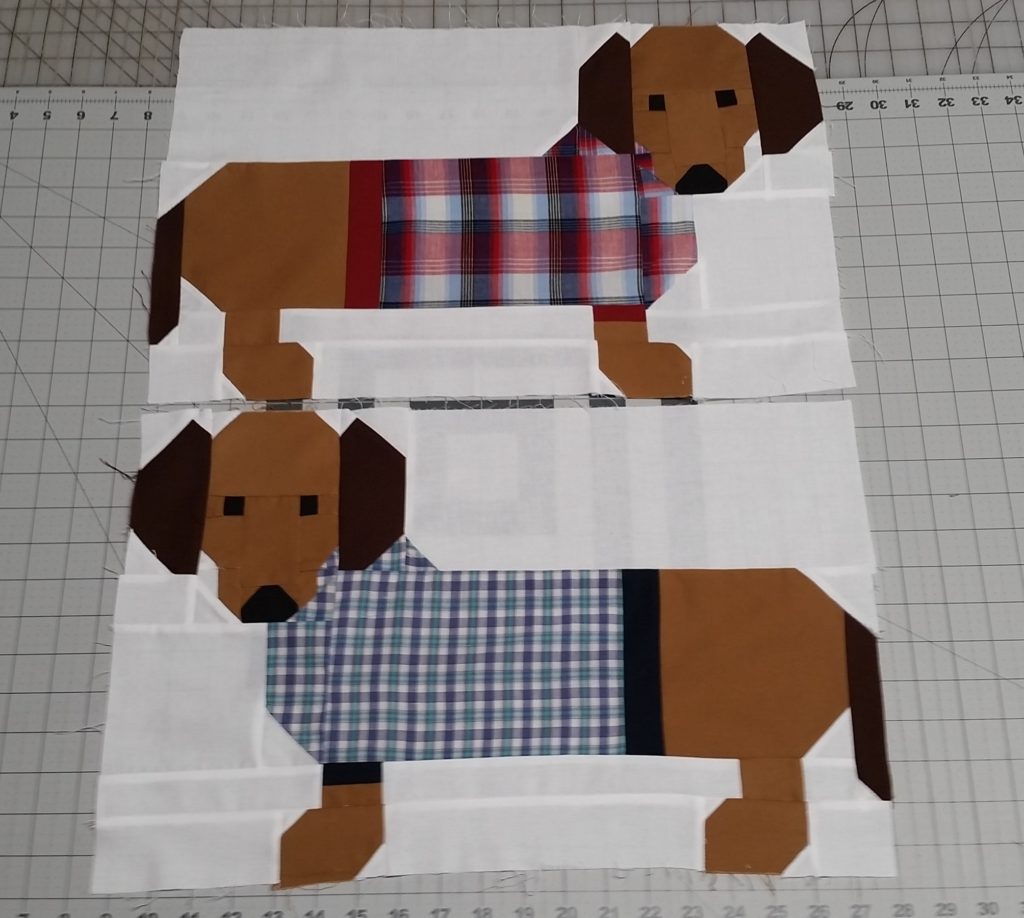 Dog 11 and Dog 3 now with his legs going in the "right" direction or that is facing left.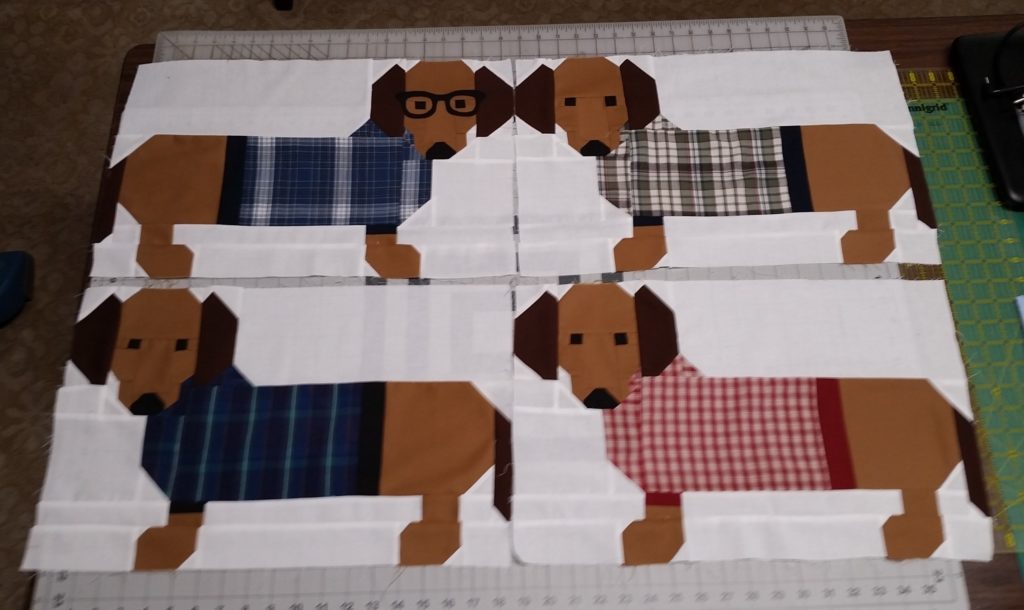 Dogs 12 through 15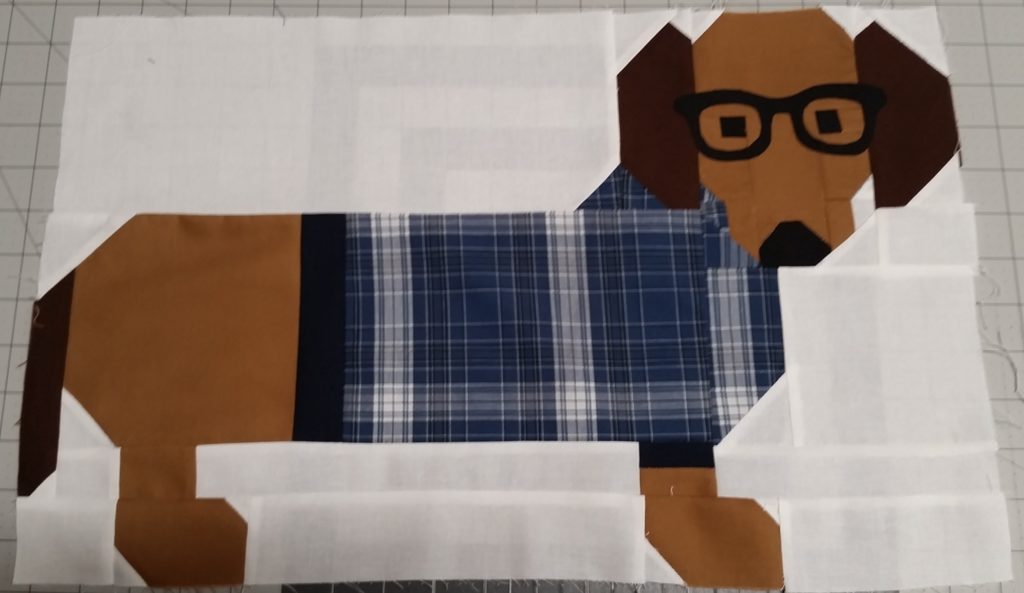 Dog 12 is made with my favorite of Dad's shirts. I also used that plaid as the focus print in the Workshirt Mosaic quilt I made.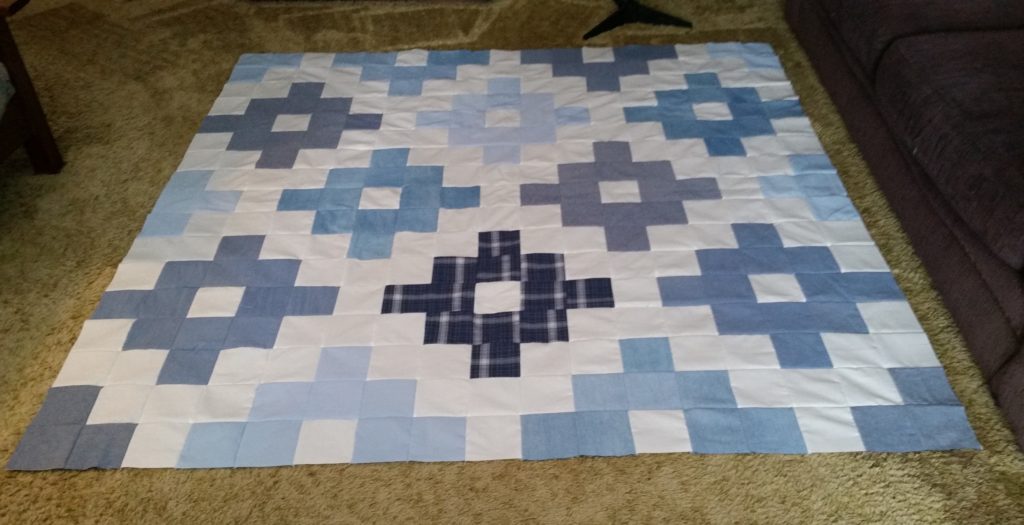 This is the Workshirt Mosaic quilt I made from Dad's workshirts.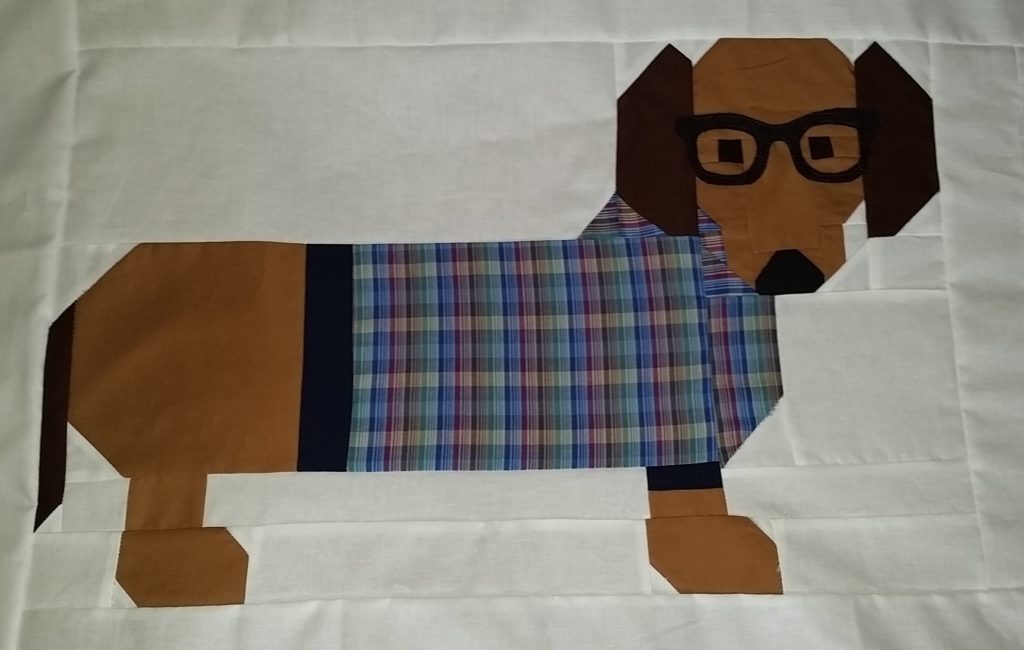 I decided to add glasses also to dog number 4.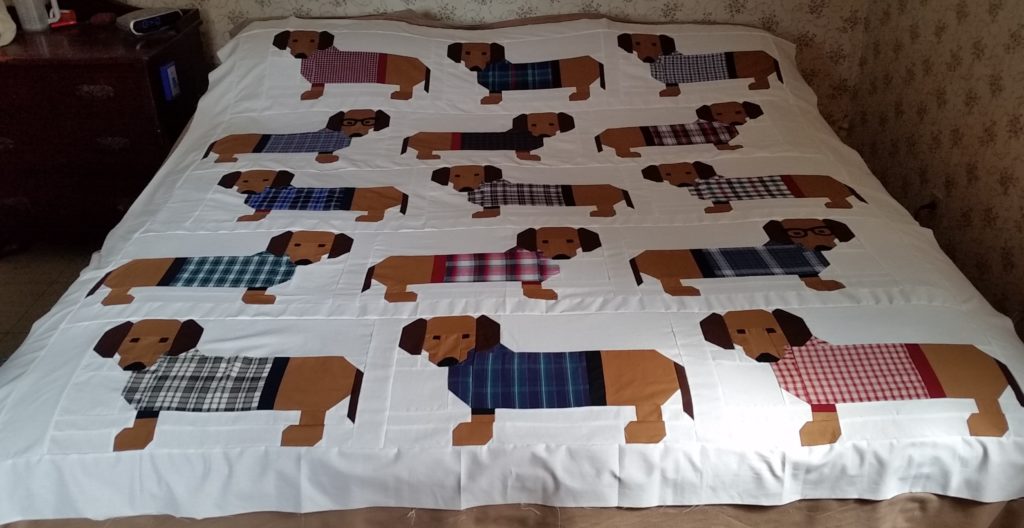 Here is another look at the full top pieced together. I am still deciding how I can quilt it. I found a blue bandana paisley type print fabric with dogs in it that I think I will be using to piece the back. I am going to show it to my son first to make sure he approves of it.
I will be linking up this flimsy finish with Show Off Saturday, Can I get a Whoop Whoop Fridays? , Needle and Thread Thursday and TGIFF.
Happy Sewing,
Shelley
Save
Save
Save
Save
Save
13 Responses to Dogs in Sweaters: Dad's Shirts Memory Quilt Project
Twitter