What to Do when not Quilting, but Always thinking about Quilting
Hi, what do you do when you can not be quilting or sewing?? Do you think about quilting alot, plan new projects when you should be completing other projects??? My home life the past few months has been all over the board. I have not been able to spend time with my sewing machine and the enormous pile of quilt tops or WIP that need tending too. I spend Alot of time on Pinterest, A Lot of time… that is where I am at first thing in the morning while drinking my coffee. I have found numerous new quilt patterns and ideas. I have purchased quite a few new ones in the last couple months. I try to purchase the newest patterns from my favorite designers when they release them as many will sell at a discount for a couple days. Fat Quarter Shop had a great anniversary sale last month and had a one day flash sale with 40% off so I stocked up on some favorites at that time.
I thought I would share my new pattern acquistions with you all. Maybe some of these will be new for you too?? I will provide individual links to each pattern and seller below.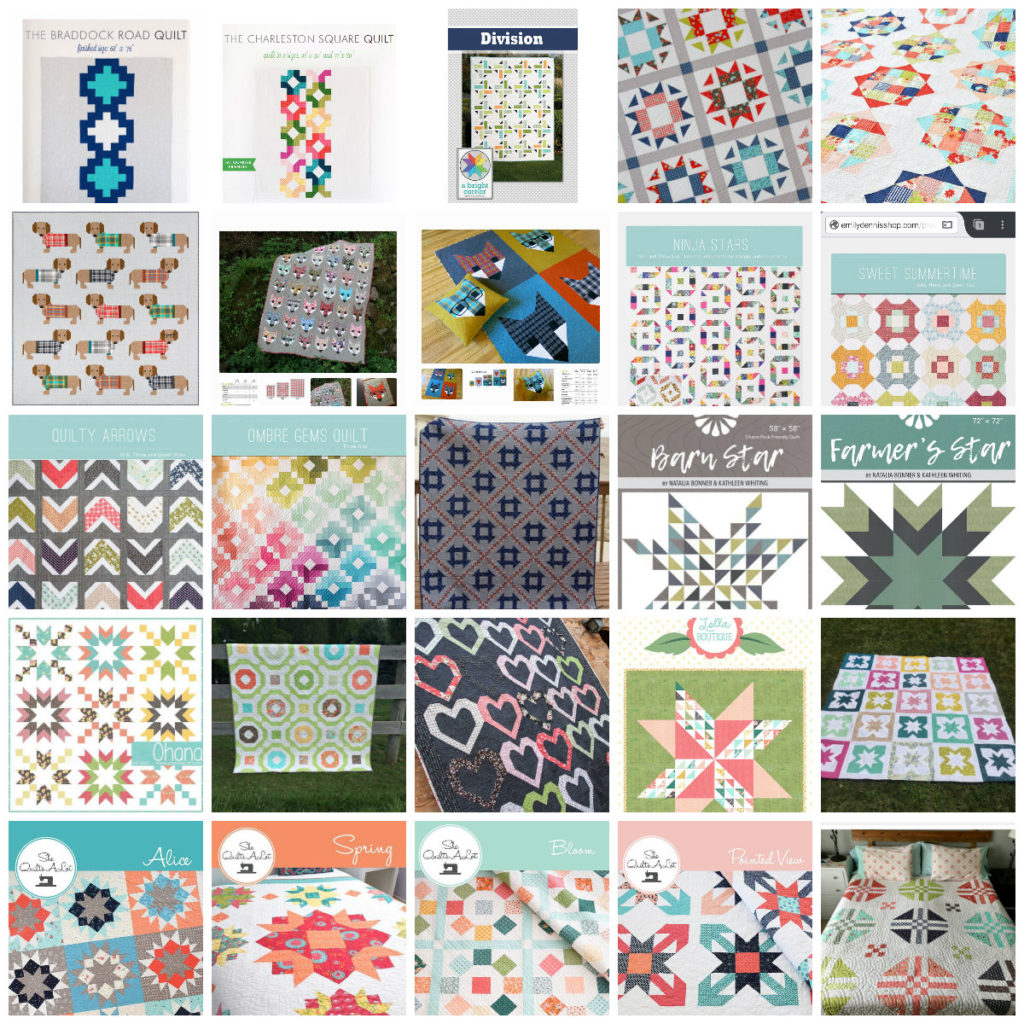 The Braddock Road Quilt by Swim Bike Quilt. I love the big bold geometric patterns of this quilt.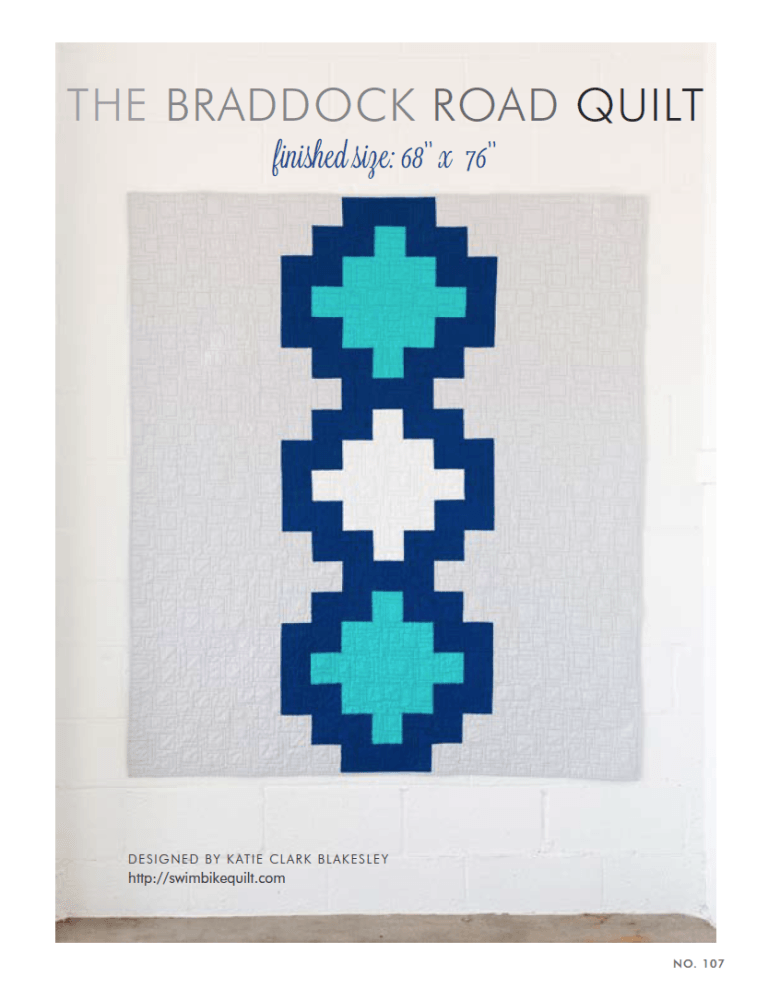 The Charleston Square by Swim Bike Quilt. I thought this pattern might work for some of my plaid scraps for a memory quilt.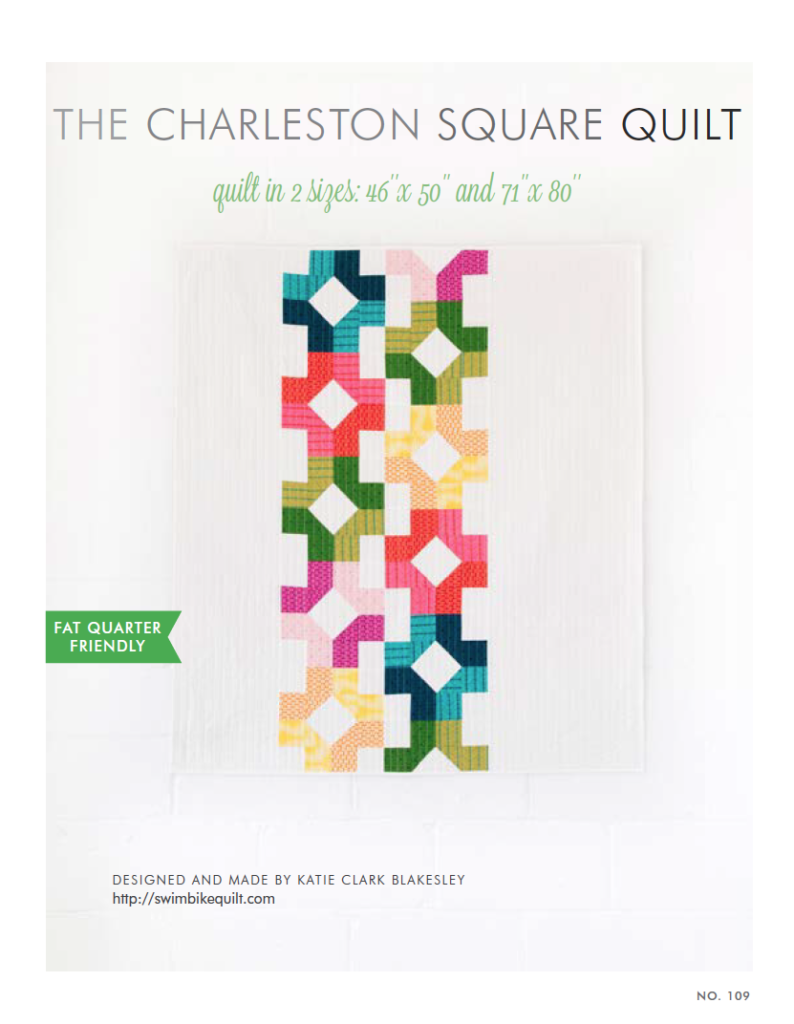 Division by A Bright Corner. This pattern would look nice in all colors or patterned fabrics. It is another option for a scrappy memory quilt.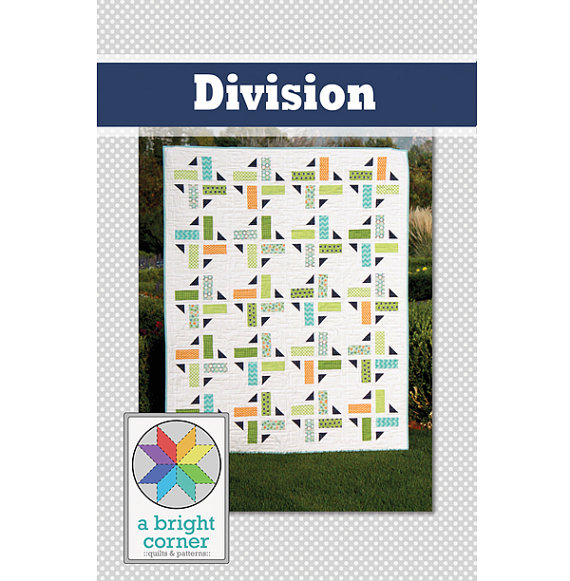 Skipper by A Bright Corner. This photos of this quilt caught my eye on Instagram. This could look nice in patriotic prints which I have alot of or some of my plaids with a coordinating solid for each block.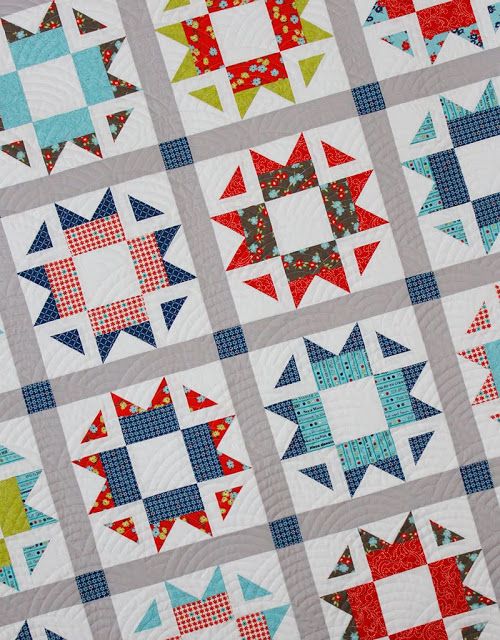 Rise and Shine by Thimble Blossoms. I chose this pattern as a way to use up scraps from my Patchwork Swoon quilts.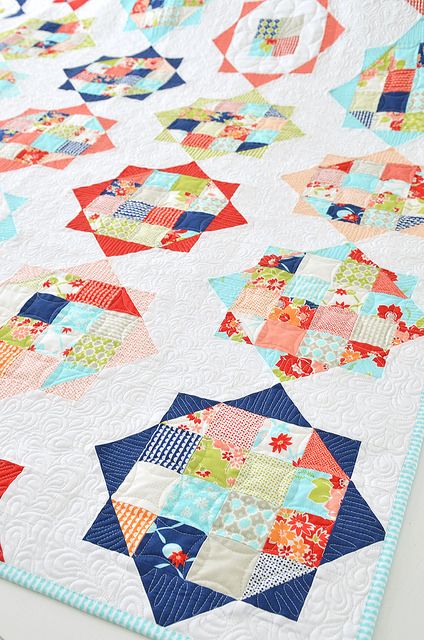 Dogs in Sweaters by Elizabeth Hartman. I followed this pattern on Instagram and had to purchase it the first day it was available. This is going to be my son's memory quilt from Grandpa's shirts. I am in the process of cutting the fabric for it this week. Each dog block has 57 pieces.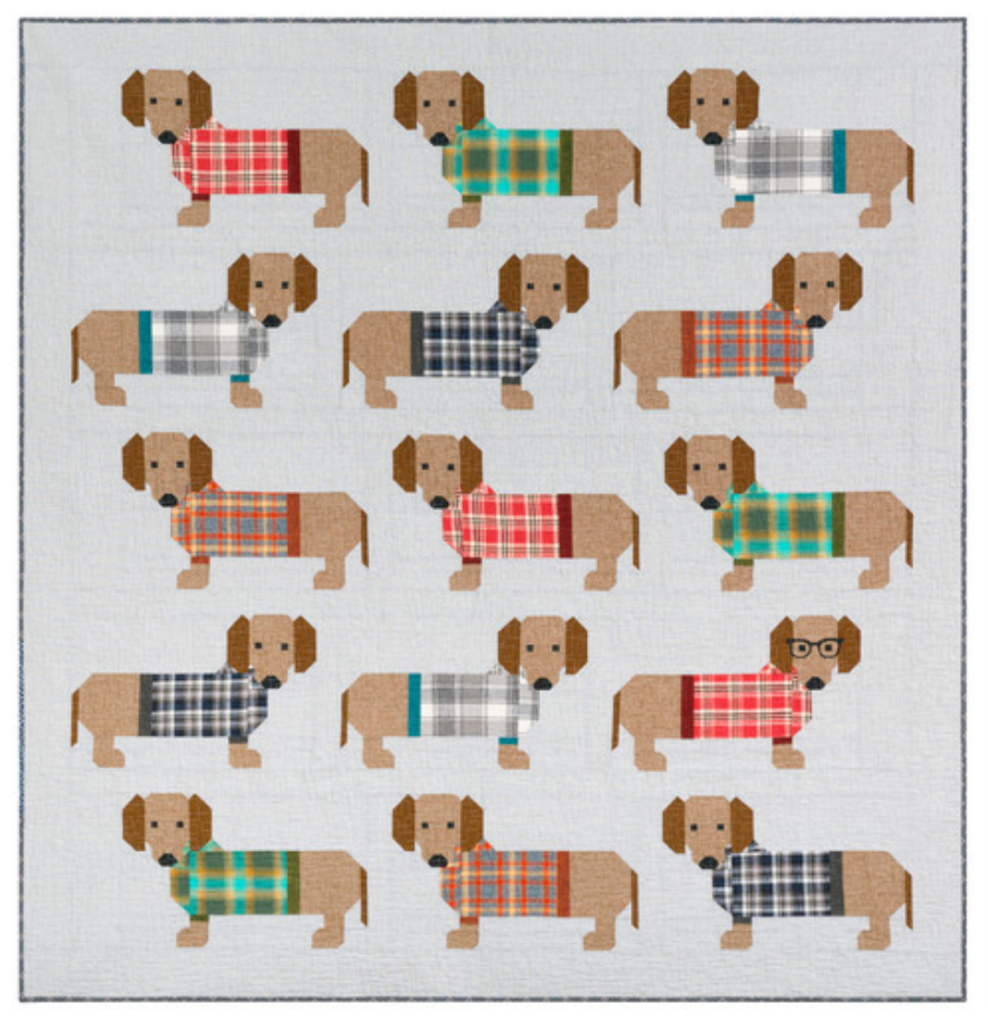 Fancy Foxes by Elizabeth Hartman. There are so many photos of this quilt online made in so many different fabrics and they all look awesome. This maybe my daughter's memory quilt from her Grandpa's shirts or the next version of the foxes quilts.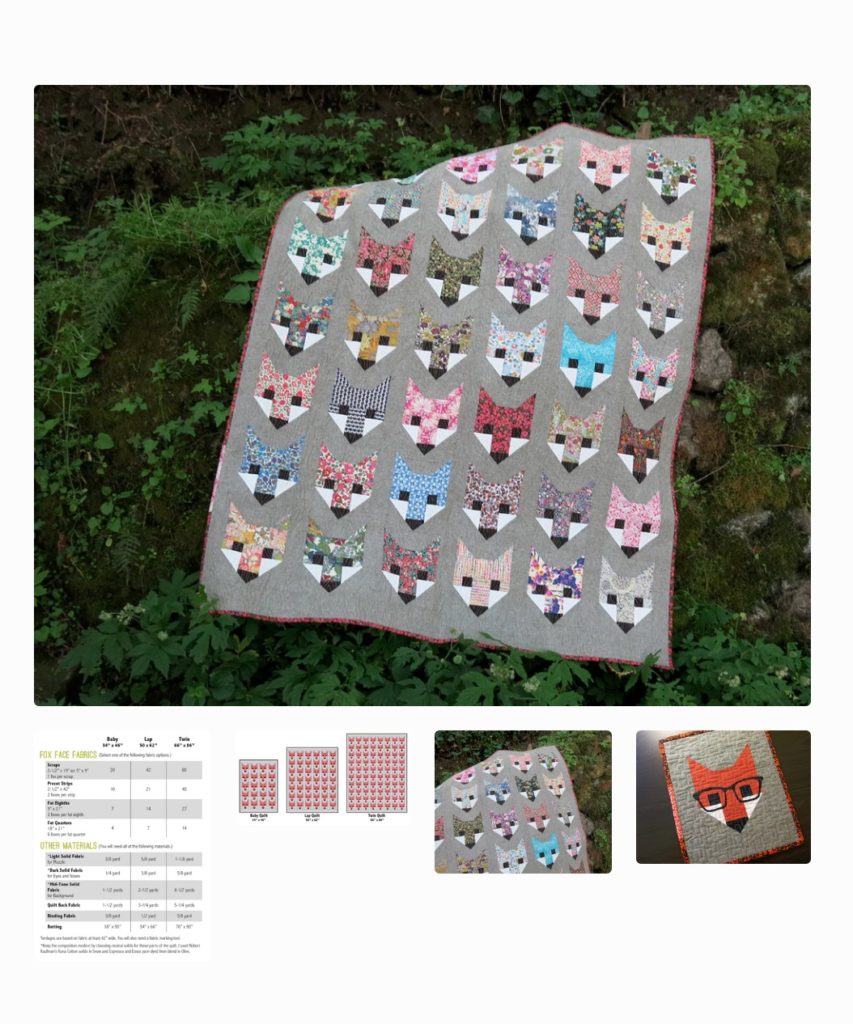 Fancy Foxes II by Elizabeth Hartman. These fox are so cute in all sizes and colors. The eyeglasses are so cute! I think I remember someone posting on Instagram a sampler quilt made from all the sizes of fox from both patterns. We will see what we have for fabric to work with.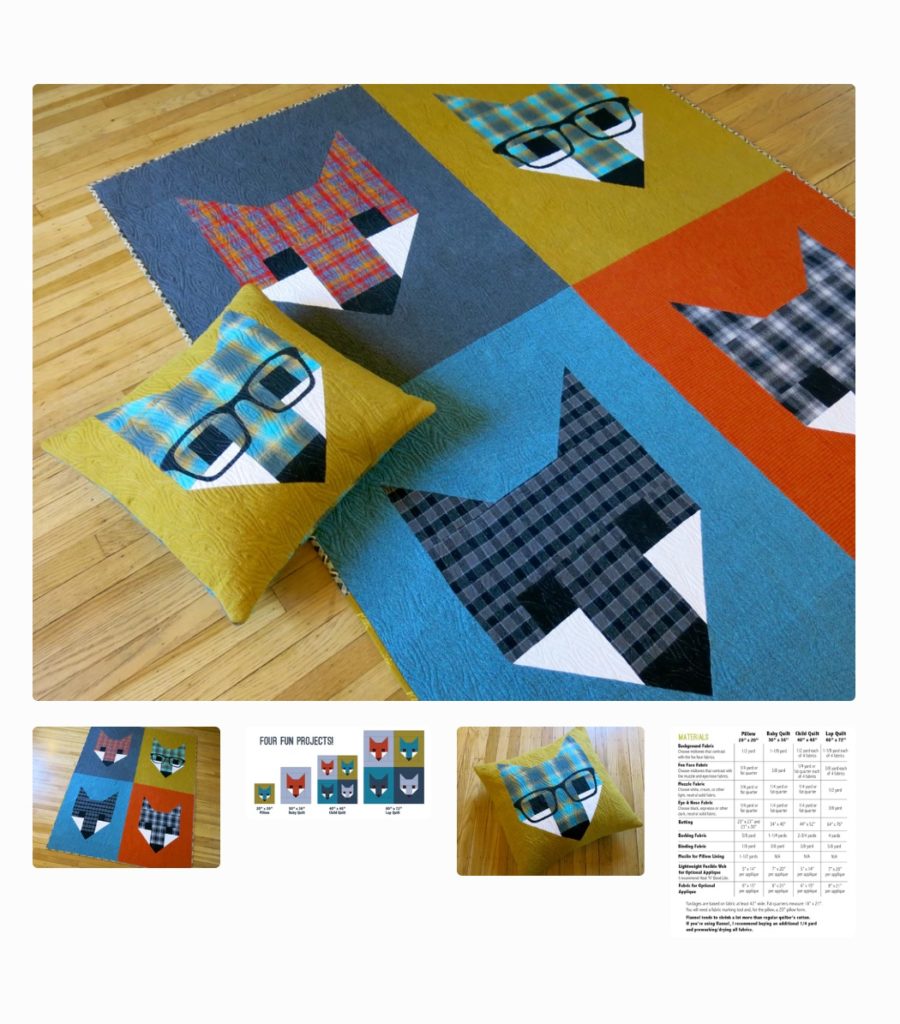 Ninja Stars by Emily Dennis. I simply love all of Emily's patterns. I love the scrappy version of this quilt and I do have lots of scraps.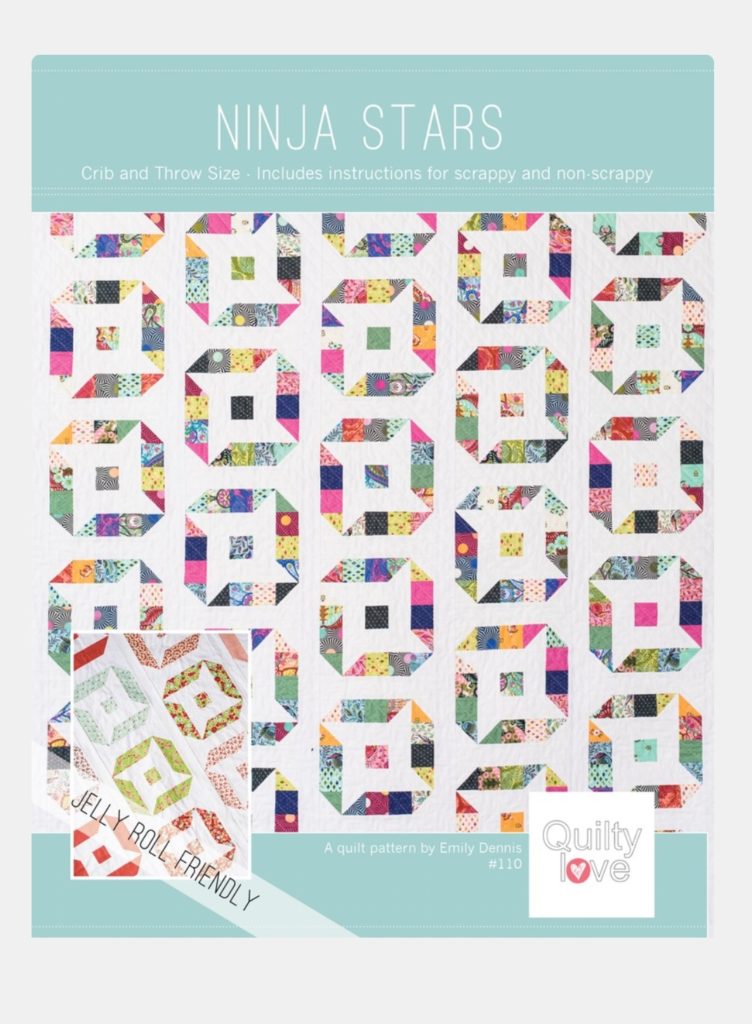 Sweet Summertime by Emily Dennis. I followed this quilt on Instagram and Pinterest. So many possibilities. I have a couple sets of fat quarters in my stash and am still deciding which one would work best.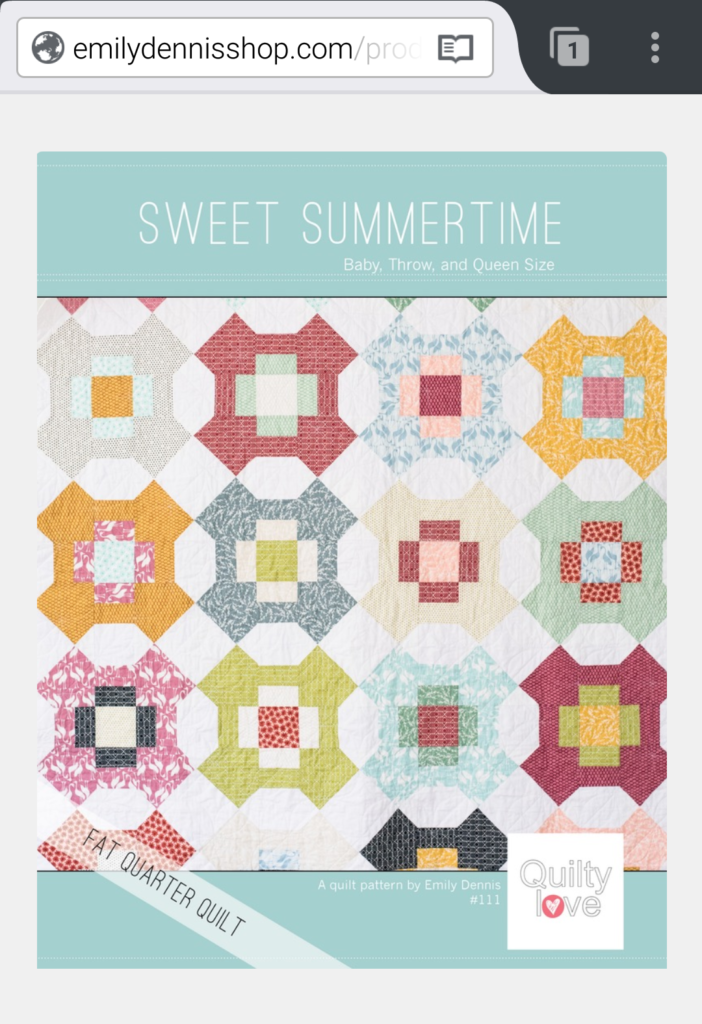 Quilty Arrows by Emily Dennis. Another fun pattern with lots of fabric choices.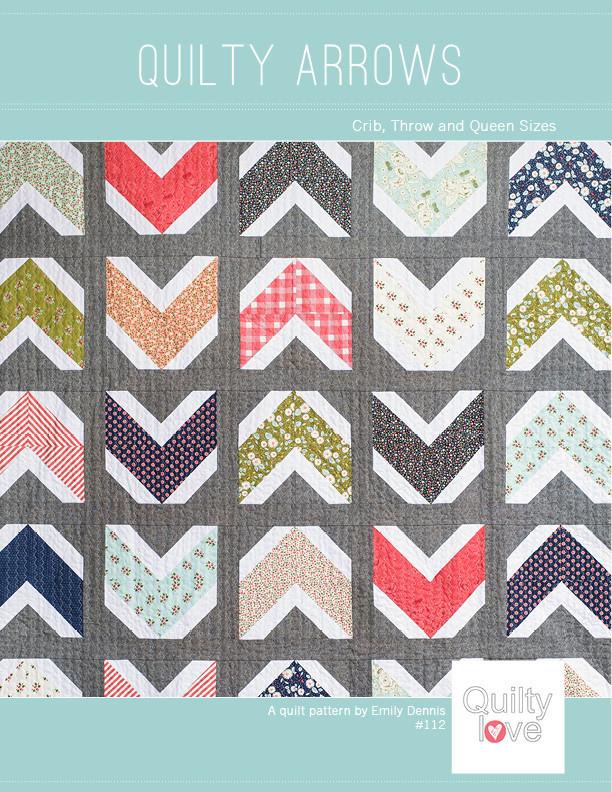 Ombre Gems by Emily Dennis. The quilt was first in Love Patchwork & Quilting magazine issue 36. Emily added coloring sheets to her printed pattern version. This is very helpful in designing your own quilt. There was a quilt along this Spring. I did participate in that but I am still working on my quilt top. I chose to use my Sweetwater Authentic fabrics that have been in my stash since 2010.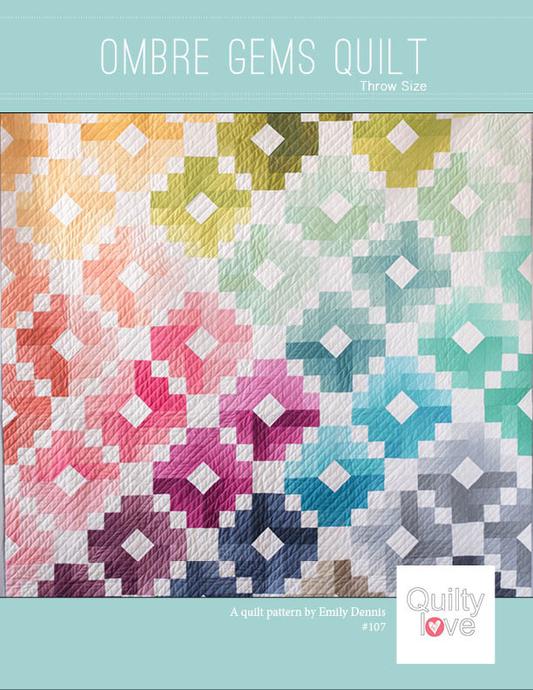 A Dash of Chains by Alycia Quilts. I love Churn Dash blocks and Irish Chain quilts. This is a cool combination. Alycia loves plaids even more than me and I love all her work making quilts for our Veterans.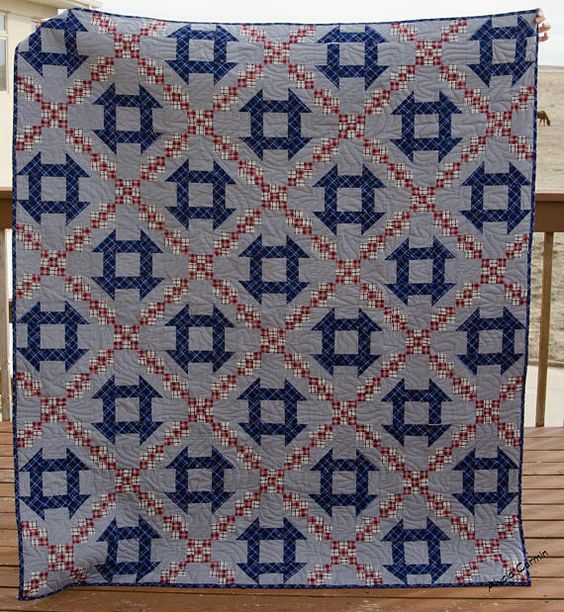 Barn Star by Piece N Quilt. Lot of possiblities with this one. You can use those extra charm squares. Yeah!!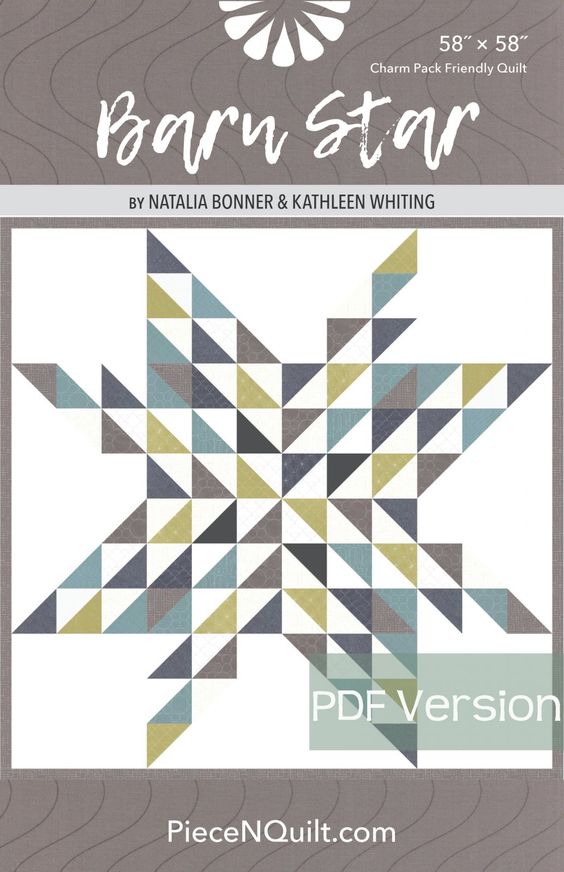 Farmer's Star by Piece N Quilt. I love this one!!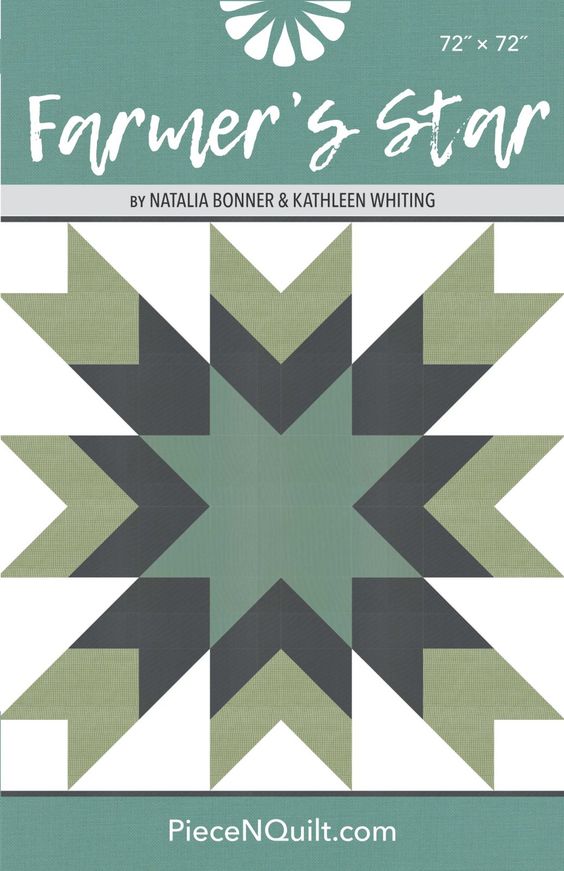 Ohana by Piece N Quilt. I bought all three Piece N Quilt patterns during the Fat Quarter Shop anniversary flash sale. Ohana means family. This pattern was first sold to help raise money for her Mom's cancer treatment. This definitely would make a nice memory quilt with all the special meanings behind it.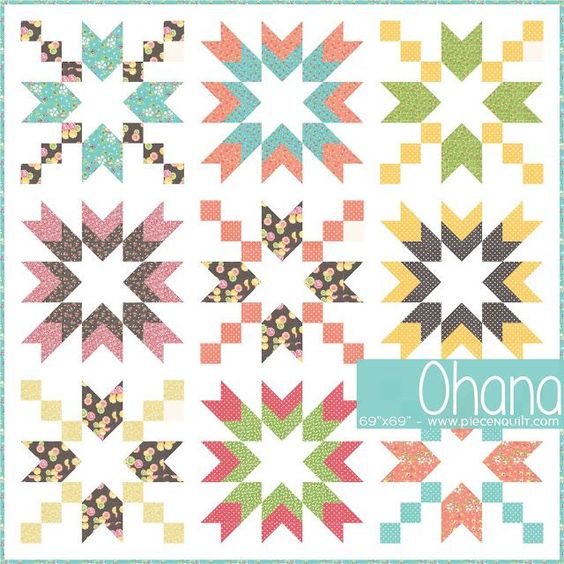 Wheelhouse by Coriander Quilts. Coriander Quilts has been offering up different patterns for her for $5.00 each week. I have been following along on Instagram. I like the two color version of this quilt.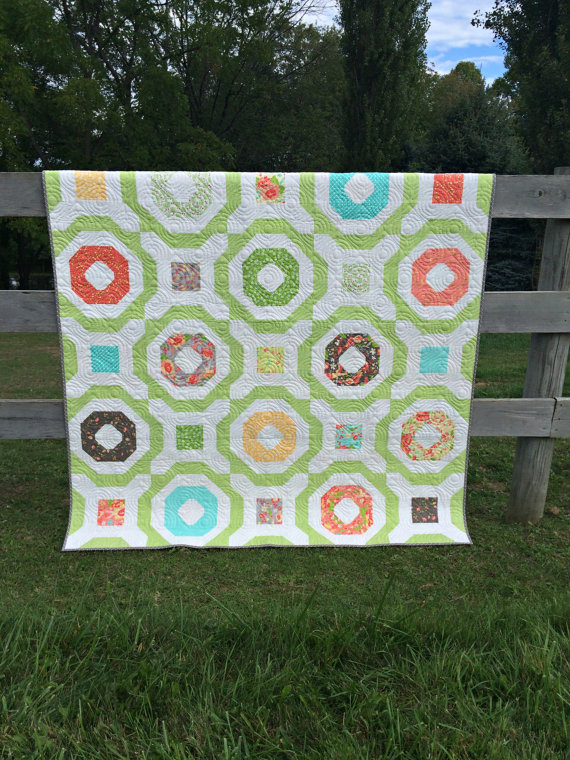 Open Heart by Lella Boutique. I love this quilt. I am looking to use it as a special memory quilt. I am attempting to cut this quilt out after I cut out the pieces for Dogs in Sweaters.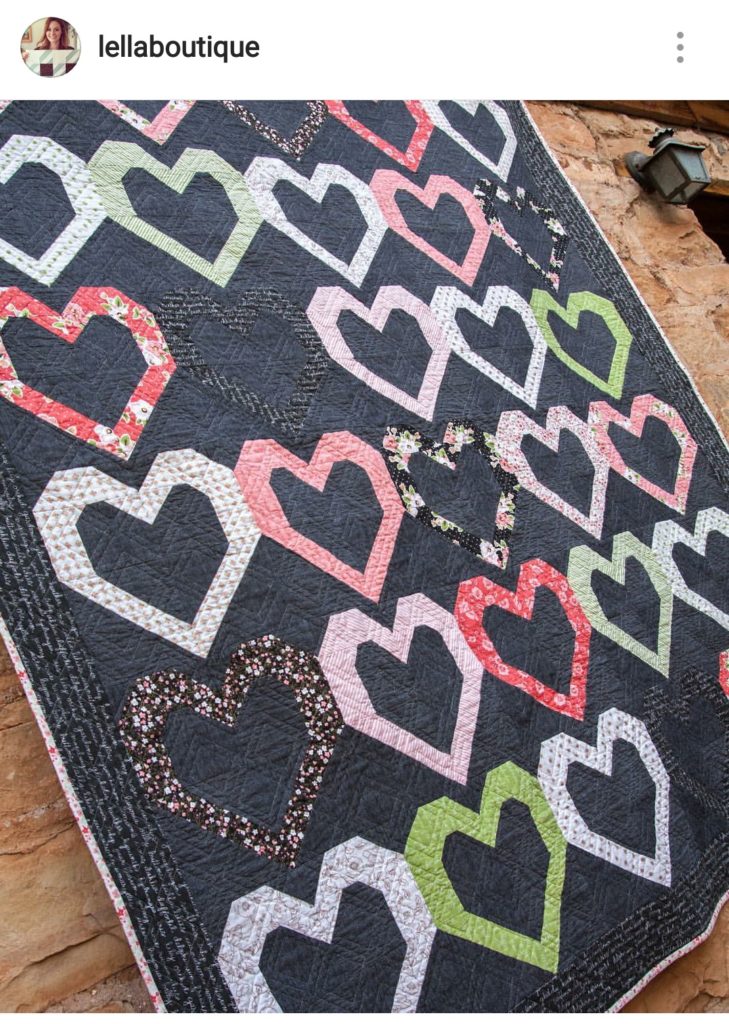 Sugar Cookie by Lella Boutique. Another neat charm square pattern. You only need 1 pack and you can make a 72″ quilt.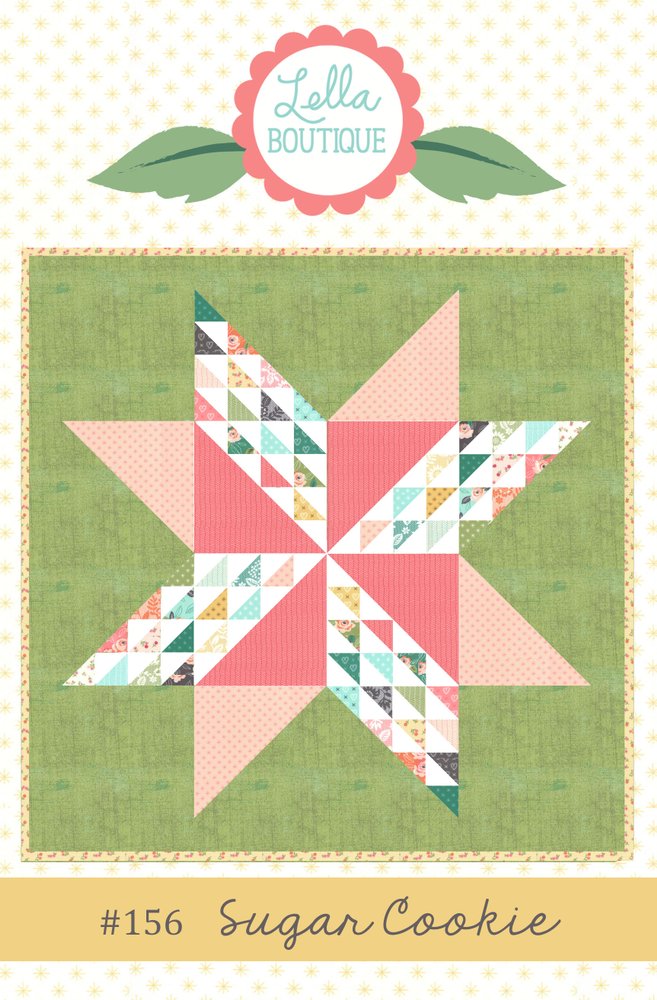 Geode by Blossom Hearts Quilts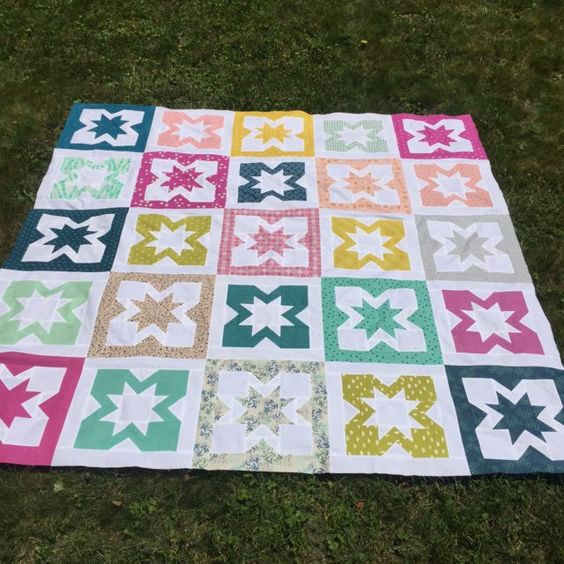 Alice by She Quilts Alot. I have been following Peta and her quilts on IG and I receive her newsletters. She had a pattern sale last month and I picked up 4 of my favorites.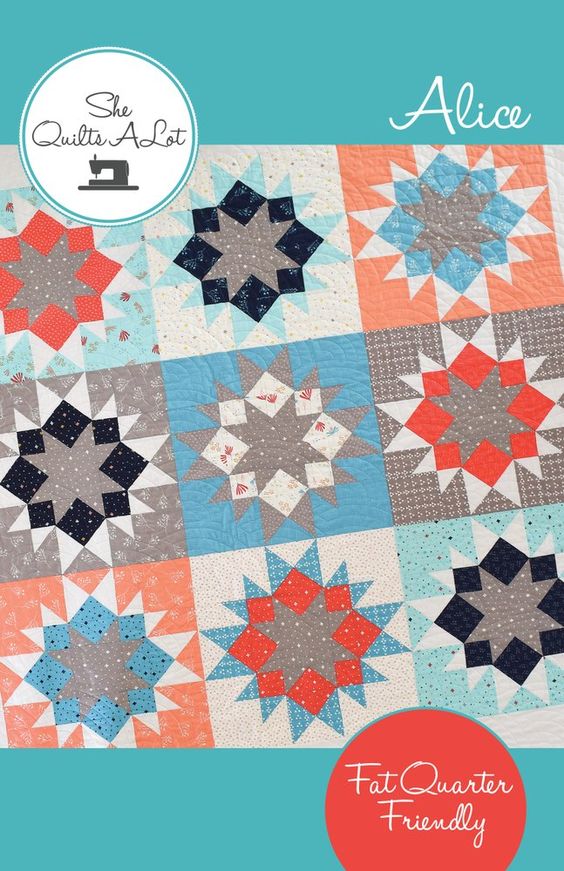 Spring by She Quilts Alot. I love that some of the blocks are 30 inches. I Love big blocks!!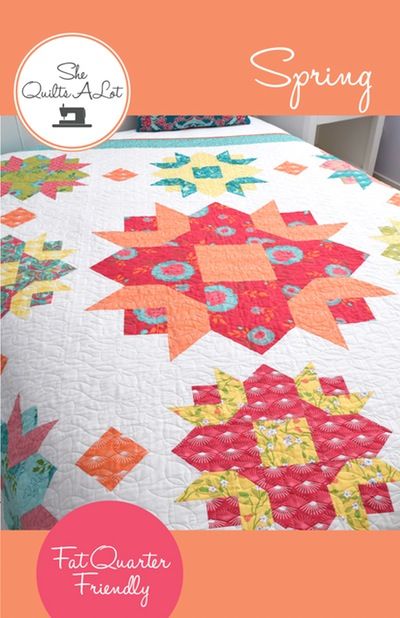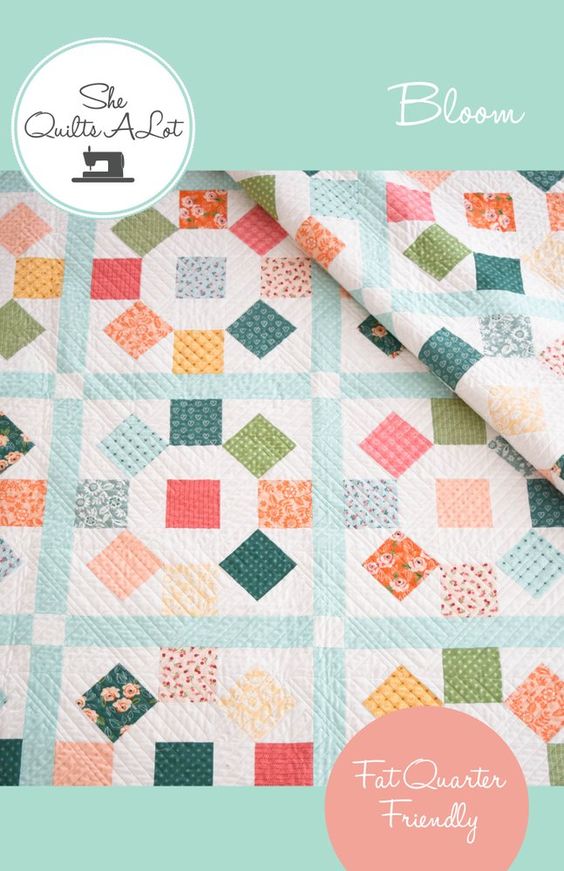 Pointed View by She Quilts Alot. I love the secondary pattern this design creates.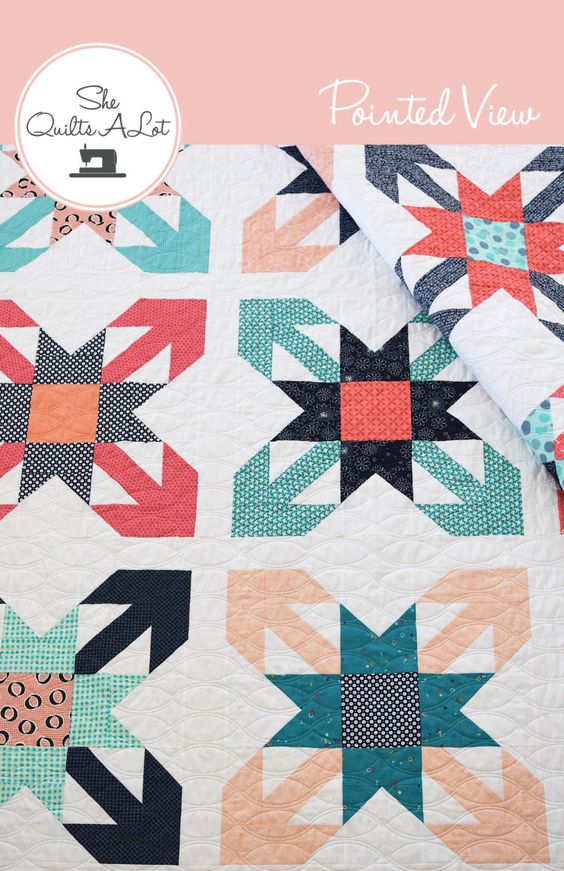 Big Dreams by Sterling Quilt Co. I love this pattern. This was my most recent purchase. It uses fat eighths. I have a set of fat eighths in Denyse Schmidt Hope Valley that I purchased from a detash sale from a fellow quilter on Instagram last year. I think this pattern is calling for them. Sterling Quilt Co. designed the Katie's Compass quilt pattern that I have all ready made.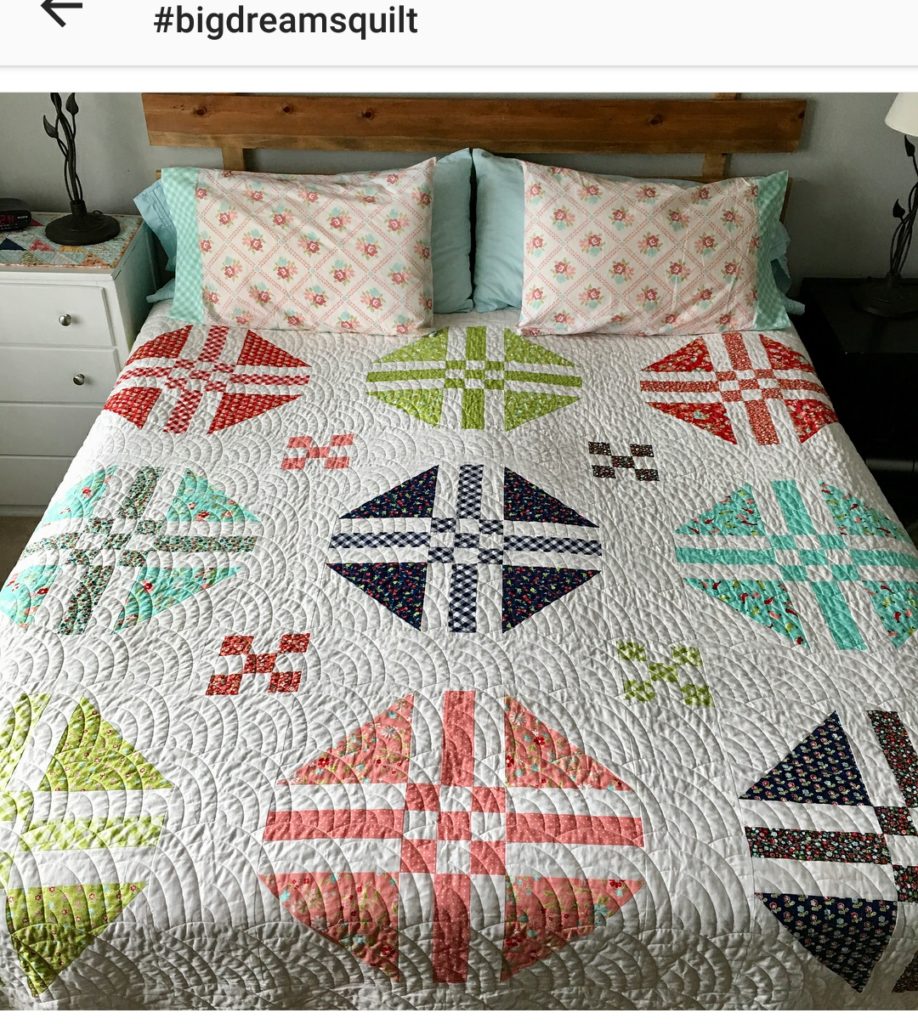 Hope that you enjoyed seeing all the lovely quilt patterns. If there is something you like, be sure to share the love and obtain a new pattern for yourself. Do you have any new favorite quilt patterns to suggest???
I heard back from the shop that my Mom purchased the Viking 990 sewing machine from. They stated that my problem with the walking foot continuing to sew after I take my foot off the foot pedal could mean that there is a bad part in the foot pedal or the circuit board is going out on the machine. They said you have to take the machine and pedal to a repair shop. If it is the circuit board, they are No longer Available for this machine. They did not state I could or should bring the machine to them to determine which problem it was. I did ask if they still repair the Viking Designer 1 machines as that is Mom's other machine. Yes, they do but there are some parts that might not be available. I am not sure what to do. The Viking 990 does seem to sew fine when not using the walking foot. It did fine last year after the first incident. I have pieced 12 quilt tops since then. No problems. I did quilt two tops this year before this last one when it acted up. Maybe it was over hot and the machine dirty. I don't know but I am going to try to sew with it again. I will watch it carefully and if something is wrong, I will stop using it. My sister and I have plans in the upcoming weeks to get together and teach our selves how to sew and embroider with our Designer 1s. It is not doing the machine any justice just sitting there.
I am linking up this post with Let's Bee Social and Needle and Thread Thursday and Finish It Friday.
Hope that everyone has a good weekend.
Happy Sewing,
Shelley
Save
Save
Save
Save
3 Responses to What to Do when not Quilting, but Always thinking about Quilting
Twitter