Jelly Roll Slice and Katie's Compass quilts completed
Hi, I am happy to share this week that I got two quilt tops quilted last week that have been waiting for attention since last year. My Jelly Roll Slice top that I made for the shortcut tutorial series that Fat Quarter Shop puts on. I did have my top completed in time for event but it was not quilted. Life was very hectic last year. I also finished my Katie's Compass quilt top that was made from the leftover cut pieces from the Jelly Roll Slice.
I quilted the Katie's Compass first as it needed to be completed by Friday morning last week, so my Mother inlaw could take it along to deliver it to our little cousin. Katie's Compass is a pattern by Sterling Quilt Company.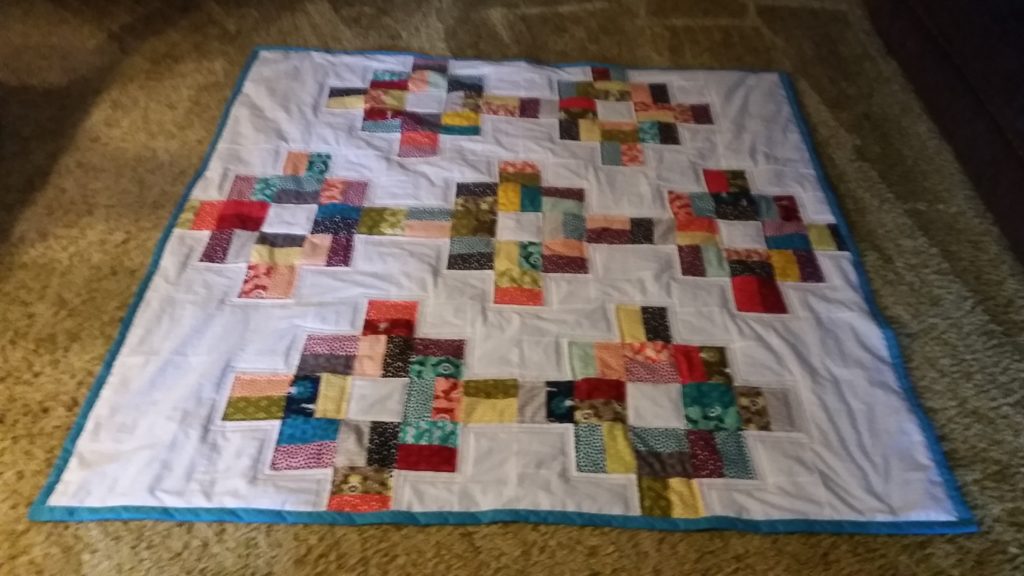 I quilted within the colored blocks with white thread and then used a variegated thread to quilt 1/4 inch out doing two rows in all the white areas.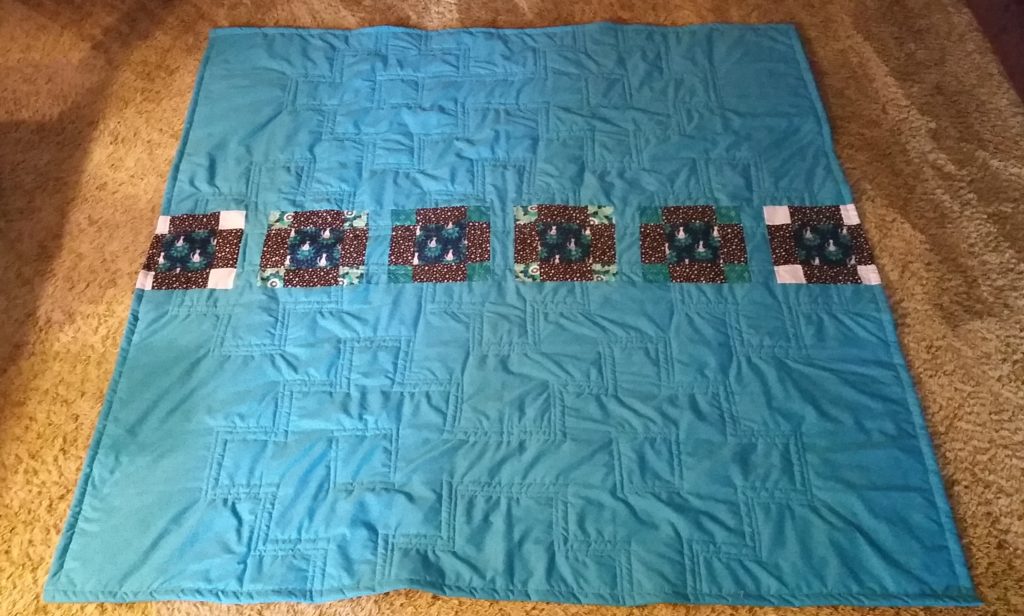 I attached my binding to the back and pulled towards the front and machine stitched in the coordinating colors. Washing this quilt turned out to be a bit of a nightmare. I first washed it in cold with woolite type soap with a color catcher. Well, there was turquoise spots all over the white of the front of the quilt. We live in the country and have a well that can be sandy and it decided to throw up sand and grit into my washing machine when washing this quilt. I pretreated the spots with Era clothes soap, wiped the sand up out of washing machine and threw 3 color catchers in with the Era soap. Thankfully, every spot washed out. I was amazed that all three color catchers were a bright turquoise. I have never had a color bleed quite like that.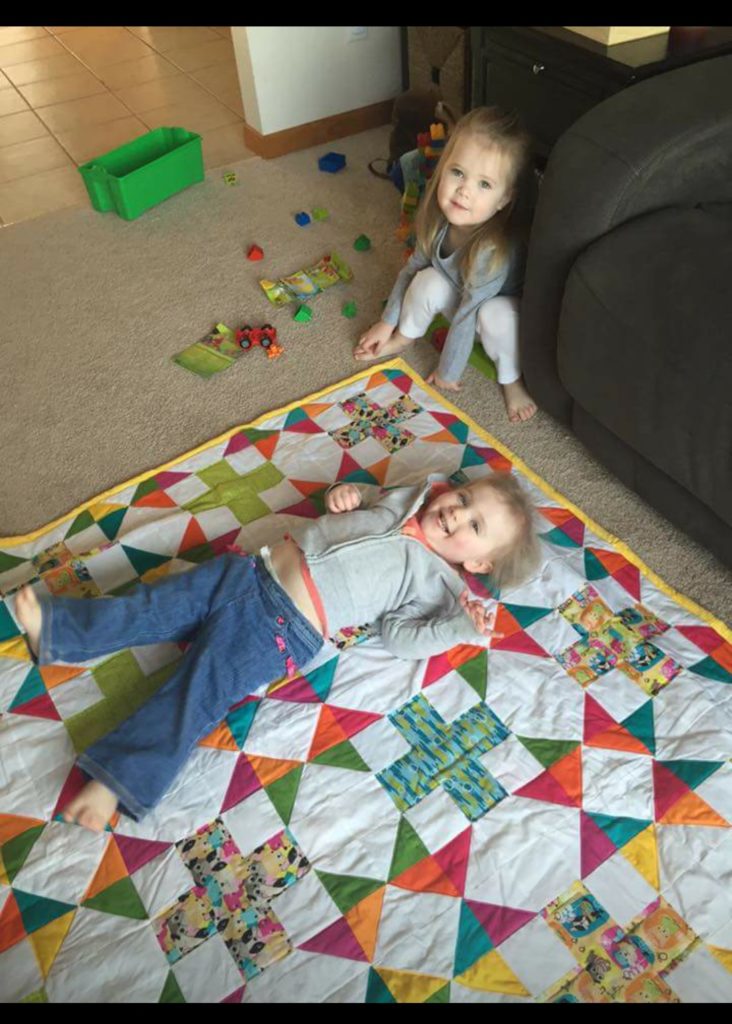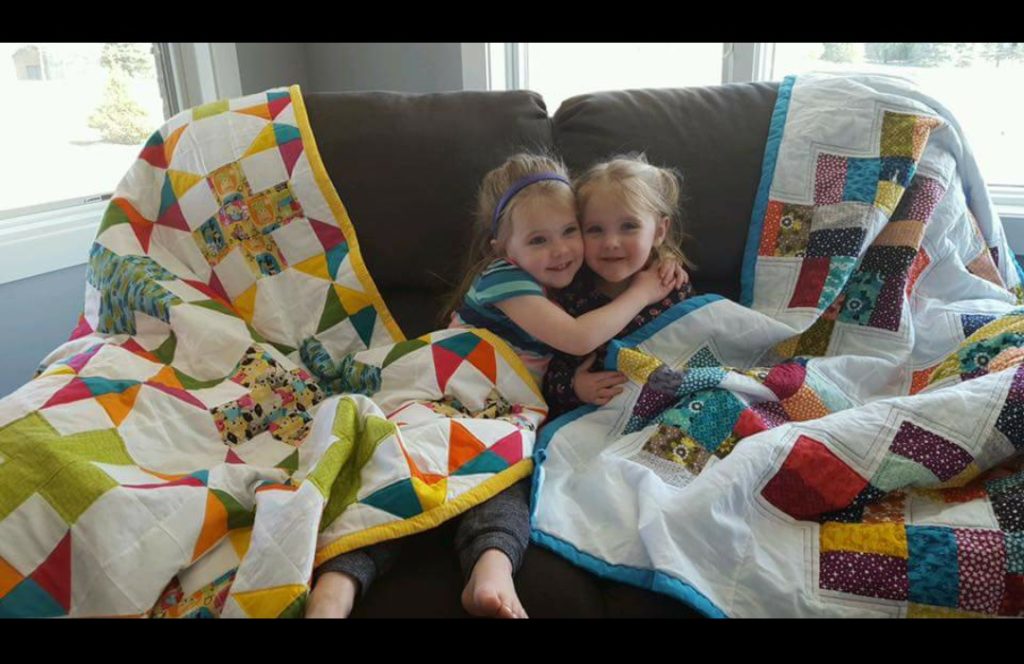 Our little cousin loved her quilt. This family lives quite a distance from us and we only get to see them a couple times a year. I was behind in making baby quilts. Her older sister received the Puppy Stars quilt last year. This is why I do not make the traditional "small"sizes that are considered baby quilt size. Baby gifts might not get to them until they are 2 and 3.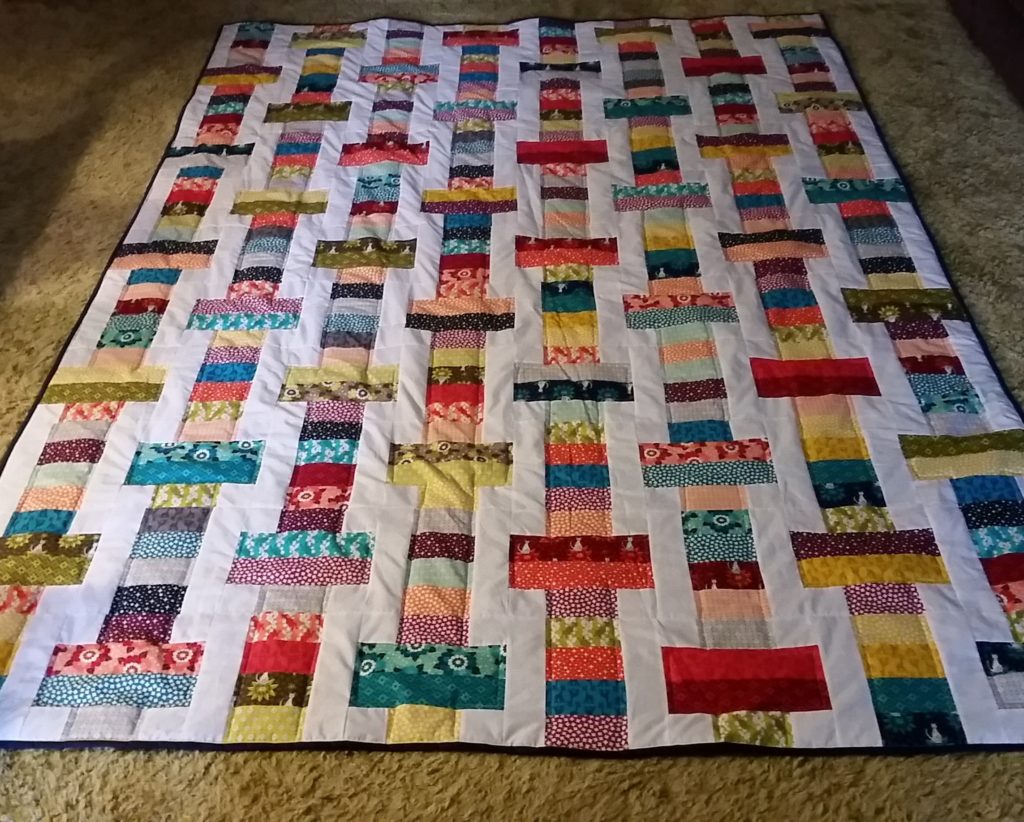 Here is my Jelly Roll Slice quilt completed. It does have a navy blue binding that ended up getting pulled pretty tight it seems. This was attached to the front and machine stitched to back.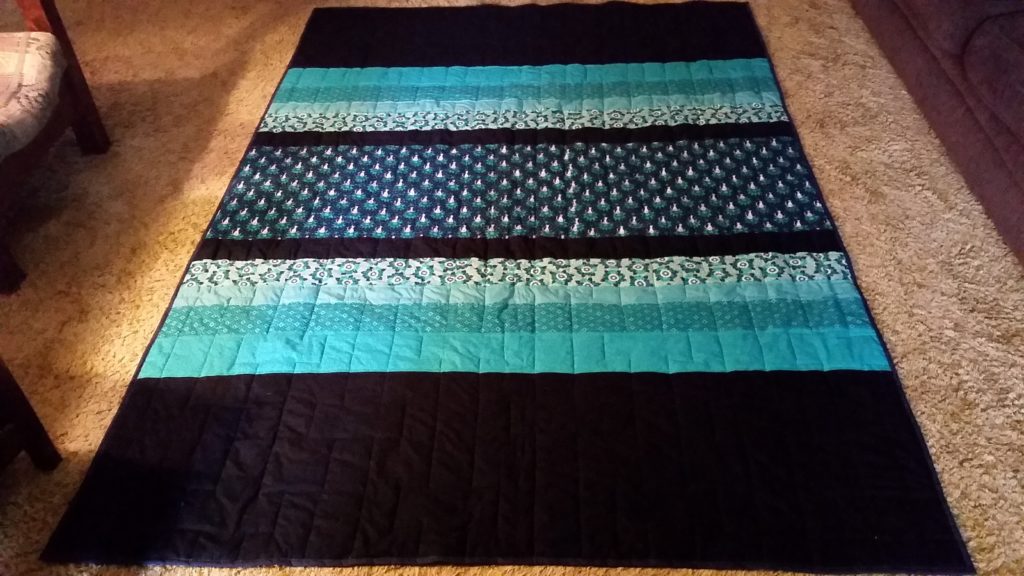 This is the back. I was pleasantly surprised that there was no color bleed from the navy blue and thankfully no sandy well water mess in this load so I didn't have to wash it twice.
Here is a link to the pattern for Jelly Roll Slice on the Fat Quarter Shop website . It is free and comes in multiple sizes. I made the twin that used 2 jelly rolls but that had alot of leftover strips.
I am hosting Thank Goodness It's Finished Friday this week. I will be making another blog post about my most recent completed project this week. It is one of my oldest WIP.
Happy Sewing,
Shelley
Save
Save
Save
Save
One Response to Jelly Roll Slice and Katie's Compass quilts completed
Twitter