Scrappy Patchwork Swoon: Dad's Shirts Memory Project times two
Hi,
I am happy to share more of my completed Swoon quilt tops this week. In this post, I am sharing the scrappy patchwork Swoons I have created for my two sisters inlaw from Dad's plaid shirts. They chose coordinating solid colors so it was easy to create quilts that were opposites of each other.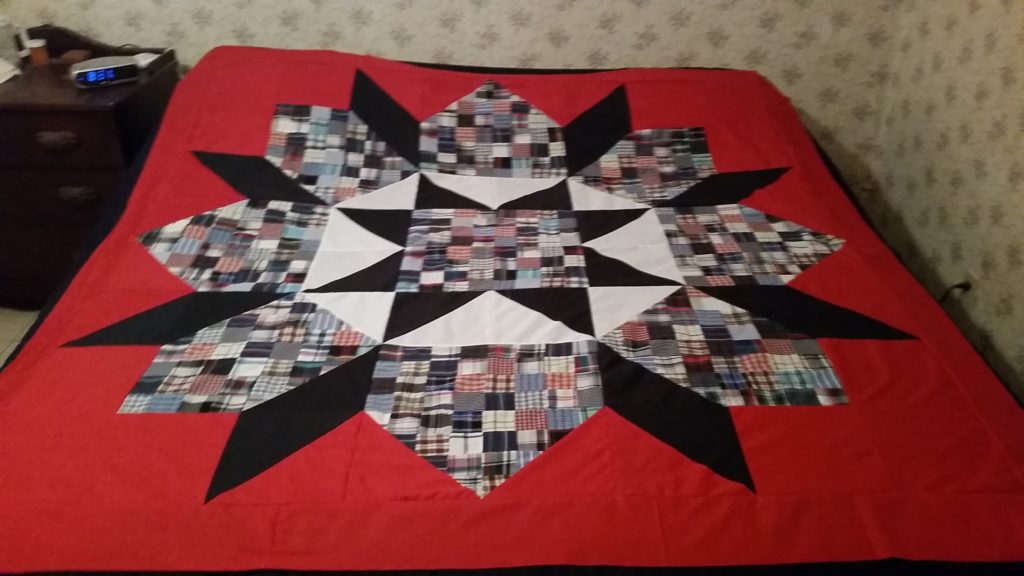 This quilt has 576 little patchwork plaid squares. The overall construction of the quilt design uses the same faster techniques you would learn from the Swoon 16 quilt pattern. This quilt is red and navy but the navy shows up way darker than it is in person. We chose to make the outer border the same color as the background. It finishes at 72 inches square.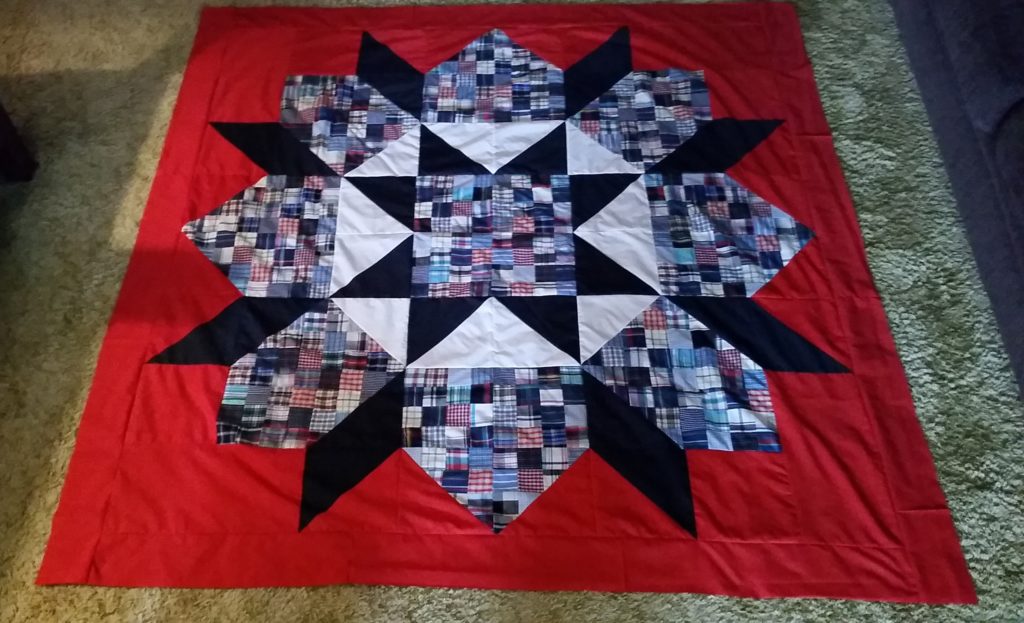 There are so many ways one could quilt this design. I wish I had FMQ figured out on my machine but I do not. And it is not in the budget to send these memory quilts out to be long armed. I saw a friend online did a nice allover crosshatch to the scrappy one she finished earlier this year, and she said it took her 20 hours. That doesn't scare me.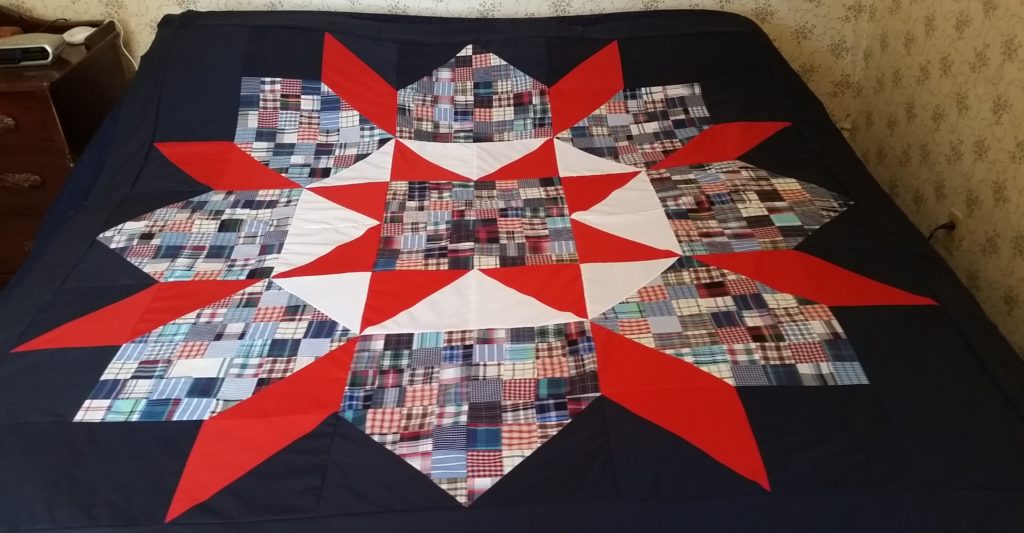 This is the second scrappy patchwork Swoon. Opposites of the first. This is a little more true to the color of navy blue. It seemed to take longer to create all the 64 patch blocks for this one. I counted and counted and continued to sew and thought for sure I was going to have cut more strips from the shirts. I did end up with 10 extra 16 patch blocks.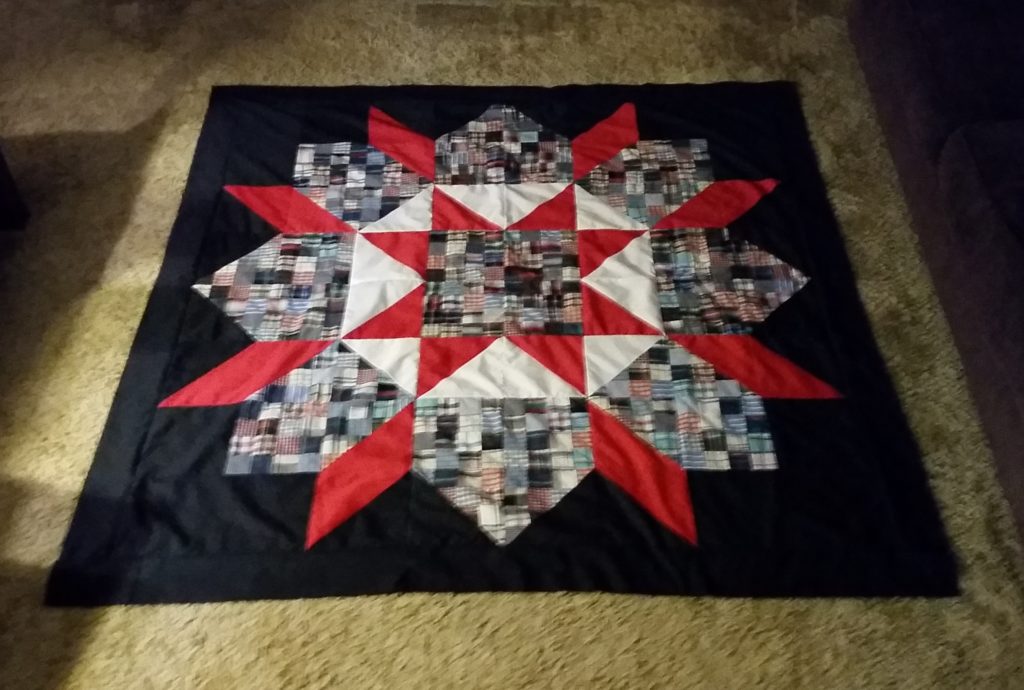 I didn't notice until taking this photo today, that I have a few rather dark plaids clustered together in the center block. Too late to change that.
When making this you are creating HSTs from the patchwork pieced squares, there is too much time and effort in this to just toss those extra pieces so I drew an additional line and created a smaller HST. Since I am making two quilts in same colors that makes double the newly created HSTs and add in those extra sewn 16 patch blocks, I am on my way to creating a third quilt design from the extra pieces.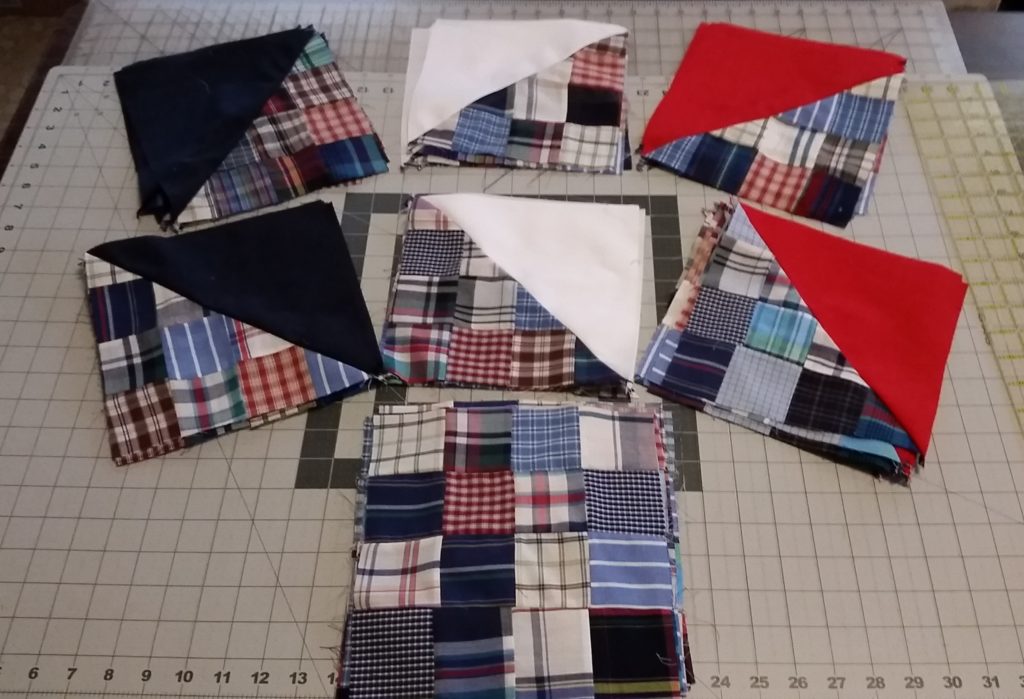 This would be too much fabric to toss into the scrap bin.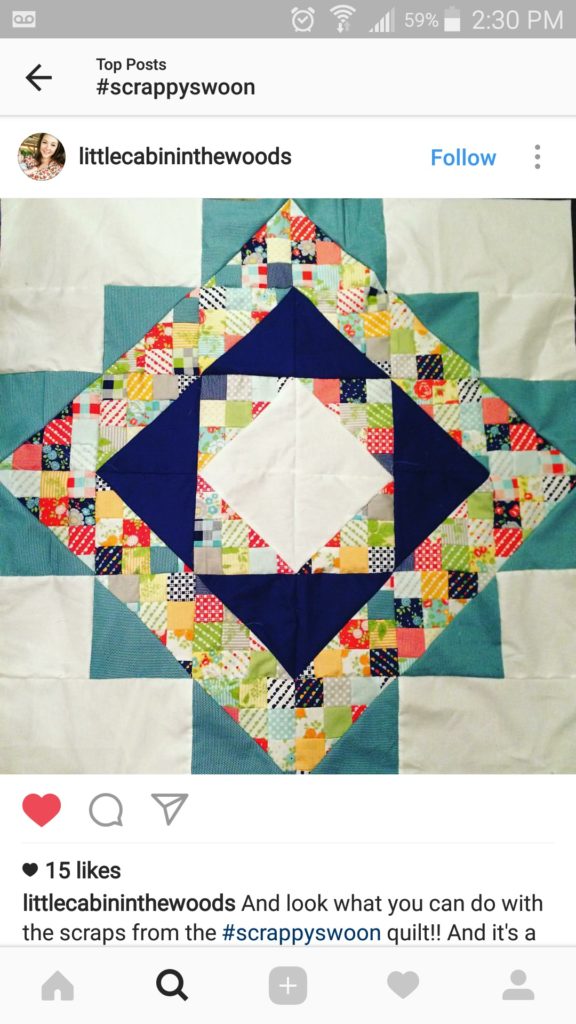 This of course is a screen shot off of Instagram on what I have ideas to create from all my extra pieces. Littlecabininthewoods on IG stated that hers was 43 inches before adding white borders. This would be a great start to making a medallion center for another quilt. I can make two of these medallions with opposite colors in the two sections which would be a starting point for two more quilts for family members. Or somehow put them all together into one large design. I am leaning towards the two quilts. The originals go to the two sisters and the opposite coordinating additional quilts could go to one of their daughters.
I hope to lay out my pieces and come up with a design this weekend or beginning of the next week. I have two other quilts that need to be quilted this week before I start on any of the memory quilts. I have one basted and need to get the other basted. They are pieced from similar fabrics so maybe I can use similar thread colors to quilt. They have been on the pile to quilt for way to long and the one can be delivered to it's recipient next week with a quilt that they purchased earlier this year from me.
I am hosting the Thank God It's Finished Friday linky party this week. There will be a separate post for the linky party. I will probably summarize these two posts and give links back here if someone wanted to read more on the finished tops.
Hope you all have a great weekend.
Happy Sewing,
Shelley
5 Responses to Scrappy Patchwork Swoon: Dad's Shirts Memory Project times two
Twitter