Harvest Berry Baskets: 2016 Cloud 9 New Block Blog Hop and Tutorial
Hi, I am Shelley and welcome to my stop on the 2016 Cloud 9 New Block Blog Hop. Cloud9 is generously sponsoring a New Block Blog Hop featuring their Organic Cirrus Solids. The blog hop hosts, Yvonne @Quilting Jetgirl, Cheryl @Meadow Mist Designs, and Stephanie @Late Night Quilter, have curated the "Berry Harvest" bundle, and Cloud9 is supplying each participant with a fat quarter bundle. Blocks made for the hop will be collected and made into quilts for donation.
We were to create a 12. 5 in finished block using at least 3 of the chosen fabrics and create a tutorial for it. The block I created is a new one for me. I have attempted to research to make sure there is not another version of this block out there. I have reversed search Google images, scoured Pinterest and even checked the Barbara Brackman Block Encyclopedia book (that I forgot I owned) and I do not find these exact blocks. If you know of one, I will of course give proper acknowledgement. I am calling my block Berry Harvest Baskets. Because of the techniques used in creating the block components, there are opposites created so to utilize them I am creating two blocks.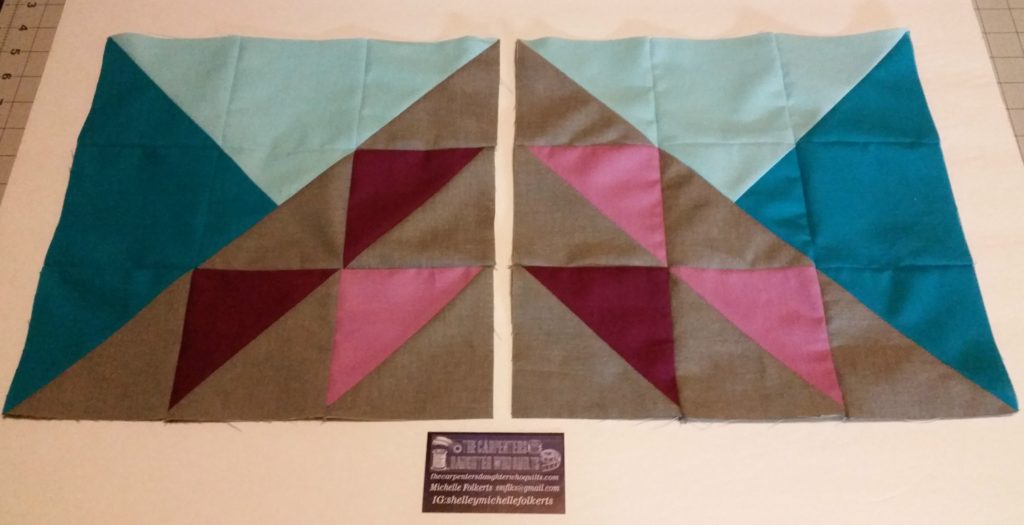 I tested out my block design twice in fabrics I had on hand before cutting into the lovely Cloud 9 Cirrus Solids.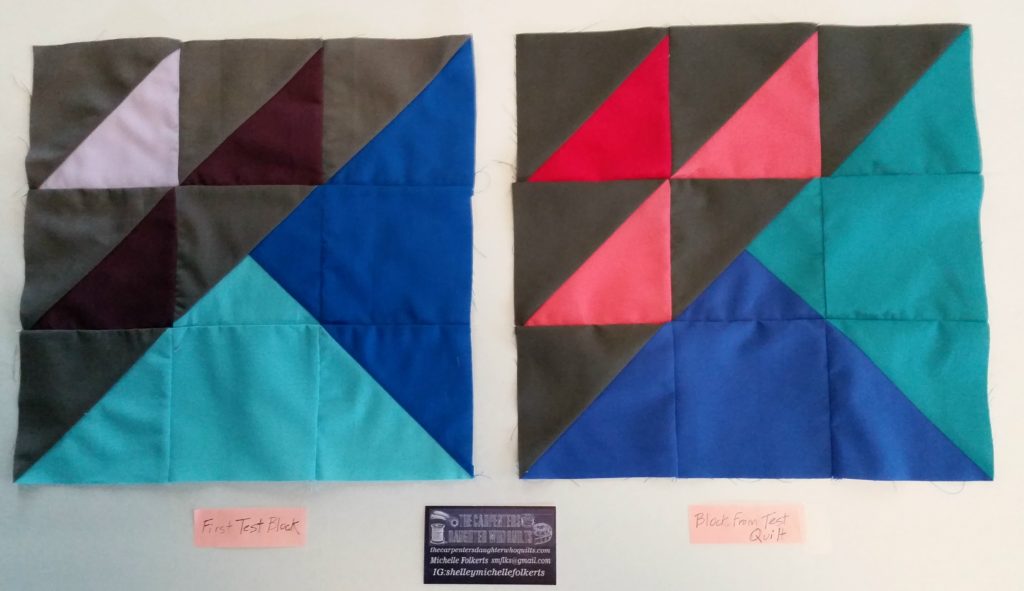 My first test block in the more subdued colors was made from fat quarters I had from JoAnn's Fabrics. The second block is in the colors that I am making a quilt from these blocks out of. I will share the finished quilt top and tutorial for the quilt on Friday.
Here are the instructions on how to make my Harvest Berry Baskets quilt block. Blocks are sewn with a scant 1/4″ seams. I have pressed my seams open.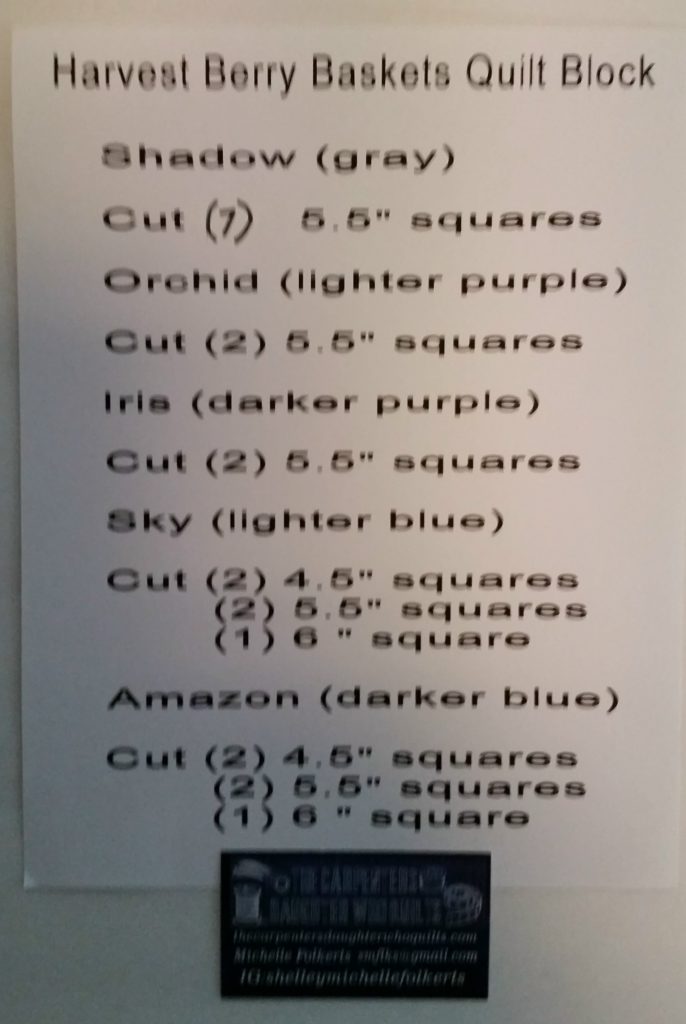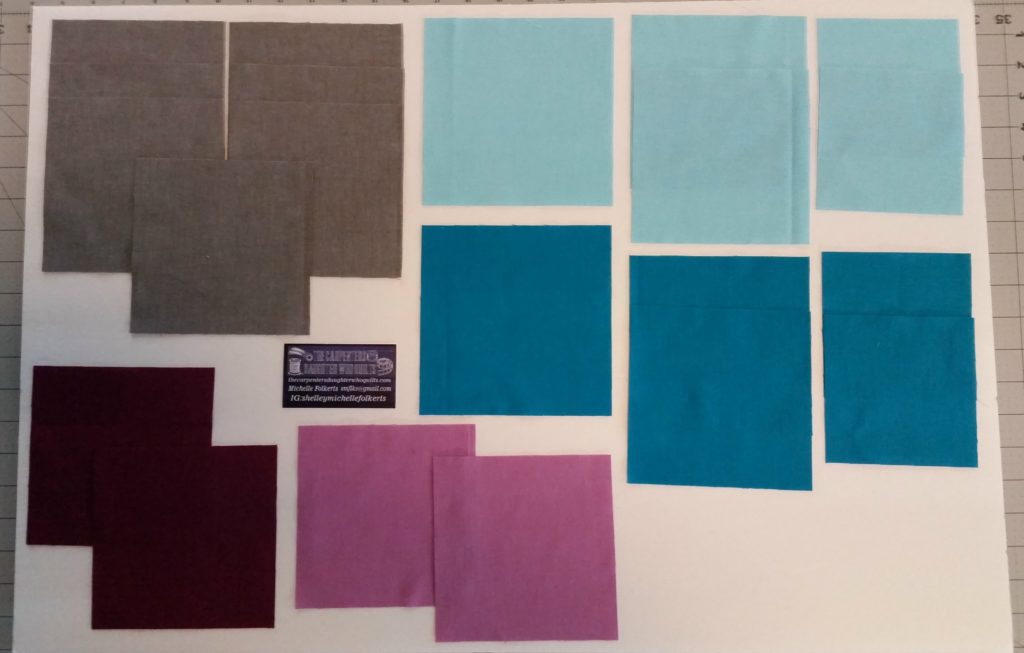 These are all the cut squares needed to create the two blocks.
We will be creating Half Square Triangles and for the center of the block a three colored Quarter Square Triangle. I have only sewn QSTs once before this, so was excited they came out on the first try.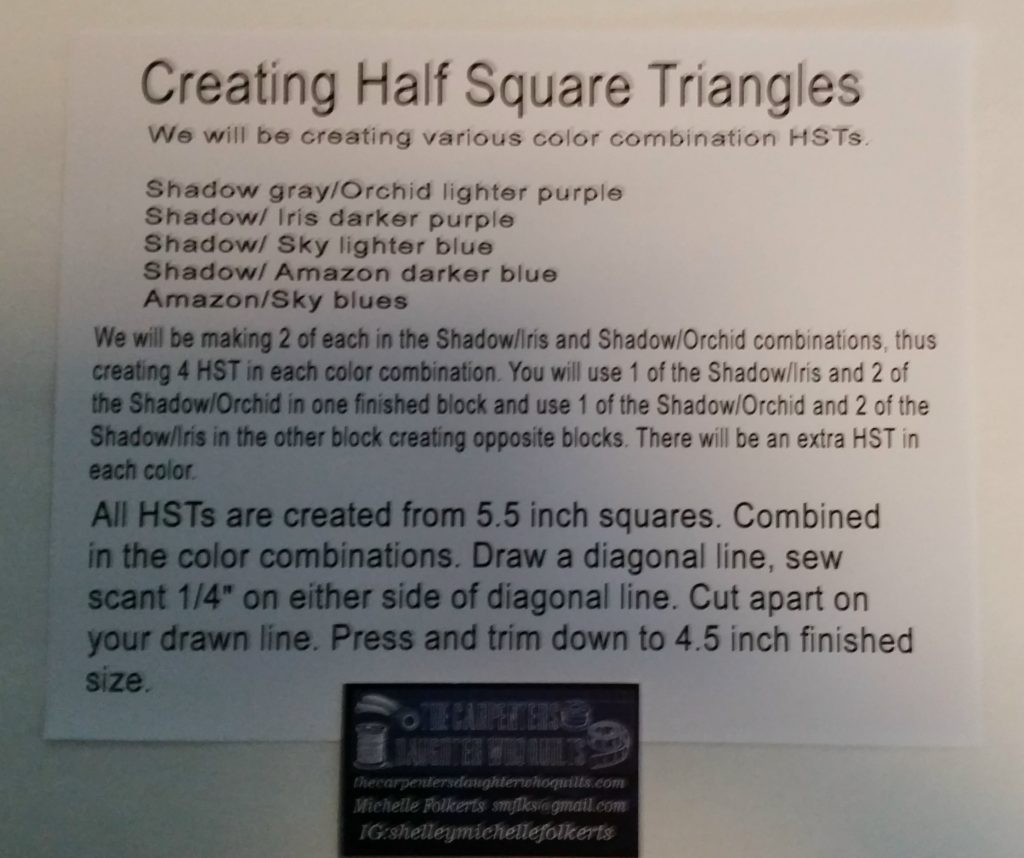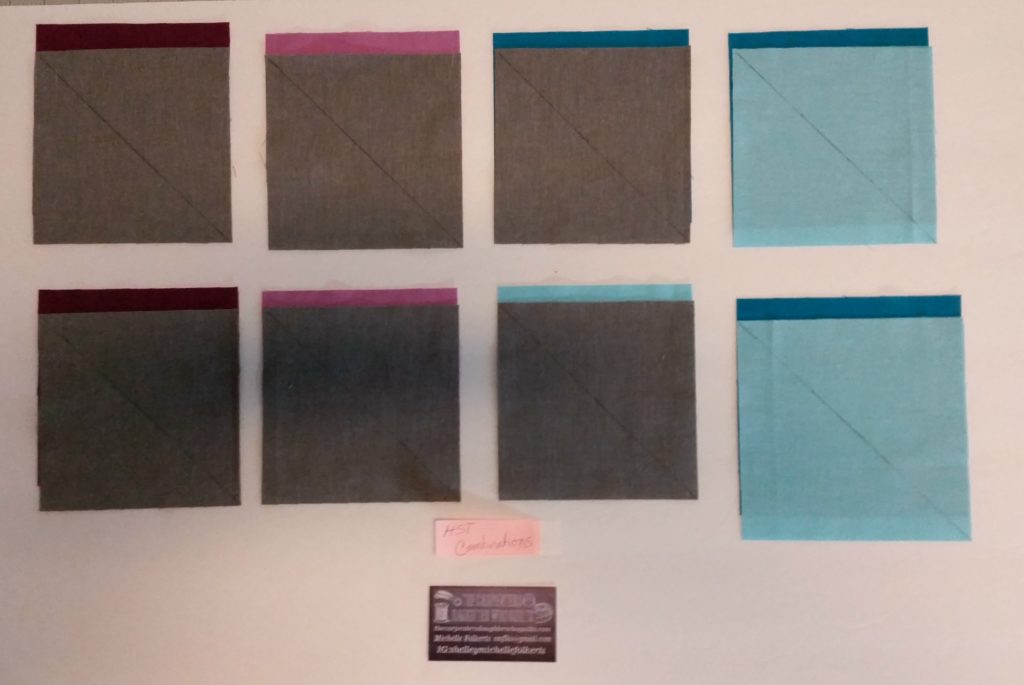 These are the color combinations needed to create the HSTs.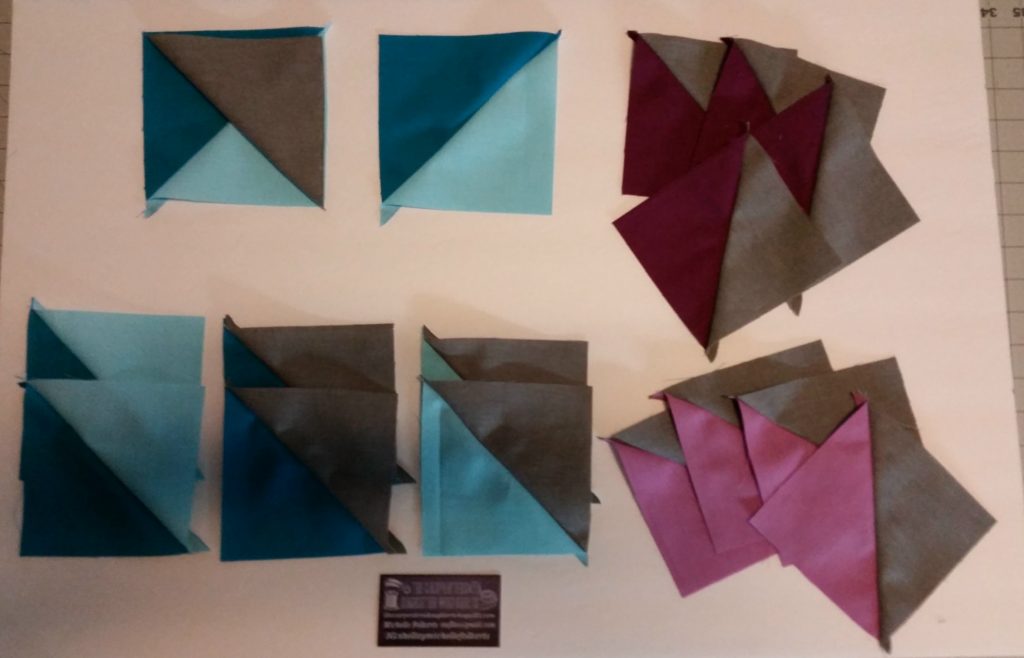 Here are the created HSTs before trimming. I am a new convert this year to the Bloc Loc Ruler for trimming all my HSTs. I fought purchasing a new ruler but it truly is amazing how much easier and more enjoyable creating HSTs are with it. I am using the 6.5 inch ruler.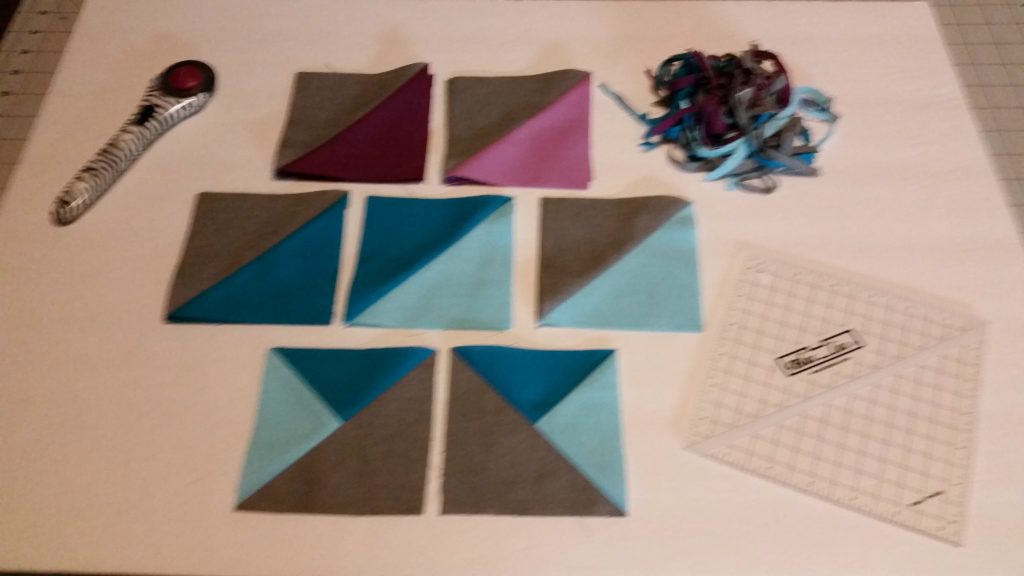 This photo shows the finished QSTs and HSTs. I will now share how I created the Quarter Square Triangles.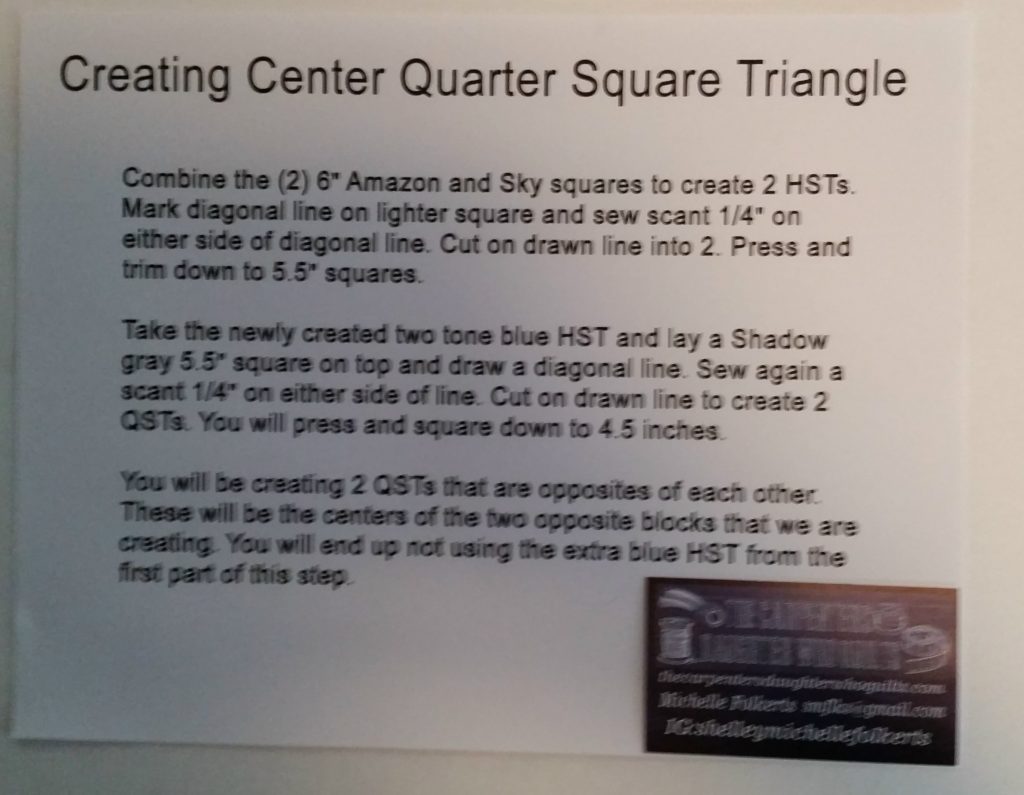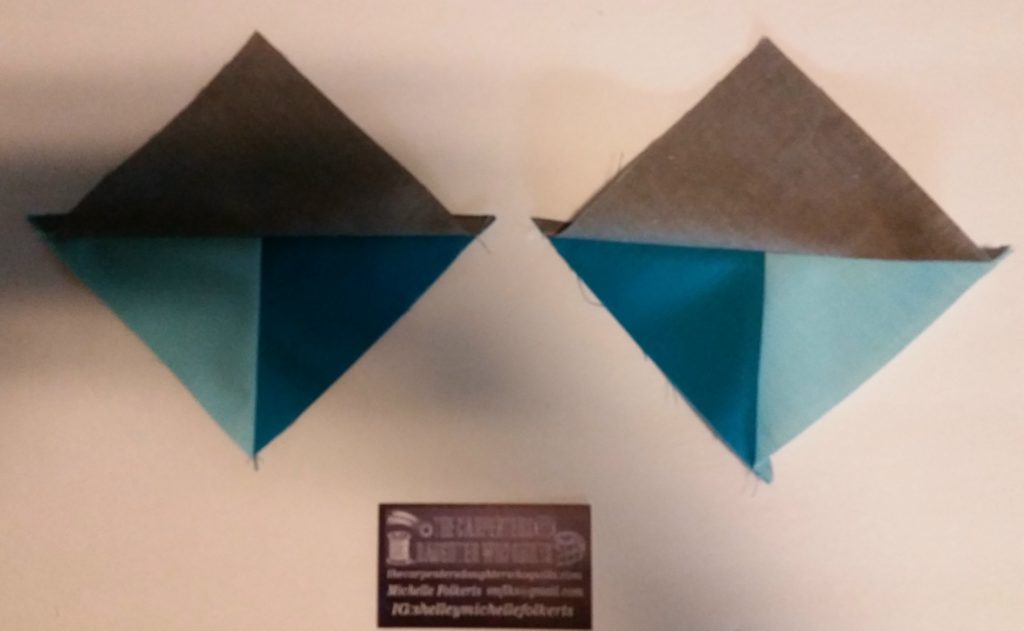 In the photo above with all the HSTs, at the top I showed the larger 6 inch HSTs. After creating them, they were pretty much 5.5 inches without need of trimming, so I laid the Shadow gray square on top and marked the next diagonal line for sewing. Be sure to peek at your HST below to make sure that you will see the two shades of blue, to ensure proper sewing. You will create mirror images.
After creating all the HST and the QST, we are now ready to start assembling our pieces into rows to create the two blocks.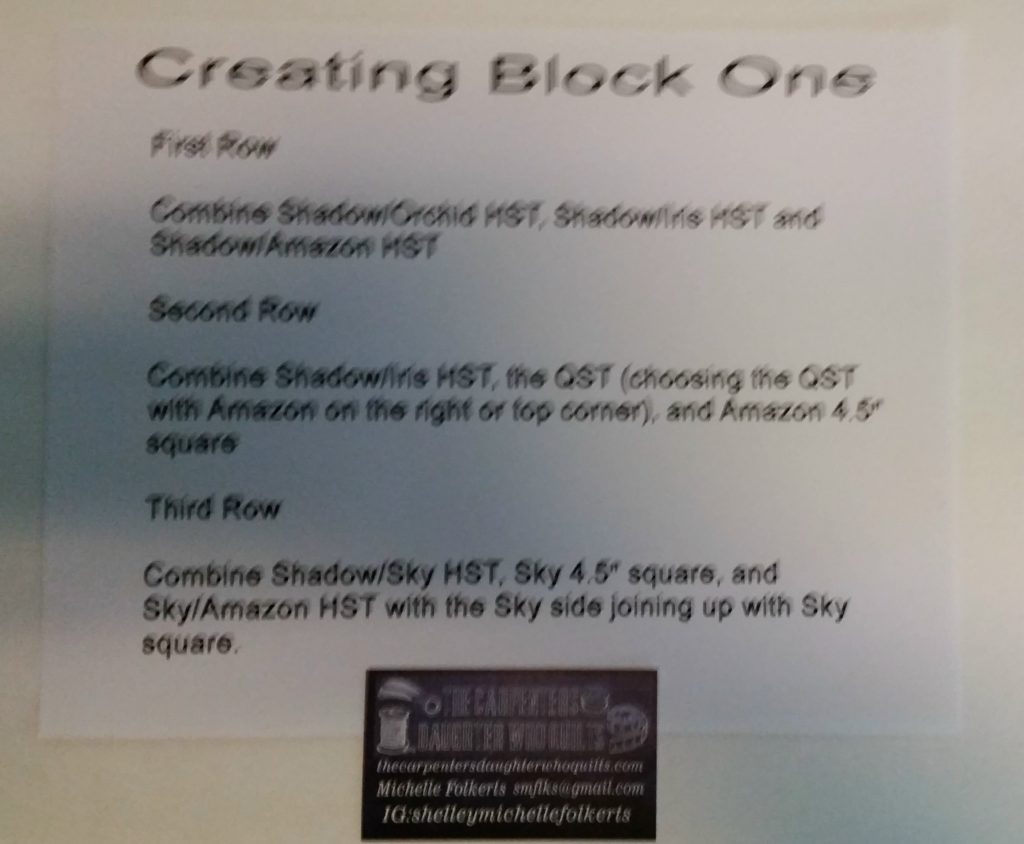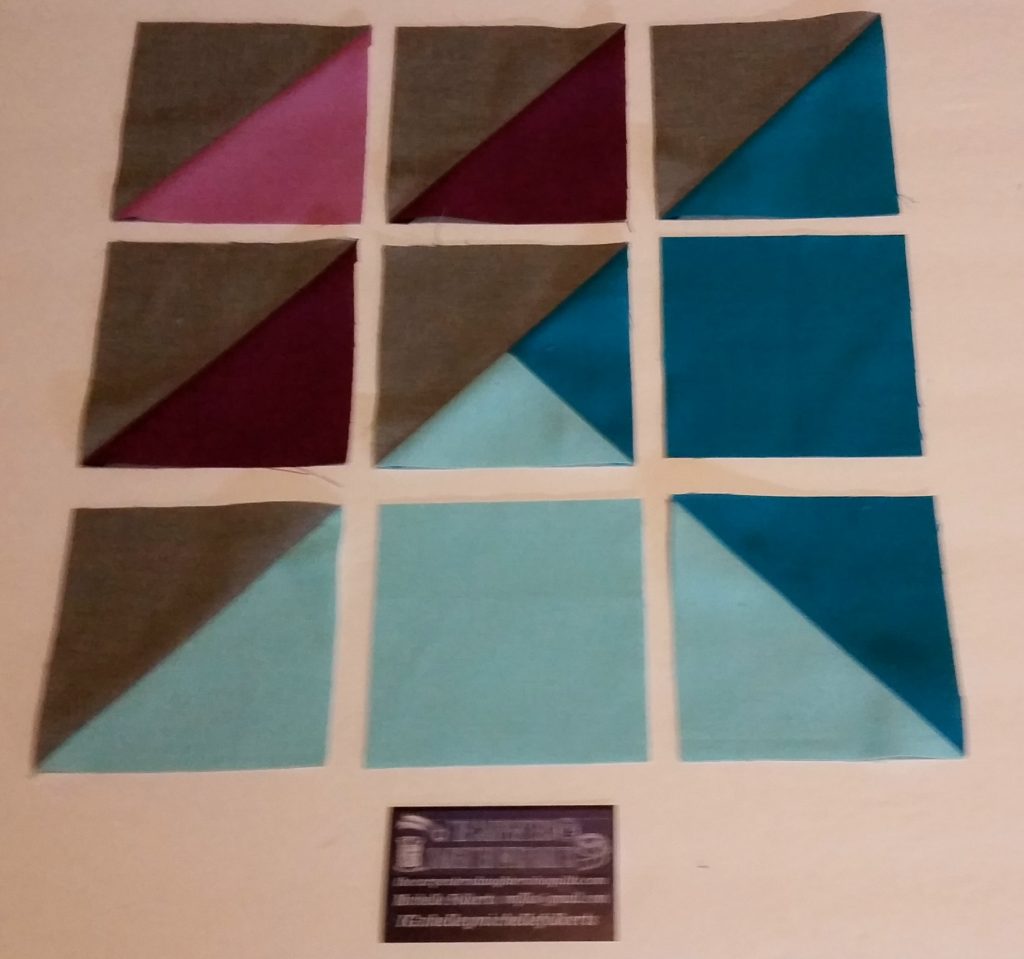 This is how the first block goes together.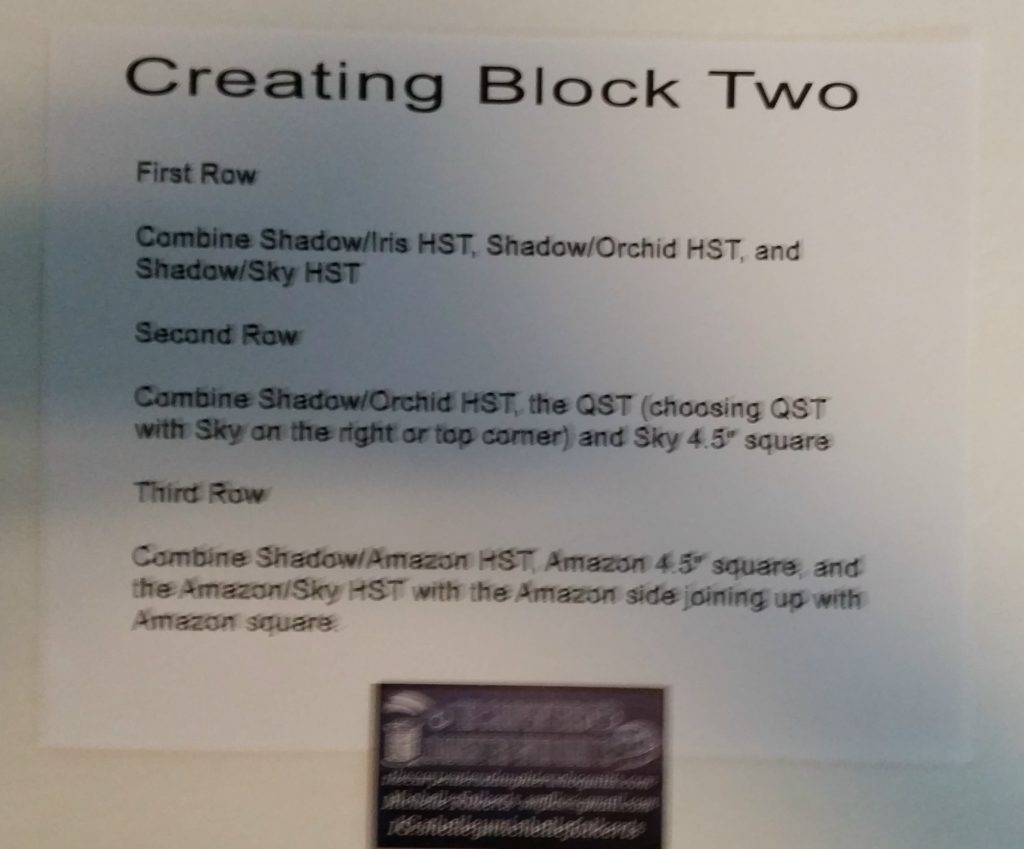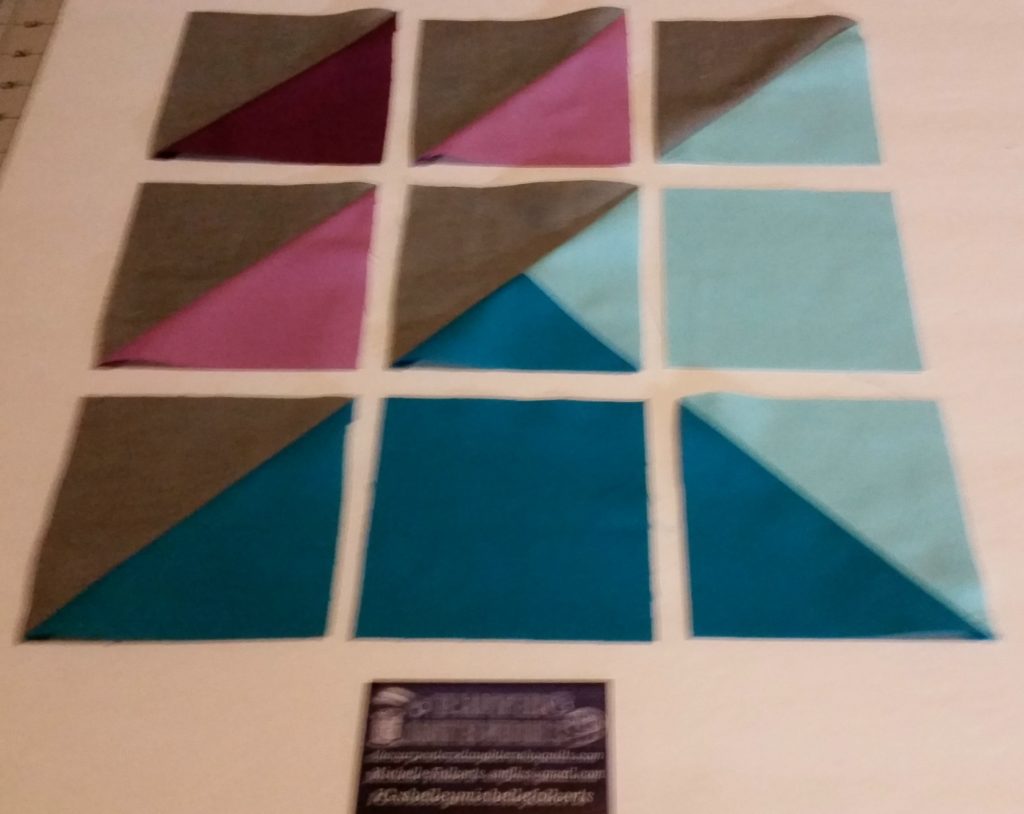 This is how the second block was assembled. The finished set of Harvest Berry Basket blocks is below.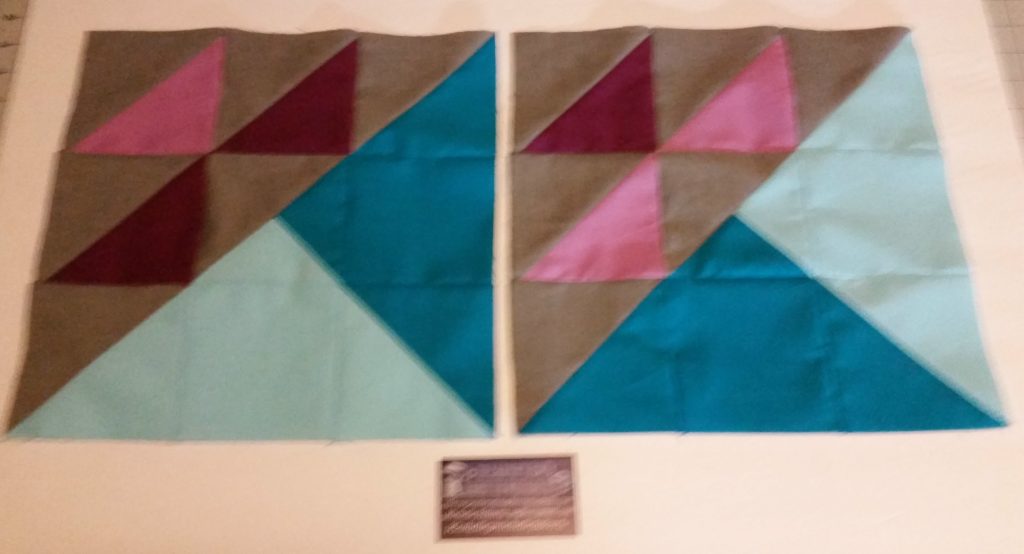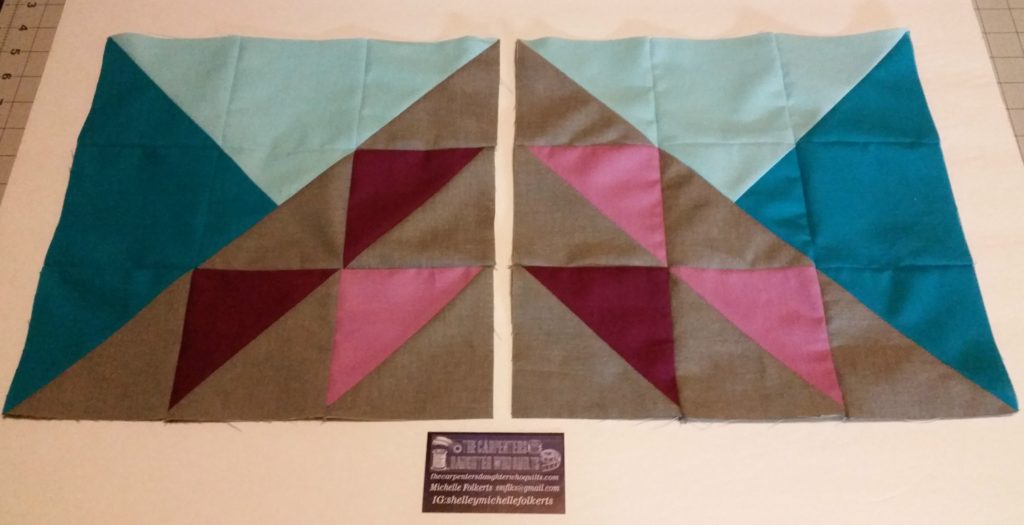 I really enjoyed working with the Cloud 9 fabrics. I have never worked with this type of fabric before. It has a wonderful tweedy texture. It is a little hard to get a proper photo of the true colors from my dark sewing room.
I am currently working on creating a quilt tutorial from these blocks. It will be 72″ square made from 36 of the blocks. I am new to creating patterns/tutorials and figuring out all the quilt math. It was kind of comical .  I purchased way more fabric than what was needed and cut more than needed pieces. Not all was lost. This is where I figured out the second block.  I will have it all figured out for you and should share it on here on Friday.
I do have a couple block layouts to share. I am still deciding which one I will be making. This definitely needs the use of a design wall.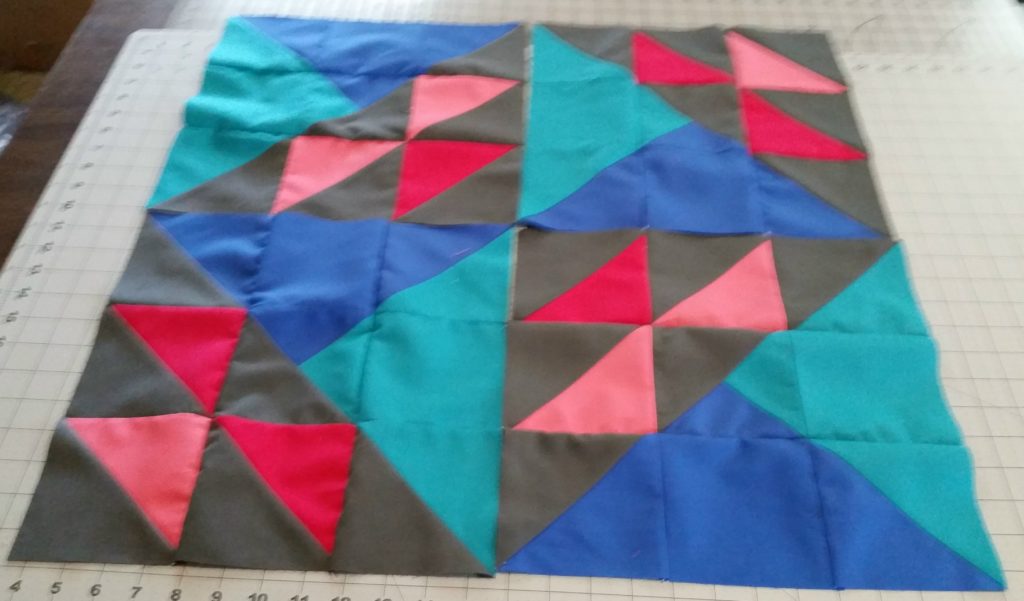 Option 1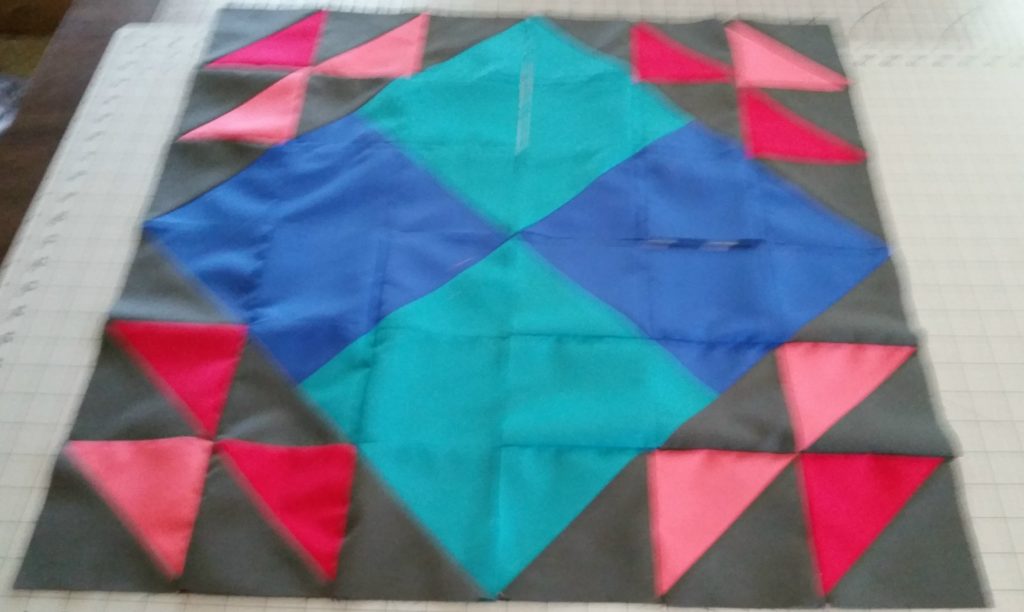 Option 2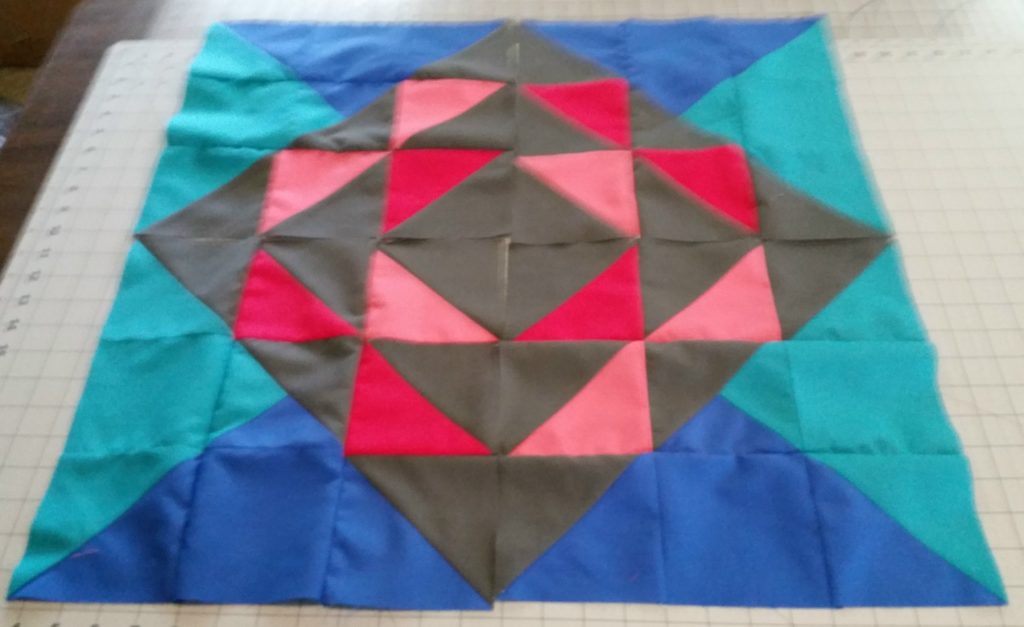 Option 3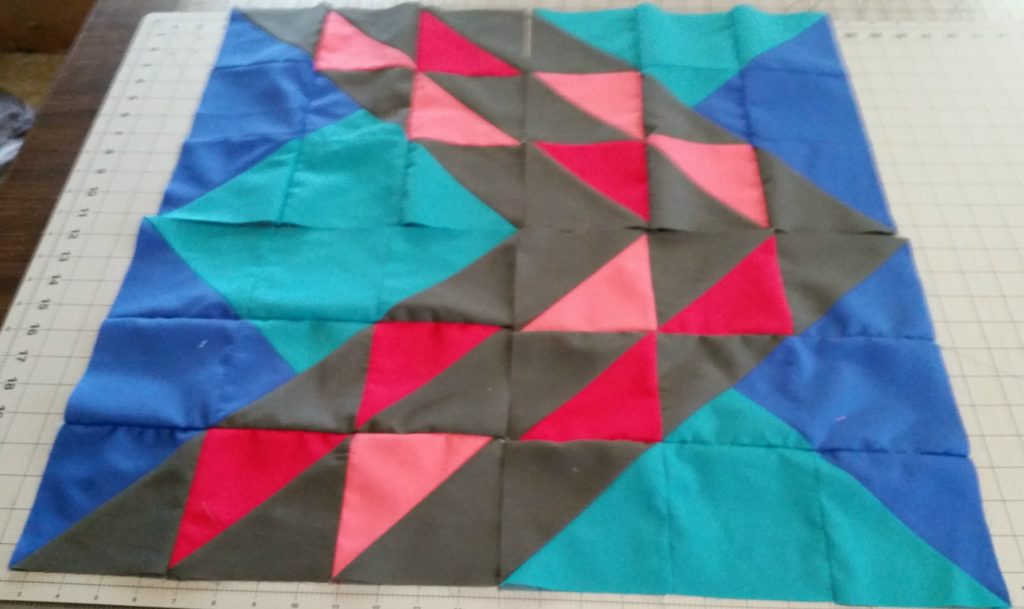 Option 4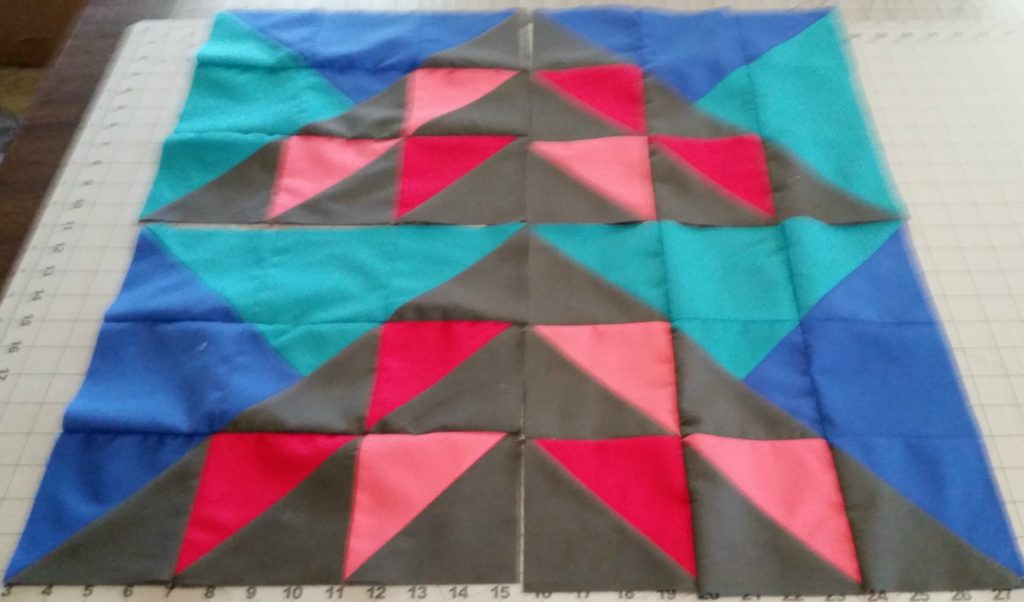 Option 5
To show one way that this block would look like in a quilt, I scanned my first test block and entered it into the Photoscape photo editing software. You can tile your design to create a quilt. This design is made from just the first created block. I flipped and flipped the blocks around. Now that I understand how the opposite QSTs effect the design, this design might not actually lay out this way. Because the centers were opposites, and changing the direction that the two blue large triangles were created, I purposely swapped the two purple colors in the second block to create true opposite blocks.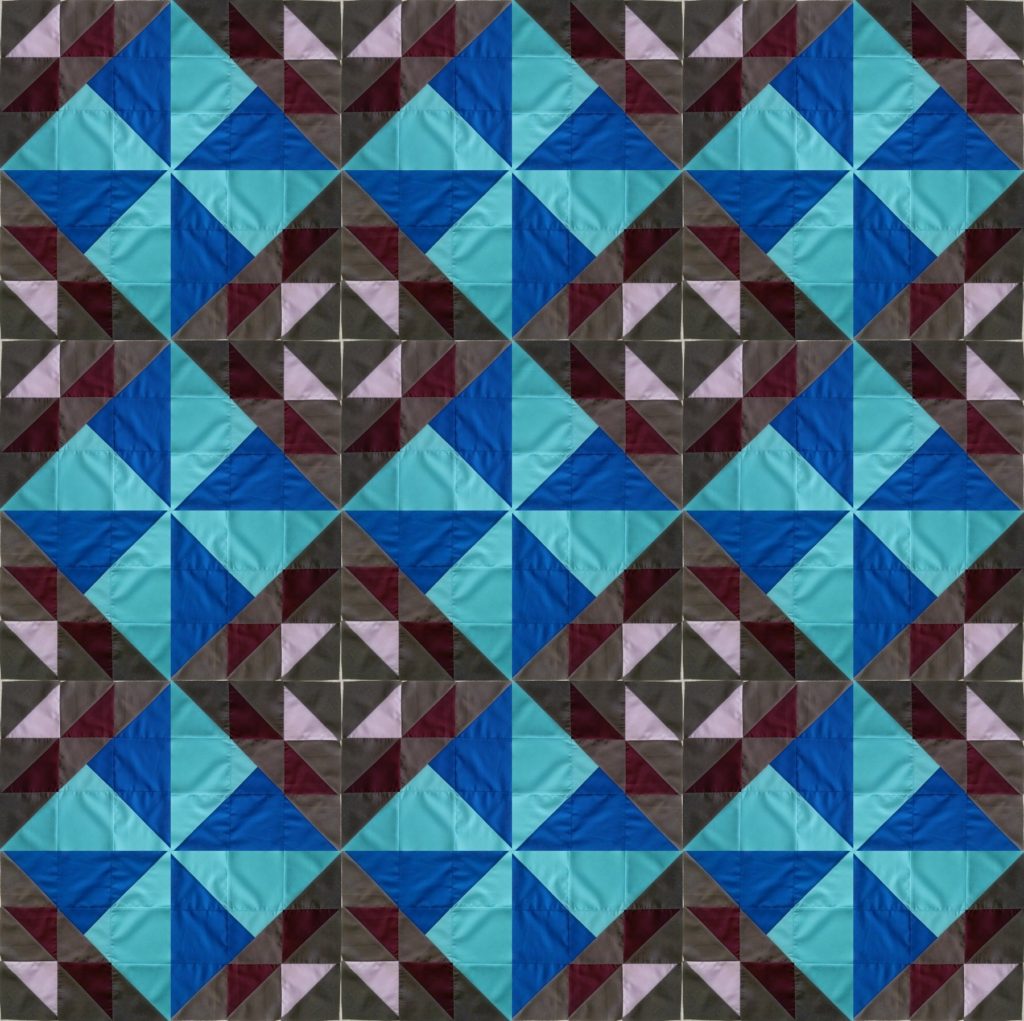 Pinwheeled quilt concept layout using test block in a 36 blocks layout creating a 72 in quilt.
I would like to thank our group leaders (Cheryl, Yvonne, Stephanie) for all their help and support. Thank you to Cloud 9 for the generous fabric donation. Please check out all the lovely quilt block tutorials this week. Stephanie is having a drawing for some lovely Cloud 9 fabrics and shares her designed block as well.
Here are today's block tutorials:
Tuesday's tutorials can be found here:
Thanks for visiting my blog. I hope you enjoyed my block tutorial. If you decide to make some Harvest Berry Basket blocks, please send me a photo or share on Instagram #harvestberrybasketblock
Happy Sewing,
Shelley
Comment Section can be found by clicking on title to blog post and when post opens, comments can be found at bottom.
26 Responses to Harvest Berry Baskets: 2016 Cloud 9 New Block Blog Hop and Tutorial
Twitter