TGIFF : Go West Flimsy
Welcome to TGIFF! Hi my name is Shelley and I blog as The Carpenters Daughter who Quilts. I have been quilting for over 20 years and blogging for almost 2 years. I think this is my third time hosting the Thank Goodness It's Finished Friday linky party. I am excited to see everyone's latest finish and the chance to meet some new to me quilt bloggers.
I am sharing my latest quilt top finish. It is Go West by Bonjour Quilts. I have a twin size top finished but I am currently putting together a second twin top to join together to make a king size quilt. I really really love this quilt pattern and design. It is also one that my daughter likes as well so I have one cut out for her too. We have the fabric cut out to supersize her quilt too.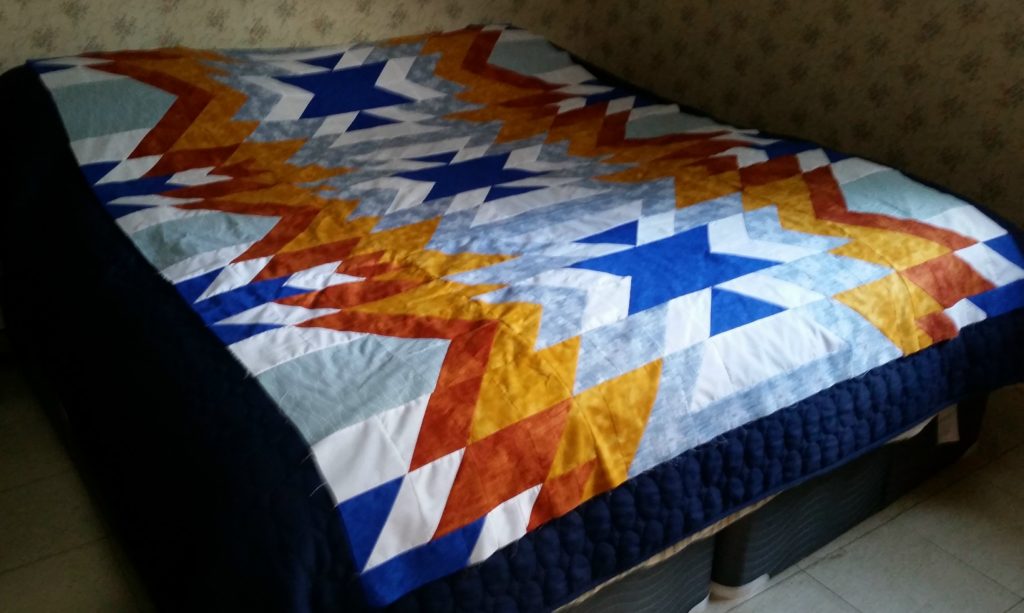 I am thinking of adding to the length of the quilt. A twin size is 64 by 84 inches. If you are putting two tops together, you will essentially come up with a top that is 128 inches wide by the 84 inches long. Our king mattress and box springs is currently on the floor. We are looking to build our own platform bed with a headboard attached to the wall. I measured the bed as is and I would really like in the 95 inch or so length at least. I am looking at adding an additional top and bottom two rows to the design but that would take the top to 104 inches long. I guess I could just add the additional two rows to the bottom and it would be approximately 96 inches. I really do not need 128 inches across so will just have to play with layout to see what looks right.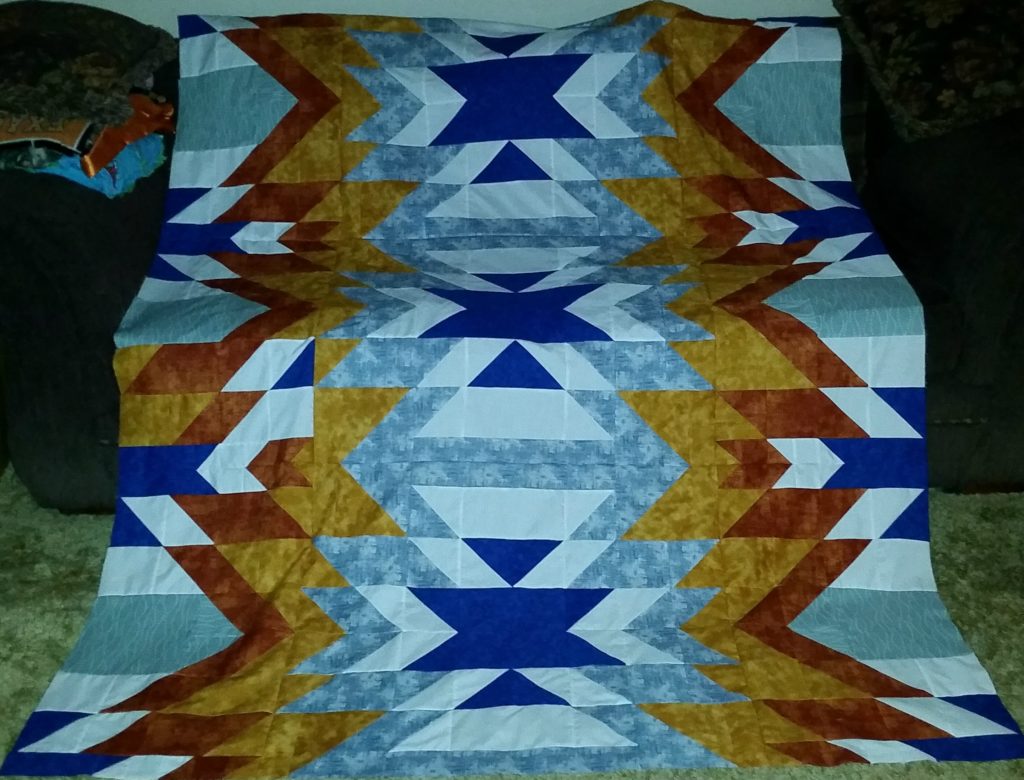 This is my late night finish of the top last night. I snapped a quick photo of it thrown across the couch and uploaded to Instagram. As the photo loaded, I saw that I had a big mistake of two rows flipped. Luckily it was easy to open a couple seams and take out the two row and flip them and sew back in. Bright blue always touches bright blue.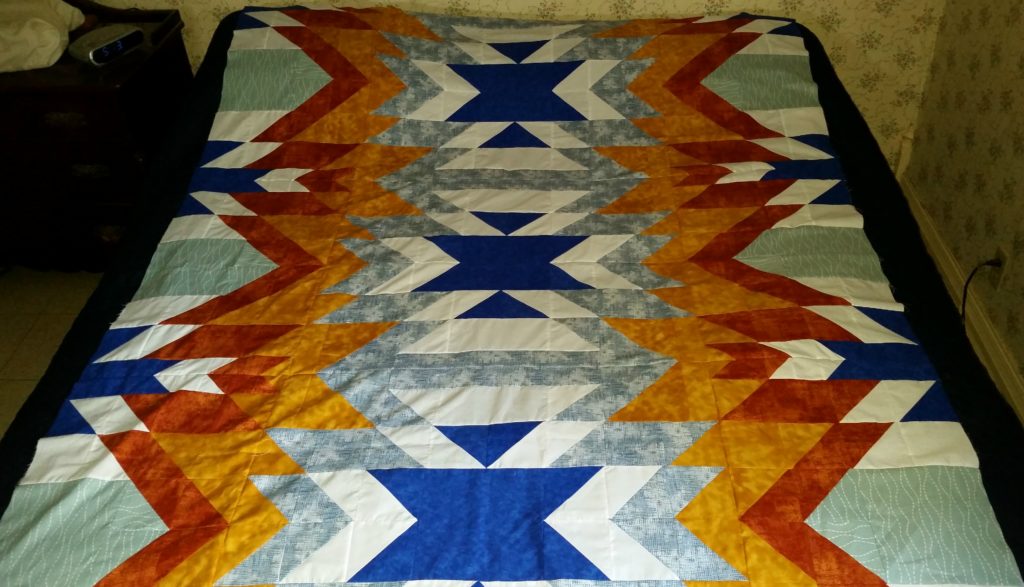 Here is the corrected version.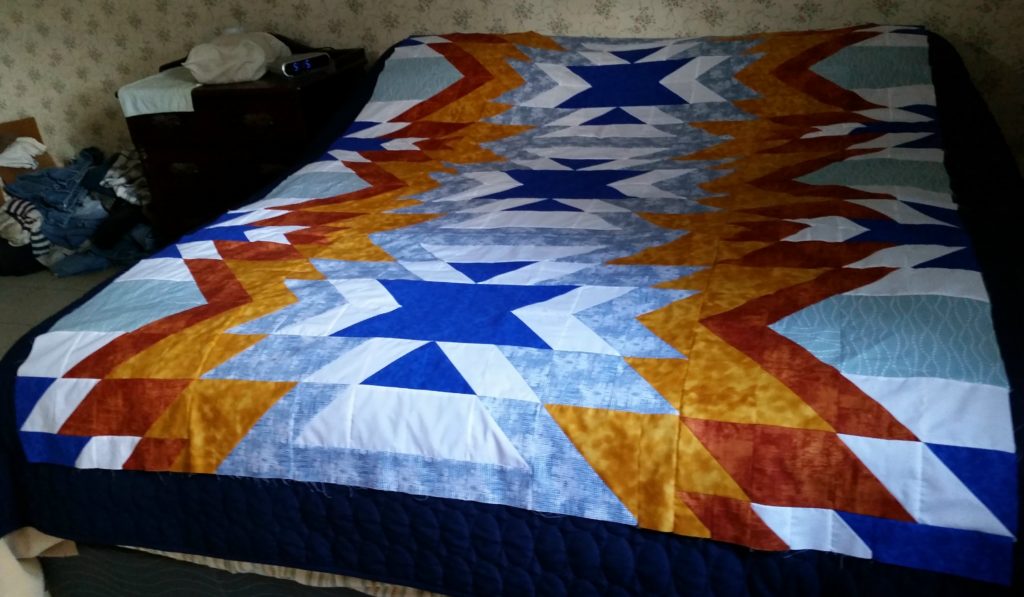 It really is hard to get a full on photo of a quilt on the king size bed since our closet is so close to the foot of the bed.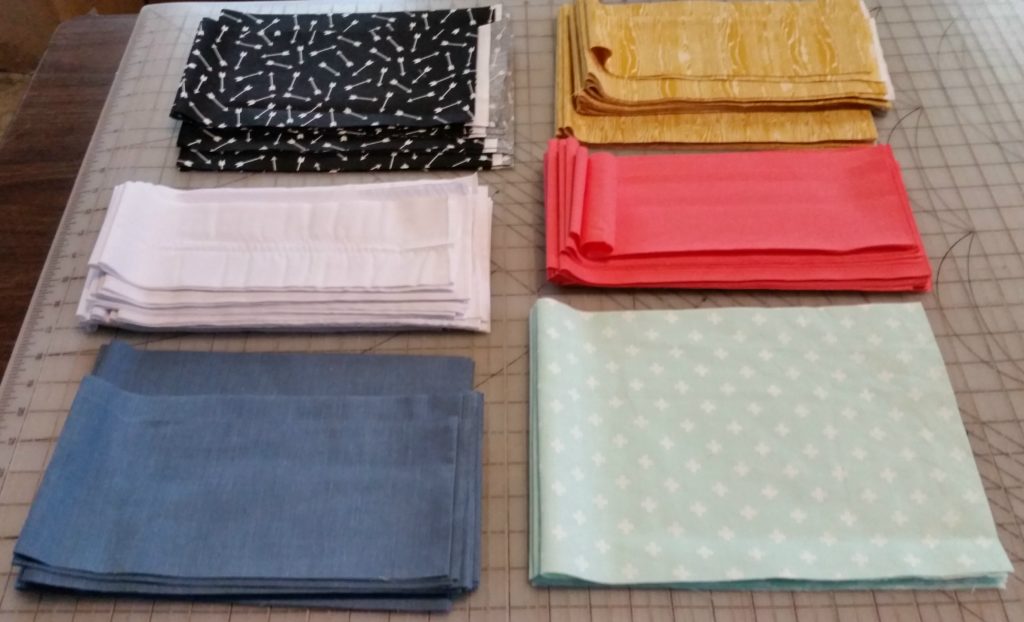 These are the fabrics that my daughter chose for her Go West quilt.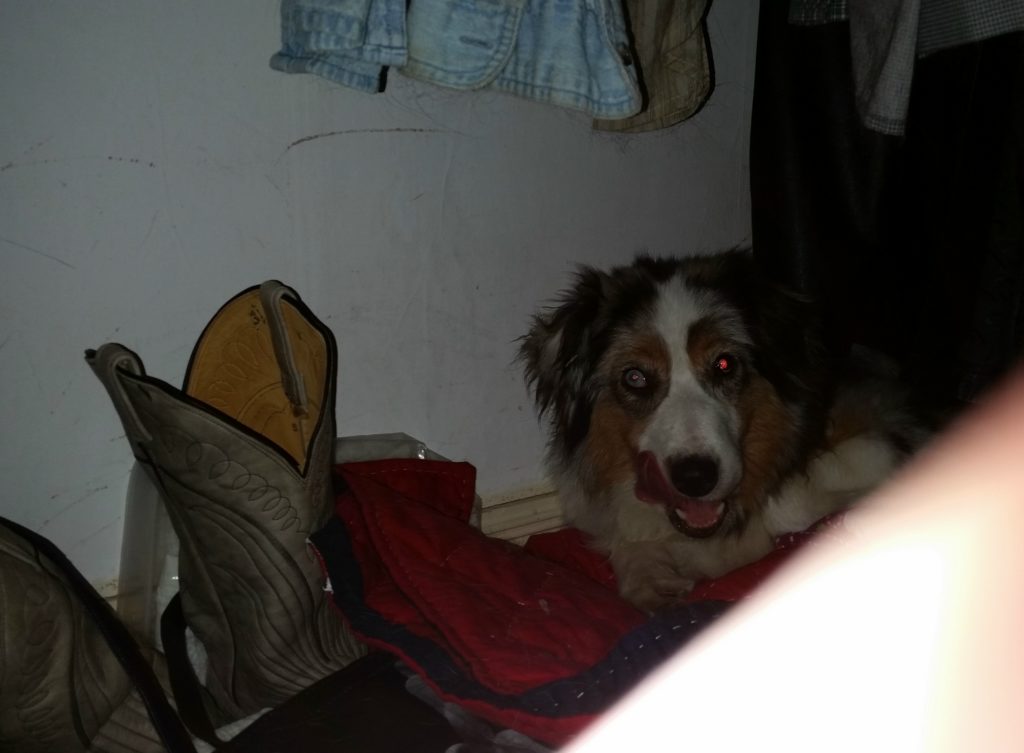 This is Lyric, our Australian Shepherd that we adopted in February. She was a kenneled breeder dog. Her owner died and I am not sure what her life was truely like there. After 4 months, she still will not allow my husband to touch her. She will take food from his hand but that is all. She likes to hang out in the closet in our bedroom. She was lurking in the closet when I was taking photos.  She used to get on the bed with me but now she prefers making a nest in the closet. It has to be hot in there as she is panting.
Thanks for stopping by my blog and checking out my Friday finish (that is still a WIP.) I hope to be back with a possible photo of a finished king top or more progress.
It is now time for all of you to link up your Friday Finishes. Please go check out as many of the other quilters' blogs and share the love by leaving a comment.( My comment page can be found if you click on the the title of this blog post and open the actual blog post.)
Happy Sewing,
Shelley
Loading InLinkz ...
10 Responses to TGIFF : Go West Flimsy
Twitter