Get A Clue, Nancy Drew! Mod D9P Quilt Finish
Hi,  I am happy to share a new quilt finish today that I have been working on since November. It is my Modernized Disappearing Nine Patch quilt made from Kristy Daum's tutorial and made from the Moda Get A Clue, Nancy Drew fabric line.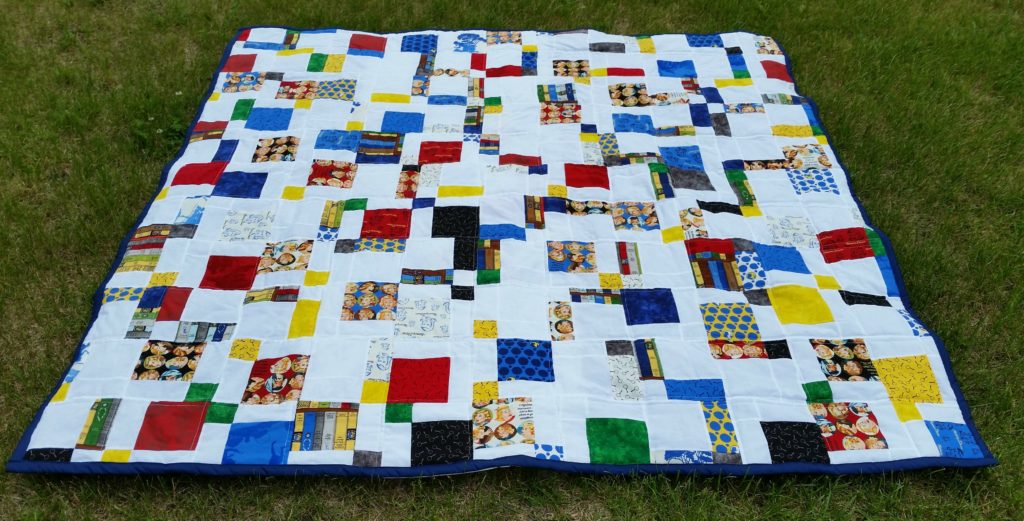 It finishes at 70 inches square. I had to make a stack of more nine patches to get to the larger size. The tutorial has you make five different nine patch combinations. You use 4 of your print or colored squares and 5 of the background squares and randomly mix them. I added 5 different grunged colors to the Nancy Drew charm packs. It looks like I pulled the yellow grunge to add to the blocks many times. I tried to get a good mix of the combinations but it was hard to remember what they were going to look like when cut into quarters. My final layout strays a bit from the tutorial but I mixed up what blocks I had the best that I could.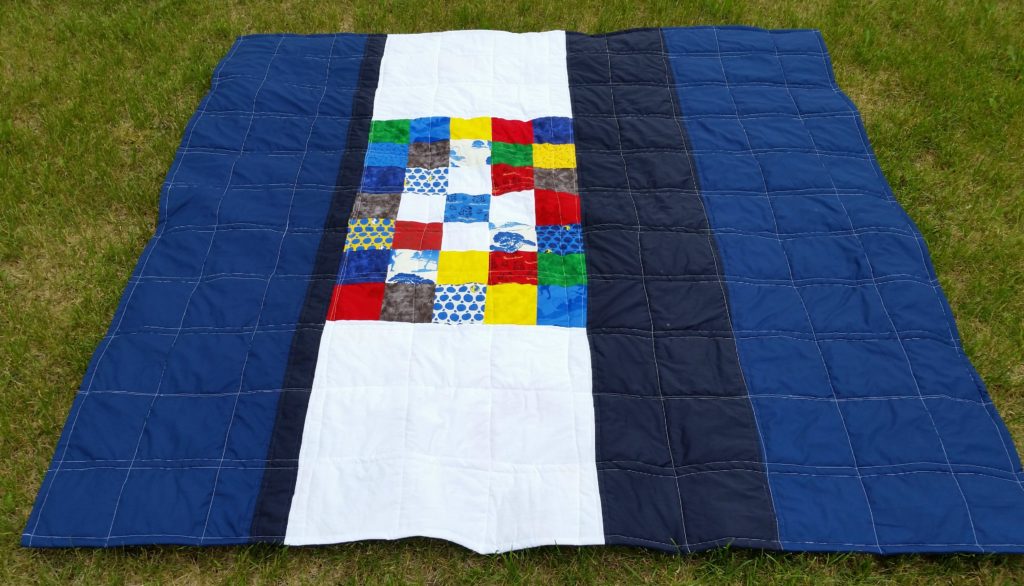 I had purchased 4 yards of the navy blue to use in the backing before I knew what the final size was going to be. I pieced together the remaining charm squares that I had not pieced into nine patches yet. I added the white on either side to make the width that I needed. I originally planned to have the pieced strip be off to the side, but I sewed the navy on to the wrong side. I did not want to rip out 80 inches of stitching so I just measured and cut the navy in half and sewed the other piece to the other side. I was glad that I chose to add the darker blue or black (it looked black in my dark sewing room) as it gave me navy fabric to make the binding and a bit over a yard left that can be used as sashing in a future quilt project.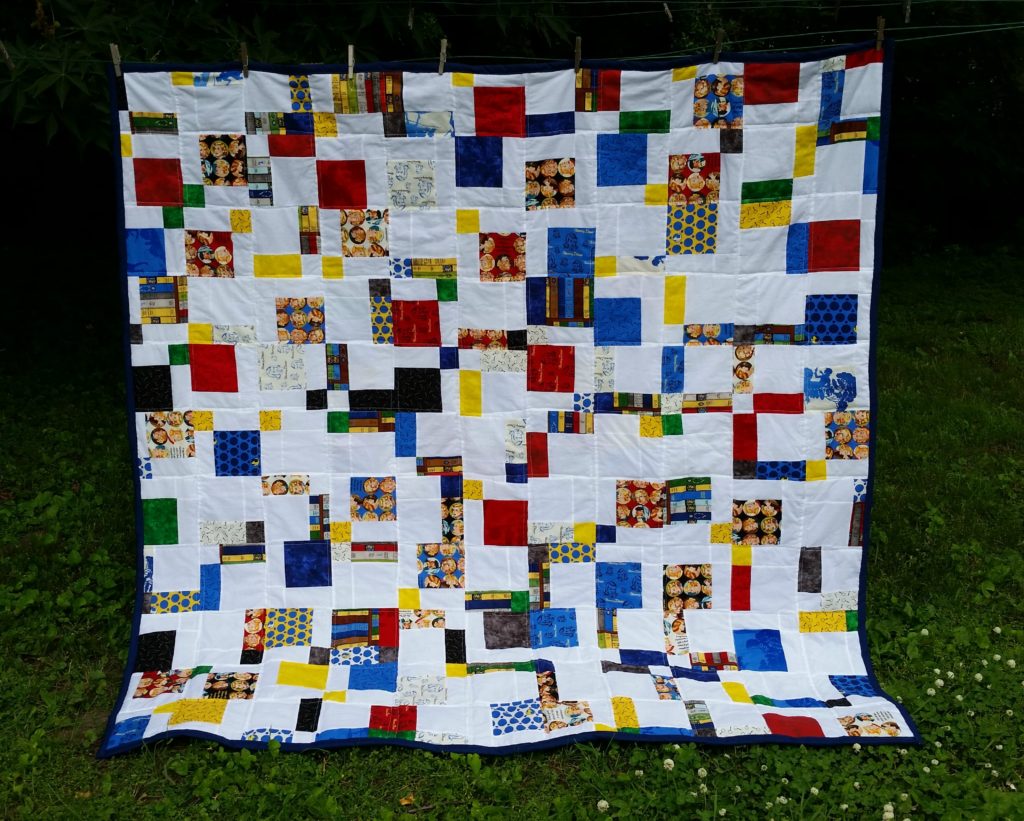 It was hard to know where to take photos. When I finished yesterday afternoon, it was still sunny but very windy. I waited for the wind to die down and then it clouded up before raining. I chose the clothes line and front yard in the grass to take photos and thankful that my phone used an auto flash.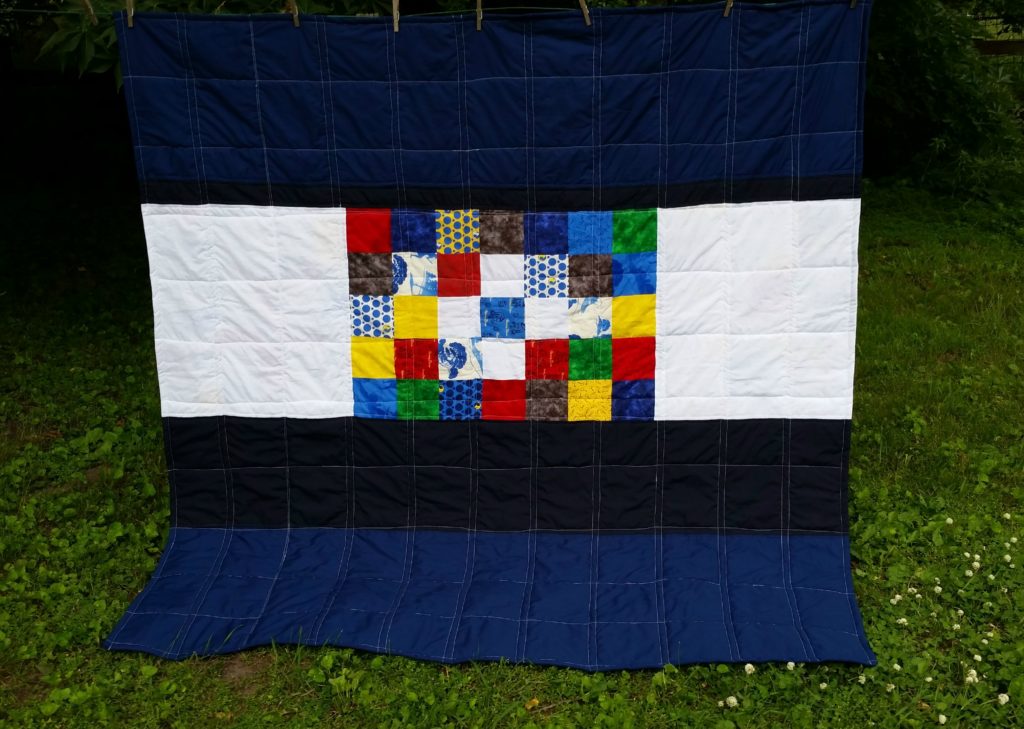 This is actually hung by the side. I intended for the stripes to be vertical when finished. I chose to prequilt my backing and I did a 1/4 inch from either side of the navy, dark blue and white sections. It helped keep it smooth and gave me something to help line up the top with when pin basting. I quilted a 1/4 inch on either side of the horizontal seams and I think it shifted on me a bit. I had pinned every large square and across and down all sides. I only made one pass down each strip set when quilting vertically as I was concerned it might ripple. I may go back in and try additional rows of quilting.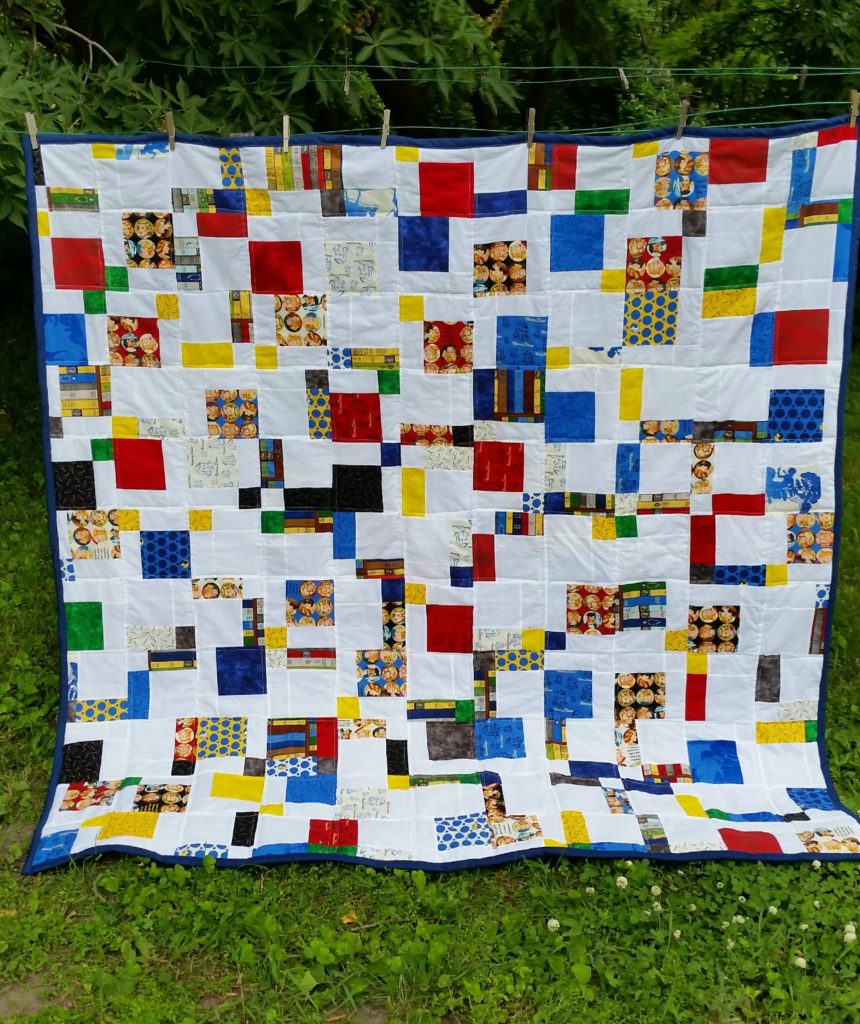 I am very happy to have this top finished. I started piecing it before Thanksgiving and my husband's back surgery. It missed Christmas and Ali's birthday in February for completion. She likes it and says it is her first handmade quilt. Both of our Mom's shared Nancy Drew Mystery books with us as young girls so it makes it extra special for her.
I will be sharing my quilt finish with the various quilt linky parties you can find listed at the top of my blog. You are looking for the comments sections, you will need to click on the title to this blog post to bring up the full blog posting. We are looking at rewriting some code to make this more accessible.
Thanks for stopping by my blog.
Happy Sewing,
Shelley
10 Responses to Get A Clue, Nancy Drew! Mod D9P Quilt Finish
Twitter