May is for Maker's: My Indie pattern company purchases
Hi, For the month of May, I have been participating in the May is for Maker's campaign to purchase a pattern a week for each week of May from Indie pattern companies. The idea to honor and support all the Indie pattern designers this month was started by Lindsey Rhodes who blogs as LRStitched. It is now week 4 of the month of May and I have all ready purchased 8 new patterns. I thought I would share them all with you. I also am going to share the fun patterns I have purchased in the last 5 months that I purchased while I was off from blogging as it might inspire you to check them out this month as well.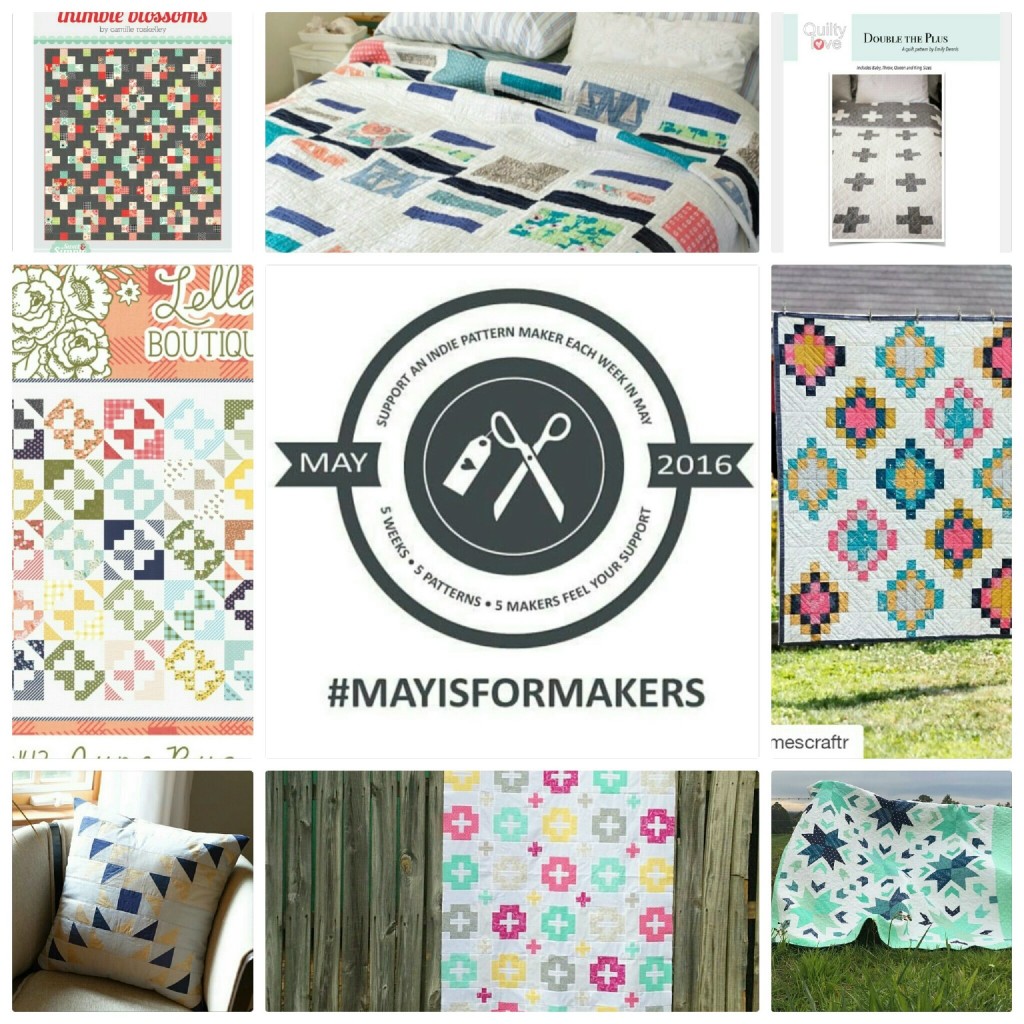 In the top row are Cakewalk by Thimble Blossoms, Coastline by Sharon Holland Designs, and Double the Plus by Emily Dennis (Quilty Love).
In the middle row are Junebug by Lella Boutique, and Painted Basket by The Sometimes Crafter.
In the bottom row are Triangle Collage Pillow by Deborah Baron Art, Honor Roll by Hello Melly Designs and Breeze Quilt by For the Love of Fabric.
(I have all ready created a quilt with the Double the Plus by Emily Dennis and you can read about it in this blog post, if you missed it last week. )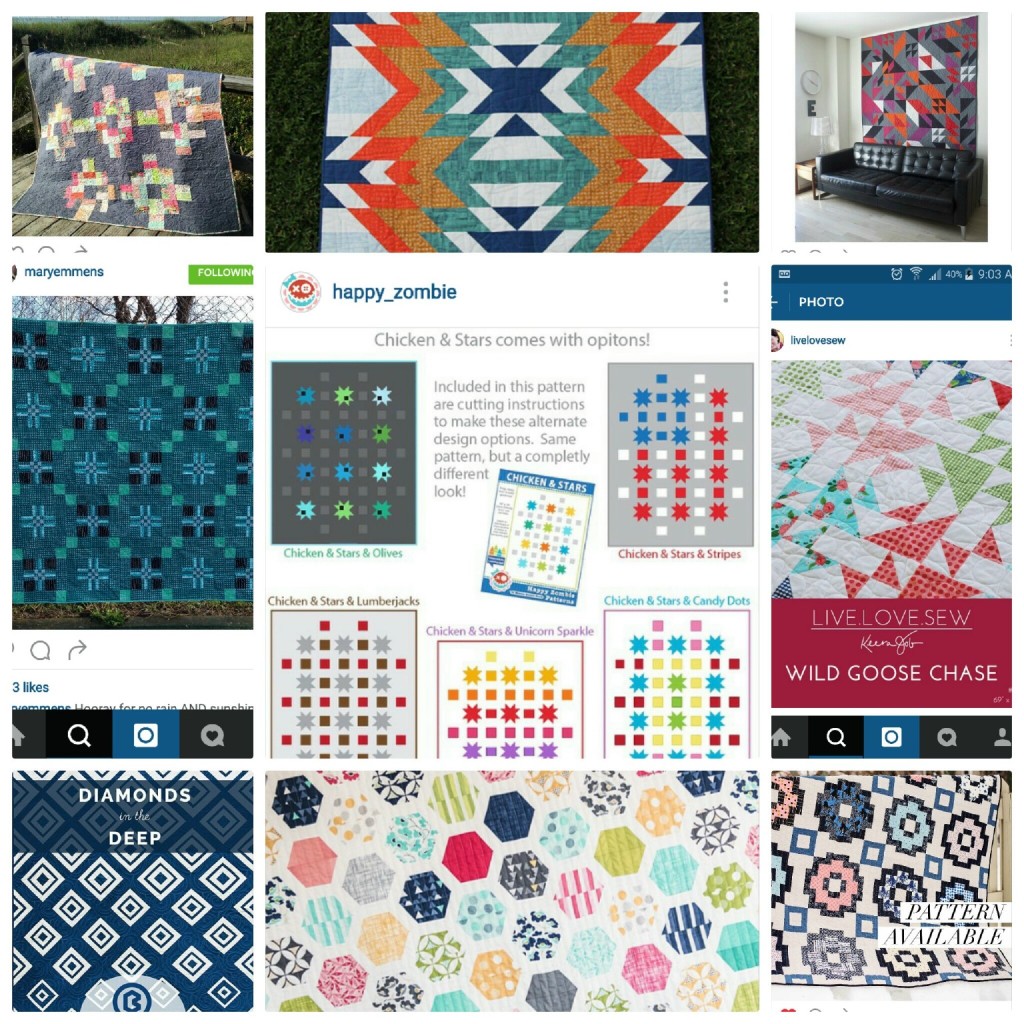 In the top row are Katie's Compass by Sterling Quilt Company, Go West by Bonjour Quilts, and The Rebel Quilt by Libs Elliott.
In the second row are St. David's Cross (Welsh Blanket Quilt) by Mary Emmens, Chicken and Stars by Happy Zombie, and Wild Goose Chase by Live.Love.Sew.
In the bottom row are Diamonds in the Deep by Bonjour Quilts, Hexie Framed by Emily Dennis (Quilty Love) and          City Tiles by Emily Dennis (Quilty Love.)
( I all ready have two versions of Go West by Bonjour Quilts cut out with one for my daughter and the other for myself. I am also working on City Tiles by Emily Dennis with it all cut out for a queen size version uping it from the original 16 to 25 blocks. I have 3 blocks pieced. I won the Diamonds in the Deep quilt pattern from a contest Bonjour Quilts had on Instagram and my friend Zafira who blogs at Zarkadia also won a copy.  Emily Dennis had a pattern sale so I also purchased the Hexie Framed pattern. I have always wanted to try a hexie quilt of some kind.)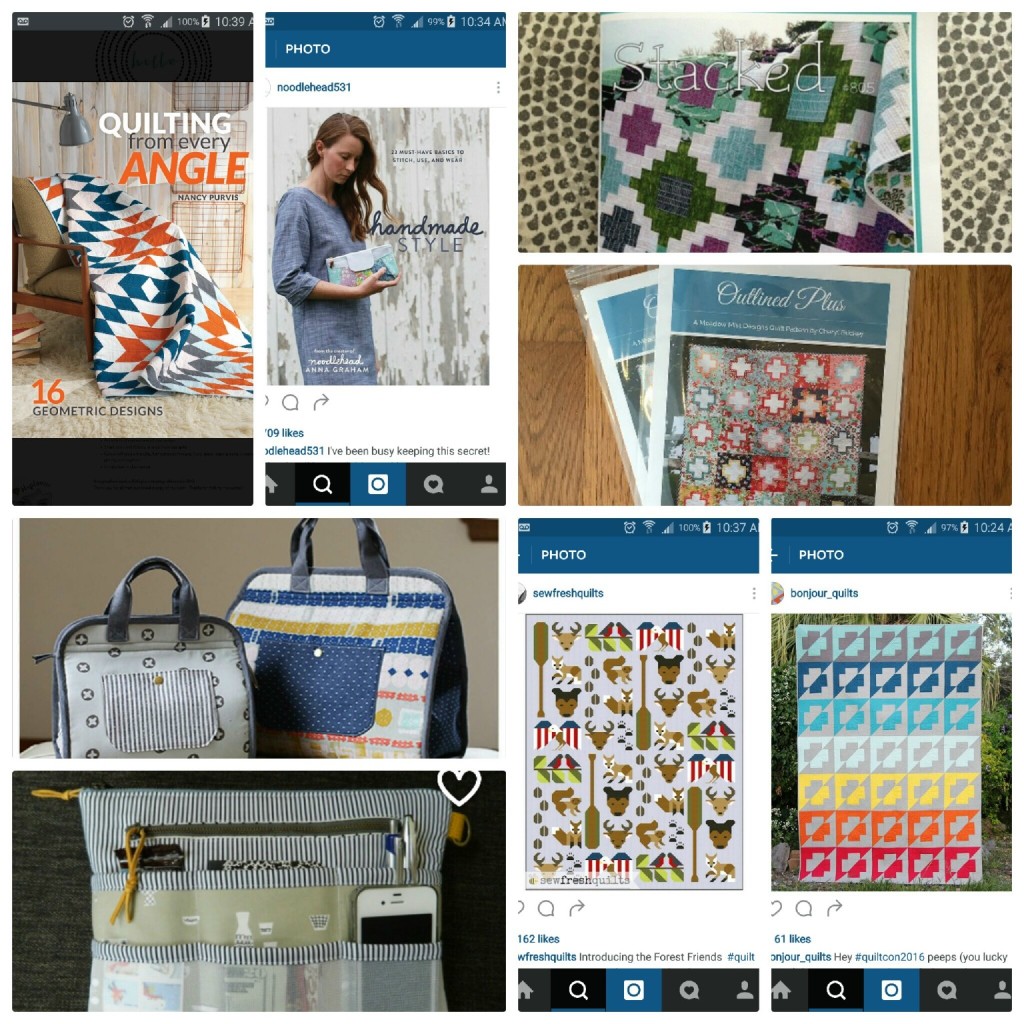 In the top row is the book Quilting from Every Angle by Nancy Purvis, the book Handmade Style by Noodlehead, the Stacked quilt pattern by Sew Many Creations and Outlined Plus by Meadow Mist Designs.
In the bottom rows are Maker's Tote by Noodlehead, Purse Organizer by Sotak Handmade Patterns, Forest Friends quilt pattern (collection) by Sew Fresh Quilts and The Plus Side by Bonjour Quilts.
(I pretty much love every design in the Quilting from every Angle book. I purchased the Maker's Tote and Sotak Purse Organizer patterns to make possible Christmas gifts. I did not get anything sew for gifts so this will be the first ones I go to for future gift making. )
I will be sharing in future blog posts my progress on these new quilty projects that I have started all ready from these wonderful patterns. Please consider supporting any and all of these talented Indie crafters this month!!
Thanks for stopping by my blog.
(If you are having a hard time finding out where to reply to blog posts, if you click on the actual title of the blog post it should open up to the full blog posting and have comments at the bottom. I am sorry for the confusion.)
Happy Sewing,
Shelley
2 Responses to May is for Maker's: My Indie pattern company purchases
Twitter