Friday Finish: Double the Plus Quilt
Hi, I am happy to share an actual quilt finish. I made Double the Plus by Quilty Love, which is Emily Dennis' quilt company. It is meant to be a reversible quilt and plus quilt blocks are my favorites. This pattern goes together really easy but I needed a super fast finish so I only made the one side.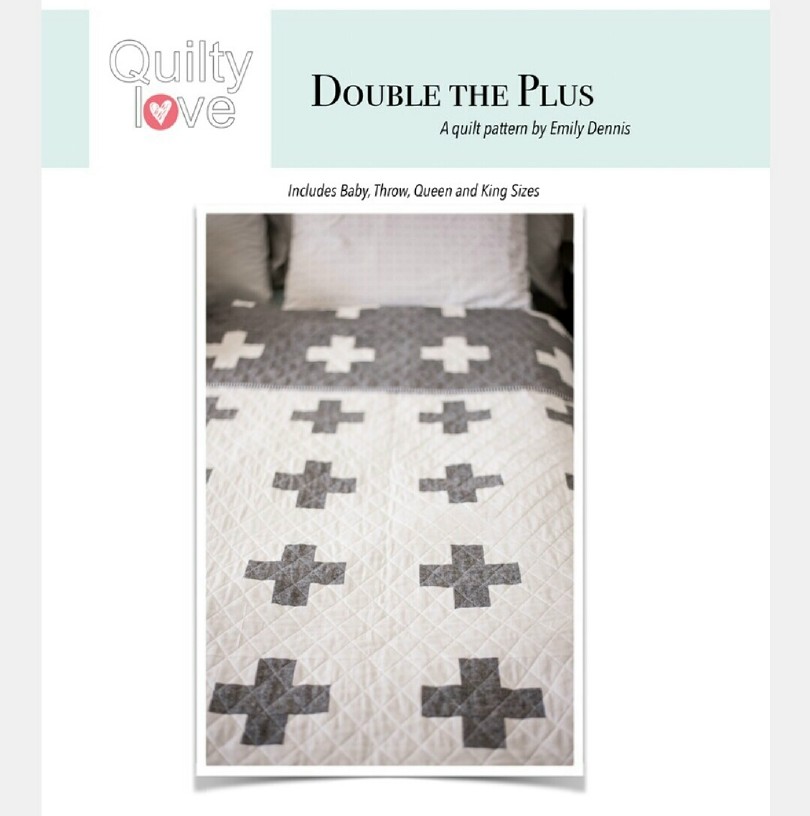 I picked this pattern to be a purchase for my part in the May is for Maker's pattern campaign. You are purchase a new pattern a week for each week of the month of May by an Indie designer. I learned about this campaign on Instagram and have been following it there.  #mayisformakers  I have actually purchased more than 5 patterns by the 3rd week in to the campaign. I will write another blogpost to show off my fun purchases and projects I all ready have started.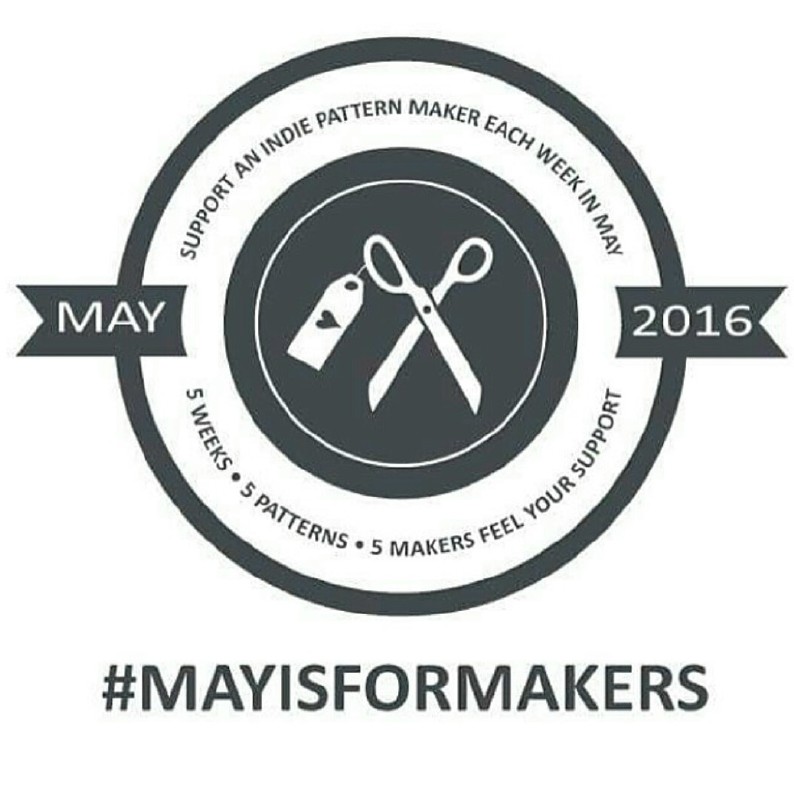 My husband asked me to create a quilt for a former coworker of his who will be celebrating his 60th wedding anniversary this weekend. The gentleman has been a friend of our family for many years. He is in poor health and currently in the hospital. It was really important to my husband that this quilt be done in time for the party.
I chose a color scheme of blue and white. I had the needed 5 yards of each color to make the reversible quilt. Unfortunately, I made one simple mistake or actual stupid one and miscut the 5 inch strips needed for background piecing and cut them the size needed for the centers of the pluses. I literally tore my sewing room and storage area apart looking for more of that same blue or a similar shade that I could recut out another top of the blue areas. No such luck…I did find gray solid and decided that maybe I would have a gray with white pluses side with a white with blue pluses opposite side. I started cutting and piecing the gray version of this top. Well, I decided the next day to go see if I could locate a similar blue to make the quilt top over so it would look "correct" in my eyes. I found a shade of blue that I liked, though not the same. (Note to self, to not purchase odd shades called Indigo on Black Friday sales online. Hancock Fabrics is closing so that will not be happening again.)
Long story short, I have a white with indigo blue pluses quilt top half pieced. A gray with white pluses that is started piecing and the matching white with gray pluses matching side cut out. I needed to have this quilt completely pieced and quilted by Friday 6:30 AM as my husband needed to take it to work with him. I had to babysit our grandson that day and would not be able to attend the party at the hospital. We decided on a patriotic eagle all over print as the backing as our friend had been in the Air Force. I did my first all nighter and started quilting at 12:05 and finished binding at 5:55. It did a trip through the dryer to delint it and it was wrapped and out the door by 6:30 AM. Friday was the longest day ever since I had been up since Thursday 7 AM. I was up for 38 hours and slept a good 10 hours last night. The couple loved the quilt and both were almost in tears. The wife said she never had anything this nice. I hope to go visit them myself tomorrow.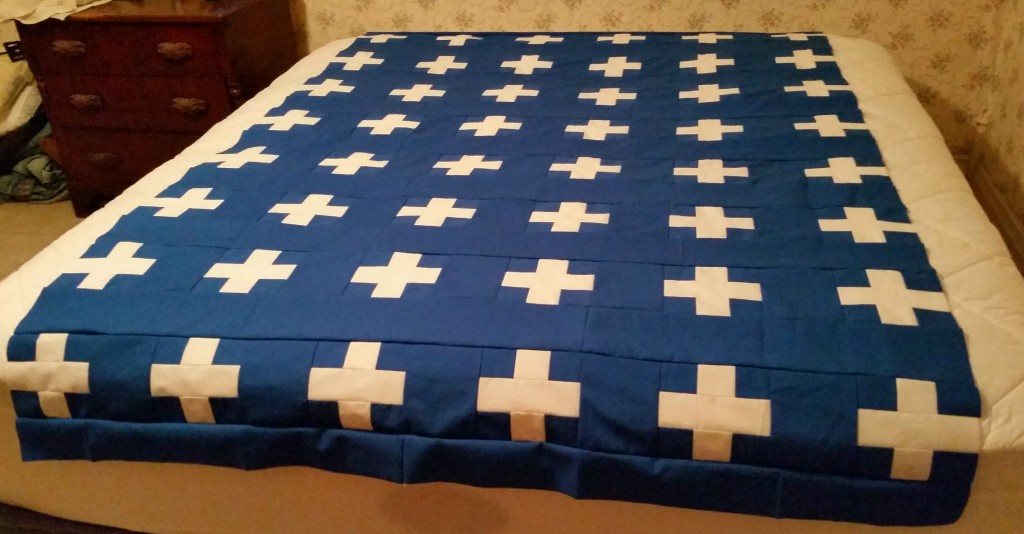 This is the flimsy top without the last long side border pieces. I needed to take a full photo before my husband used the bed to go to sleep. So this is my only full layed out photo of this top. It is made with American Made Brand cotton fabrics. This was my first time using that fabric. It is really nice stuff and pressed nicely.
I ended up doing the most simple quilting possible. A 1/4 inch on either side of all seams. I really look forward to making the reversible gray and white quilt so I can do the allover gridded diamond quilting.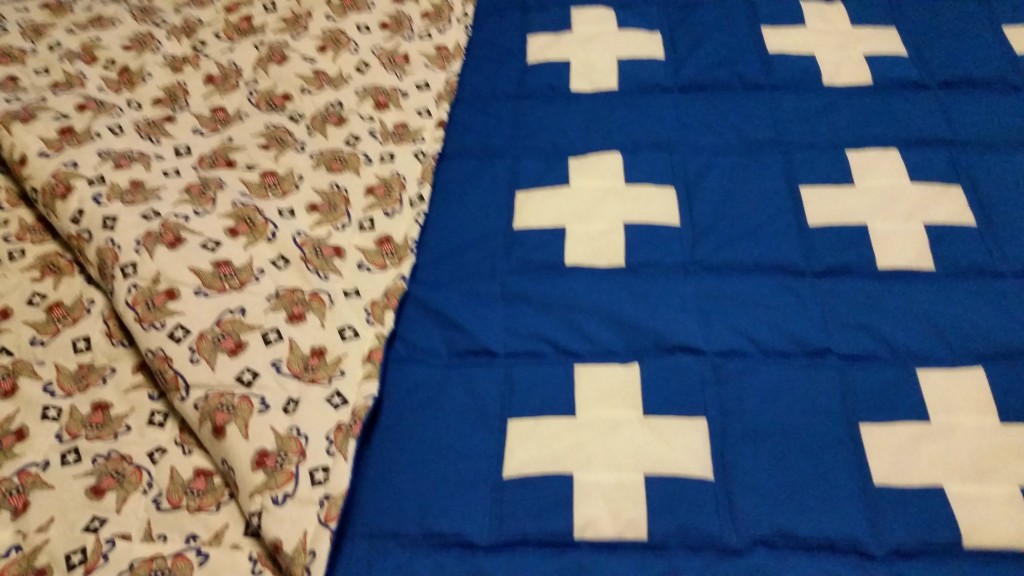 I had the patriotic eagle fabric in my stash. This is the first time in a long while that I used just one fabric print as a backing for a quilt. I tried to measure what I had extra careful and seamed it horizontally. I started my quilting on the horizontal rows and it seemed that a ripple was creating so I would have to move my pins a bit every couple rows to keep everything smooth. I ended up just a tad short in the end but was able to take a piece that I trimmed off the side and piece it to the back before trimming up to bind.
I apologize for not blogging much over the last 6 months. My husband finally was able to go back to work 2 weeks ago. He did not think his recovery from his back surgery would have taken quite that long. I hope to get a couple more blog posts up this coming week.  If you happen to be on Instagram, I can be found as @shelleymichellefolkerts and you can see of my new WIPs over there.
Thank you for stopping by my blog. I will be sharing this quilt finish on Finish It Friday over at CrazyMom Quilts.
(Check out my next blog post for lots of ideas for May is for Makers pattern purchases. )
Happy Sewing,
Shelley
6 Responses to Friday Finish: Double the Plus Quilt
Twitter