Fat Quarter Shop's Jelly Roll Slice Shortcut Quilt
Hi, I received an email back in January from Fat Quarter Shop asking if I would like to make a quilt for their newest shortcut quilt pattern series. I have been away from quilting for a couple months dealing with family matters. I jumped at the chance to work with a new pattern. Fat Quarter Shop provided me with the pattern and fabric to make this quilt, and I chose to upgrade to make a larger quilt.
Fat Quarter Shop releases multiple quilt patterns throughout the year in their shortcut series. There is a free pattern and video for each pattern released in the series. The videos show how to construct the needed blocks and give some great pointers.  The Jelly Roll Slice comes in four sizes from baby to Queen size and uses from only 17 jelly roll strips for a baby quilt up to 3 jelly rolls for a Queen size quilt. I chose to make the twin size quilt and it uses 2 jelly rolls and a small amount of background fabric.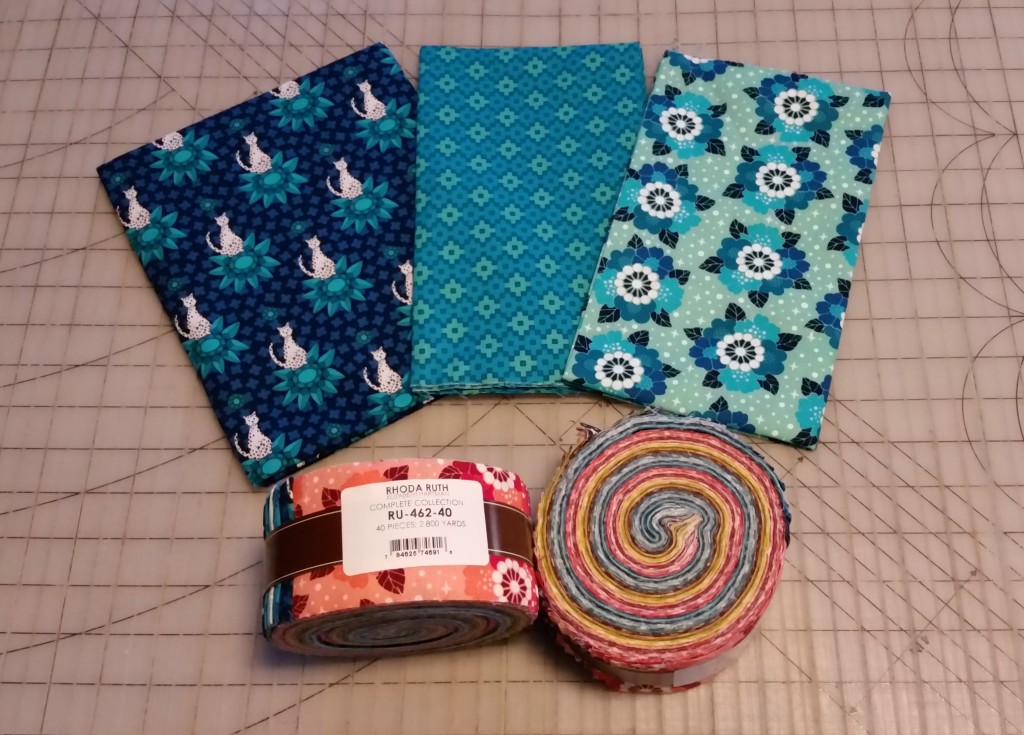 I chose the Rhoda Ruth by Elizabeth Hartman for Robert Kaufman Fabrics. I have been admiring this line of fabric for awhile and all the lovely quilts created with it. I instantly migrated to it when given the chance to pick whatever line I wanted to use. I purchased a yard of the Rhoda Ruth Nightfall Savannah Sun fabric which is the first fabric, a half yard of the Rhoda Ruth Nightfall Southwest Key fabric which is the second in line, and a half yard of Rhoda Ruth Nightfall Flower Petals to be pieced into a backing for my quilt.
The Jelly Roll Slice instructions made for an easily constructed quilt top. Kimberly shows her technique for pressing seams on the video and it really did work wonders for how easily the blocks go together. The quilt math is quite generous and I had no problem creating the needed block components to make my quilt top.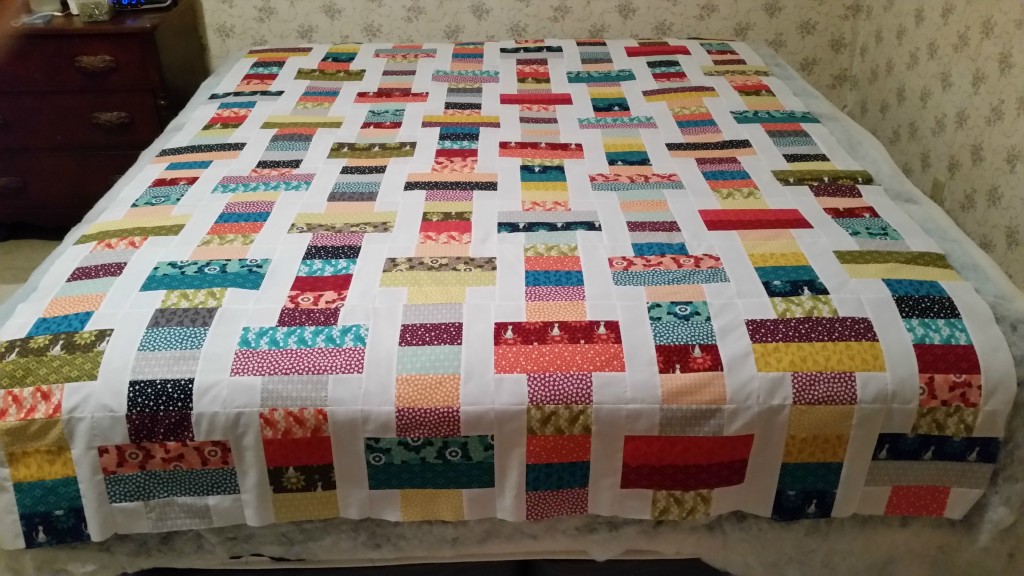 This is my twin size top shown on the top of a king size mattress. The twin finishes off at 64.5 by 88.5 inches. I tried something new for me and pin basted my quilt on our mattress. We adopted a cat recently that only has three legs but he is quite good at swiping and shredding with his one good front paw so basting this way save my quilt batting and a lot of grief.
I chose to piece a multi striped backing for my quilt. I used the three Rhoda Ruth Nightfall print yardages and added two shades of turqouise and teal as stripes and finished it off with navy solid. I had to get extra creative with my piecing as I discovered I did not have as much navy in my stash as originally thought.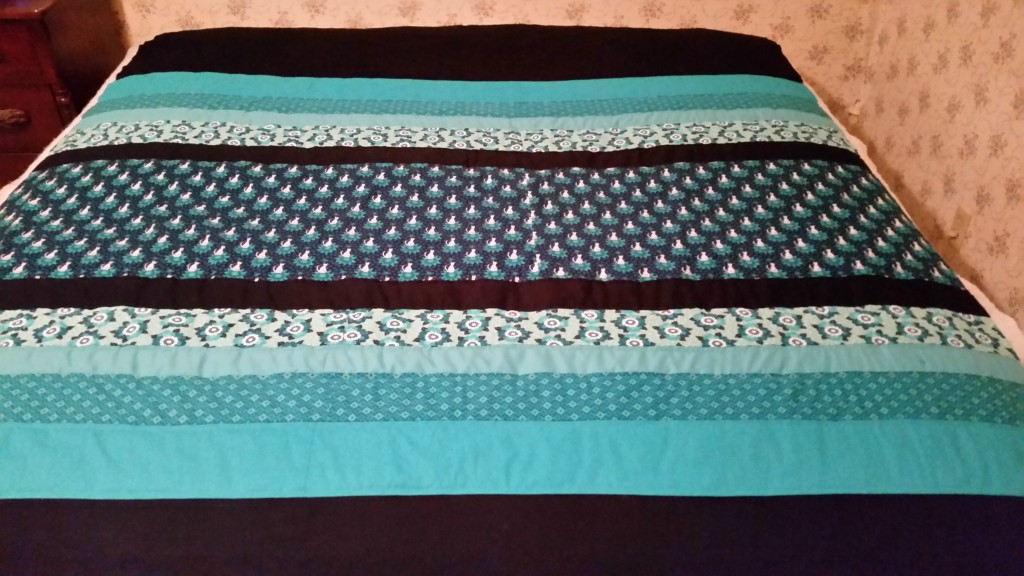 I tend to make a lot of pieced backs for my quilts and since I had so many seams across the width of my quilt. I decided to prequilt each stripe a 1/4 of inch away from the seams. It ended up taking a bit of time and used 4 bobbins just for that amount of quilting. I think it was worth it as it helped me keep my back flat and smooth when I basted the top to it.
We were given a deadline to have our quilts done to go along with the release of the Jelly Roll Slice pattern and video. I had my twin top and back completed in time but I am still quilting at the time of this blog post. I have not made too many quilts with jelly roll strips so was not sure how I wanted to quilt mine. I see from the other completed quilts in this series that straightline stitching to allover stippling looks lovely on this design. I have decided to use a serpentine style stitch and quilt multiple rows going over all my horizontal seams. It is creating a lovely pattern and I have used it before and it produces a lovely puckered look after washing and drying the quilt.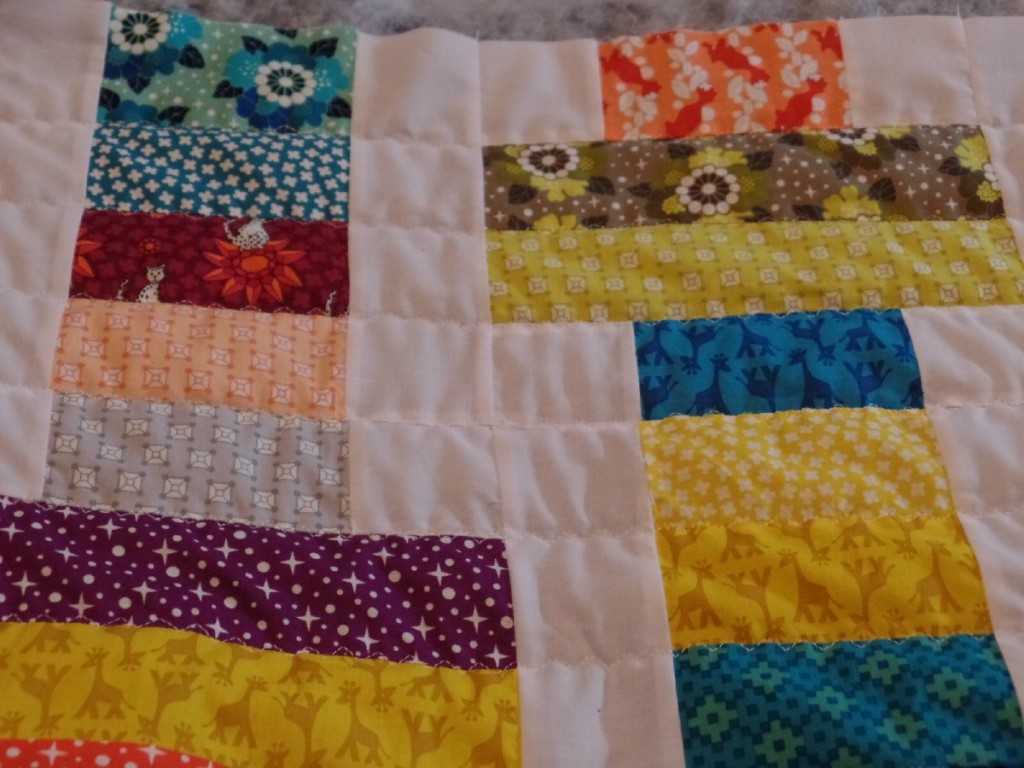 I hope to finish up quilting my version of the Jelly Roll Slice quilt in the next couple days and upload some finished daylight photos to this posting and they will also be shared on Instagram using #jellyrollslice.  I am new to Instagram this year and can be found @shelleymichellefolkerts .
Links to Fat Quarter Shop's pattern and video can be found below. They have a quilt kit made up for this quilt as well.
Video: https://www.youtube.com/watch?v=KOIuFJrIkQU
FREE Pattern: http://static.fatquartershop.com/media/wysiwyg/pdf/JellyRollSlice-CompletePattern.pdf
Quilt Kit: http://www.fatquartershop.com/jelly-roll-slice-quilt-kit
To celebrate the launch of this new pattern, the Fat Quarter Shop will be having a 15% off Jelly Roll sale starting on Monday February 22nd and there is no coupon code necessary. (sale lasts until Sunday the 28th)
Please check out the other lovely versions of the Jelly Roll Slice quilt that my fellow quilting friends have created.
Taunja of Carried Away Quilting
Cheryl of Meadow Mist Designs
Terri Ann of Childlike Fascination
Eileen of Eileen In Stitches
Cristy of Love You Sew
Hayley of Moobird Stitches
Shelley of The Carpenter's Daughter Who Quilts
Kathryn of Kathryn Jones Quilts
I thank Fat Quarter Shop for the chance to participate in their pattern launch. They have so many fun and easy quilt patterns in their Shortcut series. I have been working on their Single Wedding Ring quilt pattern that was released last year.
Thanks for stopping by my blog.
Happy Sewing,
Shelley
7 Responses to Fat Quarter Shop's Jelly Roll Slice Shortcut Quilt
Twitter