Back to Sewing and Quilting
Hi, Hope everyone had a Merry Christmas and that 2016 is off to a good start for you all as well. I certainly did not intend to be away from quilting and my blogging for 2 months.
I do have a quilt top to show off this week. We received the final instructions on the Midnight Mystery Quiltalong by Meadow Mist Designs this week and I finished piecing my blocks into the finished design. I really like it and my husband said it turned out really cool and of course always asks, And who is this one going to?? I explained what a quiltalong was and told him that it may go to one of two people. I was undecided on which one yet.
I have started to lay out the squares for my Modernized Disappearing Nine Patch made with Get A Clue Nancy Drew fabrics. I had hoped to get this quilt made in time for Christmas but it just was not possible so I am hoping to get it completed for Ali's birthday in February.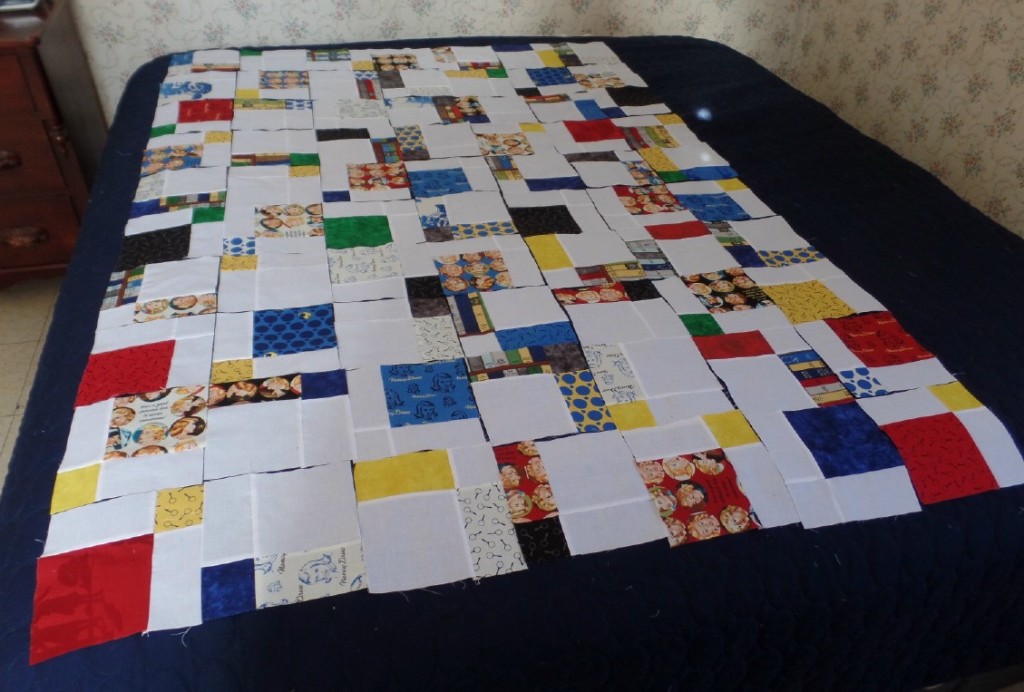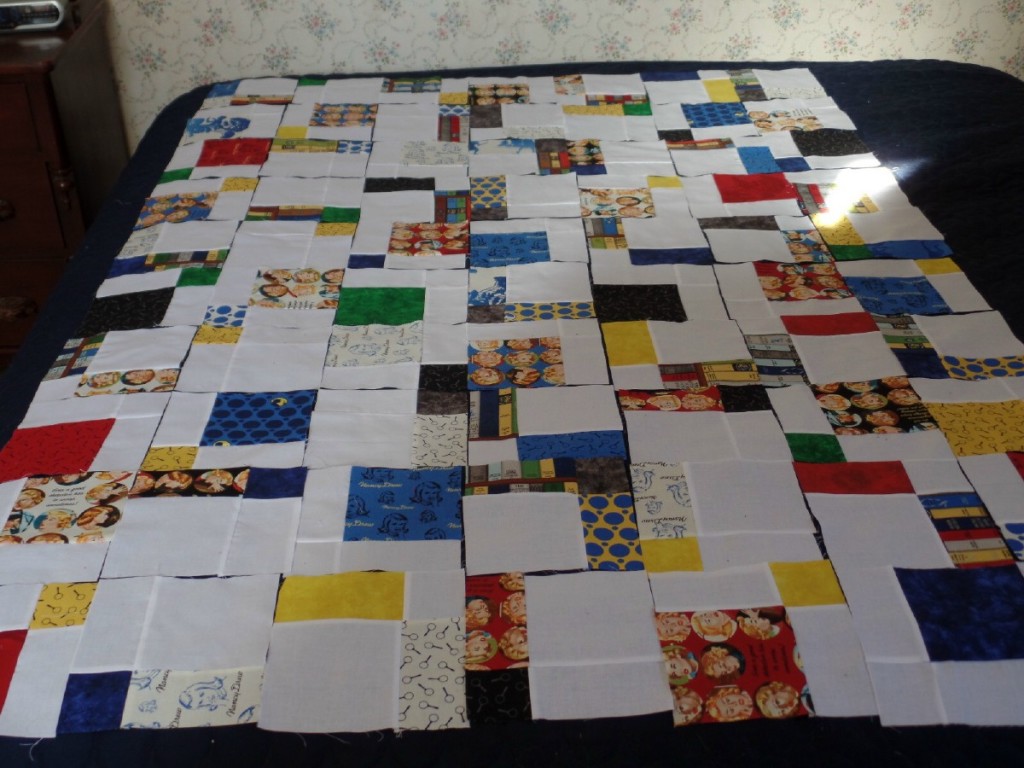 I am working with three charm packs of the Nancy Drew fabrics and added a set of 5 fat quarters of the bright mottled colors in addition to the white solid background. With this layout, it should be approximately 45 by 60 inches when pieced together. I of course want it larger than that to be a nice throw size. I have cut more white squares to make more nine patches.
The Thanksgiving and Christmas holidays were pretty rough around here as my husband has been recuperating from spinal fusion surgery. His back pain is basically gone, but unfortunately he now has alot of pain in his left leg. He got to take a nice ambulance ride for a second trip to the hospital the second week of December. The ER doctors had him on enough really strong painkillers that it should have put out a 1500 pound steer. It is nerve pain in his leg caused by the doctors touching and moving the cluster of nerves down the left side of his body. No one can tell us if his leg will feel normal again in 6 months or ever…yet.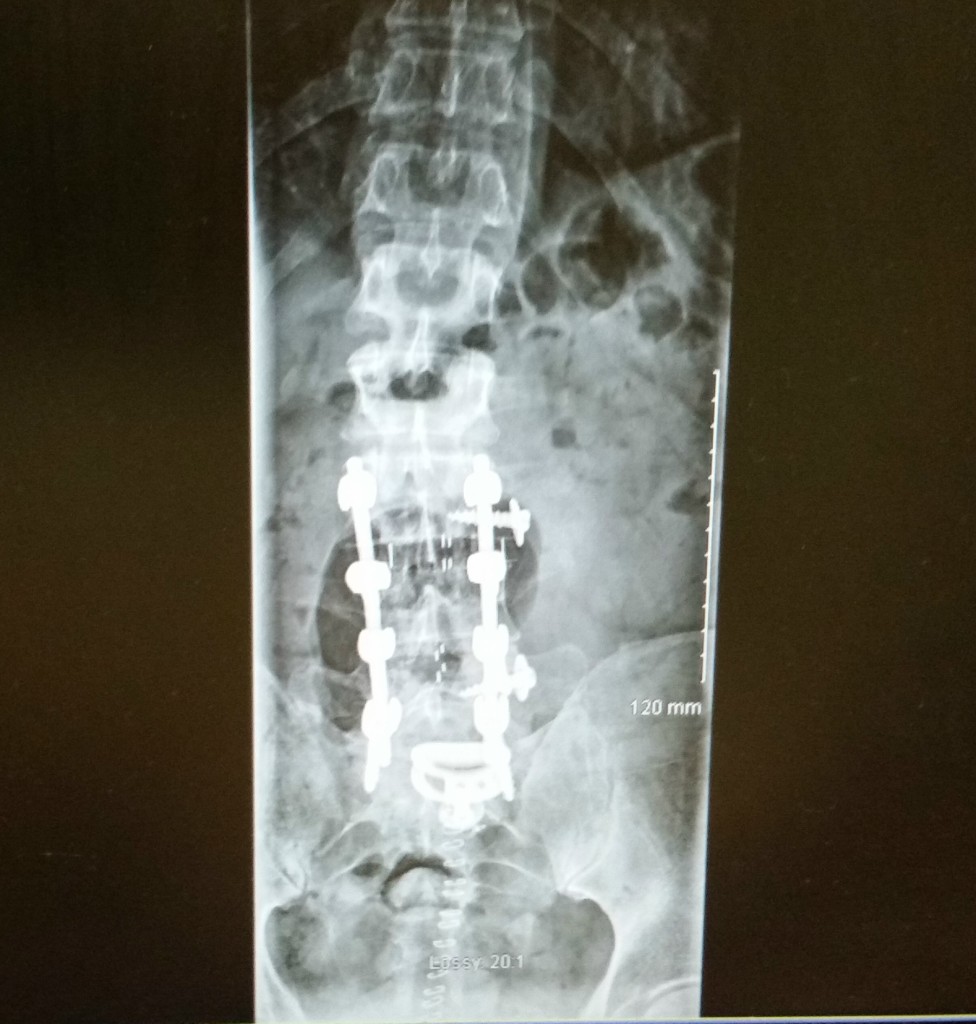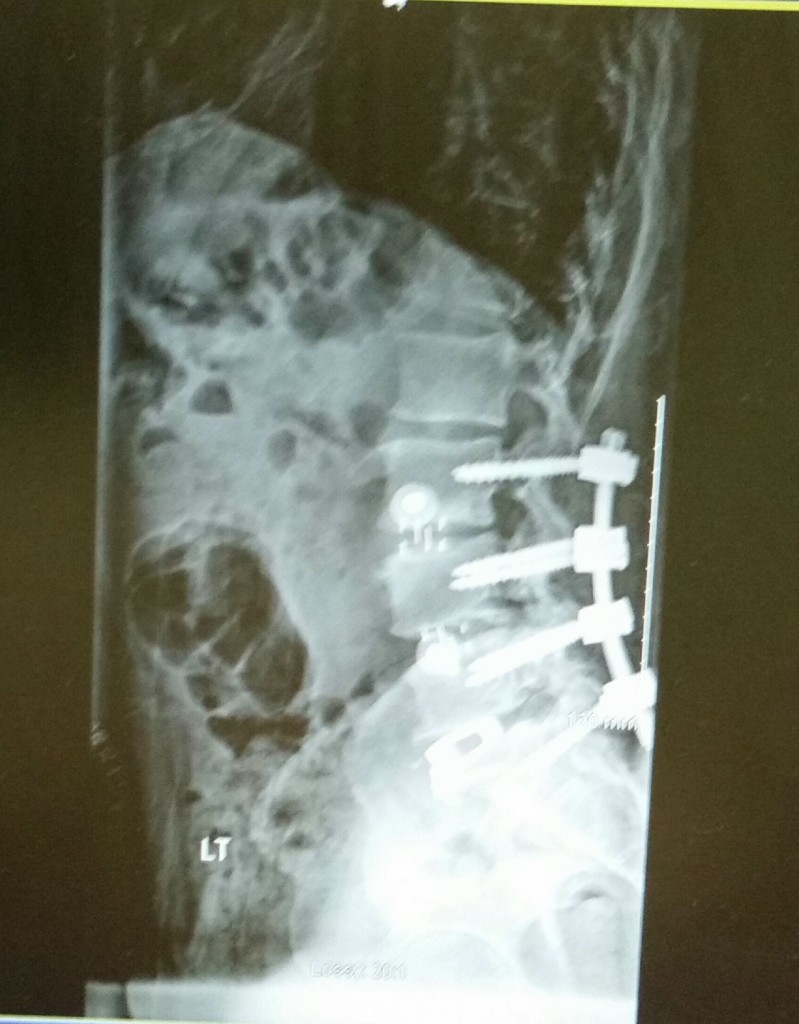 My husband's back now looks like a poorly made kid's 4 H project or an Erector Toy Set gone bad. He laughs he will never be able to go through a metal detector again.
Our family suffered a great loss just two days before Christmas. Our 9 month old Australian Shepherd puppy Katie decided to chase after a car speeding by our house and was hit and killed instantly. We are all devastated. We are extremely upset with the lady who hit her. She drives by our house twice a day at great speeds and we live on a gravel road that is not always maintained in the best way. Last year, she almost hit a black cow that was standing in the middle of the road at the bottom of our hill. It was not one of ours. I was doing dishes and saw her fly by and saw brake lights and crunching gravel. I just assumed she finally hit a deer. Thankfully she did not hit the cow. My husband says he can not go through this again. No more pets. We did bury three this past year. We had been saying all along no more puppies but I have told him that since we are still young (50 and 55) that I can not see never having another dog. If we stay healthy, we could have a good 30-35 years here at home. I have to have a dog. Abbey, our Black Lab is 10 and will not be with us forever. In the weeks before Katie's passing, he had decided that if we could find a big fluffy cat similar to Buddy, that he gave us permission to bring it home. He continued to say that even after Katie was gone. We have been in the works to adopt from a local rescue, a male gray Maine Coon cat very similar to Buddy that lost his front leg to a likely nasty steel jaw trap. He has been recuperating at a foster home and gets along amazing well. I was concerned that he would have issues getting around in our two story house, but supposedly he is still able to jump and clear a baby gate so venturing around in our house should be fine. We should be able to bring him on Thursday this week. I can also add that my husband has had a lot of time to think in the last couple weeks, and he has said that if we could find a nice young female Australian Shepherd that was well past all the puppy stage that he would consider having another. This will be no small feat.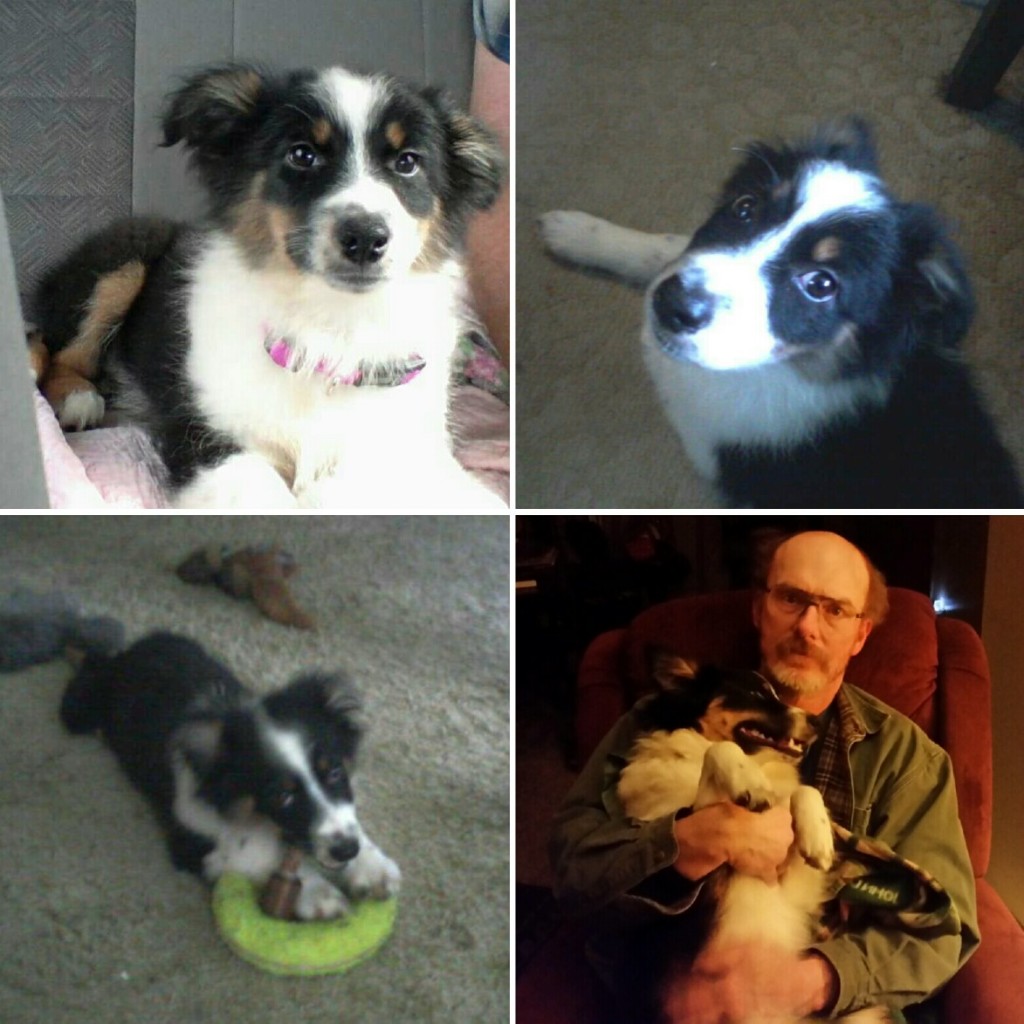 I have lots planned for the new year. There are lots of new quilt patterns to play with that I have acquired in the last two months. I apologize to everyone that I owe an email back to yet. There have been many weeks with many nights with little sleep for everyone here. Things are slowly getting better. I have really missed sewing and quilting and my blog has gotten neglected as well. I have been working on this post all weekend long, as the software has not been loading my photos correctly. I think I have it figured out.
Thank you to all who have read this to the end. I hope to have more quilting to share yet this week.
Happy Sewing until then,
Shelley
10 Responses to Back to Sewing and Quilting
Twitter