TGIFF: Mod Gears Harley Inspired Baby Quilt
Welcome to TGIFF! I am Shelley and I blog as The Carpenters Daughter who Quilts. I am excited to share with all of you my Friday finish this week. Today (Friday) is also my 50th birthday and my blog is also celebrating having over 100 postings. I am holding a giveaway contest to celebrate both events.
Let me first share my fun quilt that I made. It is Mod Gears by Elizabeth Dackson (Don't Call Me Betsy). I made it in similar to Harley Davidson motorcycle colors. This is a quilt for our friend's first grandson. Both Mom and Dad have their own Harleys. I decided to personalize the back with the little boy's name, Eli John. He is named after a beloved cousin and his grandfather.
I decided to add the extra white border and rounded the corners with a dinner plate. I made bias binding in orange that is in the main quilt. I planned to hand sew down the binding but at the last moment and it was after midnight, I decided to sew it down by machine. It is sturdy and should hold up in the wash.
I really like how the quilting shows up on the backing. I really enjoy making pieced backs for all my quilts. Many could be reversible.
I design my names or wordings that I applique on my quilts with a simple program called Print Artist. It is software that you can design your own printables like gift cards to business cards. I chose how long I need my words to be and how tall. There are hundreds of fonts to choose from. I print out my names in coloring book format. I cut out all my letters and trace them backwards on to Lite Steam A Seam 2 double layer fusible. I fuse my letters into position and usually stitch close to the edge of the letters in a straight stitch.
I am excited to present this quilt to my friends. I think they should love it ( or hope they do) as much I as I do.
In honor of my 50th birthday and passing the 100th blog post (actually happened in August when we did all the work on our house) I am giving away some of my favorite things. Batik fabrics and my favorite fusible product so that one of you can try your hand at some type of appliquing.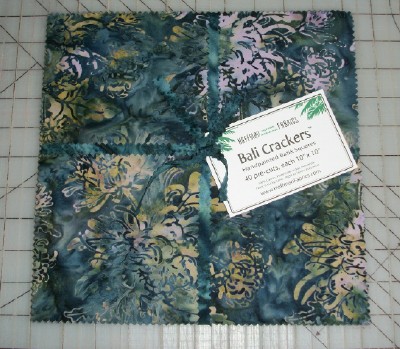 A lovely Bali Crackers layer cake in Rum Raisin.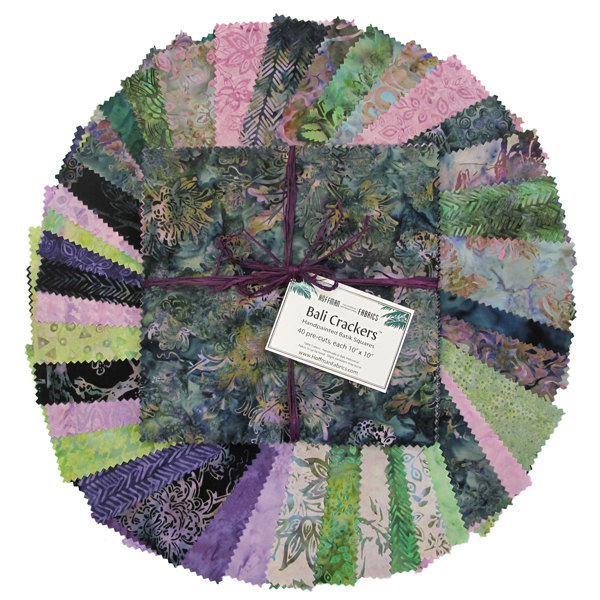 These prints would look lovely in just about any design.
I discovered today that JoAnn's now is selling this version of the Lite Steam A Seam 2 that I previously have been purchasing. There is 5 (9 x 12inch) sheets. You can create numerous projects.
***To enter this contest, please leave a comment telling me a favorite birthday memory or gift that you have received in the past. If you are a reader follower of my blog, you can have a second entry. Just tell me in a second comment how you follow. I will keep the contest open til Sunday the 18th Midnight (US Central Time zone). I will announce the winner by noon on Monday October 19th. If you think you maybe a non-reply blogger, please include your email so I can get ahold of you. Thanks!***
Contest Has Ended
It's time to link up your Friday Finishes. Please visit  as many of your other linky party neighbors as you can and share your support. Everyone loves comments! Thank you for hanging out with me on my birthday. Hope everyone has a great weekend.

Happy Sewing,
Shelley
36 Responses to TGIFF: Mod Gears Harley Inspired Baby Quilt
Twitter