My Open Wide Pouch…Nailed it!
I love everything to do with sewing and quilting. I have been sewing on and off for close to 30 years. I have sewn a little of everything, but quilting has become my passion.
I recently tried my hand at some non quilt sewing after a long hiatus. I made two custom zippered cosmetic cases for a friend. I used the Open Wide Zippered Pouch tutorial by Noodlehead. I used Alexander Henry's Tattoo fabric. It's been awhile since I put in a zipper but it went in fairly easy. I used Pellon 809, a firm iron on interfacing and love how well the boxed bottom allows the bag to stand up. This has been a very popular pattern to make bags.  I have seen numerous versions of this bag on Pinterest, made from this tutorial. I do not know why it took me so long to try it out. The pattern lends itself to so many ways to personalize the design and make it your own.  I really like how the bag turns out and plan on making more, especially when I master the embroidering capabilities of my new machine.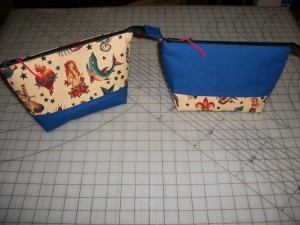 Twitter