I have been looking over some of the photos of my completed quilts. I made this Chain Linked quilt pattern by Amy Smart as a graduation gift for our Niece. This quilt pattern was originally published in 2010 and it comes  up time and time again on Pinterest in so many different fabric combinations. Amy Smart even redid the quilt in more modern fabrics in 2013. I had even Pinned a new modern looking version of this quilt on my Pinterest quilt boards this past weekend. Since it still a favorite of mine, I am looking to make another Chain-Linked quilt in totally different fabrics.
First, I will show my version of the quilt.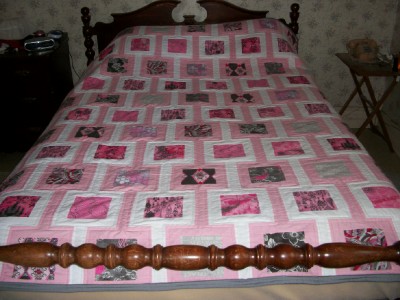 I made this quilt using a line of fabrics called Urban Angel by Studio E.  The prints are great fun with everything from angel wings to chandeliers and dangly earrings. Very girly and some prints have silver glitter to add extra fun. After I first made this quilt,  I honestly did not particularly care for my choice of pink that I used for the chain links. I wondered if I should have chosen a brighter shade of pink. Our Niece loves everything pink so I hoped for the best that she would like it. She loved it!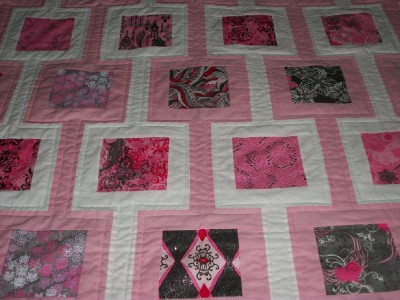 As I started quilting it, I looked at the quilt in a new light. In the end, I really liked how the quilt turned out. I really like the backing fabric I chose. It is a gray and white zebra stripe. I added a brighter pink and medium gray solids to finish off the back of the quilt.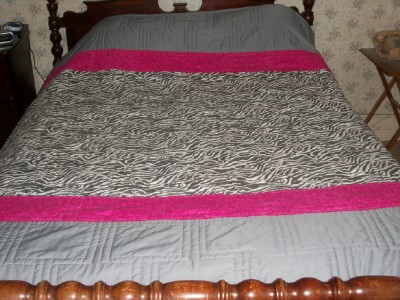 I think this quilt pattern can show case all sorts of fun prints and themed fabrics. I am looking to use the pattern to show off my Nancy Drew Mysteries fabric charm squares. There is so much blues and reds in this line of fabric. I am having a hard time deciding on what two colors to choose as my chain links. Any suggestions??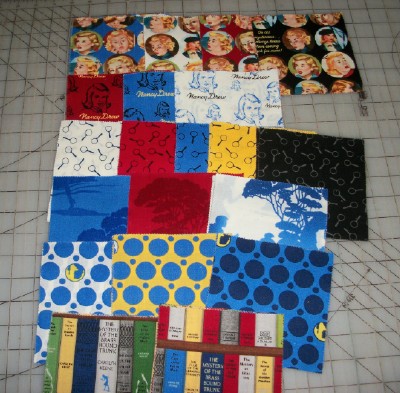 I am linking up with Freemotion by the River Linky Tuesday , Let's Bee Social , I Quilt Thursday @ Pretty Bobbins and Sew Cute Tuesday.
I Love, Love Pinterest and all the cool things you can find on there to make. I find wonderful ideas for future quilting projects, ideas for clothes to make for myself, daughters and grandkids to the most wonderful fattening recipes.
I come across the Pin for the Big Blue Ikea Bag which has a tutorial made by Miss Make. I thought these bags were really cool. I may be one of the few people left on this Earth that has never stepped a foot into an actual IKEA store yet. I see all kinds of lovely items online so I hope to visit some day just to look at their wonderful fabrics alone.
I made two of these bags with red and green nylon fabric that has been in my fabric stash from many moons ago from sewing for my kids.  I thought the bags would be great to hold clothes and laundry for my son and his girlfriend who have to use a laundromat in their college town.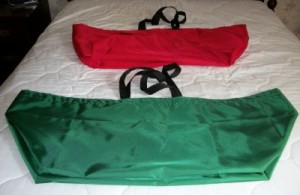 The instructions are pretty straight forward. I decided to finish off my bags with French seams even the gusseted bottom of the bag. It makes it so clean and finished. I chose to only add the 29 inch webbing handles to my bags instead of the double 14 inch and 29 inch handles. I was not sure what the purpose of the double handle was.  I did add in to the side seam a tube of the nylon cloth that was 3 inches by 15 inches folded, sewn and turn right side out on each side of center to use as ties to help hold items into the bag. As an extra step to finish off the top hem of the bag, I added a coordinating color of double fold bias tape that I just happened to have in my sewing supplies. I just love projects that I can make in entirety with materials I have had lying around for "too long".
I am linking up with Sew Can She Show Off Saturday.
Sew Can She is one of my favorite crafting blogs that shares wonderful tutorials of every type of craft you could want. I subscribe to her daily newsletters emails and there is something inspiring every day.  One of my favorite features of her blog is the Show Off Saturday Linky party, where crafters can link up and share their latest craft finishes and works in progress.
Recently I discovered a tutorial for a Kindle case that would fold up and prop your Kindle up for hands free reading. Both my daughter and I had pinned this tutorial to our Pinterest boards, so I thought it had to be a good project to try out.
I used the Prop-Up Kindle Table Case tutorial by The Inspired Wren blog.  I chose a turquoise multi-colored chevron print and turquoise solid cotton fabrics from my stash. This was a winning combination since my daughter loves turquoise and chevrons. She has used both in decorating much of her house.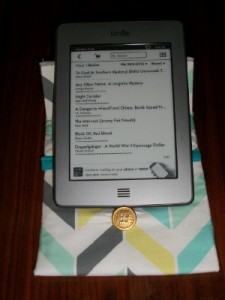 The tutorial's instructions were very well written. I chose to add a layer of fusible batting to the lining fabric while constructing the case. I thought it would provide some extra protection to her Kindle and it helped make the fabric just a little bit more sturdy feeling.  It has been a while since I have had to make any button holes so I was thankful I decided to make a test button hole on scrap material. I forgot that the button hole sewing sequence starts with zigzagging in reverse, so my test button hole ended up on the other side of my markings. After learning that, my button hole on the Kindle case ended up a success the first time on my actual fabric. I found a fun gold metal button that seemed to coordinate nicely with the fabrics also in my sewing supplies stash.  The tutorial called for using cardboard strips to make the boards that are inserted in the case to help hold up the Kindle. I happened to find some old linoleum type tiles in my sewing room that I used previously to make a case for my grandson's tablet. I was lucky the tile pieces were pretty close to the size I needed for this project. I took an old rotary cutter and scored the tile to correct size and was very lucky that they snapped off exactly on the line where I wanted them to.
I really liked how the Kindle case turned out and it does function well as a way to prop and hold the Kindle for hands free reading.
I am linking up my post with SewCanShe Showoff Saturday.
I am linking up this week with Elizabeth Dackson's Don't Call Me Betsy blog. She is holding her first ever Quilty Flashback Friday by sharing one of her first quilts and asking other quilters to share some of their quilting history. I have been a long time reader of her blog and thought it would be fun to participate as well.
Elizabeth and a few of the other quilters were sharing quilts they made from 2010 and earlier. I am sharing my first quilts I made our grandsons in 2010. My actual first quilts were made in the early 90's and quite a few of them I either did not get photos taken of them or have misplaced the photos over the years.
I made our grandson a John Deere quilt using Crazy Mom Quilt's Fair and Square quilt tutorial. I had purchased two sets of fat quarters of 7 different John Deere prints. I had used some of the fabric to make a charity quilt that was auctioned off for a friend who had health issues at the time. Our grandson loves tractors so I thought I would have him a quilt for his bedroom.  The Fair and Square quilt tutorial had great instructions and made a fun quilt.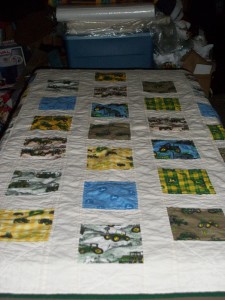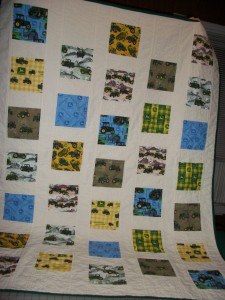 I decided to get extra creative and make the quilt more personalized by appliqueing his name Shaderek to the back of his quilt. I found a font that I liked and sized the letters to the size I wanted and printed them out. I used a light heat and bond to fuse the letters to my quilt backing. I used a satin stitch to machine applique the letters to finish off the edges. I have used this technique to add names to other quilts and all the recipients have loved them.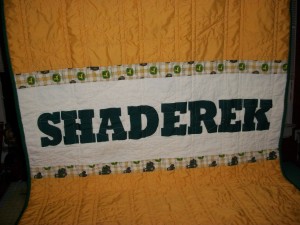 I had some extra fabric left over and decided to play with my circle cutting ruler and cut out circles of the various John Deere fabrics and make a smaller quilt that my grandson could take with him in the car so he could leave the other one at home on his bed.  I cut the circles in 4, 5 and 6 inch diameters. I fused and machine appliqued them in the same fashion as the other quilt and just applied them in a pleasing random row pattern.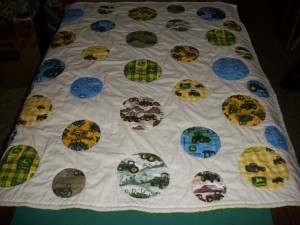 I am linking up with Crazy Mom Quilts Finish It Up Friday.
I thought I would share one of my recent quilt finishes as a Throwback Thursday blog post.
I made the Candy Scraps paper pieced quilt for a graduation gift for our niece. I used the Moda Bake Shop tutorial by Corey Yoder.
I started with 320 little 2.5 inch squares in 18 different shades of red and yellow, that I cut from fat quarters I purchased from JoAnn Fabrics. They were sewn into 160 pairs, paper pieced onto gray lattice strips, added 160 triangles to making 80- 8.5 inch squares. I spent 2 hours just weeding off the 400 strips of paper from the backs of the quilt blocks.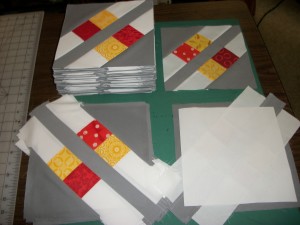 I thought for some reason I had 3 weeks to complete this project, guess I read the calendar wrong as when I started only had 12 days. I got it completed on time, with the help of last 3 nights up to 2 AM sewing. I have not paper pieced a quilt in like 10 years. Oh, this will be easier than strip piecing since I am only having to create one block. Yeah, right. The original quilt pattern only made 48 blocks for a small throw size quilt. Thankfully I can do Math and was able to make it the size I wanted and it actually worked out. I really like how nicely the reds and yellows went together with the gray. I think the red and yellow quilt was well received, especially since our niece is enrolled this fall at Iowa State University.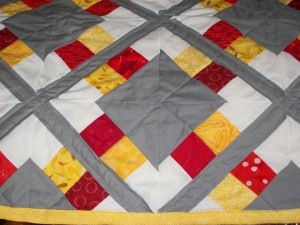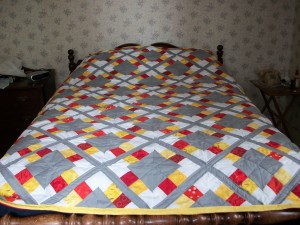 I am also linking up to Show Off Saturday Linky Party over at SewSheCan,  I am linking this post to Linky Tuesday at Freemotion on the River.
I love everything to do with sewing and quilting. I have been sewing on and off for close to 30 years. I have sewn a little of everything, but quilting has become my passion.
I recently tried my hand at some non quilt sewing after a long hiatus. I made two custom zippered cosmetic cases for a friend. I used the Open Wide Zippered Pouch tutorial by Noodlehead. I used Alexander Henry's Tattoo fabric. It's been awhile since I put in a zipper but it went in fairly easy. I used Pellon 809, a firm iron on interfacing and love how well the boxed bottom allows the bag to stand up. This has been a very popular pattern to make bags.  I have seen numerous versions of this bag on Pinterest, made from this tutorial. I do not know why it took me so long to try it out. The pattern lends itself to so many ways to personalize the design and make it your own.  I really like how the bag turns out and plan on making more, especially when I master the embroidering capabilities of my new machine.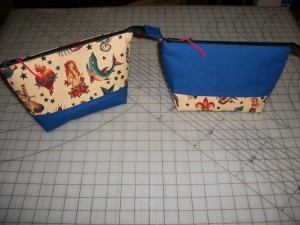 Twitter