Hi, I would like to share my newly completed Scooby Doo Crossing quilts that I made for my grandson's 3rd birthday from the Adding Up Nicely pattern by Meadow Mist Designs. I had decided to make a matching quilt for his older brother so they could be used as bedspreads on their new bunk beds. I chose to use a layer of muslin cotton yardage as a replacement to standard batting in my quilts for the boys. It is amazing how heavy it makes the quilts. My sewing machine had no problem sewing thru the three layers or four layers when quilting across the appliqued names on the back of the quilts. I have made quilts before for other children and used muslin or another cotton as the batting and they washed and wore like iron. That is something needed when sewing for little boys. My binding was 2.5 inch strips folded in half and I attached them to the backside of the quilts and pulled them to the front and sewed them down by machine. I know that is definitely not the standard way to attach a binding. I did it once by a fluke chance and liked how flat it lay and it did seem to wear nicely on the quilt.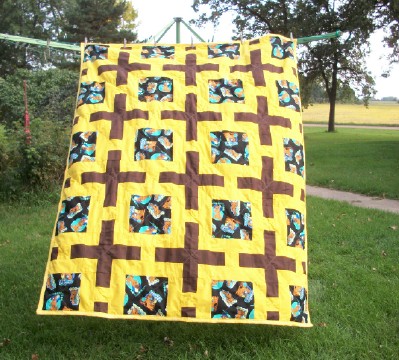 Here is the back of the quilts with Sawyer and Shaderek's names appliqued to the center stripes.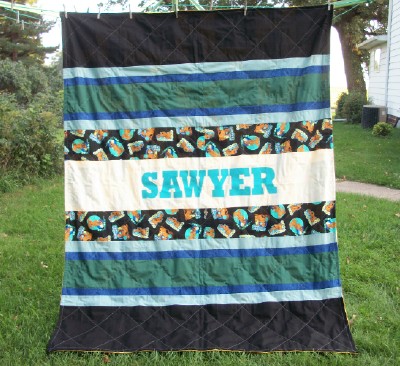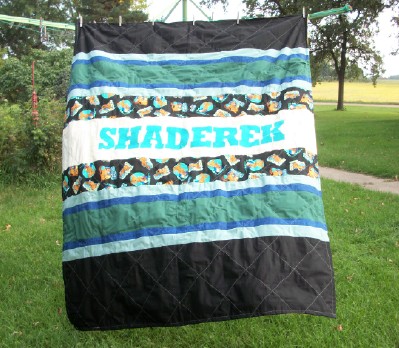 For once in what seems like many years, I got my quilts completed two days before our party. It took me 2 hours to whip out the quilting on each quilt that is when I had enough bobbins wound in advance. Since I was not so rushed to take photos, I was able to attempt to be more creative in how I showed off my finished quilts. I managed to not use our bed and I found natural lighting. It is wonderful how nicer the quilts look shown this way.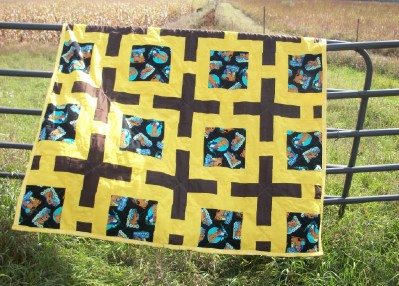 Here is my Scooby Crossing quilt on the gates to our corn fields and the winds decided to pick up and catch the corners of my quilt.
Sawyer seemed to really like his quilt as much as 3 year old can. He yelled, "Scooby" when he opened it up. I think I saw him lean over and give his name a kiss when his greatgrandma explained that it was his name on it. His brother Shad told me "that his" better not be Scooby. Well, It is! And it has your name on it too! Haha  I am sure he will warm up to the idea some day. His likes and dislikes have taken a major turn since he is in school.
Our whole world almost came undone the day after Sawyer's birthday party. The next day he and his brother attended a friend's 5th birthday party and the party was held at the swimming pool at a local hotel. It was just a handful of kids and all the parents at the pool. Everything had been well, until somehow Sawyer ended up out of his floatation device and somehow fell into the pool. Sawyer was found floating face down in the water by the 5 year old's sister who is just 10 years old.. She drug Sawyer out of the pool. He had taken on alot of water and was not breathing. Her Dad had a voice in his head tell him, that he Had to start chest compressions and CPR. Thankfully after  a couple of chest compressions and Sawyer puked up a bunch of water and started breathing again. The Paramedics were there in about 4 mins, which they told us was record time. They were so happy to be able to walk in there and find Sawyer crying. This was the best sign. They had unfortunately lost a little boy recently to a drowning at another hotel pool. Sawyer was taken by ambulance to the hospital to be checked out. The Doctors said he was looking good but one has to be so careful about the chemical burns to the lungs from taking in all that chlorine water. Pneumonia can set in within the first 6 to 8 hours and the threat of a dry drowning later. He was life flighted to our university children's hospital. He did amazingly well and was awake and talking with the wonderful flight nurses and paramedics. He did not cry once. None of us had been allowed to fly with him. Once we got to the hospital, he was found sitting up in bed watching cartoons. He was kept overnight for observations and thankfully showed no signs of pneumonia or any other problems. He did not even need to be on oxygen when he was at the second hospital. Once we were released from hospital we knew we had our Sawyer back.  He was completely normal. Talking, singing and getting into things.
Our family truly believes in Guardian Angels after this weekend. We will forever  be in debt to our family friends for being there and pulling Sawyer from the pool and getting him breathing again. All it takes is a blink of an eye and life can be changed forever. We are so grateful that we have our precious grandson back and can enjoy many birthdays to come.
I will be sharing my quilt finishes with various linky parties this week.  Fabric Tuesdays,  Linky Tuesdays , Sew Cute Tuesdays , WOW Wednesdays , Let's Bee Social,   WIP Wednesday,  Show and Tell Tuesdays,  Needle and Thread Thursday, Fresh Sewing Day,  I Quilt Thursdays ,
Hi, I thought I would share a my quilt finish in honor of birthday week in our family. It was my Father inlaw's birthday last week and our grandson's birthday this week. I did finish up my two Scooby quilts 2 days ahead of time but I will hold off showing them until after the birthday parties this weekend. I will be sharing the quilt I made for my Father inlaw today.
We are a farm family so of course we love tractors. We also love airplanes, well a very specific airplane. My Father inlaw's Uncle designed and built the Monocoupe airplane back in the 1920's on the old family farm place. You name it we have it with Monocoupes on it, from books, Christmas ornaments, models to coffee cups. I have blue prints from one of the racing Monocoupe airplanes that was made into a toy model. I need them framed yet for our office someday, but I can envision some sort of quilt with the designs embroidered or maybe having some Spoonflower fabric printed with the designs would be the ultimate fun. Somewhere and somehow in the last 10 years, my Father inlaw and his brother got interested in the Railroad and specifically Speeder Cars, the motorized cars that the railroad maintenance guys run up and down the tracks with. A friend had one, so they ended up with one. A few years later, and I think they now own at least 3 speeder cars between the two brothers. They load them up on trailers and haul them to events all over the Midwest and ride the rails on abandoned rail lines with their group of folks from all over the United States.
It is always hard to come up with an original gift for birthdays and holidays for my Father inlaw as if there is anything he might like, it is likely he may all ready have it. I decided to make him a quilt of his own. I had made him a fleece blanket years ago with John Deere tractors on it. I was on a mission to find something unique or at least different from what others might have, that was railroad related. I do not have access to many large quilting or fabric stores, so my fabric searches always goes online. I came across some rather interesting quilting material that had all sorts of train company logos all over it. With train companies that are no longer under some of the names listed. I do not recall ever seeing this fabric and they were selling it in a 3 yard piece on Etsy. I think I watched this particular fabric item  on Etsy all summer long, hoping and praying they still had it while I made up my mind what exactly I could make with it.  I finally decided to just go for it and purchase the fabric. I was not finding anything like it anywhere else, the amount of fabric was good and the price was really reasonable. I am not sure if the fabric is vintage new old stock. It was only 36 inches wide. It does not have the large selvage edges like we see today on fabrics. I think the only item I have come across online made with this material was curtains. I almost wonder if this had been curtains and someone cut off the hems. Whatever it was intended for originally, I was going to make a quilt with it.
I chose to use the Warm Wishes quilt pattern and match up my train logo colors with some pretty bright marble tone on tone fabrics.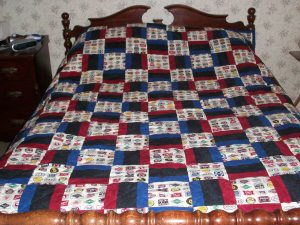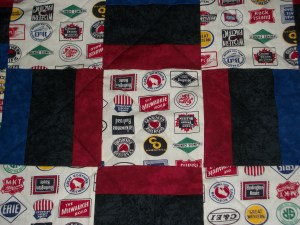 I really like the black, red and blue marble blender fabrics. They add a major punch of color to the quilt. It ends up being a very manly quilt. I choose blue for the backing of the quilt and I ended up using every last bit of the vintage train logo fabric in the quilt piecing extra in to the back of the quilt.
Warm Wishes ended up being a fun and fast quilt pattern to use. I had seen it mentioned over and over again on the Quilting Board as a favorite quilt pattern. This was my first time using it, and I will most likely use it again someday as it is an easy way to show off your favorite prints. This quilt of course was well received by Dad. I finally found something he did not have.
I will be linking up my quilt finish with Link A Finish Friday,  Can I Get a Whoop Whoop Friday?, Fabric Frenzy Friday , Finish It Friday,                and Show Off Saturday.
Hi, I thought I would give a quick peek and progress report on my two Scooby Doo Crossing quilts I am making for birthday gift for my grandsons.
The second of the quilt tops was finished being pieced over the weekend. I knew I wanted to feature both boy's names on their quilts. I have done this on a few quilts before. I made quilts for a former boyfriend of my daughter's that had his last name on the back like a Chicago Bears jersey, quilts with the children's names of one of our adopted deployed soldiers but my favorite had to be a Chicago Bears quilt I made jointly with my Mom for a retiring Marine Recruiter with his last name on back like the jersey and all the party guests signed the back around his name. I would have thought by now after making numerous name quilts that I would have all the letters printed out. Nope…was missing a W, which was needed for Sawyer's name. I forgot which font I used but after a frantic search was able to recreate it. When I look at the photos I took, it appears Sawyer's S is not sized properly. All my letters were sized the same and it is the same S as used in his brother's name. Maybe my alignment is just a tad off but since they are all fused and machine zigzagged on, they are not going anywhere. Somehow I notched off one of the top points of my W with the scissors and did my best to fill it in with stitching.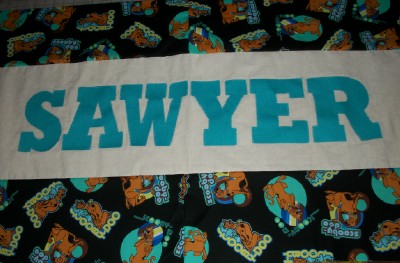 I feel very lucky to have been able to pull fabrics for the entire backs of these quilts from my stash. I found three shades of blue greens to make large striped components to add to the top and bottom of my appliqued name strips. I found 4 yards of black solid that I used to finish off the tops and bottoms of my back quilts. I feel it really pulls everything together. It really makes the names and Scooby prints bright colors pop out. I found the endless sewing of all the long stripes a bit tedious. I was thinking ahead and pressed the separate segments before they all were joined. The quilt backs turned out pretty cool and will make the quilts reversible. I may or may not cut out and applique the numbers 3 and 7 on their quilts yet to commemorate their birthday years.
So today, I have to finish pressing my quilt tops and can start basting the quilts together to prepare for quilting. I found a nice yellow on yellow stripe fabric that I want to use as binding. I am going to get them all cut out today and pressed so they are ready as well. All in all I am still looking good to finish both quilts in time for the birthday party.
Thanks for looking. I will be linking up my WIPs with WIP Wednesdays ,  Let's Bee Social , Needle and Thread Thursdays  and I Quilt Thursdays this week.
<a href="http://www.bloglovin.com/blog/12532307/?claim=3frwe3n49kn">Follow my blog with Bloglovin</a>
I would like to share today the final one of three quilts I made for our graduating nieces last year. I had come across what I thought was a fabric line of some really cute dog and cat prints. It would make an awesome quilt for upcoming veterinary student.
The fabric I chose was called Max and Whiskers by Basic Grey for Moda. I had purchased a layer cake of the fabrics and searched for a quilt pattern that would showcase the cute prints to their fullest. I came across a new to me designer from Australia, Roslyn Mirrington of Bloom.  She had designed a neat column based quilt design that you could use a layer cake and make two quilts from. The design is called Abracadabra. The pattern makes a twin size bed quilt and a nice size throw that would work for a toddler quilt. You can change things up for the second quilt by adding a different background and applique a name on it.  I do not use too many precuts so when I do, it is important to me to get the most mileage out of my fabric choices.
The instructions to Abracadabra are pretty straight forward with two cuts to the layer cakes, you can get creative on where you lay out your squares and rectangles. There is alot of sashing to be attached to the rows. And with careful pinning, the larger quilt went together nicely. I had a problem piecing the smaller quilt. I had to change sewing machines between the time of piecing the large quilt and the smaller one. I was having a problem with the presser foot of my Pfaff not going all the way down to resting on the feed dogs like it should. There must have been a difference in my seam allowance as the first 6 rows of the small quilt went together but some how the last two rows and the sashing seemed to have grown in length and there was no way they wanted to match up. I did not have a person in mind for the smaller quilt so it was no problem to scrap this one for the time being. I had just thought it would make a cute kid's quilt.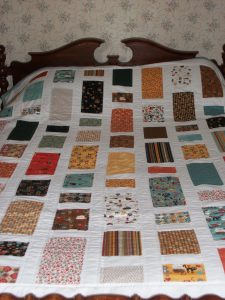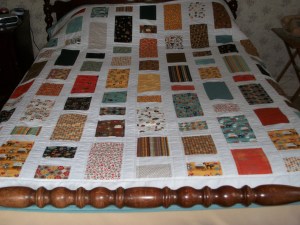 For the back of this quilt, I found a neat dot print that had all the colors of the Max and Whiskers fabrics in a single fabric. I purchased it from JoAnn's. I pulled a brown solid from my stash and added the golden mustard marble print as a striped accent to the back. The mustard marble also came from JoAnn's. I finished it off with a light blue. It might have been a Moda solid but I do not recall now which color it was. I like how it shows off the quilting so nicely.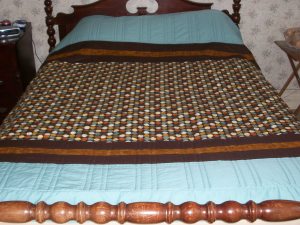 I really like how this quilt turned out. I like the columns and find the differing sizes of squares and rectangles give alot of interest. A little more fancy than just a simple coin quilt design. Our Vet student niece really liked the quilt and has taken it off to college with her. As for the pieces from the smaller quilt, I am thinking of reusing them to design a matching pillow. I have scraps stashed away from the other nieces' quilts, Chain Linked and Pegs that all could be used to design pillows.  These are on my future WIP list for possible Christmas gifts. Fun projects to try out the quilting modules on my inherited Designer 1 sewing machine.
I will be linking up this quilt finish with Anything Goes Mondays,  Show and Tell Tuesdays, Linky Tuesday, Fabric Tuesday,  I Quilt Thursdays,  Needle and Thread Thursdays,   Fabric Frenzy Friday,  TGIFF,  Can I Get a Whoop Whoop?  ,  Link A Finish Friday , and  Show Off Saturday .
Yesterday, I had a very productive day of sewing. I am continuing to sew on my second Scooby Doo Crossing quilt top made from Meadow Mist Designs Adding Up Nicely pattern. I finished cutting my strips into the needed size and have all but the last strips sewn onto the 32 "H" patterned blocks. These blocks should be finished today. I am still well within time of completing my two quilts by the 27th.
I got to thinking about one of my long waiting WIPs when I took a break from piecing my blocks and decided to pull it out of the bin and see if I could make some quick work of finishing sewing  the blocks into rows and finish the quilt top.
My Square in Square patriotic quilt ended up finishing as a larger quilt than I thought I was going to make. Or I should say longer in length. I really enjoyed making the blocks. I took extra time to square up my blocks and it was so, so helpful in piecing them together. All the seams just automatically wanted to butt together. The main focal print of my squares is a white background print with US Flags and a script word of America printed all haphazard over the fabric. It makes me wince a bit that no matter how flipped my cut squares around some of the flags were going to be upside down.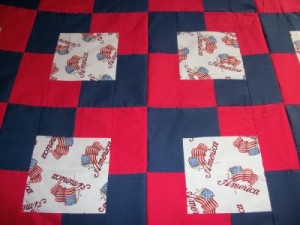 I took a few quick photos of my quilt top finish. I need a better set up to show off my quilt finishes. Alot of times when I have finished a quilt, I am taking a photo before it is rushed out the door as a gift. I end up laying them out on our 4 poster bed to be able to get as much of quilt in a photo. I know it is not very imaginative but when I did not have a helper to hold it what was I to do. This morning the sunlight showed oddly through the windows, so my photos are not the greatest at showing the true shades of blue and red in my quilt. I tried to take a photo of the quilt hanging from the upstairs railing. Please do not pay any attention to our woodwork needing a much needed paint job.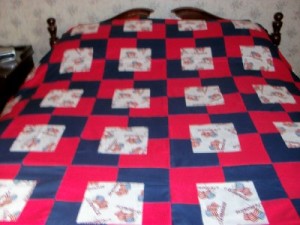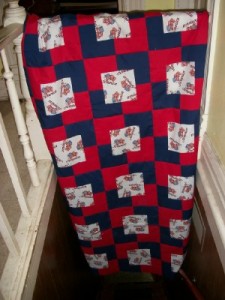 When I pulled out the pieces of this WIP quilt from my fabric bins, I decided to take a couple quick photos of my patriotic fabric stash that I wrote about last week. I had forgotten some of the prints that I had. I was also surprised on what yardage I had of some fabrics. I also had a great find of a mottled blue solid and a mottled yellow tone on tone striped fabric that I can use in designing the pieced backs for the Scooby Doo quilts for our grandsons. The yellow stripe would work great for binding. I am very thankful to find them as I am on a tight budget this month.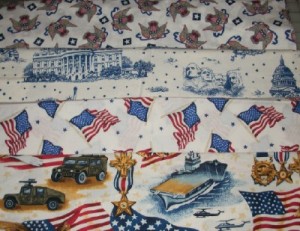 I really like the print with the Army tanks and Aircraft Carriers. I think I have close to 2 yards of each of these.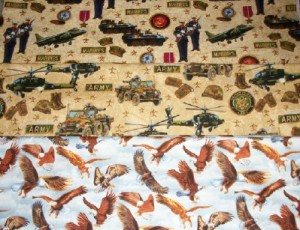 Marines, Army and Bald Eagles. What is not to love. Again upwards of 2 yards a piece.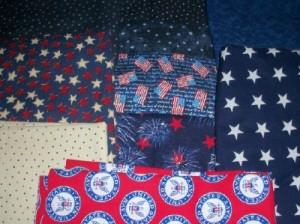 All sorts of blues and stars galore. And can not forget the Navy Seal print. These fabrics range from under a yard to over 2 yards.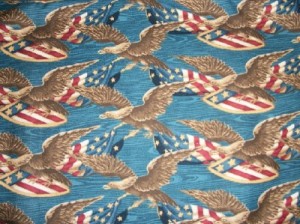 This has to be one of my favorite fabrics. I used the brown wood grain version of this fabric as the backing of the patriotic quilt I made and donated to a Wounded Warrior Foundation auction. I purchased two 3 yard pieces of this denim blue wood grain and eagle print for future backings of  quilts. This fabric has such a wonderful hand to it.
I have various white fabrics and shades of blue and red solids that I can put with all these fabrics to make numerous quilt projects. I usually purchase my white and cream solid fabrics by the entire bolt. One has to love those 40-50% off coupons that JoAnn Fabrics puts out. I used my Christmas money from my Dad to get another bolt of muslin at an end of the year mail order sale from JoAnn's. The bolt still has the plastic on it. I seem to be getting short on white solid, so maybe my birthday money next month will go to that purchase.
Thanks for continuing to read about all my quilting projects. Please consider following my blog on Bloglovin or by email or Facebook.
I will be linking up this quilt with Fabric Tuesday,  Let's Bee Social and WIP Wednesday.
Happy Sewing!
Shelley
Hi, I thought I would give a quick share of the quilt I made for my husband. It seemed fitting today to show it off since his alma mater, Iowa State beat our state rival, University of Iowa at Saturday's football game. Iowa State continues to lead in points in this year's Iowa Corn Cy-Hawk Series. Yeah, State!
I have been quilting for over 20 years. My husband has seen a steady stream of completed quilts go out the door. I always would show off my finished work and he would ask who was that one for? I did attempt to make him a quilt back in the 90's and had the quilt top completed. It was a double Irish Chain in shades of green and gold. There were numerous times the top came out of storage and I would attempt to decide how to quilt it. I just did not care for my fabric choices. I actually did a nice job of piecing the quilt design. All my seams lined up etc. I just did not like the colors. More and more quilts continued to be made and finished and my husband would say he knew how he rated?? No quilt just for him.
Last year for his birthday, I decided to make him a new quilt top and get him a quilt just for him completed.  I had seen numerous quilts made with Julie Herman's Jaybird Quilts Dot Party quilt pattern. I thought it was such a fun pattern and would be a great way to use the Iowa State University collegiate print fabric I chose to make my husband his quilt. My husband is 6'2″ so I needed a good size throw size quilt so he could cover up while sitting in his favorite chair. This quilt pattern uses charm squares or layer cake squares. I cut my own 10 inch layer cake squares from the collegiate print and the yellow solid fabrics. This is my first quilt in a long time that has raw edges.  I did stitch around my circles and circle openings with a 1/4 inch seam inside, and also did a quick zigzag around the edges.  There still is some minor unraveling on some of the circles here and there.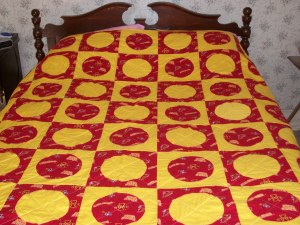 When I completed this quilt just like I have with all my quilts, I showed my husband. He asked who this one was for? I said I made it for my favorite guy. Well, he is a lucky guy. Yes, I know. I finally found something we both liked and my husband got his own quilt.  And I had a happy man. Last summer, I cleaned out some of my old stashed fabrics and donated them to charity. Hubby's first quilt top became someone else's treasure.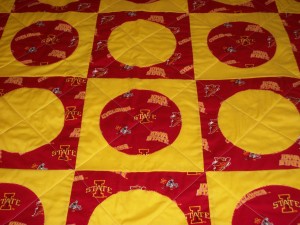 The motto for the Iowa State Cyclones is Loyal Sons Forever True. When one Tweets messages about ISU they use #LoyalForeverTrue. I thought it would be a fitting name for my quilt.
I am linking up my finished quilt with Inspiration Monday ,  Made by You Monday  ,  Fabric Tuesday  and Linky Tuesday.
I thought I would share another  fairly recent  favorite quilt finish. 2013 was the year of high school and college graduation gift quilts. I made three quilts for our three Nieces who graduated that year.  This would be the first quilt I made using the sewing machine I inherited from my Mom. This is the second graduation quilt I have shared so far.
This particular Niece was the only one to have a suggestion on what she wanted as a quilt. She wanted "Green". All right I thought. This should not be so hard . There are so many shades of green and the only one I have used much of  in the recent past was what was considered "John Deere" green. That is not necessarily a girly color. I do know many girls like the color and even like the tractors. My daughter and this Niece would be included in that group. This Niece said she would likely like anything that my daughter would pick out.
We took a trip to one of our favorite quilt shops. We wandered the aisles of pretty fabrics and nothing really popped out at us at first. This shop always has lovely quilt examples hanging all over the shop walls and even the ceiling. We did a couple walks around the shop looking up and down and kept circling back to the quilt that was hung on the ceiling right in the front door. My daughter really liked the look of the quilt. I did as well. The big selling point was that they had it made up in "Green". I usually do not choose to make a quilt up exactly as a store example. We both liked it as it was exactly made. Now please tell us, you have the pattern and the fabrics still in stock. Score!!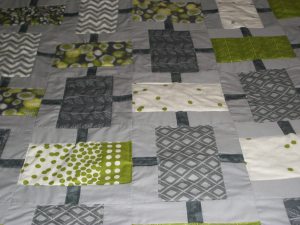 The quilt pattern our quilt was made from is Pegs by Kari Nichols for Mountain Peek Creations. I thought it was ironic that the designer's last name was the same as my maiden name.  The fabric that the quilt is made up in is by V & Co. Simply Color line. I shared with the quilt shop clerk that Vanessa of V& Co. had recently moved to Iowa from Utah. Some times just little things like these coincidences make a project extra fun. This quilt is made up from the green and gray prints and solids from this fabric line.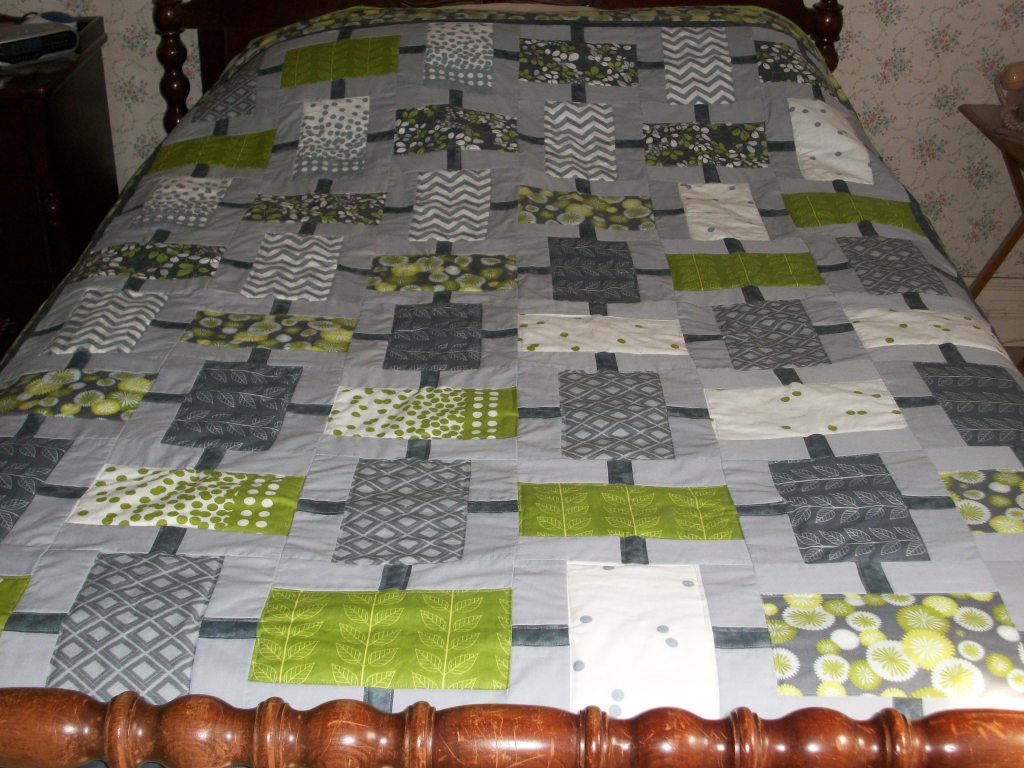 I used a coordinating gray solid as my background that I had on hand. For the back of the quilt, I chose a fun limey green solid as main color and pieced together the rest of my remaining fabric strips from the main body of the quilt. I really like how the quilting shows up.
I really liked how this pattern turned out. Mountain Peek Creations quilt patterns have great instructions. I really enjoyed working with V&Co. fabrics. I hope to soon obtain some more fabrics from the Simply Color line, if they can still be found and also her Simply Style fabric line that so nicely coordinates with the previous line. Of course, the best part was the quilt was well liked by everyone involved.  I have been thinking this pattern might be a good one to remake in some of the patriotic prints I have in my fabric stash. I love how the large rectangles can showcase any kind of fun prints.
I will be linking up this quilt finish with Finish It Fridays , Fabric Frenzy Fridays,  Link A Finish Friday  , TGIFF , Sew Darn Crafty, and Can I get a Whoop Whoop?
I have been thinking that I should be making lists of all my quilting projects to keep everything in check. I have seen other quilting bloggers share their WIP lists, and some even make a dedicated spot on the side of their blog that all can see their progress or lack of. There is not likely enough space on the side of my blog to show all the lists that are tabulating in my head.
These lists are what was bouncing around in my head at 2 A.M. today. And my husband wonders why I am not ready to go to bed at 9 P.M most nights???
Current WIP (Needs to be completed before the end of September.)
1. The two Scooby Doo Crossing quilts for my grandsons. One top is completely pieced. I have the Scooby print squares precut, also the yellow strips needed to make background of brown cross/plus blocks. I am cutting today, the brown yardage into strips.
Need to design and piece backs for Scooby Doo quilts. I am looking at appliquing Sawyer and Shaderek's names to their individual quilts.
Quilts need to be quilted, washed and dried and wrapped up/out the door for birthday party on September 27th.
2. Make myself a design wall so I can work out possible quilt designs and block placement easier. The cutting table surface is just no longer working. I have two yards of 72 inch wide white felt that I am looking at making in to said design wall surface. I do not have much free wall space in my sewing room/office. I took sliding doors off our closet last summer. I am thinking of adding a band of fabric to the top edge of the felt and adding large grommets. I would be able to hang design wall from the grommets on a set of Command strip hooks applied above the wood trim of my double closet door opening.  I am also thinking about adding a set of Command hooks up on wall in upstairs hallway. I could take photos of my quilt designs from there fairly easily.
And why design wall was not completed all ready? I am not sure if it will be safe to hang over closet door, as our two Tom Cats like to hang out in the closet for some reason and they love, love to lay on fabric and quilts. I may have to put some pins into things hung up on the felt surface to keep the cats from knocking down my designs.
Ongoing WIPs (that there is not much or any progress on at this time and not in any particular order.)
1. My Queen/King size Charming quilt top made from 39 different black and white print fabrics. This is my first quilt this large so I am still deciding how I want to quilt it. I really like this one, and I do not want to mess it up. It is stashed away currently in a bin, to stay clean and safe away from two cats and two very hairy dogs. Oh, so much white fabric to get dirty.
2. A batik version of  String of Pearls by Christa's Quilts . I have this all precut and bagged up sitting a kit for myself when I can devote time to piecing it. I am using possibly 20 different batik prints with medium gray solid background with the black solid link sashings. Christa's quilt used 36 blocks. I think remember deciding to make mine larger (of course) and will be making 63 blocks if I remember correctly. I am quite embarassed this has been sitting cut and ready for a few months now. The sashing strips are only 1.5 inches wide so I wanted to make sure that I was getting an accurate scant 1/4 inch seam allowance to not throw off my whole design. I think I have that figured out now.
3. Missouri Star Quilts  Sunny Skies quilt pattern and tutorial. I have this cut out and maybe 2/3 of the way pieced together. I chose to use my stashed Fandago charm squares and a teal solid and white background.  Mine may or may not be slightly larger than pattern was written.
4. A Patriotic Squares with in Squares quilt top made from tutorial on QuiltersCache. I am using red and blue solid as the outside squares strips and the center block is a white background patriotic print with lots of American flags and possibly Bald Eagles. I have multiple rows sewn together and a few blocks that need to be sewn into rows and attached to rest of quilt.
5. An I Spy quilt made using possibly over 100 different charm squares that I have collected from Ebay and Etsy sellers. I have my blocks made up using Jeni Baker's tutorial at Moda Bake Shop: Patchwork Chevron Quilt. I have loved this quilt design for some time. I started these blocks 2 Super Bowl Sundays ago. Blocks are completed, not sewn into rows yet.  Big hold up…so much white fabric. LOL  I plan on this quilt going to my grandsons. Since I have inherited an embroidery sewing machine, it would be kind of cool to be able to embroider on the back of quilt the I Spy with my little eye instructions with the numerous items the boys will be able to pick out on the front of the quilt.
A Quilt Design I hope to make someday
1. Swoon, Swoon, Swoon…. I have the pattern for Swoon. I see it everywhere. I have Pinned numerous quilt fabric combinations on my Pinterest boards.
2. Alison Glass' Feathers….paper pieced feathers….love, love this quilt. I am thinking snowed in and can not go anywhere, must quilt weather.
Quilt Patterns Recently Purchased that I Love and Can not wait to use
1. Pointy by Elizabeth Hartman
2. Solar Eclipse by Elizabeth Hartman
3. Lazy Longhorn by live.love.sew
My Fabric Stash (sshh do not tell my husband)

1. Indelible fat quarter set in Darkened Ink coloring. Newly purchased this week from Hawthorne Threads.
2. Zen Chic Comma ..I have 5 charm packs. I love this fabric. This link goes to an Etsy seller…would make wonderful birthday gift, hint hint?
3. Moda Rawhide…I have 6 charm packs. This fabric has my daughter's name on it. It is stashed away for a quilt for her, when she decides which pattern she likes.
4. Denyse Schmidt Hope Valley…24 fat quarter bundle…one of my prized possessions…maybe made into a Swoon quilt some day
5. Moda Fabrics Sweetwater Authentic… 20-24 fat quarter bundle…one of my prized possessions. I love the typography prints. The greens and blacks are pretty cool. Definitely a color out of my comfort zone as there is no blue to be seen in these fabrics. Yeah!!
6. Kathy Schmitz Glory…one layer cake 10 inch squares set. I made one quilt from this line all ready. I donated the finished quilt to the Wounded Warrior Foundation of Philadelphia, PA. Since this fabric line has extra colors like black, mustard and green added to the traditional red, white and blue, I am not always sure how to use it. Maybe this will be used and donated as a Quilts of Valor some day.
7. A very large Rubbermaid tote with all kinds of Patriotic print fabrics.  I used to volunteer for a couple of military family support groups. We sent quilts to our Veterans. Neither group was affiliated with a group like Quilts for Valor. I collected a lot of the fabrics when our local Walmart was getting out carrying fabrics the first time around. Many were purchased at $2 to $3.00 yard. Since fabric is so much more expensive now, I have not been able to part with these. I have a few family members and friends who are Veterans and they are candidates for future quilts when I can decide what to make with these fabrics. Besides the statutes of limitation have to be running out on these fabrics since they were purchased in 2007-2008.
My Sewing Machines
1. A Pfaff 1473 Creative Designer… I purchased this wonderful machine in 1999. A good portion of my quilting has been done on this machine. The light came on, but the machine did nothing else on Father's Day 2013. This was two days before my Mom passed away. I had just finished a quilt for my Father inlaw.  One of our last major sewing discussions was about this machine. We think the computer mother board has died. It should be able to be replaced and up and running again.
2. Viking Husqvarna 990…This is a beautiful navy blue computerized machine. I think it is likely the same era of machine as my Pfaff 1473 CD. I actually purchased my machine shortly after Mom purchased this Viking 990. I was quite proud of myself. I had heard from my Mother inlaw for over 15 years how great Pfaff sewing machines were. Mom was not as impressed. She was sold on her Viking and would buy two more in the future. Apparently Mom had a discussion with Dad about this sewing machine before she entered the hospital, and suggested allowing me to use it in case I was not able to get my Pfaff fixed. I inherited it weeks after she passed away. I have been sewing on this machine ever since.
3. Viking Husqvarna Designer 1 embroidering sewing machine. I inherited this machine also when my Mom passed away. This machine was her baby. She liked this machine so much that she actually went out and purchased second one. My sister received her first one, which she purchased new at full price. Mine is the one that has less sewing embroidering hours on it. She thought I would be the one to use it the most. I think mine still needs a couple software updates. This machine uses old school 3.5 inch floppy disks to store the embroidery designs. It also can use a dongle or memory stick. My sister and I inherited Mom's vast collection of embroidery designs. She had 32 3 inch thick 3 ring binders full of designs. The amount of money that just went into printing out in color  a sheet for each design is unreal. She spent a lot of time on the computer joining groups and obtaining designs. It was her retirement dream.
Pinterest: The Slow Start to a New Obsession
What can I say about Pinterest?? It is a wonderful source of inspiration and ideas. It also can be a major time waster in a good sense. I have over 1270 Pins on my quilting inspiration boards. Other crafting ideas over 300 Pins. Over 300 food recipes and ideas. I have liked over 1600 pages that I can pretty much guarantee is more quilts and food recipes.  I know I have had some late nights where I have fallen asleep paging thru pins from earlier in the night. Ah, Sweet Dreams…
I thought I would bring you all up to speed on my current WIPs. I made good progress on my Scooby Doo quilts for my grandsons' bunk beds. I am using the Adding Up Nicely pattern by Meadow Mist Designs. I have super sized the first patterns blocks  from 5 inches to 9.5 inches.
I will admit even after 20 years of quilting experience, I still  wrestle with a lot of self doubt when it comes to picking colors and putting them together. I knew that I wanted to avoid using white or cream in my quilt top backgrounds. Our past experience with little boys and food that stains like Pop Tarts or Chocolate milk…eek. (this why I  have a stack of I Spy blocks for a quilt for them, stashed in a bin….white background, duh.) Any way, I decided to highlight some of the yellow from the original Scooby print and make it the background for my Plus/Cross blocks. As suggested by my daughter, I chose brown as the Plus/Cross blocks. Brown is a color that is out of my comfort zone. I just have not worked it into many of my quilts.
Here is my completed Scooby Doo quilt top. It is finishing at approximately 63 by 81 inches. I really like how the Brown Crosses pop out of the yellow background. Today, I am cutting more brown fabric for my needed strips. I did not have enough of the first shade of brown, so the second quilt will be slightly different. I am still working up ideas in my head on how to create backs for the quilts. Our little guy Sawyer has not had a quilt with his name on it yet.  I am thinking of putting their names on the back to eliminate the battle of No, that one is Mine?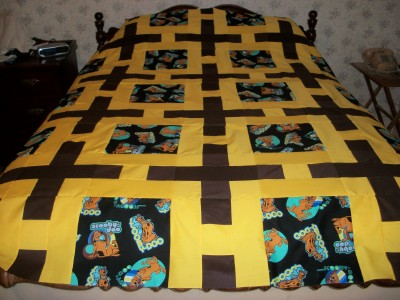 I will be linking up my WIP with WIP Wednesday ,  Let's Bee Social , I Quilt Thursdays, and Needle and Thread Thursday.
This Summer I was picked to participate in pattern testing for a new tote bag pattern designed by Sara Curtis of Radiant Home Studio.  Sara chose a dozen crafters to make up her tote bag pattern and send her photos of our completed bag with any and all feedback. Sara wrote The Coastal Tote pattern with clear and precise instructions, lots of great photos and diagrams, and well researched sources on where to purchase the rope she used to make handles for her original tote bag.  Many of my fellow pattern testers suggested adding a zippered pocket to the front of the bag.  Sara rewrote her tote pattern to include this great suggestion and she generously sent us all  a finished copy of the completed pattern for our help in this project. Sara has also designed a free tutorial for a simplified version of The Coastal Tote that she calls Cactus Beach Tote that can be found over at Spoonflower, the wonderful company that you can design your own fabric and have it printed.
For my Coastal Tote I chose to use an Iowa State collegiate team logo cotton fabric.  It was in my stash since I had made some other bags that will end up as part of this trio and I also had made my husband a quilt. I chose to use muslin as my lining. I know that probably was not a very interesting choice of fabric, but it allows the decorative features show up inside the bag. It also coordinated with canvas I used in my other bags. For the time frame we were given to complete our totes, I did not think I had time to order the suggested rope the pattern called for.  I looked all over the local JoAnn Fabrics, Hancock Fabrics and Walmart for a similar rope and was not able to find the size or style Sara used. I ended up using a black and red twisted nylon rope that my husband had spool of on hand. I hoped he would not miss 9 foot of rope. I liked how the red color in the rope went well with my red fabrics.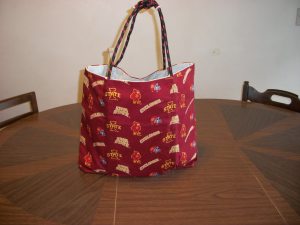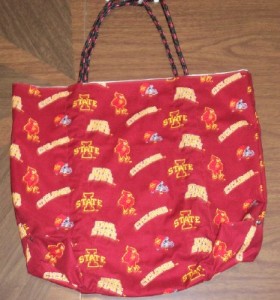 This pattern has some wonderful full size pockets inside the tote. They have divisions which were created when you sew the channels for inserting the rope handles. With how I cut my fabric initially, I ended up with an extra rectangle of ISU fabric so I decided to add the same style pocket to the other side of bag. Original instructions had only called for the one side of pockets. This bag was finished off on the inside with French Seams. I had not used them in quite a few years, so I read over the instructions a couple extra times to make sure I was starting my sewing with the needed side of fabric up on top.  The tote instructions also call for making a zippered pocket pouch that is sewn into the side seam. This is great for carrying a small wallet and your keys. I used a small scrap of a coordinating ISU print that was left over from my other bags.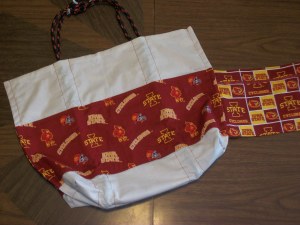 The Coastal Tote is a very versatile bag. I thought it would be wonderful to hold extra food items when going to tailgates or family reunions. Lots of room for plates, bags of chips, and liters of pop and stack of cups ( or one's favorite adult beverage makers if tailgating.) The pockets are great for holding silverware and other utensils.
The other bags in my tailgating bag trio are my two Iowa State casserole carriers. I made them out of the Iowa State fabric print that is shown as zippered pocket in above tote bag. I researched various casserole carrier tutorials after seeing many on Pinterest. I chose to use  the Casserole Carrier tutorial by 2 little Hooligans.  
I used an Iowa State University collegiate cotton print for the main body of my casserole carriers. I used cotton canvas that I upcycled from a cotton painters tarp that I purchased from Walmart. It was 9 x 12 foot and I threw it in the washing machine and dryer and it came out wonderfully soft. It was alot of good useable fabric for under $10.  I used the Insul-Bright thermal lining as suggested in the tutorial.  It is wonderful for making pot holders and other items you need to insulate from the heat or cold. It is a product that does what it says it does. My Mom always had always suggested keeping it in my sewing supplies.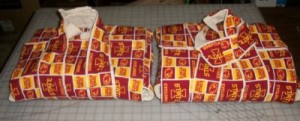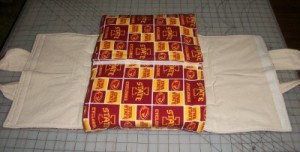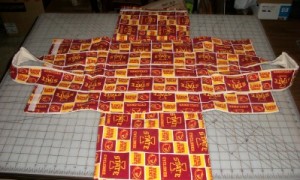 This weekend is very important in Iowa.  It is time for Iowa State University versus University of Iowa football.  It is a very important part of the Iowa Corn Cy-Hawk Series which is an annual sports competition that involves all sports and academics between the two state schools since 2004. The two schools play each other in 13 sports with the winner receiving two points except in football, which is worth three. Iowa State currently leads the Iowa Corn Cy-Hawk Series by a score of 2-0.  Our family of course is big Iowa State Cyclones fans. My husband and many of family members are all alumnus of Iowa State. A new generation of our family are currently attending ISU including two Nieces and a Nephew. We are a farm family that is preparing for fall harvest. So we will be unfortunately missing attending this game rivalry live in person. We will be anxiously listening to the outcome of this game on our radios. My tailgating trio of bags will get good use at upcoming family reunions and holiday get togethers.
I will leave you with GO STATE! BEAT THEM HAWKS!  LOYAL SONS FOREVER TRUE!!
If you like what you are reading on my blog,  please consider subscribing to my posts by Bloglovin or email. I also have a Facebook page that links to my blog. You can find links to everything on my main blog pages.  Thanks for reading.
I will be linking up with various linky parties this week.
Linky Party Tuesday  , Sew Cute Tuesday , And Sew We Craft's  Sew- Together Linky Party
Twitter