Today is my birthday and I thought I would share one of my most favorite quilt finishes. I had come across a photo of a quilt on the wall of a quilt shop that was featured in one of the Better Homes and Garden's Quilt Sampler magazines from 2008-2010. I could not find a name for the quilt in the magazine and had not come across it online. This was before Pinterest.
The quilt design was a Shadowbox that appeared to be constructed from something in the 5 to 8 inch square range. I have since seen numerous patterns that have squares, rectangles or even a combination of both. Mountainpeek Creations has a very popular pattern for a rectangle shadowbox.
Since I did not have a pattern, I chose to draft up my own. I had a stack of batik fat quarters that I had cut 10 inch squares from for another quilt so from the leftovers I decided to base my design on a 6 inch square. I layed out 2 1/2 inch strips alongside my 6 inch square to determine what size I needed to make the shadow strips. A few calculations later and a test block and I cut out all my fabrics and pieced my blocks.
Please forgive the sour looking face. This was one of those late 2 AM quilt finishes and I was exhausted.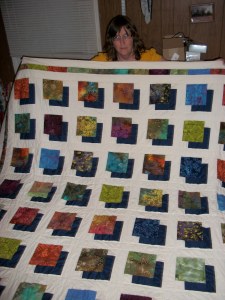 I used up extra pieces of the batiks to make a pieced border. I used the idea of the pieced border from Moda Bake Shop tutorial Easy As Cake quilt pattern. I had used this pattern to make a quilt that I had cut the 10 inch squares from this fabrics for. The quilt went to my best friend.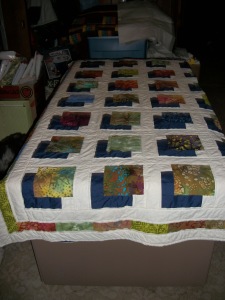 My sewing room is also our office, so after a big quilting project it can be extra messy.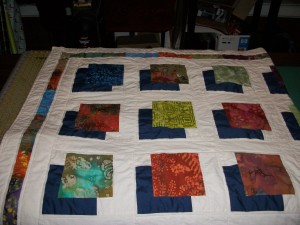 For the back, I pieced a simple striped back with a really fun batik that packed a lot of color punch.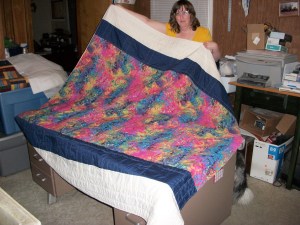 Making this quilt taught me that I could be fairly confident in drawing out a design and calculating how much fabric it might take to make what I had in mind. It would have been much easier if I had known if there was a pattern out there and what it was. This was also before finding my trusty Quilter's Fabri-Calc calculator. I had made numerous quilts before this one, but making this one seemed to help fuel the fire or quilt making obsession. I made this quilt as a birthday gift to the Mother of my daughter's then boyfriend. She was a family friend as our husbands worked together. She did truly love it. My daughter and that boyfriend broke up after 4 years together.
This quilt is my favorite and it has been the favorite of all that I have made when seen by other friends and family. It seems that most of my best work goes out the door as gifts. I do have  some regrets of this one getting away . I would chalk this up to being similar to knitters and the "boyfriend sweater curse". Never make a boyfriend a sweater as by the time it is completed, the relationship may have or be ending. My daughter's previous boyfriends received rag rug style quilts. This boyfriend had even helped us make his and helped man the scissors to do all rag cutting.
I have come across a couple tutorials on making shadowbox quilts. There is one that is in 8 inch squares, MaDan's. And also a tutorial that uses squares and rectangles over at Ludlow's Quilt and Sew. Some day I may have to make myself another version of this quilt.
Thanks for looking. I will be sharing this quilt finish with various linky parties this week.
Hi,  I would like to share my flimsy that I have been piecing this week. It is made with the Broken Frames pattern by Meadow Mist Designs. I used 39 different black and white prints and a turquoise solid fabric. I used these same prints in completing my 39 Shades of Charming quilt top made from the Charming quilt pattern also designed by Meadow Mist Designs.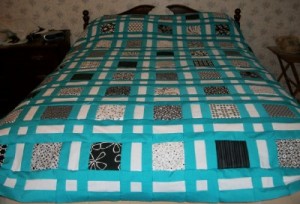 I think it is amazing how different the same fabrics can look in different quilt designs. I started with a fat eighth set of 32 fabrics (Moda's Shades of Black) , took out the white and gray prints, keeping just the black and white prints. I purchased 12 different fat quarters and a set of 50 charm squares and throw them all in the mix to end up with a combination of 39 different black and white prints. I cut alot of charm squares obviously, since I used 120 squares in the Charming quilt, and 63 in Broken Frames and I am still left with 157 charm squares but that includes the white on white and gray on white prints. I have also a stack of 2.5 inch strips so I can probably design at least two more quilts by adding in another solid color for wow effect.
I am back to taking photos by laying the quilt top on the bed as we have had two straight days of rain and no sun. I guess it is better than snow.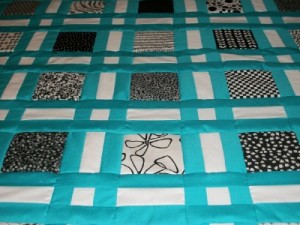 I am hoping to quilt this up for a Christmas gift.  I tend to be last minute sometimes, well actually all the time. So by starting my projects when there was 75 days before Christmas, versus 60 days or even 30 days would make me hopeful to completing more and not having to stay up til 2AM  everynight the week before Christmas. This quilt flimsy will be temporarily set aside while I test piece a quilt for a designer from New Zealand.
I am looking forward to possibly trying a new quilting technique that Lee from Freshly Pieced will be sharing in the upcoming weeks on her  Chandelier quilt along for Bernina Sewing Machines. It looks right up my alley, no freemotion and you can use your walking foot on your domestic sewing machine.
I will be sharing this WIP on various linky parties this week.
Hi, I thought I would share another fun quilt finish. I made this quilt for my Mother inlaw as a gift. It had been planned as a Christmas gift but Mom and Dad had both been under the weather during the holidays, so our family get togethers had been postponed.  I had the quilt top all sewn in time so I used the delay to complete some other projects like also make Dad a quilt. I quilted both tops at a later date . Mom got hers for Mother's Day and Dad got his train quilt for Father's Day. As with a few other recent quilt finishes, the quilt tops were completed in a timely fashion. It just sometimes takes longer to get them quilted. Sometimes quilt tops are created without a recipient in mind. The quilts decide who they should go to.
I chose the quilt pattern Buttonholes by Wendi Gratz of Shiny Happy World. Wendi is a children's book illustrator besides quilt designer. She has a fun website and weekly newsletter email. She makes some of the cutest stuffed animals.
The Buttonholes quilt pattern lends itself to so many creative possiblities. I chose to use some of my favorite batiks paired with cream solid for the front and used a lovely blue for the backing. The backing quilt design that Wendi has created for this pattern makes such a neat design that it makes the quilt reversible. I truly almost like the back better than the front of the quilt on this one.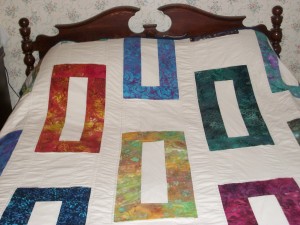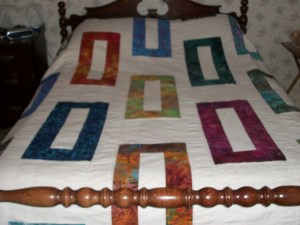 And of the back of the quilt.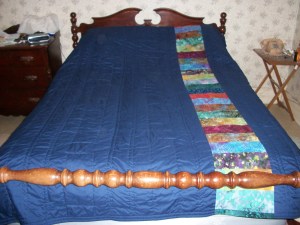 I prequilted the pieced back to my batting to help keep the stripes in the location I wanted them.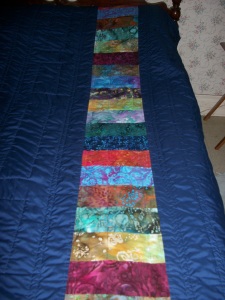 Quite a few of these batiks I used in creating this quilt have become favorites of mine. I have used them in two other quilts. It is amazing how far a good stack of fat quarters can go, if you cut your own precuts.
Thanks for looking at my quilt. I will be linking up my quilt finish with various Friday quilt finish linky parties.
Hello, welcome to my blog stop on the Around The World Blog Hop. I hope that you will come to know more about me and my quilting works in progress and the process I used to make them.
I was nominated to participate in this around the world blog hop by my fellow quilting friend, Cheryl who blogs at Meadow Mist Designs. I came across Cheryl and her blog online last year after finding her quilt patterns for sale on Craftsy and Etsy. I have purchased many of her patterns and my recent blog posts have been about completed quilts that were made from her patterns.
I seemed to have some how missed where this blog hop originated online. The whole basis of this blog hop is to share what you are working on and tell about the why and hows of your creative process from four basic questions. I will admit the thought of answering the questions has made me a tad nervous. I will do my best to answer them for you all and maybe we all will learn something.
1. What am I working on currently?
Last week I finished up quilting matching Scooby Doo quilts from a super sized version of Adding Up Nicely from Meadow Mist Designs.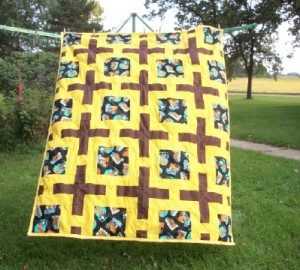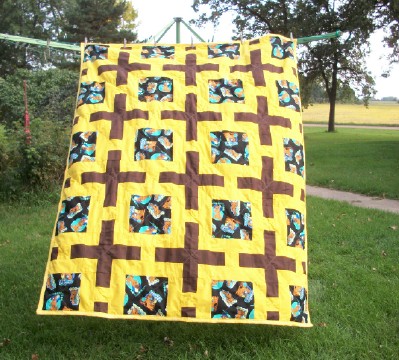 I am attempting to get an early start on Christmas gift sewing. I have two quilt designs cut out and hope to start piecing them yet this afternoon.
I am making a Broken Frames quilt which is another design from Meadow Mist Designs. I am using multiple different black and white prints cut into charm squares with a turquoise solid background and white sashing to finish off the broken framed pattern. I think the bold turquoise will really show off all the fun black and white prints.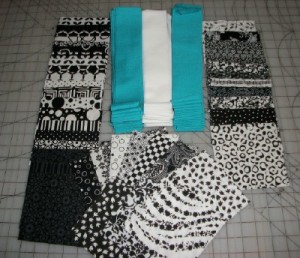 The other quilt pattern that I have cut out to make is String of Pearls by Christa's Quilts. Christa has made a sew along so you can make this fun quilt along with her. I am making mine out of batik charm squares that I cut from fat quarters in my stash, and will pair it up with a silver gray background and the black solid strings around the batik pearl blocks. The original quilt design was made with 36 blocks and I have chosen to enlarge the quilt using 64 blocks.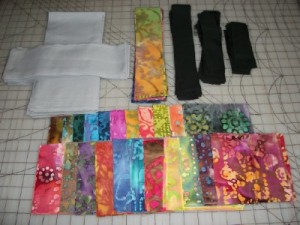 I am also working on creating a Plus quilt design using the new tutorial by Missouri Star Quilts Co. The quilt tutorial makes a quilt using 4 charm packs. My daughter would like a larger quilt and we have 6 charm packs of Moda's Rawhide fabric plus two charm packs of cream solid. If we throw in a few squares from our stash along with the others, we should end up with a quilt double the size of the throw size quilt the tutorial makes. I have made numerous notes calculating what we need for fabric, and just need to finalize layout of our squares. Can definitely use a design wall for this quilt idea.
2. How does my work differ from others of its genre?
This question has to be one of the hardest ones to answer for many of the other bloggers participating in the blog hop. I would have to agree. I am not sure really where I fit in quilting genres. I started out quilting over 20 years ago and definitely made more traditional styled quilts. Everything from nine patches, log cabins to variable stars. I would like to say I tend towards a more modern approach and style of quilting now. I think that my style is still evolving. It does not know what it wants to be when it grows up, very much like myself.
3. Why do I write/create what I do?
This should be one of the easiest answered. Quilting is an escape for me. It is the one thing in my sometimes hectic life that is truly mine. I taught myself to quilt. I tried to make a quilt when we first got married and it was a disaster. Rotary cutters and all the specialty rulers have been a godsend. Once I got successful results using good tools and creating a proper scant 1/4 inch seam allowance, I have not looked back and made numerous quilts.  I lost my Mom last year and we used to talk multiple times throughout our weeks on what sewing, quilting and embroidery projects we had going on. Mom never got into quilting and I had not tried machine embroidery, but we understood what the other went through to create their art. I have since inherited her beloved embroidery sewing machine.  I really missed our talks and it was suggested to me by my quilting friend and fellow blogger, Cheryl to start my own blog. I am slowly trying to find my blogging voice.  My Mom liked to go to her embroidery group meetings for show and tell nights. I find posting photos of my finished quilts and uploading to the various linky parties to be similar nature just in a world wide reaching spanse. It is great fun to hear from fellow quilters and to hear that like what I have created. I think my Mom would have liked this as well.
I would like to share a photo of the one quilt that my Mom and I worked on together. I had been given a quilt pattern to test and some donated fabrics. I added in a couple of my own fabrics. It was just a test run to try out the block piecing. The quilt top sat in a storage bin for a while and I was actually going to give it to charity, as it was not my style. I just do not particularly care for overly flowerly prints.  My Mom took a liking to it and decided to add some borders to make it a bit larger and she did some simple quilting on it. She shared this little quilt at a couple of her embroidery groups and the ladies all like it and supposedly could not believe I was going to give it away. My Mom had this quilt displayed on a lounge chair in her sun room. After she passed away, I decided to bring the quilt back home and it resides on my rocking chair.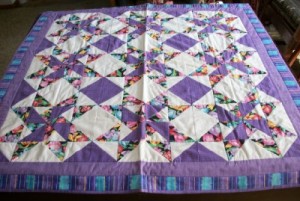 4. How does my writing/creating process work?
Over the years I have spent numerous hours scouring various quilting magazines for potential ideas. I now use Pinterest to find my future quilt ideas and plans. I do not own any quilt design software. I hope to some day. Over the years I have scratched out designs on graph paper to see how something might look like. I go back and forth from having a quilt pattern and needing fabric to having the fabric and needing a pattern to fit the fabric I have. There are so many quilt patterns to choose from and so many fabrics. I have noticed many designs today are for smaller quilts so if it is something I like, I end up adding more blocks to get the size I want and need. I do love all the precut fabrics that you can find on the market these days. I just do not always have some on hand. Alot of times I cut my own charm squares, layer cakes and jellyroll strips from yardage or fat quarters I have on hand. If I do have precuts, I like to create the largest quilt I can with them to make the best use of the fabrics.
One of my favorite tools is the Quilter's FabriCalc, a specialty calculator I found at JoAnn's Fabrics. It helps calculate squares, blocks and quilt yardage quite easily. It is quite helpful in creating your own precuts .
My writing/blogging style is said to be like having a conversation with me. I am told that is a good thing. My husband or non quilting friends may disagree. I write as it pops in my head.
I am passing along the blog hop challenge to three fellow quilters I have met online since starting my blog. We have shared and linked up our quilt projects to the same place and shared comments back and forth.
First is a fellow Iowan, Valerie at re-engineered. Valerie was trained as an Engineer and her family lives on a farm just like we do. It was small world to find out we live off the same highway in Iowa, just opposite ends. She shares on her blog some really cute projects like quilts and bedding for her little boy to one really lovely Swoon quilt. A Swoon is on my To do list and hers makes me want to start up one soon. Second, I nominate the Mother Daughter team of Prairie Sewn Studios . Linda is the Mother of this quilting team and she is from Nebraska and Laura, the daughter is living in California. They have many lovely projects that they share on their blog. This Mother Daughter team is even published, having written a book on English paper piecing. I round out my blog hop nominees, with my new friend Zafira, who lives in the beautiful Greece. She has a a blog called Zarkadia quilts and crafts. Zafira has a love for typography applique and has made some really cool quilted pillows. She has an Etsy store that she sells her finished products. She sews some really nice pouches and bags as well.
Thank you for stopping by to my blog on this stop of the Around the World Blog Hop. Please check out my blog, The Carpenters Daughter who Quilts for other quilts I have finished and my current works in progress. Please keep an eye out for my friends posts on their stops on this blog hop as they share their blogs on October 13th.
Hi, Today I thought I would share a Flashback Friday quilt finish. I made a wedding quilt for a now permanent snowbirds couple who got married on Valentine's Day in 2013. The couple are our daughter inlaw's Mother and StepFather. They were both leaving the cold winters of Iowa and Minnesota for a new home in Texas and since the couple and their families had lived everywhere from California, LasVegas, to Branson, Missouri, it seemed fitting to make them a Route 66 themed quilt as their gift.
My quilt's focal print fabric is Alexander Henry's Route 66 fabric. It is such fun fabric. Alexander Henry has to be one of my all time favorite fabric line designers.  I had made a quilt before using this fabric for a friend of the family who was an over the road trucker. The guy even had a full arm sleeve tattoo of Route 66 locations so the quilt was loved. I thought odds were in my favor that this couple would like a quilt with the same fabric.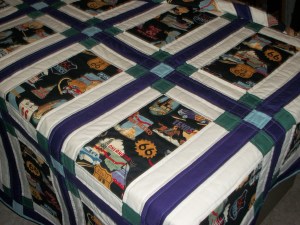 I did my best to pull coordinating colors from the Route 66 print to give the most Wow factor. I knew our DIL's Mom would like the purple and I liked the teal and soft blue as accents. The size of the photos in the design of the fabric are quite large and I needed to come up with a design with large blocks so it did not chop up the focal print willy nilly.
In preparation of writing this blog post, I searched to find what the name was of the quilt pattern I used. I am pretty sure it was a design in one of the Better Homes and Gardens  American Patchwork and Quilting magazines or had been on their blog. The quilt ended up finishing at 86 by 92 inches. I had calculated I had quilted it with over 10,000 inches of quilting.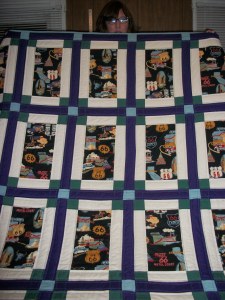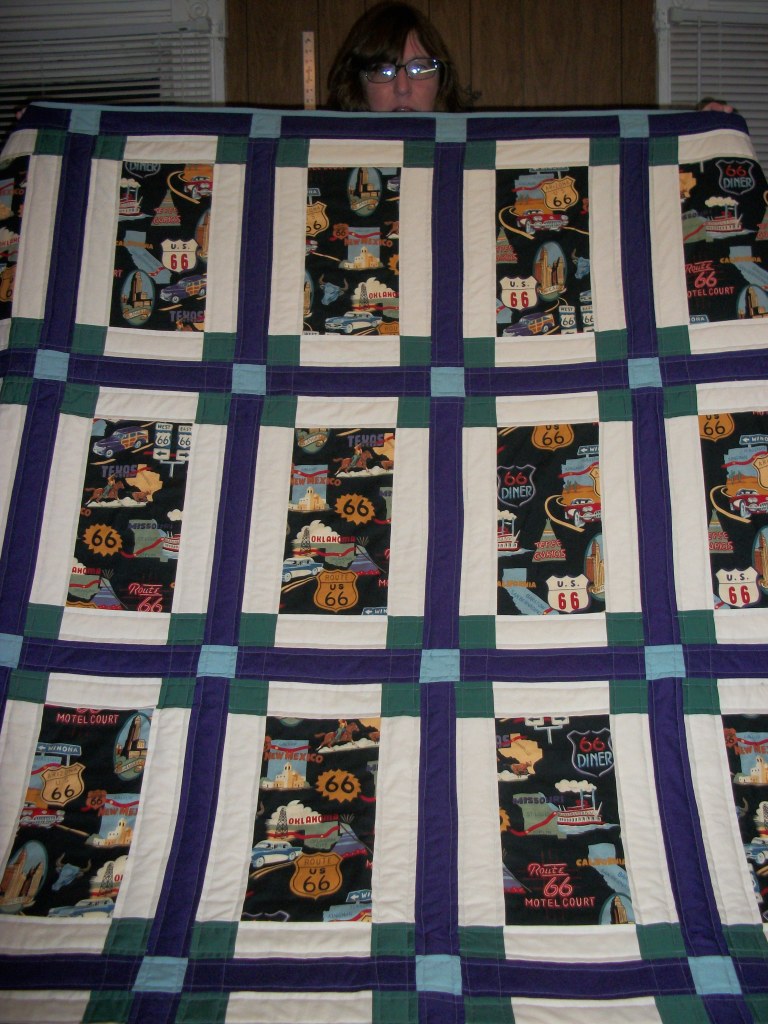 For the back of the quilt, I pulled all the coordinating solids from the front and pieced in a stripe of the last of the Route 66 fabric. I now see it is from this quilt's leftover fabrics where I got some of the solids to piece into strips for our grandsons' Scooby Doo Crossing quilts that I finished last week. This was fitting since this couple are also their grandparents.
I really liked using this pattern and hope that I can find it back. I have another fun Alexander Henry print that could use a large block quilt pattern to show off the fun complexity of the design.
I will be sharing my quilt finish with Finish It Friday, Fabric Frenzy Friday, Link A Finish Friday,  Whoop Whoop Fridays, TGIFF,                          Show It Off Saturday , Lily's Quilts Small Blog Meet  and a few other weekend linky parties.
Hi, I would like to share my newly completed Scooby Doo Crossing quilts that I made for my grandson's 3rd birthday from the Adding Up Nicely pattern by Meadow Mist Designs. I had decided to make a matching quilt for his older brother so they could be used as bedspreads on their new bunk beds. I chose to use a layer of muslin cotton yardage as a replacement to standard batting in my quilts for the boys. It is amazing how heavy it makes the quilts. My sewing machine had no problem sewing thru the three layers or four layers when quilting across the appliqued names on the back of the quilts. I have made quilts before for other children and used muslin or another cotton as the batting and they washed and wore like iron. That is something needed when sewing for little boys. My binding was 2.5 inch strips folded in half and I attached them to the backside of the quilts and pulled them to the front and sewed them down by machine. I know that is definitely not the standard way to attach a binding. I did it once by a fluke chance and liked how flat it lay and it did seem to wear nicely on the quilt.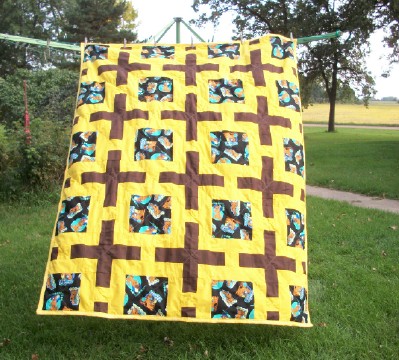 Here is the back of the quilts with Sawyer and Shaderek's names appliqued to the center stripes.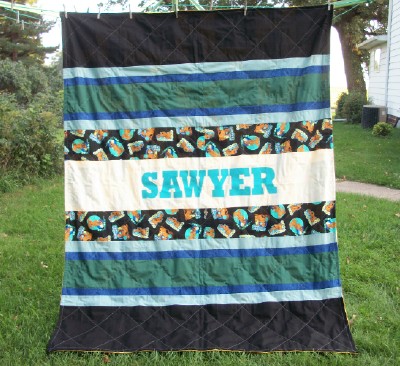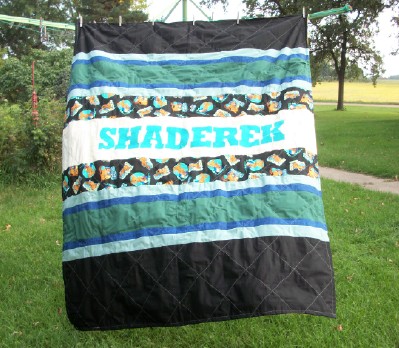 For once in what seems like many years, I got my quilts completed two days before our party. It took me 2 hours to whip out the quilting on each quilt that is when I had enough bobbins wound in advance. Since I was not so rushed to take photos, I was able to attempt to be more creative in how I showed off my finished quilts. I managed to not use our bed and I found natural lighting. It is wonderful how nicer the quilts look shown this way.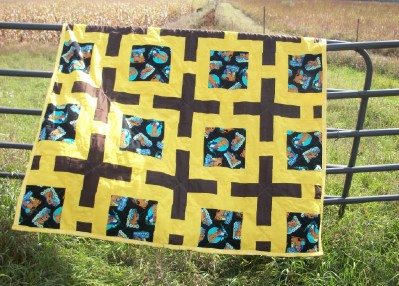 Here is my Scooby Crossing quilt on the gates to our corn fields and the winds decided to pick up and catch the corners of my quilt.
Sawyer seemed to really like his quilt as much as 3 year old can. He yelled, "Scooby" when he opened it up. I think I saw him lean over and give his name a kiss when his greatgrandma explained that it was his name on it. His brother Shad told me "that his" better not be Scooby. Well, It is! And it has your name on it too! Haha  I am sure he will warm up to the idea some day. His likes and dislikes have taken a major turn since he is in school.
Our whole world almost came undone the day after Sawyer's birthday party. The next day he and his brother attended a friend's 5th birthday party and the party was held at the swimming pool at a local hotel. It was just a handful of kids and all the parents at the pool. Everything had been well, until somehow Sawyer ended up out of his floatation device and somehow fell into the pool. Sawyer was found floating face down in the water by the 5 year old's sister who is just 10 years old.. She drug Sawyer out of the pool. He had taken on alot of water and was not breathing. Her Dad had a voice in his head tell him, that he Had to start chest compressions and CPR. Thankfully after  a couple of chest compressions and Sawyer puked up a bunch of water and started breathing again. The Paramedics were there in about 4 mins, which they told us was record time. They were so happy to be able to walk in there and find Sawyer crying. This was the best sign. They had unfortunately lost a little boy recently to a drowning at another hotel pool. Sawyer was taken by ambulance to the hospital to be checked out. The Doctors said he was looking good but one has to be so careful about the chemical burns to the lungs from taking in all that chlorine water. Pneumonia can set in within the first 6 to 8 hours and the threat of a dry drowning later. He was life flighted to our university children's hospital. He did amazingly well and was awake and talking with the wonderful flight nurses and paramedics. He did not cry once. None of us had been allowed to fly with him. Once we got to the hospital, he was found sitting up in bed watching cartoons. He was kept overnight for observations and thankfully showed no signs of pneumonia or any other problems. He did not even need to be on oxygen when he was at the second hospital. Once we were released from hospital we knew we had our Sawyer back.  He was completely normal. Talking, singing and getting into things.
Our family truly believes in Guardian Angels after this weekend. We will forever  be in debt to our family friends for being there and pulling Sawyer from the pool and getting him breathing again. All it takes is a blink of an eye and life can be changed forever. We are so grateful that we have our precious grandson back and can enjoy many birthdays to come.
I will be sharing my quilt finishes with various linky parties this week.  Fabric Tuesdays,  Linky Tuesdays , Sew Cute Tuesdays , WOW Wednesdays , Let's Bee Social,   WIP Wednesday,  Show and Tell Tuesdays,  Needle and Thread Thursday, Fresh Sewing Day,  I Quilt Thursdays ,
Hi, I thought I would share a my quilt finish in honor of birthday week in our family. It was my Father inlaw's birthday last week and our grandson's birthday this week. I did finish up my two Scooby quilts 2 days ahead of time but I will hold off showing them until after the birthday parties this weekend. I will be sharing the quilt I made for my Father inlaw today.
We are a farm family so of course we love tractors. We also love airplanes, well a very specific airplane. My Father inlaw's Uncle designed and built the Monocoupe airplane back in the 1920's on the old family farm place. You name it we have it with Monocoupes on it, from books, Christmas ornaments, models to coffee cups. I have blue prints from one of the racing Monocoupe airplanes that was made into a toy model. I need them framed yet for our office someday, but I can envision some sort of quilt with the designs embroidered or maybe having some Spoonflower fabric printed with the designs would be the ultimate fun. Somewhere and somehow in the last 10 years, my Father inlaw and his brother got interested in the Railroad and specifically Speeder Cars, the motorized cars that the railroad maintenance guys run up and down the tracks with. A friend had one, so they ended up with one. A few years later, and I think they now own at least 3 speeder cars between the two brothers. They load them up on trailers and haul them to events all over the Midwest and ride the rails on abandoned rail lines with their group of folks from all over the United States.
It is always hard to come up with an original gift for birthdays and holidays for my Father inlaw as if there is anything he might like, it is likely he may all ready have it. I decided to make him a quilt of his own. I had made him a fleece blanket years ago with John Deere tractors on it. I was on a mission to find something unique or at least different from what others might have, that was railroad related. I do not have access to many large quilting or fabric stores, so my fabric searches always goes online. I came across some rather interesting quilting material that had all sorts of train company logos all over it. With train companies that are no longer under some of the names listed. I do not recall ever seeing this fabric and they were selling it in a 3 yard piece on Etsy. I think I watched this particular fabric item  on Etsy all summer long, hoping and praying they still had it while I made up my mind what exactly I could make with it.  I finally decided to just go for it and purchase the fabric. I was not finding anything like it anywhere else, the amount of fabric was good and the price was really reasonable. I am not sure if the fabric is vintage new old stock. It was only 36 inches wide. It does not have the large selvage edges like we see today on fabrics. I think the only item I have come across online made with this material was curtains. I almost wonder if this had been curtains and someone cut off the hems. Whatever it was intended for originally, I was going to make a quilt with it.
I chose to use the Warm Wishes quilt pattern and match up my train logo colors with some pretty bright marble tone on tone fabrics.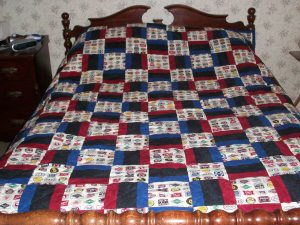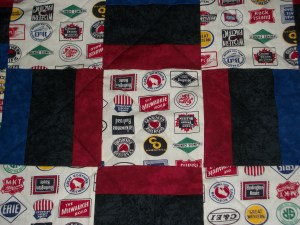 I really like the black, red and blue marble blender fabrics. They add a major punch of color to the quilt. It ends up being a very manly quilt. I choose blue for the backing of the quilt and I ended up using every last bit of the vintage train logo fabric in the quilt piecing extra in to the back of the quilt.
Warm Wishes ended up being a fun and fast quilt pattern to use. I had seen it mentioned over and over again on the Quilting Board as a favorite quilt pattern. This was my first time using it, and I will most likely use it again someday as it is an easy way to show off your favorite prints. This quilt of course was well received by Dad. I finally found something he did not have.
I will be linking up my quilt finish with Link A Finish Friday,  Can I Get a Whoop Whoop Friday?, Fabric Frenzy Friday , Finish It Friday,                and Show Off Saturday.
Hi, I thought I would give a quick peek and progress report on my two Scooby Doo Crossing quilts I am making for birthday gift for my grandsons.
The second of the quilt tops was finished being pieced over the weekend. I knew I wanted to feature both boy's names on their quilts. I have done this on a few quilts before. I made quilts for a former boyfriend of my daughter's that had his last name on the back like a Chicago Bears jersey, quilts with the children's names of one of our adopted deployed soldiers but my favorite had to be a Chicago Bears quilt I made jointly with my Mom for a retiring Marine Recruiter with his last name on back like the jersey and all the party guests signed the back around his name. I would have thought by now after making numerous name quilts that I would have all the letters printed out. Nope…was missing a W, which was needed for Sawyer's name. I forgot which font I used but after a frantic search was able to recreate it. When I look at the photos I took, it appears Sawyer's S is not sized properly. All my letters were sized the same and it is the same S as used in his brother's name. Maybe my alignment is just a tad off but since they are all fused and machine zigzagged on, they are not going anywhere. Somehow I notched off one of the top points of my W with the scissors and did my best to fill it in with stitching.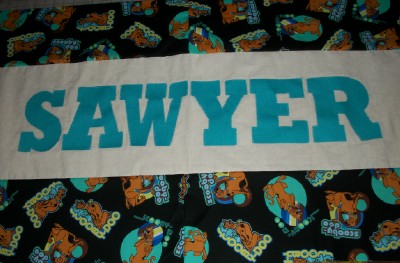 I feel very lucky to have been able to pull fabrics for the entire backs of these quilts from my stash. I found three shades of blue greens to make large striped components to add to the top and bottom of my appliqued name strips. I found 4 yards of black solid that I used to finish off the tops and bottoms of my back quilts. I feel it really pulls everything together. It really makes the names and Scooby prints bright colors pop out. I found the endless sewing of all the long stripes a bit tedious. I was thinking ahead and pressed the separate segments before they all were joined. The quilt backs turned out pretty cool and will make the quilts reversible. I may or may not cut out and applique the numbers 3 and 7 on their quilts yet to commemorate their birthday years.
So today, I have to finish pressing my quilt tops and can start basting the quilts together to prepare for quilting. I found a nice yellow on yellow stripe fabric that I want to use as binding. I am going to get them all cut out today and pressed so they are ready as well. All in all I am still looking good to finish both quilts in time for the birthday party.
Thanks for looking. I will be linking up my WIPs with WIP Wednesdays ,  Let's Bee Social , Needle and Thread Thursdays  and I Quilt Thursdays this week.
<a href="http://www.bloglovin.com/blog/12532307/?claim=3frwe3n49kn">Follow my blog with Bloglovin</a>
I would like to share today the final one of three quilts I made for our graduating nieces last year. I had come across what I thought was a fabric line of some really cute dog and cat prints. It would make an awesome quilt for upcoming veterinary student.
The fabric I chose was called Max and Whiskers by Basic Grey for Moda. I had purchased a layer cake of the fabrics and searched for a quilt pattern that would showcase the cute prints to their fullest. I came across a new to me designer from Australia, Roslyn Mirrington of Bloom.  She had designed a neat column based quilt design that you could use a layer cake and make two quilts from. The design is called Abracadabra. The pattern makes a twin size bed quilt and a nice size throw that would work for a toddler quilt. You can change things up for the second quilt by adding a different background and applique a name on it.  I do not use too many precuts so when I do, it is important to me to get the most mileage out of my fabric choices.
The instructions to Abracadabra are pretty straight forward with two cuts to the layer cakes, you can get creative on where you lay out your squares and rectangles. There is alot of sashing to be attached to the rows. And with careful pinning, the larger quilt went together nicely. I had a problem piecing the smaller quilt. I had to change sewing machines between the time of piecing the large quilt and the smaller one. I was having a problem with the presser foot of my Pfaff not going all the way down to resting on the feed dogs like it should. There must have been a difference in my seam allowance as the first 6 rows of the small quilt went together but some how the last two rows and the sashing seemed to have grown in length and there was no way they wanted to match up. I did not have a person in mind for the smaller quilt so it was no problem to scrap this one for the time being. I had just thought it would make a cute kid's quilt.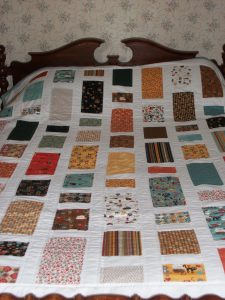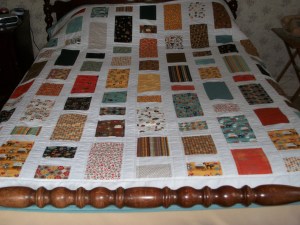 For the back of this quilt, I found a neat dot print that had all the colors of the Max and Whiskers fabrics in a single fabric. I purchased it from JoAnn's. I pulled a brown solid from my stash and added the golden mustard marble print as a striped accent to the back. The mustard marble also came from JoAnn's. I finished it off with a light blue. It might have been a Moda solid but I do not recall now which color it was. I like how it shows off the quilting so nicely.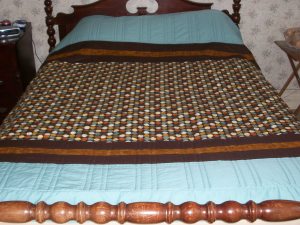 I really like how this quilt turned out. I like the columns and find the differing sizes of squares and rectangles give alot of interest. A little more fancy than just a simple coin quilt design. Our Vet student niece really liked the quilt and has taken it off to college with her. As for the pieces from the smaller quilt, I am thinking of reusing them to design a matching pillow. I have scraps stashed away from the other nieces' quilts, Chain Linked and Pegs that all could be used to design pillows.  These are on my future WIP list for possible Christmas gifts. Fun projects to try out the quilting modules on my inherited Designer 1 sewing machine.
I will be linking up this quilt finish with Anything Goes Mondays,  Show and Tell Tuesdays, Linky Tuesday, Fabric Tuesday,  I Quilt Thursdays,  Needle and Thread Thursdays,   Fabric Frenzy Friday,  TGIFF,  Can I Get a Whoop Whoop?  ,  Link A Finish Friday , and  Show Off Saturday .
Yesterday, I had a very productive day of sewing. I am continuing to sew on my second Scooby Doo Crossing quilt top made from Meadow Mist Designs Adding Up Nicely pattern. I finished cutting my strips into the needed size and have all but the last strips sewn onto the 32 "H" patterned blocks. These blocks should be finished today. I am still well within time of completing my two quilts by the 27th.
I got to thinking about one of my long waiting WIPs when I took a break from piecing my blocks and decided to pull it out of the bin and see if I could make some quick work of finishing sewing  the blocks into rows and finish the quilt top.
My Square in Square patriotic quilt ended up finishing as a larger quilt than I thought I was going to make. Or I should say longer in length. I really enjoyed making the blocks. I took extra time to square up my blocks and it was so, so helpful in piecing them together. All the seams just automatically wanted to butt together. The main focal print of my squares is a white background print with US Flags and a script word of America printed all haphazard over the fabric. It makes me wince a bit that no matter how flipped my cut squares around some of the flags were going to be upside down.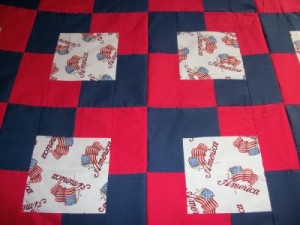 I took a few quick photos of my quilt top finish. I need a better set up to show off my quilt finishes. Alot of times when I have finished a quilt, I am taking a photo before it is rushed out the door as a gift. I end up laying them out on our 4 poster bed to be able to get as much of quilt in a photo. I know it is not very imaginative but when I did not have a helper to hold it what was I to do. This morning the sunlight showed oddly through the windows, so my photos are not the greatest at showing the true shades of blue and red in my quilt. I tried to take a photo of the quilt hanging from the upstairs railing. Please do not pay any attention to our woodwork needing a much needed paint job.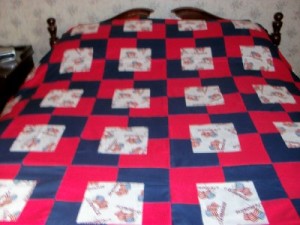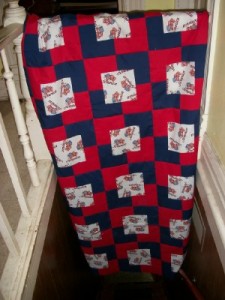 When I pulled out the pieces of this WIP quilt from my fabric bins, I decided to take a couple quick photos of my patriotic fabric stash that I wrote about last week. I had forgotten some of the prints that I had. I was also surprised on what yardage I had of some fabrics. I also had a great find of a mottled blue solid and a mottled yellow tone on tone striped fabric that I can use in designing the pieced backs for the Scooby Doo quilts for our grandsons. The yellow stripe would work great for binding. I am very thankful to find them as I am on a tight budget this month.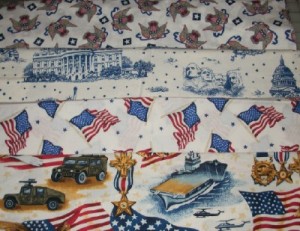 I really like the print with the Army tanks and Aircraft Carriers. I think I have close to 2 yards of each of these.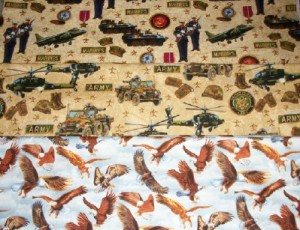 Marines, Army and Bald Eagles. What is not to love. Again upwards of 2 yards a piece.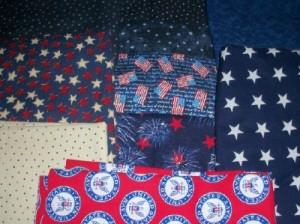 All sorts of blues and stars galore. And can not forget the Navy Seal print. These fabrics range from under a yard to over 2 yards.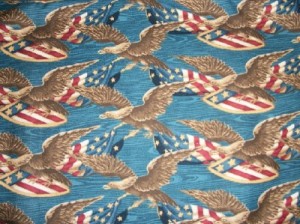 This has to be one of my favorite fabrics. I used the brown wood grain version of this fabric as the backing of the patriotic quilt I made and donated to a Wounded Warrior Foundation auction. I purchased two 3 yard pieces of this denim blue wood grain and eagle print for future backings of  quilts. This fabric has such a wonderful hand to it.
I have various white fabrics and shades of blue and red solids that I can put with all these fabrics to make numerous quilt projects. I usually purchase my white and cream solid fabrics by the entire bolt. One has to love those 40-50% off coupons that JoAnn Fabrics puts out. I used my Christmas money from my Dad to get another bolt of muslin at an end of the year mail order sale from JoAnn's. The bolt still has the plastic on it. I seem to be getting short on white solid, so maybe my birthday money next month will go to that purchase.
Thanks for continuing to read about all my quilting projects. Please consider following my blog on Bloglovin or by email or Facebook.
I will be linking up this quilt with Fabric Tuesday,  Let's Bee Social and WIP Wednesday.
Happy Sewing!
Shelley
Twitter