Broken Frames Quilt Completed
Heads Up! 
Make sure you come back to my blog on Monday, the 8th as I will be participating in Sew Mama Sews Giveaway Day. I will be giving away a layer cake of  Bali Batiks (so pretty that I had to get one for myself) and a set of 3 of Meadow Mist Designs quilt patterns that will get you started on making your own lovely batik quilt.
A winner for  the Looking Glass pattern contest was chosen this morning.  Sarah Craig
Hi, I would like to share today my completed Broken Frames quilt. Broken Frames is a pattern by Meadow Mist Designs and it was created with 39 different black and white prints. Most of them were pulled from the black and white prints that were in the Moda Shades of Black fabric line. I added other black and white prints that I found on Etsy and Ebay. A turquoise solid for sashing is an amazing pop of color against all the black and white prints.
I made the quilt top earlier this fall and started quilting it last week and finished binding the quilt Thanksgiving morning. I presented the finished quilt as a gift to my Aunt Bobbie yet Thanksgiving day. She simply loved it, which is the best outcome to creating something for someone when you are not sure if they will like it. My Aunt was so excited to show everyone her quilt. I ended up sending her photos off my phone so she did not have to lug the quilt with her everywhere she went. This is all I hope for when I create my quilts and give them as gifts, that they are well liked and well used.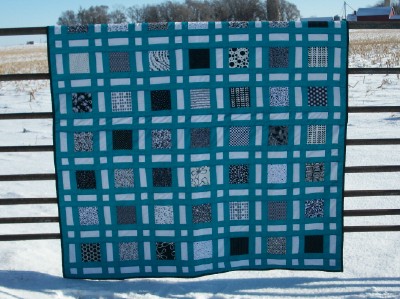 We had fresh snow for Thanksgiving and lovely sunshine. It was quite chilly trying to take photos outdoors.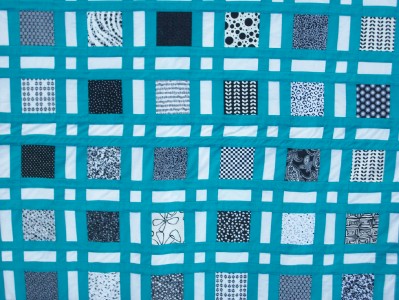 A closer view of some of the wonderful black and white prints.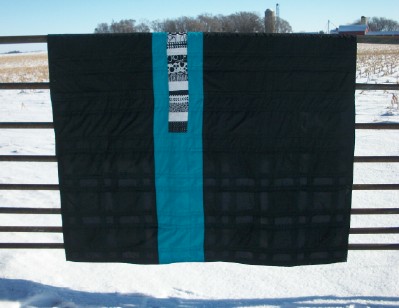 Here is the view of the pieced backing. I didn't realize how see through my black solid was.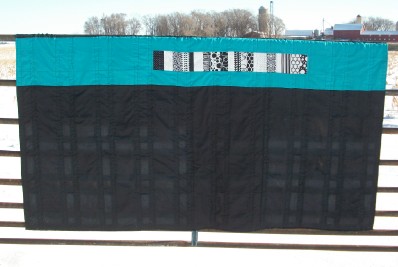 I really like how this quilt turned out. I would say it has to be one of my new favorite finishes. I like the off center striping on the back. For something that I just kind of threw together, I really like the end result. I kept the quilting to a minimum, as I worried about pulling the sashing off kilter even with my walking foot. It did quilt nicely over all the intersections.
Thank you for checking out my latest quilt finish. I will be linking up with various linky parties this week. It's always fun to share and see what the other quilters are completing this week as well.
Happy Sewing,
Shelley
13 Responses to Broken Frames Quilt Completed
Twitter