Looking Glass Quilt Blog Hop and Pattern Giveaway
Hi, My name is Shelley and welcome to my blog, The Carpenter's Daughter who Quilts. Today,  I am the last stop on the Looking Glass Quilt Blog Hop.  I hope all my US Readers had a wonderful Thanksgiving yesterday.
I was asked by Cheryl of Meadow Mist Designs if I would like to pattern test her latest quilt design, Looking Glass. I have developed a friendship with Cheryl for over a year now, since purchasing some of her other wonderful quilt patterns. Cheryl is the one who suggested to me to start this blog. I jumped at the chance to be able to play with her new design, Looking Glass. It's a neat design that can be made from charm squares or layer cake squares, or if you want to cut your own squares from fat quarters. It can be made in all sizes from baby to queen size.  The pattern goes together so nicely. It is very easy to assemble with chain piecing. Cheryl shows how to press your seams on your blocks and rows and everything joins up nicely in the end. I love that Cheryl's patterns have numerous charts and tells you how many strips etc for each size of quilt you choose to make and the directions are in one spot so you can easily keep track of what you need to cut out.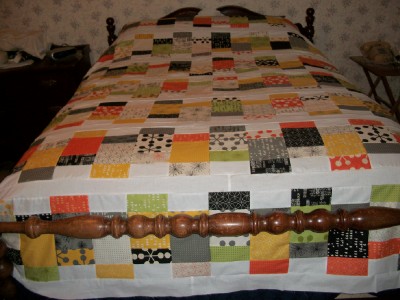 I chose to make the Queen size version of Looking Glass. It ends up being 90 inches by 89.5 inches. I chose to make my top out of the Zen Chic Comma line of fabrics. I love the bold graphics and typography. These are colors that are not usually in my comfort zone. I am usually stuck in a "blue" color scheme. I used Zen Chic's Barcelona line last year to make my Dad a quilt using Cheryl's Adding Up Nicely pattern. The Zen Chic fabrics just have such a nice feel to them. It was a joy to sew with them. I had 5 of the Comma charm packs in my fabric stash saved for making a quilt for our bed and when I decided I wanted to use them to make Looking Glass, I had to do a major hunt online to still be able to find additional charm packs. There was not much of the Comma line available anymore.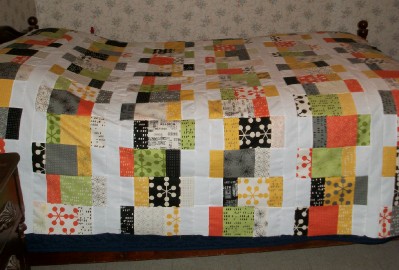 My quilt top is not quilted yet. With it being a queen size, it will be one of the larger quilts that I have had to quilt. I think I am leaning towards using rows of a curvy, scalloped scrolling pattern (if that makes sense.) I unfortunately do not FMQ yet, but will be working on that in the new year. Since this will be one of the first quilts I have saved in years to go on our own bed, I have time to make sure I pick out the right way to quilt my top.
I do have a pieced back made for this quilt all ready. Cheryl's instructions leave a few charm squares for you to add to your backing in a fun way, if you choose.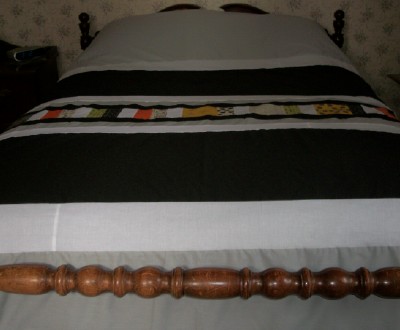 I added gray, black and white solids to make large color bands. Here is a close up of my pieced charm square center.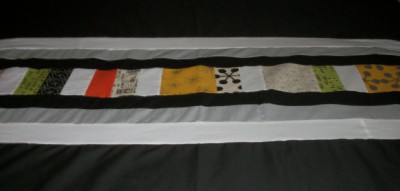 Now that I have shown you my version of Looking Glass, Cheryl has given all of us pattern testers a copy of Looking Glass to giveaway to one of our blog readers.
To enter the pattern giveaway, please leave a comment telling me an item that you are making for a Christmas gift this year. If you are a no-blogger, be sure to leave your email address so we can contact you.
For a second chance entry, let me know if you are a new or old follower of my blog. On the front page of my blog, there are links to email, Bloglovin, and Facebook. Let me know which way you are following in a second comment.
The giveaway will run til Friday, December 5th. If you can not wait to test your chances of winning, you can purchase the pattern on Craftsy or Etsy on sale for $5.50 til December 6th. If the chosen winner by chance has all ready purchased the pattern, their purchase price will be refunded to them.
And if you want additional chances to win check out the other stops on the hop.
Friday Nov. 21st: Cheryl @ Meadow Mist Designs
Saturday Nov. 22nd: Lin @ Lin's Quilts
Sunday Nov. 23rd: Beth @ Cooking Up Quilts
Monday Nov. 24th: Michelle @ From Bolt to Beauty
Monday Nov. 24th: Anna @ Fresh Dew Drops
Tuesday Nov. 25th: Chelsea @ Patch the Giraffe
Wednesday Nov. 26th: Shauna @ Shauna's World
Friday Nov. 28th: Shelley @ The Carpenter's Daughter Who Quilts (You are here.)
Thanks for stopping by and good luck on winning a copy of Looking Glass.
A winner has been chosen: Sarah Craig.
Happy Sewing,
Shelley
32 Responses to Looking Glass Quilt Blog Hop and Pattern Giveaway
Twitter