WIP: Charming Quilt made with 39 Black and White prints
<a href="http://www.bloglovin.com/blog/12532305/?claim=cgzm2p3f7fz">Follow my blog with Bloglovin</a>
Today I am sharing my largest Work in Progress quilting project.  It is a Queen sized quilt made from the Charming quilt pattern designed by Cheryl at Meadow Mist Designs.
I came across Cheryl and Meadow Mist Designs last Fall, from pinning various quilts of hers to my Pinterest quilting inspiration boards. I was on a search for different cross and/or plus quilt block designs. I first come across her Adding Up Nicely and Charming quilt designs. I really liked the look of her designs and that there was many different options in either the blocks or quilt size. Cheryl has great cutting and sewing instructions.
I had purchased a fat eighth bundle of Moda's Shades of Black fabrics. I was looking for a design to use as many possible black and white prints. Moda's Shades of Black fabric line has white on white, black on black, gray on white and white/black combo prints. The Charming quilt design has two quilt design options, the first would use upwards of 6 charm packs or 245 charm squares or option two allows you to add in some alternate solid color cross/plus blocks and only use 120 charm squares of your favorite prints. I chose to use the second option and add a pop of color with turquoise cross blocks.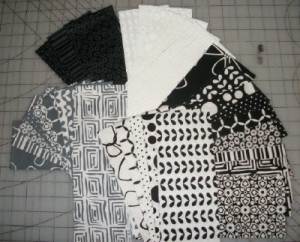 For my fabric choices, I decided to purchase extra black and white print fabrics to add more interest. I set aside the white on white and gray on white prints. I purchased a set of 12 different fat quarters and a set of 50 black and white charm squares from some Ebay and Etsy fabric sellers. This is how I came up with 39 different black and white prints in my quilt top. I cut my own charm squares from the fat eighths and fat quarters. By purchasing the extra fabrics and cutting an extra assortment of 5 inch squares to get the look I had in my head for this quilt, I now have fabric cut ahead that can be used for other quilts. I have 157 extra charm squares plus a pile of 3.5 inch strips from the fat eighths.  If I would add a totally different solid color, like lime green or pink or red, I can have endless different looking quilts.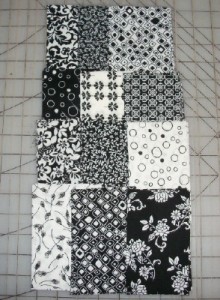 I spent extra time making sure I had an accurate 1/4 inch seam allowance. I had recently changed sewing machines and was creating too large of a seam allowance. I figured out it was needed to use the inside of my presser foot and moving the needle over one stop.  I am in love with the turquoise crosses in this quilt design. I think it gives just the right amount of color.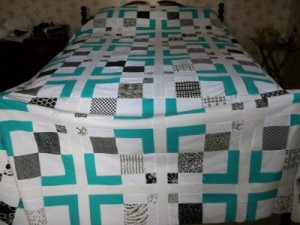 Now my task is to figure out how exactly I want to quilt this quilt. I have made numerous quilts, but not one quite this large. I have never truly attempted free motion quilting on my domestic home sewing machines with much success.  I am quite proud of this quilt top and I want to do it justice and not just use straight line quilting and cross hatches. So today, my quilt top is setting in my to finish bin where it can stay safe and clean.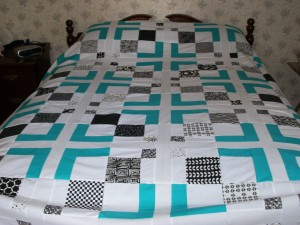 I am linking up with Freshly Pieced Modern Quilts WIP Wednesday,  Needle and Thread Thursday @ My Quilt Infatuation,  And Sew We Craft Together Linky Party  and Sew Darn Crafty @Sew Many Ways.
I am up to hearing any and all suggestions on how other quilters would quilt this design???
15 Responses to WIP: Charming Quilt made with 39 Black and White prints
Twitter