Monthly Archives:
February 2015
Hi, I would like to share my latest quilt finish. This is my Eagles Landing quilt made from the Adding Up Nicely pattern by Meadow Mist Designs. This is to be a gift for our Uncle Max whose birthday was this week. This is a pretty fast quilt finish especially since I only started it on Tuesday morning. I spent a day and half pondering my possible backing and quilting choices.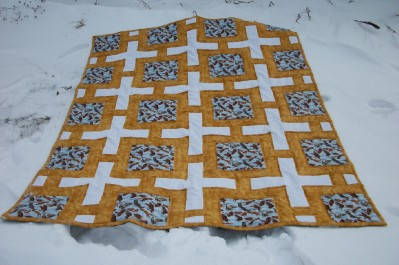 I quilted in all the gold areas with a yellow/gold thread. It makes the white pluses and eagle print blocks pop out.  I really like how the quilting turned out. My machine was nice to me this time and kept a consistent nice even quilting stitch. There was lots of stopping and turning using a domestic machine that only has a 7 inch throat opening, which is actually only 5 inches at the top. As long as I told myself it's a walking foot and not a running foot, it was a smooth operation.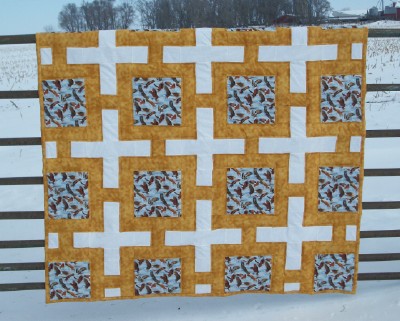 We had 5 inches of snow this week, so it makes a nice background.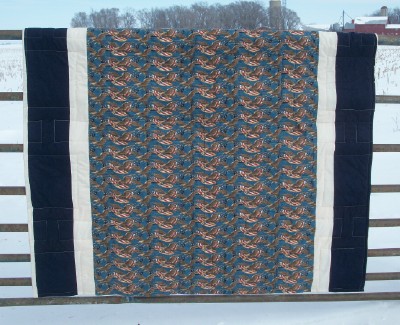 For the backing, I used a single piece (90 inches worth) of a patriotic vintage eagle print fabric called Williamsburg by American Heritage. It is the prettiest denim shade in a wood print for the background. I used a brown version of this same print for the backing of the patriotic quilt I made for the Wounded Warrior Foundation auction. I have another 3 yard piece of this fabric that can be another backing for a quilt.
I am linking up this quilt finish with Can I Get a Whoop Whoop ? and other weekend quilt linky parties.
Thanks for stopping by.
Happy Sewing,
Shelley
Hi, I am sharing today what is probably one of my fastest quilt top finishes. This is made with Adding Up Nicely by Meadow Mist Designs and the blocks are super-sized in the same fashion as my Scooby Doo Crossing quilts . I started cutting the fabrics on Tuesday morning and had the entire flimy put together by the time supper was on the table except for the last three rows. I finished attaching the last three rows this morning.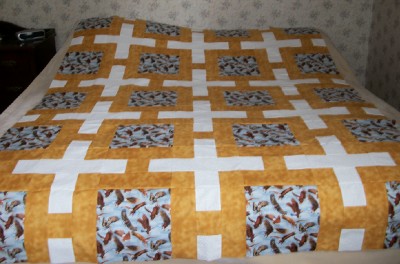 I am making this a gift for our Uncle whose birthday is today. He is a Viet Nam Veteran. His family farm is a prime location for bird watching and has regular visitors of all sorts of wildlife including eagles. A family joke would have been to make this out of Turkey Vulture fabrics as he used to be visited by numerous buzzards at one time and they would hang out on the eaves of his barn. Eagles are a more beautiful bird of course, and fitting as a patriotic theme as well. I am looking to piece a stars and stripes backing to make the quilt even more patriotic. I am so happy that all my intersections joined up nicely on this quilt top. Yeah, for pressing the seams in opposite directions in a consistent manner!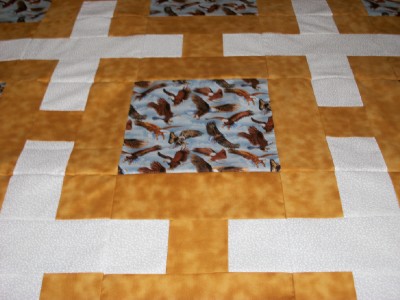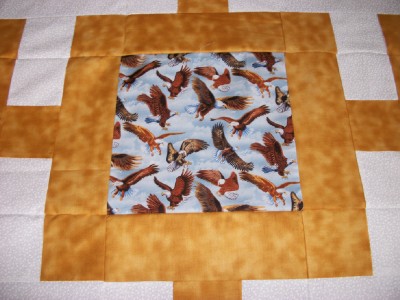 I purchased the eagle print from Hancock Fabrics last year. It was an end of the bolt (2 yds.) and I thought I could come up with a good use for it in the near future. Nice prints like this are few and far between. The gold or mustard is a JoAnn Fabric's exclusive. I just found it on Saturday and with a 50% off coupon, I purchased all that was left on bolt (over 6 yds.). I will be able to use it in a quilt I have in the works in the near future. And the white fabric has diamonds or triangles in a slight cream color on it and this fabric has been in my stash since maybe 2001. I know I have used it in other quilts and still have quite a bit left, maybe it can go into a low volume quilt project in the future.
I hope that I am able to finish up this quilt yet this week, and get it delivered. I am looking to finish quilting my little Dr. Seuss baby quilt this weekend in time for Dr. Seuss' birthday on March 2nd. I intended to give it to my SIL, but we also have a friend who is going to be a Grandmother for the first time soon, and she is the biggest Dr. Seuss fan, so it might be fitting to gift it to her. Our Niece gave birth to a son this morning, and he was given the name Connor Earl. I have been looking at possible Irish Chain quilt variations as a possible quilt for him, in honor of his Irish family backgrounds.
I am linking up this quilt top finish with WIP Wednesday and various mid week linky parties.
Happy Sewing,
Shelley
It's better late than never. I have my own Friday Finish to share this week. I have been hosting TGIFF linky party today so it's only fitting that I get my top finished before the linky party ends.
This is my Batik Catawampus and Yes, it is a version of a scrappy Irish Chain (is described as that even on the pattern cover. ) It has 27 different batiks that I had scraps from making quilts over the last 5 years.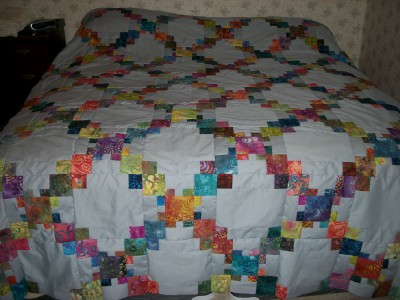 It finished off at the 100 inches square. I am thinking that I might want to add to the two sides to make it 110 by 100 as it does not cover the sides of bed as far as I would like.  I am thinking of add a strip of the solid gray and somehow incorporate the last few scraps I have.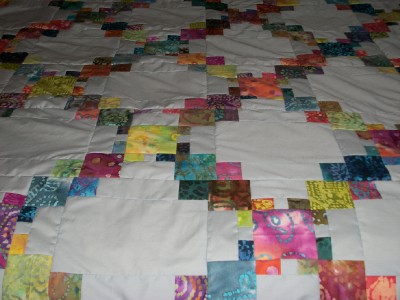 As for quilting this in the near future, I am thinking of some organic waves all across the quilt. I have never sewn or quilted with Aurifil threads as I live in the middle of nowhere and it just is not available around here. I did purchase a spool last year to try out sometime, and for some reason I picked a variegated color. I am thinking it will finally work with this project. It is Aurifil Mako'NE 50/2 in color 3817. Since I do not know much about this thread, I do not know whether the one fairly decent size spool will be enough to do what I need. I think I would just use as the top thread. For a back to this quilt, I am going to use gray and add some navy and possibly pull some of the bright colors from the front. I had planned on using some of the last scraps of the batiks for the backing but am thinking now that they might get all used up in extending a border.
It's been a long week's sewing but I feel quite successful in cutting all the multiple fabrics for the quilt and assembling the whole top with in a week's time. It has been fun having the chance to host TGIFF and I am enjoying seeing what everyone has completed. There is a lot of beautiful work and it's quite inspiring. Be sure to check it out if you get a chance.
I am linking up my quilt top with Crazy Mom Quilts, Can I Get a Whoop Whoop?, Oh Scrap and of course TGIFF.
Thanks for stopping by. I hope that everyone has a great weekend.
Happy Sewing,
Shelley
Hi, I am Shelley and I blog as The Carpenter's Daughter who Quilts. I am hosting TGIFF (Thank Goodness It's Finished Friday) linky party this week.
I have been working on creating a queen/king sized batik quilt from the pattern Catawampus by Freckled Whimsy this past week. I have used scraps from 27 different batiks that I have used previously in 4 different quilts over the last 5 years. (I have blogged about 3 of them, Buttonholes, Shadowbox and High Tea.)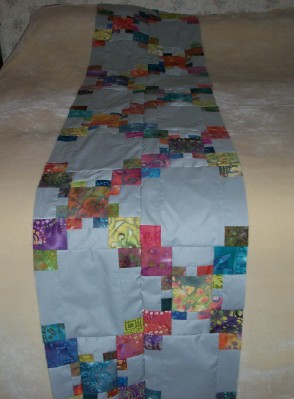 The quilt top will be 100 inches square and will fit our king size bed fairly well. I layed the first part of my flimsy across the bed from head to toe and side to side. It would be great if the pattern was 110 by 100 inches and it would fit more how I think it should fit the bed. The background color is a soft gray but looks rather blue in the photo.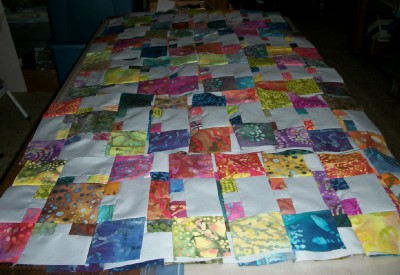 Here are the rest of my rows of blocks. I had hoped to have the whole flimsy together before the time I needed to start up this week's linky party. I do hope to have it finished on Friday so I can still have a Friday Finish. I have put many hours into sewing in the last two days. I am pretty excited to see this top finished. I hope that all my quilting friends that have ventured to QuiltCon have a great time and hope they will share what they learned and saw when they come back home.
I look forward to seeing what everyone has to share this week.
Please link up your latest finishes to TGIFF. Please take some time to look around at what our other quilty friends have been working on and be sure to leave some great comments for encouragement along the way.
Happy Sewing,
Shelley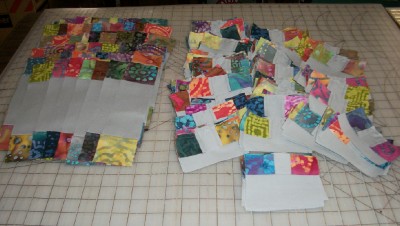 Just a quick peek at my lovely pile of batik pieced blocks. I have learned this morning, the very importance of keeping even the smallest scraps of fabrics. I finished piecing yesterday what I thought was 200 0f the smaller block components shown on the right side of photo. Well, I only counted 196, and with some quick scrambling and a few choice words, I pieced the missing four blocks.
Heads Up: I am hosting this Friday's TGIFF linky party.
I hope that all my quilty friends heading to Austin, Texas for QuiltCon have safe travels this week. Have lots of fun and take lots of photos!
Happy Sewing,
Shelley
Hi, I thought I would pop in and give an update on my work on my batik Catawampus quilt top.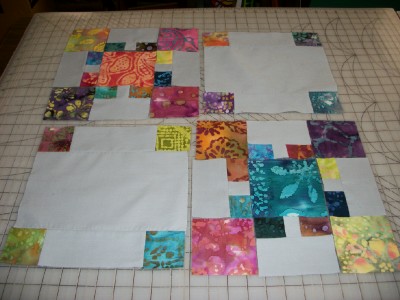 The quilt is made up of two different blocks. The one block will or should have 4 different batik prints, and the other block will or should have 13 different batiks in it. For my lay out, I only had four out of 15 different combos made up for the tiny 1 1/2 inch pieces of the second block. Keeping 1 1/2 inch strips accurate and straight can be a bit nerve wracking. I do really like that this quilt will be able to go together with lots of chain piecing.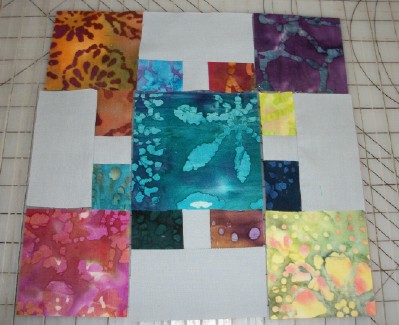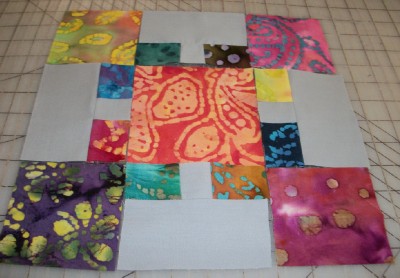 These are going to be so pretty and oh, so colorful blocks.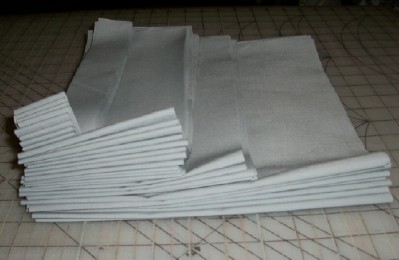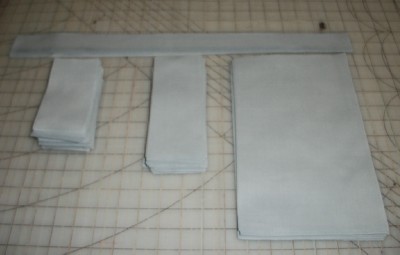 It is amazing how small of a pile that 6 yards of fabric can be cut down to. I purchased the fabric during the Black Friday sales at Hancock Fabrics. I have a little over 4 yds left on my bolt, so I can make a large strip in a pieced backing and have enough for binding as well.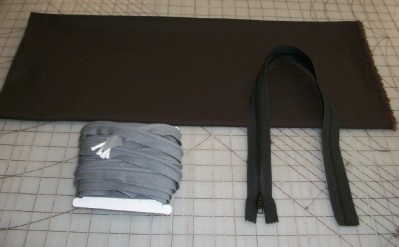 I am still working on my custom bench pillow for my grandsons. I did get 10 yards of 1 1/2 inch bias piping made yesterday. I will probably need 2/3  of that just for the cushion. The storage bench has brown and gray canvas basket/bins for storage of their gloves and stocking caps etc. The cushion will be 12 by 40 inches long. I found a 24 inch zipper in my supplies. The cushion is only 1 1/2 inches thick and that is what the zipper finishes off at. I am hoping to size the cushion so that the original encased cushion will slip into the new one.
I will be hosting next Friday's (February 20th) TGIFF linky party. I did not realize that this would be right in the midst of everyone going to Austin, Texas to QuiltCon, when I signed up to host.  I hope that there will still be someone around to share their latest quilty finishes. Please remember to stop by as I hope to have a fun finish to show you all.
I am linking up with this week's Crazy Mom Quilts and Can I Get a Whoop Whoop Friday linky parties.
Have a good weekend and Happy Valentine's Day.
Happy Sewing,
Shelley
Hi, Today I am sharing my latest quilt project. In the last two weeks, I have finished off and hand delivered the last two quilts that were to be Christmas gifts. With that task completed, it was of course time to cut out fabric for a new quilt.
I have chosen to make the queen size of Catawampus by Freckled Whimsy. The queen size is supposed to be 100 inches square, so I thought that should actually work as a quilt for our new king size bed. This pattern is set up to use Fat Eighths precuts and the designer has a really neat way about cutting all the needed strips and squares from the fat eighths. I won a Fat eighths set of Color Theory by V & Co. back in December. The designer shows her quilt made from V & Co.'s Simply Color, which is one of my favorite but is basically no longer available. My fat eighths set is of the whole line of fabrics but is not enough to make the queen size. I did multiple calculations and figured those fabrics should make a 90 inch square quilt, since I want larger than that, I will set them aside for another project.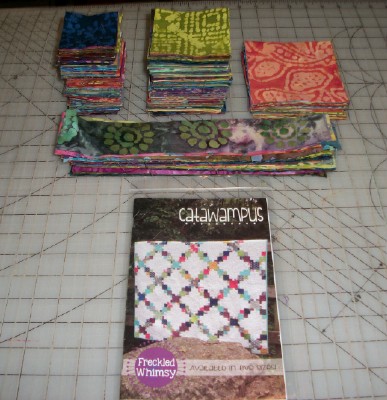 When I first saw the pattern in our local quilt shop, I thought it could look lovely in batiks. So I pulled all of my available batiks and with some careful cutting, I managed to cut all my needed squares and strips. I have had many of these batiks since 2010 and have used them in three quilts now. It is pretty amazing just how far some fat quarters can be stretched (of course I did add a few extras along the way, but not too many.) I am now left with some tiny scraps that may be able to be worked into a string or paper pieced pillow ( like arrows or feathers.)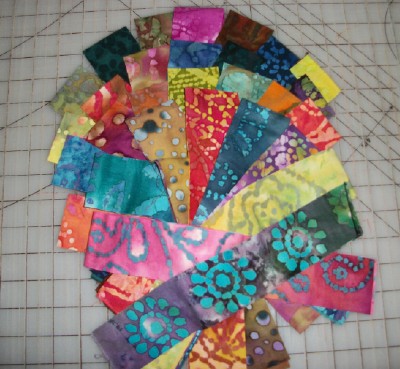 Here are all my pretties. There ended up being 27 different batik prints.
When I come across a new quilt pattern I like, it is fun and interesting to do an online search of Google Images to see what other quilters have done with the pattern. For Catawampus, I only have come across the designer's version and one other so far, with the last one being made with a gray solid background and numerous bright prints (not batiks). I have decided to use a light gray with my batiks.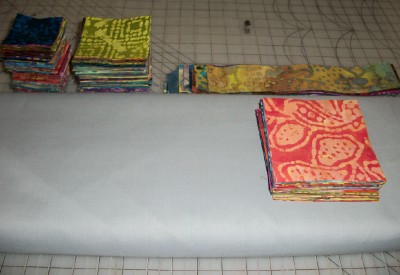 This quilt will certainly not be lacking in fun colors. Gray will help hide the cat hair. Buddy, the Maine Coon seems to be molting quite badly and of course loves to lay on our bed or all my quilt projects.
I hope to be able to get some  of the quilt blocks made to show yet this week. I have 6 yards of gray to cut into all the numerous background strips. I have one project I need to start and finish before I can start my quilt sewing. I am making a piped cushion for a bench for my grandsons and their Mom. It's 12 by 40 inches long and needs to have a zipper placed in it somewhere. The cushion that came with the bench was not to her liking, so I am in charge of creating a custom one to replace it (from cell phone photos and a carpenter's tape measure). So wish me luck. 🙂 I am off to make 6 yards of bias binding/piping.
I am linking up my new quilting project and it's fabric pull to various weekly linky parties. Thanks for stopping by.
Happy Sewing,
Shelley
Hi there, I have a Saturday finish to share this week. I have completed my Boxed In and Out quilt that I made in the colors of the Minnesota Vikings football team. It is a gift for friends whose whole family are big Vikings fans.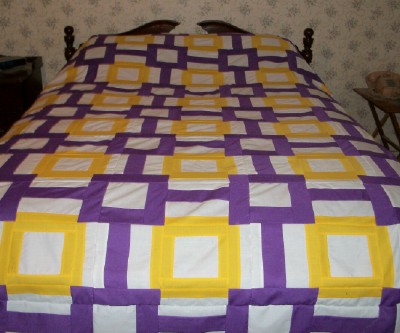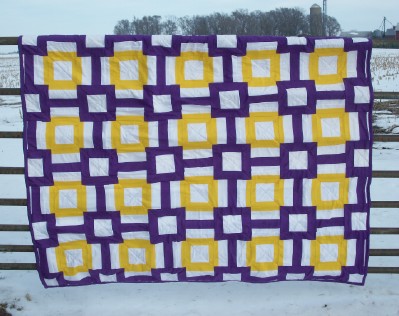 Here is Boxed In and Out finished, quilted and bound. I quilted diagonally across the blocks. The pattern designer quilted in multiple rows across and diagonal the blocks. I would have liked to have done that as well, but it did not want to line up for me correctly.
This is how I chose to make the backing for this quilt. I thought it looked nice to add the gray to the purple and gold. It shows the quilting nicely. (The wind picked up and I did not photograph the completed back of the quilt.) I used gray thread to quilt the top.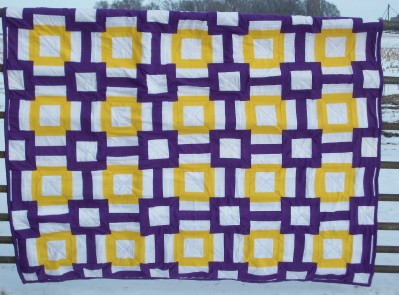 I reallly like the graphic overall look to this quilt. I hope that our friends like it as well. We get to meet up with them this weekend, after not seeing them for 3 months. This will be a housewarming and late Christmas gift rolled up into one.
It has been brought to my attention by one of my blog's email followers, that they are receiving three messages everytime I post. I do apologize if more of you or if all of you are receiving the same. It's a service from ReadyGraph and I am not sure how they have the email updates set up. I will ask my other blog admin for help in possibly correcting the matter as soon as we can.
Thanks for stopping by this week. I am linking up with Crazy Mom Quilts and other weekend linky parties.
Happy Sewing,
Shelley
Twitter