Hi, Welcome to my stop on the Best of 2015 Linky Party! Cheryl over at Meadow Mist Designs is hosting the Best of 2015 Linky Party. It is a great way to share some of your best quilting blog posts from the year. You could choose to share the posts that had the most views, or most comments. You could simply pick just your favorite finishes for the year.
I am choosing to share the top five posts with the most views for the year. I eliminated all those that were contest giveaways or part of a quilt along. You may click on the title of any of the links below to go back to the actual blog posts for more information or more photos.
Fabri-Quilt New Block Blog Hop: Blue Island Tribal Block Tutorial (1289 views) This blog hop was one of the most fun things I participated in this year. I created my own block design and tutorial. It was chosen to be included in the 2016 Quilter's Planner.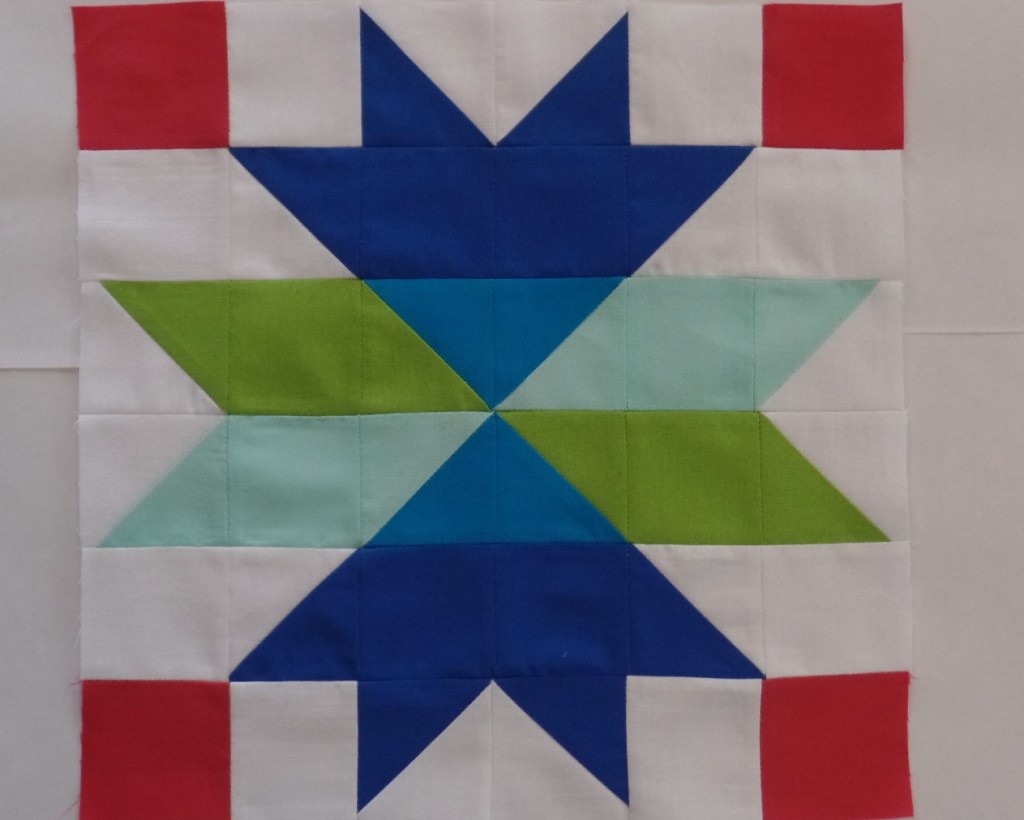 Batik Catawampus Flimsy: Friday Finish  (963 views) This fun queen/king sized batik quilt flimsy was created from a selection of batik scraps from my fabric stash used in all the batik quilts I have made over the last five years. I had originally thought I would like to increase the size of this top from 100 inches square up to 110 inches square. I have decided I like it as is, and hope to get it basted and ready to quilt after the new year.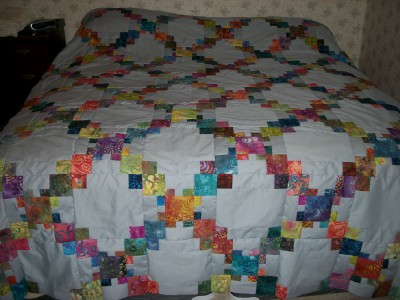 Flying Happy Flimsy Completed (860 views) This is the last quilt flimsy that I have completed this year. I love flying geese quilts, almost as much as I love plus/cross quilt block quilts. This quilt will be one that I actually keep for myself.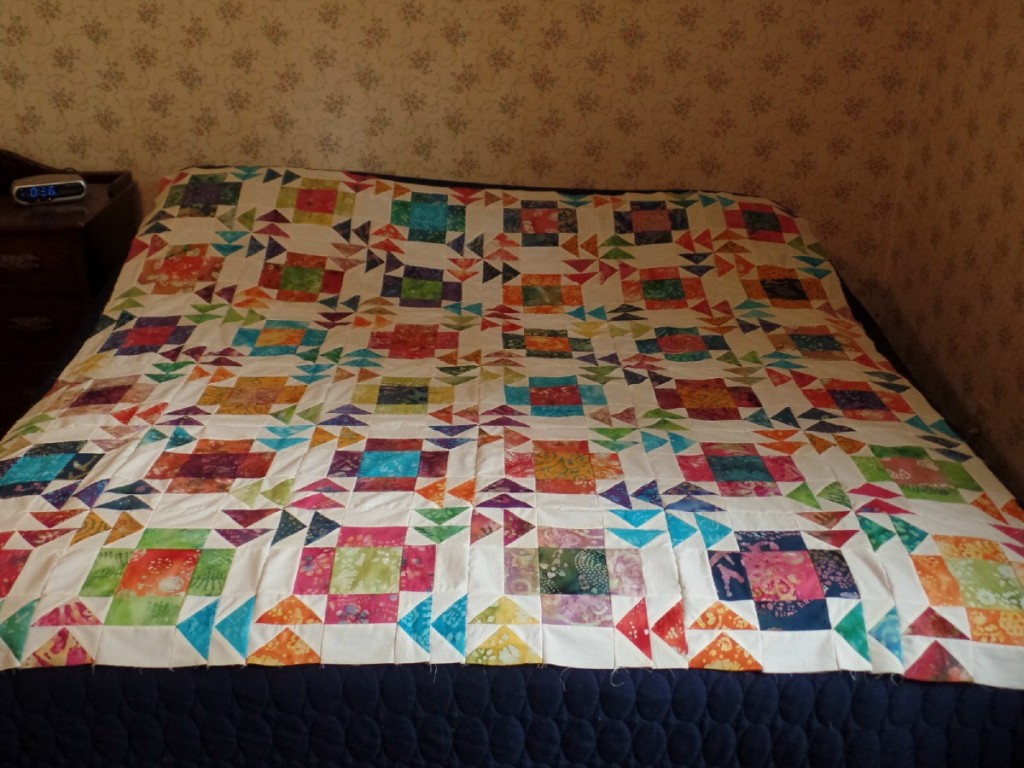 Plus Dash: A Friday Finish (830 views) This is one of my favorite finishes for the year. It was pattern tested for The Colorful Fabriholic. This was made special for a good friend from high school as a comfort quilt after losing her sisterinlaw to cancer. She loved it!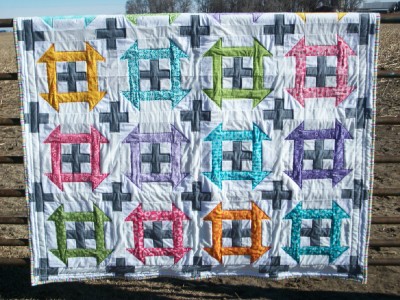 Zen Gardens Bento Box Flimsy Finish (828 views) This has to be my favorite quilt this year. The flimsy finish blog post ended up with more views than the actual quilt finish. This quilt still waits for it's intended owner and whether they want the quilt.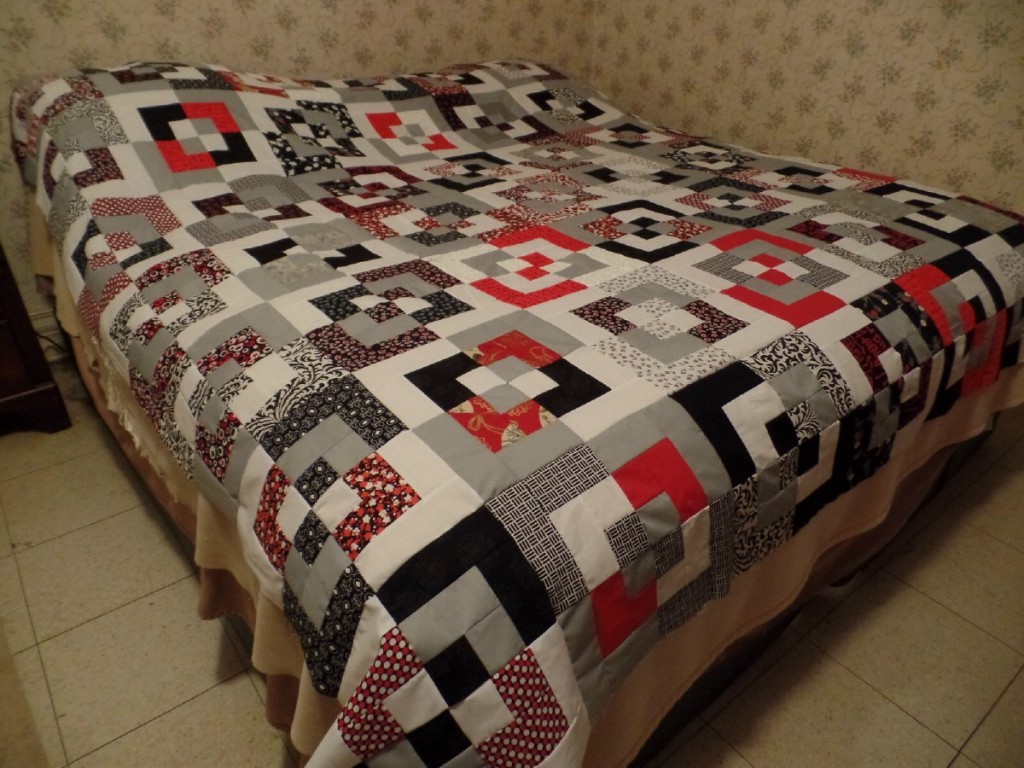 Thank you for stopping by and checking out some of my most favorite and best of 2015 quilt blog posts. I have not been able to quilt or sew much in November and December since I have been helping look after my husband while he recuperates from major back surgery. I look forward to getting back to sewing and quilting shortly. I have lots of things in the works for 2016.
Please stop by Cheryl's
Best of 2015 Linky party
to see what fun items everyone else has to share!
Happy Sewing,
Shelley
Welcome to my spot on the Trunk Full of Quilts online trunk show. This fun quilting event is being held by Soma @ Whims and Fancies. This online trunk show allows us quilters who have not been able to participate in actual trunk show in person to be able to share some of our favorite quilts with all of you viewers online. If you are new to my blog, I hope that you will take some time to look around and please follow along to view all of the lovely quilts that are being shown by the other trunk show hosts.
I have been quilting for over 20 years and blogging for 16 months. Many of my early quilts either did not get photographed properly or the photos have been misplaced. Most of my quilts have been gifted and out the door soon after completion.
The first quilt I would like to show during my trunk show is what has to be  my most favorite quilt finish to date, my Batik Shadowbox quilt. You can read more about it here.
I had seen a photo of this quilt in a magazine with out a name or maker. I did the best I could to research finding a pattern, but did not find one so I drew it out on graph paper the design. I have since then found multiple patterns for this quilt. My batik squares were larger than the original design. This collection of batiks have shown up in six quilts made over the last 5 years. The first one never got photographed. I will be sharing another finish and there are two quilts that need to be quilted with the last one still needing to be pieced (all pieces are cut).
My next quilt that I am sharing is my Batik High Tea quilt. Some of the same batiks show up in this one and I also added from a collection of 100 batik charm squares that I purchased off Ebay. I pattern tested this quilt pattern for On the Windy Side. You can read more about it here.
This quilt was the first time I used the serpentine stitch as a way to entirely quilt a quilt. I really like how turned out.  The gray and black really helped all of the bright batiks pop.
I was able to pattern test for Jan@The Colorful Fabriholic and made up her Plus Dash quilt that was presented to a special friend from high school. This quilt was a lot of fun to make. You can read more about it here.
I would like to share a quilt that I pattern tested for Cheryl@MeadowMistDesigns and it is the Sea Stars pattern and I called my version Positively Puppy Stars. I made this for our little cousin Anya and I am still working on a coordinating quilt for her baby sister. I hope to get completed by Christmas. I used scraps from the front to create a modernized disappearing nine patch quilt design on the back. This was the first time using that design and other full quilts have since spun off from that idea.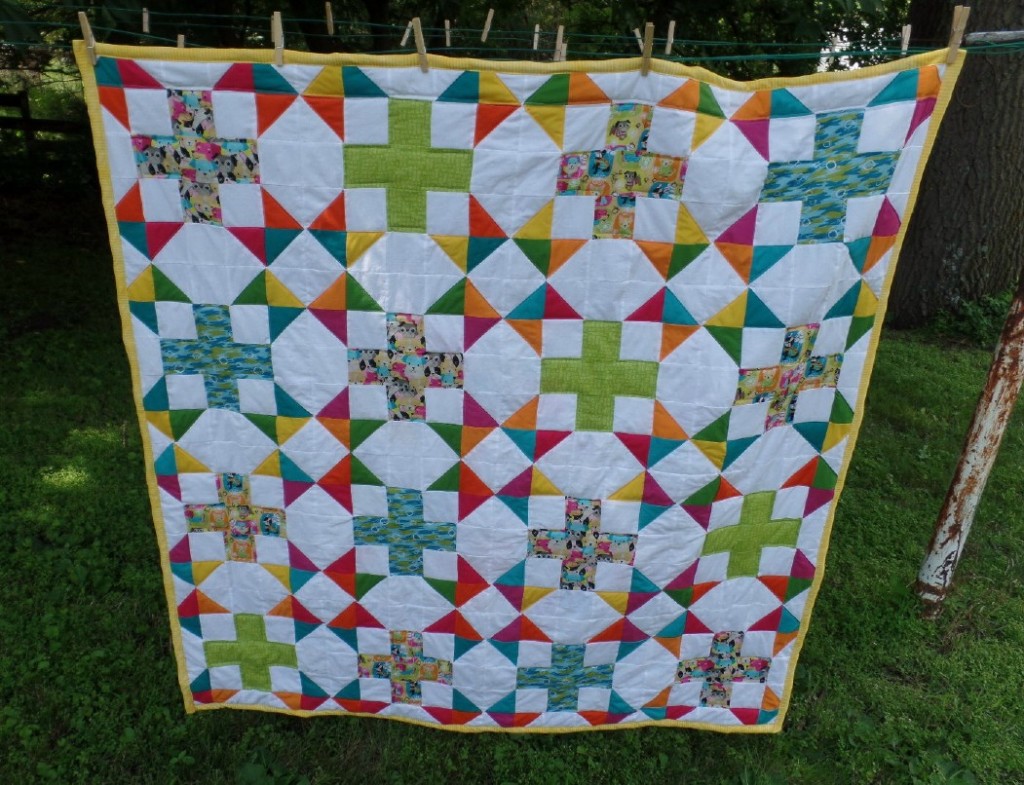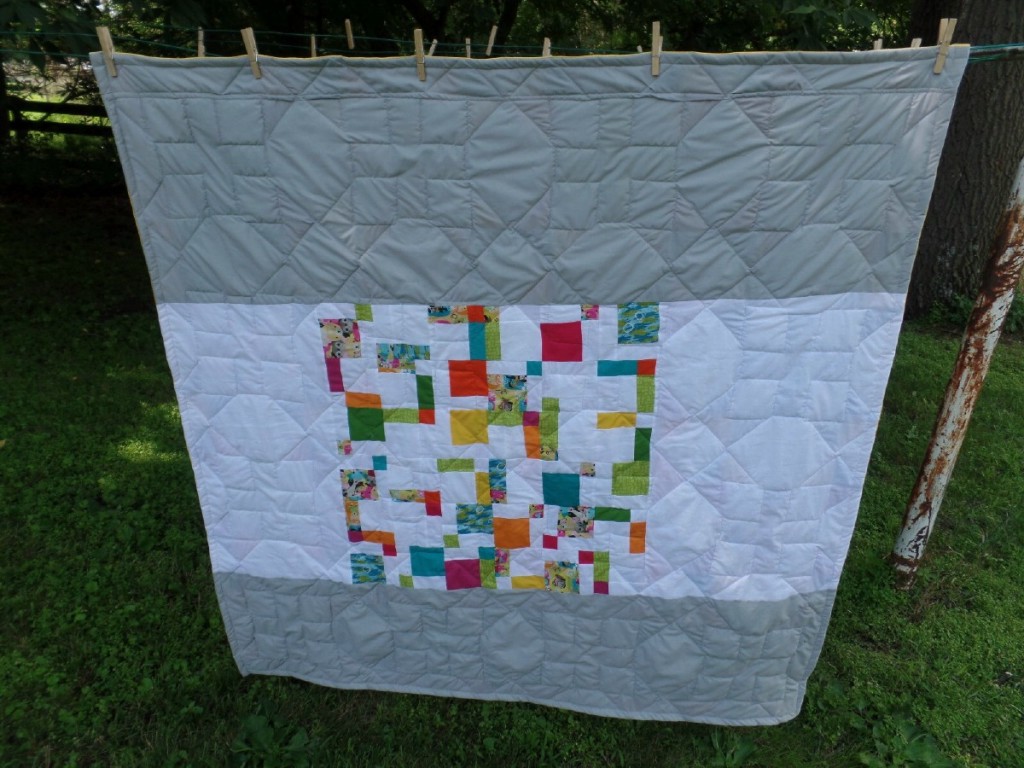 I would like to share my Broken Frames quilt that I made for my favorite Aunt. I used the pattern by Cheryl@MeadowMistDesigns.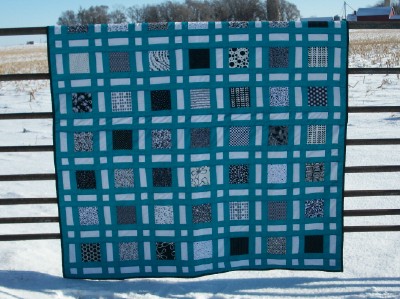 I would like to share one more quilt that I really enjoyed creating. It is my Get Your Kicks on Route 66 quilt. It was created from a couple quilt patterns. I have since lost the name/link to the original design. It was a wedding gifts for some friends who are snowbirds, who are fortunate enough to live down in Texas for their winters.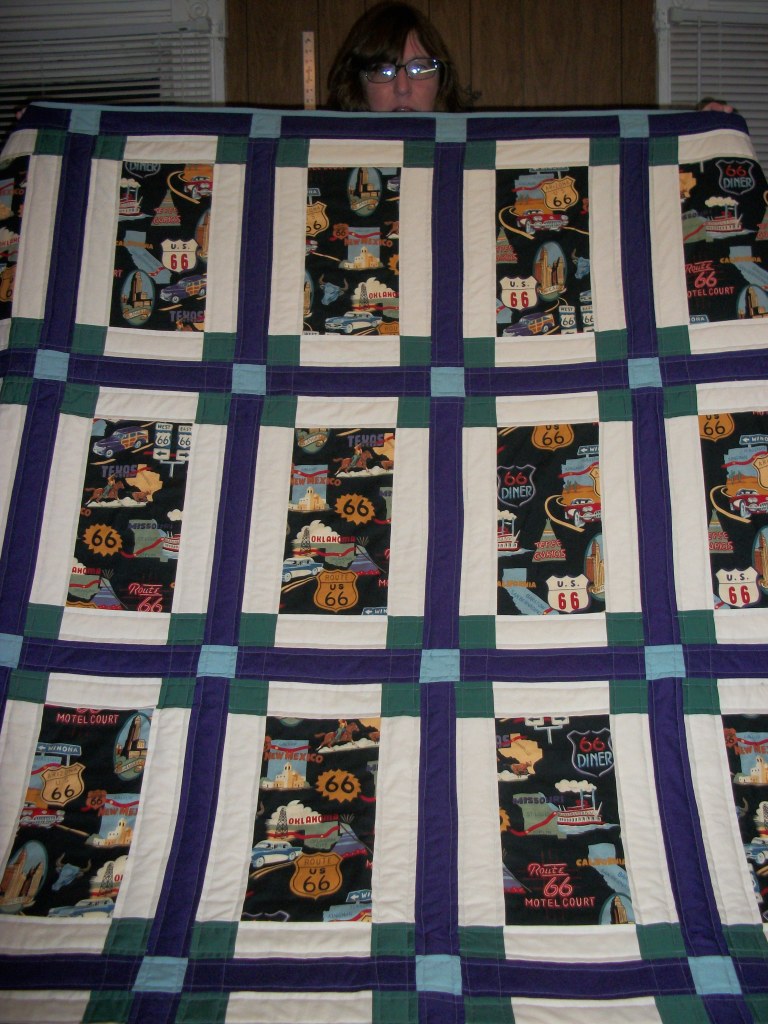 Thank you for stopping by and checking out some of my favorite quilts from recent years. Please check out all the other lovely quilts linked up over at Soma's Trunk Show.
Happy Sewing,
Shelley
Hi Everyone, Happy Halloween! It is rather rainy and chilly here today. Hopefully it will clear off so the grandkids can go trick or treating this evening. I am spending my day working on some quilt projects and doing lots of baking and cooking.
I have my fabric cut out to start my Teenage Mutant Ninja Turtles quilt using the Giddy Gridlock pattern from the last ever issue of Quilty Magazine.
The white frame sashing strips are only 1.5 inch wide. Apparently some of mine are a tad wider as when I went to add the top and bottom strips after starting with the long side strips, the tops and bottoms were too long. Up to a 1/4 inch too long. There are 228 of  those type of strips. I am taking small piles of them and remeasuring and then trimming down to the 1.5 inches that is needed. It is amazing how much just the width of a rotary blade can throw off how a block goes together. I thought my seam allowance was off and took two blocks apart and resewed them. My seam allowance was dead on, it was the strip was wider than it was supposed to be. It appears that everything "should" go together after I finish trimming. This should be a really neat quilt, which needs to go up on a design wall as the table will not be large enough.
I am piecing the backing for my batik Flying Happy quilt top. I am going to make it simple for myself and just make a simple striped pieced backing. I found 2 batik prints that coordinate with my top fabrics. They were in clearance bin.
These are certainly some bright and wild fabrics. My daughter says the orange print looks like Amoebas. Kind of cute.
I managed to purchase off Ebay an additional set of Get A Clue, Nancy Drew charm squares. I looked all over online and everyplace was sold out and out of stock. One store had a great price but they were sold out, and I remembered that was where I purchased my original two charm packs. I think I had bought all they had left at that time. I had to pay four times the amount for this one pack that I paid for one of the original ones. I think it will be worth it as I really want to make a larger modernized disappearing nine patch quilt than what Thomas' Lion's Roar quilt ended up being (57 inches square.) I found a set of five mottled bright solids in the clearanced fabrics that I think might look pretty cool as accent colors to the Nancy Drew prints.
I hope to start cutting my background squares for this quilt project this weekend. I will finalize with my son's girlfriend on what additional fabrics she might like added from my stash. I am thinking this is the best set of fabrics to start with.
Since my kids will all be home this weekend and the grandkids visiting as well, I thought I better get some extra baking and cooking done first. Everything from chocolate chip cookies, homemade applesauce, fresh pasta noodles for the freezer, chicken and pork potstickers for the freezer and Russian Tea mix to send home with the kids.
I am known across a two county area for my homemade chocolate chip cookies. I am kind of shocked to find how many wives my age do not bake. All the guys who work with my husband fight for my chocolate chip cookies. It is not a fancy recipe. It is just that I always use 3 to 4 different kinds of chocolate in them. This batch is using a new Espresso flavored chocolate chip that I found at Aldi's. I love that grocery store chain. There is also the 60% Cacao Bittersweet chocolate which have to be one of my favorites with semi sweet chocolate chips and the mini semi sweet chips. You have to add mini chips to fill in all those crevices where there is no chocolate. LoL This batch should be extra tasty as I added coffee extract and hazelnut extract to enhance those espresso chips. I tripled my batch so hopefully we can actually have some cookies here at home. Not all of them are going to the boys at the coop.
Last weekend I made up a batch of homemade applesauce from Gala apples and added some of these fun julienne dried cranberries that I found over at the Amish community at their smash and dent discount grocery stores. I am sure they are sold out on the East Coast somewhere as I have not found them at our stores here in Iowa yet. Many fun items I have found there in the last year have later been found at our Walmarts. I used half of the sauce last week to make baked applesauce egg rolls (from Pinterest) by adding a line of the chunky fruit to a egg roll wrapper and rolling it up and baking it. Spray it with Pam cooking spray and sprinkle with cinnamon sugar half way through. They were wonderful. The rest of the cooked apples mix became an apple crisp that my husband loved and had for a couple of meals in his dinner pail. I am making more today but adding Granny Smith apples to the mix. No egg rolls this week, but will likely eat some as sauce and make more apple crisp. Yum!
Last weekend I made up fresh Cavatelli pasta for the freezer. It is a very easy recipe basically just flour and water with a tablespoon of oil and some salt. This batch was actually made from a dough that we found the recipe on Pinterest to make your own potstickers from. It was 4 cups of flour and 1.5 cups of hot water stirred in til it makes a ball. You knead the dough until a smooth texture. I had a bag of self rising flour from the Amish store that needed to be used. It was too good of deal to pass up even though I usually do not use self rising flour. It was the good stuff King Arthur flour and only 75 cents for a 5 pound bag. I would find a use for it. Anyway I mixed up the said amount and used half of it for pot stickers. The other ball of dough I kneaded a bit more flour in to stiffen it up and rolled it out and cut it into 1.5 inch strips and ran it through my vintage cavatelli maker that I bought years ago on Ebay. I love to make my own pasta. What does this good German daughter-in-law serve her in-laws for Christmas dinner? Fresh made Cavatelli and meat balls. My father in-law really liked it. I even got my husband to help me roll the noodles, which can be hard to do in my kitchen as the only place that was narrow enough to clamp the machine to was the kitchen chair. I can not do that right now with the puppy and cat lurking in the kitchen so I figured out I can hold it in one hand and crank it with the other and drop the noodles on the kitchen counter. I plan on making a full batch of dough just for noodles this afternoon so I can get some more put away in the freezer. We ate all the ones in the photo this week.
I love my pasta rollers. I have two Atlas fresh pasta rolling machines with the cutters for fettuccine and spaghetti noodles. I thought this Cavatelli maker would be a fun addition. You run your strips of dough through the two wood pins and it cranks it around the metal roller cutter. The cavatelli are produced with a nice ridged pattern. It depends on how firm the dough is on how ridged they are.
Here are some of the chicken pot stickers frying in the skillet from last weekend. These were made with the flour and water recipe we found on Pinterest (4 cups flour and 1.5 cups water). You knead dough, roll out thin and cut out like 3 inch circles. We made two batches last week with chicken breasts that I put through the meat grinder (what a mess) and the other my daughter diced very fine. The finely diced chicken did not have the same texture of course. They both tasted good though. We seasoned with soy sauce, onion and garlic. My daughter does not care for all the green onion and cabbage you might find in restaurant prepared pot stickers or the frozen ones from the grocery store.
Here is a plate of chicken pot stickers all pretty and ready to eat. I added a garnish of a drizzle of teriyaki sauce and some sesame seeds.  We do not use chop sticks at our house.
Not every store has Won Ton wrappers for sale. We do prefer the pot stickers made with the won tons as they are a bit lighter and do get crispier when you fry them and then steam them. We are going to attempt a double batch and make pork and chicken. We managed to find ground chicken this week. Yeah, less mess.  I am getting really hungry so I hope we can start assembling these in the next few minutes. 🙂
Last but not least, on today's list of things to make in the kitchen is a big batch of Russian spiced tea mix. It is one thing that all my kids enjoy. I got a deal on the ingredients at the Amish store, and will divide it up amongst the cute little mason type jars and send some home with each kid this weekend.
I hope everyone has a safe Halloween weekend. Thanks for stopping by my blog. The kitchen and stomach are calling me and then it's  off to cut more fabric.
Happy Sewing,
Shelley
It's that time of the year again…twice a year during quilt market, Amy, who blogs over at Amy's Creative Side, hosts the Blogger's Quilt Festival. We are allowed to link up two quilts to the various categories and have the opportunity to visit and be inspired by other blogger's wonderful quilts.
I am entering my Lion's Roar Modernized Disappearing Nine Patch quilt into the small quilt category. It finished at 56 inches square. It is a baby gift for a friend whose baby is due around Halloween.
I used the tutorial for the Modernized Disappearing Nine Patch by Kristy Daum. I really like using this quilt pattern as it is fresh change from the quilt designs I have made of late with hundreds of half square triangles or flying geese. Sometimes a more simple approach is needed to show off fun fabrics.  I used a set of 5 fat quarters that I had in my stash for over 4 years and I added the yellow, orange and lime solids which I had 2 yards of each also in my stash and I cut a pile of charm squares each color. You can read more about my process here.
I quilted in a diagonal grid with white thread and then went back in with orange, yellow and lime green with some rows of straightline stitching to add a pop of color and extra interest. I had the perfect striped binding fabric waiting in my stash. I love when I can pull all the fabrics for a project from my stash bin. I know that makes my hubby happy too. The name Lion's Roar comes from one of the cute lion head prints which states all over the fabric Lions Roar. That sounded fitting.
You can see the quilting nicely on the back of the quilt. The only fabric I purchased for this quilt was the mottled brown for the backing. I really enjoy adding appliqued names to the back of many of my quilts. It has become my little niche and has been used on quilts from newborns to a retiring 40 year old Marine recruiter. You can read more about my process and significance of the special little lion head I appliqued on the back here.
My other entry into this fall's Blogger Quilt Festival is my Zen Gardens Bento Box which you can find in the large quilt category here.
I entered two quilts for the first time in the Spring 2015 Blogger's Quilt Festival and they can be found here.
Eagle's Crossing and Scrappy Dr. Seuss
If this is the first time you are visiting my blog, I thank you. You can find my blog on Bloglovin and links to email on the front of my blog.
It's that time of the year again…twice a year during quilt market, Amy, who blogs over at Amy's Creative Side, hosts the Blogger's Quilt Festival. We are allowed to link up two quilts to the various categories and have the opportunity to visit and be inspired by other blogger's wonderful quilts.
I am entering my Zen Gardens Bento Box quilt into the large quilt category. The quilt finished out at 86 inches square. It was made from a set of red, white and black jelly roll strips that I won in a giveaway contest.
To give the quilt design some added interest, I made half my bento box blocks with white solid and the other half with gray solid. You can read more about the process here in this blogged post and here.
Here you get a better feel for the entire quilt with it laid out on our king size bed. I chose to call the quilt Zen Gardens as it was the line of fabric that a couple of the prints had on their selvedge edge.
I pieced a fun plus and dash backing strip for the back of my quilt. It utilized some red solid that I miscut from another quilt project. I thought it was a fun addition to the crazy black,white and red paisley fabric that I chose to use as the focus fabric for the main part of my quilt backing. I quilted the top in a pattern that I call a mock plaid with a series of lines stitched through the center of the blocks with a diagonal added to crisscross the entire quilt. It shows up quite nicely on the back. This quilt is one of my favorite finishes for this year.
My other entry into the Blogger's Quilt Festival is Lion's Roar Mod D9Patch which is entered into the small quilt category and can be found here.
I entered two quilts into the Spring 2015 Blogger's Quilt Festival and they can be found here.
Eagle's Crossing and  Scrappy Dr. Seuss
If this is the first time you are visiting my blog via the Blogger's Festival, I thank you for taking the time to visit. My blog can be found on Bloglovin and there are links to sign up by email on the front page of my blog as well.
Hi, I am extra happy to share my completed Flying Happy quilt top today. It took me a couple extra days longer than I thought it would to get all the flying geese and the other block components assembled into the 36 blocks needed for this 72 inch square quilt top.
I laid out all my quilt blocks on top of my bed and determined how I wanted them to be sewn  up colorwise. I even took a photo. I carefully picked them back up last to first. While the block is able to be switched top to bottom and the geese stay in the same formation, I think I got a couple blocks switched around in how I wanted the center cross block to lay. I had to switch a couple blocks back around while sewing and it must be why I ended up with a cluster of turquoise in the bottom section. There are two different turquoise batik prints and they look very similar from a distance. A few of my fat quarters were larger than standard and I was able to cut more blocks out those particular colors so more squares show up in the mix.
I tried my best to get 6 different colored batiks in each block. It is amazing how many different variations appear when you cut one fat quarter into the needed squares. I think only one block ended up with both turquoise batiks in it.
When looking through the camera lens and using the flash, this corner of the quilt showed alot of bright pink. There are actually numerous color variations in this corner. I probably could have done a little more mixing in the top two rows, but it is all together and I really do not want to attempt to take any of it apart. I was rather anxious about all the geese playing nice, but in general they went together well. I finger pressed for the main part until all my blocks were made and then I gave them a good steam press when completed first from the back working on getting my seams to lay in correct direction and then I flipped the block right side. I then pressed from the center out to the edges. I did have a few geese that were a bit off but when I made sure I sewed them together and my stitching went through the little intersecting x, I was able to make all my points pointy.
I really love how this quilt top turned out. It has many of my favorite batik prints in it. I am usually one who thinks bigger is better with quilts. I really love flying geese but 288 flying geese is ALOT of geese to make. I do not think I would want to size up this quilt to make it king size. It fits the top of our king size anyway at it's finished 72 inch size. I would think there should be a bit of shrinkage after quilting and washing. This will be a throw quilt that I will be keeping for my own use.
I will be linking up my flimsy finish with Fabric Tuesday, Linky Tuesday, WIP Wednesday and Let's Bee Social.
Thanks for stopping by my blog.
Happy Sewing,
Shelley
Hi, I thought I would share what I am working on this week and give some progress reports. (Updated for Friday)
I have been attempting to make some headway on the 288 flying geese needed for my Batik Flying Happy quilt. I think I have over 80 completed.
Here is one pile laid out in flying formation.
I love chain piecing. It just seems to take forever to make these geese because I have handle them so much. I started finger pressing my cream squares to get a sewing line. I now have decided to just wing it sewing the diagonal of the 2.5 inch squares. It is not too hard to sew a straight line for that short of a distance. Everyone will get a good press before being assembled into the rest of the block.
I am working on designing a back for my The Cowboy Way quilt which is a Grande Scrappy Tiles design by Meadow Mist Designs. It is for my daughter who is studying Animal Science and Veterinary Tech. She loves her cowboy boots, cowboys and horses. My daughter started a personal blog but did not get too far with it. She has kept the name and is looking to revamp the page and maybe use the name to sell some of the things she likes to make like jewelry, headbands, and tooled/beaded leather items. She calls herself "Shunned From the Herd". I had one of those lightbulb moments in the shower a couple weeks ago to (of course) make an appliqued back for this quilt. I remembered that I had Holstein cow print leftover from my grandson Sawyer's 2nd birthday quilt Oinka Doodle Moo. Years ago we bought a Holstein calf and grafted it onto one of our favorite Gelbveih Momma cows who had lost her calf. We named him, Daryl as in "Daryl and my other brother Daryl from the Bob Newhart show".
I did have the two cowprint strips sewn to my appliqued strip but cut them apart as it appeared to be too much white and black. I am looking at adding a strip of the red print to both sides of the applique to frame it. The length of the word applique by itself is 57 inches. I am needing a 80 by 100 inch backing so I have some more piecing that needs to be designed for this backing yet. Maybe some plaid shirting, stars and stripes bunting??? Digging deep in the fabric bins for this one.
The red is from the front of the quilt, and has a really neat old barn scenery design inked on to the barn red color.
I did not do any new sewing over my birthday weekend, but I did finalize two new quilting project ideas.
I have finally decided what I can make with my two charm packs of Get A Clue Nancy Drew fabric. I will be making a modernized disappearing nine patch quilt for my son's girlfriend. I discovered that her Mom shared the love for reading and the Nancy Drew Mysteries with her as a child just like my Mom did with me. So it seems fitting to make her a quilt with these fun prints. I miss I could find more squares as it is out of stock and out of print.
Any One have some in their stash hidden away???
My second quilt project idea is a way to use the Teenage Mutant Ninja Turtles fabric I bought my grandson Sawyer. It will be for a quilt to stay at Grandma's house. I love these design so much that if it all goes together nicely, I have other fabrics to use in this quilt pattern.
This quilt pattern is Giddy Gridlock by Tanya Finken and it is in the last Quilty magazine issue ever (May/June 2015). I thought about using Thimble Blossom's Framed to make this quilt idea, but I really like the angular longer rectangles to show off my turtles. I of course have ideas all ready for a special backing for this quilt. I am pretty excited to start piecing this one, but I need to finish up my flying geese first.
I got some exciting news this week that the Blue Island Tribal block that I designed for the Fabri-Quilt Block Hop was chosen to be entered into The Quilter's Planner that my quilty friend, Stephanie over at LateNight Quilter designed and is publishing. You can preorder this wonderful and useful planner for holiday gifts.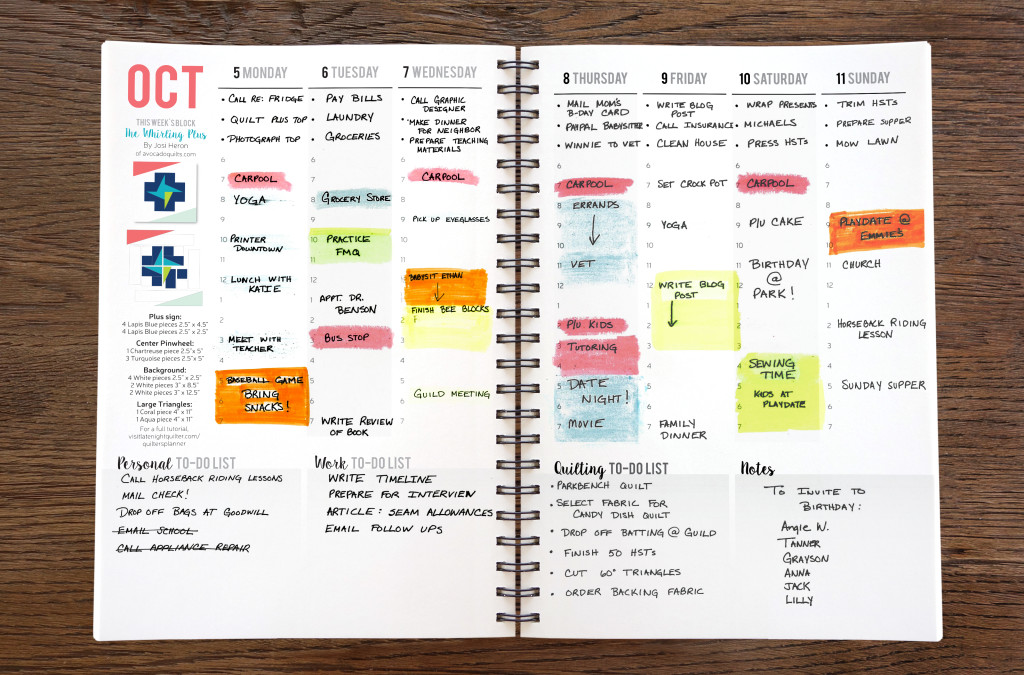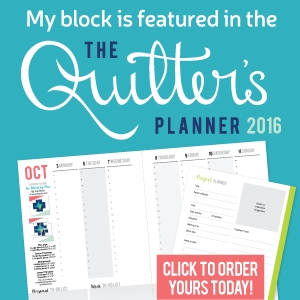 Updated for Friday:
I have finished piecing all the flying geese for Flying Happy. I may have gotten off count and made more than I needed. Any extras may be worked in to a backing design.
The piles on the outer perimeter are sewn into two patches. The center three rows of sorted flying geese needed to be sewn into matching pairs yet. In my counting of blocks this is where I am possibly off, as I count enough geese to make 37 blocks and I all ready have 4 blocks completed. This would make a possible 41 blocks when I need 36. I only have centers pieced for 36 blocks.
With four blocks completed, you can get a better idea of what the Flying Happy quilt pattern will look like in batiks. I am pretty happy with the color choices. I am doing my best to make sure that each block has 6 different colors.
I save all the trimmings from cutting my 288 flying geese. It fills a gallon size ziplock bag. It looks quite pretty. They would make 1 inch finished half square triangles when sewn and trimmed.
I am hoping to get my Flying Happy flimsy completed this weekend. I had hoped for a Friday finish but it will more likely be a Saturday finish. I have made a lot of progress in just two days.
I hope that everyone is having a great week. I will be linking my WIP with various weekly linky parties that the links are on my linky page at the top of this page.
Thanks for stopping by.
Happy Sewing,
Shelley
Hi, I would like to thank all the quilters who linked up their lovely Friday finishes for my turn at hosting TGIFF. I had a wonderful birthday week and weekend spent with my family and friends. I will be visiting all the linked up bloggers and commenting and also sending replies to all the wonderful comments on my Mod Gear posting telling me about their favorite birthday memories. They all were awesome.
And we have a giveaway contest winner of the package of two of my favorite things: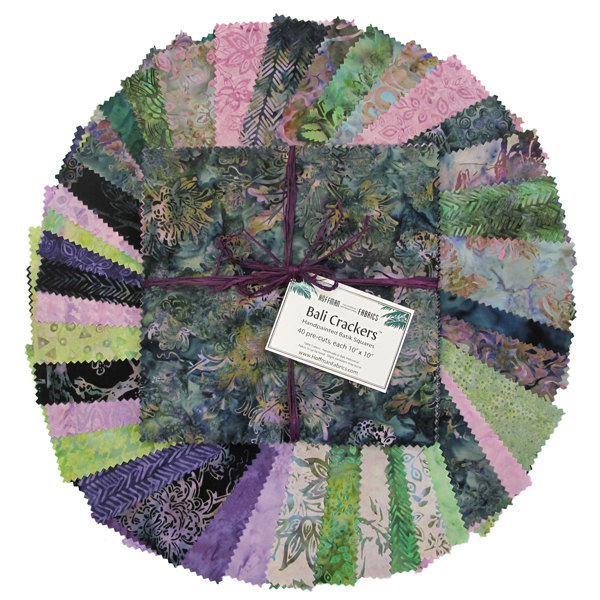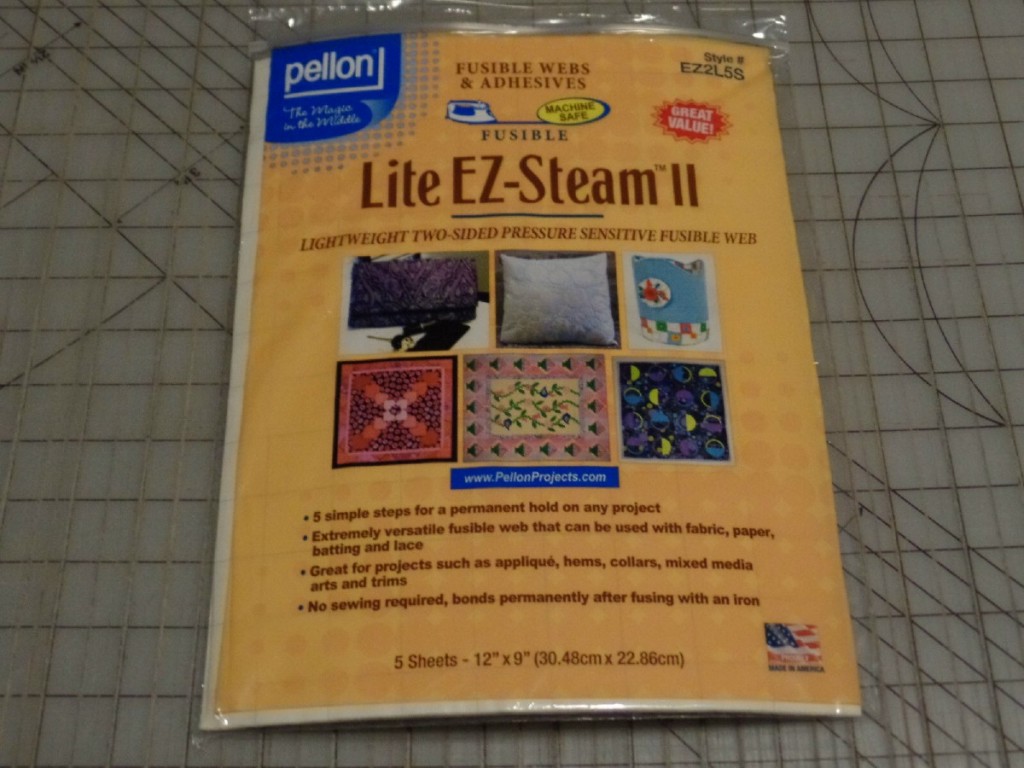 Our randomly drawn winner is: Heidi of Red Letter Quilts
I have sent an email to Heidi and am waiting to receive her mailing information so I can send her these items.
This weekend, I was able to present Thomas' Mom with her Lion's Roar quilt and my kids and I got to visit with Eli John and his Grandma and give them the Mod Gears quilt. Everyone loved their quilts. There were tears of joy at Eli's grandparents' home. My kids and I each got to hold and love up on Eli. Such a cute baby! My son told me later that it was not fair as he did not receive "tears of Joy" when he completed one of his customer's roofing projects. LoL
I am busy trying to make progress on the 288 flying geese blocks in my Flying Happy quilt project. I have a few more projects started and in the works over the weekend. I hope to blog later in the day about more of them.
Many thanks to all of you that continue to read my blog.
Happy Sewing,
Shelley
Welcome to TGIFF! I am Shelley and I blog as The Carpenters Daughter who Quilts. I am excited to share with all of you my Friday finish this week. Today (Friday) is also my 50th birthday and my blog is also celebrating having over 100 postings. I am holding a giveaway contest to celebrate both events.
Let me first share my fun quilt that I made. It is Mod Gears by Elizabeth Dackson (Don't Call Me Betsy). I made it in similar to Harley Davidson motorcycle colors. This is a quilt for our friend's first grandson. Both Mom and Dad have their own Harleys. I decided to personalize the back with the little boy's name, Eli John. He is named after a beloved cousin and his grandfather.
I decided to add the extra white border and rounded the corners with a dinner plate. I made bias binding in orange that is in the main quilt. I planned to hand sew down the binding but at the last moment and it was after midnight, I decided to sew it down by machine. It is sturdy and should hold up in the wash.
I really like how the quilting shows up on the backing. I really enjoy making pieced backs for all my quilts. Many could be reversible.
I design my names or wordings that I applique on my quilts with a simple program called Print Artist. It is software that you can design your own printables like gift cards to business cards. I chose how long I need my words to be and how tall. There are hundreds of fonts to choose from. I print out my names in coloring book format. I cut out all my letters and trace them backwards on to Lite Steam A Seam 2 double layer fusible. I fuse my letters into position and usually stitch close to the edge of the letters in a straight stitch.
I am excited to present this quilt to my friends. I think they should love it ( or hope they do) as much I as I do.
In honor of my 50th birthday and passing the 100th blog post (actually happened in August when we did all the work on our house) I am giving away some of my favorite things. Batik fabrics and my favorite fusible product so that one of you can try your hand at some type of appliquing.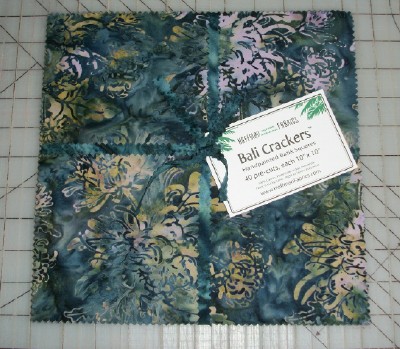 A lovely Bali Crackers layer cake in Rum Raisin.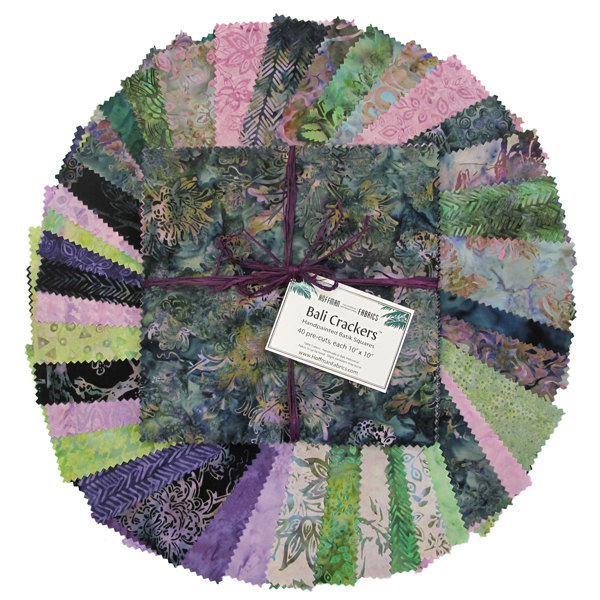 These prints would look lovely in just about any design.
I discovered today that JoAnn's now is selling this version of the Lite Steam A Seam 2 that I previously have been purchasing. There is 5 (9 x 12inch) sheets. You can create numerous projects.
***To enter this contest, please leave a comment telling me a favorite birthday memory or gift that you have received in the past. If you are a reader follower of my blog, you can have a second entry. Just tell me in a second comment how you follow. I will keep the contest open til Sunday the 18th Midnight (US Central Time zone). I will announce the winner by noon on Monday October 19th. If you think you maybe a non-reply blogger, please include your email so I can get ahold of you. Thanks!***
Contest Has Ended
It's time to link up your Friday Finishes. Please visit  as many of your other linky party neighbors as you can and share your support. Everyone loves comments! Thank you for hanging out with me on my birthday. Hope everyone has a great weekend.

Happy Sewing,
Shelley
Hi, I am just popping in to share what progress I have been making on my Flying Happy quilt this week.
I am making the largest version of the Flying Happy quilt and it takes 36 blocks. I am using 18 different batiks in the design. These are the two patches that build the center blocks.
I did my best to get a good mix of the combination of batik colors. The pattern cutting instructions has extra of the 4.5 inch center squares. I thought I misplaced or lost the entire set of 36 squares that I set aside to use in my blocks. This was the morning after an unexpected visit by my grandsons and later I discovered that I had all ready sewn those squares in to my blocks. The extras are just extras to be used in another project or in the backing design.
This is the rest of my center block color combinations. Now I need to finish piecing my 288 flying geese blocks. I am attempting to finger press my plain squares and stitching across my blocks by sight. So far so good as I have new light bulbs in my sewing machine. I now have a light in the center of the upper arm of the machine. Yeah..
Smokey showed up out of nowhere just as I pulled a pile of my squares out of the basket to start piecing my flying geese blocks. Apparently there is just enough room to manuever around the piles of fabric so he can get comfortable.
I finished my Mod Gears quilting and it is bound and finished. I will be sharing more photos tomorrow after I can get better full on photos taken. I made the Executive decision after Midnight to machine stitch my binding down. Crampy tired hands told me that hand sewing was not in the cards. I am expecting this quilt to be well loved and washed often so the binding needs to stay in place.
Apparently Smokey does not care if a quilt has a million safety pins in it. It is a cozy place to escape the wrath of the Aussie puppy. Thankfully Katie did not try to pull the quilt and the cat away from the machine.
It is my turn to host the TGIFF (Thank God It's Finished Friday) linky party tomorrow. I will be revealing Mod Gear's finish, and a possible Flying Happy flimsy finish. It is my 50th birthday on Friday and I have passed my 100th blog post anniversary so I will be giving away some lovely fabrics to celebrate both milestones. I hope you will all come back tomorrow to check it out.
I am linking up this progress with various mid week linky parties. You can find the links on my linky page at top of the blog.
Thanks for stopping by my blog.
Happy Sewing,
Shelley
Twitter