Hi, This is a quick note to say that I have completed and uploaded my 2016 Paintbrush Studios New Block Blog Hop quilt tutorial. I am calling my block, Irish Rose Chain. You can find a full tutorial for the block on my previous blog post from my day on the blog hop on Wednesday, March 30th.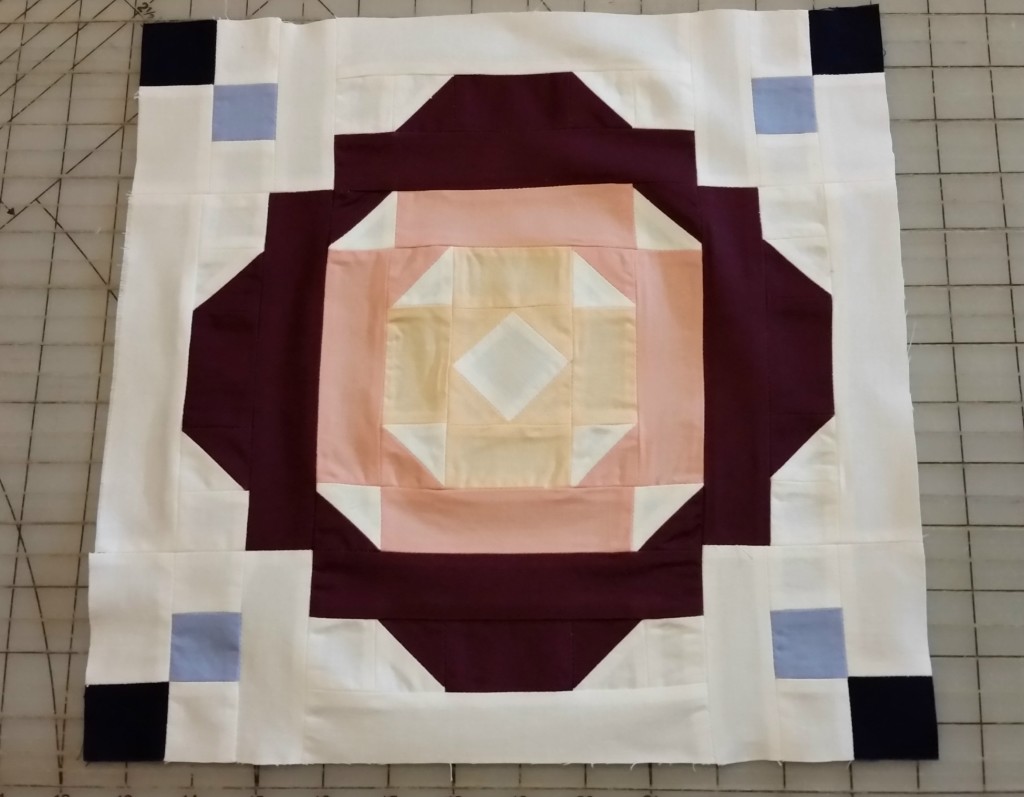 This is what my completed block could look if you made 30 blocks creating an approximate 60 by 72 inch quilt.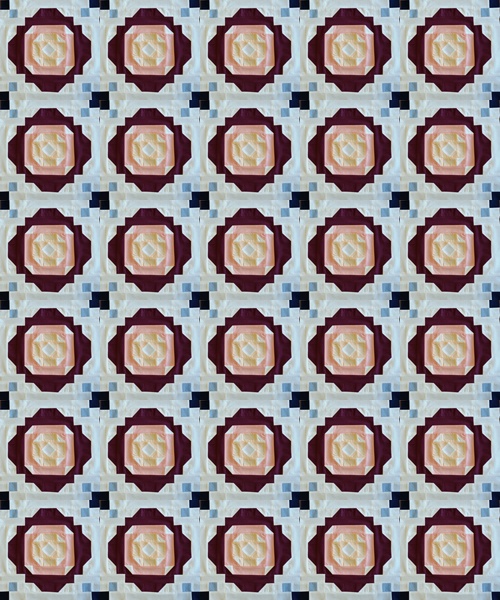 This was created using Photoscape photo editing software. I did two previous blog posts on how to use the software here and here. I am looking to write up additional quilt designs based on a larger version of my block.
Thank you to all of you that sent condolences and well wishes on the passing of my Father inlaw. It was greatly appreciated. I will be writing you all back soon.
I will be linking my block's tutorial with various weekly linky parties that can be found on the linky party page at the top of my blog.
Thank you for stopping by.
Happy Sewing,
Shelley
Hi, Today is my stop on the 2016 Paintbrush Studio New Block Blog Hop. Paintbrush Studio is generously sponsoring a New Block Blog Hop featuring their new line of solids, Painter's Palette. The blog hop hosts, Yvonne @Quilting Jetgirl, Cheryl @Meadow Mist Designs, and Stephanie @Late Night Quilter, have curated the "Ocean Sunrise Palette", and Paintbrush Studio is supplying each of us a fat quarter bundle to make our blocks.
We were to design a quilt block that finishes at 12 inches using at least 3 of the colors from our Ocean Sunrise bundle. I am working on using all 6 colors in my block.
The block I designed takes some inspiration from an alternate version of my last year's entry in the 2015 New Block Blog Hop which was called Blue Island Tribal. I designed 3 versions of my block with one having an appliqued flower. I instantly thought some sort of flower with the peach, coral and bordeaux colors. I would hate for lovely fabric to go to waste, so why not add some of the midnight and daydream in the mix as a tiled chain effect. This is how my block Irish Rose Chain was created.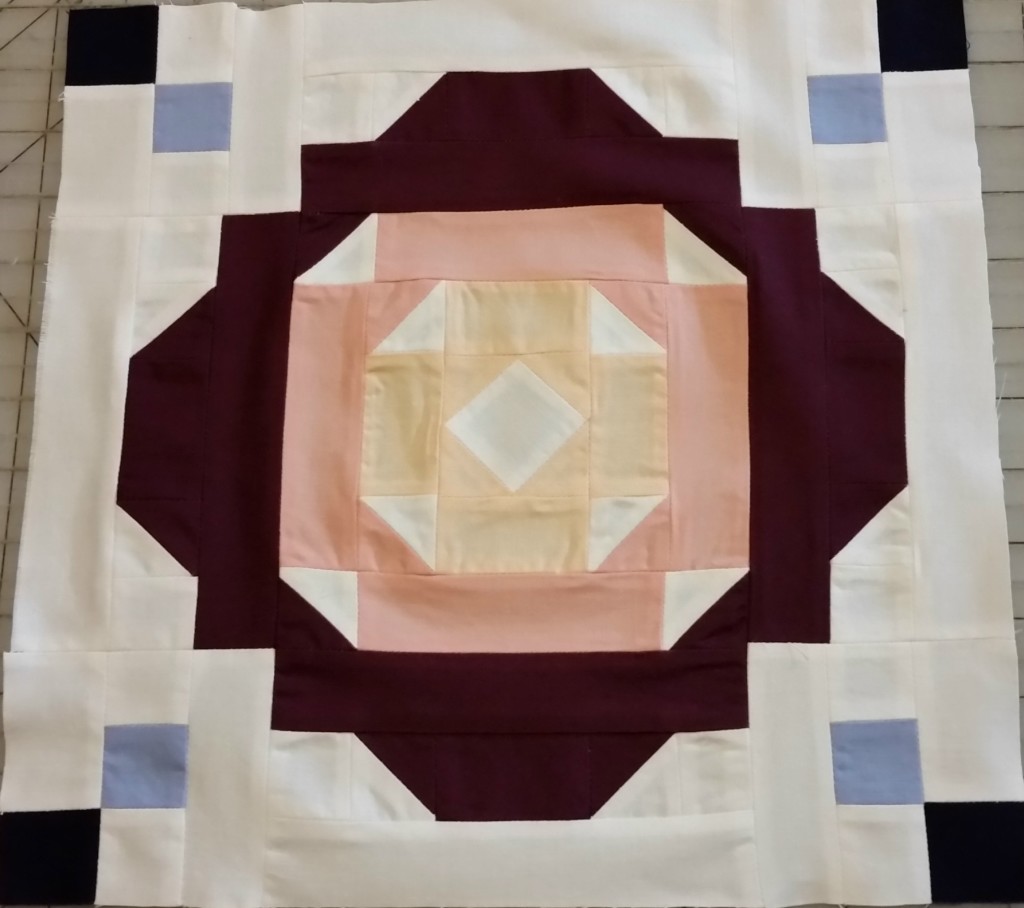 This is my first colored pencil/graph paper concept of my design.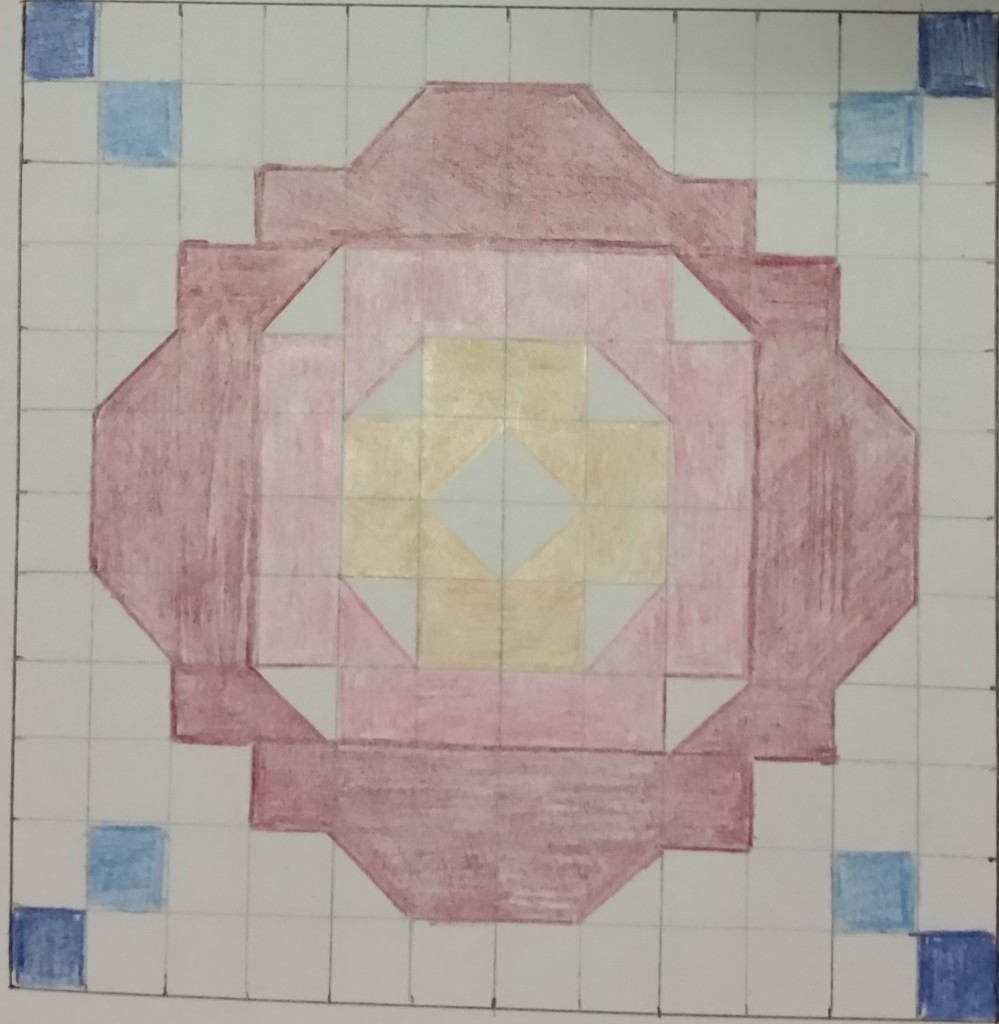 My block will be made in three parts.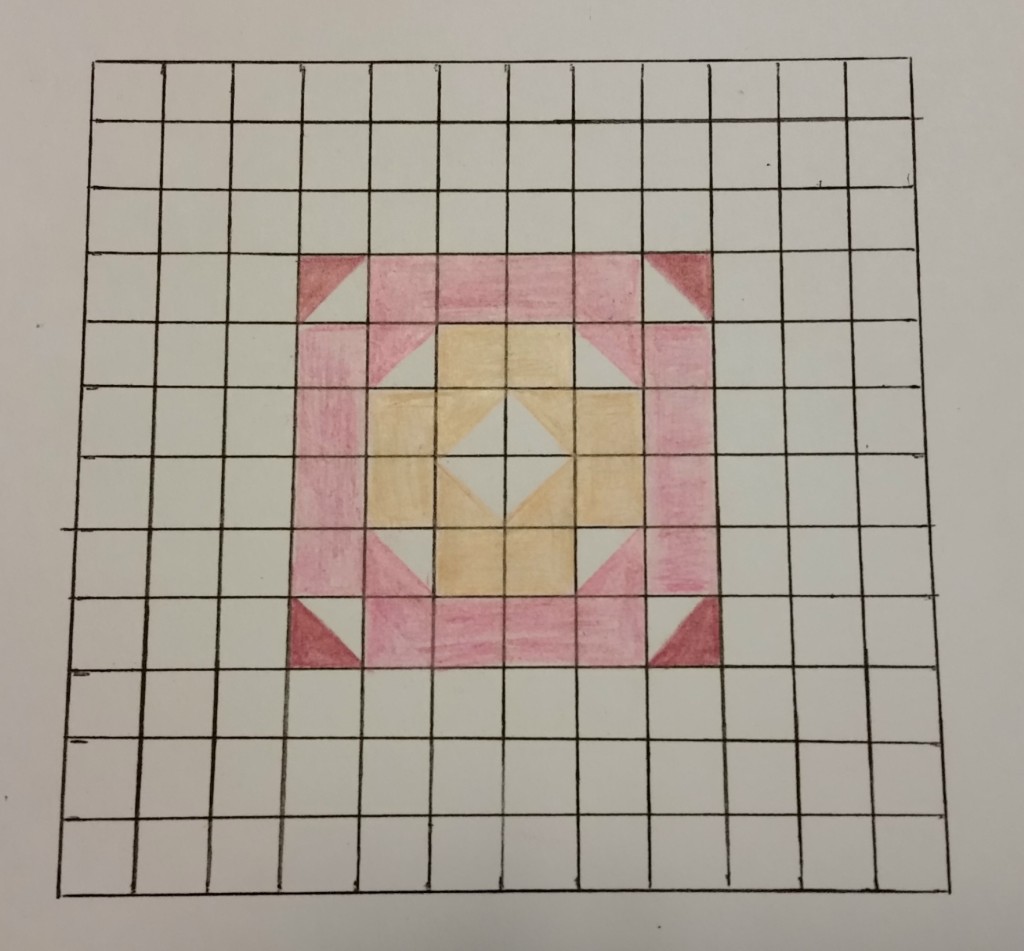 The center of the block is built around a Square in a Square block. I used Bonnie Hunter's Square in a Square tutorial to figure out what size to cut my pieces. She has a nice chart with multiple size cutting directions.
There are 16 Half Square Triangles in my block that finish at 1 inch so for accuracy I decided to foundation piece my HSTs and you can print your own foundation sheets for free to make multiple half square triangles at once. I went to the  Quilting And Whatnot.ca website and printed out the 1 inch finished hst paper sheets. They are available in a pdf form for easy printing.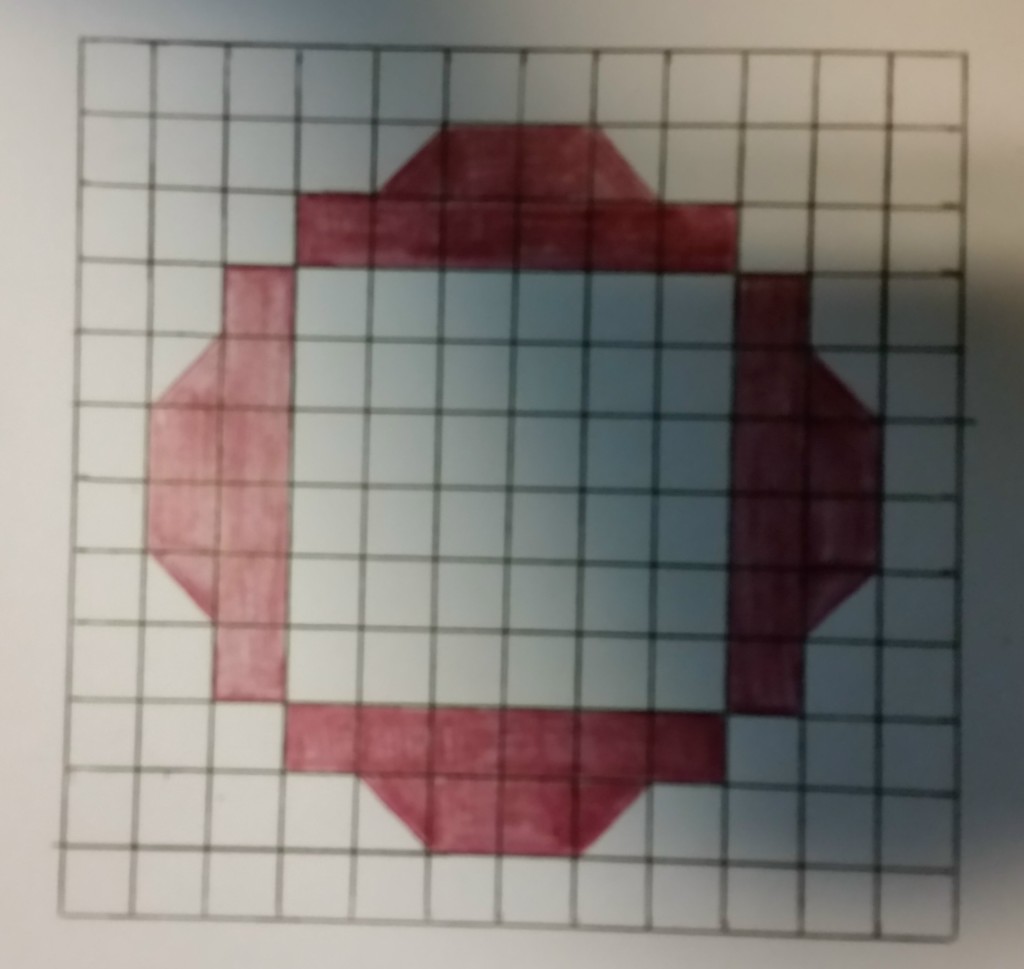 The second part will be to create the four sections that make the outer rings.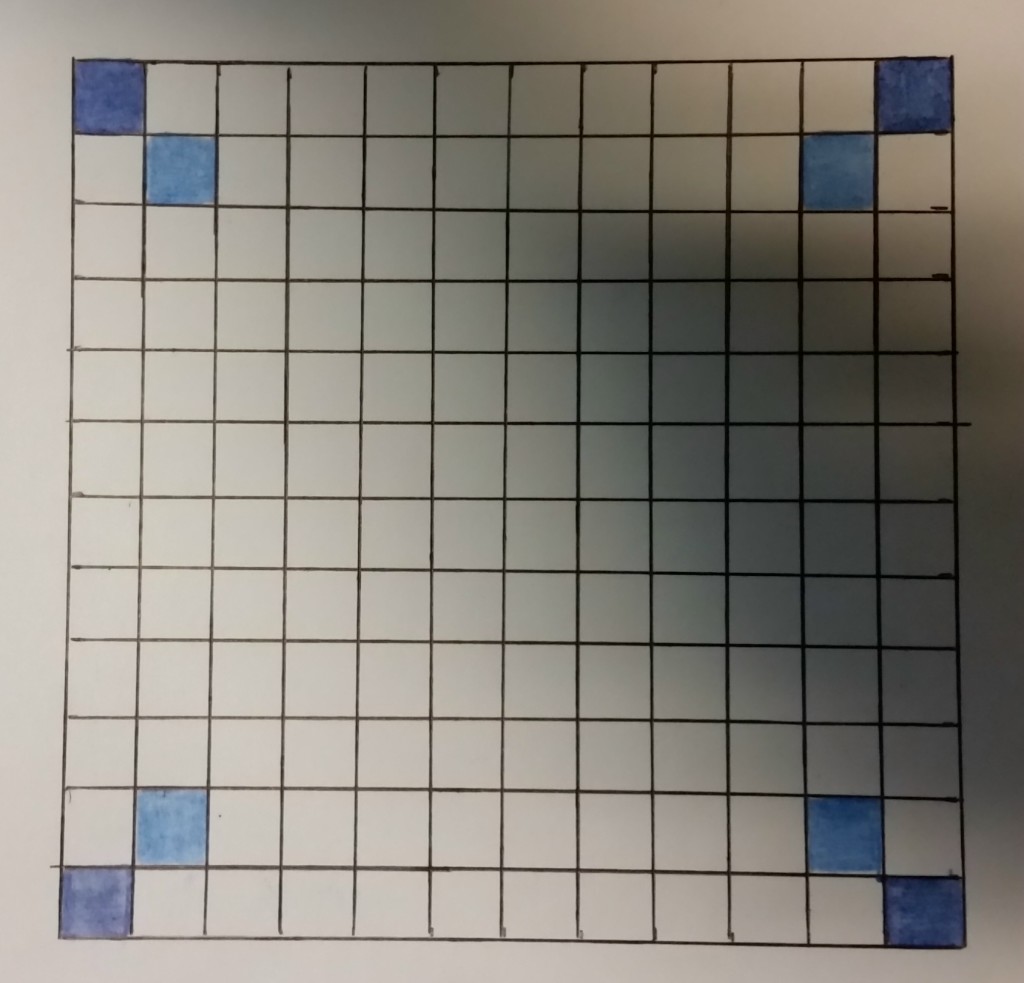 The last part of the block will be to create the four outer nine patch block.
I made a test block from my fabric stash to test out the original plan for my block which is shown below. I originally made the very center of the block with 4 HSTs and the center of the block was constructed in four sections. The directions did work and I was able to create my block but there were far too many little pieces and seams. I decided that my block could be created in nine sections instead of sixteen sections. The four tiny HSTs have become a less complicated square in a square block.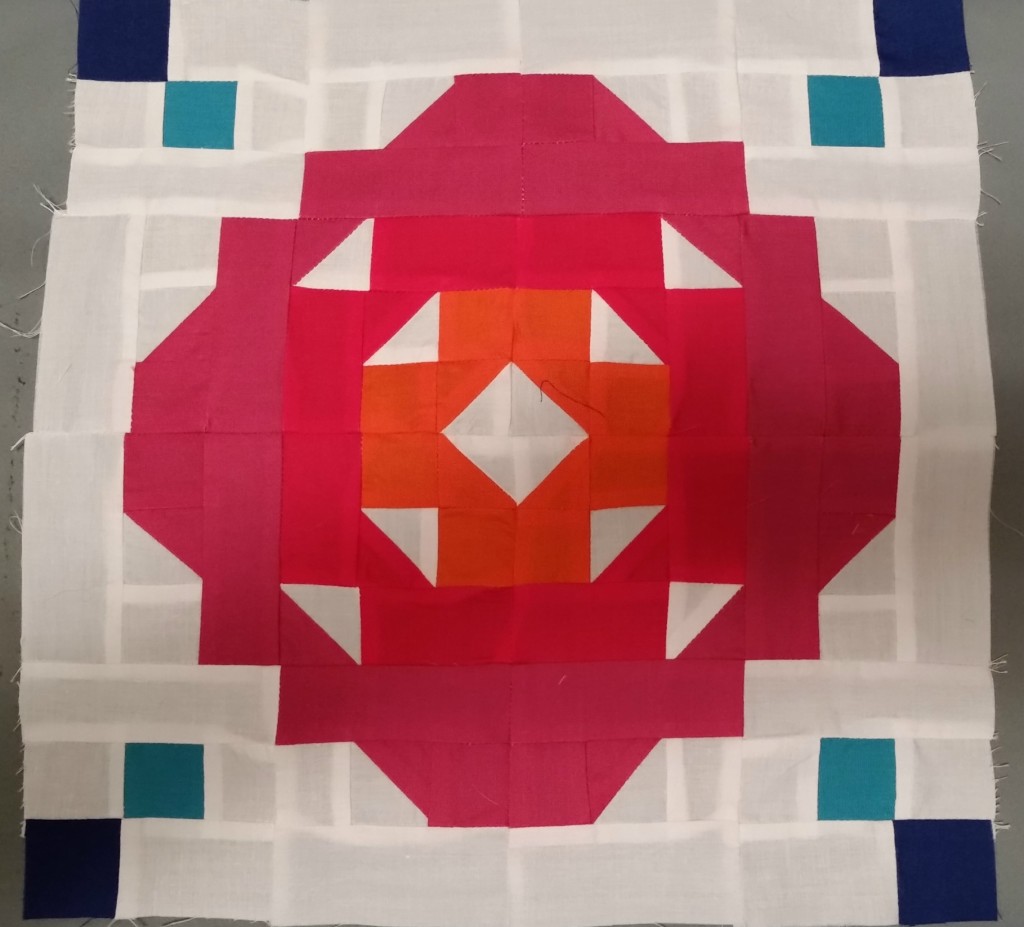 Cutting Instructions for the Irish Rose Chain block:
White Fat Quarter
Cut (4) 1.5 " x 21″ strips
(1) 2.5″ x 21″ strip cut into half, half used in nine patch construction.
(1) 3″ x 21″ strip
These white strips will be cut down into the following smaller pieces:
(4) 1.5 " x 6.5″  white rectangles
(8) 1.5″  white squares
(4) 1.5 " x 3.5″ white  rectangles used in nine patch construction
(1) 1.5″ x 21″  white strip cut in half for nine patch construction, both halves will be used .
(1) 1 7/8 inch  white square used in the center of the square in a square block. This is cut from second half of 2.5 " strip.
(1) approximate 3″ x 4″ white rectangle used in half square triangles
(1) approximate 3″ x 11″ white rectangle used in half square triangles
Midnight Fat Quarter
Cut (1) 1.5″ x 21″ strip, cut into half and use in nine patch construction. Other half is extra.
Daydream Fat Quarter (lighter blue)
Cut (1) 1.5″ x 21″ strip, cut into half and use in nine patch construction. Other half is extra.
Peach Fat Quarter (center of flower)
Cut (1) 1.5″ x 21″ strip.

(1) 2 1/4 " by 21″ strip
These will be cut down into smaller pieces.
Cut (4) 1.5″ x 2.5″ peach rectangles
(2) 2 1/8″  peach squares cut diagonally. These triangles are used in the square in a square block.
Coral Fat Quarter (second petals of flower)
Cut (1) 1.5″ x 21″ strip
(1) 3 " x 21″ strip
These will be cut down into smaller pieces.
Cut (4) 1.5″ x 4.5″ coral rectangles
(1) approximate 3″ x 4″ coral rectangle used in half square triangles
Bordeaux Fat Quarter (outer petals of flower)
Cut (2) 1.5″ x 21″ strips
(1) 3″ x 21″ strip
These will be cut down into smaller pieces.
(4) 1.5″ x 2.5″ bordeaux rectangles
(4) 1.5″ x 6.5″ bordeaux rectangles
(1) approximate 3″ x 11″ bordeaux rectangle used in half square triangles
…………………………………………………
Piecing the Irish Rose Chain block:
I started my block by foundation piecing all my half square triangles.  You will need 2 paper squares to create the 4 coral HSTs. You will need 6 paper squares to create the 12 bordeaux HSTs needed.  Layer the 3 x 4 inch white and coral fabrics together and pin the 2 foundation squares to them, sewing on the dotted lines.  Layer the 3 x 11 inch white and bordeaux fabrics together and pin the 6 foundation squares to them, also sewing on the dotted lines.  You cut your pieces apart on the solid lines. I finger pressed the papers back on themselves at seam to help perforate the paper for easily removal. Be careful not to tug on the stitching. I finger pressed my half squares open before I pressed with my iron. I did not have to do much squaring up and basically only had to trim off the wings.  (This is not the "norm" for me, but I was extra careful how I handled the bias edge of the triangles. )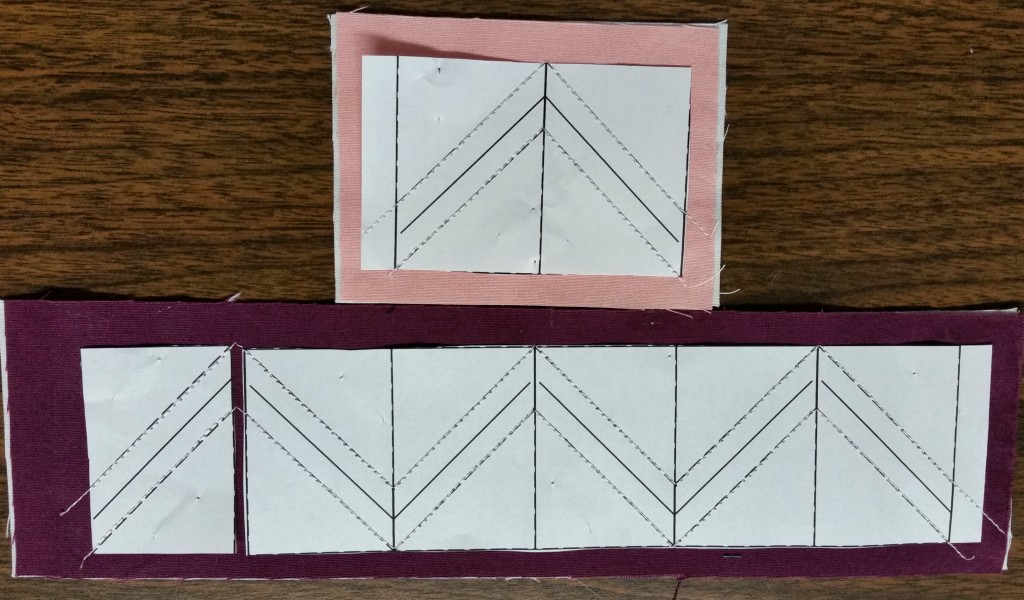 Creating the Center
Let's now make our center square in a square block.  We will need the 1 7/8″ white square and the (4) coral triangles cut from 2 1/8 inch squares. I finger pressed in half both ways the white square, and finger pressed the coral triangles in half. You will first match up two of the triangles to the opposite sides of the square using the pressed center marks. Sew at a scant 1/4 inch and press seams open and triangles back. You may trim up the over hanging corners of the triangles to the side of the square but I did leave mine until the end. Attach the other 2 triangles to the other sides of the square matching at the pressed marks. Finger press all seams open and then press flat with iron, while taking care not to stretch out of shape. The square in a square should be squared down to 2.5 inches finished.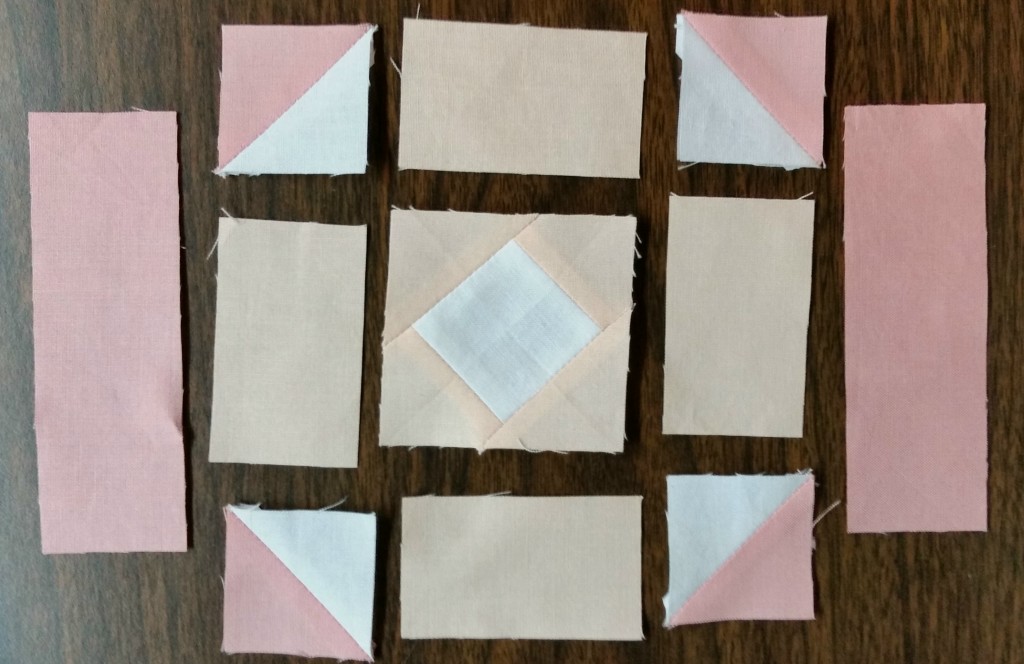 We will build on out from the square in a square. Find your (4) 1.5 x 2.5″ peach rectangles, (4) coral HSTs and (2) 1.5 x 4.5″ coral rectangles. We will be sewing 2 of the 1.5 x 2.5″ peach rectangles to the sides of the square in a square block. Press seams open. Sew (2) coral HSTs to (1)  1.5 x 2.5″ peach rectangle in the direction shown in photo. Press seams open. Create a second one with the other coral HSTs and peach rectangle. These will be sewn to the center square in a square pieced set. Seams pressed open. You will next sew a 1.5 x 4.5 " coral rectangle to each side of the block. Seams pressed open.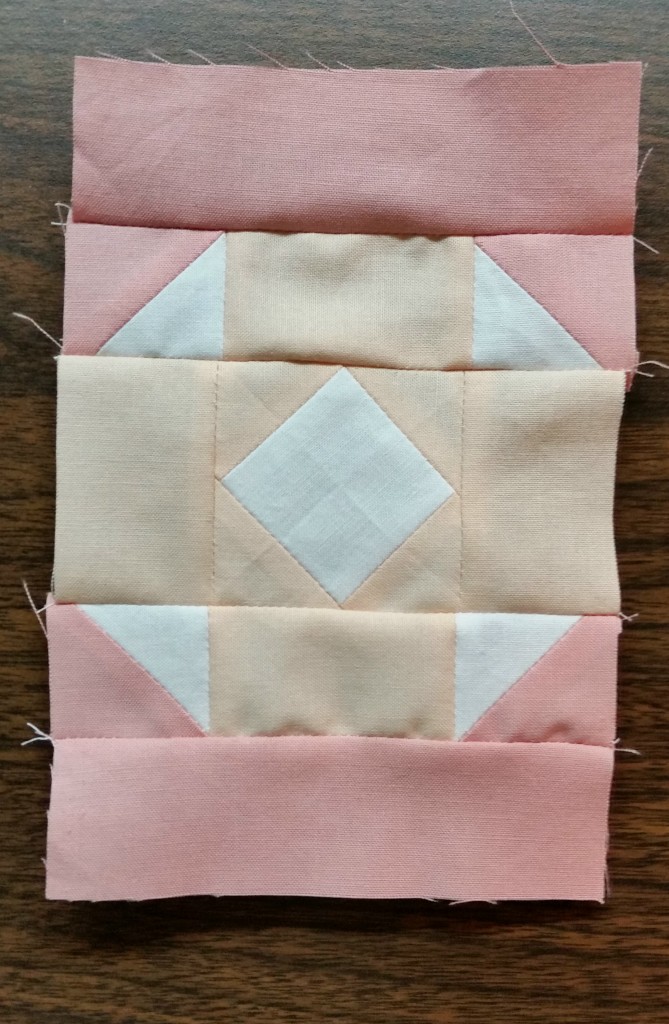 This is how your pieced section should now look.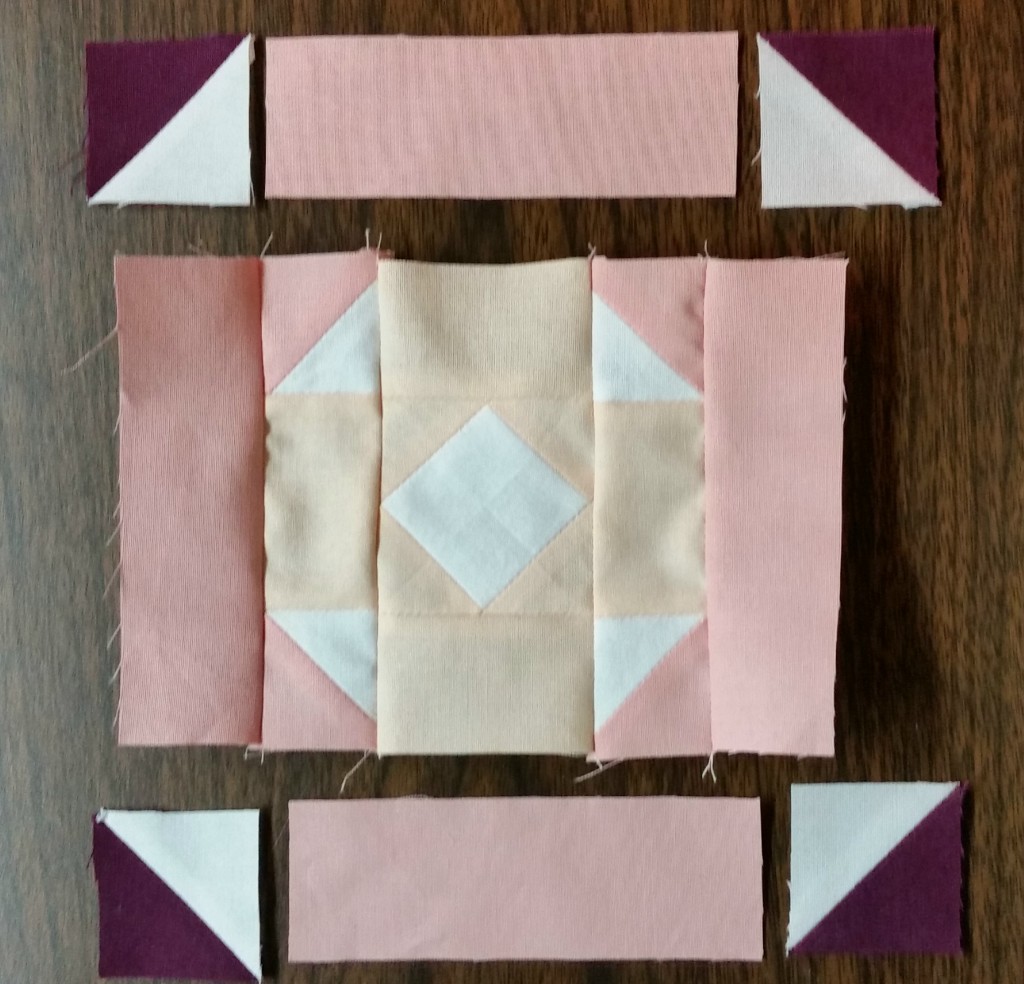 We are going to finish piecing the center block. You will need to find (2) 1.5″ x 4.5″ coral rectangles and (4) bordeaux HSTs. You will be sewing a bordeaux HST to each end of the coral rectangle in the direction shown in photo. Press seams open and make two. We will add these new pieced segments to each side of the center block. Press seams open and this part of the block is complete.
Creating the Outer Petals of the flower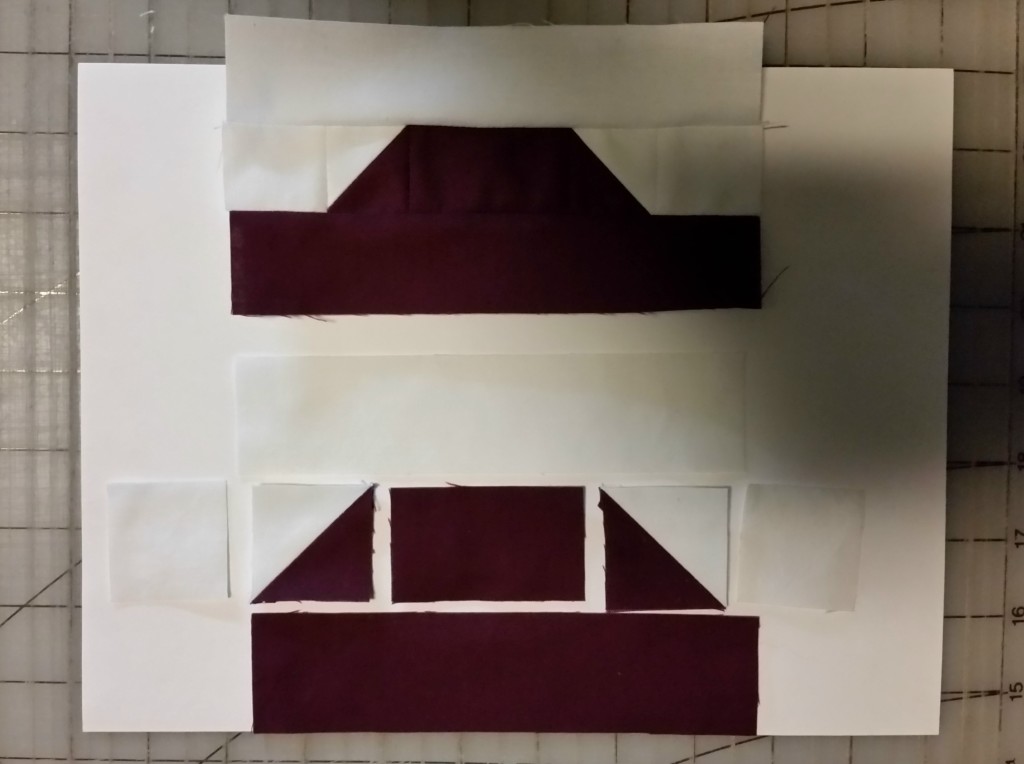 We will be creating 4 of the outer flower petal blocks. You will need (4) 1.5 x 6.5″ white rectangles,  (4) 1.5 x 6.5″ bordeaux rectangles, (8) 1.5 " white squares, (4) 1.5 x 2.5″ bordeaux rectangles and (8) bordeaux HSTs. You will start with the 1.5 x 2.5″ bordeaux rectangles adding a bordeaux HST to each end and pressing seams open. A 1.5″ white square is sewn to the end of the newly created segment and press seams open. You will sew a 1.5 x 6.5″ white rectangle to the top of section with the white matching the white side of the HST. Add the 1.5 x 6.5″ bordeaux rectangle to the side matching the bordeaux side of HSTs. Press all seams open and make all four petal blocks the same way.
Creating Nine Patch blocks :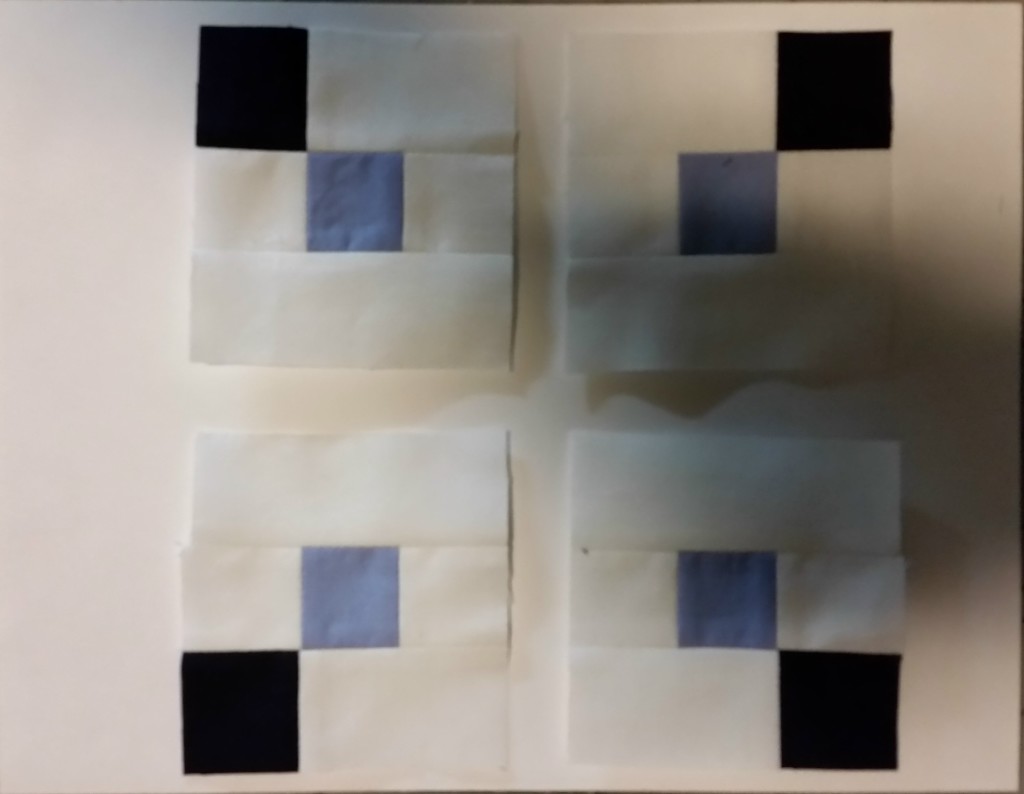 To make the four Nine Patch blocks, we will be using (1) 1.5 x 21″ white strip which you will cut (4) 1.5 x 3.5″ white rectangles. (1) 1.5 x 21″ white strip is cut in half and (1) 2.5″ white strip cut in half. We will be using a half of each 1.5″ strip of Midnight and Daydream. Combine 1/2 strip of 1.5″ Midnight strip with 1/2 of 2.5″ white strip. Press seams open. Make a 3 strip set sewn from white, daydream, white 1.5 inch strips. Press all seams open.
You will cut (4) 1.5″ pieces from the Midnight/White strip set and (4) 1.5″ pieces of the white/daydream/white strip set. You will sew a midnight/white set to a white/daydream/white set and press seams open. Make (2) with the midnight square on the left side and (2) with the midnight square on the right side. You will add a 1.5 x 3.5″ white rectangle to the white/daydream/white side and press seams open.
Whole Block Assembly: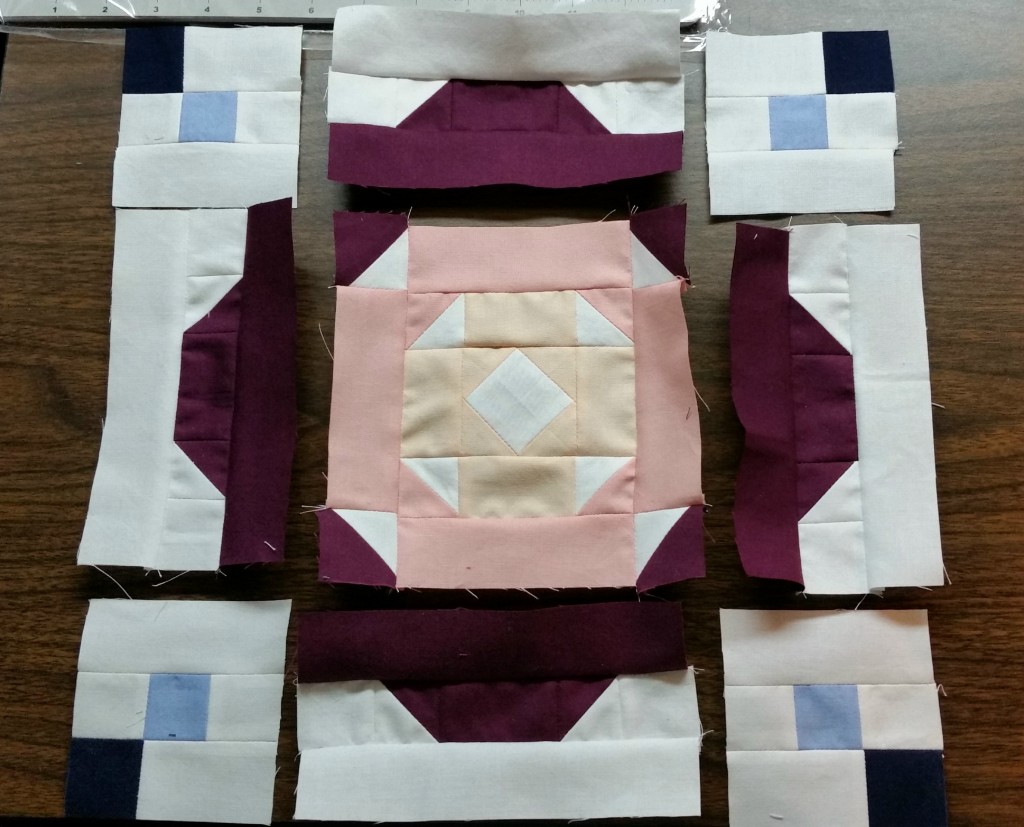 Let's finish piecing this block. You will start from the middle out. Take the flower center and sew two outer flower petal sections to the center matching the 6.5″ bordeaux side of the outer petal to the center bordeaux HSTs. Press seams open. For the top and bottom, sew a nine patch to each side of the outer petal blocks with the midnight squares facing furthest out on all blocks. Join all three rows together matching intersections and pressing seams open.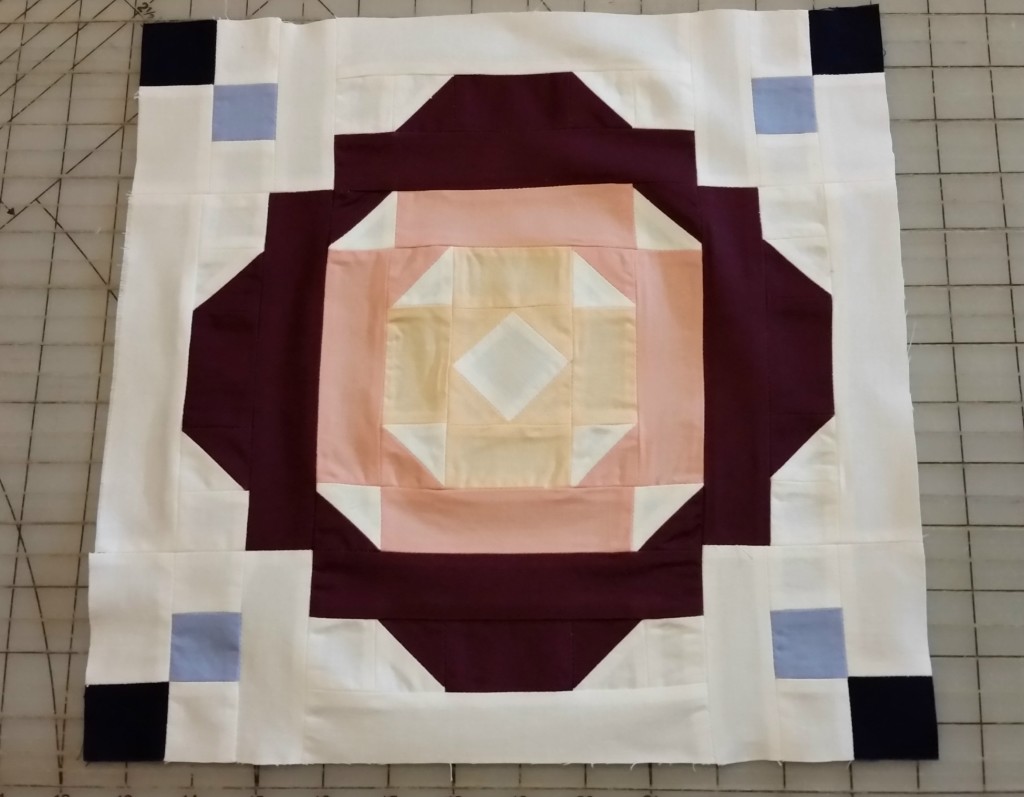 Yeah, you now have a completed Irish Rose Chain block! Thanks for sewing along with me.
I entered a photo of my completed block into the Photoscape photo editing program and you can tile your photo and see what a possible quilt would look like made from that block. It was a little hard for me to get a good straight on overhead photo of my block in good lighting to get a perfect match of my seams in my tiled photo. The one side is just a tad off but you can tell that the midnight squares will match up to make a large center square.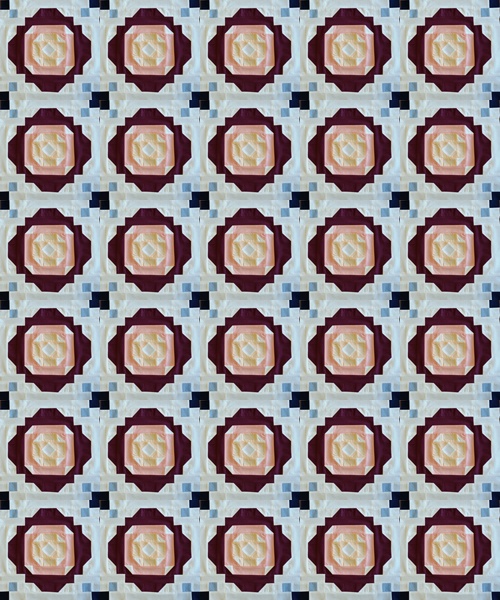 I hope that you will consider sewing up a version of my Irish Rose Chain block. I would love to see whatever you come up with. A variety of colors and prints added could really change the look to the flower shape.
Please check out the rest of today's lovely blocks.
Wednesday, March 30th
Thanks for stopping by.
Happy Sewing,
Shelley
On the first Thursday of the month, Jenn who blogs over at A Quarter Inch From the Edge holds a Throw Back Thursday linky party. You are able to share any quilts whether they maybe good, bad or ugly from your pre-blogging days. This will be my first time sharing one of my quilts there. I have shown pretty much all my pre-blogging days quilts all ready on my blog that I had photos of. There are numerous ones that did not get photographed that I wish I now had a record of making. This quilt that I am sharing today is one of my favorite smaller quilts that hangs currently from a quilt rack in our living room. (My WordPress was not allowing me to write or edit my posts, but after upgrading it appears to be working again. So my Thursday posting is now a Sunday post.)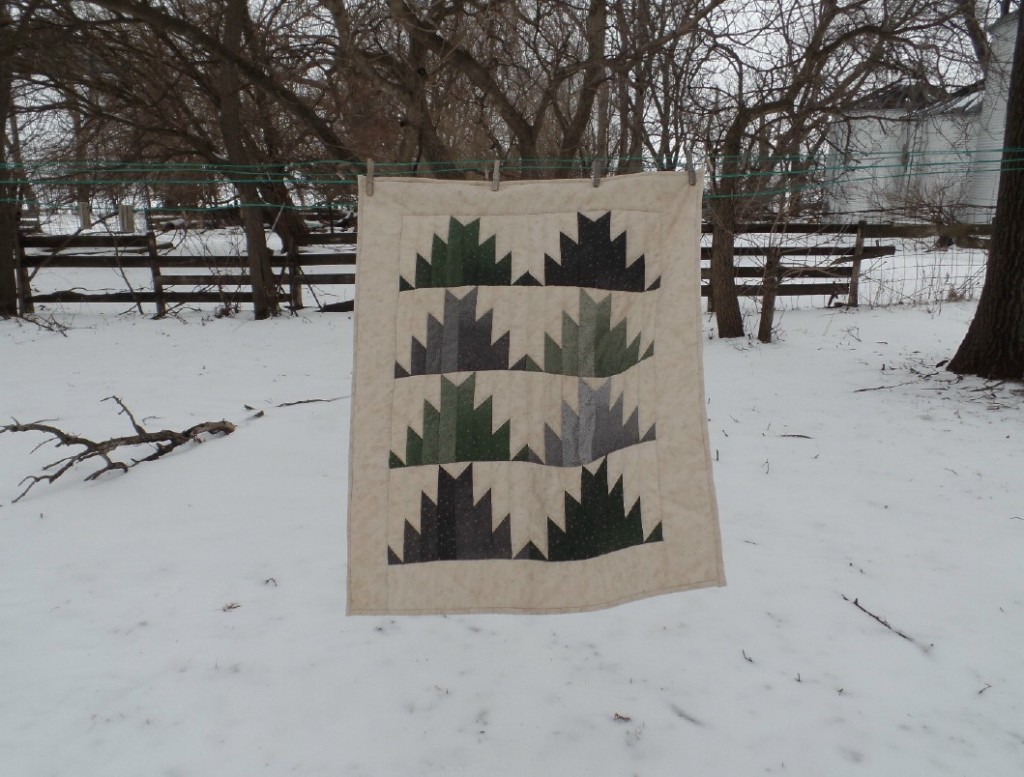 I made this quilt back in 2000 if I remember correctly. It is made up of blocks that are called Rocky Mountain Sparklers. Rocky Mountain Sparklers are the western cousins of the Delectable Mountains quilt blocks.  I do not remember the line of fabric but I think it is really cool as it is ombre and you could get a lot of different looking squares from one cutting. This is made with a tea dyed muslin for the background material. I quilted around the mountain blocks an 1/8th to 1/4 inch away from the seams. I am surprised looking back at some of my older quilts and seeing how well I managed to keep my points. These were made back before learning all the time saving techniques and using a more simple non computerized sewing machine.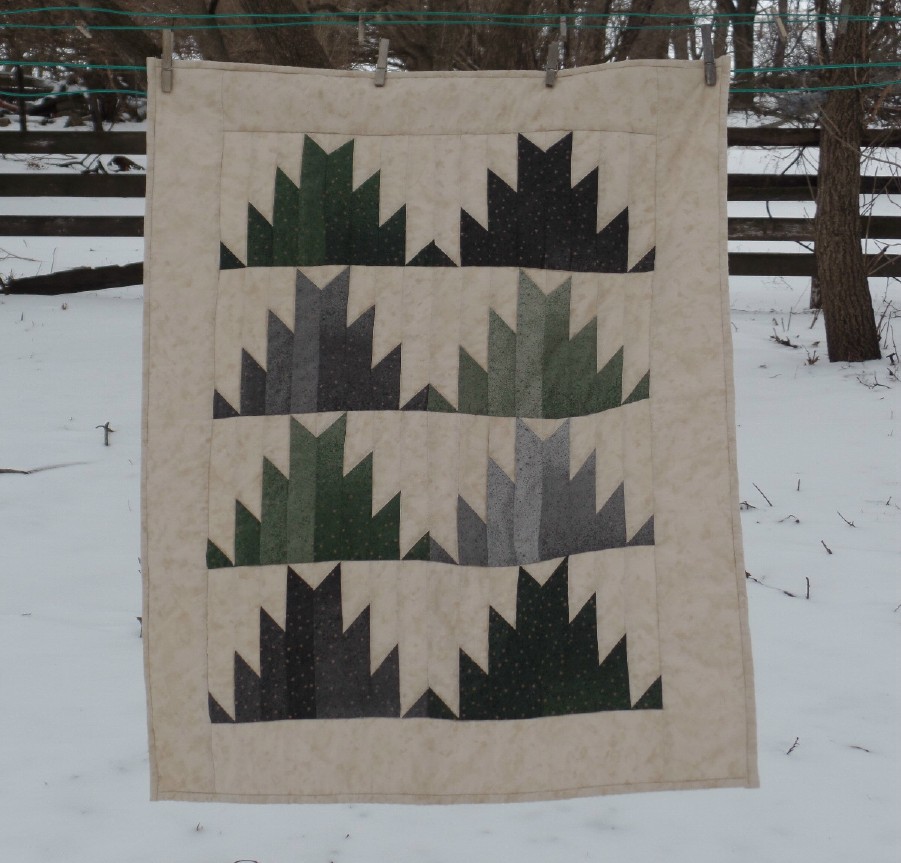 The pattern and instructions for this quilt can be found in the Start With Squares: Speedy Square Piecing for Scrap Quilts by Martha Thompson.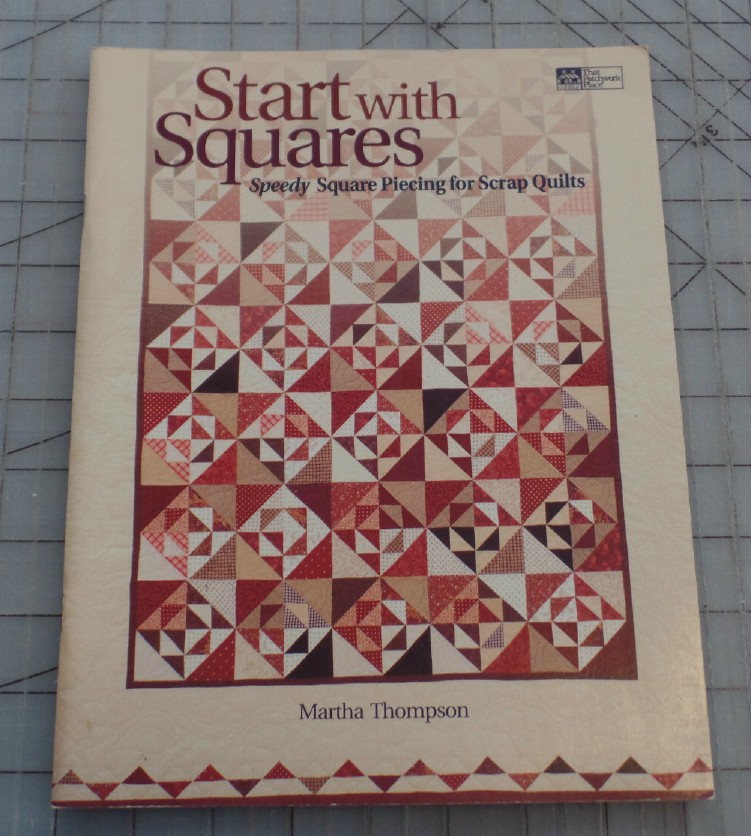 Here is what the original quilt design was to look like. I changed the alignment of blocks and did not make mirror images.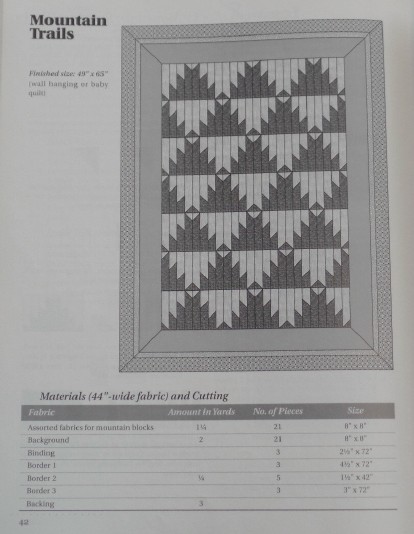 I found in my stash that I have a stack of 6.5 inch cut squares from this quilt's fabrics. I have squares in colors that did not end up in this quilt. I am not sure why they all were cut to this size as the Rocky Mountain Sparkler blocks are made from a larger square.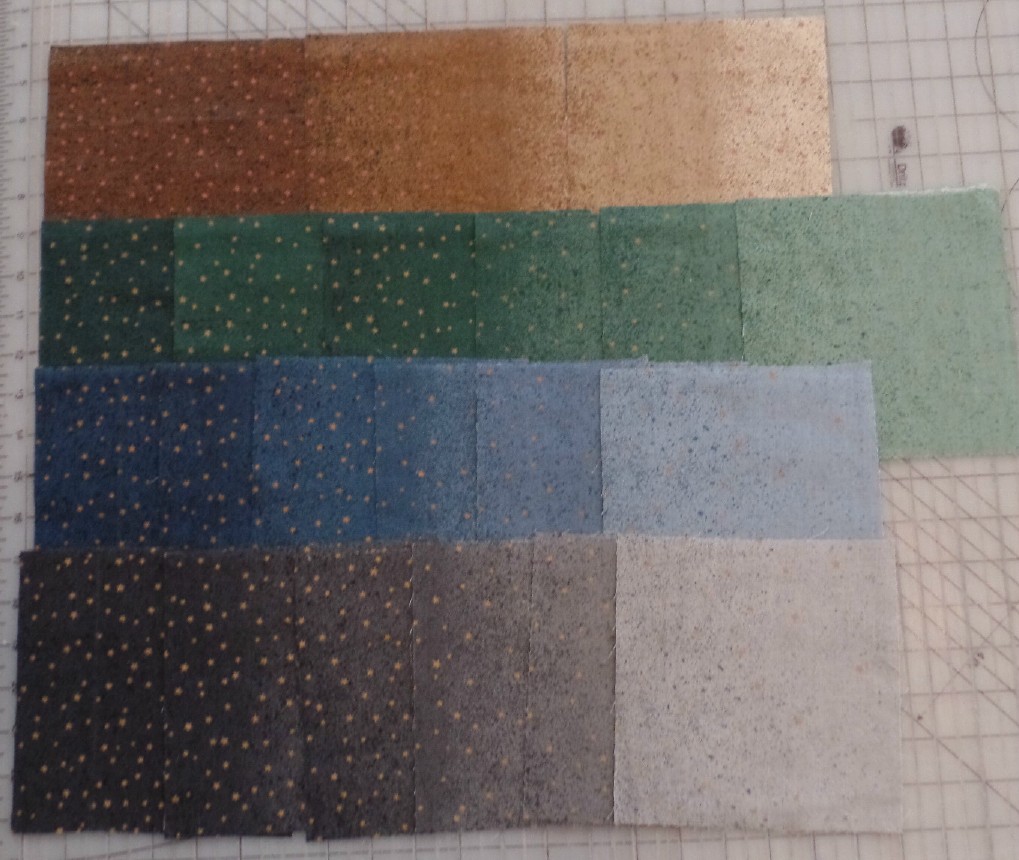 I am looking forward to using these print squares in a possible mini quilt in the future. Possibly sizing down the Rocky Mountain Sparkler block or some 4 at a time flying geese blocks. The varigated colors of the ombre might show up nice in the flying geese blocks.
Please head over to Jenn's page and check out the neat quilts that have been shared this week on Throwback Thursday.
Thanks for stopping by my blog.
Happy Sewing,
Shelley
Hi, I received an email back in January from Fat Quarter Shop asking if I would like to make a quilt for their newest shortcut quilt pattern series. I have been away from quilting for a couple months dealing with family matters. I jumped at the chance to work with a new pattern. Fat Quarter Shop provided me with the pattern and fabric to make this quilt, and I chose to upgrade to make a larger quilt.
Fat Quarter Shop releases multiple quilt patterns throughout the year in their shortcut series. There is a free pattern and video for each pattern released in the series. The videos show how to construct the needed blocks and give some great pointers.  The Jelly Roll Slice comes in four sizes from baby to Queen size and uses from only 17 jelly roll strips for a baby quilt up to 3 jelly rolls for a Queen size quilt. I chose to make the twin size quilt and it uses 2 jelly rolls and a small amount of background fabric.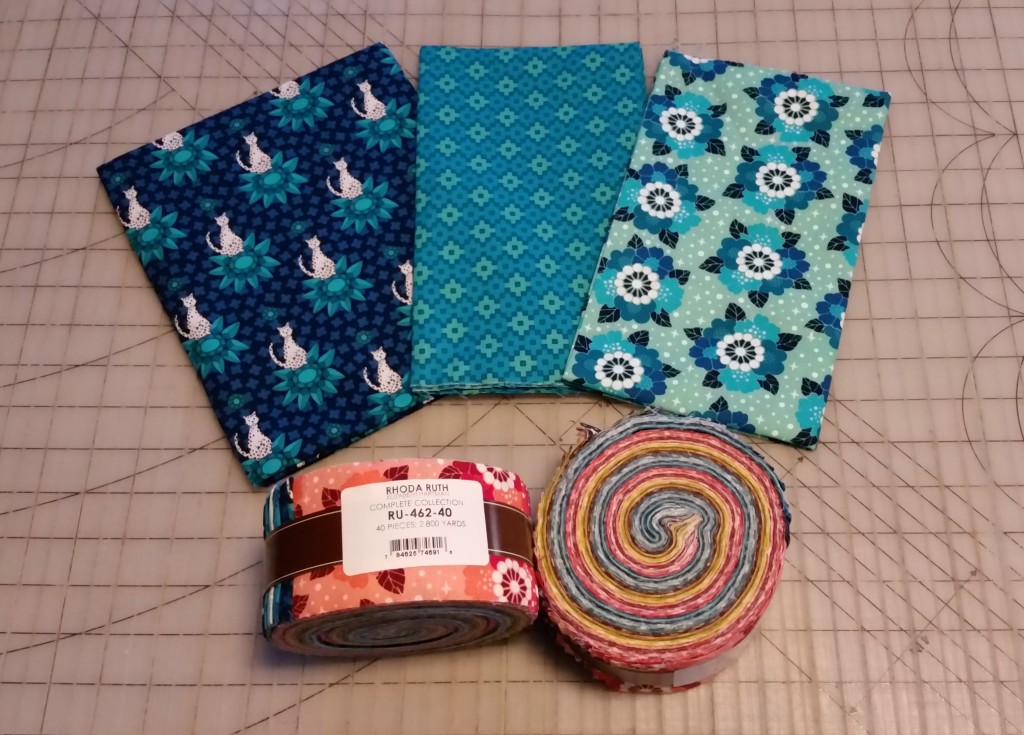 I chose the Rhoda Ruth by Elizabeth Hartman for Robert Kaufman Fabrics. I have been admiring this line of fabric for awhile and all the lovely quilts created with it. I instantly migrated to it when given the chance to pick whatever line I wanted to use. I purchased a yard of the Rhoda Ruth Nightfall Savannah Sun fabric which is the first fabric, a half yard of the Rhoda Ruth Nightfall Southwest Key fabric which is the second in line, and a half yard of Rhoda Ruth Nightfall Flower Petals to be pieced into a backing for my quilt.
The Jelly Roll Slice instructions made for an easily constructed quilt top. Kimberly shows her technique for pressing seams on the video and it really did work wonders for how easily the blocks go together. The quilt math is quite generous and I had no problem creating the needed block components to make my quilt top.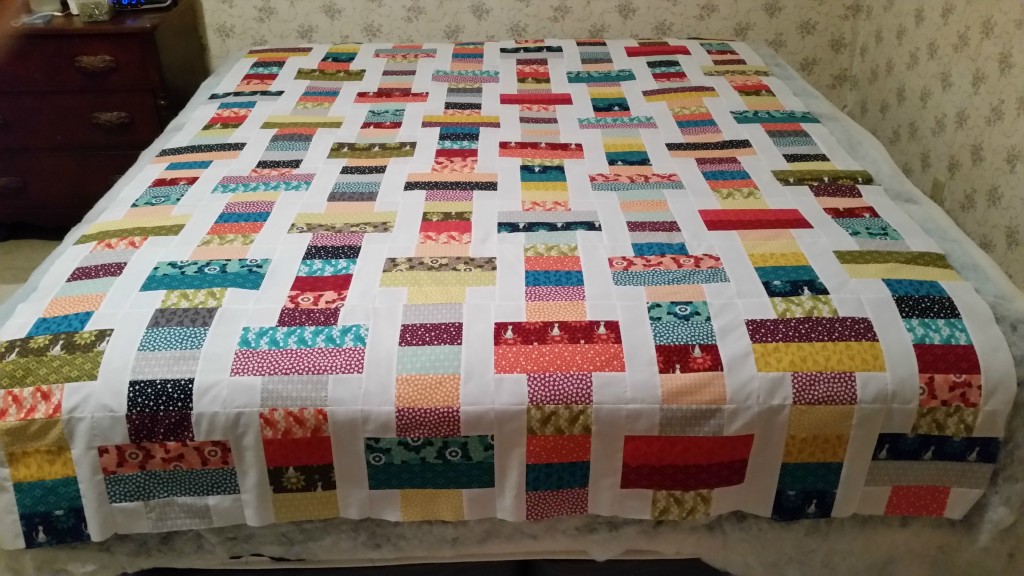 This is my twin size top shown on the top of a king size mattress. The twin finishes off at 64.5 by 88.5 inches. I tried something new for me and pin basted my quilt on our mattress. We adopted a cat recently that only has three legs but he is quite good at swiping and shredding with his one good front paw so basting this way save my quilt batting and a lot of grief.
I chose to piece a multi striped backing for my quilt. I used the three Rhoda Ruth Nightfall print yardages and added two shades of turqouise and teal as stripes and finished it off with navy solid. I had to get extra creative with my piecing as I discovered I did not have as much navy in my stash as originally thought.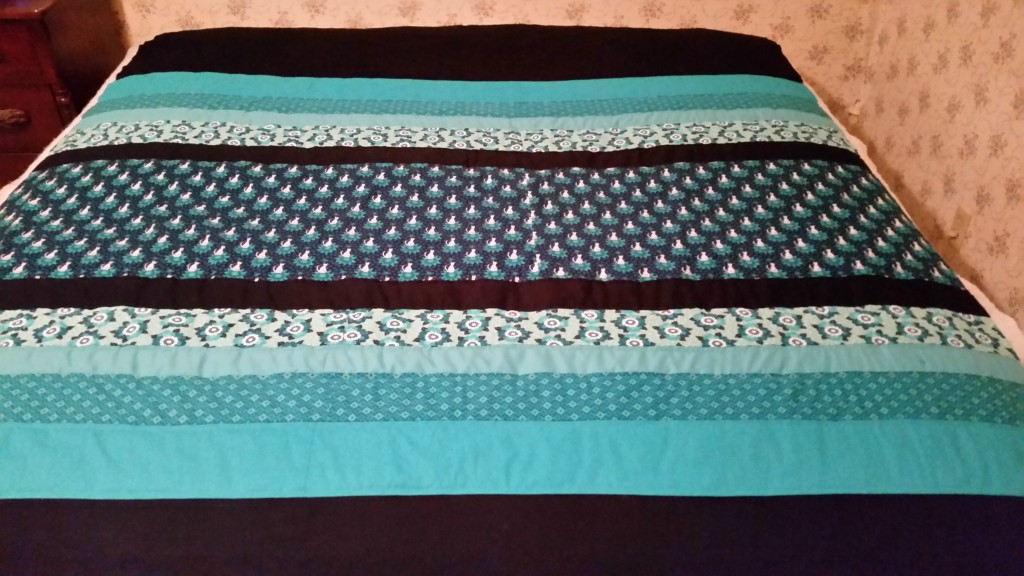 I tend to make a lot of pieced backs for my quilts and since I had so many seams across the width of my quilt. I decided to prequilt each stripe a 1/4 of inch away from the seams. It ended up taking a bit of time and used 4 bobbins just for that amount of quilting. I think it was worth it as it helped me keep my back flat and smooth when I basted the top to it.
We were given a deadline to have our quilts done to go along with the release of the Jelly Roll Slice pattern and video. I had my twin top and back completed in time but I am still quilting at the time of this blog post. I have not made too many quilts with jelly roll strips so was not sure how I wanted to quilt mine. I see from the other completed quilts in this series that straightline stitching to allover stippling looks lovely on this design. I have decided to use a serpentine style stitch and quilt multiple rows going over all my horizontal seams. It is creating a lovely pattern and I have used it before and it produces a lovely puckered look after washing and drying the quilt.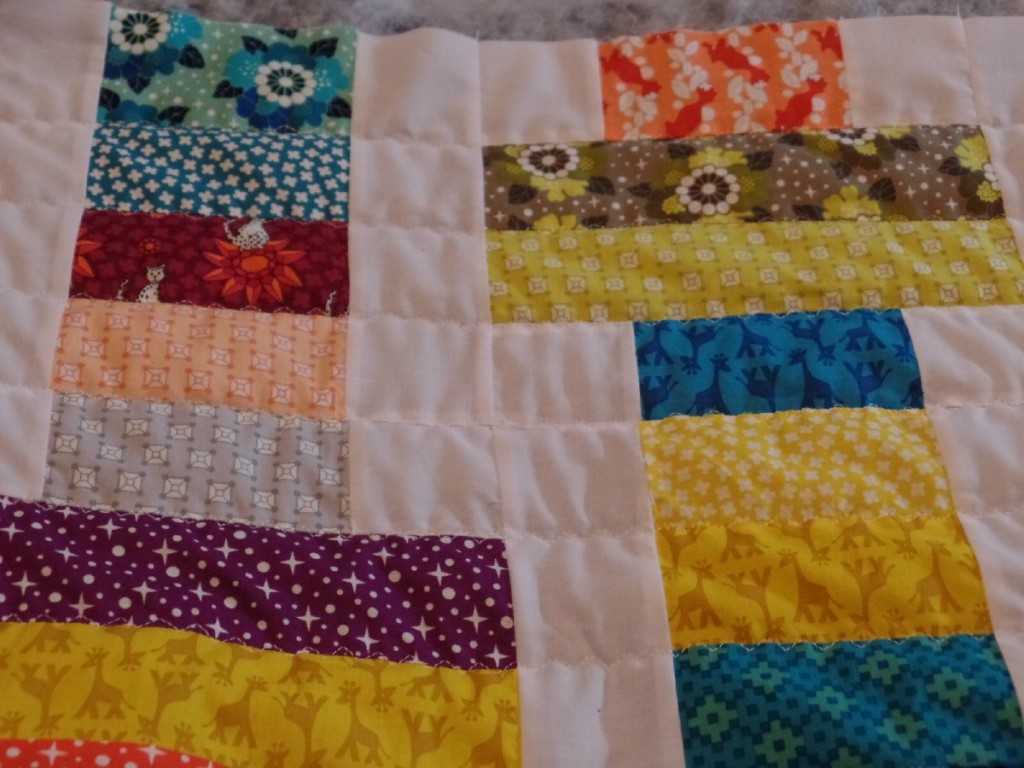 I hope to finish up quilting my version of the Jelly Roll Slice quilt in the next couple days and upload some finished daylight photos to this posting and they will also be shared on Instagram using #jellyrollslice.  I am new to Instagram this year and can be found @shelleymichellefolkerts .
Links to Fat Quarter Shop's pattern and video can be found below. They have a quilt kit made up for this quilt as well.
Video: https://www.youtube.com/watch?v=KOIuFJrIkQU
FREE Pattern: http://static.fatquartershop.com/media/wysiwyg/pdf/JellyRollSlice-CompletePattern.pdf
Quilt Kit: http://www.fatquartershop.com/jelly-roll-slice-quilt-kit
To celebrate the launch of this new pattern, the Fat Quarter Shop will be having a 15% off Jelly Roll sale starting on Monday February 22nd and there is no coupon code necessary. (sale lasts until Sunday the 28th)
Please check out the other lovely versions of the Jelly Roll Slice quilt that my fellow quilting friends have created.
Taunja of Carried Away Quilting
Cheryl of Meadow Mist Designs
Terri Ann of Childlike Fascination
Eileen of Eileen In Stitches
Cristy of Love You Sew
Hayley of Moobird Stitches
Shelley of The Carpenter's Daughter Who Quilts
Kathryn of Kathryn Jones Quilts
I thank Fat Quarter Shop for the chance to participate in their pattern launch. They have so many fun and easy quilt patterns in their Shortcut series. I have been working on their Single Wedding Ring quilt pattern that was released last year.
Thanks for stopping by my blog.
Happy Sewing,
Shelley
Hi, Hope everyone had a Merry Christmas and that 2016 is off to a good start for you all as well. I certainly did not intend to be away from quilting and my blogging for 2 months.
I do have a quilt top to show off this week. We received the final instructions on the Midnight Mystery Quiltalong by Meadow Mist Designs this week and I finished piecing my blocks into the finished design. I really like it and my husband said it turned out really cool and of course always asks, And who is this one going to?? I explained what a quiltalong was and told him that it may go to one of two people. I was undecided on which one yet.
I have started to lay out the squares for my Modernized Disappearing Nine Patch made with Get A Clue Nancy Drew fabrics. I had hoped to get this quilt made in time for Christmas but it just was not possible so I am hoping to get it completed for Ali's birthday in February.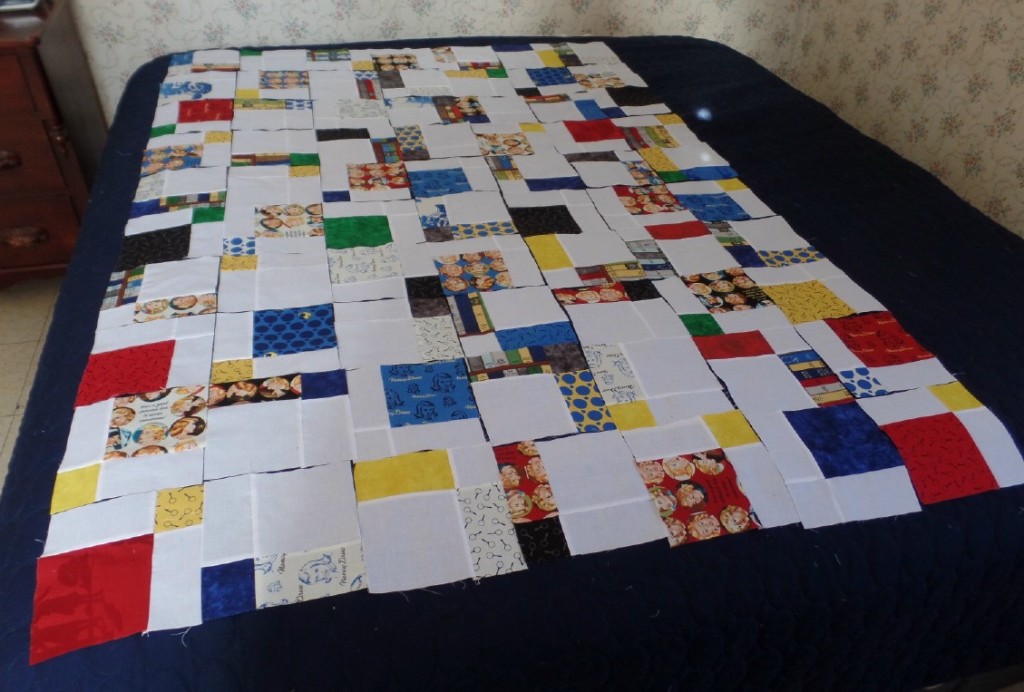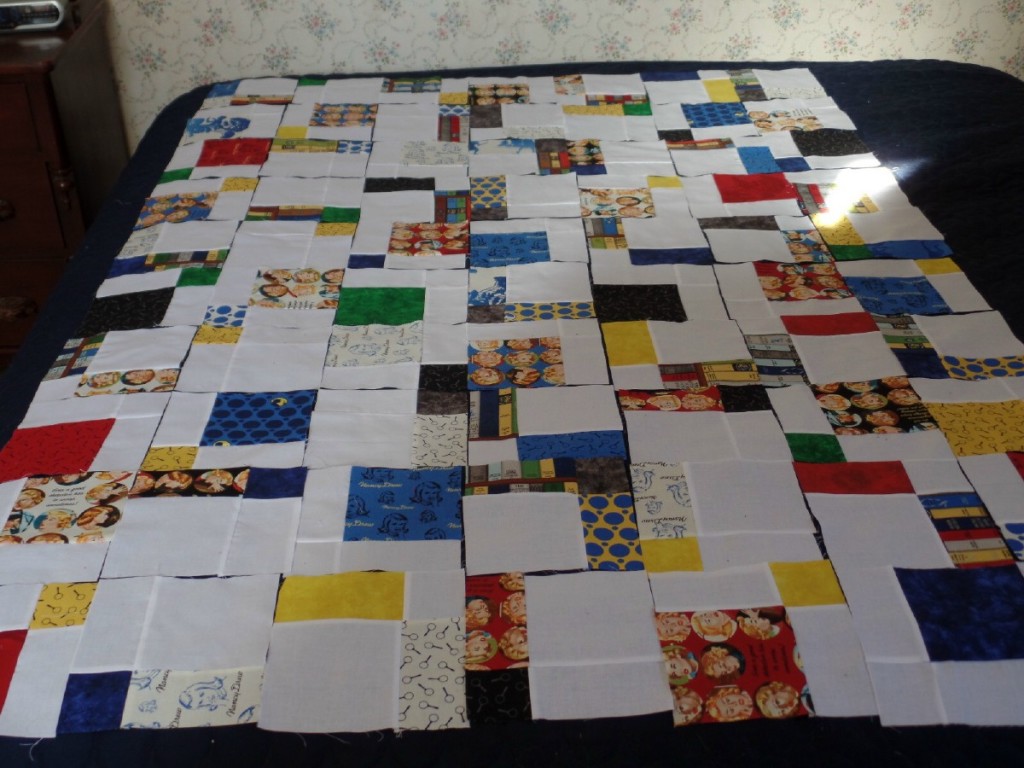 I am working with three charm packs of the Nancy Drew fabrics and added a set of 5 fat quarters of the bright mottled colors in addition to the white solid background. With this layout, it should be approximately 45 by 60 inches when pieced together. I of course want it larger than that to be a nice throw size. I have cut more white squares to make more nine patches.
The Thanksgiving and Christmas holidays were pretty rough around here as my husband has been recuperating from spinal fusion surgery. His back pain is basically gone, but unfortunately he now has alot of pain in his left leg. He got to take a nice ambulance ride for a second trip to the hospital the second week of December. The ER doctors had him on enough really strong painkillers that it should have put out a 1500 pound steer. It is nerve pain in his leg caused by the doctors touching and moving the cluster of nerves down the left side of his body. No one can tell us if his leg will feel normal again in 6 months or ever…yet.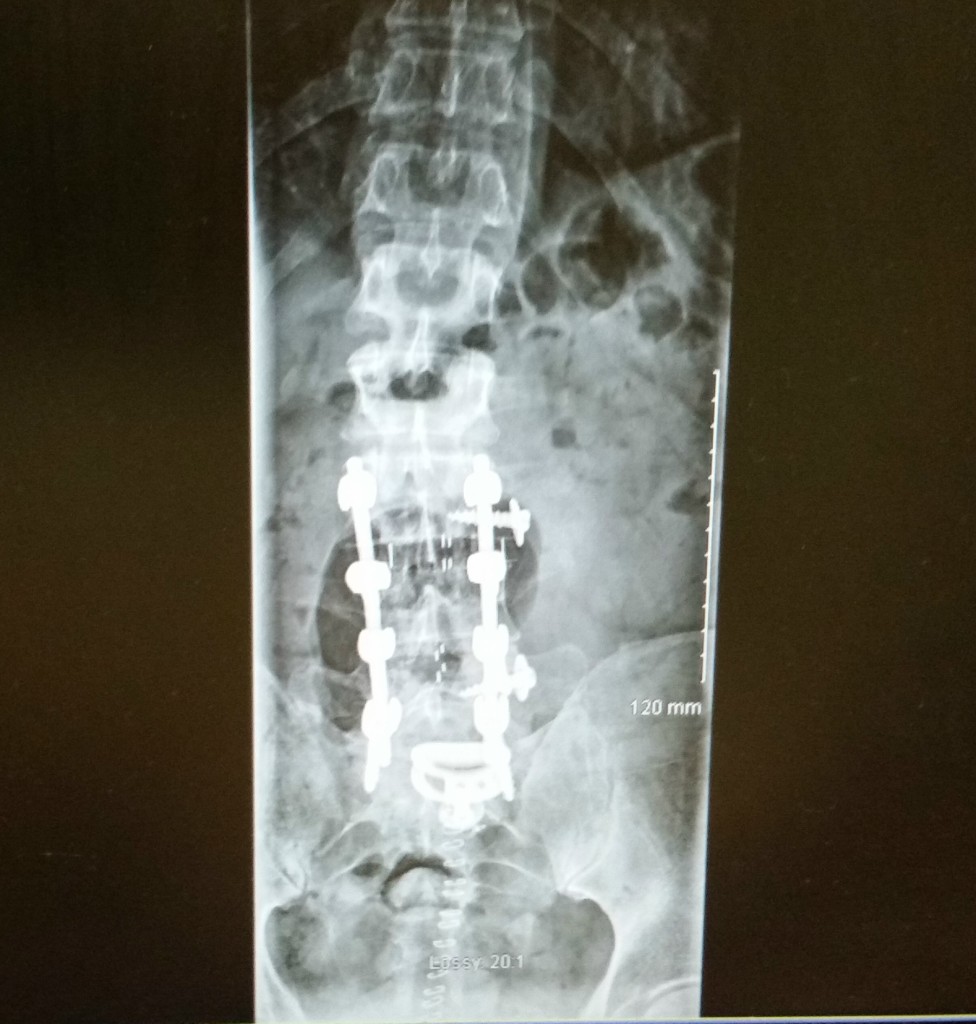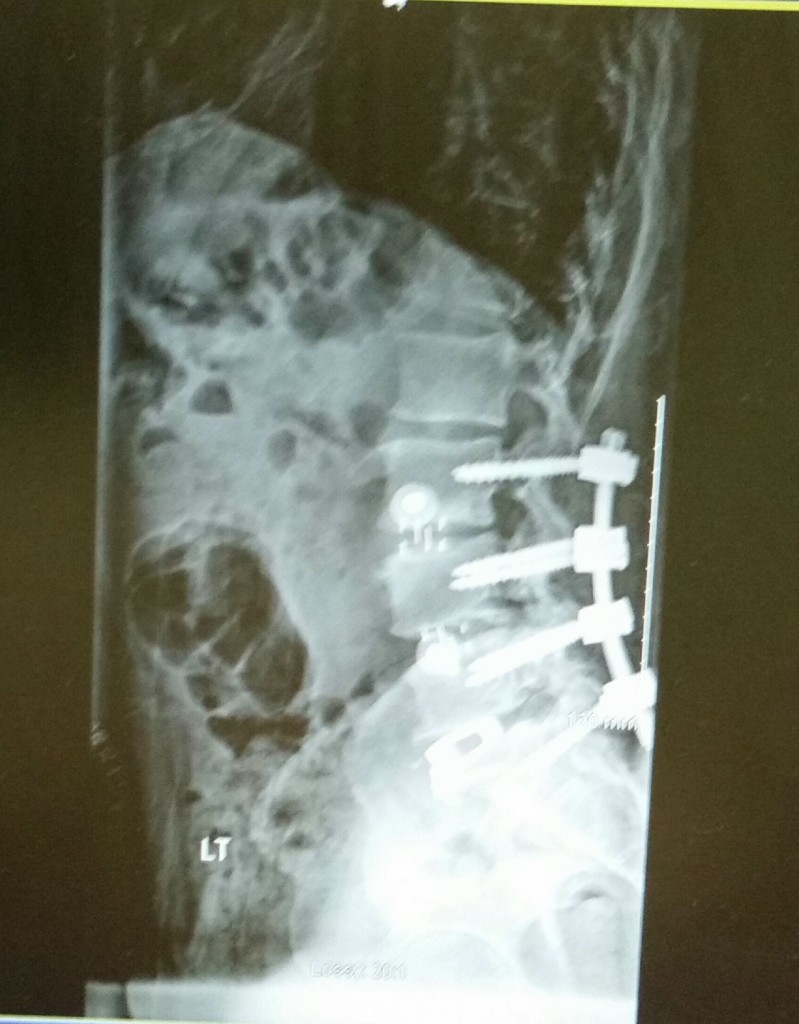 My husband's back now looks like a poorly made kid's 4 H project or an Erector Toy Set gone bad. He laughs he will never be able to go through a metal detector again.
Our family suffered a great loss just two days before Christmas. Our 9 month old Australian Shepherd puppy Katie decided to chase after a car speeding by our house and was hit and killed instantly. We are all devastated. We are extremely upset with the lady who hit her. She drives by our house twice a day at great speeds and we live on a gravel road that is not always maintained in the best way. Last year, she almost hit a black cow that was standing in the middle of the road at the bottom of our hill. It was not one of ours. I was doing dishes and saw her fly by and saw brake lights and crunching gravel. I just assumed she finally hit a deer. Thankfully she did not hit the cow. My husband says he can not go through this again. No more pets. We did bury three this past year. We had been saying all along no more puppies but I have told him that since we are still young (50 and 55) that I can not see never having another dog. If we stay healthy, we could have a good 30-35 years here at home. I have to have a dog. Abbey, our Black Lab is 10 and will not be with us forever. In the weeks before Katie's passing, he had decided that if we could find a big fluffy cat similar to Buddy, that he gave us permission to bring it home. He continued to say that even after Katie was gone. We have been in the works to adopt from a local rescue, a male gray Maine Coon cat very similar to Buddy that lost his front leg to a likely nasty steel jaw trap. He has been recuperating at a foster home and gets along amazing well. I was concerned that he would have issues getting around in our two story house, but supposedly he is still able to jump and clear a baby gate so venturing around in our house should be fine. We should be able to bring him on Thursday this week. I can also add that my husband has had a lot of time to think in the last couple weeks, and he has said that if we could find a nice young female Australian Shepherd that was well past all the puppy stage that he would consider having another. This will be no small feat.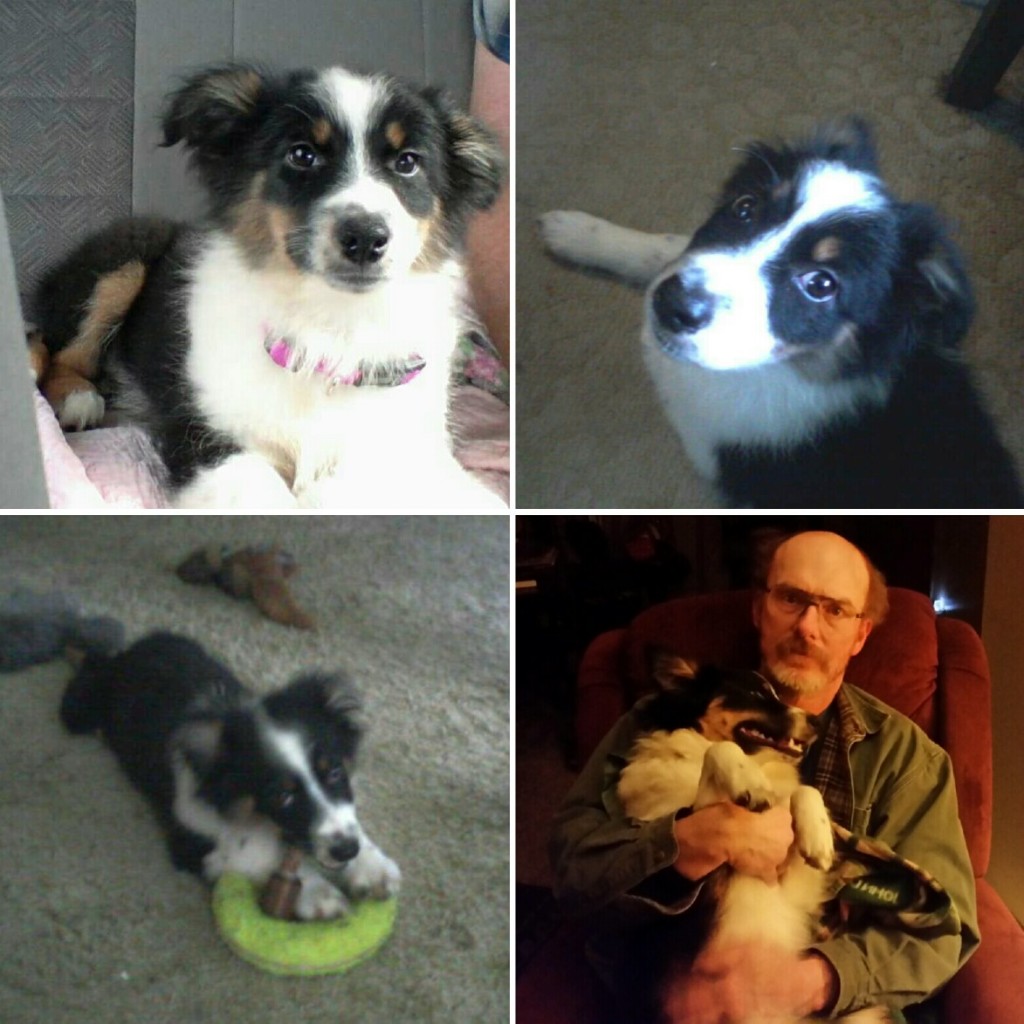 I have lots planned for the new year. There are lots of new quilt patterns to play with that I have acquired in the last two months. I apologize to everyone that I owe an email back to yet. There have been many weeks with many nights with little sleep for everyone here. Things are slowly getting better. I have really missed sewing and quilting and my blog has gotten neglected as well. I have been working on this post all weekend long, as the software has not been loading my photos correctly. I think I have it figured out.
Thank you to all who have read this to the end. I hope to have more quilting to share yet this week.
Happy Sewing until then,
Shelley
Hi, Welcome to my stop on the Best of 2015 Linky Party! Cheryl over at Meadow Mist Designs is hosting the Best of 2015 Linky Party. It is a great way to share some of your best quilting blog posts from the year. You could choose to share the posts that had the most views, or most comments. You could simply pick just your favorite finishes for the year.
I am choosing to share the top five posts with the most views for the year. I eliminated all those that were contest giveaways or part of a quilt along. You may click on the title of any of the links below to go back to the actual blog posts for more information or more photos.
Fabri-Quilt New Block Blog Hop: Blue Island Tribal Block Tutorial (1289 views) This blog hop was one of the most fun things I participated in this year. I created my own block design and tutorial. It was chosen to be included in the 2016 Quilter's Planner.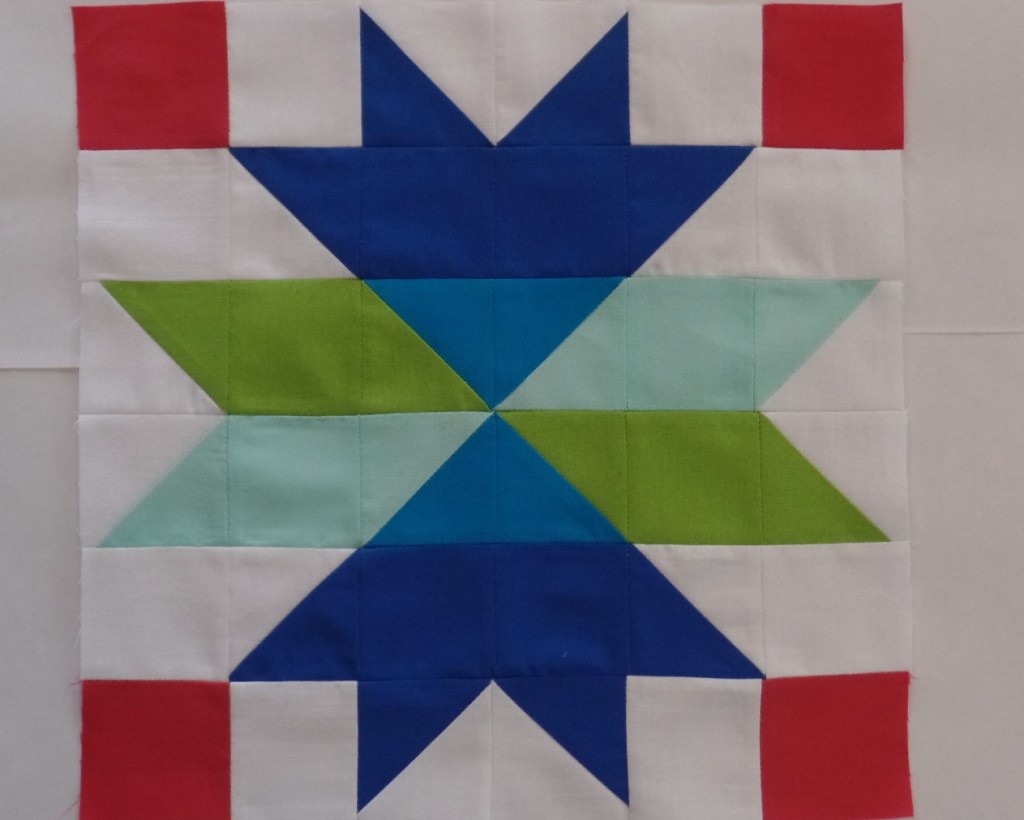 Batik Catawampus Flimsy: Friday Finish  (963 views) This fun queen/king sized batik quilt flimsy was created from a selection of batik scraps from my fabric stash used in all the batik quilts I have made over the last five years. I had originally thought I would like to increase the size of this top from 100 inches square up to 110 inches square. I have decided I like it as is, and hope to get it basted and ready to quilt after the new year.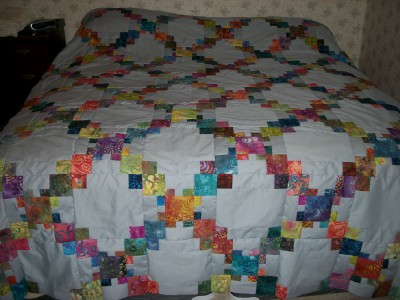 Flying Happy Flimsy Completed (860 views) This is the last quilt flimsy that I have completed this year. I love flying geese quilts, almost as much as I love plus/cross quilt block quilts. This quilt will be one that I actually keep for myself.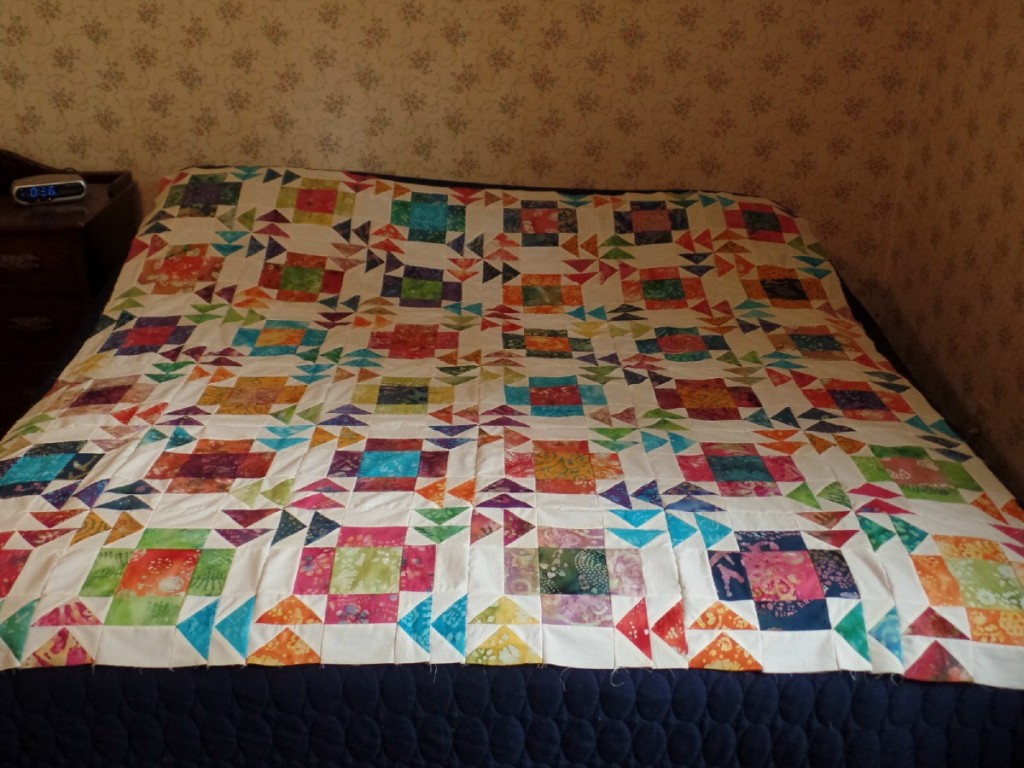 Plus Dash: A Friday Finish (830 views) This is one of my favorite finishes for the year. It was pattern tested for The Colorful Fabriholic. This was made special for a good friend from high school as a comfort quilt after losing her sisterinlaw to cancer. She loved it!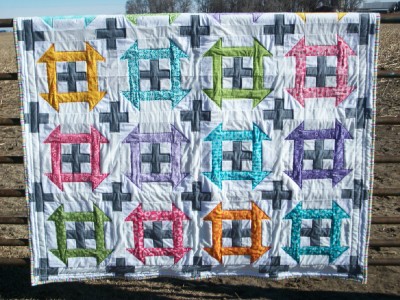 Zen Gardens Bento Box Flimsy Finish (828 views) This has to be my favorite quilt this year. The flimsy finish blog post ended up with more views than the actual quilt finish. This quilt still waits for it's intended owner and whether they want the quilt.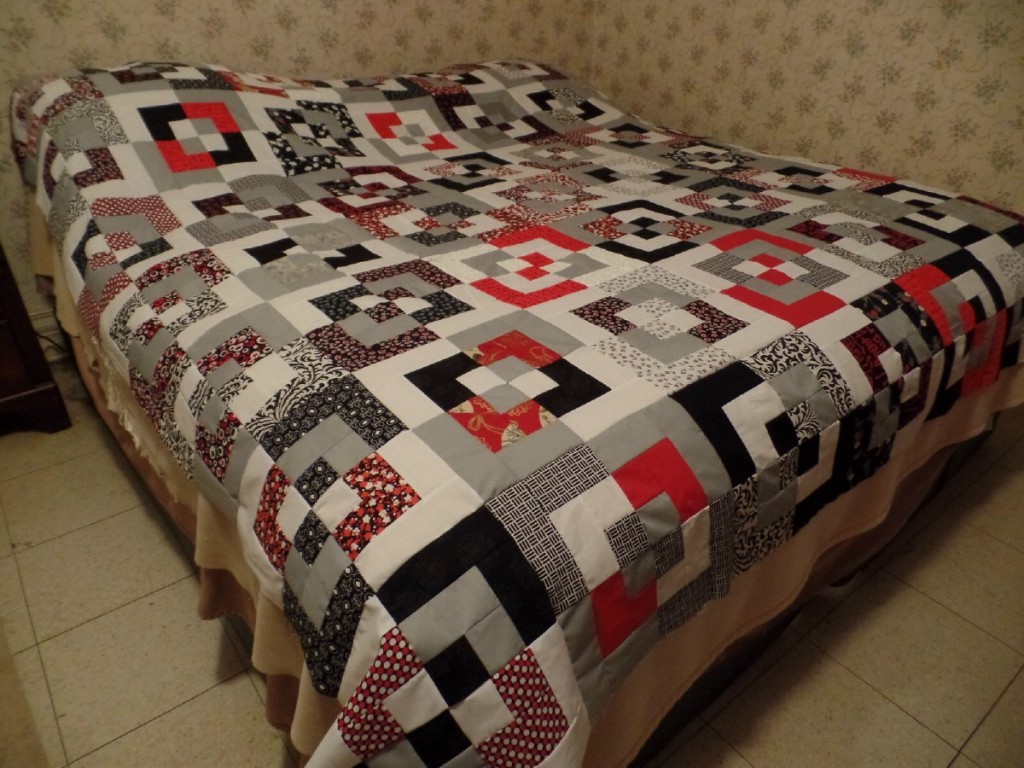 Thank you for stopping by and checking out some of my most favorite and best of 2015 quilt blog posts. I have not been able to quilt or sew much in November and December since I have been helping look after my husband while he recuperates from major back surgery. I look forward to getting back to sewing and quilting shortly. I have lots of things in the works for 2016.
Please stop by Cheryl's
Best of 2015 Linky party
to see what fun items everyone else has to share!
Happy Sewing,
Shelley
Welcome to my spot on the Trunk Full of Quilts online trunk show. This fun quilting event is being held by Soma @ Whims and Fancies. This online trunk show allows us quilters who have not been able to participate in actual trunk show in person to be able to share some of our favorite quilts with all of you viewers online. If you are new to my blog, I hope that you will take some time to look around and please follow along to view all of the lovely quilts that are being shown by the other trunk show hosts.
I have been quilting for over 20 years and blogging for 16 months. Many of my early quilts either did not get photographed properly or the photos have been misplaced. Most of my quilts have been gifted and out the door soon after completion.
The first quilt I would like to show during my trunk show is what has to be  my most favorite quilt finish to date, my Batik Shadowbox quilt. You can read more about it here.
I had seen a photo of this quilt in a magazine with out a name or maker. I did the best I could to research finding a pattern, but did not find one so I drew it out on graph paper the design. I have since then found multiple patterns for this quilt. My batik squares were larger than the original design. This collection of batiks have shown up in six quilts made over the last 5 years. The first one never got photographed. I will be sharing another finish and there are two quilts that need to be quilted with the last one still needing to be pieced (all pieces are cut).
My next quilt that I am sharing is my Batik High Tea quilt. Some of the same batiks show up in this one and I also added from a collection of 100 batik charm squares that I purchased off Ebay. I pattern tested this quilt pattern for On the Windy Side. You can read more about it here.
This quilt was the first time I used the serpentine stitch as a way to entirely quilt a quilt. I really like how turned out.  The gray and black really helped all of the bright batiks pop.
I was able to pattern test for Jan@The Colorful Fabriholic and made up her Plus Dash quilt that was presented to a special friend from high school. This quilt was a lot of fun to make. You can read more about it here.
I would like to share a quilt that I pattern tested for Cheryl@MeadowMistDesigns and it is the Sea Stars pattern and I called my version Positively Puppy Stars. I made this for our little cousin Anya and I am still working on a coordinating quilt for her baby sister. I hope to get completed by Christmas. I used scraps from the front to create a modernized disappearing nine patch quilt design on the back. This was the first time using that design and other full quilts have since spun off from that idea.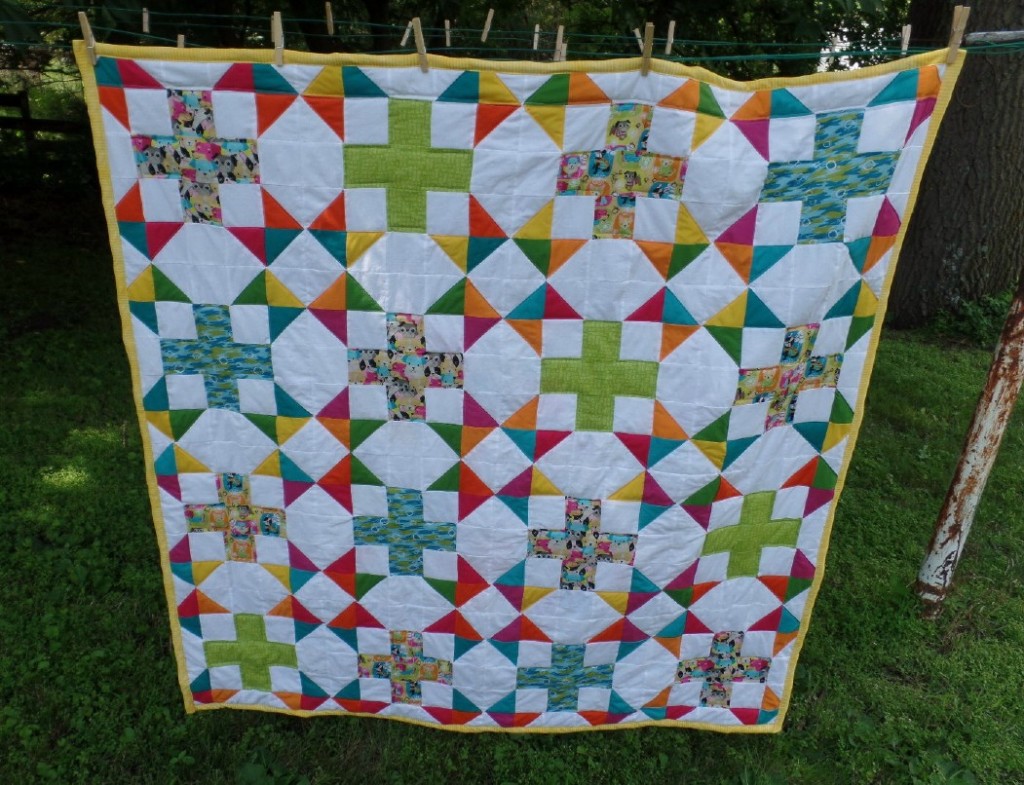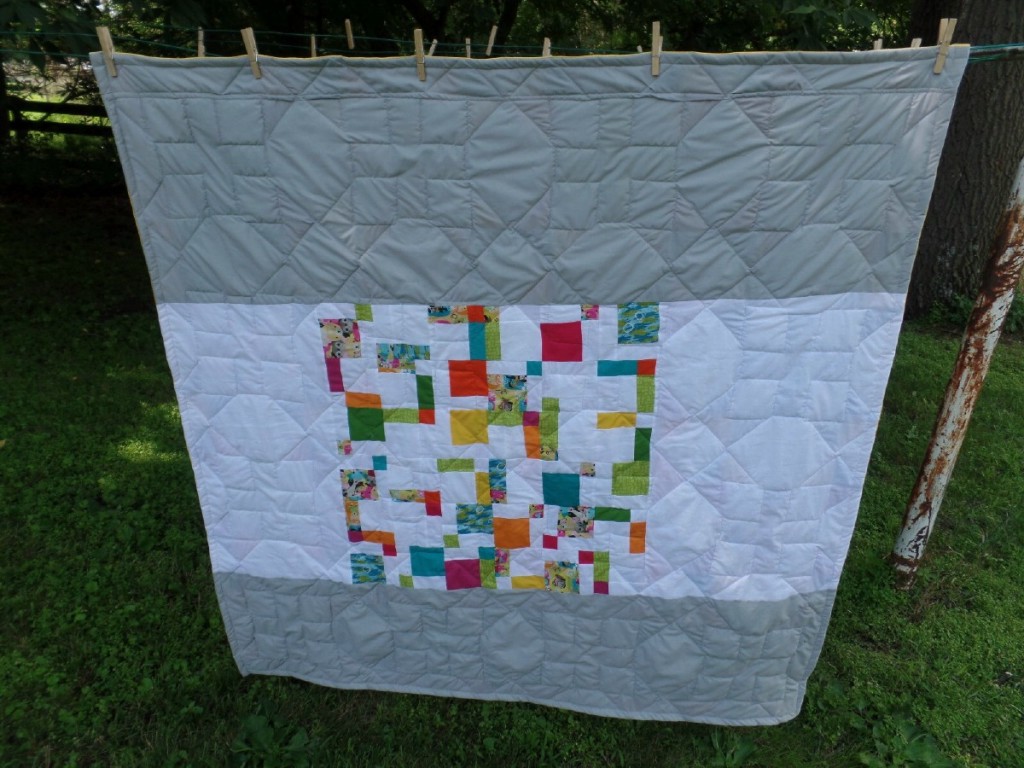 I would like to share my Broken Frames quilt that I made for my favorite Aunt. I used the pattern by Cheryl@MeadowMistDesigns.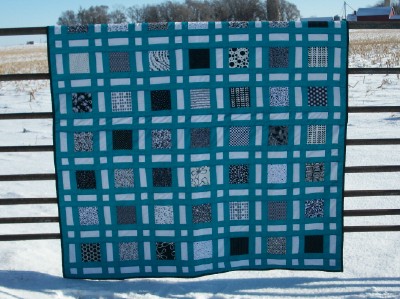 I would like to share one more quilt that I really enjoyed creating. It is my Get Your Kicks on Route 66 quilt. It was created from a couple quilt patterns. I have since lost the name/link to the original design. It was a wedding gifts for some friends who are snowbirds, who are fortunate enough to live down in Texas for their winters.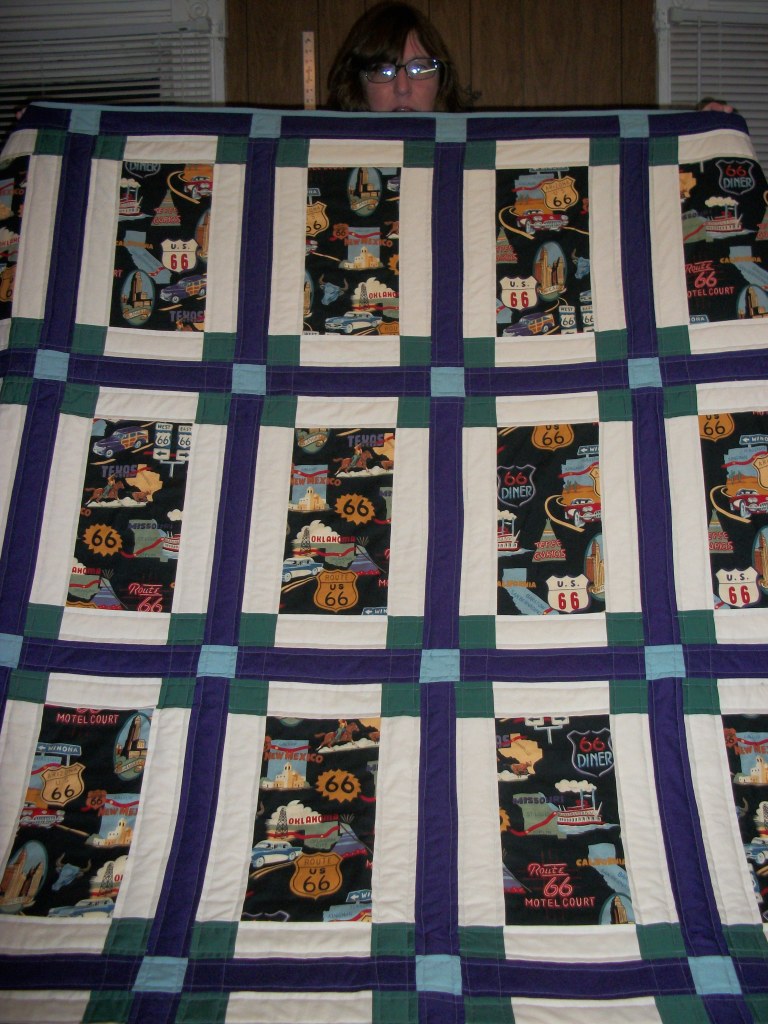 Thank you for stopping by and checking out some of my favorite quilts from recent years. Please check out all the other lovely quilts linked up over at Soma's Trunk Show.
Happy Sewing,
Shelley
Hi Everyone, Happy Halloween! It is rather rainy and chilly here today. Hopefully it will clear off so the grandkids can go trick or treating this evening. I am spending my day working on some quilt projects and doing lots of baking and cooking.
I have my fabric cut out to start my Teenage Mutant Ninja Turtles quilt using the Giddy Gridlock pattern from the last ever issue of Quilty Magazine.
The white frame sashing strips are only 1.5 inch wide. Apparently some of mine are a tad wider as when I went to add the top and bottom strips after starting with the long side strips, the tops and bottoms were too long. Up to a 1/4 inch too long. There are 228 of  those type of strips. I am taking small piles of them and remeasuring and then trimming down to the 1.5 inches that is needed. It is amazing how much just the width of a rotary blade can throw off how a block goes together. I thought my seam allowance was off and took two blocks apart and resewed them. My seam allowance was dead on, it was the strip was wider than it was supposed to be. It appears that everything "should" go together after I finish trimming. This should be a really neat quilt, which needs to go up on a design wall as the table will not be large enough.
I am piecing the backing for my batik Flying Happy quilt top. I am going to make it simple for myself and just make a simple striped pieced backing. I found 2 batik prints that coordinate with my top fabrics. They were in clearance bin.
These are certainly some bright and wild fabrics. My daughter says the orange print looks like Amoebas. Kind of cute.
I managed to purchase off Ebay an additional set of Get A Clue, Nancy Drew charm squares. I looked all over online and everyplace was sold out and out of stock. One store had a great price but they were sold out, and I remembered that was where I purchased my original two charm packs. I think I had bought all they had left at that time. I had to pay four times the amount for this one pack that I paid for one of the original ones. I think it will be worth it as I really want to make a larger modernized disappearing nine patch quilt than what Thomas' Lion's Roar quilt ended up being (57 inches square.) I found a set of five mottled bright solids in the clearanced fabrics that I think might look pretty cool as accent colors to the Nancy Drew prints.
I hope to start cutting my background squares for this quilt project this weekend. I will finalize with my son's girlfriend on what additional fabrics she might like added from my stash. I am thinking this is the best set of fabrics to start with.
Since my kids will all be home this weekend and the grandkids visiting as well, I thought I better get some extra baking and cooking done first. Everything from chocolate chip cookies, homemade applesauce, fresh pasta noodles for the freezer, chicken and pork potstickers for the freezer and Russian Tea mix to send home with the kids.
I am known across a two county area for my homemade chocolate chip cookies. I am kind of shocked to find how many wives my age do not bake. All the guys who work with my husband fight for my chocolate chip cookies. It is not a fancy recipe. It is just that I always use 3 to 4 different kinds of chocolate in them. This batch is using a new Espresso flavored chocolate chip that I found at Aldi's. I love that grocery store chain. There is also the 60% Cacao Bittersweet chocolate which have to be one of my favorites with semi sweet chocolate chips and the mini semi sweet chips. You have to add mini chips to fill in all those crevices where there is no chocolate. LoL This batch should be extra tasty as I added coffee extract and hazelnut extract to enhance those espresso chips. I tripled my batch so hopefully we can actually have some cookies here at home. Not all of them are going to the boys at the coop.
Last weekend I made up a batch of homemade applesauce from Gala apples and added some of these fun julienne dried cranberries that I found over at the Amish community at their smash and dent discount grocery stores. I am sure they are sold out on the East Coast somewhere as I have not found them at our stores here in Iowa yet. Many fun items I have found there in the last year have later been found at our Walmarts. I used half of the sauce last week to make baked applesauce egg rolls (from Pinterest) by adding a line of the chunky fruit to a egg roll wrapper and rolling it up and baking it. Spray it with Pam cooking spray and sprinkle with cinnamon sugar half way through. They were wonderful. The rest of the cooked apples mix became an apple crisp that my husband loved and had for a couple of meals in his dinner pail. I am making more today but adding Granny Smith apples to the mix. No egg rolls this week, but will likely eat some as sauce and make more apple crisp. Yum!
Last weekend I made up fresh Cavatelli pasta for the freezer. It is a very easy recipe basically just flour and water with a tablespoon of oil and some salt. This batch was actually made from a dough that we found the recipe on Pinterest to make your own potstickers from. It was 4 cups of flour and 1.5 cups of hot water stirred in til it makes a ball. You knead the dough until a smooth texture. I had a bag of self rising flour from the Amish store that needed to be used. It was too good of deal to pass up even though I usually do not use self rising flour. It was the good stuff King Arthur flour and only 75 cents for a 5 pound bag. I would find a use for it. Anyway I mixed up the said amount and used half of it for pot stickers. The other ball of dough I kneaded a bit more flour in to stiffen it up and rolled it out and cut it into 1.5 inch strips and ran it through my vintage cavatelli maker that I bought years ago on Ebay. I love to make my own pasta. What does this good German daughter-in-law serve her in-laws for Christmas dinner? Fresh made Cavatelli and meat balls. My father in-law really liked it. I even got my husband to help me roll the noodles, which can be hard to do in my kitchen as the only place that was narrow enough to clamp the machine to was the kitchen chair. I can not do that right now with the puppy and cat lurking in the kitchen so I figured out I can hold it in one hand and crank it with the other and drop the noodles on the kitchen counter. I plan on making a full batch of dough just for noodles this afternoon so I can get some more put away in the freezer. We ate all the ones in the photo this week.
I love my pasta rollers. I have two Atlas fresh pasta rolling machines with the cutters for fettuccine and spaghetti noodles. I thought this Cavatelli maker would be a fun addition. You run your strips of dough through the two wood pins and it cranks it around the metal roller cutter. The cavatelli are produced with a nice ridged pattern. It depends on how firm the dough is on how ridged they are.
Here are some of the chicken pot stickers frying in the skillet from last weekend. These were made with the flour and water recipe we found on Pinterest (4 cups flour and 1.5 cups water). You knead dough, roll out thin and cut out like 3 inch circles. We made two batches last week with chicken breasts that I put through the meat grinder (what a mess) and the other my daughter diced very fine. The finely diced chicken did not have the same texture of course. They both tasted good though. We seasoned with soy sauce, onion and garlic. My daughter does not care for all the green onion and cabbage you might find in restaurant prepared pot stickers or the frozen ones from the grocery store.
Here is a plate of chicken pot stickers all pretty and ready to eat. I added a garnish of a drizzle of teriyaki sauce and some sesame seeds.  We do not use chop sticks at our house.
Not every store has Won Ton wrappers for sale. We do prefer the pot stickers made with the won tons as they are a bit lighter and do get crispier when you fry them and then steam them. We are going to attempt a double batch and make pork and chicken. We managed to find ground chicken this week. Yeah, less mess.  I am getting really hungry so I hope we can start assembling these in the next few minutes. 🙂
Last but not least, on today's list of things to make in the kitchen is a big batch of Russian spiced tea mix. It is one thing that all my kids enjoy. I got a deal on the ingredients at the Amish store, and will divide it up amongst the cute little mason type jars and send some home with each kid this weekend.
I hope everyone has a safe Halloween weekend. Thanks for stopping by my blog. The kitchen and stomach are calling me and then it's  off to cut more fabric.
Happy Sewing,
Shelley
It's that time of the year again…twice a year during quilt market, Amy, who blogs over at Amy's Creative Side, hosts the Blogger's Quilt Festival. We are allowed to link up two quilts to the various categories and have the opportunity to visit and be inspired by other blogger's wonderful quilts.
I am entering my Lion's Roar Modernized Disappearing Nine Patch quilt into the small quilt category. It finished at 56 inches square. It is a baby gift for a friend whose baby is due around Halloween.
I used the tutorial for the Modernized Disappearing Nine Patch by Kristy Daum. I really like using this quilt pattern as it is fresh change from the quilt designs I have made of late with hundreds of half square triangles or flying geese. Sometimes a more simple approach is needed to show off fun fabrics.  I used a set of 5 fat quarters that I had in my stash for over 4 years and I added the yellow, orange and lime solids which I had 2 yards of each also in my stash and I cut a pile of charm squares each color. You can read more about my process here.
I quilted in a diagonal grid with white thread and then went back in with orange, yellow and lime green with some rows of straightline stitching to add a pop of color and extra interest. I had the perfect striped binding fabric waiting in my stash. I love when I can pull all the fabrics for a project from my stash bin. I know that makes my hubby happy too. The name Lion's Roar comes from one of the cute lion head prints which states all over the fabric Lions Roar. That sounded fitting.
You can see the quilting nicely on the back of the quilt. The only fabric I purchased for this quilt was the mottled brown for the backing. I really enjoy adding appliqued names to the back of many of my quilts. It has become my little niche and has been used on quilts from newborns to a retiring 40 year old Marine recruiter. You can read more about my process and significance of the special little lion head I appliqued on the back here.
My other entry into this fall's Blogger Quilt Festival is my Zen Gardens Bento Box which you can find in the large quilt category here.
I entered two quilts for the first time in the Spring 2015 Blogger's Quilt Festival and they can be found here.
Eagle's Crossing and Scrappy Dr. Seuss
If this is the first time you are visiting my blog, I thank you. You can find my blog on Bloglovin and links to email on the front of my blog.
It's that time of the year again…twice a year during quilt market, Amy, who blogs over at Amy's Creative Side, hosts the Blogger's Quilt Festival. We are allowed to link up two quilts to the various categories and have the opportunity to visit and be inspired by other blogger's wonderful quilts.
I am entering my Zen Gardens Bento Box quilt into the large quilt category. The quilt finished out at 86 inches square. It was made from a set of red, white and black jelly roll strips that I won in a giveaway contest.
To give the quilt design some added interest, I made half my bento box blocks with white solid and the other half with gray solid. You can read more about the process here in this blogged post and here.
Here you get a better feel for the entire quilt with it laid out on our king size bed. I chose to call the quilt Zen Gardens as it was the line of fabric that a couple of the prints had on their selvedge edge.
I pieced a fun plus and dash backing strip for the back of my quilt. It utilized some red solid that I miscut from another quilt project. I thought it was a fun addition to the crazy black,white and red paisley fabric that I chose to use as the focus fabric for the main part of my quilt backing. I quilted the top in a pattern that I call a mock plaid with a series of lines stitched through the center of the blocks with a diagonal added to crisscross the entire quilt. It shows up quite nicely on the back. This quilt is one of my favorite finishes for this year.
My other entry into the Blogger's Quilt Festival is Lion's Roar Mod D9Patch which is entered into the small quilt category and can be found here.
I entered two quilts into the Spring 2015 Blogger's Quilt Festival and they can be found here.
Eagle's Crossing and  Scrappy Dr. Seuss
If this is the first time you are visiting my blog via the Blogger's Festival, I thank you for taking the time to visit. My blog can be found on Bloglovin and there are links to sign up by email on the front page of my blog as well.
Twitter