Hi, I have been busy this week creating backs for my quilts that have been waiting to be quilted. I have 4 quilts that I would like to have quilted by December 1st, if at all humanly possible on my part.
I have created backings for my Looking Glass quilt using the leftover Comma charm squares and added black, gray and white solids.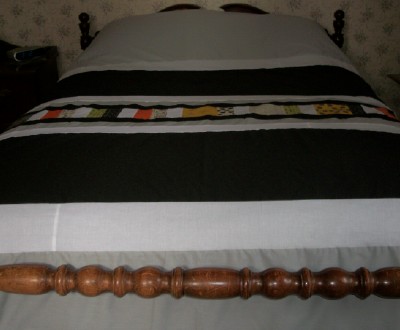 (Gray solid, white stripe, black solid, white band, gray, black jelly roll strips, pieced Comma squares and the same sequence of color stripes going the other direction.)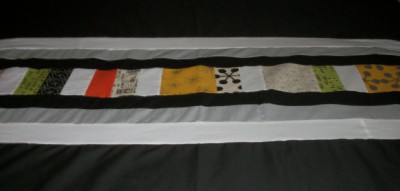 (Close up of pieced Comma stripes)
I made a back for my Broken Frames using a few scrap squares of the various black and white prints from the front and framed them off with the turquoise solid from front and off set the whole pieced frame from the center of the quilt and finished it off with black.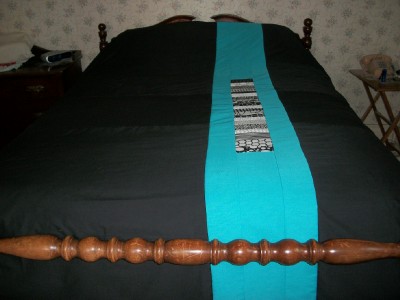 (My black and white scraps were 5 inches wide, I filled in the length with a five inch turquoise piece and framed it with 4 inch strips on either side. I like the look but it was no fun dealing with 90 inch or better lengths of fabric and trying to keep them straight and untangled.)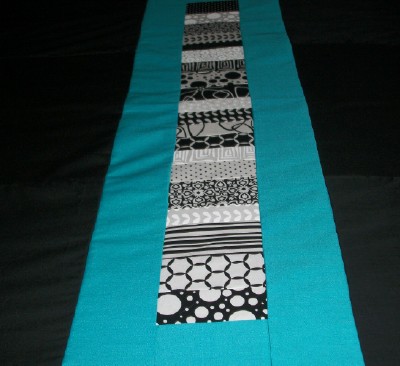 (Close up of framed inset. )
I also finished a back for my Patriotic Square in a Square quilt using red solid, a white background flag print (not the same as the front but similar print) and blue solid and made them as large vertical stripes.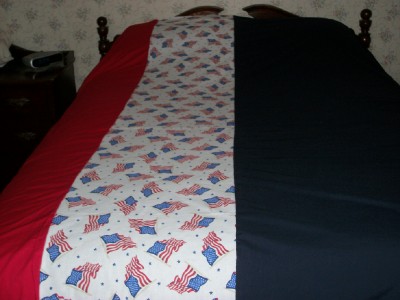 (I think the vertical stripes will really show off the quilting when completed. I had to really dig in my fabric reserves to find my navy blue. Thankfully I had enough for this project . The patriotic flag print on the front of quilt has America written all over it besides the flags. I think I will bind this quilt with the red, as I finished off the navy. )
The fourth quilt that I would like to get completed by the end of the month, is the Plus Dash quilt and backing I completed and blogged about last week.
I feel I put almost as much effort in creating an interesting backing for my quilts as I do in piecing the quilt tops. It has been many years since I have purchased  just one particular fabric to use as backing.  I like to use what I have.
I thought I would share a photo of my quilt inspector friend, Buddy. He is a Tom Cat that showed up at our farm this past winter during the Polar Vortex. We do not know if he had been dropped off  in the country or he got lost in a snow storm, as the tips of his ears were frozen off. After he was here for a few weeks, a larger piece of his one ear fell off and some time later we noticed his tail was shorter. He lost over 2 inches of his tail. He had to be someone's pet at sometime as his front paws are declawed and he is neutered. He has certainly made himself at home at our place and since he hasn't left in over 8 months. We wonder if someone dumped him as they might not have been able to afford to feed him. He can put away the food.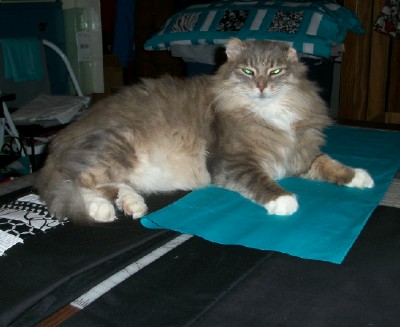 (Buddy making sure my fabric does not blow away. )
Thank you for stopping by and checking out my quilt progress. Be sure to come back next week on Friday, as I will be a stop of the Looking Glass pattern release blog hop. I will be linking up this week with various linky parties.
Happy Sewing,
Shelley
Hi, I would like to share the completed flimsy of my pattern testing of the Plus Dash quilt pattern by Jan at The Colorful Fabriholic.
I finished up adding the last two borders to complete the outside gray pluses. I had  a bit of hard time at first "visualizing" how all the different sashing strips were going to have to go together, but once I started laying them out around my blocks then it didn't take much to see how they pieced together the outer pluses. I have not worked with a multiple sashed quilt design in a while and this one is really cool on how it all came together in the end.
We had our first measurable snow over the weekend just in time for the bitter cold winds and windchills to set in. I managed a couple outdoor shots of my quilt top. I was hard pressed to find a larger enough area of fresh untouched snow to lay the quilt out flat. What photos I took were as good as it was going to get by myself with the wind picking up. When I get the top all quilted, I will find somewhere to lay it out completely so I can get a full size photo. I was worried at first about the bright colors and prints and how they all would work together, but the gray and white pull everything all in nicely.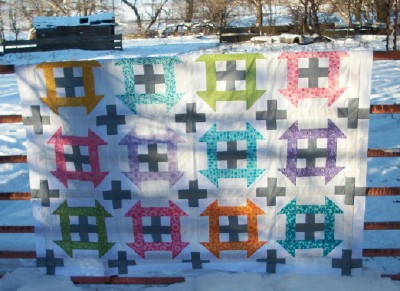 And here is the top turned lengthwise. The wind wanted to suck the quilt through the gate.
For the backing, I chose to use a few of my left over squares and strips to make a pieced stripe for the center of the backing. I sashed the strip with the same pewter gray, and added white, and a little gray solid(as I needed to save the last of my pewter to use in the backing for Looking Glass quilt) and pulled a light turquoise solid from my stash to add a pop of color to the backing.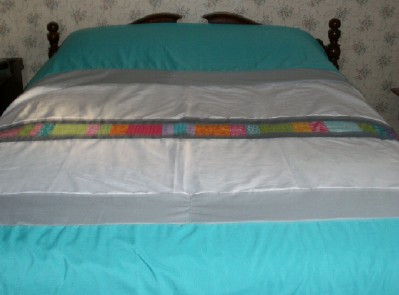 Here is a close up of my pieced strip.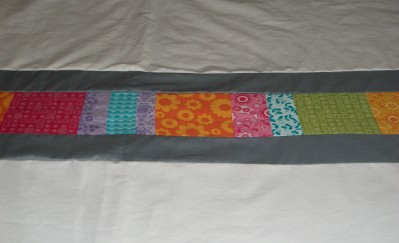 I will be setting this quilt top aside for a couple days so that I can quilt and finish my pattern testing of Looking Glass to meet my deadline for the upcoming blog hop for it's pattern debut next week.
Thanks for stopping by and looking at my quilt top. I will be linking up with various midweek linky parties.
Happy Sewing,
Shelley
Hi, I thought I would share how my pattern testing for Plus Dash by Jan at The Colorful Fabriholic. I have made great progress in two days. I have my top completed except for the outer two borders.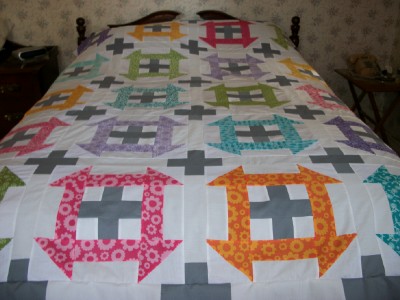 This is what I had two days ago. This laid out on my 5 foot slate top desk. I use this desk as my design wall/table. I do need to finish my design wall. I have white felt to complete it. I just need to determine a place that it will be secure to attach my wip together on it.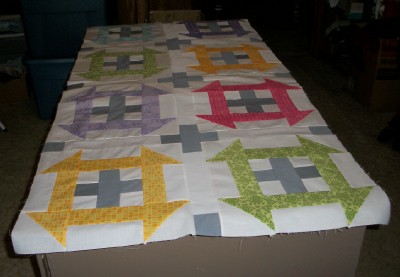 After making quilts for upwards of 20 years, I still fight alot of doubt on my color choices. I picked out these five colorations of prints in fat eighth sets almost 2 years ago. I did not know what to do with them in the end, so they stayed put in my fabric chest of drawers. When I saw that Jan was picking all sorts of prints for her version of this quilt, I decided to give these a go. It's very bright and colorful to say the least. I do love the pewter gray pluses. I plan on giving this as a special gift to a good friend. I hope it brings some happiness and comfort to her during the hard times she is dealing with currently.
I had a great find in my fabric stash. I found 30 precut 2 1/2 inch white strips of fabric so it made cutting out this quilt a whole lot easier. I also had some odd sized about the size of a fat quarter of white fabric that was left over from cutting borders for another quilt that I was able to cut many of the pieces I needed for this quilt. It was like winning the quilter's lottery.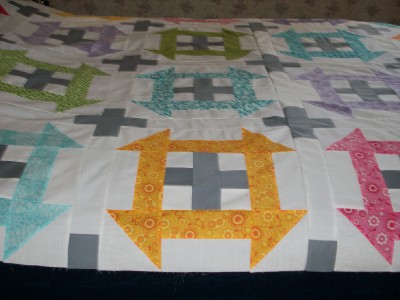 Here is one side of the quilt and after adding the last two borders, it will complete the last row of gray pluses.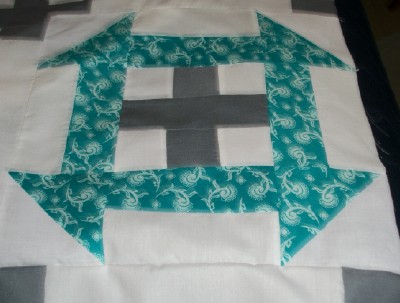 And this would be one of my favorite prints from the whole set of fabrics.
I hope to get the last borders completed maybe yet tonight or most likely tomorrow. We are supposed to get some measurable snow this weekend, so it is a good time to sew and quilt. I have to make backs for my Broken Frames quilt, also for my Patriotic Square in a Square quilt and my Looking Glass quilt. I am hoping to have them quilted by Thanksgiving. Do not hold me to that, but is definitely a plan that I am shooting for. I will quilt Looking Glass first as it needs to be completed for a blog hop on the 21st, and the other two I hoped to give as early Christmas gifts to family I hope to see for Thanksgiving.
I will be linking this wip with various linky parties this weekend. Thank you for stopping by.
Happy Sewing,
Shelley
Hi, I thought I would post a quick WIP report on what I am working on this week. I am pattern testing for The Colorful Fabriholic and making up a twin size version of her new pattern Plus Dash.
I am making 20 blocks. I have 4 different prints in 5 color ranges. I found these fabrics as fat eighth sets at JoAnn Fabrics around 2 years ago. I think they have something similar still but in different color offerings. It was a hard decision for me to choose which prints to use. I did not know exactly how the larger prints of the group would work at first, but I do like how the blocks turned out. I chose to use a solid pewter gray as my crosses versus the black and white print that Jan is using to make her quilt's pluses.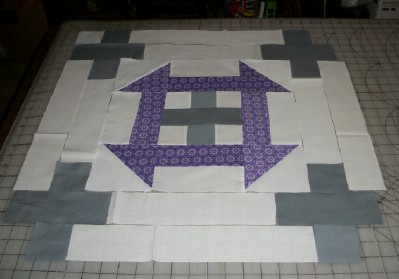 Here are my teal blue print blocks.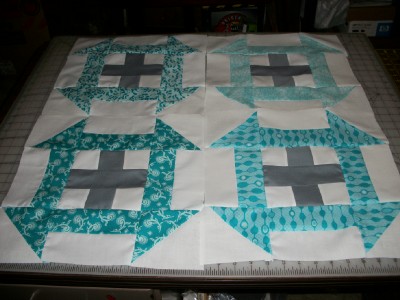 Here are my green print blocks.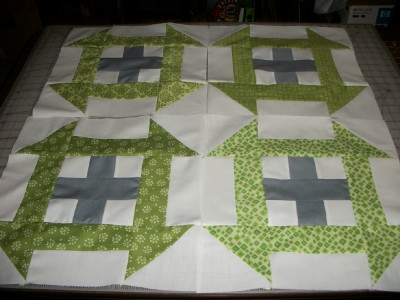 Here are my purple print blocks.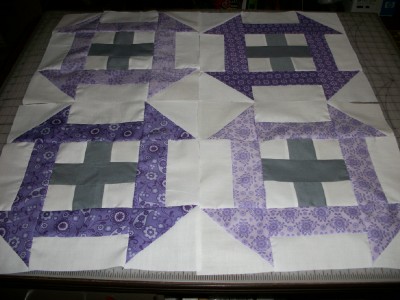 Here are my pink print blocks.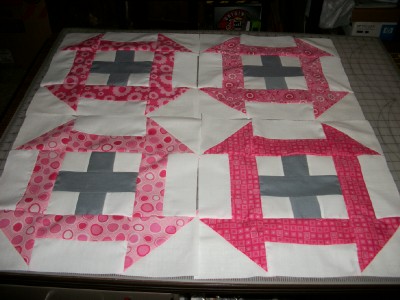 And here are my yellow/orange print blocks.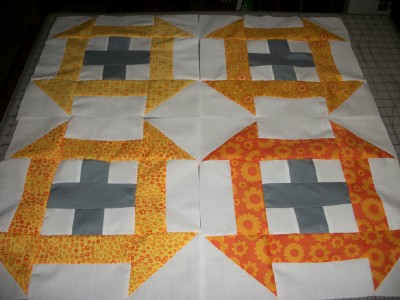 There are a lot of "happy" color prints in this quilt. I really like the pewter plus. It's been quite awhile since I made churn dash blocks and they are quite fun. The blocks are a nice 14 inches when completed. I am definitely going to need a design wall to lay out all the sashing strips to get them in order.
Thanks for stopping by this week and checking out my quilt projects. I will link these WIP with various linky parties.
Hi, I would like to share today my completed Looking Glass quilt flimsy. I am pattern testing the Looking Glass pattern for Cheryl at Meadow Mist Designs. I made the queen size version which ends up being 90 by 89.5 inches. It fits nicely over the top of our full size bed. The pattern used 7 charm packs and I used Zen Chic's Comma. I had 5 charm packs in my stash and had to do some serious searching online to find anymore charm packs available. I found some at a quilt shop in Minnesota.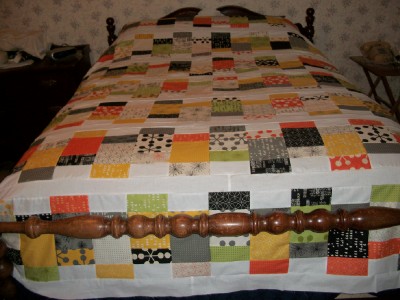 The pattern instructions were great and everything went together smoothly. I loved being able to chain piece the blocks and only having two seams to worry about matching. The only problem I had putting together the quilt was adding the long sashing. I had added a sash to the top and bottom of the bottom pieced strip and when I went to add the next pieced strip, after sewing 3/4 of the way across, I saw that I was going to be short. I almost wanted to cry when I had to tear out 75 inches of stitching. I ended up figuring out that I was going to have to pin each end and a few places across the center and then everything went together smoothly. There is nothing wrong with the instructions, just need to allow the sewing machine to ease in sashing to the pieced rows. I really like how the quilt design worked out. I really love Zen Chic's fabrics. They have such a nice feel to them. This is my second time sewing with that fabric line  and I hope to be able to use more of her fabrics. Comma was especially fun since there were 40 different prints in the 42 charm pieces.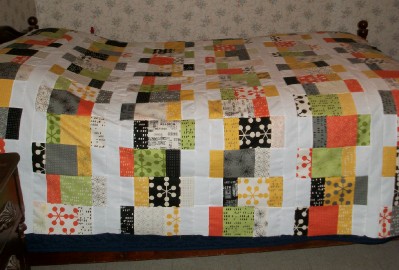 I have to make a back for the quilt yet. I am looking at using the solid gray and black and somehow include the 14 extra charms left from the 7 charm packs to make up a pieced design. I have found an orange, yellow and lime green solids to add into the mix for interest. I am still thinking over how I want to quilt this. Maybe rows of a scalloped stitch.
Thank you for looking at my quilt top. Please check out Cheryl's blog as she will be offering up for sale the Looking Glass pattern in the very near future.
I will be linking up this finish with various weekend linky parties.
Happy Sewing,
Shelley
Hi, This week I am pattern testing for my friend, Cheryl at Meadow Mist Designs. She has a new quilt design in the works called Looking Glass.
I am working on sewing up the Queen sized version. I have made a few of Cheryl's designs before on my own, but this is the first time I have pattern tested for her. I am using my stash of Zen Chic's Comma charm squares. I had 5 charm packs stashed away for quite awhile, and managed to purchase what may have been some of the last Comma charm squares that were available online to make up the 7 charm packs I needed to make up the Queen size Looking Glass quilt.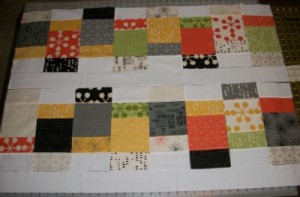 Here are eight of the blocks sewn together and laid out with the sashing.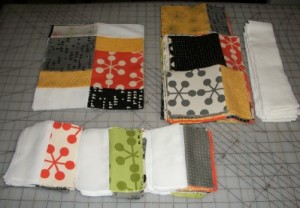 I have everything pieced and pressed to finish up making the 70 blocks I need for this quilt. I really like how the design goes together so nicely. Being able to chain piece everything and only have two seams to worry about matching when making the blocks is making this a fun project.
I am working on making a pieced quilt back pulling the black and gray and adding accents of yellow, orange and lime green. I was given a deadline of November 21st, so I am looking good at completing this before that date.
I have another quilt pattern I will be testing before Christmas for a different designer that I am working on pulling fabrics for this week too.
Thanks for stopping by and checking out my quilts. I will be linking up my work in progress with this week's linky parties.
Happy Sewing,
Shelley
Hi, I thought I would share a special quilt I completed for last Christmas. Christmas tends to be an extra stressful time for me. I know it can be a stressful time for anyone, but it tends to be more self-inflicted on my part. I can be like Clark Griswold, not with the decorations for Christmas but with my gift giving and gift making. Last year after my Mom passed away, I only made one quilt for a Christmas gift and that went to my Dad. This year I am trying to do better and I got an early start on my sewing so I am trying to eliminate the 2-3 AM sewing marathons the entire week before Christmas.
I made a special Christmas quilt for our family. I never had a quilt to use with my Christmas decorating. We had upgraded to a new tree and purchased new ornaments and lights, eliminating the missmatched items from the previous 26 years of Christmases. What actually started the Christmas quilt project was making Christmas stockings for our family. We had not used stockings in years and since we now had grandchildren, it was time for new ones.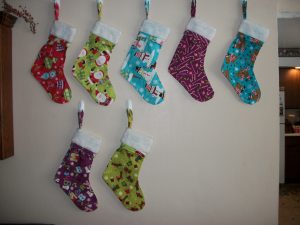 I  had purchased 7 different 1/2 yard pieces of M'Liss Rae Hawley Christmas prints from Hancock Fabrics. I love her prints showing her little Weiner dog. They are a lot of fun. I drew out my own stocking pattern and did some simple quilting making my own prequilted fabric with using a layer of muslin as my batting to make the fronts. I used a single layer of muslin as backs of my stockings. I made my cuffs from a remnant of white fake fur. I cut a strip of the matching fabrics and sewed it to the backside of the fur and pulled to the front and topstitched as binding. Matching fabric as the hanging loops.
Since I only used half of my 1/2 yards of fabrics, I decided to make a throw size quilt with the leftovers. I was inspired by the quilt on this book. I used every piece of my purchased Christmas prints left from making the stockings. I added muslin and navy blue fabrics from my stash. I even made a pieced binding from the last bits of fabrics. This was a really "green" Christmas project as I even used left over cotton quilt batting from cutting off extras from previous made quilts. I just laid the batting pieces edges butted together and zigzagged over the seams. It layed really nicely and you could not tell it was not one whole piece in the end.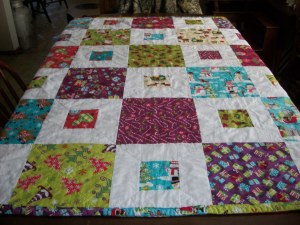 And here is the finished back.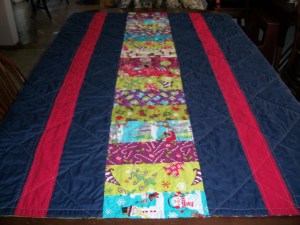 I added some red stripes to help frame up my Christmas prints. It added extra interest to the navy backing.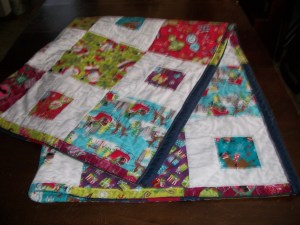 I really like how my quilt turned out. It is just the right size for snuggling with in my favorite chair. With today being Halloween, it is just too early to pull it out of the closet. I will try to hold off to December 1st.
Thank you for looking over my Christmas quilt and stocking project. I feel like I have a good start to my Christmas gift sewing this year. I finished up the Batik High Tea quilt and that will be going to a special friend. I have two other tops pieced and ready for quilting, my Broken Frames and my Patriotic Square in Squares. And since I have 54 days of potential sewing…who knows what else I can create.
I will be linking up my quilt finish with various linky parties this week.
Hi, I would like to share the quilt I finished up today. I was given the opportunity to pattern test a new quilt pattern, High Tea  that was self-published this week by New Zealand quilt designer and blogger, Adrianne Reid, who blogs as On The Windy Side.  Please check out her blog to see all the lovely versions of her new quilt design. It is charm pack or layer cake friendly.
I chose to make my quilt with a set of batik charm squares that I found last year on Etsy. There were 100 squares with a few repeats and I cut down some extra batik squares to size from fabrics that I had leftover from my batik Shadowbox quilt, that was still in my stash. I think I ended up with upwards of 70 different batiks. I choose to use a light gray and black solids as my sashing strips that were cut and sewn into a checkerboard type pattern. One of my fellow pattern testers describes the pattern as similar to a disppearing four patch. This describes this pattern quite well. I loved the creative ideas some of the other quilters came up with, substituting some of the four patches for layer cakes makes endless ways you can work this pattern.
I took a photo of my quilt flimsy last week on a rainy day, so used my bed to lay it out for size.
I decided to try something different for me when quilting this quilt top. I attempted to use what I think is a serpentine stitch or it may be a four step zigzag that I adjusted out to the size I wanted. I used this stitch over all the seams. I used my walking foot.  I have not used the walking foot with Mom's machine much yet, so it was a new experience. I was spoiled when I could sew and quilt with my Pfaff as it had the IDT feed automatically and no walking foot was needed. I guess I need to put the Viking walking foot to use, since that foot alone cost over $100 when Mom purchased it. This special stitch took way more thread and I had to wind extra bobbins. Many times I would only manage 3 rows of quilting per bobbin. I quilted with a medium gray colored thread.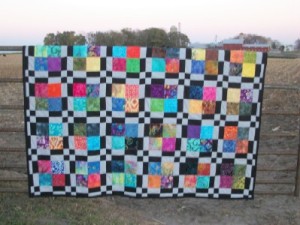 Here is a photo of the back of my quilt. I had misread the number of gray and black strips I was to cut, so I used a couple of them to piece my stripe center in the back. I used some extra batik squares, that ranged from 4-7 inches each. The black really showed off the gray zigzag quilting.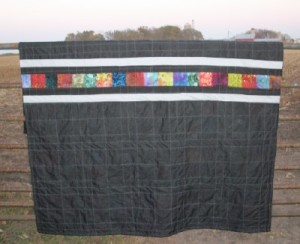 I have decided to use this quilt finish as one of my quilts I planned to give as Christmas gifts this year.  This person really loved my Shadowbox quilt so hopefully she will like this quilt. It has many of the same fabrics.
Thank you for looking at my version of High Tea. If you would be interested in attempting your own version of this quilt, please check out Adrianne's blog. Her pattern went on sale this week..
I will be linking up my quilt finish with various linky parties this week.
Hi, I thought I would share some memories of a few quilt finishes today while I am busy working on finishing up some new ones.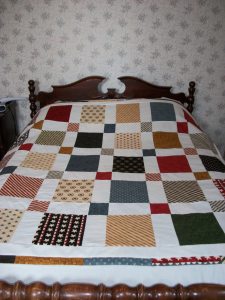 This patriotic quilt was made from the Moda Bake Shop quilt tutorial Easy As Cake. The fabric line was Glory. I made the quilt for an auction for the Wounded Warriors Foundation in Pennsylvania.  This was the first time I used the Easy As Cake pattern and I ended up liking the pattern so much that I made two more. I made a batik version that I cut my own layer cake squares, and used the left overs to make my Shadowbox quilt and I also made one with the Urban Angels fabric line that I used the left overs to make my Chained Link quilt from.
This is a special quilt I made for a friend of our family who was a retiring Marine Recruiter. He was the ultimate Chicago Bears fan. My Mom machine embroidered the center block with a poem about the Chicago Bears going to the Super Bowl that I found online.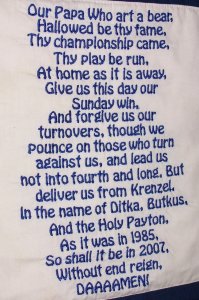 My Mom had lots of requests to make something similar from other Bears fans that she met at her local JoAnn's Fabrics store, especially the store manager. There was and would only be one of these quilts for this special guy.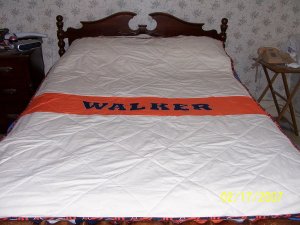 Our friend Sgt. Walker was the first person to receive a quilt with my appliqued name quilt technique. At his retirement party, all the attendees wrote personal messages on the back of the quilt with a Sharpie marker. I had intended or hoped the intention of this quilt would be used by him and his son when they watched the Chicago Bears games together. This quilt meant so much to him that it never left his sight or side when his family moved from Iowa to Texas. It was carefully rolled up and traveled in their personal truck while traveling versus being packed away in the moving van. I was told he was planning on having the quilt hung up full length in plexiglass case so both sides of the quilt could be seen. I guess they do things in a big way in Texas. 🙂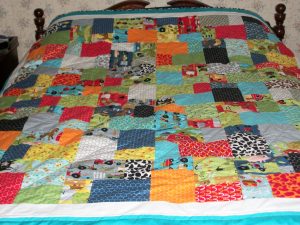 This is the quilt I made my grandson Sawyer for his second birthday. It is made with the Oinka Doodle Moo fabric line. Sawyer was obsessed with cows. I even found a kids book that was called Oinka Doodle Moo to go along with the quilt. I used MSQC's tutorial for Double Slice.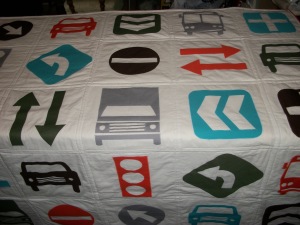 This is the quilt I made for Sawyer's first birthday. This fun quilt was made with Lella Boutique's Beep Beep quilt pattern. This was the start of Sawyer getting a new quilt for each birthday (so far…lol) I have tried to make non baby quilts so they can be used for some time. I do not believe in small quilts and have only made "lovey" size (smaller than 30 inches) out of fleece. Sawyer used to have both this quilt and his Oinka Doodle Moo quilt on his bed at the same time. I think his most recent Scooby Doo Crossing quilt now takes precedent as his top quilt.
Thanks for looking at a few of my memories of quilts past. Please keep checking out my blog for my latest projects. I hope to be able to share the current quilt I am pattern testmaking next week.
I will be linking up this post with various quilt linky parties this week.
Happy Sewing,
Shelley
Hi, I thought I would share a couple of my current work in progresses.
I am testing a new quilt pattern for quilt blogger and designer, On the Windy Side. Since the pattern has not been released yet, I am only allowed to share a sneak peek. I am showing one of my finished blocks. I am using a possible 70 some different batiks in my quilt top. I purchased a set of 100 batik charm squares off of Etsy and there were multiples in the set, and I cut down some of the leftover squares from my Batik Shadowbox quilt to make up my needed squares. So I would estimate 70-75 different batiks and I am using gray and black solid as my coordinating fabrics. I think it is possible the pattern will be announced in the next couple weeks.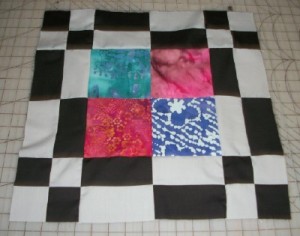 I pulled one of my older  long term work in progresses from the storage bin to play with a mock layout of the quilt design. I am using the fabric line Fandango to make the Sunnie Skies quilt pattern by Missouri Star Quilt Co.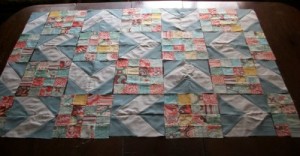 This quilt's block need a major pressing, maybe even a little starch. I am thinking I might take the chevron's apart and rework the main seam. I think they are more than a scant 1/4 inch so things should go back together better, if reworked.
I will be linking up my Wednesday WIPs with various linky parties.
Twitter