Hi, This week I am pattern testing for my friend, Cheryl at Meadow Mist Designs. She has a new quilt design in the works called Looking Glass.
I am working on sewing up the Queen sized version. I have made a few of Cheryl's designs before on my own, but this is the first time I have pattern tested for her. I am using my stash of Zen Chic's Comma charm squares. I had 5 charm packs stashed away for quite awhile, and managed to purchase what may have been some of the last Comma charm squares that were available online to make up the 7 charm packs I needed to make up the Queen size Looking Glass quilt.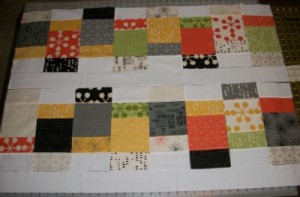 Here are eight of the blocks sewn together and laid out with the sashing.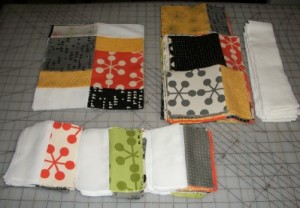 I have everything pieced and pressed to finish up making the 70 blocks I need for this quilt. I really like how the design goes together so nicely. Being able to chain piece everything and only have two seams to worry about matching when making the blocks is making this a fun project.
I am working on making a pieced quilt back pulling the black and gray and adding accents of yellow, orange and lime green. I was given a deadline of November 21st, so I am looking good at completing this before that date.
I have another quilt pattern I will be testing before Christmas for a different designer that I am working on pulling fabrics for this week too.
Thanks for stopping by and checking out my quilts. I will be linking up my work in progress with this week's linky parties.
Happy Sewing,
Shelley
Hi, I thought I would share a special quilt I completed for last Christmas. Christmas tends to be an extra stressful time for me. I know it can be a stressful time for anyone, but it tends to be more self-inflicted on my part. I can be like Clark Griswold, not with the decorations for Christmas but with my gift giving and gift making. Last year after my Mom passed away, I only made one quilt for a Christmas gift and that went to my Dad. This year I am trying to do better and I got an early start on my sewing so I am trying to eliminate the 2-3 AM sewing marathons the entire week before Christmas.
I made a special Christmas quilt for our family. I never had a quilt to use with my Christmas decorating. We had upgraded to a new tree and purchased new ornaments and lights, eliminating the missmatched items from the previous 26 years of Christmases. What actually started the Christmas quilt project was making Christmas stockings for our family. We had not used stockings in years and since we now had grandchildren, it was time for new ones.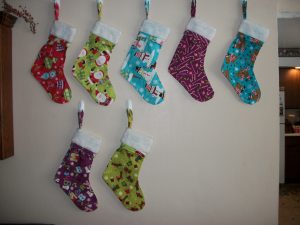 I  had purchased 7 different 1/2 yard pieces of M'Liss Rae Hawley Christmas prints from Hancock Fabrics. I love her prints showing her little Weiner dog. They are a lot of fun. I drew out my own stocking pattern and did some simple quilting making my own prequilted fabric with using a layer of muslin as my batting to make the fronts. I used a single layer of muslin as backs of my stockings. I made my cuffs from a remnant of white fake fur. I cut a strip of the matching fabrics and sewed it to the backside of the fur and pulled to the front and topstitched as binding. Matching fabric as the hanging loops.
Since I only used half of my 1/2 yards of fabrics, I decided to make a throw size quilt with the leftovers. I was inspired by the quilt on this book. I used every piece of my purchased Christmas prints left from making the stockings. I added muslin and navy blue fabrics from my stash. I even made a pieced binding from the last bits of fabrics. This was a really "green" Christmas project as I even used left over cotton quilt batting from cutting off extras from previous made quilts. I just laid the batting pieces edges butted together and zigzagged over the seams. It layed really nicely and you could not tell it was not one whole piece in the end.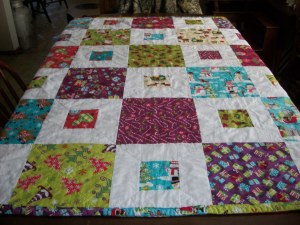 And here is the finished back.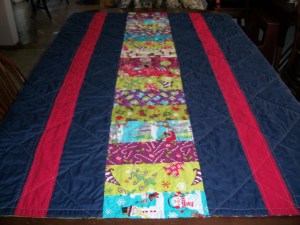 I added some red stripes to help frame up my Christmas prints. It added extra interest to the navy backing.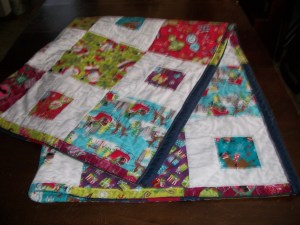 I really like how my quilt turned out. It is just the right size for snuggling with in my favorite chair. With today being Halloween, it is just too early to pull it out of the closet. I will try to hold off to December 1st.
Thank you for looking over my Christmas quilt and stocking project. I feel like I have a good start to my Christmas gift sewing this year. I finished up the Batik High Tea quilt and that will be going to a special friend. I have two other tops pieced and ready for quilting, my Broken Frames and my Patriotic Square in Squares. And since I have 54 days of potential sewing…who knows what else I can create.
I will be linking up my quilt finish with various linky parties this week.
Hi, I would like to share the quilt I finished up today. I was given the opportunity to pattern test a new quilt pattern, High Tea  that was self-published this week by New Zealand quilt designer and blogger, Adrianne Reid, who blogs as On The Windy Side.  Please check out her blog to see all the lovely versions of her new quilt design. It is charm pack or layer cake friendly.
I chose to make my quilt with a set of batik charm squares that I found last year on Etsy. There were 100 squares with a few repeats and I cut down some extra batik squares to size from fabrics that I had leftover from my batik Shadowbox quilt, that was still in my stash. I think I ended up with upwards of 70 different batiks. I choose to use a light gray and black solids as my sashing strips that were cut and sewn into a checkerboard type pattern. One of my fellow pattern testers describes the pattern as similar to a disppearing four patch. This describes this pattern quite well. I loved the creative ideas some of the other quilters came up with, substituting some of the four patches for layer cakes makes endless ways you can work this pattern.
I took a photo of my quilt flimsy last week on a rainy day, so used my bed to lay it out for size.
I decided to try something different for me when quilting this quilt top. I attempted to use what I think is a serpentine stitch or it may be a four step zigzag that I adjusted out to the size I wanted. I used this stitch over all the seams. I used my walking foot.  I have not used the walking foot with Mom's machine much yet, so it was a new experience. I was spoiled when I could sew and quilt with my Pfaff as it had the IDT feed automatically and no walking foot was needed. I guess I need to put the Viking walking foot to use, since that foot alone cost over $100 when Mom purchased it. This special stitch took way more thread and I had to wind extra bobbins. Many times I would only manage 3 rows of quilting per bobbin. I quilted with a medium gray colored thread.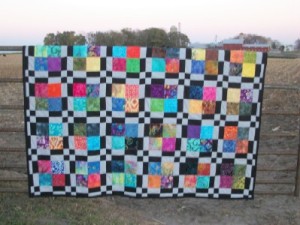 Here is a photo of the back of my quilt. I had misread the number of gray and black strips I was to cut, so I used a couple of them to piece my stripe center in the back. I used some extra batik squares, that ranged from 4-7 inches each. The black really showed off the gray zigzag quilting.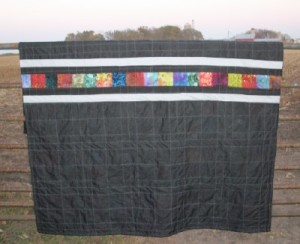 I have decided to use this quilt finish as one of my quilts I planned to give as Christmas gifts this year.  This person really loved my Shadowbox quilt so hopefully she will like this quilt. It has many of the same fabrics.
Thank you for looking at my version of High Tea. If you would be interested in attempting your own version of this quilt, please check out Adrianne's blog. Her pattern went on sale this week..
I will be linking up my quilt finish with various linky parties this week.
Hi, I thought I would share some memories of a few quilt finishes today while I am busy working on finishing up some new ones.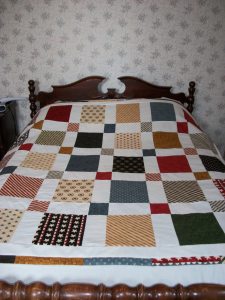 This patriotic quilt was made from the Moda Bake Shop quilt tutorial Easy As Cake. The fabric line was Glory. I made the quilt for an auction for the Wounded Warriors Foundation in Pennsylvania.  This was the first time I used the Easy As Cake pattern and I ended up liking the pattern so much that I made two more. I made a batik version that I cut my own layer cake squares, and used the left overs to make my Shadowbox quilt and I also made one with the Urban Angels fabric line that I used the left overs to make my Chained Link quilt from.
This is a special quilt I made for a friend of our family who was a retiring Marine Recruiter. He was the ultimate Chicago Bears fan. My Mom machine embroidered the center block with a poem about the Chicago Bears going to the Super Bowl that I found online.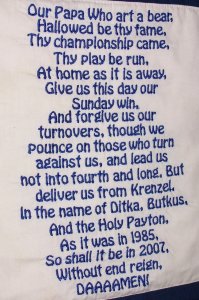 My Mom had lots of requests to make something similar from other Bears fans that she met at her local JoAnn's Fabrics store, especially the store manager. There was and would only be one of these quilts for this special guy.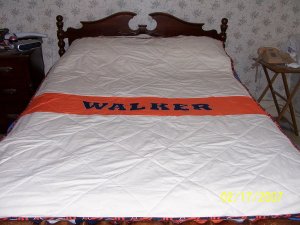 Our friend Sgt. Walker was the first person to receive a quilt with my appliqued name quilt technique. At his retirement party, all the attendees wrote personal messages on the back of the quilt with a Sharpie marker. I had intended or hoped the intention of this quilt would be used by him and his son when they watched the Chicago Bears games together. This quilt meant so much to him that it never left his sight or side when his family moved from Iowa to Texas. It was carefully rolled up and traveled in their personal truck while traveling versus being packed away in the moving van. I was told he was planning on having the quilt hung up full length in plexiglass case so both sides of the quilt could be seen. I guess they do things in a big way in Texas. 🙂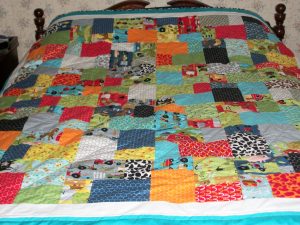 This is the quilt I made my grandson Sawyer for his second birthday. It is made with the Oinka Doodle Moo fabric line. Sawyer was obsessed with cows. I even found a kids book that was called Oinka Doodle Moo to go along with the quilt. I used MSQC's tutorial for Double Slice.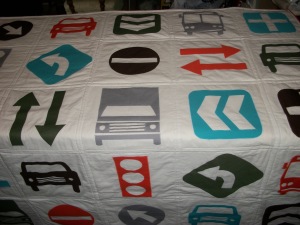 This is the quilt I made for Sawyer's first birthday. This fun quilt was made with Lella Boutique's Beep Beep quilt pattern. This was the start of Sawyer getting a new quilt for each birthday (so far…lol) I have tried to make non baby quilts so they can be used for some time. I do not believe in small quilts and have only made "lovey" size (smaller than 30 inches) out of fleece. Sawyer used to have both this quilt and his Oinka Doodle Moo quilt on his bed at the same time. I think his most recent Scooby Doo Crossing quilt now takes precedent as his top quilt.
Thanks for looking at a few of my memories of quilts past. Please keep checking out my blog for my latest projects. I hope to be able to share the current quilt I am pattern testmaking next week.
I will be linking up this post with various quilt linky parties this week.
Happy Sewing,
Shelley
Hi, I thought I would share a couple of my current work in progresses.
I am testing a new quilt pattern for quilt blogger and designer, On the Windy Side. Since the pattern has not been released yet, I am only allowed to share a sneak peek. I am showing one of my finished blocks. I am using a possible 70 some different batiks in my quilt top. I purchased a set of 100 batik charm squares off of Etsy and there were multiples in the set, and I cut down some of the leftover squares from my Batik Shadowbox quilt to make up my needed squares. So I would estimate 70-75 different batiks and I am using gray and black solid as my coordinating fabrics. I think it is possible the pattern will be announced in the next couple weeks.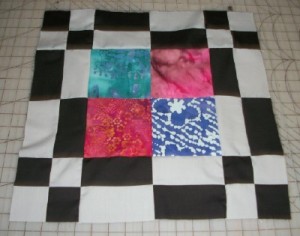 I pulled one of my older  long term work in progresses from the storage bin to play with a mock layout of the quilt design. I am using the fabric line Fandango to make the Sunnie Skies quilt pattern by Missouri Star Quilt Co.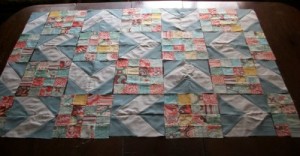 This quilt's block need a major pressing, maybe even a little starch. I am thinking I might take the chevron's apart and rework the main seam. I think they are more than a scant 1/4 inch so things should go back together better, if reworked.
I will be linking up my Wednesday WIPs with various linky parties.
Today is my birthday and I thought I would share one of my most favorite quilt finishes. I had come across a photo of a quilt on the wall of a quilt shop that was featured in one of the Better Homes and Garden's Quilt Sampler magazines from 2008-2010. I could not find a name for the quilt in the magazine and had not come across it online. This was before Pinterest.
The quilt design was a Shadowbox that appeared to be constructed from something in the 5 to 8 inch square range. I have since seen numerous patterns that have squares, rectangles or even a combination of both. Mountainpeek Creations has a very popular pattern for a rectangle shadowbox.
Since I did not have a pattern, I chose to draft up my own. I had a stack of batik fat quarters that I had cut 10 inch squares from for another quilt so from the leftovers I decided to base my design on a 6 inch square. I layed out 2 1/2 inch strips alongside my 6 inch square to determine what size I needed to make the shadow strips. A few calculations later and a test block and I cut out all my fabrics and pieced my blocks.
Please forgive the sour looking face. This was one of those late 2 AM quilt finishes and I was exhausted.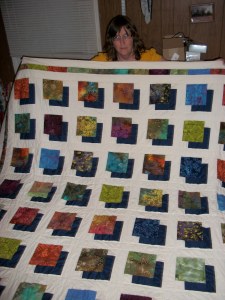 I used up extra pieces of the batiks to make a pieced border. I used the idea of the pieced border from Moda Bake Shop tutorial Easy As Cake quilt pattern. I had used this pattern to make a quilt that I had cut the 10 inch squares from this fabrics for. The quilt went to my best friend.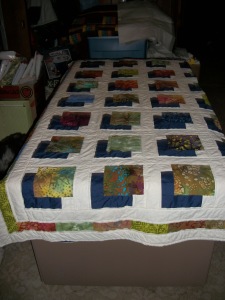 My sewing room is also our office, so after a big quilting project it can be extra messy.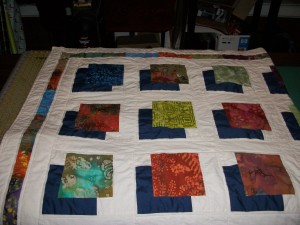 For the back, I pieced a simple striped back with a really fun batik that packed a lot of color punch.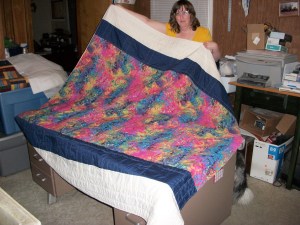 Making this quilt taught me that I could be fairly confident in drawing out a design and calculating how much fabric it might take to make what I had in mind. It would have been much easier if I had known if there was a pattern out there and what it was. This was also before finding my trusty Quilter's Fabri-Calc calculator. I had made numerous quilts before this one, but making this one seemed to help fuel the fire or quilt making obsession. I made this quilt as a birthday gift to the Mother of my daughter's then boyfriend. She was a family friend as our husbands worked together. She did truly love it. My daughter and that boyfriend broke up after 4 years together.
This quilt is my favorite and it has been the favorite of all that I have made when seen by other friends and family. It seems that most of my best work goes out the door as gifts. I do have  some regrets of this one getting away . I would chalk this up to being similar to knitters and the "boyfriend sweater curse". Never make a boyfriend a sweater as by the time it is completed, the relationship may have or be ending. My daughter's previous boyfriends received rag rug style quilts. This boyfriend had even helped us make his and helped man the scissors to do all rag cutting.
I have come across a couple tutorials on making shadowbox quilts. There is one that is in 8 inch squares, MaDan's. And also a tutorial that uses squares and rectangles over at Ludlow's Quilt and Sew. Some day I may have to make myself another version of this quilt.
Thanks for looking. I will be sharing this quilt finish with various linky parties this week.
Hi,  I would like to share my flimsy that I have been piecing this week. It is made with the Broken Frames pattern by Meadow Mist Designs. I used 39 different black and white prints and a turquoise solid fabric. I used these same prints in completing my 39 Shades of Charming quilt top made from the Charming quilt pattern also designed by Meadow Mist Designs.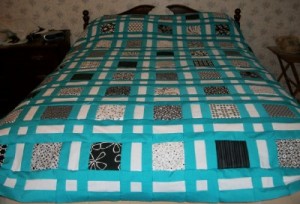 I think it is amazing how different the same fabrics can look in different quilt designs. I started with a fat eighth set of 32 fabrics (Moda's Shades of Black) , took out the white and gray prints, keeping just the black and white prints. I purchased 12 different fat quarters and a set of 50 charm squares and throw them all in the mix to end up with a combination of 39 different black and white prints. I cut alot of charm squares obviously, since I used 120 squares in the Charming quilt, and 63 in Broken Frames and I am still left with 157 charm squares but that includes the white on white and gray on white prints. I have also a stack of 2.5 inch strips so I can probably design at least two more quilts by adding in another solid color for wow effect.
I am back to taking photos by laying the quilt top on the bed as we have had two straight days of rain and no sun. I guess it is better than snow.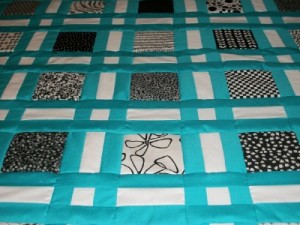 I am hoping to quilt this up for a Christmas gift.  I tend to be last minute sometimes, well actually all the time. So by starting my projects when there was 75 days before Christmas, versus 60 days or even 30 days would make me hopeful to completing more and not having to stay up til 2AM  everynight the week before Christmas. This quilt flimsy will be temporarily set aside while I test piece a quilt for a designer from New Zealand.
I am looking forward to possibly trying a new quilting technique that Lee from Freshly Pieced will be sharing in the upcoming weeks on her  Chandelier quilt along for Bernina Sewing Machines. It looks right up my alley, no freemotion and you can use your walking foot on your domestic sewing machine.
I will be sharing this WIP on various linky parties this week.
Hi, I thought I would share another fun quilt finish. I made this quilt for my Mother inlaw as a gift. It had been planned as a Christmas gift but Mom and Dad had both been under the weather during the holidays, so our family get togethers had been postponed.  I had the quilt top all sewn in time so I used the delay to complete some other projects like also make Dad a quilt. I quilted both tops at a later date . Mom got hers for Mother's Day and Dad got his train quilt for Father's Day. As with a few other recent quilt finishes, the quilt tops were completed in a timely fashion. It just sometimes takes longer to get them quilted. Sometimes quilt tops are created without a recipient in mind. The quilts decide who they should go to.
I chose the quilt pattern Buttonholes by Wendi Gratz of Shiny Happy World. Wendi is a children's book illustrator besides quilt designer. She has a fun website and weekly newsletter email. She makes some of the cutest stuffed animals.
The Buttonholes quilt pattern lends itself to so many creative possiblities. I chose to use some of my favorite batiks paired with cream solid for the front and used a lovely blue for the backing. The backing quilt design that Wendi has created for this pattern makes such a neat design that it makes the quilt reversible. I truly almost like the back better than the front of the quilt on this one.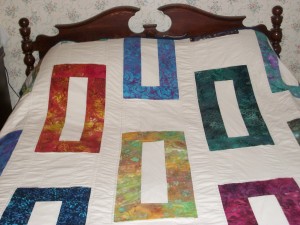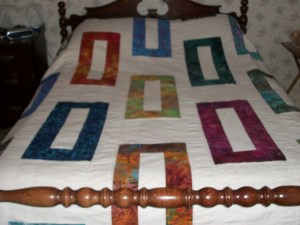 And of the back of the quilt.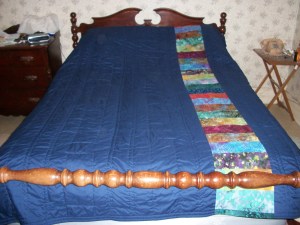 I prequilted the pieced back to my batting to help keep the stripes in the location I wanted them.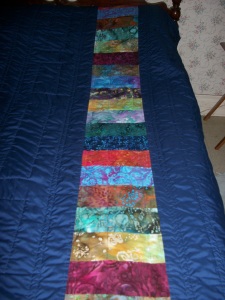 Quite a few of these batiks I used in creating this quilt have become favorites of mine. I have used them in two other quilts. It is amazing how far a good stack of fat quarters can go, if you cut your own precuts.
Thanks for looking at my quilt. I will be linking up my quilt finish with various Friday quilt finish linky parties.
Hello, welcome to my blog stop on the Around The World Blog Hop. I hope that you will come to know more about me and my quilting works in progress and the process I used to make them.
I was nominated to participate in this around the world blog hop by my fellow quilting friend, Cheryl who blogs at Meadow Mist Designs. I came across Cheryl and her blog online last year after finding her quilt patterns for sale on Craftsy and Etsy. I have purchased many of her patterns and my recent blog posts have been about completed quilts that were made from her patterns.
I seemed to have some how missed where this blog hop originated online. The whole basis of this blog hop is to share what you are working on and tell about the why and hows of your creative process from four basic questions. I will admit the thought of answering the questions has made me a tad nervous. I will do my best to answer them for you all and maybe we all will learn something.
1. What am I working on currently?
Last week I finished up quilting matching Scooby Doo quilts from a super sized version of Adding Up Nicely from Meadow Mist Designs.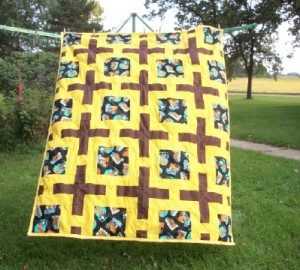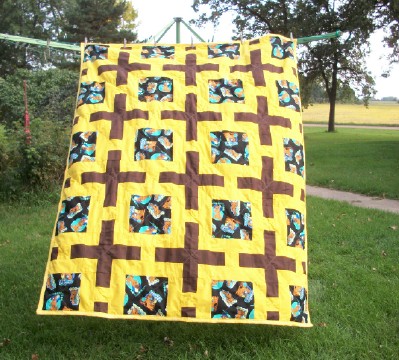 I am attempting to get an early start on Christmas gift sewing. I have two quilt designs cut out and hope to start piecing them yet this afternoon.
I am making a Broken Frames quilt which is another design from Meadow Mist Designs. I am using multiple different black and white prints cut into charm squares with a turquoise solid background and white sashing to finish off the broken framed pattern. I think the bold turquoise will really show off all the fun black and white prints.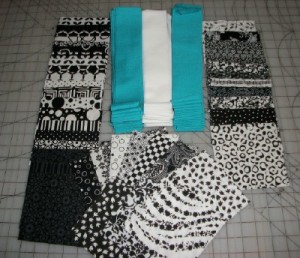 The other quilt pattern that I have cut out to make is String of Pearls by Christa's Quilts. Christa has made a sew along so you can make this fun quilt along with her. I am making mine out of batik charm squares that I cut from fat quarters in my stash, and will pair it up with a silver gray background and the black solid strings around the batik pearl blocks. The original quilt design was made with 36 blocks and I have chosen to enlarge the quilt using 64 blocks.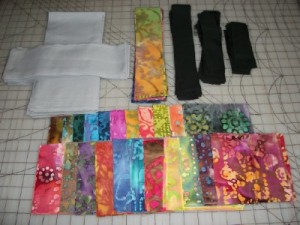 I am also working on creating a Plus quilt design using the new tutorial by Missouri Star Quilts Co. The quilt tutorial makes a quilt using 4 charm packs. My daughter would like a larger quilt and we have 6 charm packs of Moda's Rawhide fabric plus two charm packs of cream solid. If we throw in a few squares from our stash along with the others, we should end up with a quilt double the size of the throw size quilt the tutorial makes. I have made numerous notes calculating what we need for fabric, and just need to finalize layout of our squares. Can definitely use a design wall for this quilt idea.
2. How does my work differ from others of its genre?
This question has to be one of the hardest ones to answer for many of the other bloggers participating in the blog hop. I would have to agree. I am not sure really where I fit in quilting genres. I started out quilting over 20 years ago and definitely made more traditional styled quilts. Everything from nine patches, log cabins to variable stars. I would like to say I tend towards a more modern approach and style of quilting now. I think that my style is still evolving. It does not know what it wants to be when it grows up, very much like myself.
3. Why do I write/create what I do?
This should be one of the easiest answered. Quilting is an escape for me. It is the one thing in my sometimes hectic life that is truly mine. I taught myself to quilt. I tried to make a quilt when we first got married and it was a disaster. Rotary cutters and all the specialty rulers have been a godsend. Once I got successful results using good tools and creating a proper scant 1/4 inch seam allowance, I have not looked back and made numerous quilts.  I lost my Mom last year and we used to talk multiple times throughout our weeks on what sewing, quilting and embroidery projects we had going on. Mom never got into quilting and I had not tried machine embroidery, but we understood what the other went through to create their art. I have since inherited her beloved embroidery sewing machine.  I really missed our talks and it was suggested to me by my quilting friend and fellow blogger, Cheryl to start my own blog. I am slowly trying to find my blogging voice.  My Mom liked to go to her embroidery group meetings for show and tell nights. I find posting photos of my finished quilts and uploading to the various linky parties to be similar nature just in a world wide reaching spanse. It is great fun to hear from fellow quilters and to hear that like what I have created. I think my Mom would have liked this as well.
I would like to share a photo of the one quilt that my Mom and I worked on together. I had been given a quilt pattern to test and some donated fabrics. I added in a couple of my own fabrics. It was just a test run to try out the block piecing. The quilt top sat in a storage bin for a while and I was actually going to give it to charity, as it was not my style. I just do not particularly care for overly flowerly prints.  My Mom took a liking to it and decided to add some borders to make it a bit larger and she did some simple quilting on it. She shared this little quilt at a couple of her embroidery groups and the ladies all like it and supposedly could not believe I was going to give it away. My Mom had this quilt displayed on a lounge chair in her sun room. After she passed away, I decided to bring the quilt back home and it resides on my rocking chair.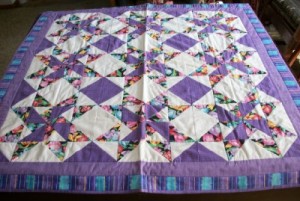 4. How does my writing/creating process work?
Over the years I have spent numerous hours scouring various quilting magazines for potential ideas. I now use Pinterest to find my future quilt ideas and plans. I do not own any quilt design software. I hope to some day. Over the years I have scratched out designs on graph paper to see how something might look like. I go back and forth from having a quilt pattern and needing fabric to having the fabric and needing a pattern to fit the fabric I have. There are so many quilt patterns to choose from and so many fabrics. I have noticed many designs today are for smaller quilts so if it is something I like, I end up adding more blocks to get the size I want and need. I do love all the precut fabrics that you can find on the market these days. I just do not always have some on hand. Alot of times I cut my own charm squares, layer cakes and jellyroll strips from yardage or fat quarters I have on hand. If I do have precuts, I like to create the largest quilt I can with them to make the best use of the fabrics.
One of my favorite tools is the Quilter's FabriCalc, a specialty calculator I found at JoAnn's Fabrics. It helps calculate squares, blocks and quilt yardage quite easily. It is quite helpful in creating your own precuts .
My writing/blogging style is said to be like having a conversation with me. I am told that is a good thing. My husband or non quilting friends may disagree. I write as it pops in my head.
I am passing along the blog hop challenge to three fellow quilters I have met online since starting my blog. We have shared and linked up our quilt projects to the same place and shared comments back and forth.
First is a fellow Iowan, Valerie at re-engineered. Valerie was trained as an Engineer and her family lives on a farm just like we do. It was small world to find out we live off the same highway in Iowa, just opposite ends. She shares on her blog some really cute projects like quilts and bedding for her little boy to one really lovely Swoon quilt. A Swoon is on my To do list and hers makes me want to start up one soon. Second, I nominate the Mother Daughter team of Prairie Sewn Studios . Linda is the Mother of this quilting team and she is from Nebraska and Laura, the daughter is living in California. They have many lovely projects that they share on their blog. This Mother Daughter team is even published, having written a book on English paper piecing. I round out my blog hop nominees, with my new friend Zafira, who lives in the beautiful Greece. She has a a blog called Zarkadia quilts and crafts. Zafira has a love for typography applique and has made some really cool quilted pillows. She has an Etsy store that she sells her finished products. She sews some really nice pouches and bags as well.
Thank you for stopping by to my blog on this stop of the Around the World Blog Hop. Please check out my blog, The Carpenters Daughter who Quilts for other quilts I have finished and my current works in progress. Please keep an eye out for my friends posts on their stops on this blog hop as they share their blogs on October 13th.
Hi, Today I thought I would share a Flashback Friday quilt finish. I made a wedding quilt for a now permanent snowbirds couple who got married on Valentine's Day in 2013. The couple are our daughter inlaw's Mother and StepFather. They were both leaving the cold winters of Iowa and Minnesota for a new home in Texas and since the couple and their families had lived everywhere from California, LasVegas, to Branson, Missouri, it seemed fitting to make them a Route 66 themed quilt as their gift.
My quilt's focal print fabric is Alexander Henry's Route 66 fabric. It is such fun fabric. Alexander Henry has to be one of my all time favorite fabric line designers.  I had made a quilt before using this fabric for a friend of the family who was an over the road trucker. The guy even had a full arm sleeve tattoo of Route 66 locations so the quilt was loved. I thought odds were in my favor that this couple would like a quilt with the same fabric.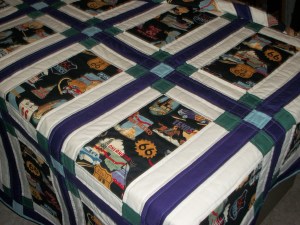 I did my best to pull coordinating colors from the Route 66 print to give the most Wow factor. I knew our DIL's Mom would like the purple and I liked the teal and soft blue as accents. The size of the photos in the design of the fabric are quite large and I needed to come up with a design with large blocks so it did not chop up the focal print willy nilly.
In preparation of writing this blog post, I searched to find what the name was of the quilt pattern I used. I am pretty sure it was a design in one of the Better Homes and Gardens  American Patchwork and Quilting magazines or had been on their blog. The quilt ended up finishing at 86 by 92 inches. I had calculated I had quilted it with over 10,000 inches of quilting.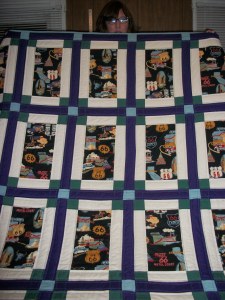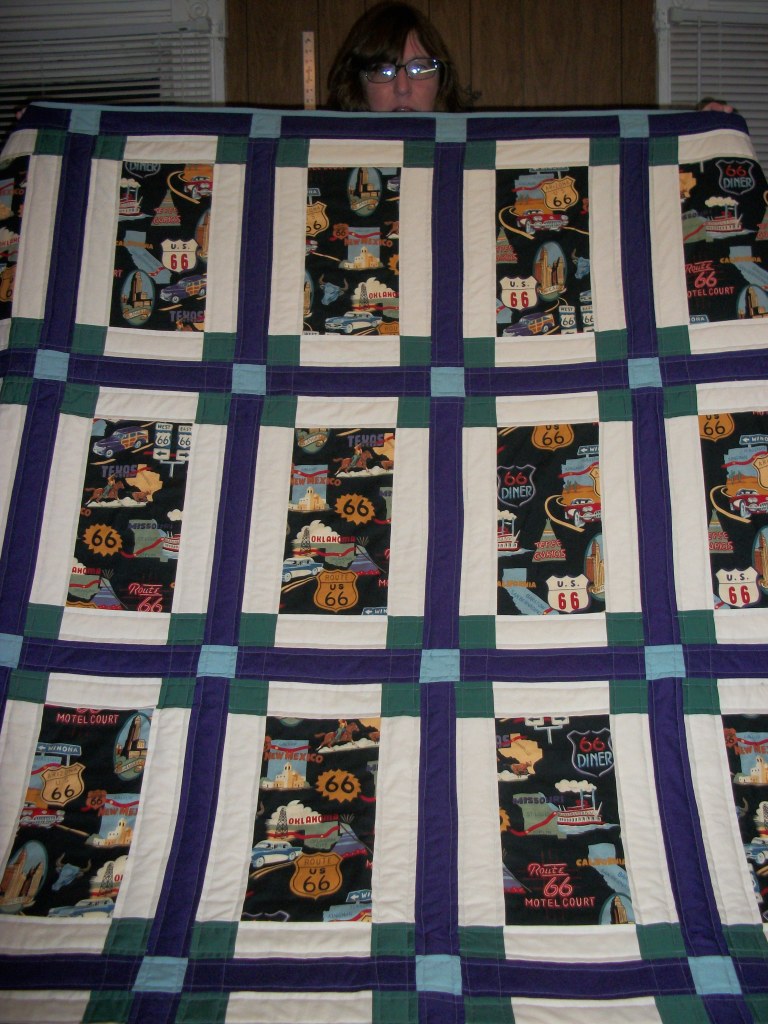 For the back of the quilt, I pulled all the coordinating solids from the front and pieced in a stripe of the last of the Route 66 fabric. I now see it is from this quilt's leftover fabrics where I got some of the solids to piece into strips for our grandsons' Scooby Doo Crossing quilts that I finished last week. This was fitting since this couple are also their grandparents.
I really liked using this pattern and hope that I can find it back. I have another fun Alexander Henry print that could use a large block quilt pattern to show off the fun complexity of the design.
I will be sharing my quilt finish with Finish It Friday, Fabric Frenzy Friday, Link A Finish Friday,  Whoop Whoop Fridays, TGIFF,                          Show It Off Saturday , Lily's Quilts Small Blog Meet  and a few other weekend linky parties.
Twitter