Hi, I have tried to not let having my main sewing machine die keep me from quilting. I am always on the look out for my next project. I have acquired another stack of new quilt patterns since July. I find alot of inspiration by following my favorite quilt designers on Instagram. By following on Instagram and subscribing to their newsletters, you get access to pattern sales and deals on the new releases.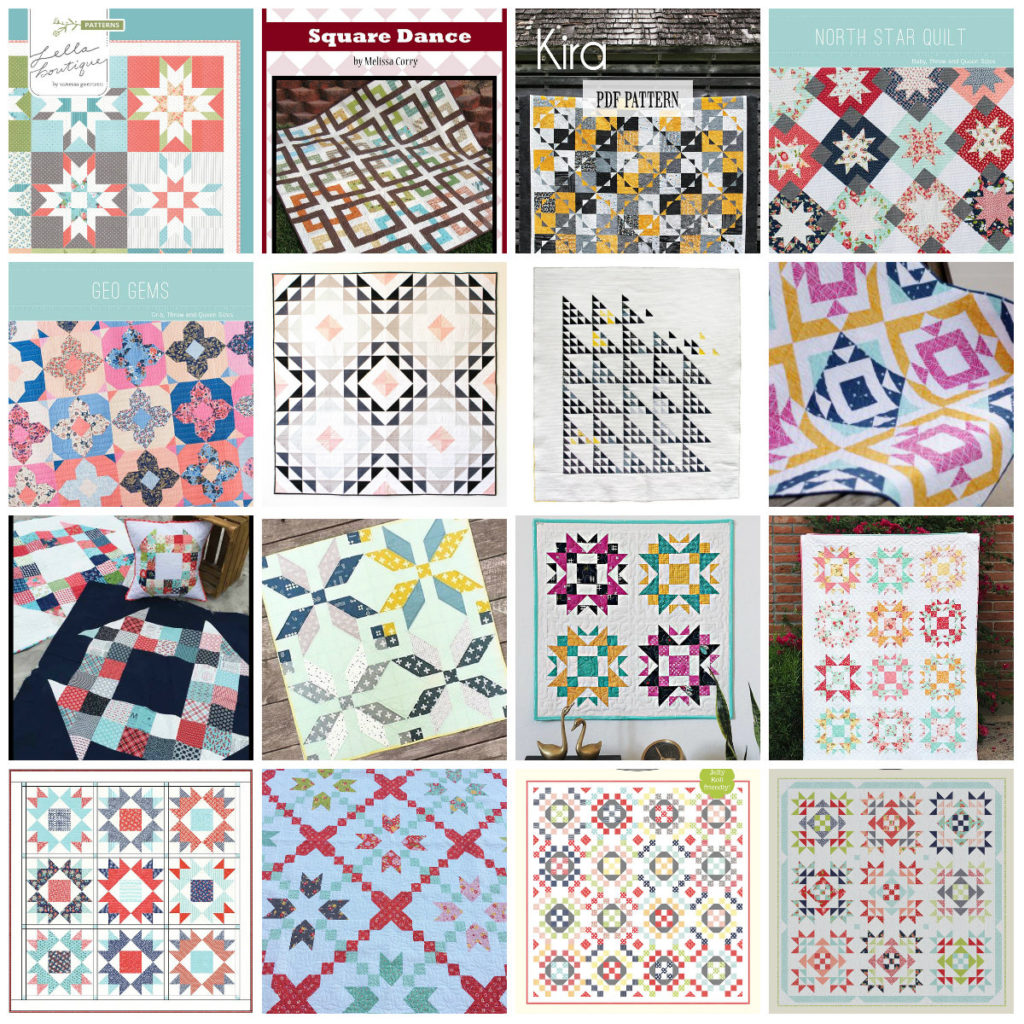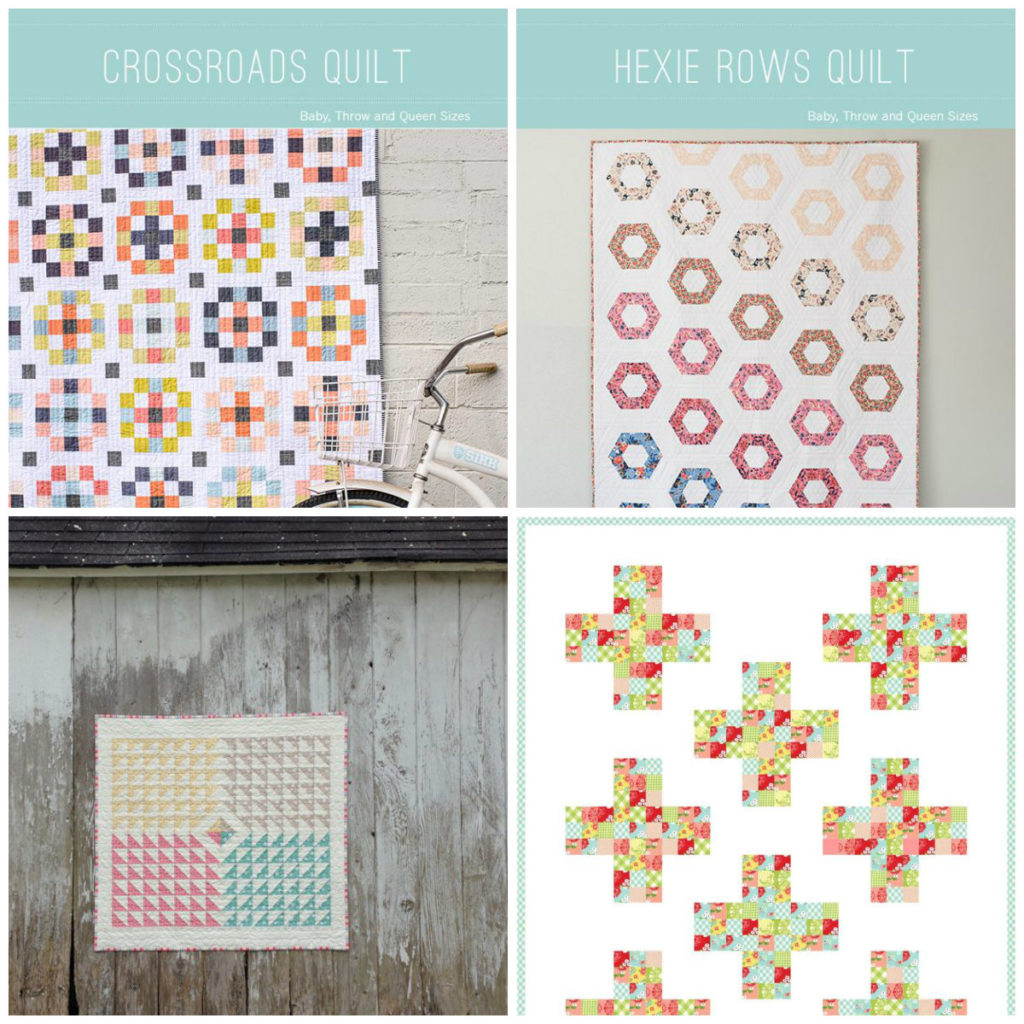 Yeah, I might have a problem. I am my Father's daughter. I love a good bargain! I will give all the names and links to where these lovelies can be purchased below. (If you missed my first list of new patterns earlier this year, that blog post is found here)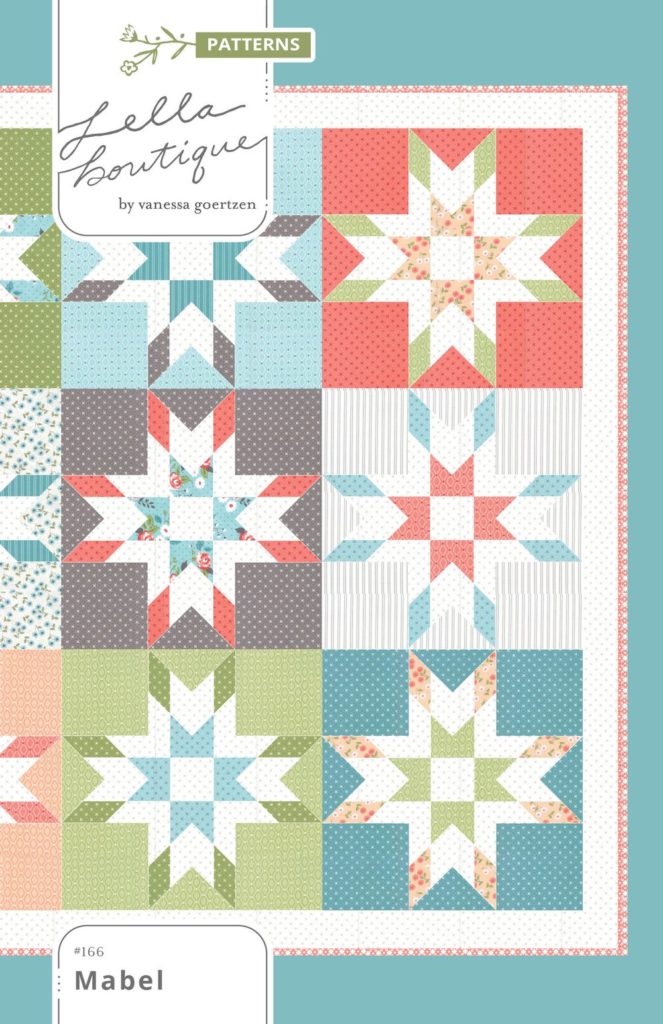 This is Mabel and she is one Lella Boutique's latest patterns. This star quilt is made with an awesome technique and requires no Y seams and no paper piecing. I love it!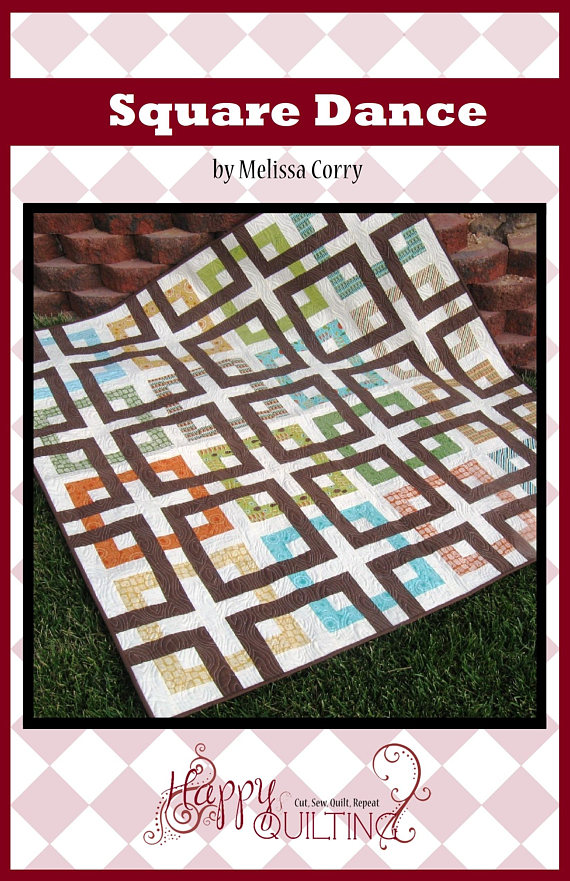 This is Square Dance by Happy Quilting's Melissa Corry. This is a fun modern design that you could use up your scraps with.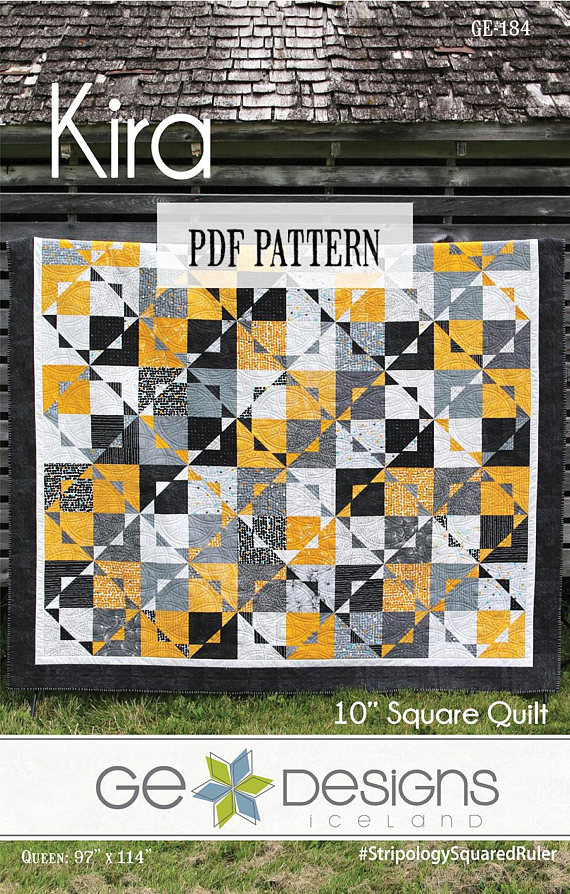 This is Kira by GE Designs. It is another fun pattern that uses a really neat technique to make a difficult design made easy.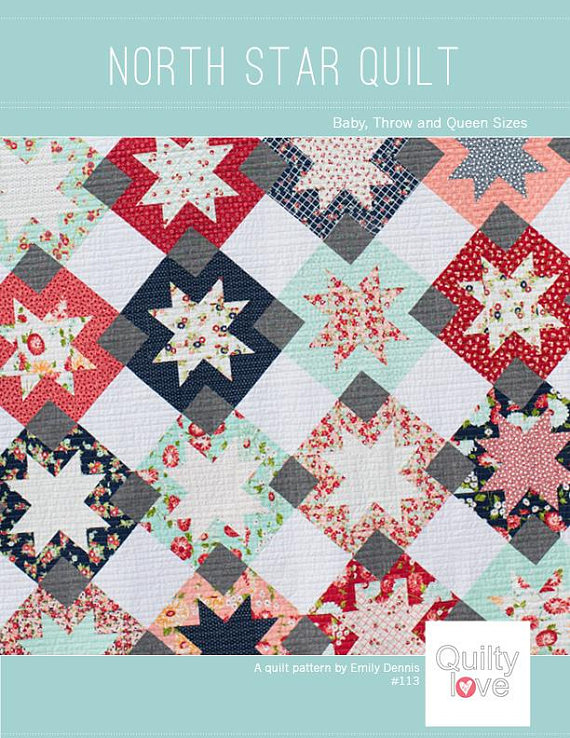 This is North Star by Emily Dennis. I love Emily's quilts and this star is alot of fun and should look great in about any collection.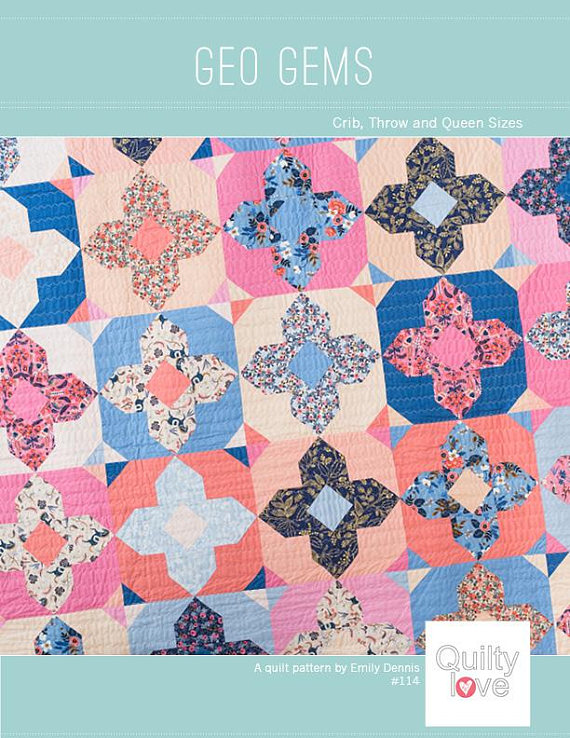 This is Geo Gems by Emily Dennis. I really like the secondary design that these quilt blocks make.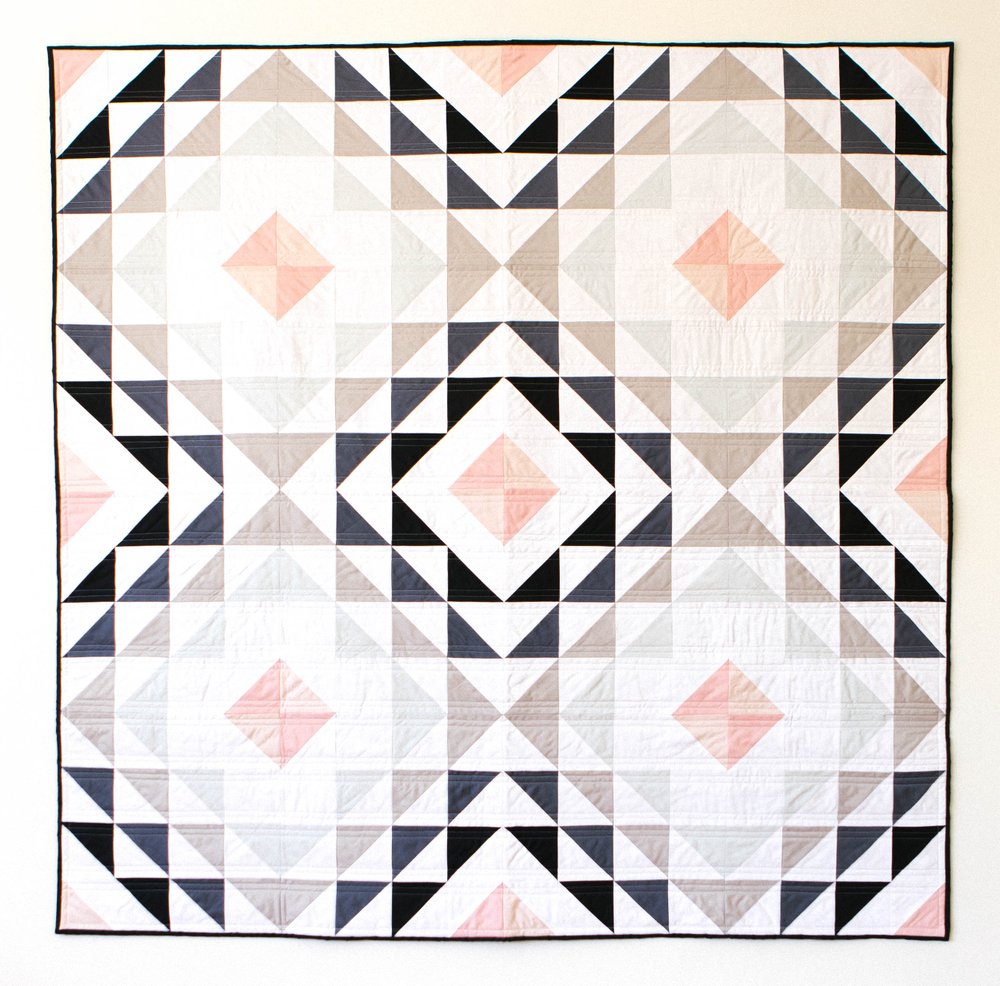 This is Diamond Ripples by Then Came June. I love this quilt design! I watched this designer and this quilt design on Instagram. This uses a technique to make multiple half square triangles at once so it will help construction go alot faster.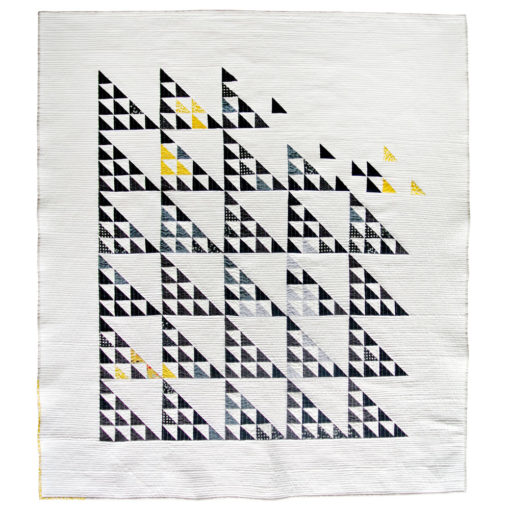 This is Fly Away by Suzy Quilts. I love this quilt and all the different versions that have shown up on Instagram. This quilt is in the works on my sewing table. I got all the fabric cut and HSTs made and trimmed before my sewing machine died. Since the HSTs are just as I need them, I have been afraid off my one machine eating them or not being able to match the same scant 1/4 inch seams. I have a 1/4 foot ordered for my new to me machine.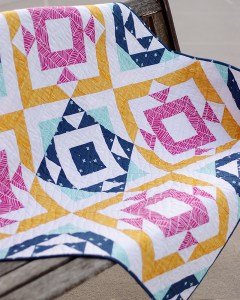 This is Triangle Trove by Bonjour Quilts. I really like this one. The photo spoke to me as I knew I had some fabrics in my stash that would work. I have since used one of the fabrics to start the above Fly Away quilt project.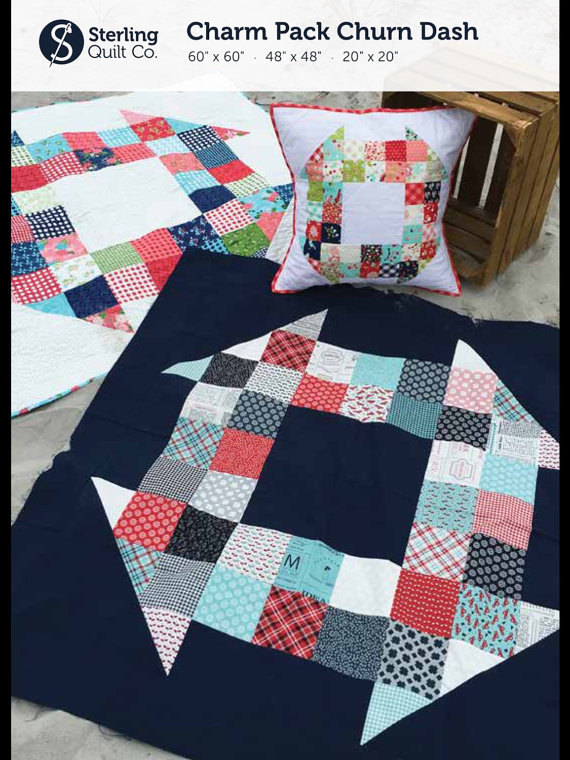 This is Charm Pack Churn Dash by Sterling Quilt Co. A very fun pattern for using charm packs or your scraps.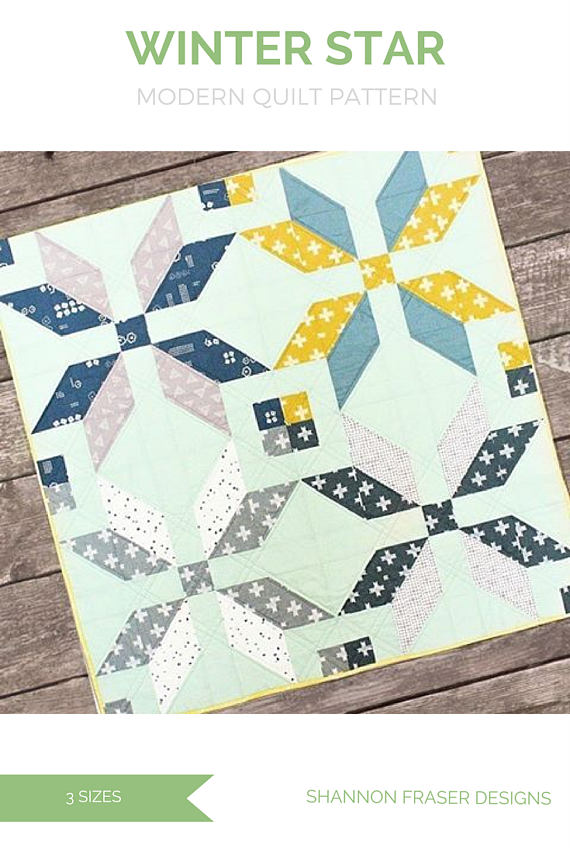 This is Winter Star by Shannon Fraser Designs. It is a pattern that has been out for a while but I kept seeing it around Instagram and fell in love with the simplicity of the design. There are many ways you could personalize this design.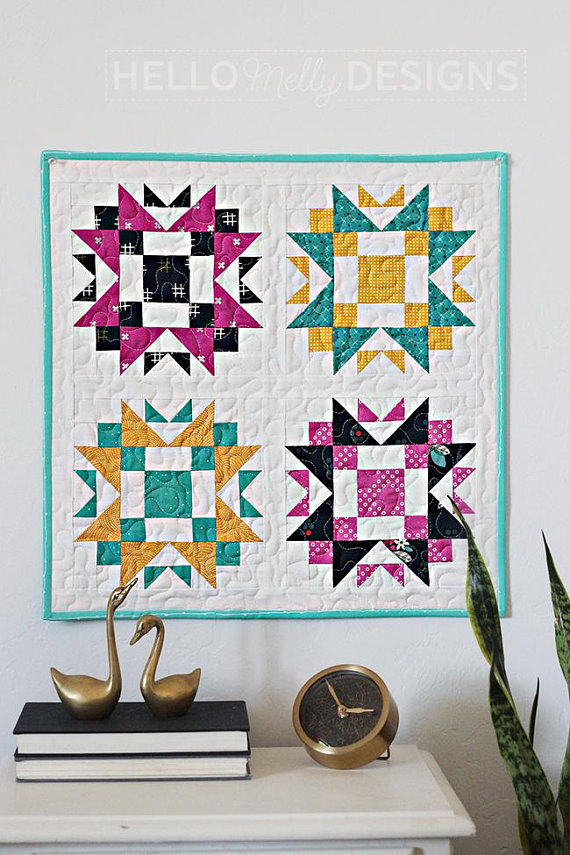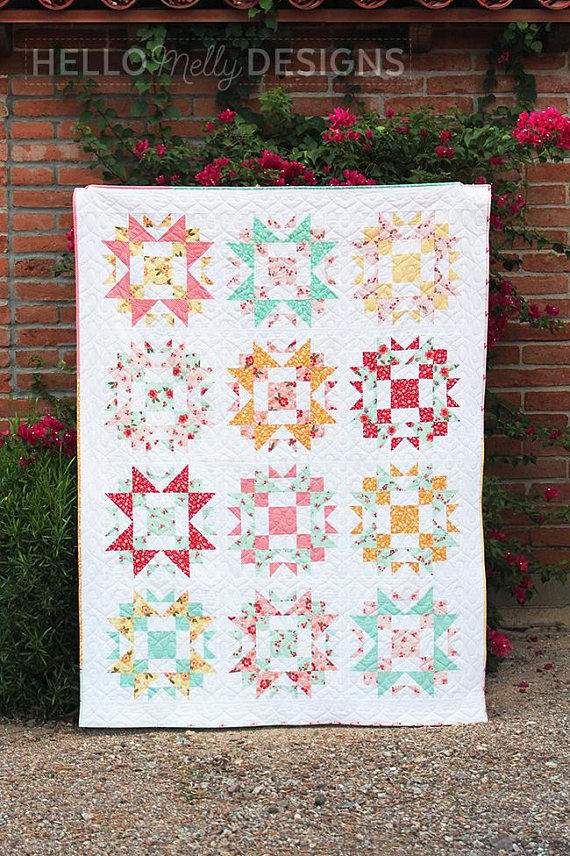 This is Prairie Waltz Mini and Prairie Waltz by Hello Melly Designs. The full size quilt blocks finish at 16.5 inches square and the mini quilt blocks finish at 8.5 inches square.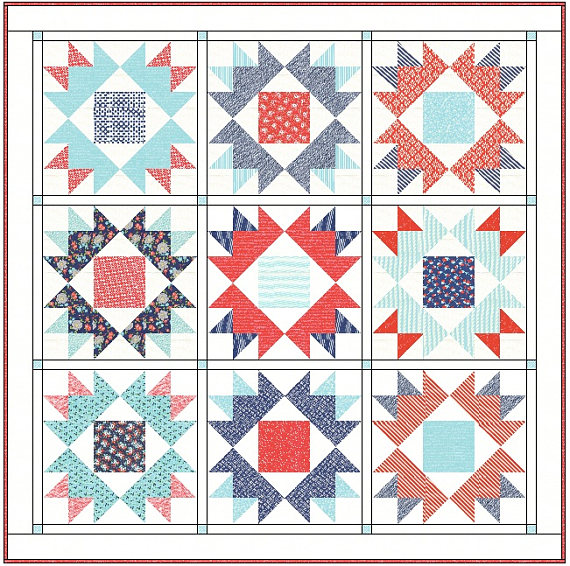 This is Dawn by MissyMackCreations. Lots of potential lovely quilts can be made from this pattern.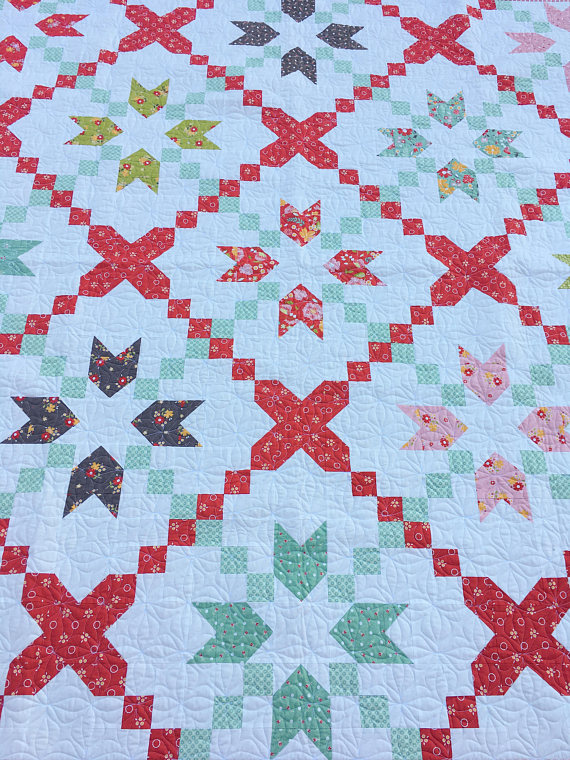 This is Cross Stitch by Coriander Quilts. I really like this take on an Irish Chain crossed with cross stitch.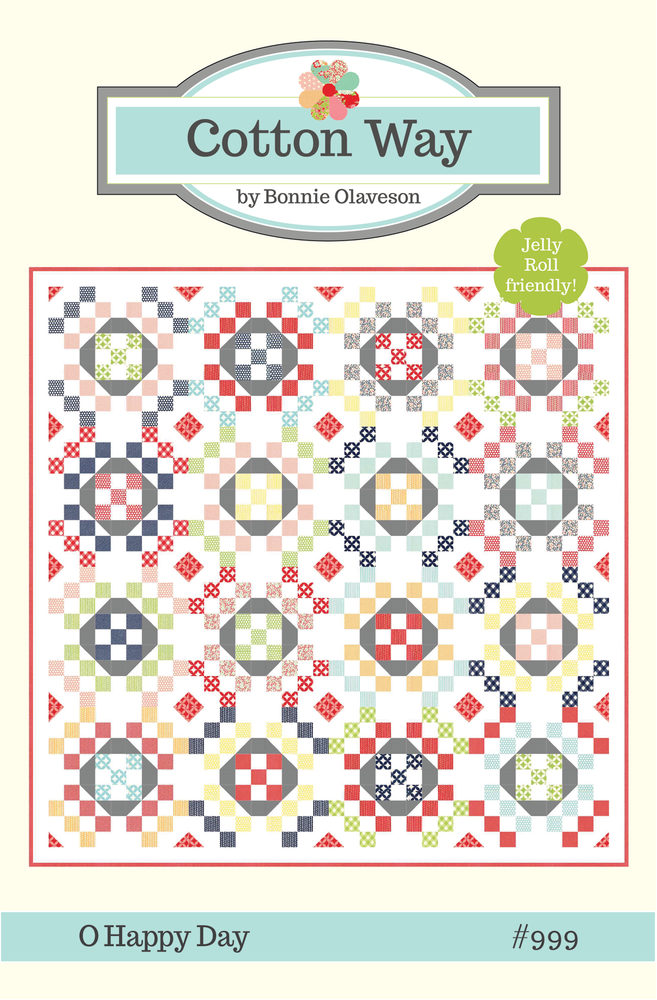 This is O Happy Day by Bonnie of Cotton Way. I just love the total scrappiness of it.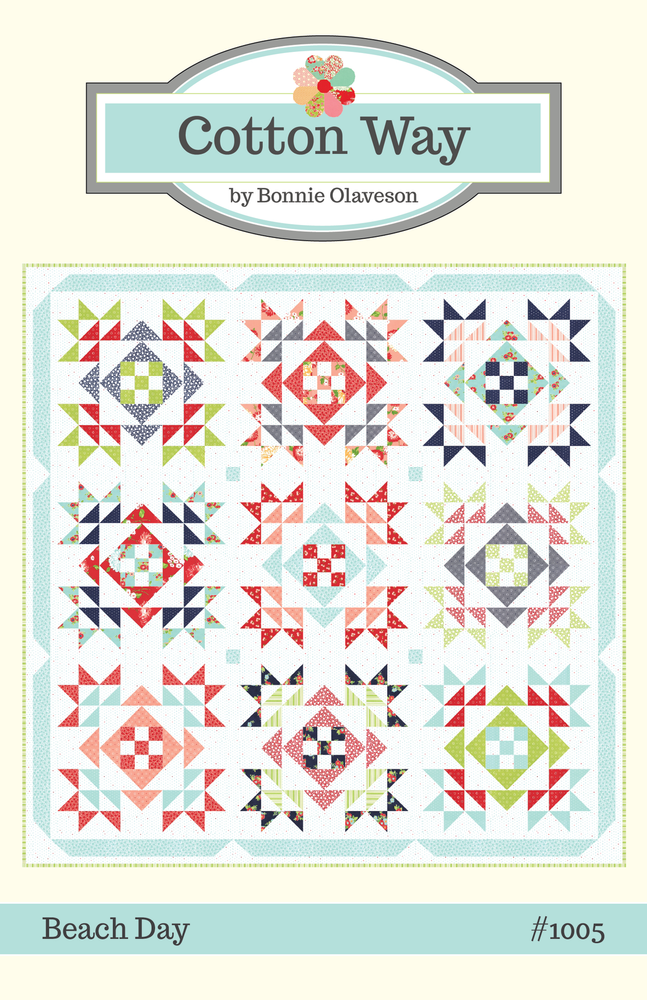 This is Beach Day by Bonnie of Cotton Way. I love the scrappiness of this design as well. I think it would be great in patriotic prints,batiks or even plaids.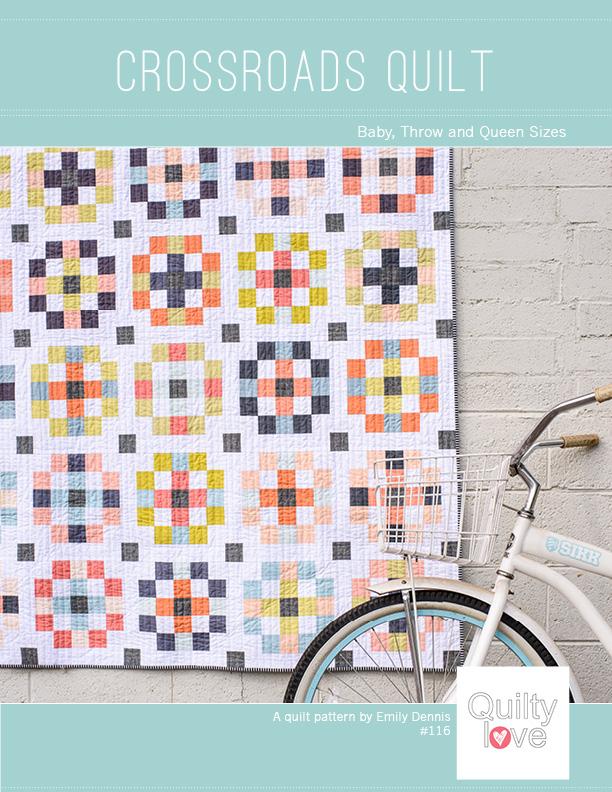 This is Crossroads by Emily Dennis. I love this quilt made up in solids. I haven't made very many quilts in just solids.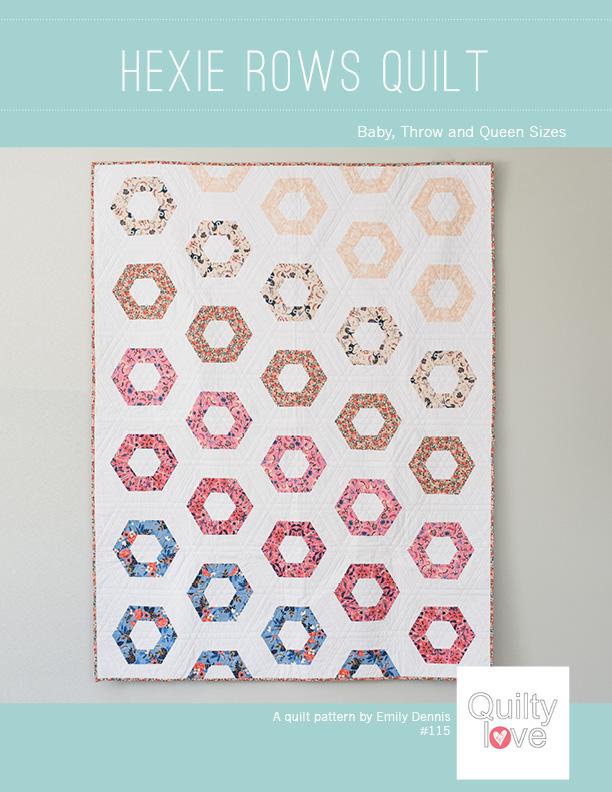 This is Hexie Rows by Emily Dennis. I think I now own all Emily's hexagon quilt patterns. I haven't made a hexagon quilt yet. I think this is one of the easier ones.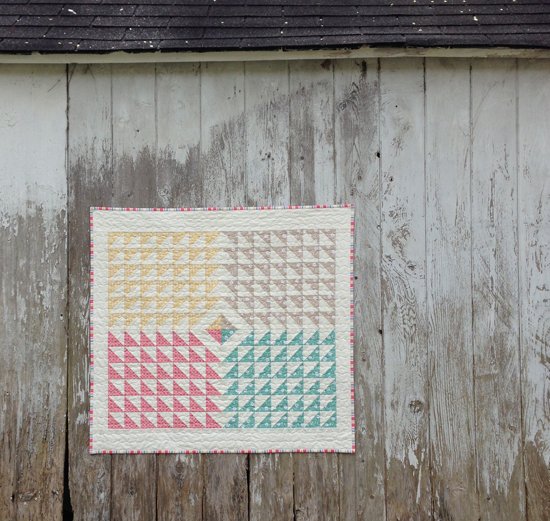 This is Emma's Sitting Room by Amanda of Crazy Mom Quilts. This is a great HST quilt design that you make multiples at once. You can go scrappy or choose 4 colors to make your HSTs.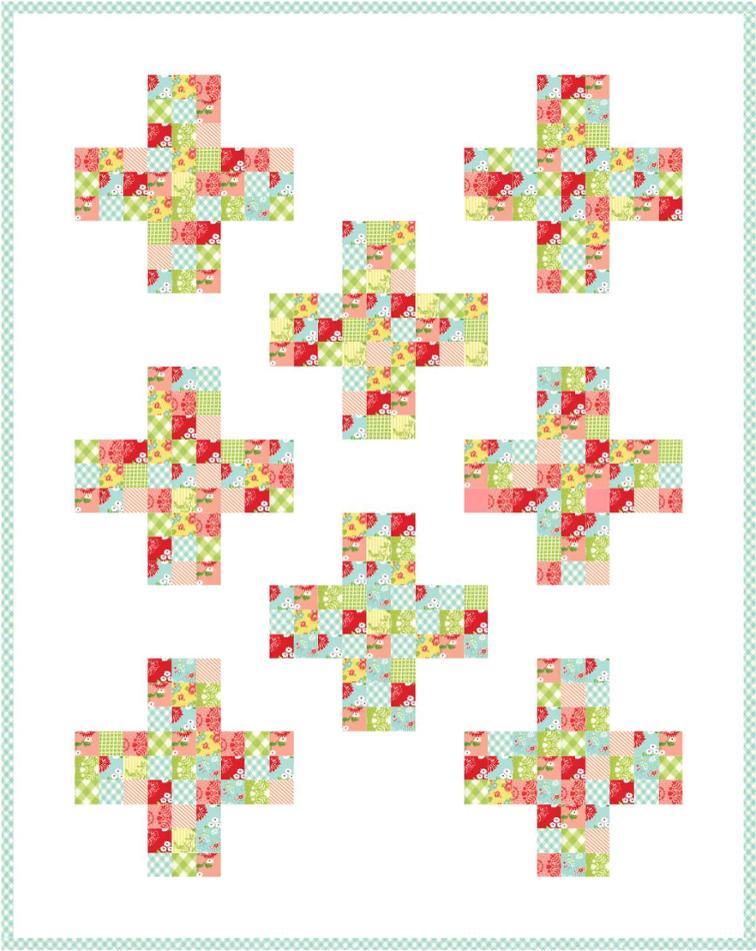 This is Nine Patch Plus by Center Street Quilts. Plus quilt blocks are some of my favorite designs. I plan to use this to make one of the last memory quilts I need to make.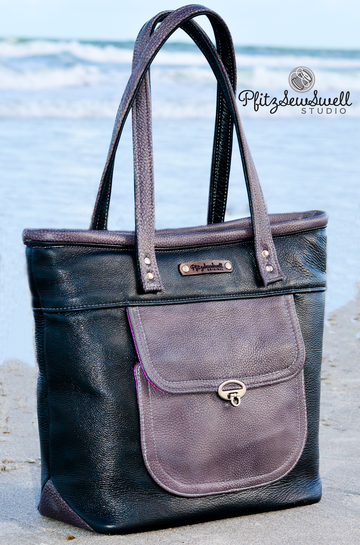 This is the Amalfi Tote by Pfitzsewswell. This is Not a Quilt. LOL I admired all the lovely totes that showed up on Instagram while this pattern was being tested. My daughter would like it made out of leather and possible Pendleton Wool. We are looking to purchase some fun Pendleton blanket remnants off Ebay in the near future. This tote pattern isn't too complicated and has great directions. Perfect size to hold her laptop.
The next quilt design is Frame by Sandra Clemons. For some odd reason, it will not let me load the photo down here again. I am currently working on putting this quilt together as a memory quilt. I had the start of a quilt from last year, where I miscut a bunch of pieces and started over from scratch. There is enough pieces cut for over half the squares needed and strips to cut the rest. I will just need to add my plaids.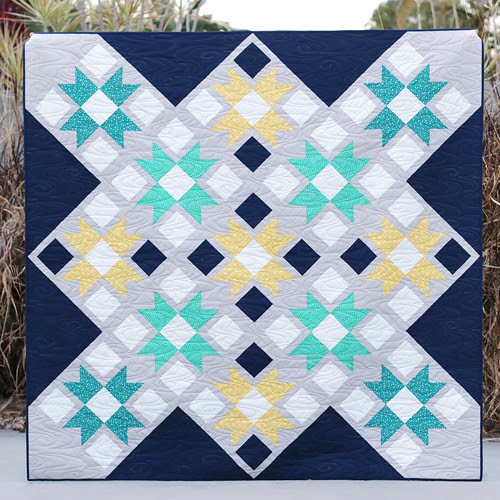 This is Starcrossed by Bonjour Quilts. This is her newest pattern. I am a newsletter subscriber and the newsletter came out last night and I of course bought the pattern this morning. I love Kirsty's designs.
I hope you will check out these designers and some of their patterns. With Black Friday and Cyber Monday coming up this next week, many of the designers will be having sales on their patterns and fabric.
I hope you have a great week and a Happy Thanksgiving, if you are reading from the US.
Many thanks to all the new readers stopping by my blog this week. I greatly appreciate the support. I hope you will see something you like and stick around for awhile.
Happy Sewing,
Shelley
Hi, I am very close to having a year's time involved in my memory quilt project. I started it after Thanksgiving last year. Our Dad passed away in March of 2016. He was a Farmer and a Crop Consultant. He had a vast wardrobe of plaid shirts and chambray and denim work shirts. This project originally started with me just wanting to make a quilt for my husband and maybe my kids. I never imagined how far a collection of 30 plaid shirts and 5 to 7 denim shirts would take me. I have put my entire heart and soul into creating as many quilts as I could. I am up to 11 different tops and have fabric left, and need to create 5 to 7 more.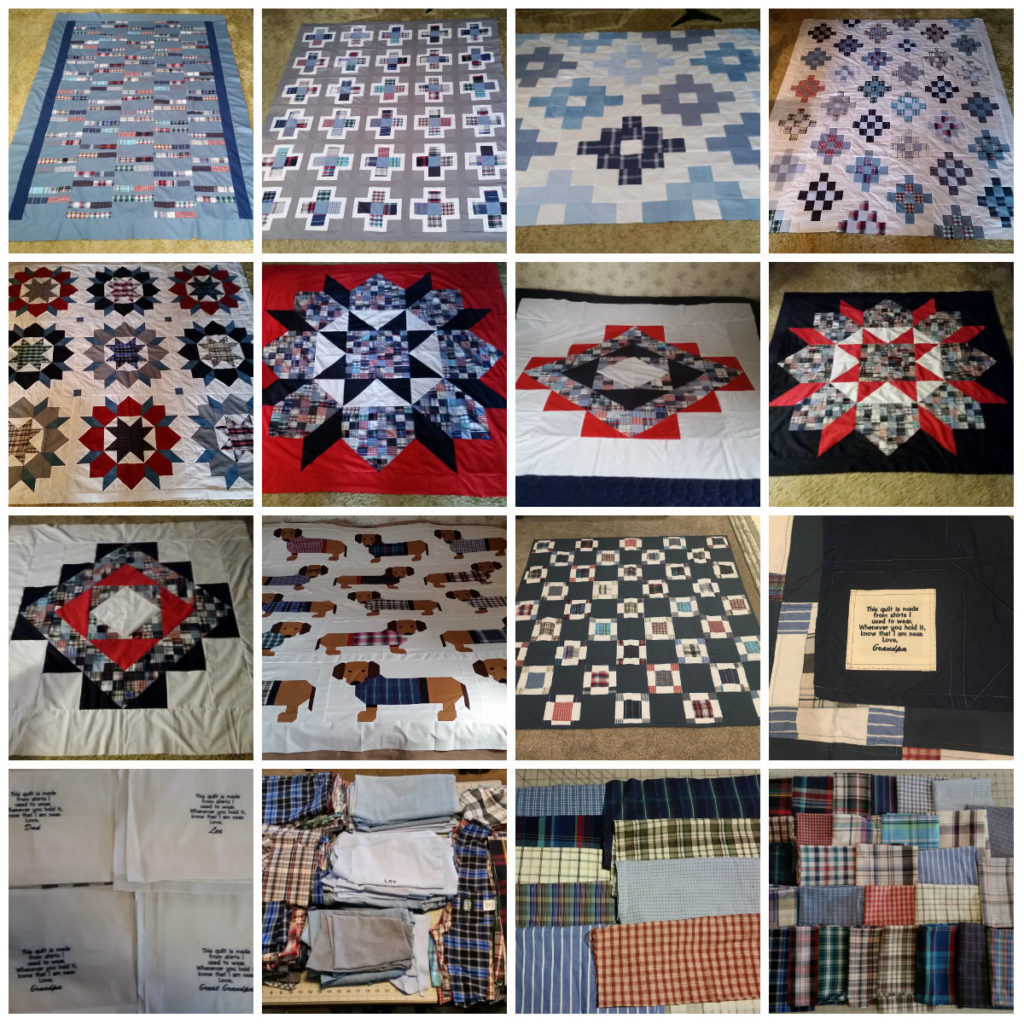 I will give a quick review of the completed tops and give links to the blog posts, if you missed them from when published.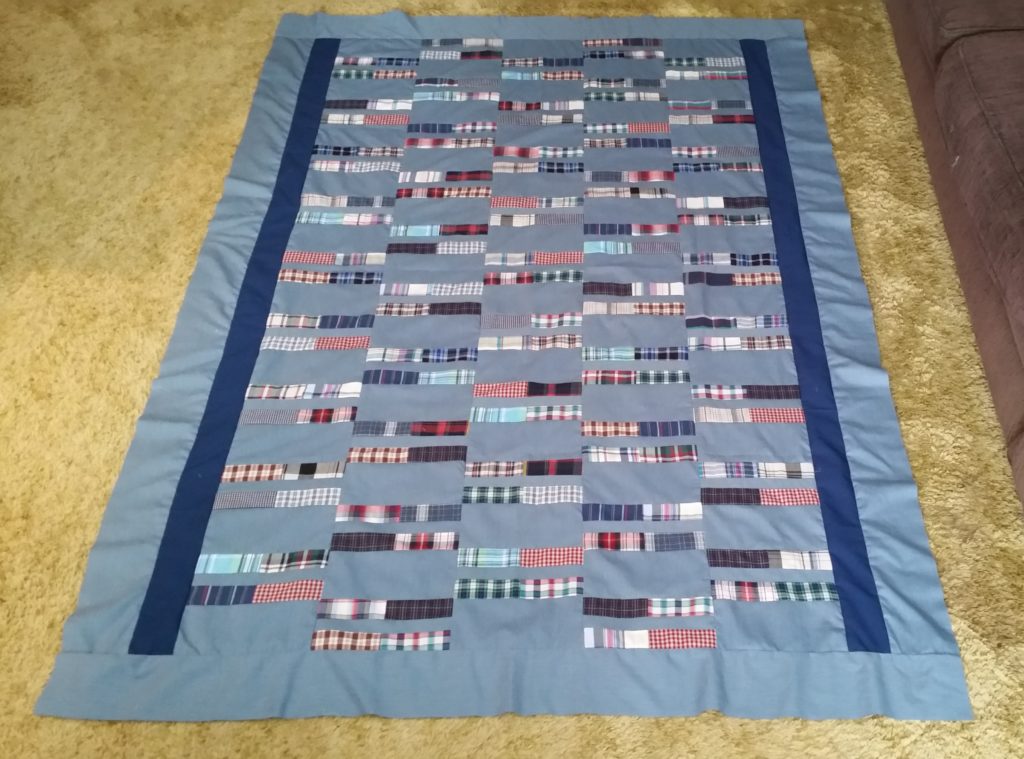 This quilt top is made from the popular My Guy quilt pattern. It could be originally found in American Patchwork & Quilting magazine in their June 2009 issue. This quilt of course will be going to my husband. You can read more about my process here and here.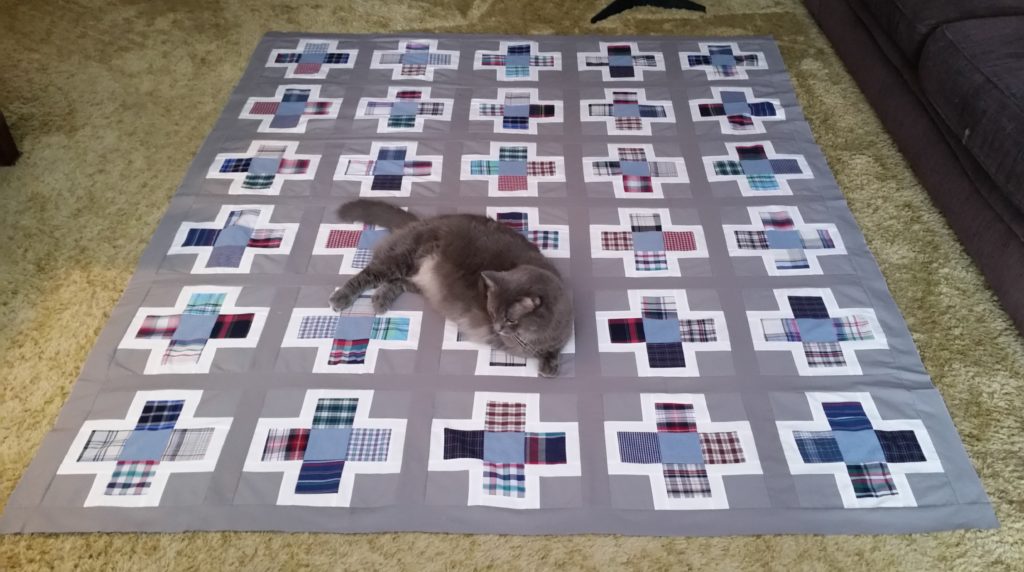 This quilt top is made from Plus Squared by Emily Dennis. This uses pieces from all 30 different plaids and uses a denim work shirt as the center squares. This quilt will be going to my Mother inlaw. You can read more about my process here. Our three legged rescue cat, Clarence had to show off his modeling skills in this photo.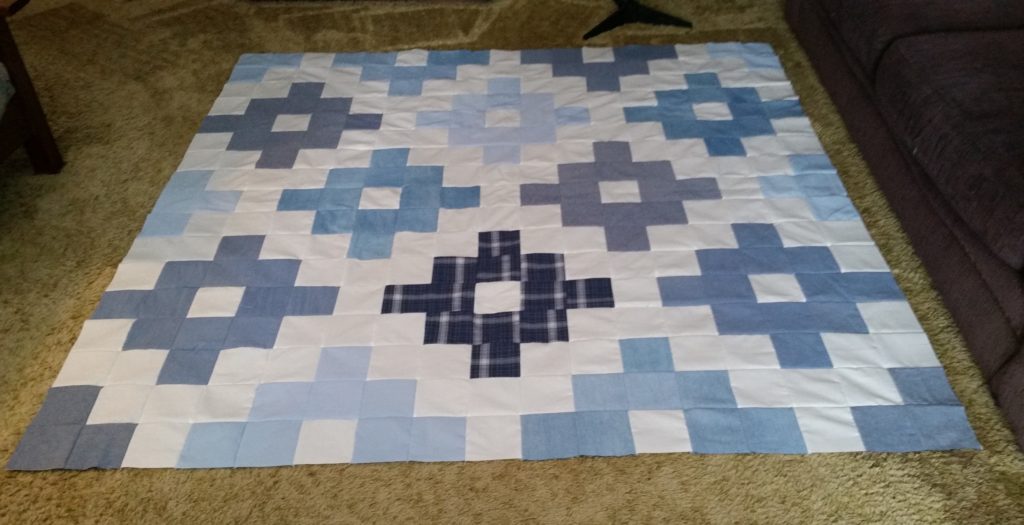 This quilt is one that I have decided to call Workshirt Mosaic. I think it was made from 5 different chambray and denim workshirts and then I picked my favorite blue plaid shirt as an accent block. I remember purchasing it for Dad for his birthday one year. This quilt was designed from using a tutorial by Emily Dennis for a quilt made from two colors of charm pack squares. I drew the design out on a graph paper and carried the design out a little on each side to make it larger. You can read more about my process here and there is links to the tutorial found there as well. This will be going to one of my nieces.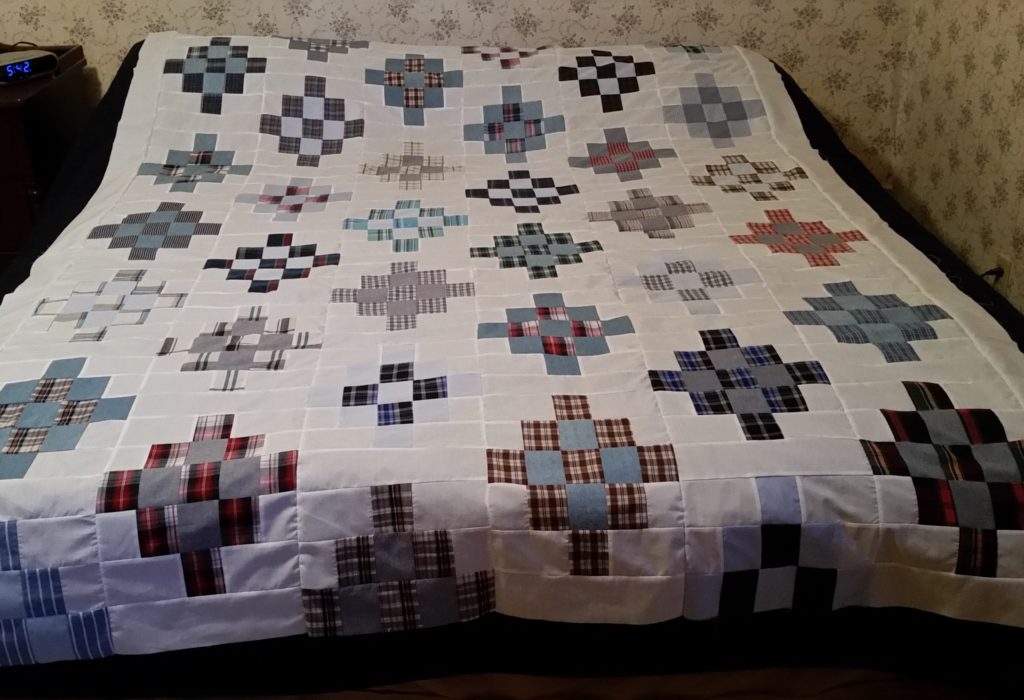 This quilt is made from the Uptown quilt pattern by Cluck Cluck Sew. I divided up the blocks switching out half the position of the plaids and denims. This quilt will be going to one of my nieces. You can read more about my process here.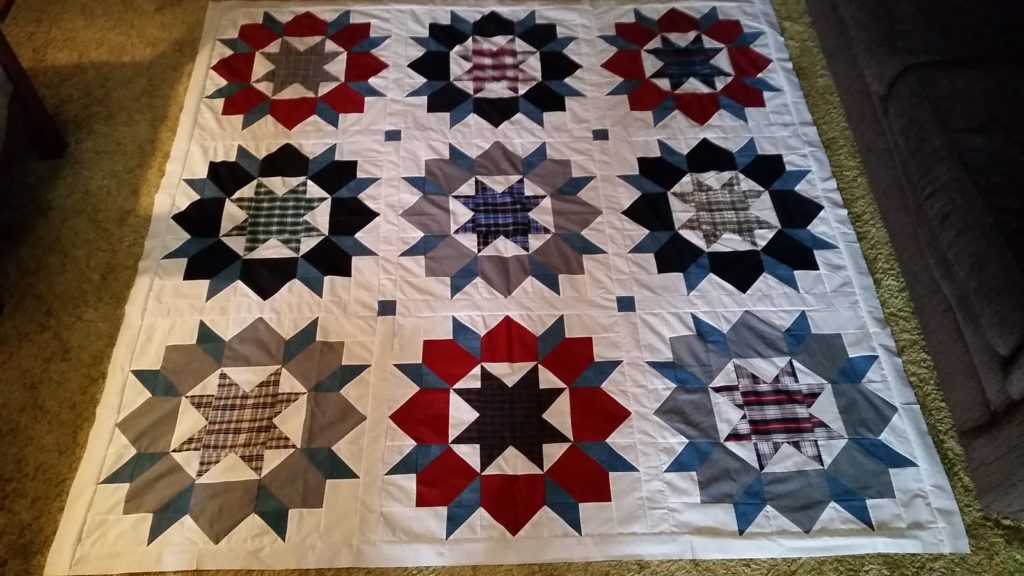 This quilt is made from the original sized Swoon pattern by ThimbleBlossoms. The blocks finished at 24 inches. I chose to add the tiny denim sashing stones as added interest.This will be going to our sister, Barb. There was a Swoon quiltalong online starting in January. It was held for the first three months. I was able to piece 4 Swoon quilts in 2.5 months. I am quite proud of that accomplishment. You can read more about my process here, here, and here.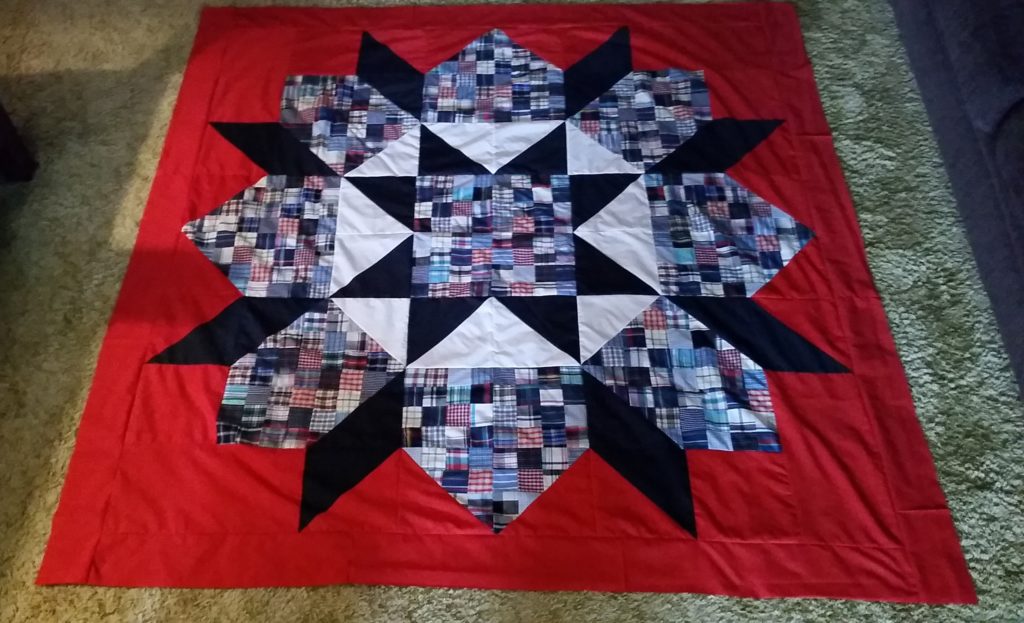 This is a Scrappy Patchwork Swoon and it has pieces from all 30 of Dad's shirts. This is a pattern by Thimbleblossoms. This quilt will be going to our sister, Joyce. You can read more about my process here,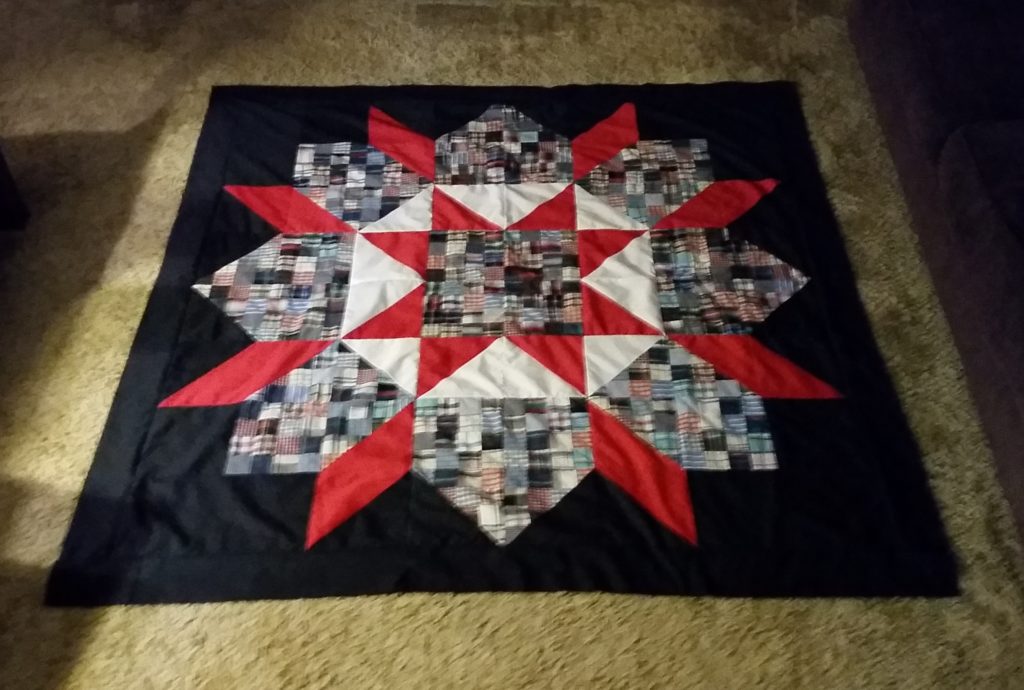 This is another Scrappy Patchwork Swoon and is created in the same colors as the first but positions switched. This will be going to our sister, Judy. When creating any of the Swoon quilts, you will be creating alot of half square triangles. It makes good sense to draw another line to create an additional smaller HST that you can use in another project. You can read more about my process here.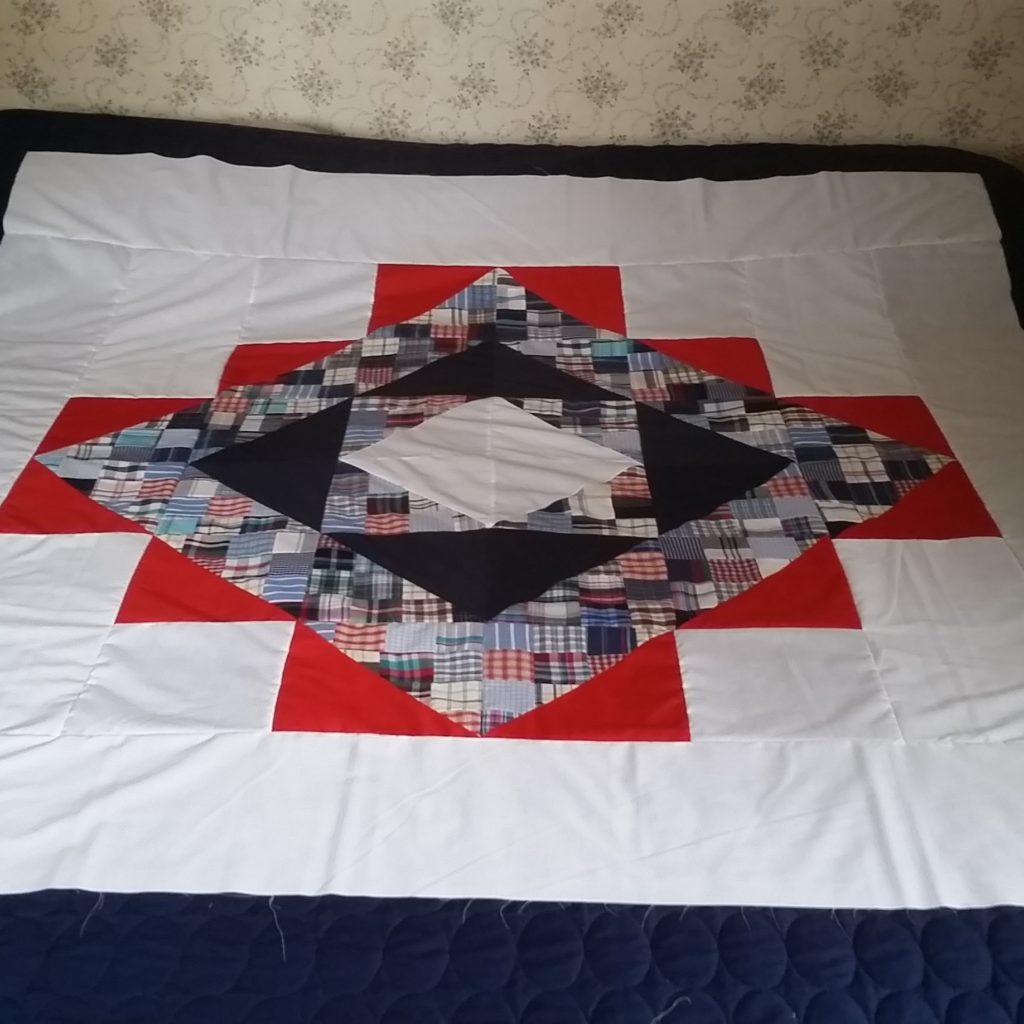 This design was created from laying out leftover HSTs. This will have a wide navy border added to the outside in near future to finish off this top. This was created from the leftovers of the red background Swoon. This will likely go to one of our nephews. I don't think I blogged about these yet. I know I shared photos on Instagram. I saw a similar top made from a fellow Swoon quiltalong participant on IG.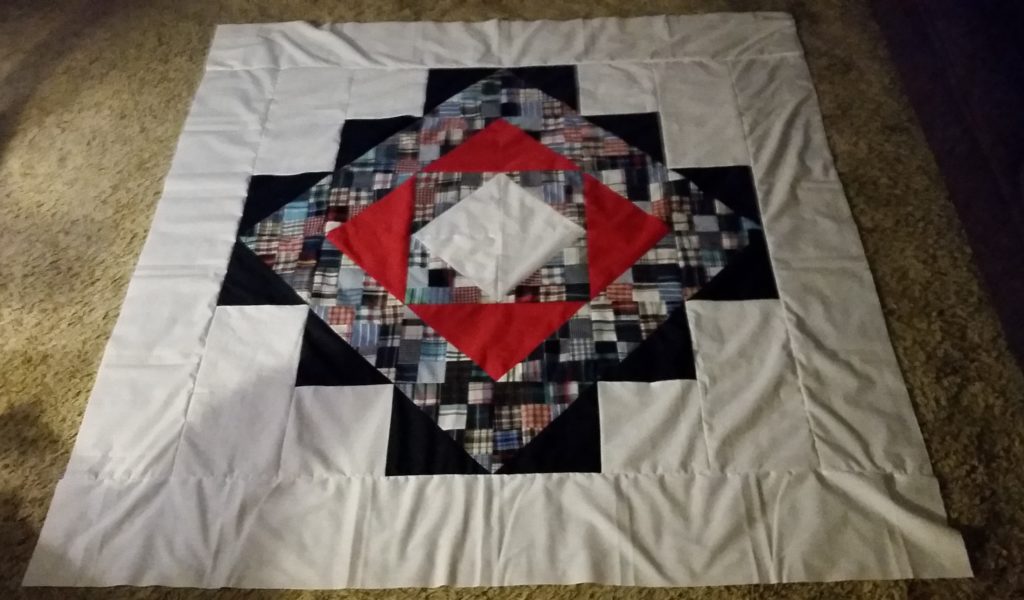 This quilt top was created from the leftover HSTs from the blue background scrappy patchwork Swoon. This will have a wide red border added to the outside. Adding borders will make these top approximately 72 inches square. This will likely go to one of our nephews.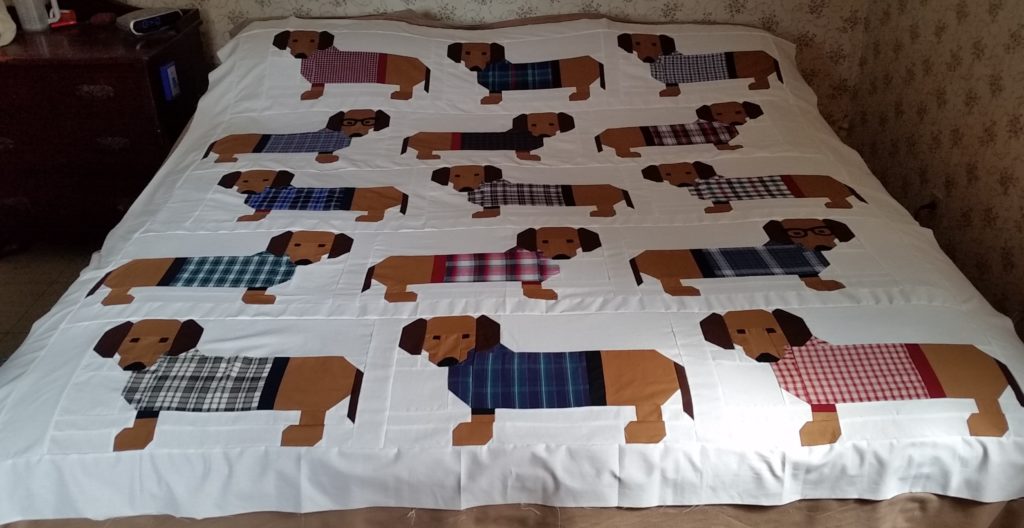 This fun quilt is Dogs in Sweaters by Elizabeth Hartman. I chose 15 of my favorite plaids for their sweaters. I added either red, navy or black as the coordinating sweater trims. This quilt will be going to my son. You can read more about my process here.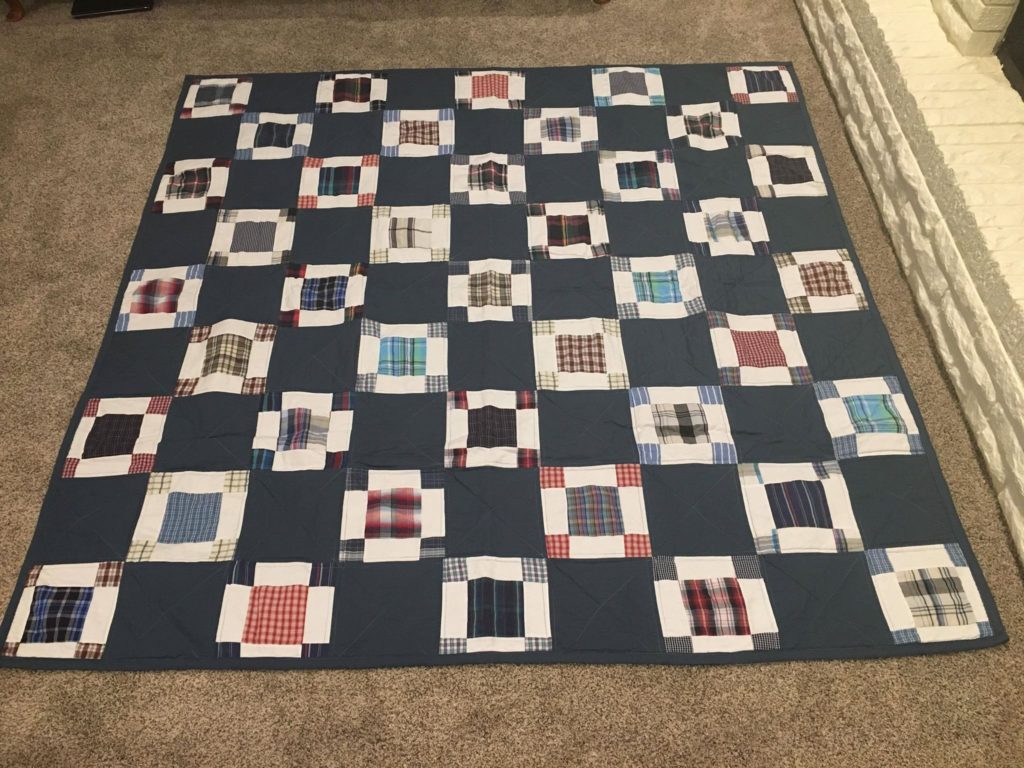 This quilt was made from the Moda Bake Shop tutorial for the Woodruff quilt by Cake Stand Quilts. This top was the first of the 11 to be quilted and bound. It was gifted to our niece, who was married the end of October and this quilt was on display at the reception. This was a small way for Grandpa to be able to attend her wedding in spirit. You can read about my process here.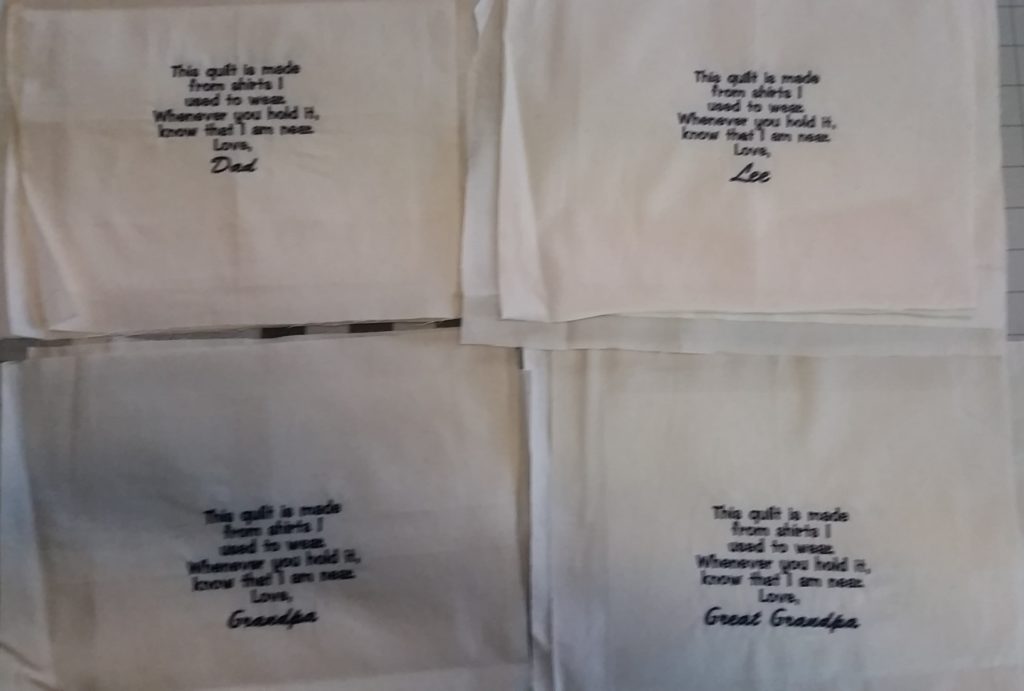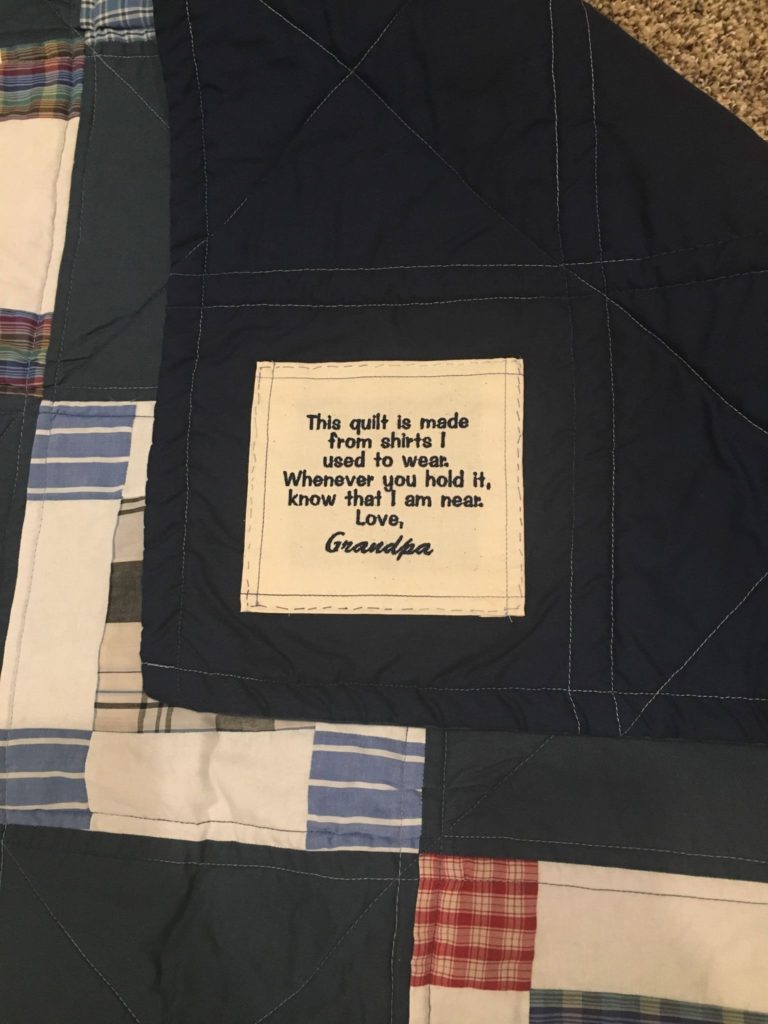 My wonderful sister inlaw( who was the Mother of the bride ) machine embroidered a patch for each of the memory quilts for me. We had seen the idea for these on Pinterest. They make the quilts extra special.
I would love to be able to have as many of these quilts quilted by Christmas as possible. I have had a couple rough months this summer with feeling poorly and then my main sewing machine went up in smoke. You can read about that tale here. I have collected many new quilt patterns this summer. I am always trying to find new ways to use Dad's shirts but don't worry I do also plan to make some non-plaid quilts in the near future. New patterns is a way to make up for the many that I lost last year when our computer was struck by lightning.
I will be linking up and sharing this blog post with various linky parties that you can find in my Linky Party link page at top of the blog.
Thank you for stopping by and reading my blog. Welcome to all the new readers this week!
Happy Sewing,
Shelley
Hi, I have been away from sewing and blogging the last few months as I have been having trouble with my sewing machine and have had things to deal with family and health wise.
My main sewing machine had been acting up earlier this year when I had trouble with the walking foot continuing to walk or quilt after I had stopped and had my foot completely off the foot pedal. I tried searching solutions online and even wrote the store that my Mom had purchased this machine and her embroidery machine from. They were not very helpful other than suggest that I could bring it in to be checked out. It could be a problem with the foot pedal or worst case scenario, it might be the mother board and parts are no longer available. I had all ready seen that by searching online even in Viking sewing shops in Canada. The machine seemed to work fine when not using the walking foot, so I thought I would continue to use it while I could. It didn't act up everytime I used the walking foot either, maybe just after I had been using it for an extended period.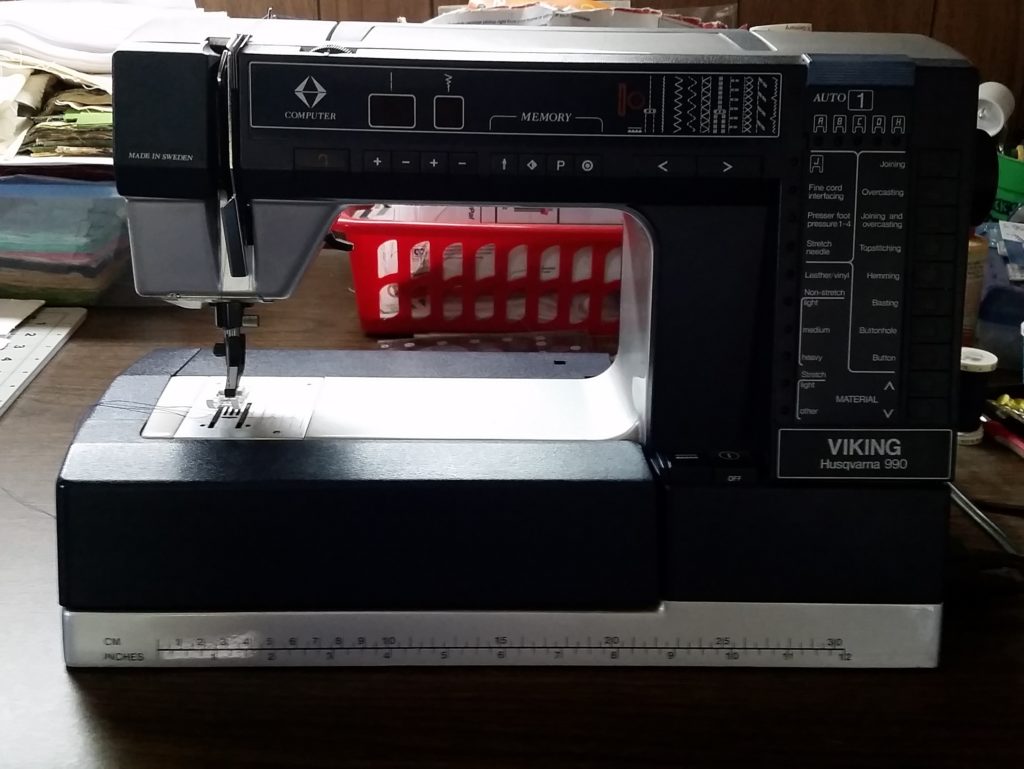 This is my Viking 990 sewing machine. I inherited it from my Mom when she passed away in June 2013. I have figured that I have pieced at least 40 quilt tops with it in that time.
Well, fast forward to first week of October and I am attempting to finish binding the Woodruff quilt. I have three sides bound and am working on sewing the fourth side down. I am maybe shy of 24 inches to completion. All of sudden I hear this sizzling sound like bacon cooking. (I can not really smell so didn't smell anything off). There was a loud pop and then lots of gray smoke comes rolling out of the above pictured machine. I have never moved so fast, shutting off things and yanking cords. I raced the machine outdoors to the concrete slab of our porch. I am no means an expert, but I am assuming this machine is TOAST. I assume the circuit board or something has blown. This machine had been emitting a sound for quite awhile. It sewed perfectly fine for the last 4 years other than the occasional hiccup with the walking foot. My Pfaff 1473 CD made a similar sound and the Pfaff tech guy said to use it until I couldn't as it was most likely mother board going out. The Pfaff never got to the point of going up in smoke. One day the lights just came on but nothing else.
I had to get out my inherited Viking Designer 1 to finish binding the Woodruff quilt.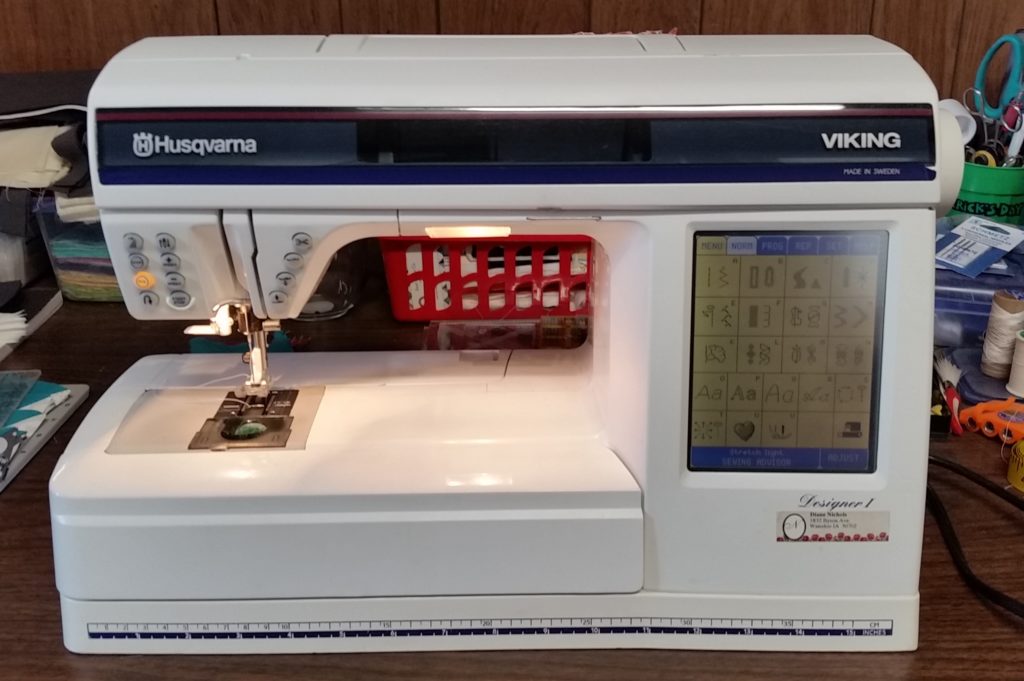 I had only sewn once on this machine in the last 4 years. I don't know why. I guess I let it intimidate me a bit. The big reason is that it was my Mom's pride and joy. She actually had two of the same Designer 1 machines and my sister inherited the other. This machine seemed to work fine sewing on the binding. I haven't sewn much since the first week of October as I am fighting it on getting it to do what I need it do.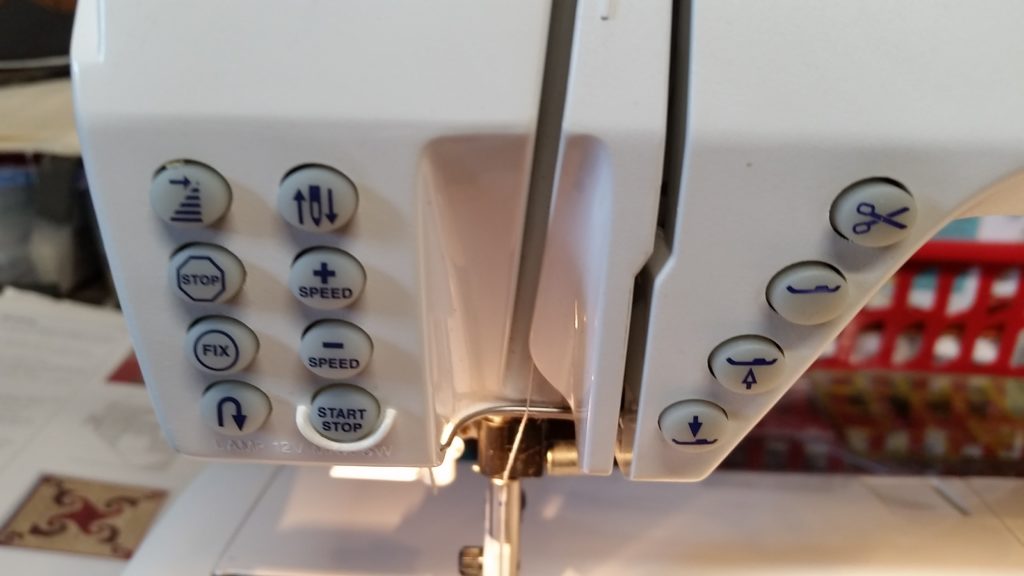 All this little push buttons literally push my sister and I's buttons. LOL We are so used to having some sort of lever to raise the presser foot up and down. There isn't one on this machine. A button to raise or lower the foot. The Fix It Button is a problem for us at times. On her machine, she says that Fix button starts lighting up and beeping at her as soon as she flips the On switch. We do not know why, but hope to sit down in the upcoming weeks together with both machines to see if we can figure it out. My main problem is figuring out how to get a scant 1/4 inch. I was first in a menu for stretch stitches by accident and it kept beeping at me about a stretch 75 needle, I had a 90/14 in as I always quilt with that size. I finally found the quilt stitch menu but I am having a skipped stitch problem besides it wanting to each my fabric. Mom never taught us how to use this machine or really even demonstrate it other than watching her embroider something once or twice. Our Dad was going to offer to send us and the machines down to the store for training after Mom passed but that never panned out and now the store seems to have forgotten she was a popular customer.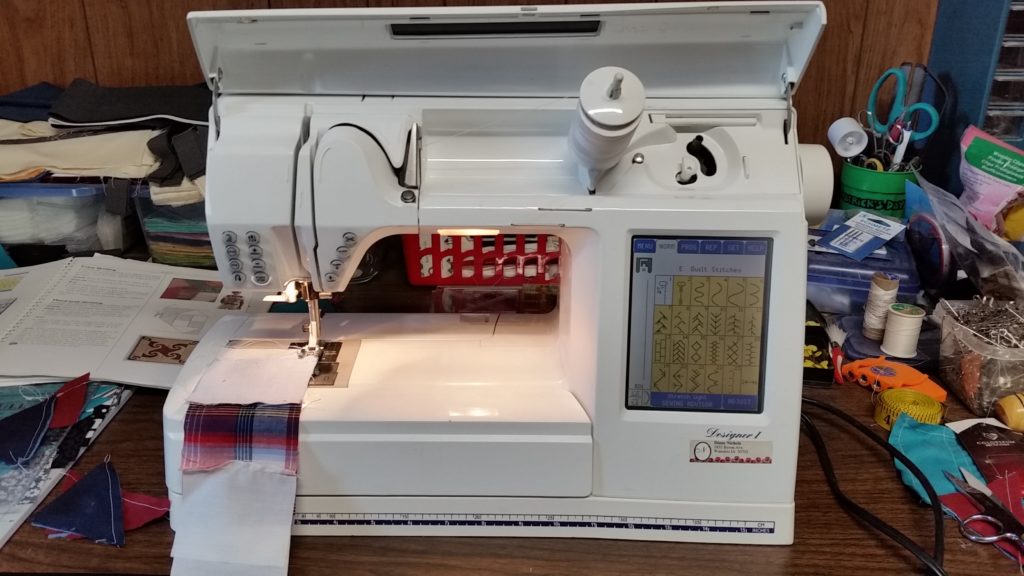 I think the machine doesn't like my large spools of thread. They have a large diameter cardboard tube opening and the spool cap leaves alot of play on the spool pin. I think the Gutermann spools fit better so may have to go back to them. I tried placing the spool outwards and it helped just a bit so thread didn't catch.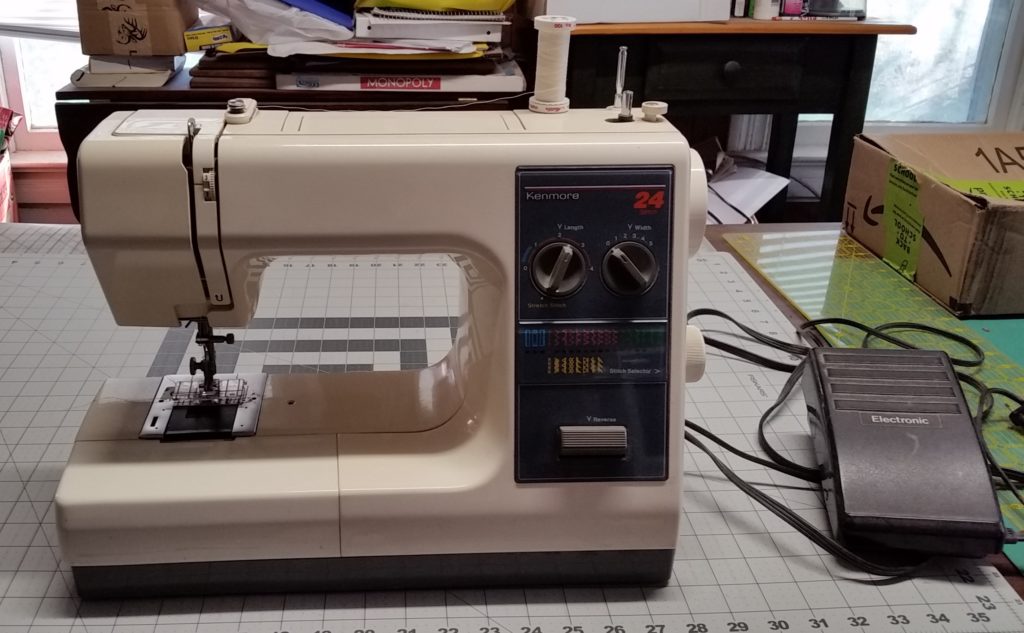 I have pulled this Kenmore 24 stitch sewing machine out of storage. I purchased it maybe 5 or 6 years ago off Ebay. It was a purchase with a rocky start as when the box arrived, the bottom of the shipping carton had gotten wet somewhere along the line. There was bubblewrap wound around the machine and there was actually moisture and condensation on the plasticwrap and machine. It really freaked me out and I wiped machine dry with a towel and let it warm up and couple hours before I would think about attempting to plug it in. The other big problem was that there was no thread holder pins on this machine. They had been broken off and were not found in the box. It sounded like maybe one was in machine. I wrote the seller a very upset email. She apologized and said she was out of town and her boyfriend shipped the machine for her. She would make it right and ordered me a set of spool pins from Sears. The machine does sew fairly nicely. I managed to have my Pfaff working one more time after this machine was purchased and then I inherited the Viking 990 and used it exclusively.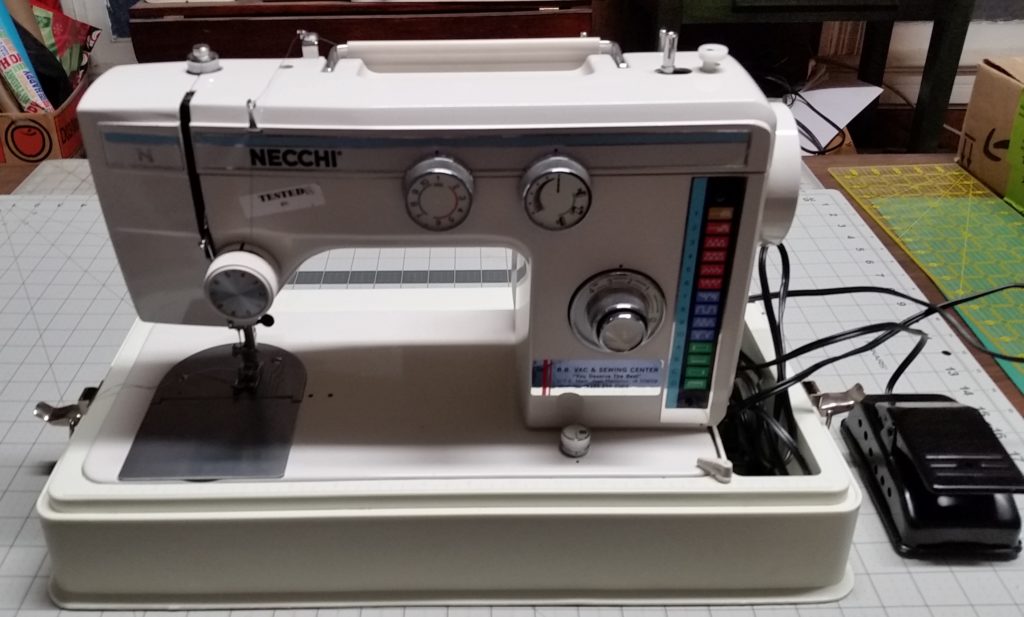 I purchased this Neechi 536 FB sewing machine last week at a local consignment shop for $25.00. It is all metal which I love. It was so clean and well taken care of. This purchase had the option of returning it for store credit within a week, if machine didn't do what it was supposed to do. I pulled up a You-Tube video where a gal demostrated how to use the machine as her sister had just purchased the machine. I looked all over the machine and I couldn't figure out where there was an on off switch. I had to Google that separately and come to find out, there is No On/Off button. If it is plugged in, then it is On. You open the front cover and push button to turn on the light bulb. I imagine this is because it was likely a former built in machine. I guess I will be using a power strip and just making sure to switch off the power strip. I only had to set the one tension knob to the number mentioned in the YouTube video and this machine sewed perfect tension right off with whatever needle was in it and the old Coats and Clark thread. The big win with this machine is that it uses Class 15 standard bobbins that my first older Kenmore machine used and I have multiple dozen bobbins. This machine takes low shank feet so would use the old Kenmore feet and has a snap on foot attachment on it currently so it can use the feet off the Viking 990 that just died. Winner, Winner Chicken Dinner. Now to get it so I can match up the scant 1/4 inch that I have on a couple current projects in the works.
I hope to be back to sewing and quilting this week on either or both the Kenmore 24 stitch and the Neechi 536FB.
Hope you all had a great weekend.
Happy Sewing,
Shelley
Save
Save
Hi, I am happy to share my tenth memory quilt made from our Dad's plaid shirts. This is the first one that has been quilted and bound. It was on display at our niece's wedding in October at the reception. I wanted it finished in time so it would be like part of Grandpa was able to be there in spirit at their wedding.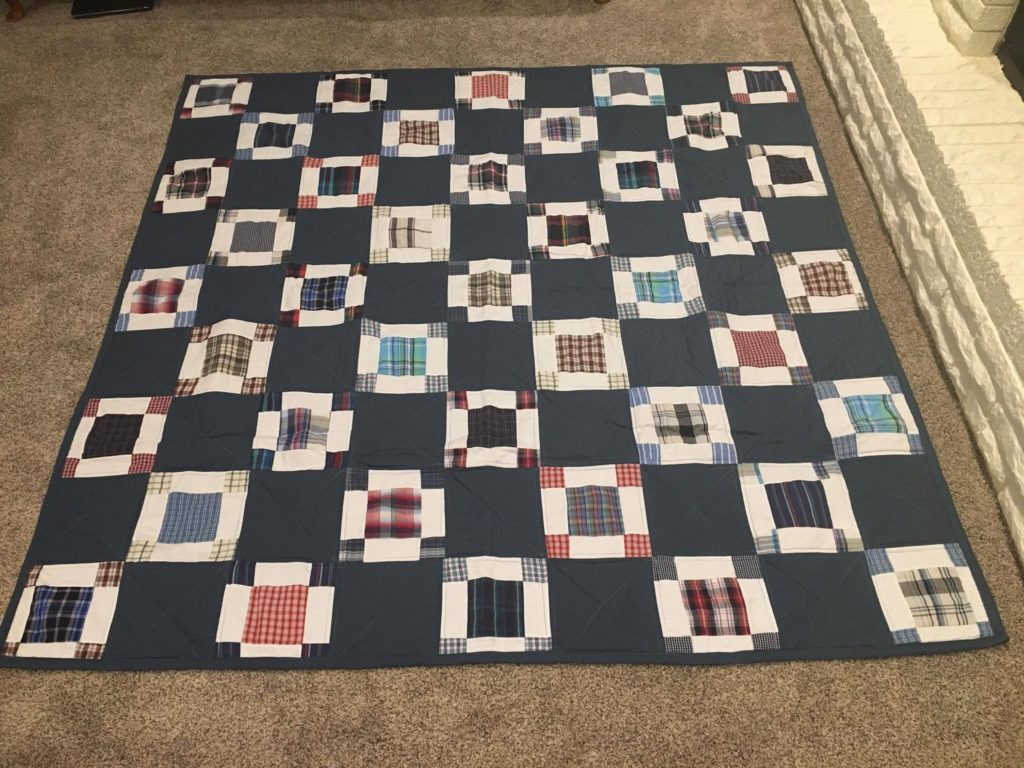 I used the Moda Bake Shop quilt tutorial called Woodruff designed by Nicola Dodd of Cake Stand Quilts. Nicola quilted her version in a neat all over petal quilt design and she shared how she did it on her blog. I had hoped to try it on my quilt but time got away from me and I hope to try it on another quilt in the future. She even shared a photo of my quilt when it was a work in progress on her blog.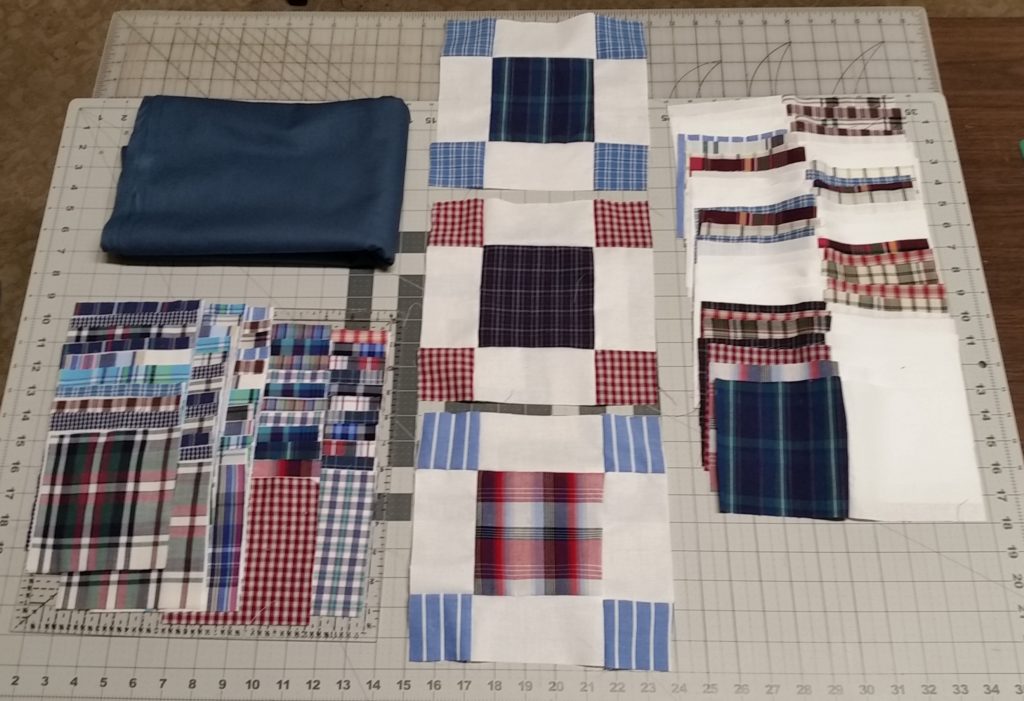 Here are my fabrics that I used in my quilt. I chose to use a denim solid cotton as my background squares.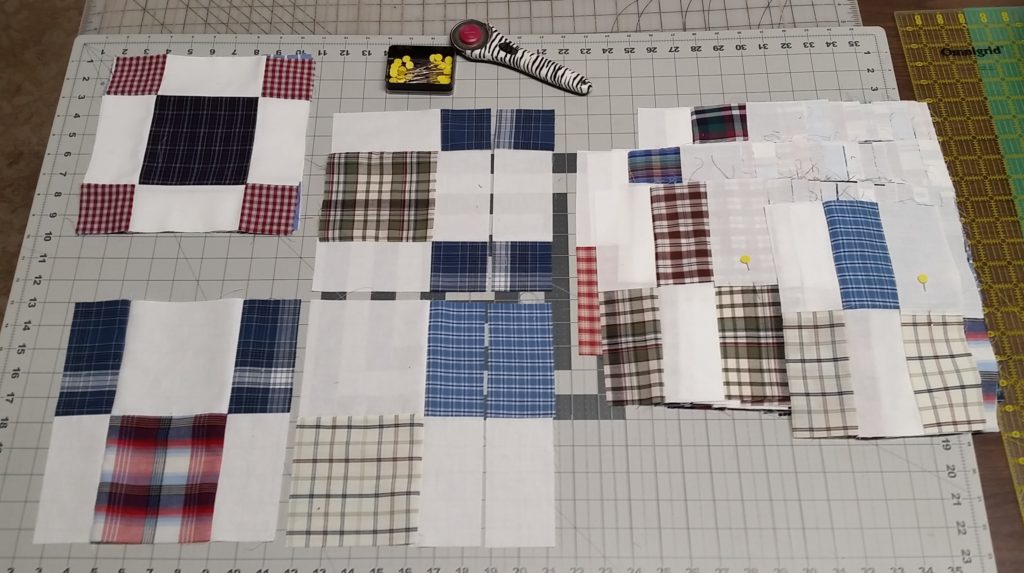 The blocks were alot of fun to make. It is a version of the disappearing four patch. I made 42 blocks of the pieced blocks instead of the 32 pieced blocks that Nicola made in her quilt.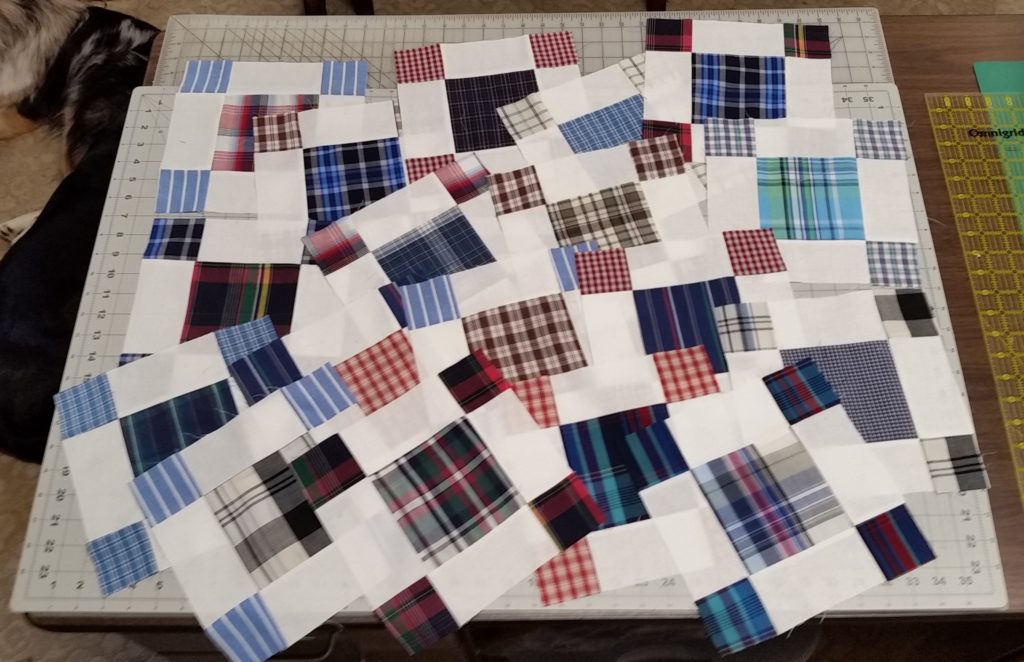 Here are all my completed pieced blocks. I used 20 different plaids in them. Even those this is my tenth quilt using these fabrics, sometimes I struggle when figuring out where to place them all in a quilt design, so the scrappy makes sense.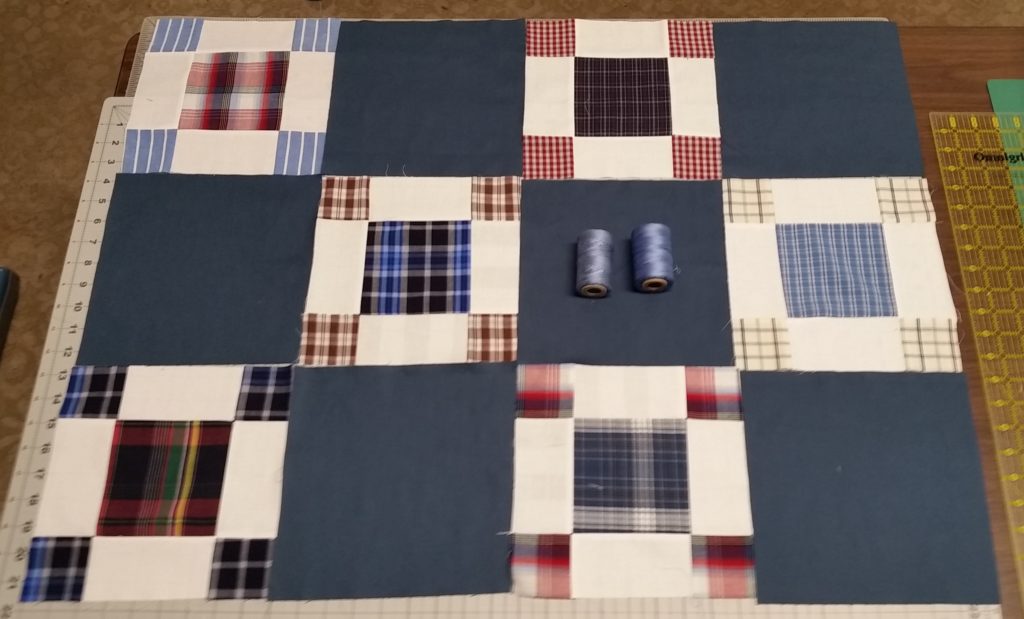 This is a sample of what the quilt would look like with it's background squares. Below is Nicola's version.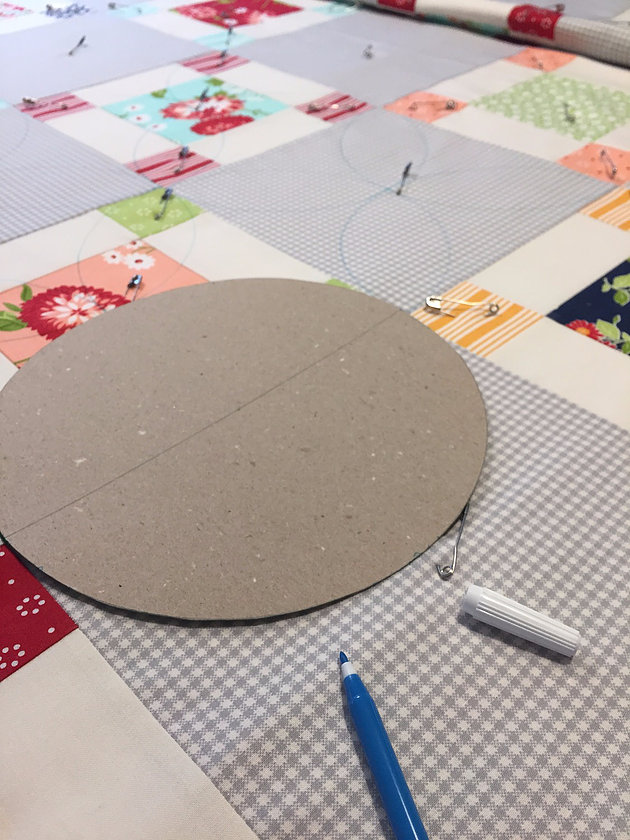 Nicola used a cute tiny gingham check as her alternate squares. I had enough going on with 20 different plaids and beside denim goes universally well with the plaids. I have very little left of Dad's denim work shirts. Their remnants will make it into some quilt project in the future. I had two diferent shades of denim blue variegated thread that I wanted to use to quilt this top. I used it for both top and bobbin threads.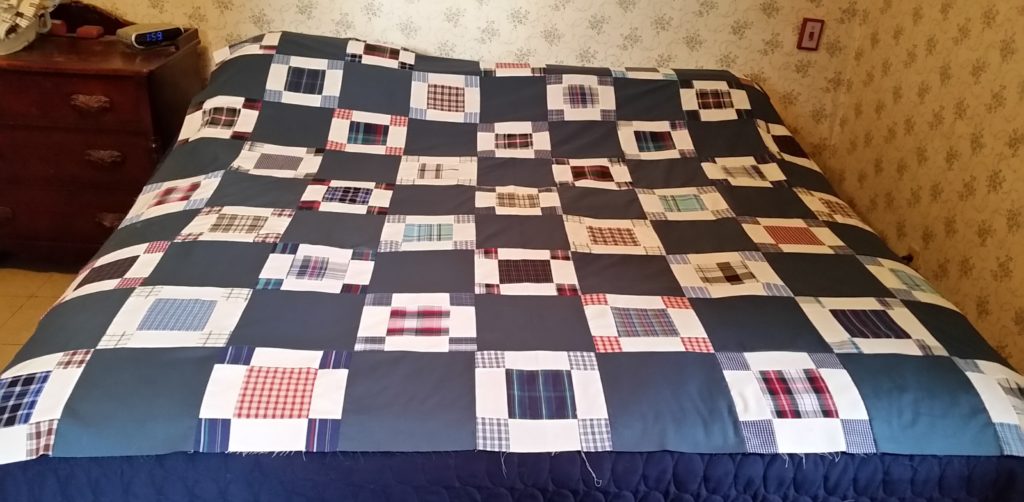 Here is the finished quilt flimsy laid out on top of our king size bed. My enlarged version finished at around 76 inches square.
My sister inlaw embroidered me a whole bunch of patches for all of my memory quilts. She is the Mother of the bride.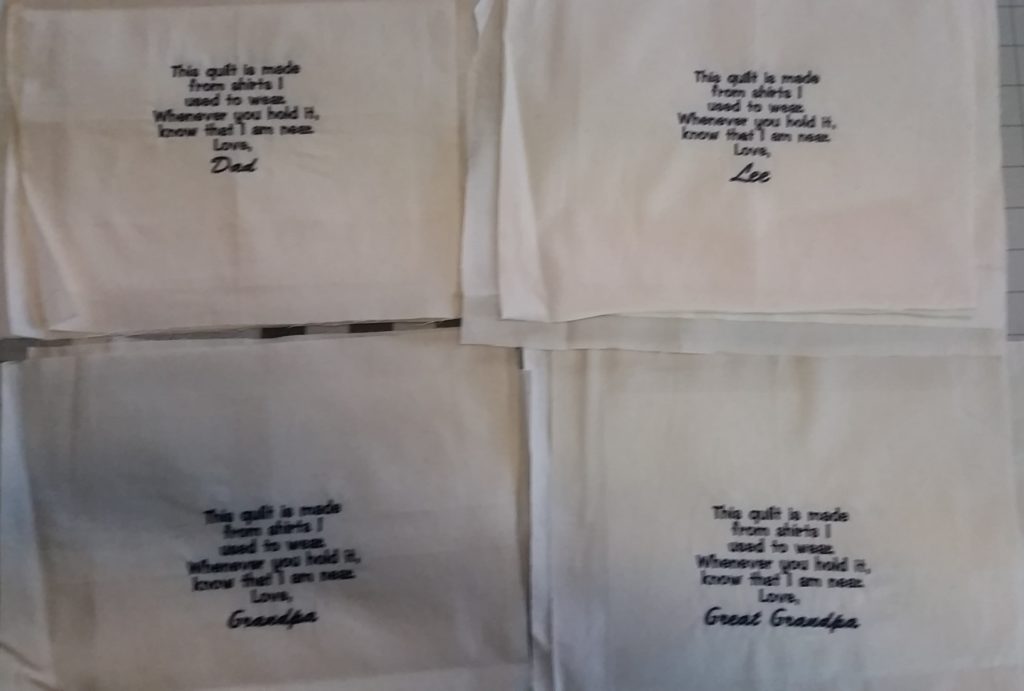 Here is my patch on the back of the finished quilt.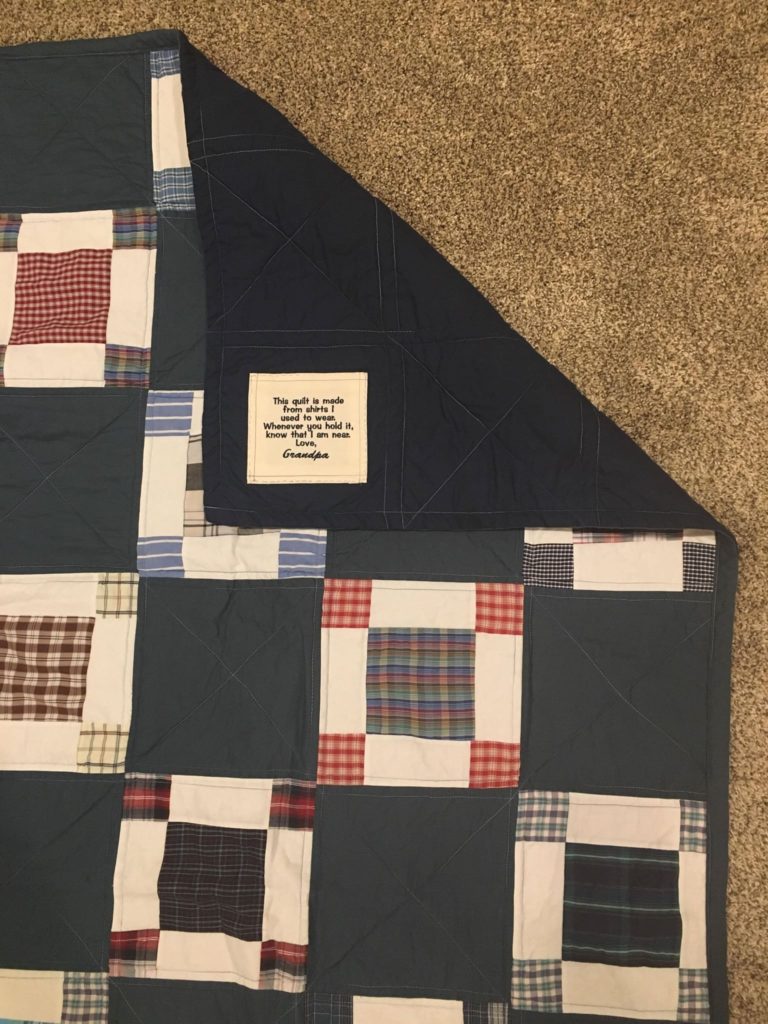 Here is a close up.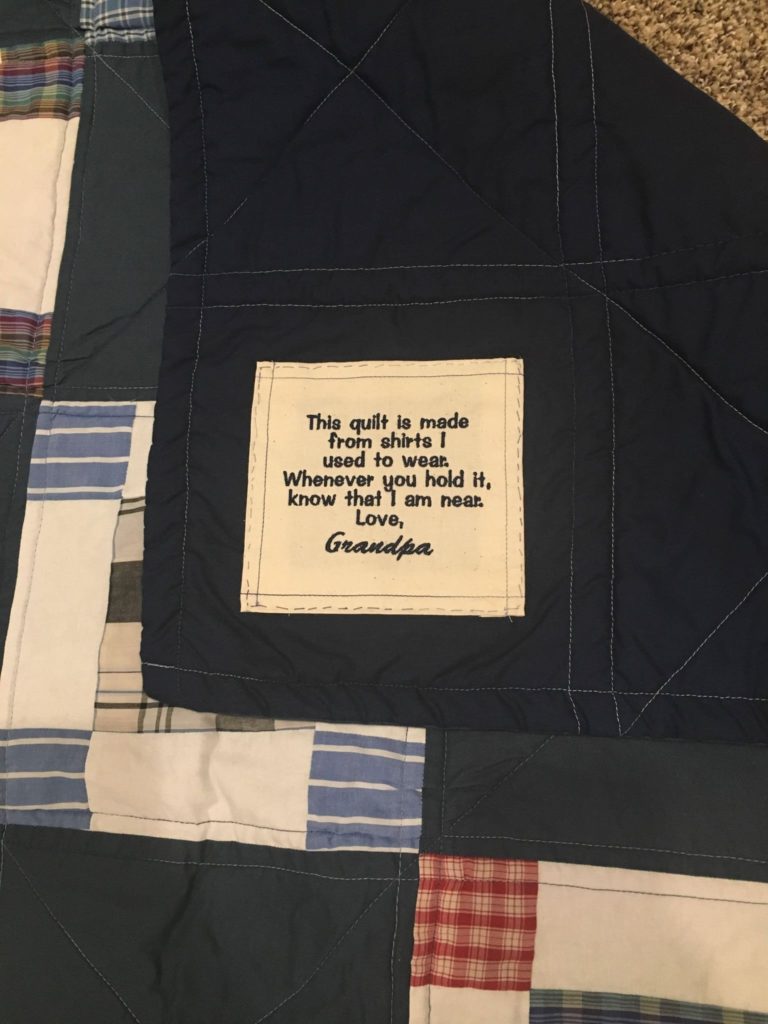 I really like how the finished quilt turned out. I wish I could afford an entire bolt of this denim background fabric.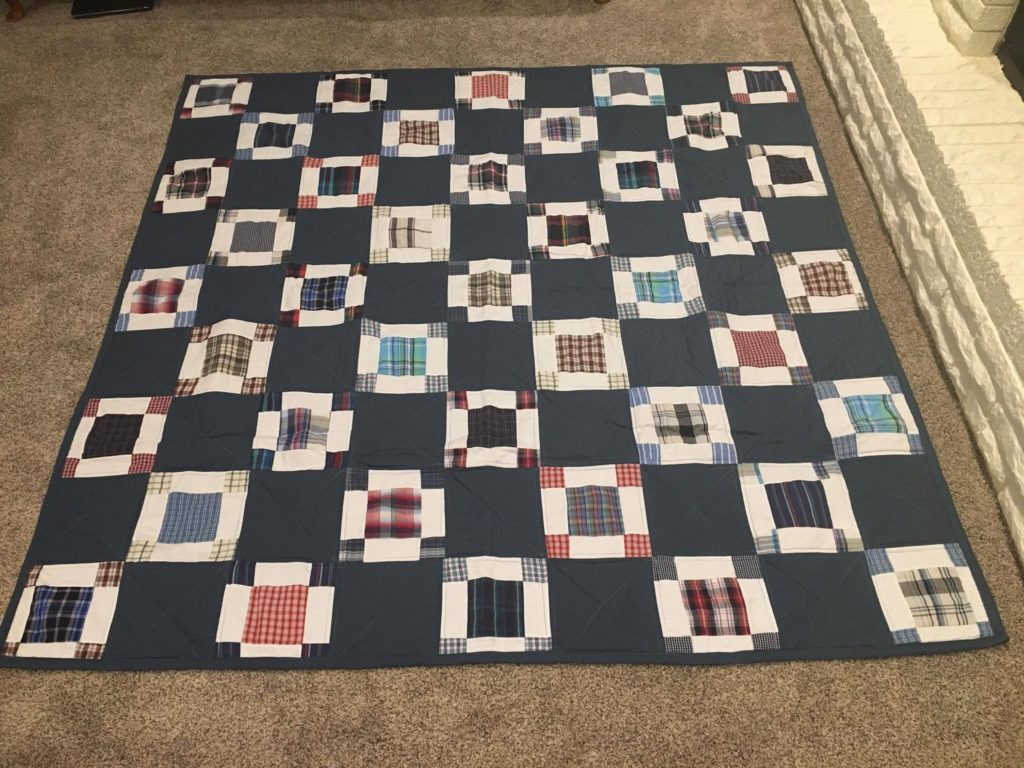 I will be linking up this quilt finish with Crazy Mom Quilts Finish It Up Friday. Thank you for stopping by my blog.
Happy Sewing,
Shelley
Save
Hi, I am happy to share my finished Giant Granny Square Baby Quilt. It was made for a new little cousin in the family. I found all the fabrics except a coordinating solid all precut in my stash. I chose the Granny Square pattern as I thought it was fitting for a first time Grandma. I like to make quilts for my friends and family members when they become first time Grandparents, why should the Moms get all the cool gifts? Grandma needs to have something to share with new baby at her house, right?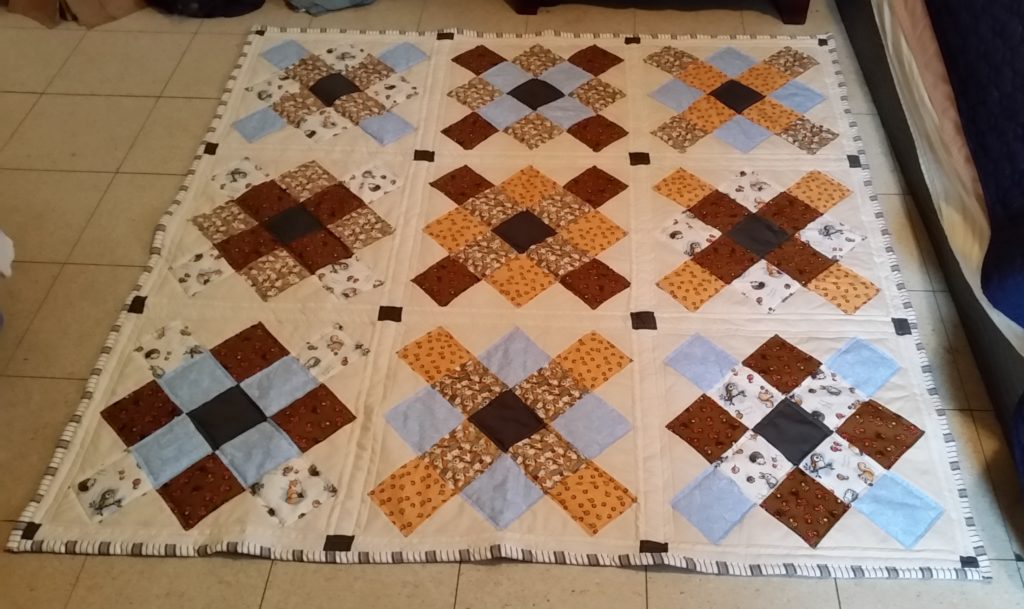 I started out with this fabric pull. All fabrics except the coordinating gray solid were precut into 5 inches square. I had purchased two fat quarter bundles of the woodland animal prints from JoAnn's a few years back. I was able to cut 24 squares of each print from the two sets of fat quarters.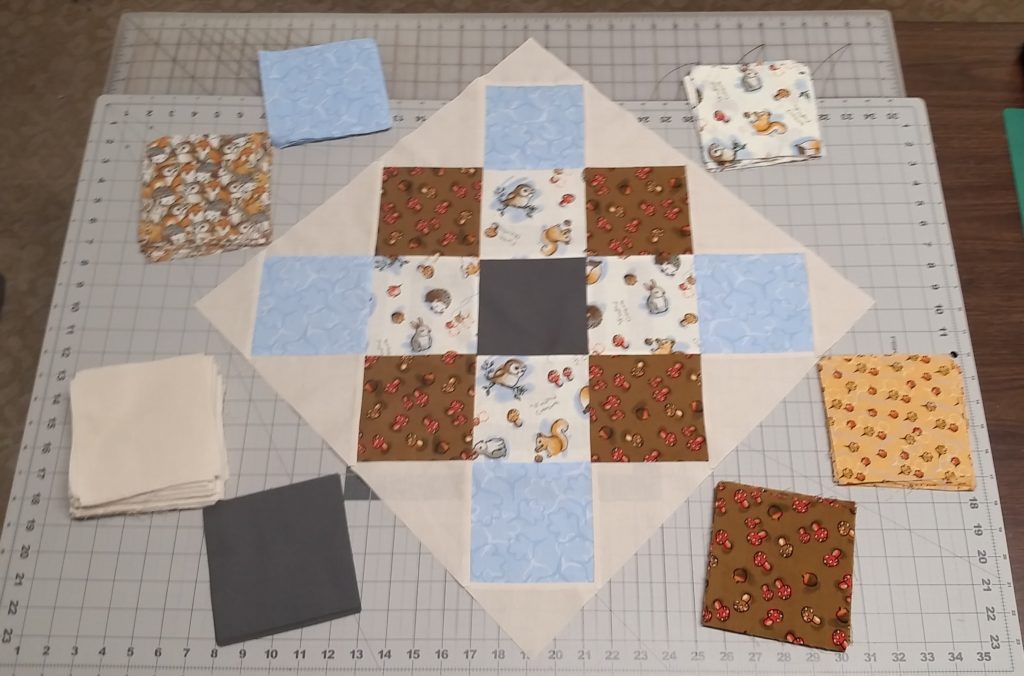 This has to be one of the easiest blocks. It is all made out of 5 inch squares. I laid them all out in the positions shown above and sewed them into rows. You line your ruler up a 1/4 inch out from the outer seams and trim it into a square. The gigantic granny square finishes at 19.5 inches square.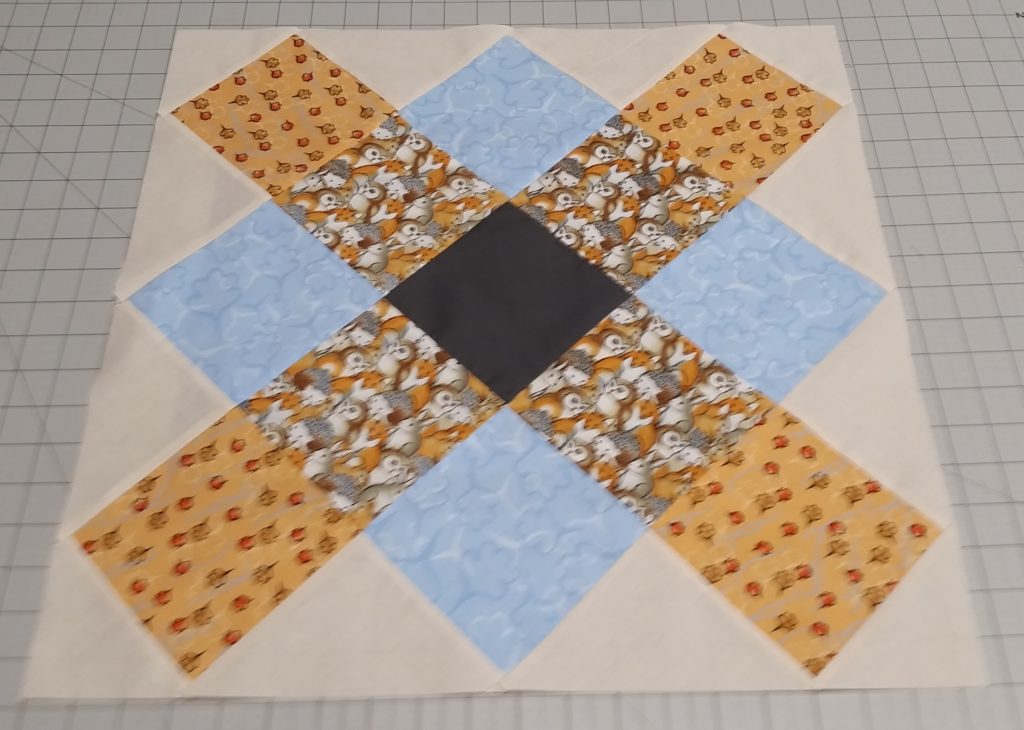 Block 2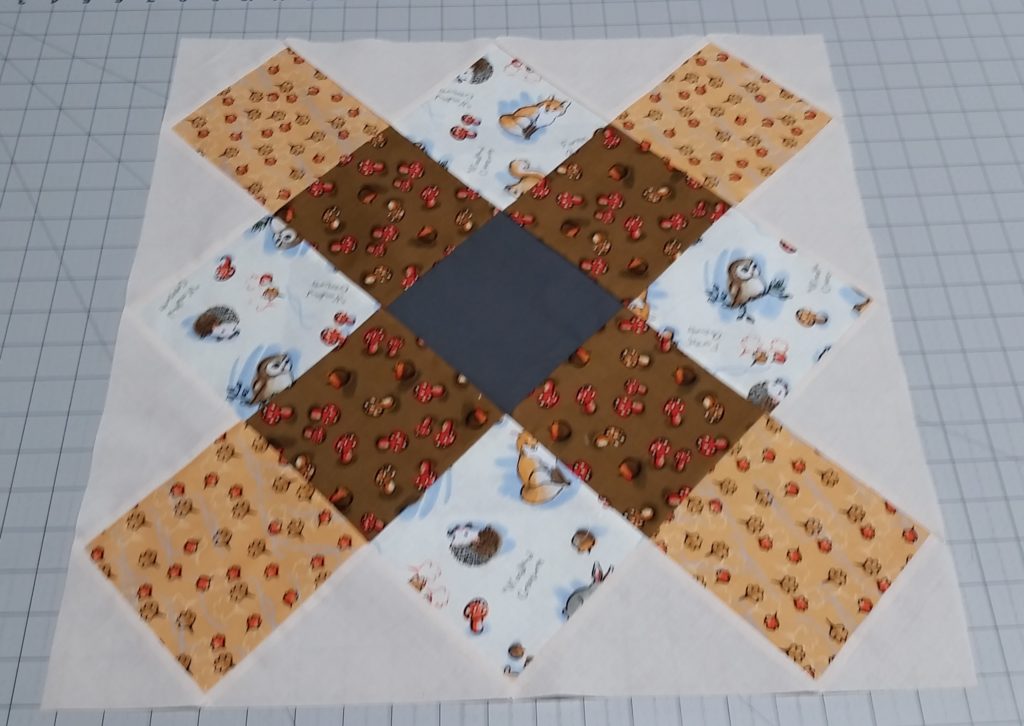 Block 3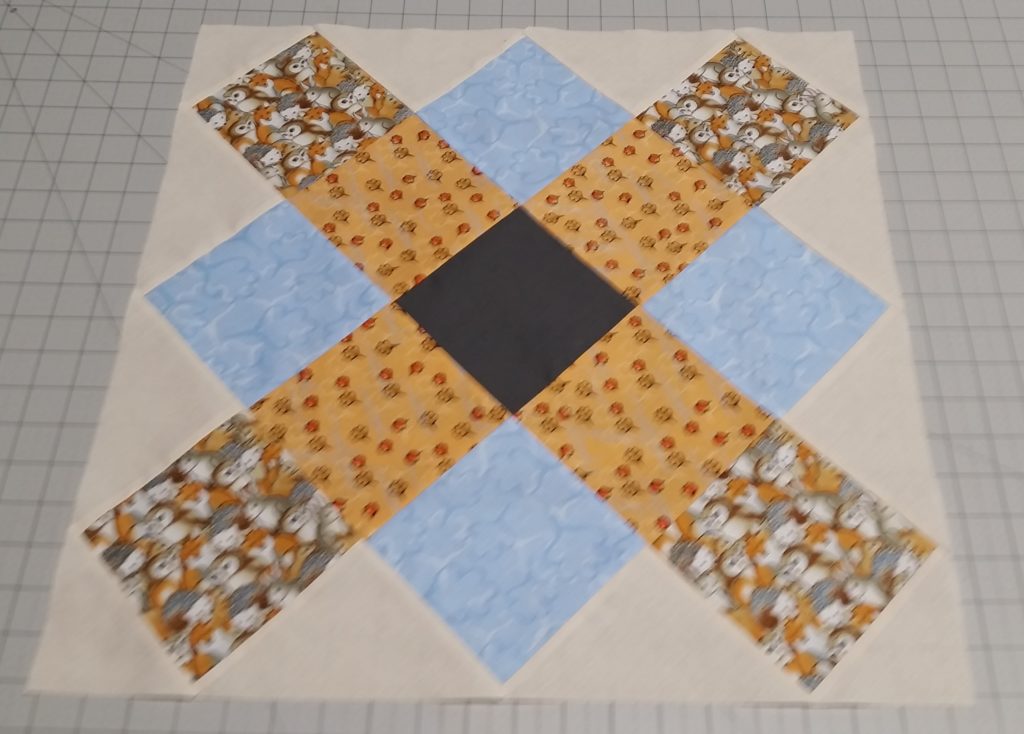 Block 4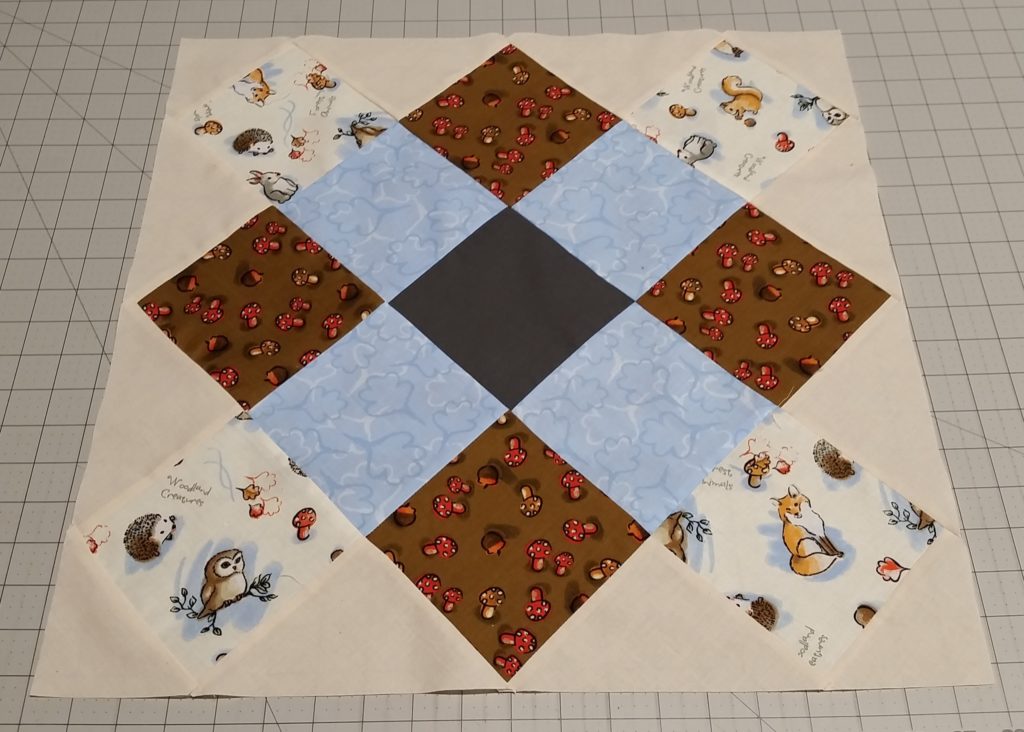 Block 5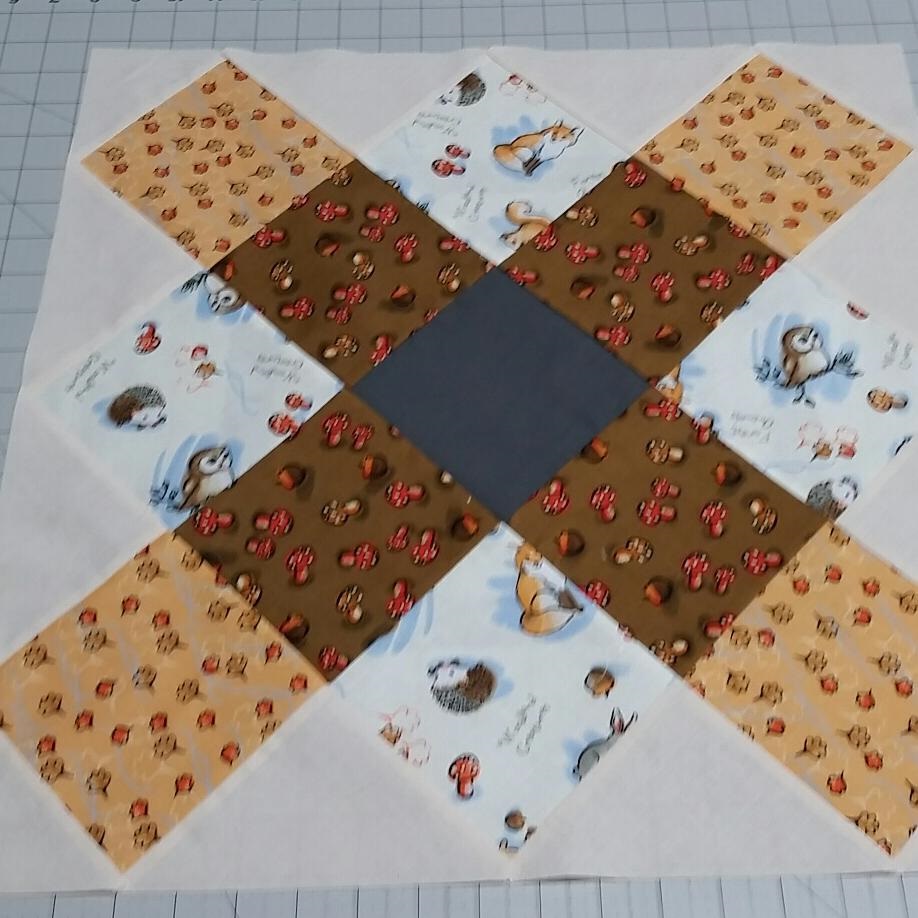 Block 6
I made 9 blocks but only have individual photos of the first 6 but you get the idea by now.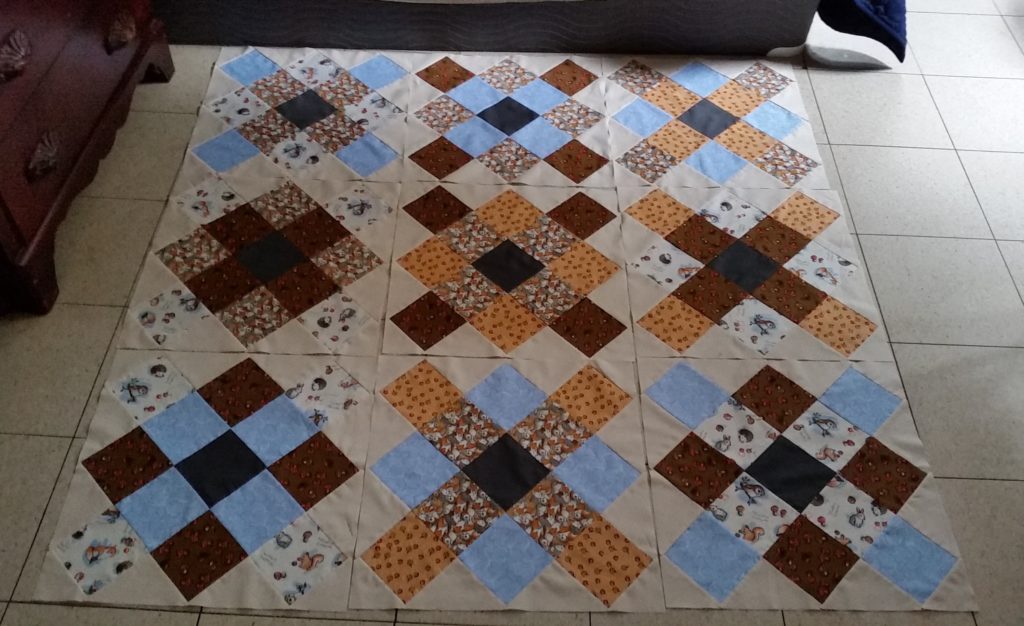 Here are all the blocks together. I wanted the top to be a bit larger so decided to add sashings and corner stones. I cut 2.5 inch muslin strips and 2.5 inch gray squares.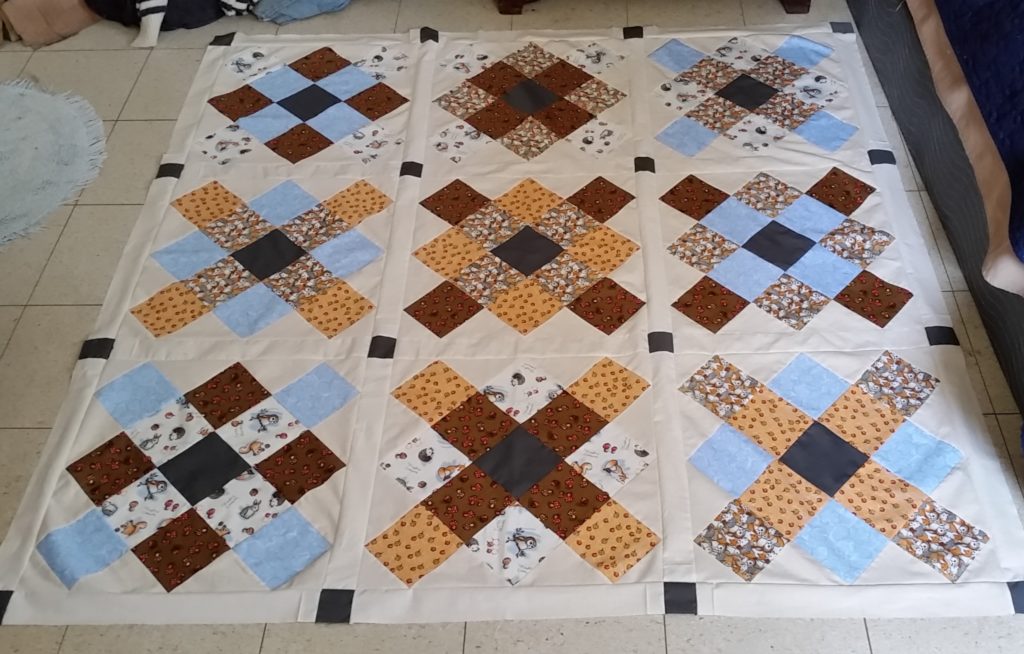 Here is the completed flimsy. I had a chambray blue,tan and gray striped flat sheet that I chose to use a backing. Using extra strips cut off from the sheet made a perfect mock bias striped binding without any extra effort.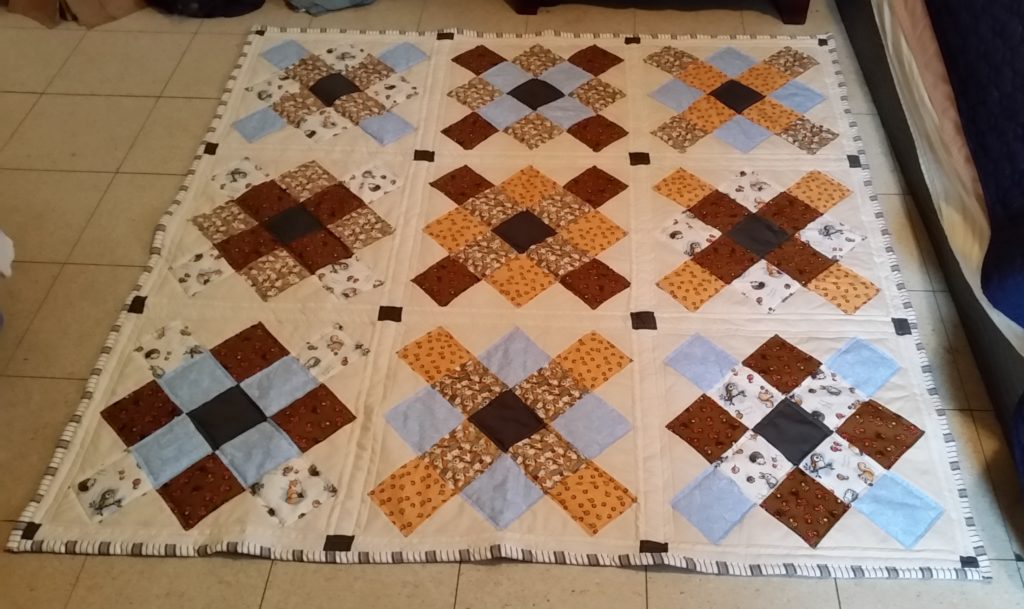 The finished quilt was approximately 66 inches square. I do not like to make too small of quilts. This is a nice size for baby to grow up with.
The week of August that I started making these gigantic version of the granny square I was receiving messages on Instagram and finding my name or my blog's name tagged to granny square blocks. I had almost forgotten that I designed a tutorial for the standard granny square block (12.5 inches) and it was the featured quilt block pattern in the 2017 Quilter's Planner. If you were participating in the quilt block sewalong, you were making my granny square that week of August 20th. It was a fun coincidence that I made a supersized version the same week.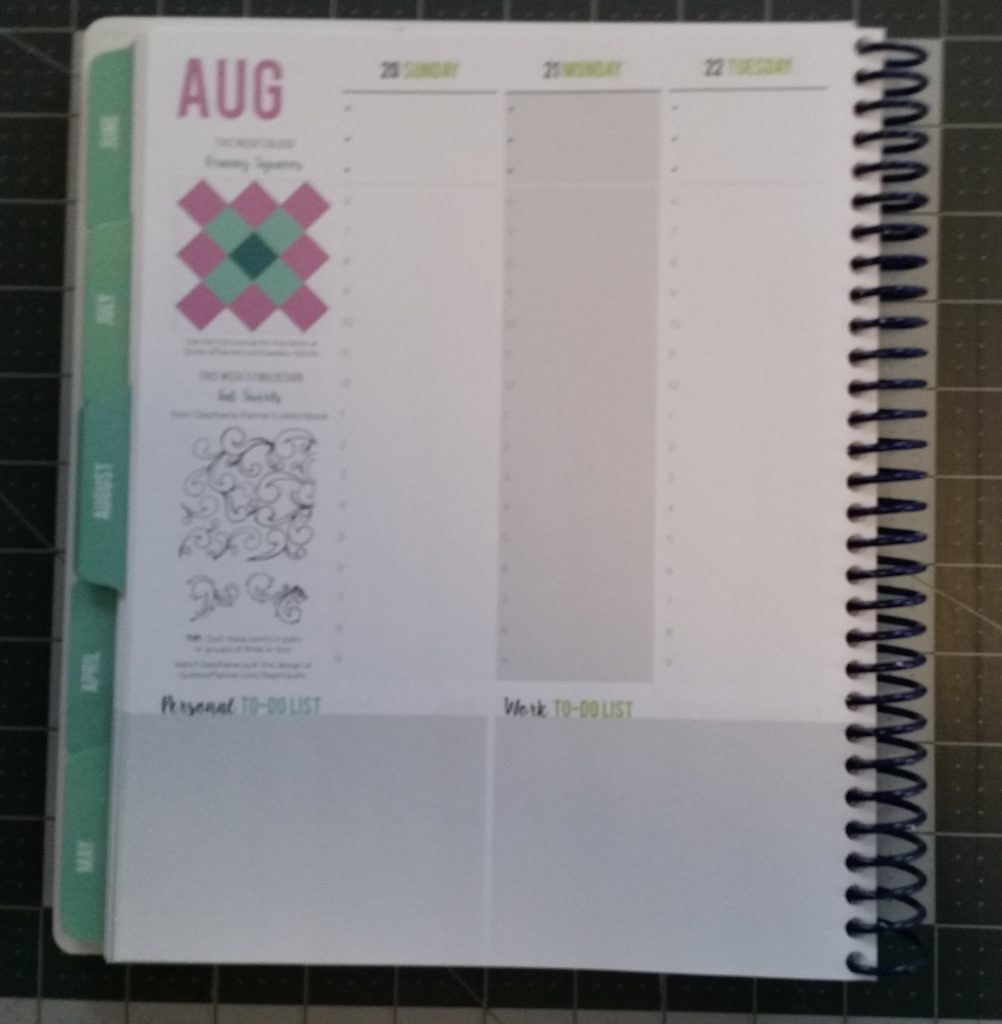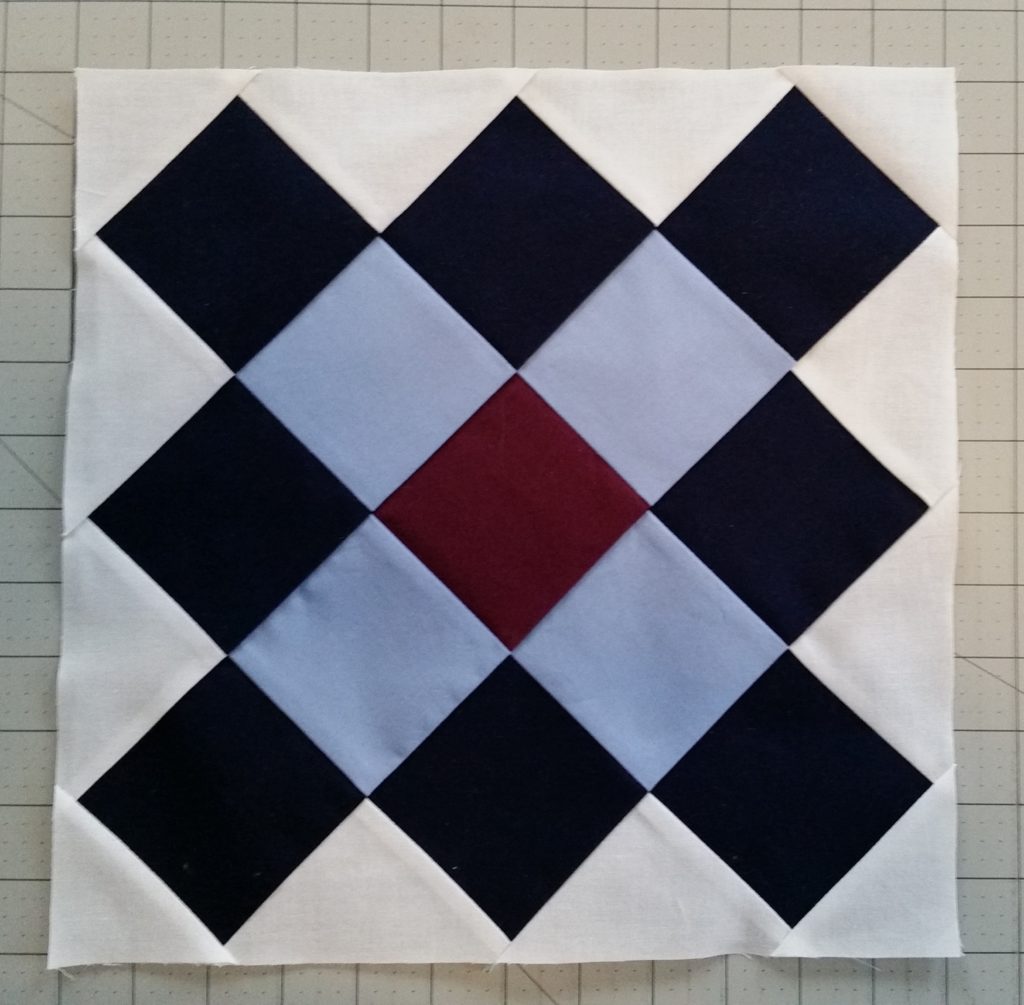 My granny square tutorial is found here. I also made one for the Churn Dash block as well..
I will be linking up with Crazy Mom Quilts Finish It Up Friday. I am attempting to catch up on some additional blog posts that need to be written.
Happy Sewing,
Shelley
Hi, I am happy to share that I completed a new quilt top this week. I had the honor of pattern testing for blogger Christie, of Lemon Squeezy Home and her first quilt pattern called Safflower. It was a fun pattern to work with and is a nice throw size of 56 inches square. Christie will be releasing the pattern later in the month of August for purchase.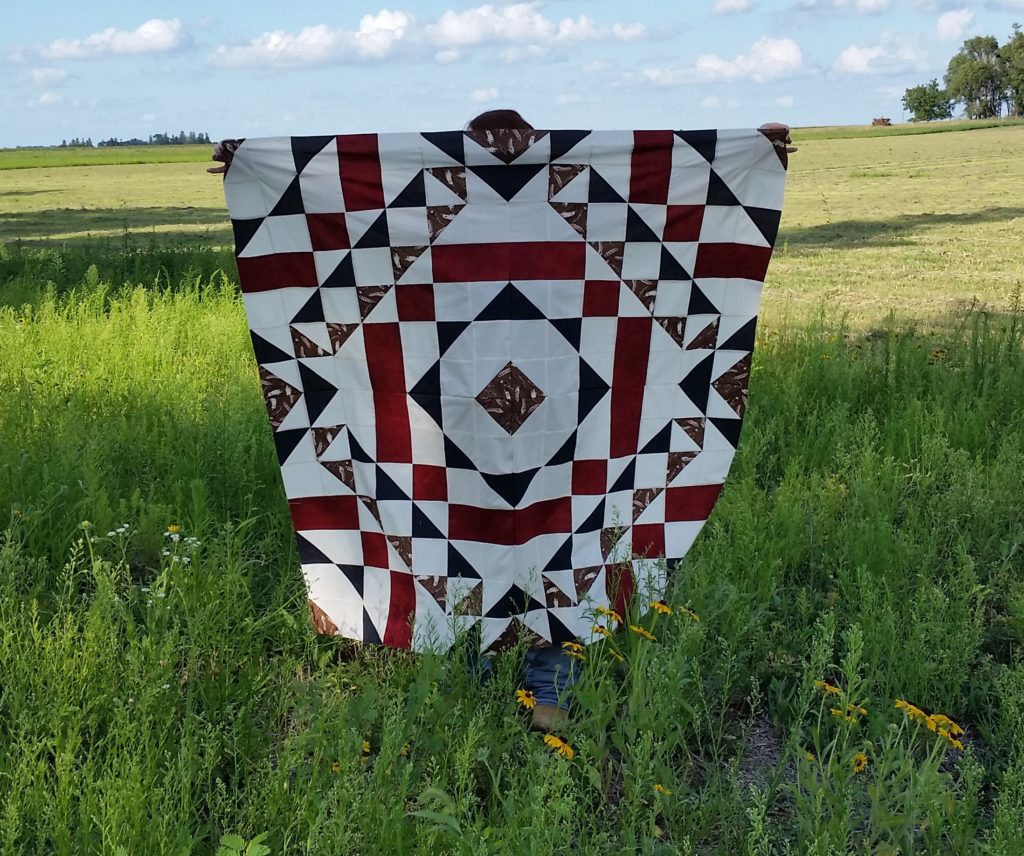 The Safflower quilt got it's name from the field of Safflowers that Christie took her initial pattern photos of her finished quilt in. I decided to use the wildflower pollinator plot that is new this year to our family farm. The yellow coneflowers are starting to come up nicely. The plot had been mowed off a few times over the summer and more flowers are starting to show up.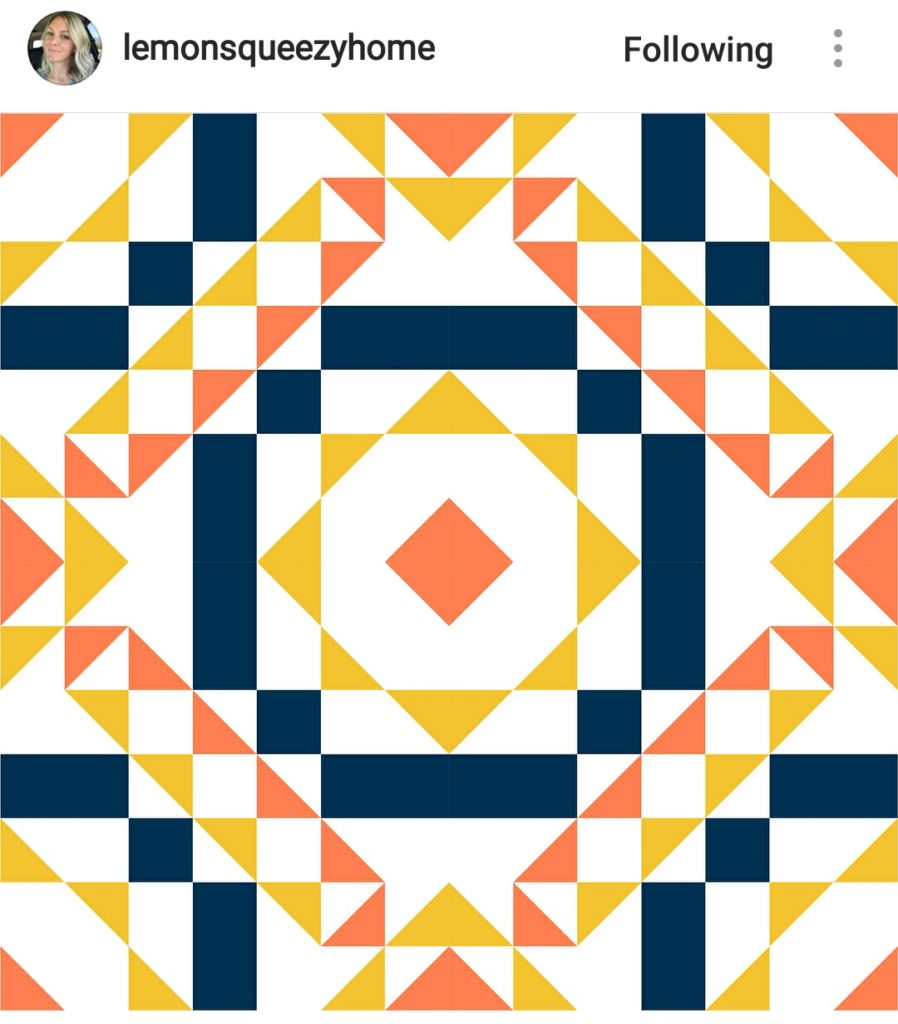 This is the original quilt design graphic that we worked with.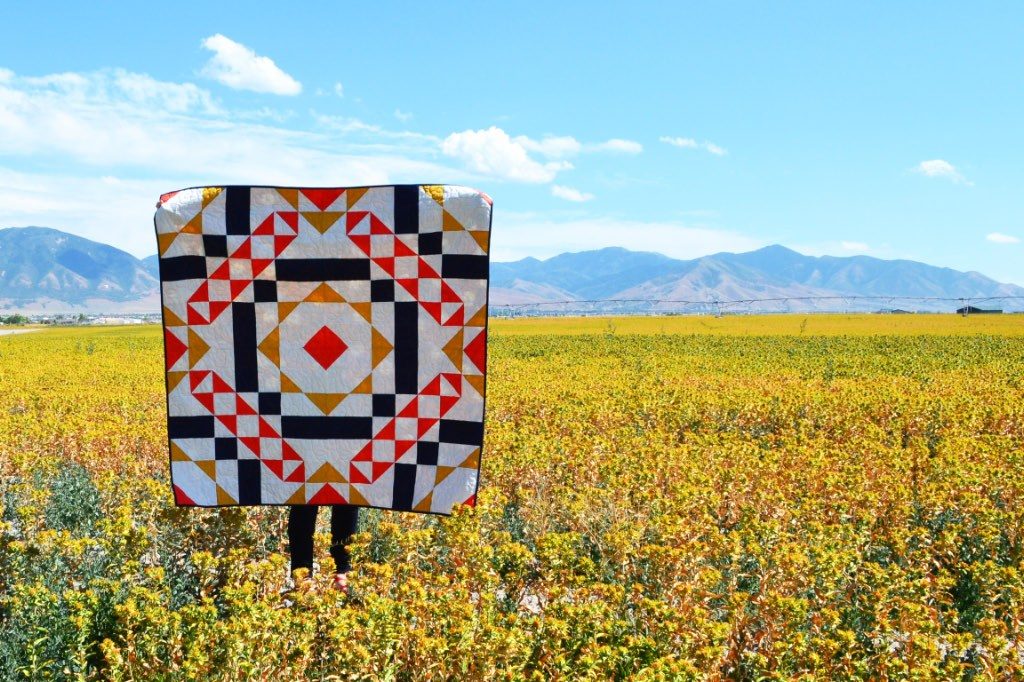 This is Christie (Lemon Squeezy Home's) photo of her quilt in the safflower field. Thus inspiration for my photo of my quilt.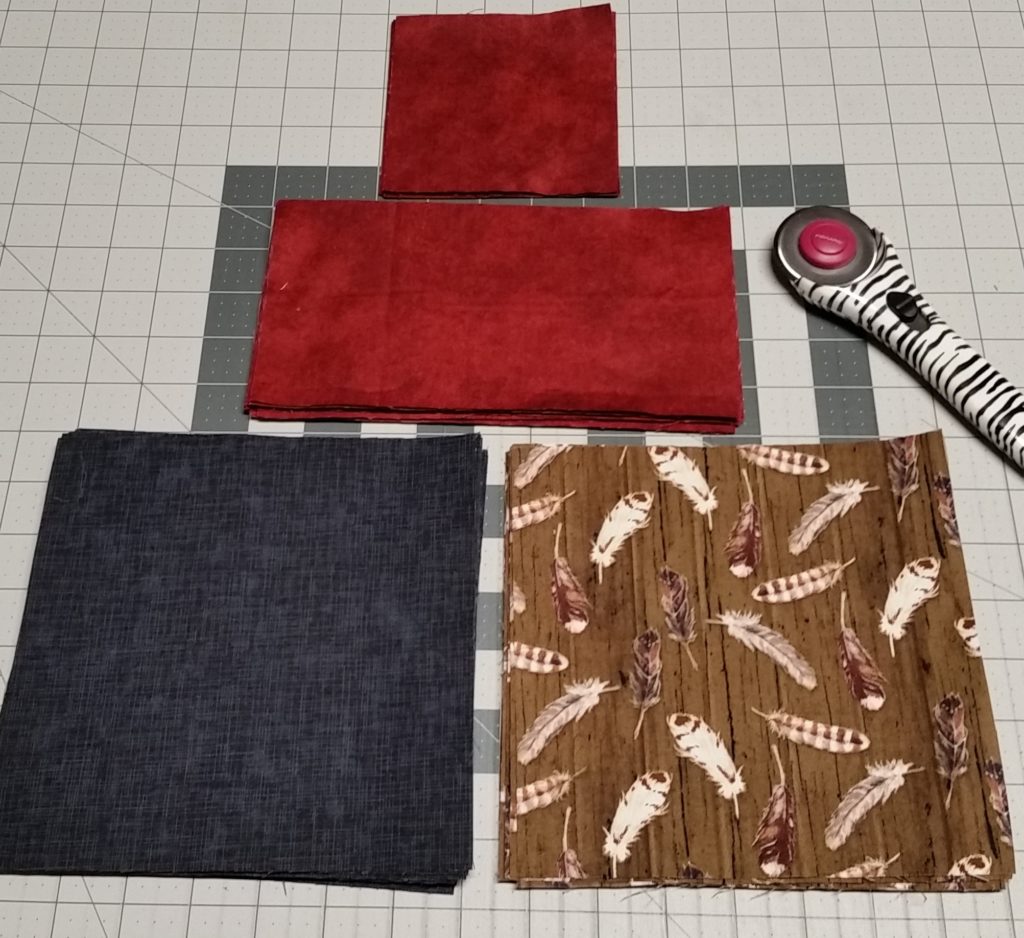 These are my fabric choices. The dark red is Shadow Play 513 by Maywood Studio. The black is Robert Kaufman Quilter's Linen in Screen Print D# 9864 coloring. The feather print is Moose Lodge by Jan Shade Beach for Henry Glass & Co. I love the feather print and it also comes in a barn red background. I think I could come up with a way to use a whole bolt of this fabric. I ended up using cream muslin as my background as I had a bolt on hand and couldn't find my other cream colored cottons. Yardage was all ready cut into another project.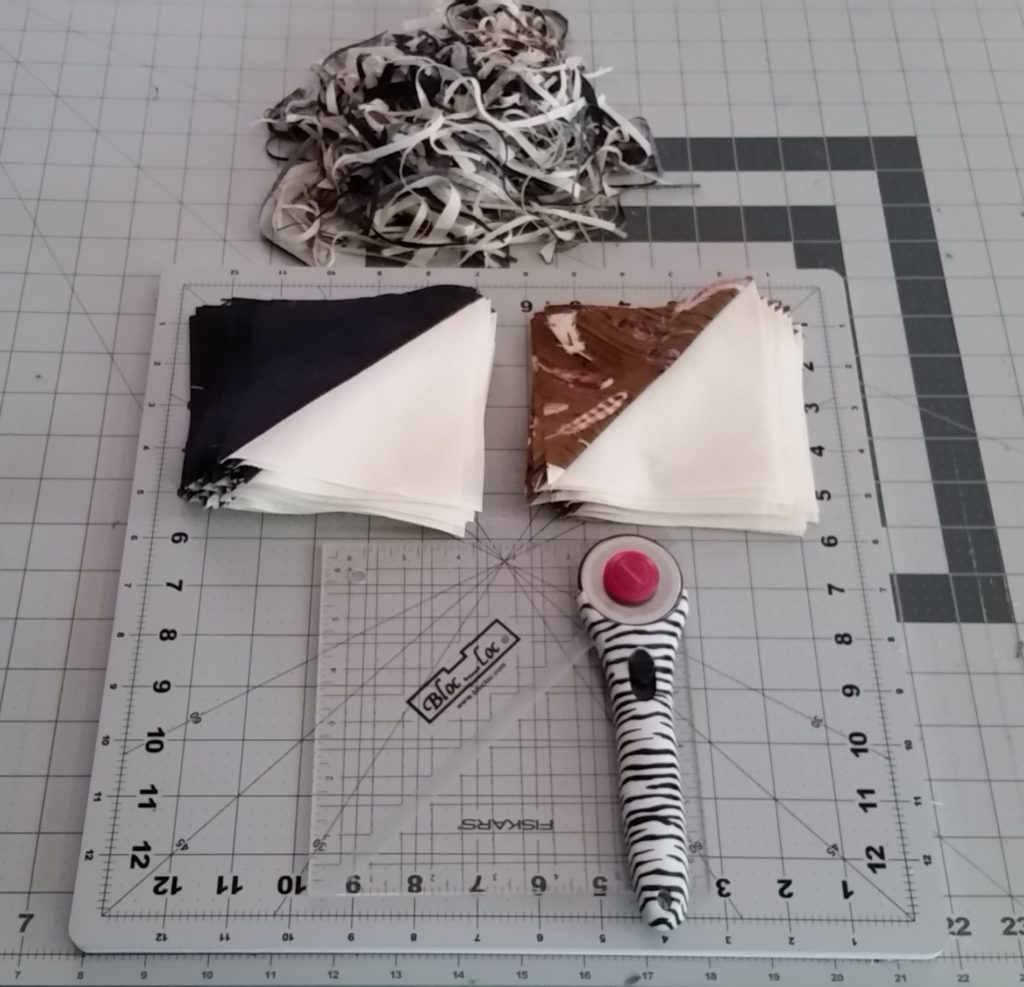 This pattern is made from lots of HSTs. Christie shows a great way to make 4 at a time. Her starting square measurement size ends in 1/8 of an inch. I decided for personal reasons to round that up to 1/4 inch as I have a hard time cutting 1/8 inch accurately. This didn't seem to affect the amount of fabric she gives for the needed pieces. The Bloc-Loc ruler is my saving grace once again.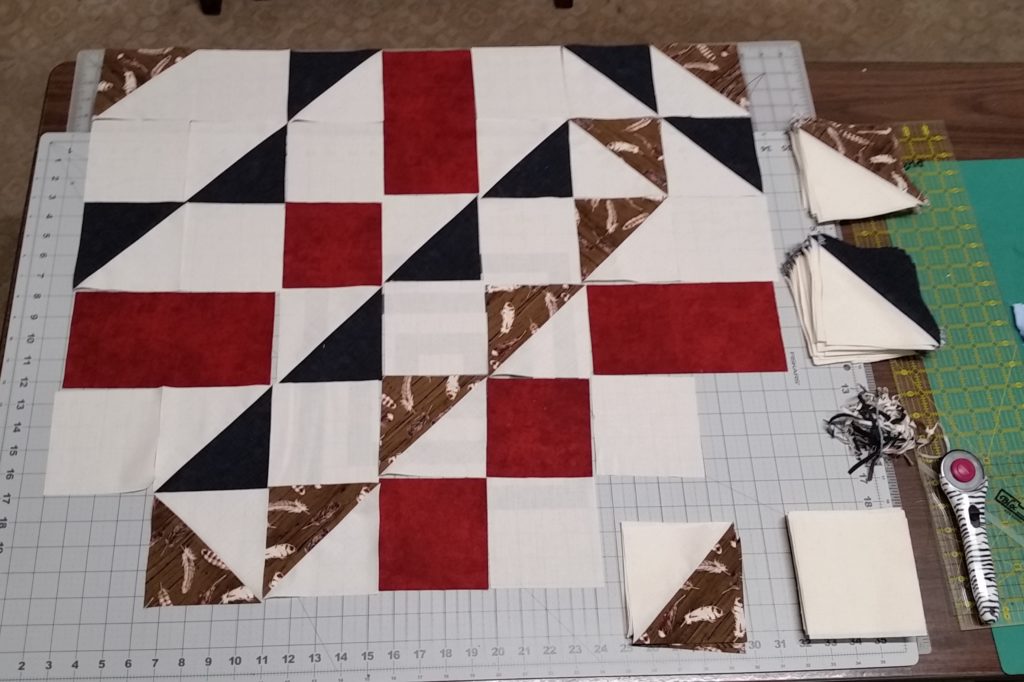 I had to do a mock layout to see how the design was going to look before I got all my HSTs trimmed down to size.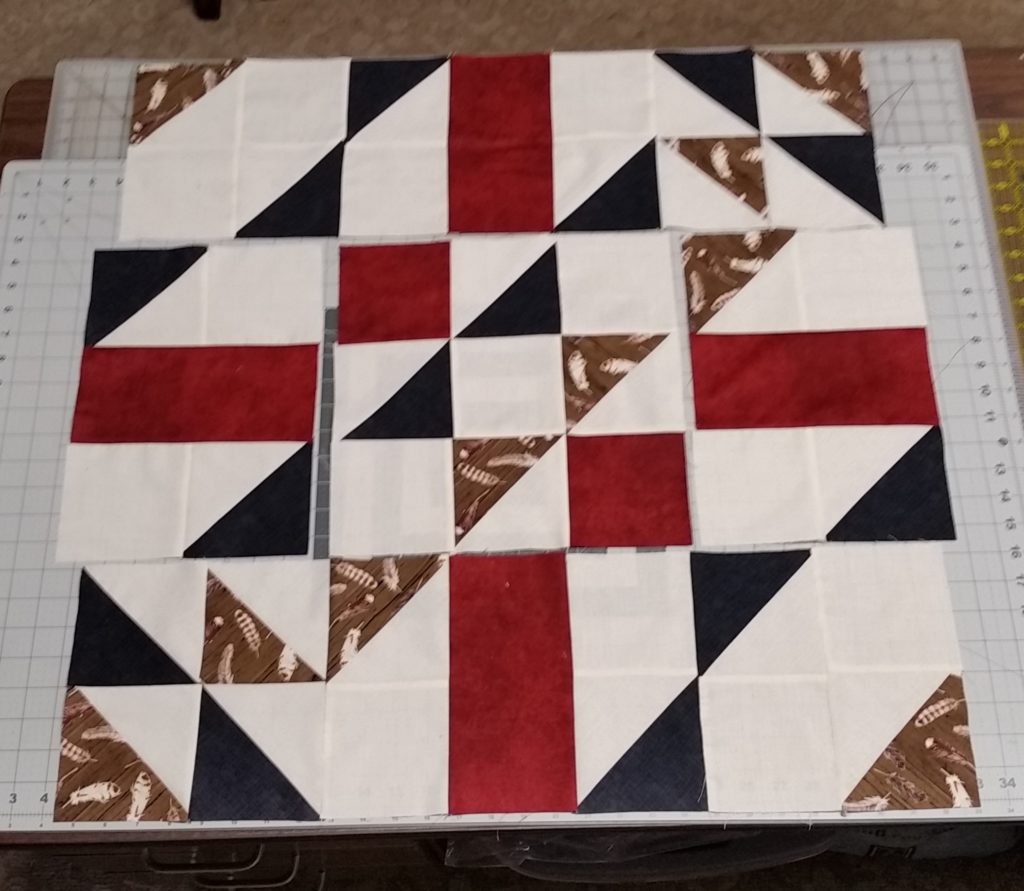 Here are all the main sections pieced. I pieced one quadrant and once together correctly, I then laid out all the other pieces in same directions and pinned them and placed into piles for speedy machine piecing. You make 4 of the same 23″ large pieced block to make the quilt.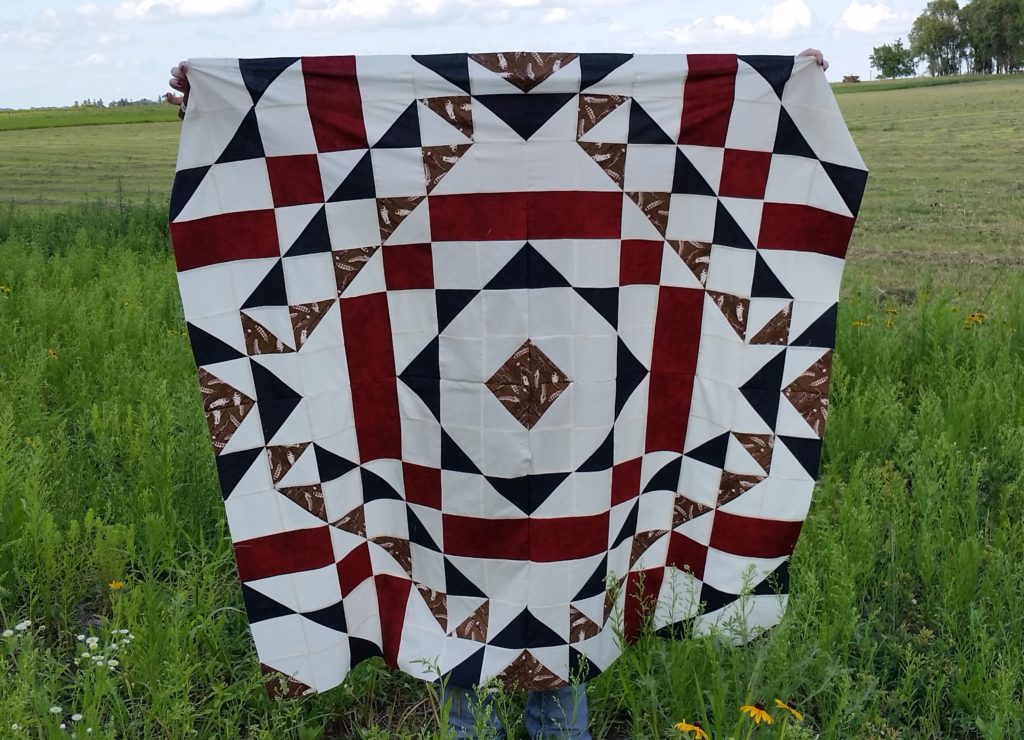 I really love how this quilt top turned out. I am used to making larger quilt tops. It was a refreshing change to be able to whip out a top in just a couple days. It makes a nice size throw. I can see that the design would look awesome in many prints or colors. I can also see this design expanded by making it 4 times and it would make a king size quilt of approximately 112 inches square.
Thank you for reading my blog. I hope you will consider giving Christie at Lemon Squeezy Home some quilt love and purchase her first quilt pattern when released later this month. I think you will enjoy making it.
I was quite happy to finish this top on Thursday this week. I am going to try and spend the weekend deciding on what to cut out next for another memory quilt. I am pretty excited to have found a longarm quilter within 15 minutes from my farm that might be able to help me baste all my memory quilts. I need to work on making backings for more of them.
I will be sharing this post on Show Off Saturdays, Can I get a Whoop Whoop Friday? and TGIFF .
Have a great weekend.
Happy Sewing,
Shelley
Save
Save
Save
Save
Hi, I am happy to share that I have completed another memory quilt top made from Dad's plaid shirts. This makes 10 different quilt designs that I have made for memory quilts so far. I used the Dogs in Sweaters by Elizabeth Hartman quilt pattern. It is a fun design. It does take a bit of time to make as each dog has 57 pieces and many of them are quite small. There was 150 little 1 inch squares needed for this quilt. I cut and labeled everything into individual ziplock sandwich bags.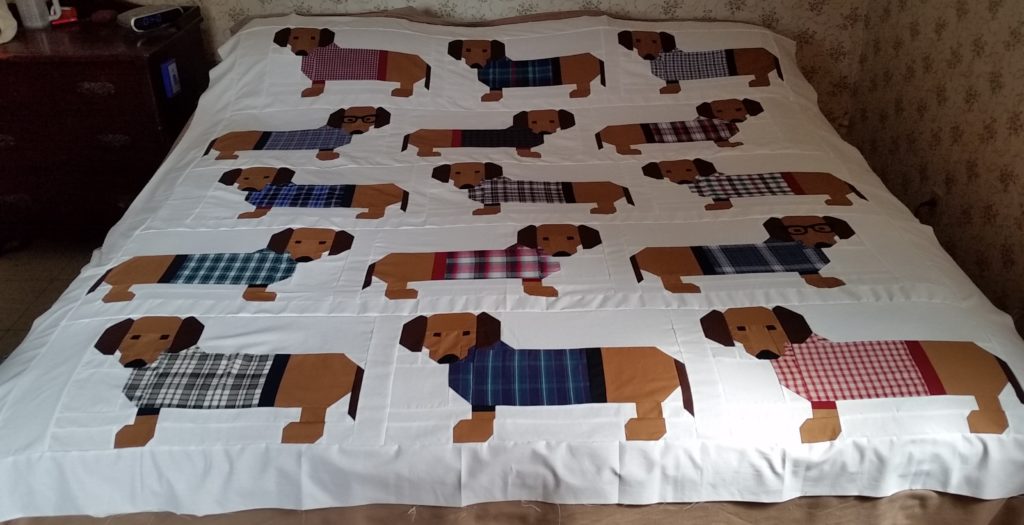 I used 15 different shirts for my dog sweaters. The pattern is written that you can use 5 prints and cut 3 dog sweaters out of each color. I chose to add sunglasses to 2 dogs as my applique fabric was large enough to cut 2 from.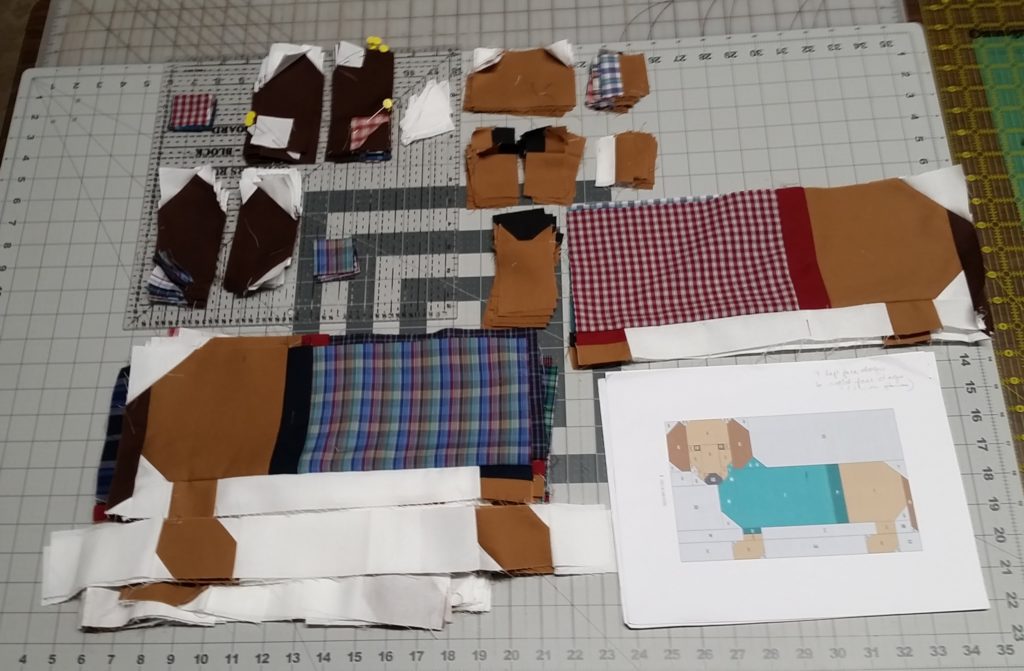 These are the initial parts all pieced for building our dogs.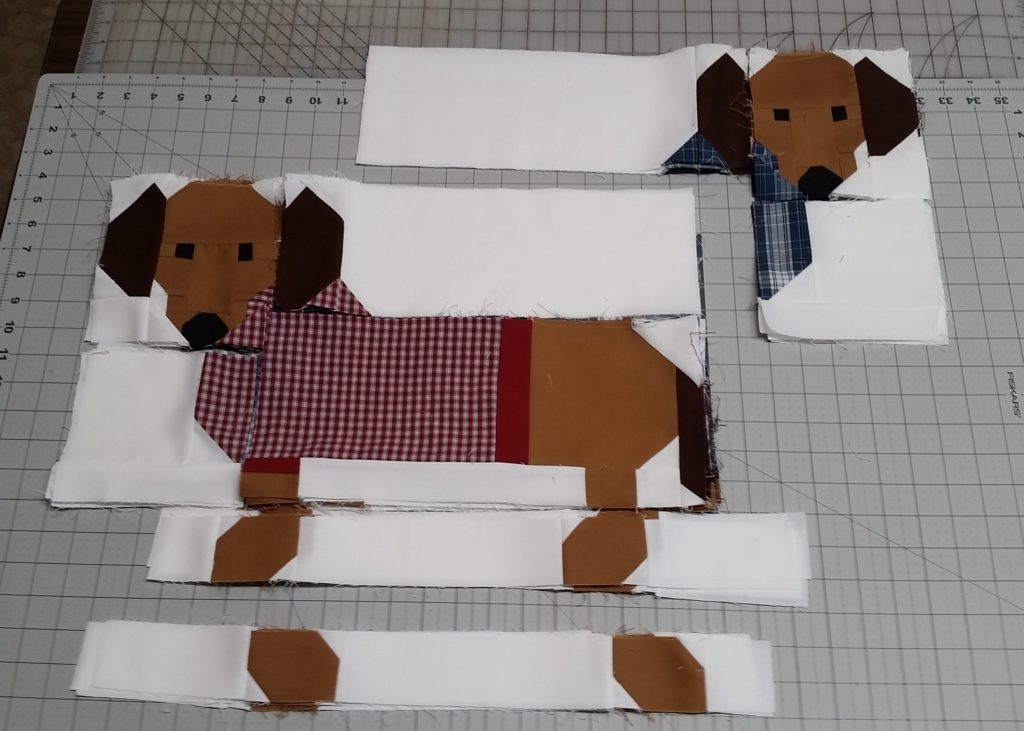 More building of the dog bodies. I had initially laid out my dog sweater plaids in rows so I knew where I wanted the colors to end up. I wish I would have snapped a photo of it. I just did my best to always keep the largest sweater pieces in the same order. Always trying to remember that 9 dogs faced left and 6 dogs faced right.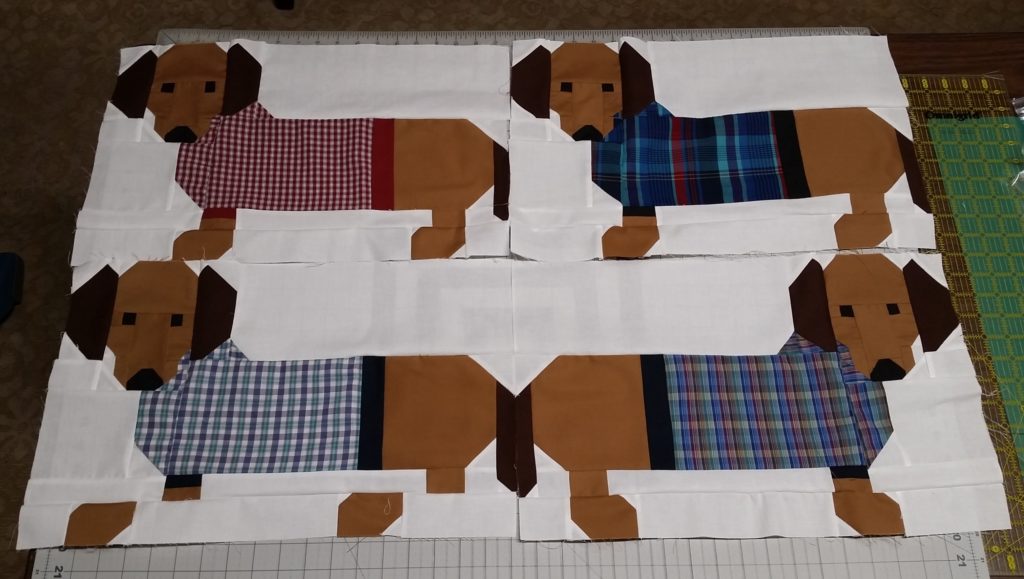 Dogs 1 through 4. I shared this photo on my Instagram and thankfully, someone told me that dog 3 had his legs going in the wrong direction. I would have been very upset to have pieced the entire top and missed that.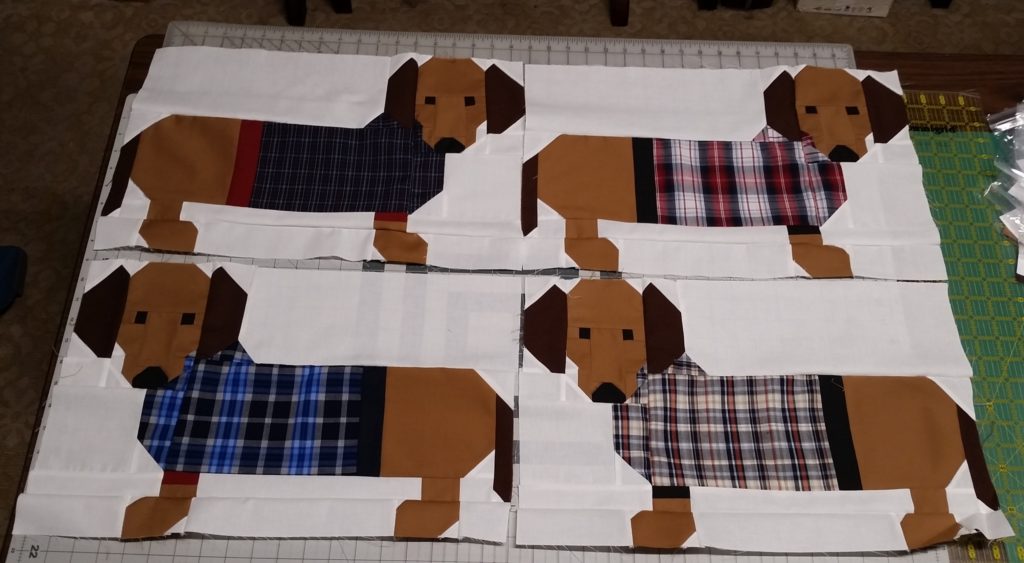 Dogs 5 through 8. I chose red, navy and black as my sweater bands. I did my best to mix them up each row.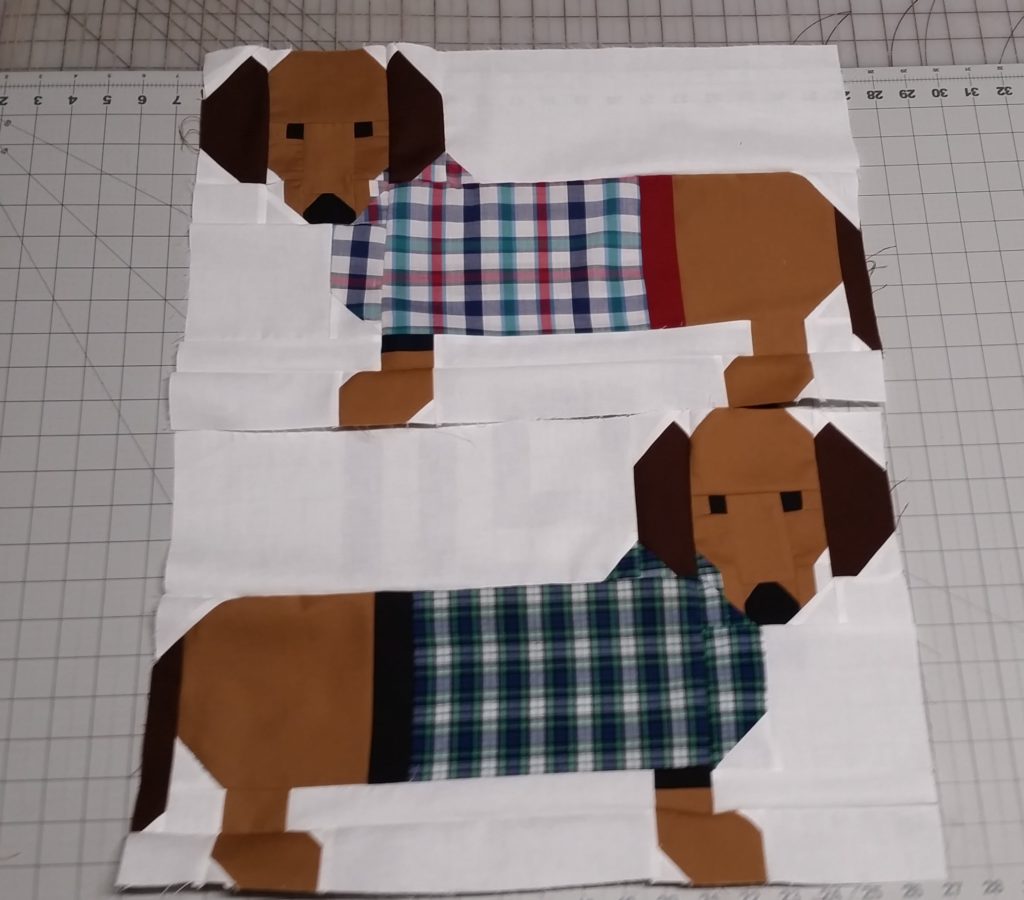 Dogs 9 and 10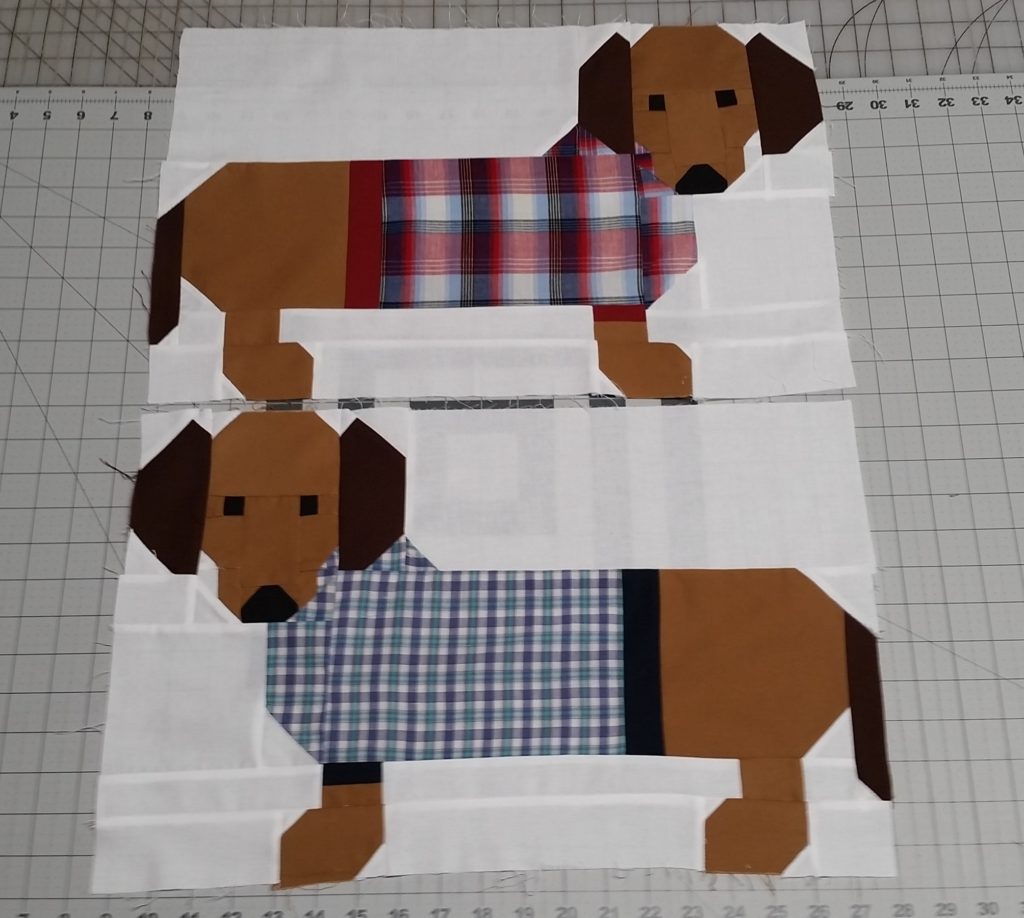 Dog 11 and Dog 3 now with his legs going in the "right" direction or that is facing left.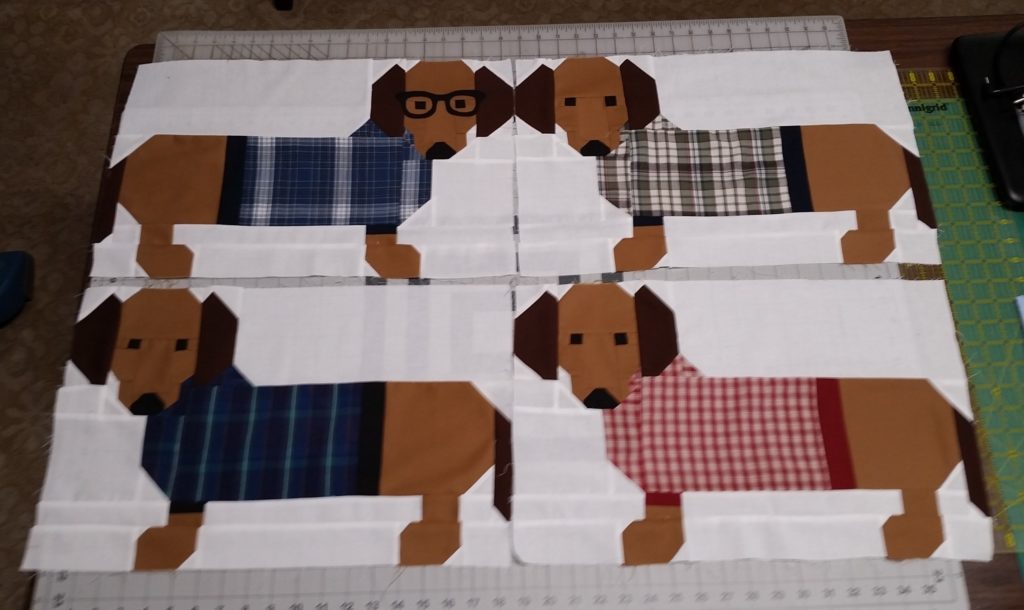 Dogs 12 through 15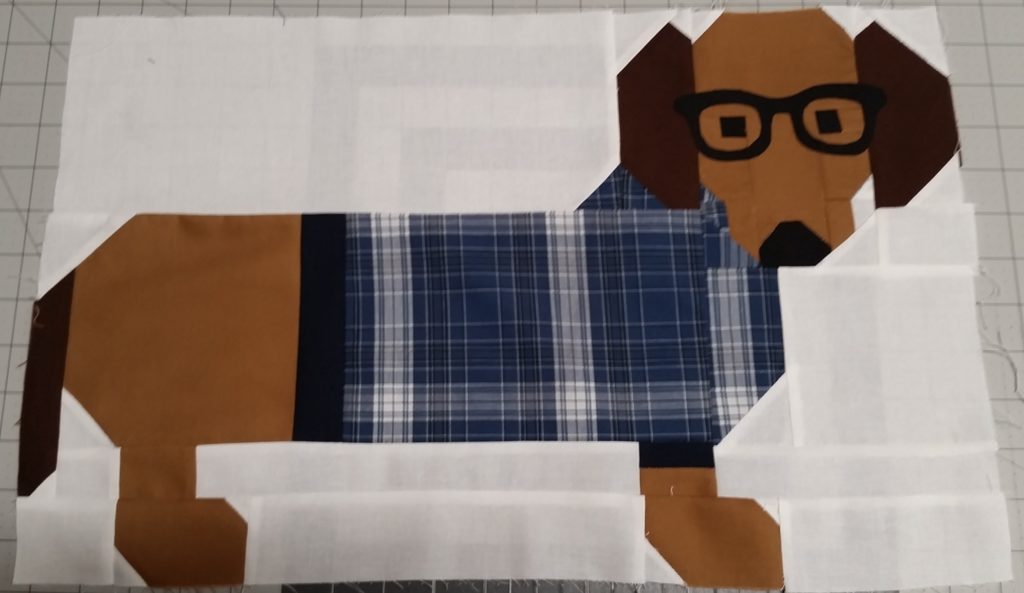 Dog 12 is made with my favorite of Dad's shirts. I also used that plaid as the focus print in the Workshirt Mosaic quilt I made.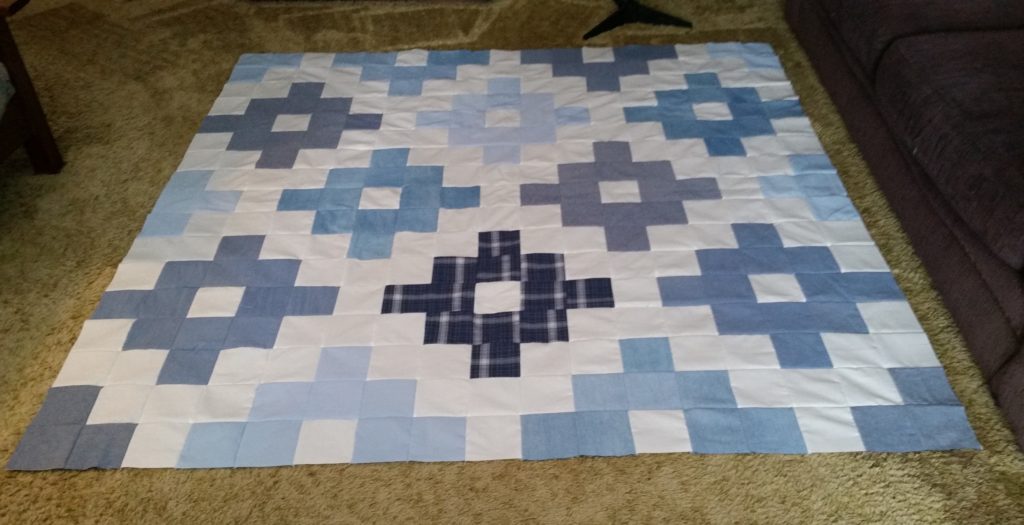 This is the Workshirt Mosaic quilt I made from Dad's workshirts.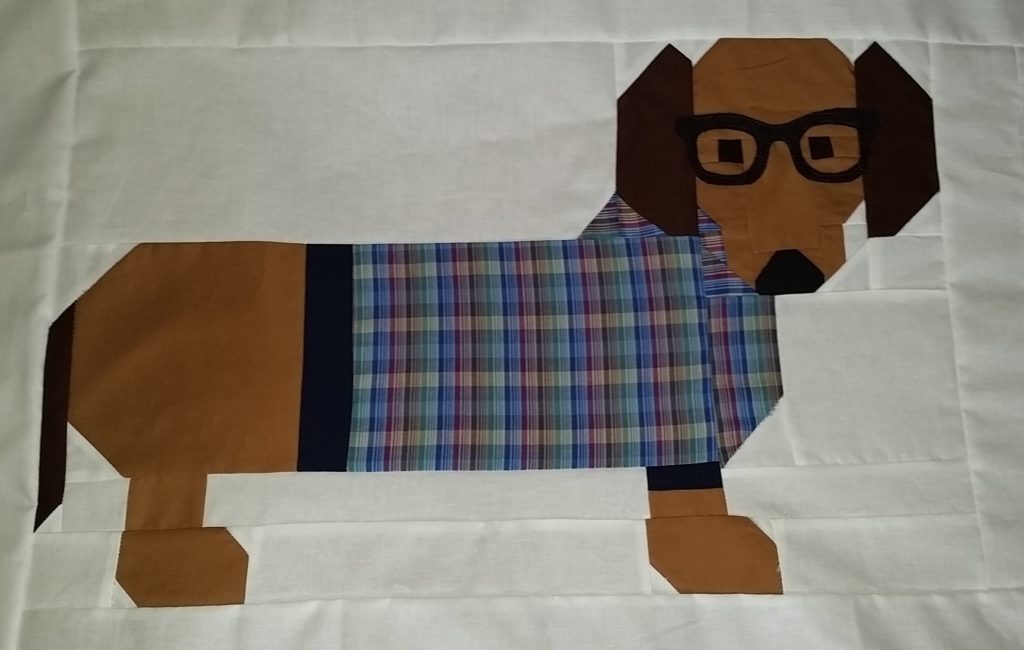 I decided to add glasses also to dog number 4.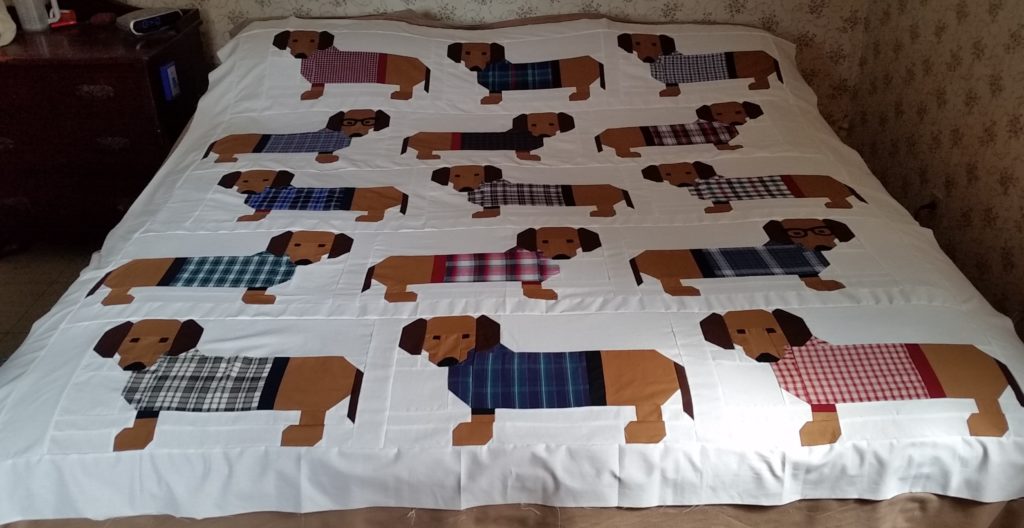 Here is another look at the full top pieced together. I am still deciding how I can quilt it. I found a blue bandana paisley type print fabric with dogs in it that I think I will be using to piece the back. I am going to show it to my son first to make sure he approves of it.
I will be linking up this flimsy finish with Show Off Saturday, Can I get a Whoop Whoop Fridays? , Needle and Thread Thursday and TGIFF.
Happy Sewing,
Shelley
Save
Save
Save
Save
Save
Hi, what do you do when you can not be quilting or sewing?? Do you think about quilting alot, plan new projects when you should be completing other projects??? My home life the past few months has been all over the board. I have not been able to spend time with my sewing machine and the enormous pile of quilt tops or WIP that need tending too. I spend Alot of time on Pinterest, A Lot of time… that is where I am at first thing in the morning while drinking my coffee. I have found numerous new quilt patterns and ideas. I have purchased quite a few new ones in the last couple months. I try to purchase the newest patterns from my favorite designers when they release them as many will sell at a discount for a couple days. Fat Quarter Shop had a great anniversary sale last month and had a one day flash sale with 40% off so I stocked up on some favorites at that time.
I thought I would share my new pattern acquistions with you all. Maybe some of these will be new for you too?? I will provide individual links to each pattern and seller below.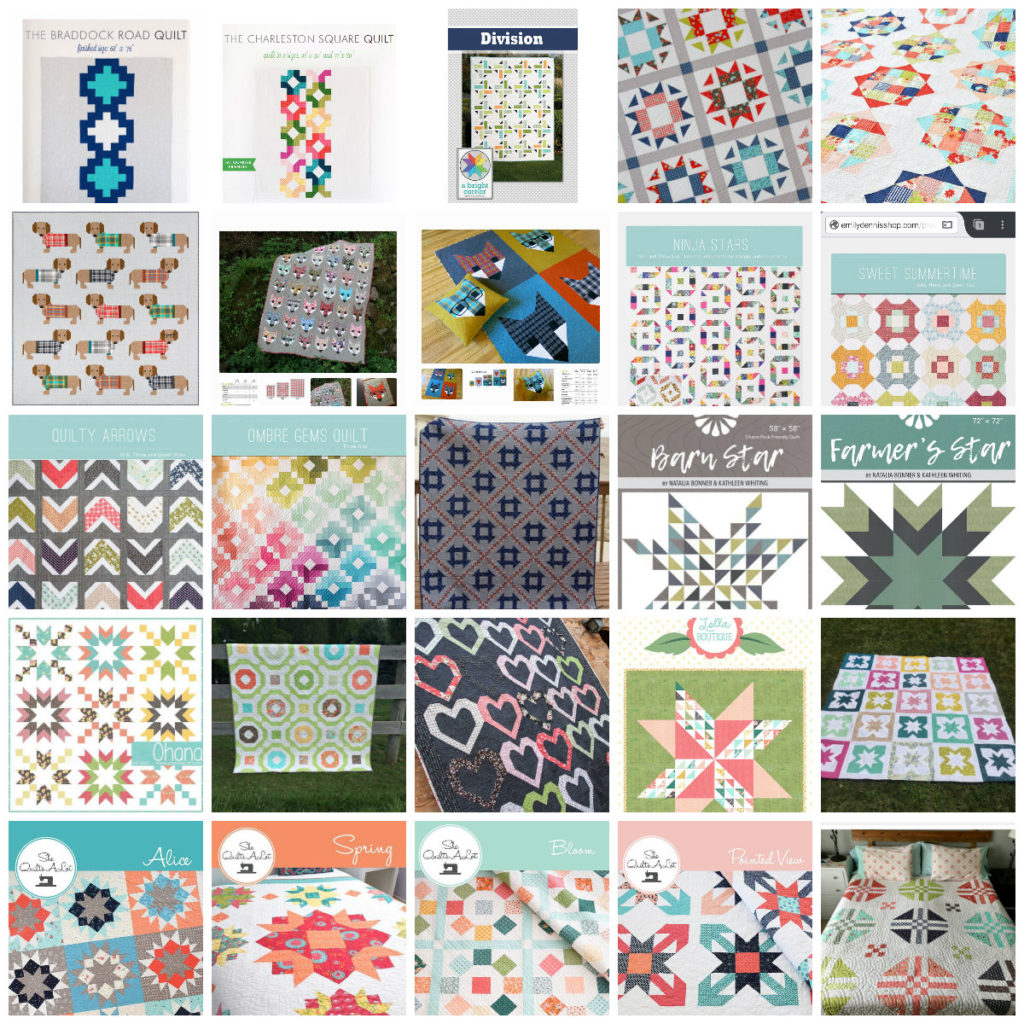 The Braddock Road Quilt by Swim Bike Quilt. I love the big bold geometric patterns of this quilt.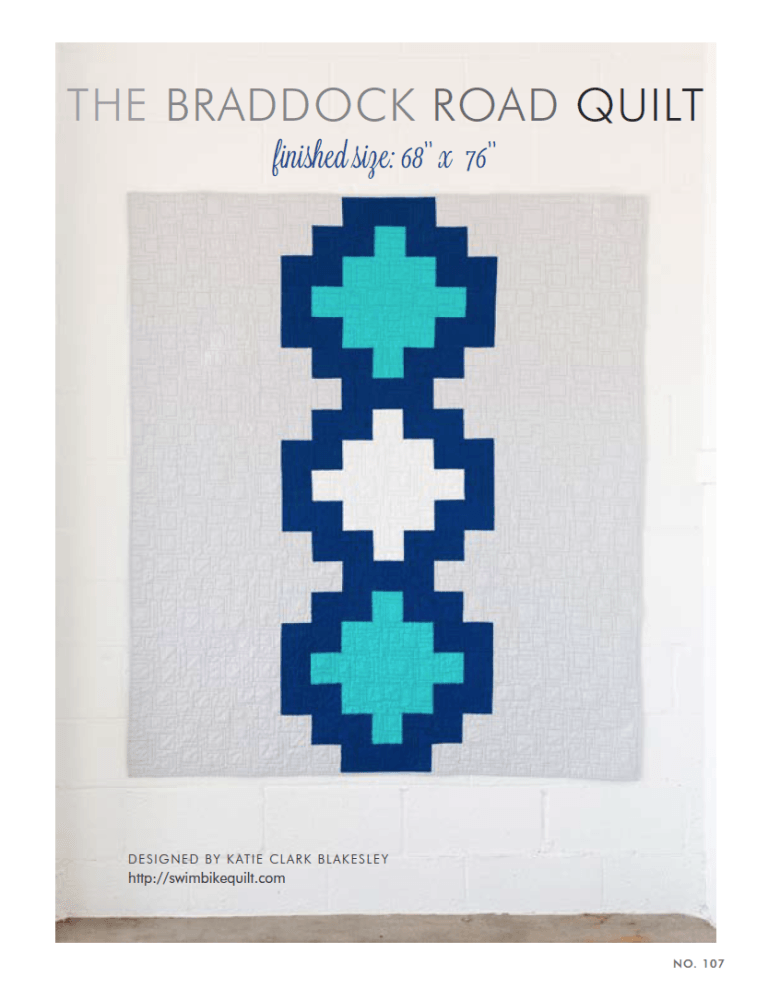 The Charleston Square by Swim Bike Quilt. I thought this pattern might work for some of my plaid scraps for a memory quilt.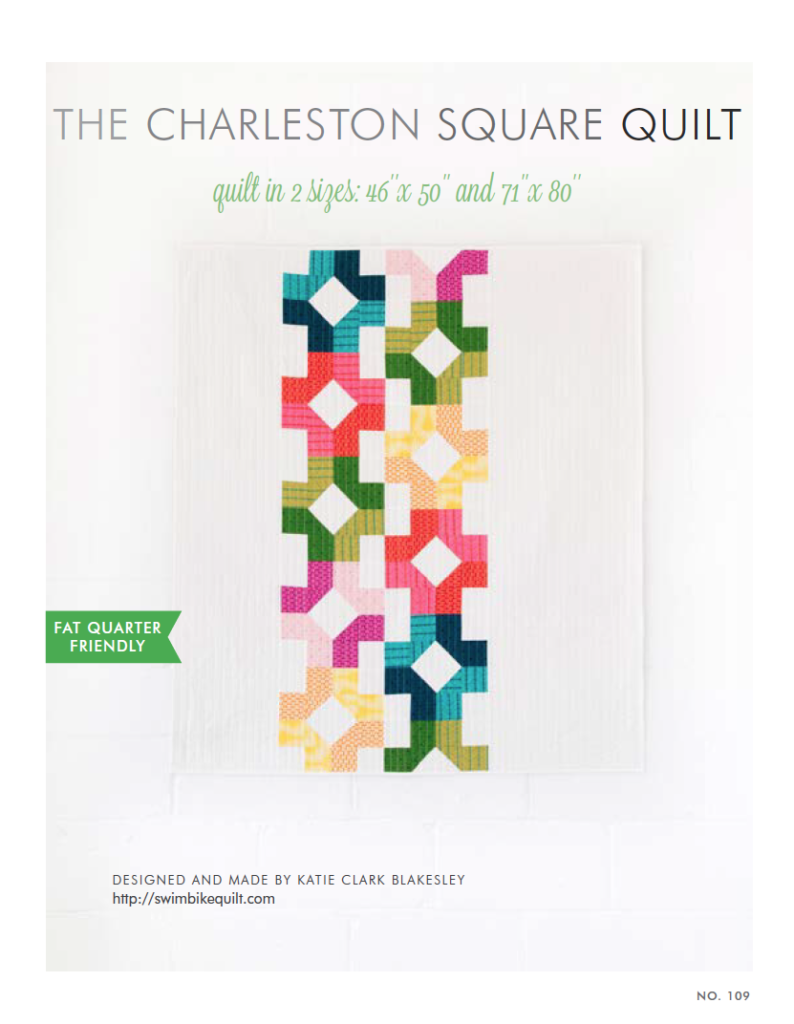 Division by A Bright Corner. This pattern would look nice in all colors or patterned fabrics. It is another option for a scrappy memory quilt.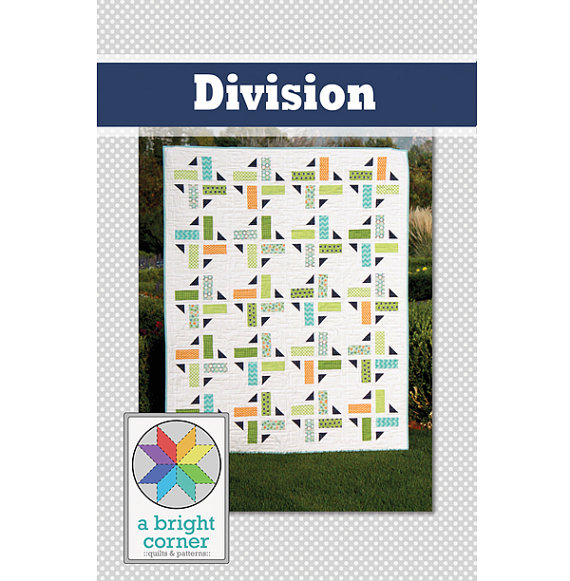 Skipper by A Bright Corner. This photos of this quilt caught my eye on Instagram. This could look nice in patriotic prints which I have alot of or some of my plaids with a coordinating solid for each block.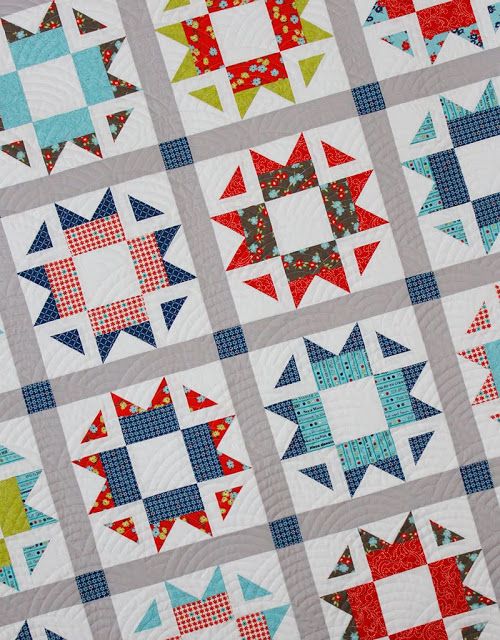 Rise and Shine by Thimble Blossoms. I chose this pattern as a way to use up scraps from my Patchwork Swoon quilts.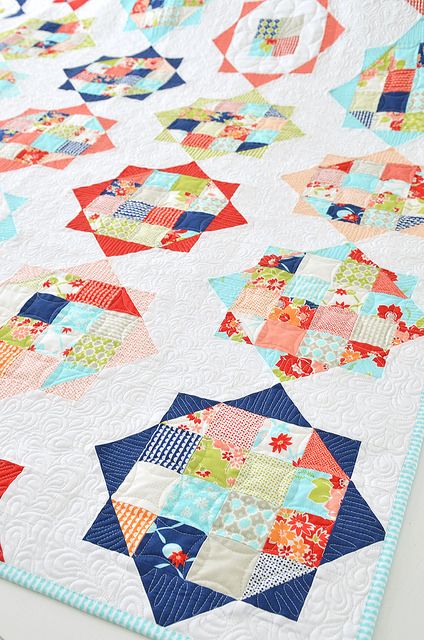 Dogs in Sweaters by Elizabeth Hartman. I followed this pattern on Instagram and had to purchase it the first day it was available. This is going to be my son's memory quilt from Grandpa's shirts. I am in the process of cutting the fabric for it this week. Each dog block has 57 pieces.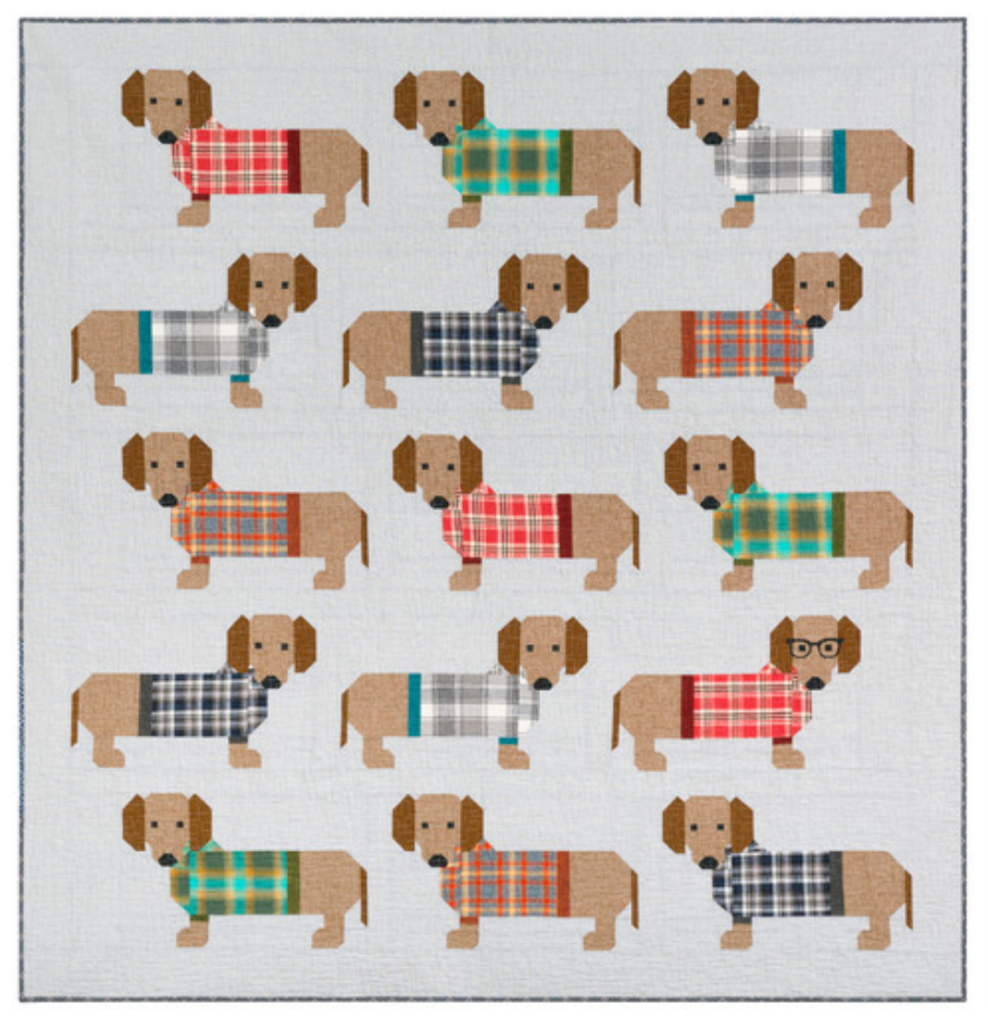 Fancy Foxes by Elizabeth Hartman. There are so many photos of this quilt online made in so many different fabrics and they all look awesome. This maybe my daughter's memory quilt from her Grandpa's shirts or the next version of the foxes quilts.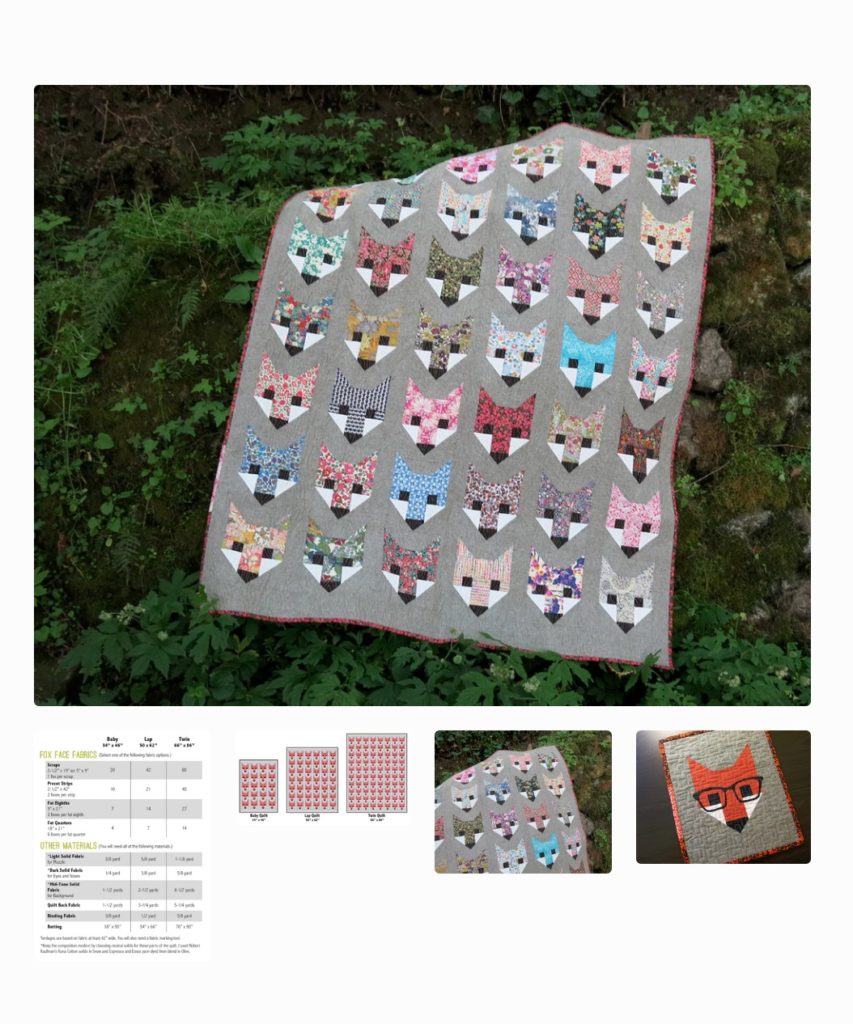 Fancy Foxes II by Elizabeth Hartman. These fox are so cute in all sizes and colors. The eyeglasses are so cute! I think I remember someone posting on Instagram a sampler quilt made from all the sizes of fox from both patterns. We will see what we have for fabric to work with.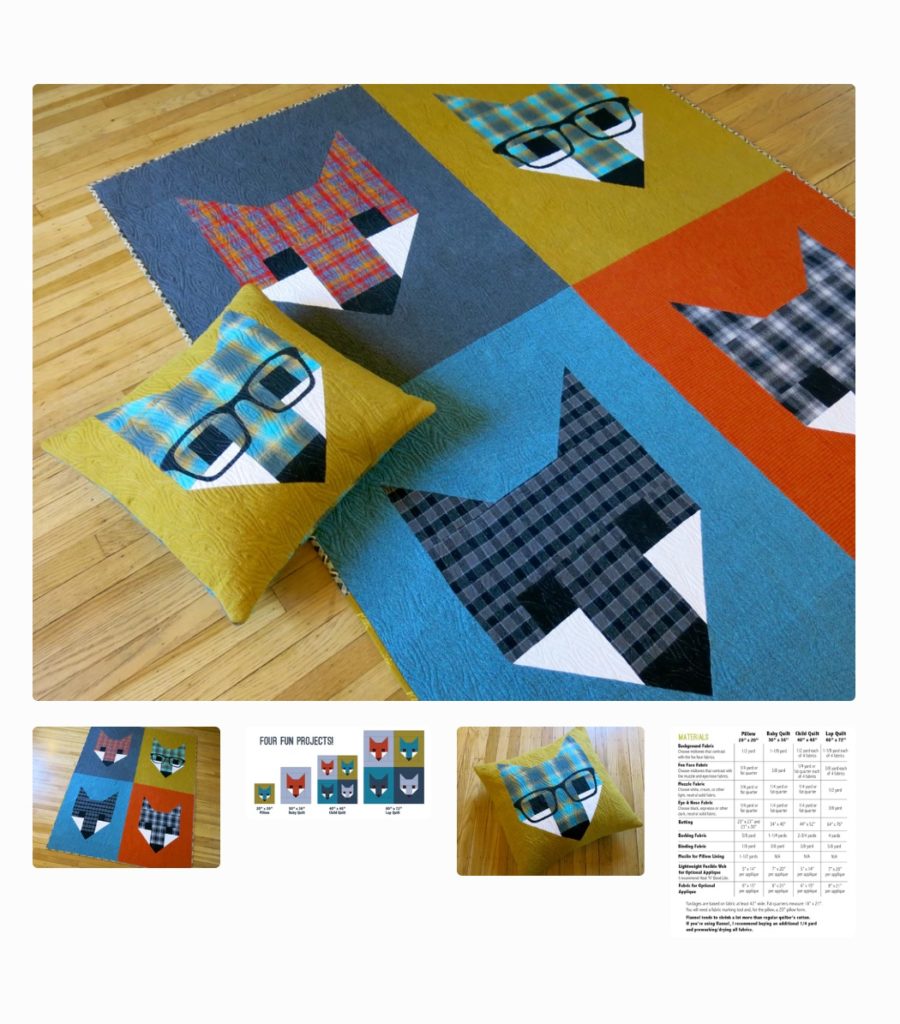 Ninja Stars by Emily Dennis. I simply love all of Emily's patterns. I love the scrappy version of this quilt and I do have lots of scraps.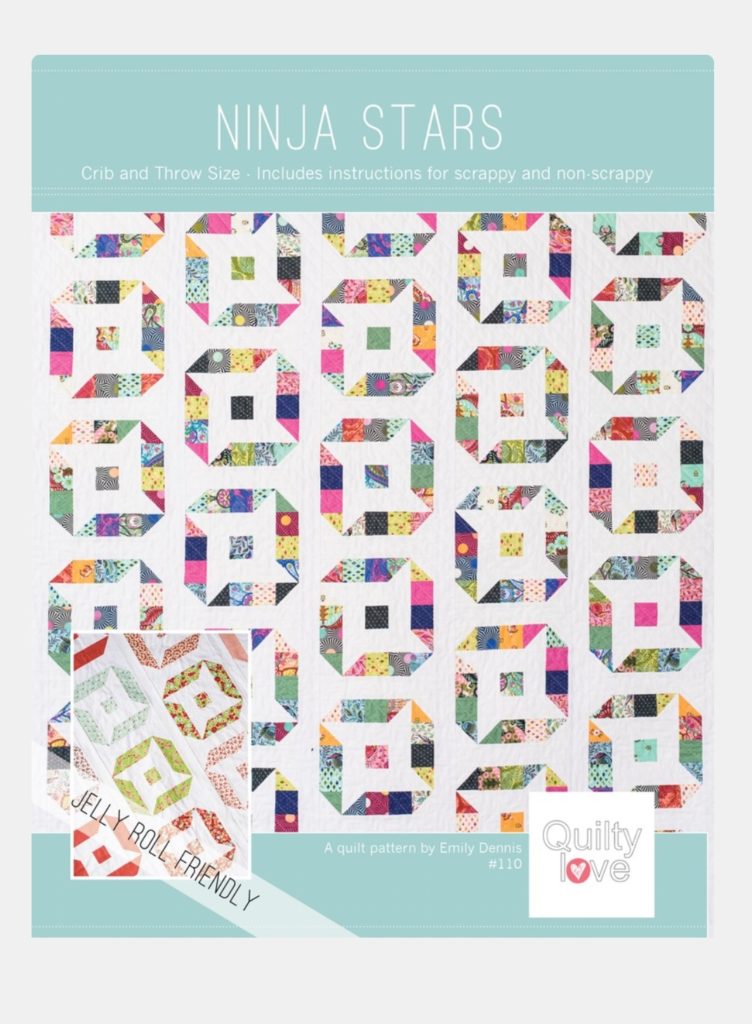 Sweet Summertime by Emily Dennis. I followed this quilt on Instagram and Pinterest. So many possibilities. I have a couple sets of fat quarters in my stash and am still deciding which one would work best.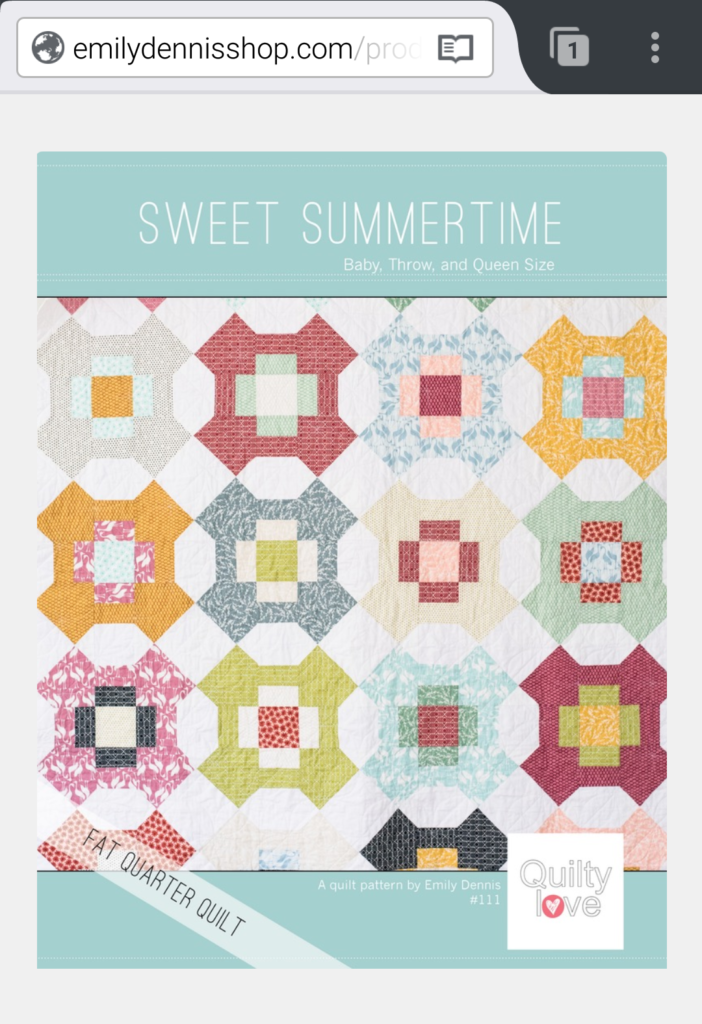 Quilty Arrows by Emily Dennis. Another fun pattern with lots of fabric choices.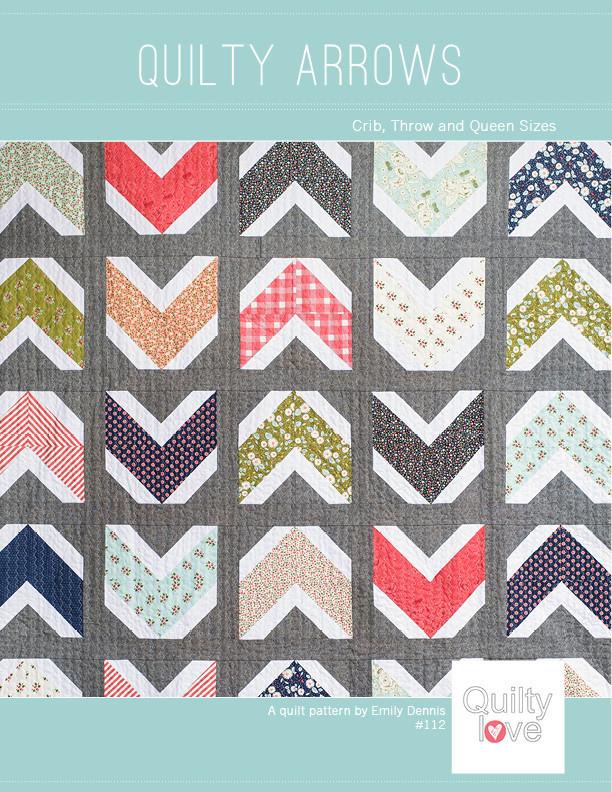 Ombre Gems by Emily Dennis. The quilt was first in Love Patchwork & Quilting magazine issue 36. Emily added coloring sheets to her printed pattern version. This is very helpful in designing your own quilt. There was a quilt along this Spring. I did participate in that but I am still working on my quilt top. I chose to use my Sweetwater Authentic fabrics that have been in my stash since 2010.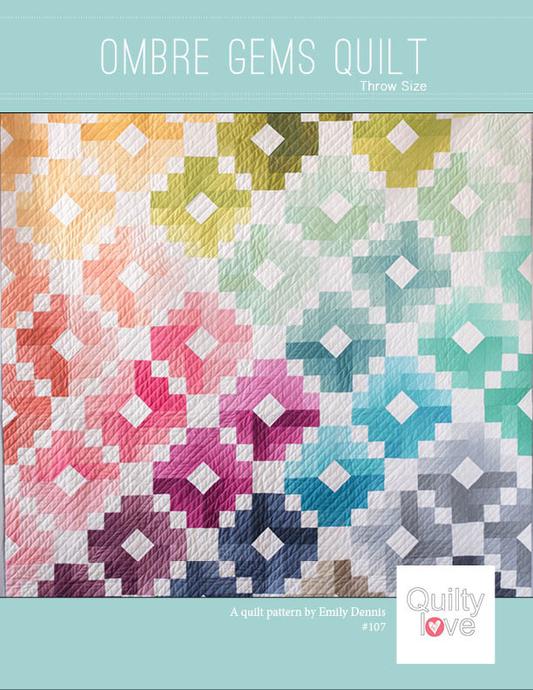 A Dash of Chains by Alycia Quilts. I love Churn Dash blocks and Irish Chain quilts. This is a cool combination. Alycia loves plaids even more than me and I love all her work making quilts for our Veterans.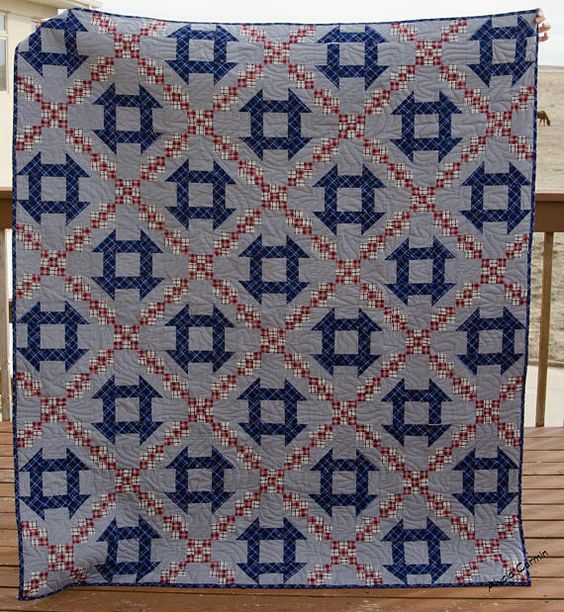 Barn Star by Piece N Quilt. Lot of possiblities with this one. You can use those extra charm squares. Yeah!!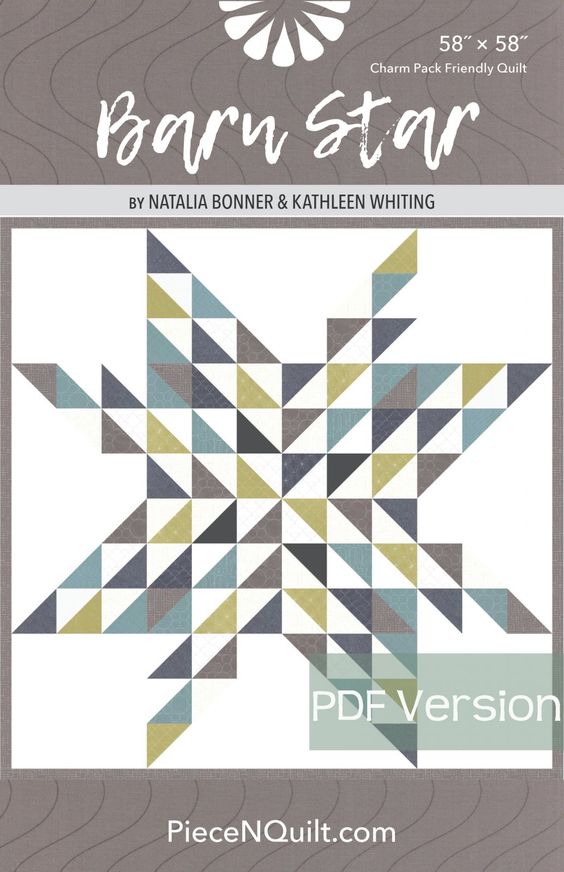 Farmer's Star by Piece N Quilt. I love this one!!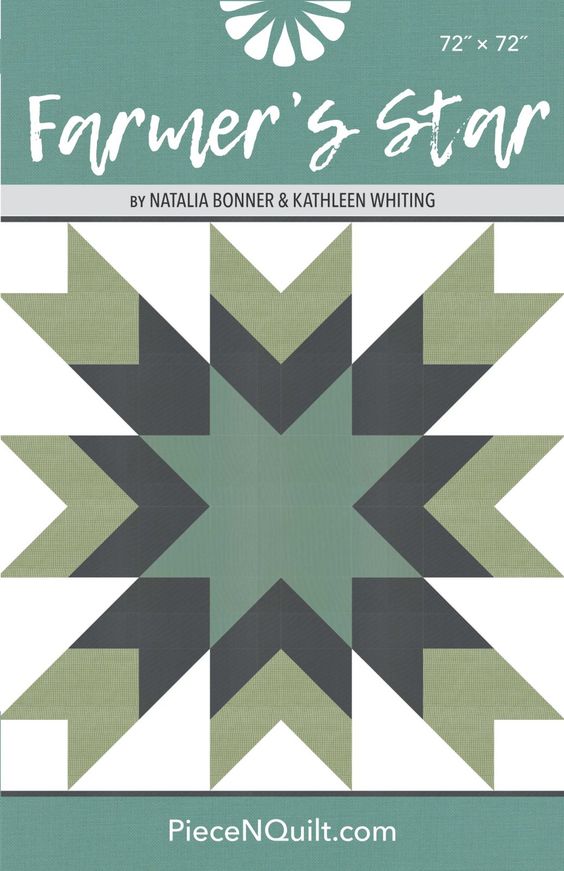 Ohana by Piece N Quilt. I bought all three Piece N Quilt patterns during the Fat Quarter Shop anniversary flash sale. Ohana means family. This pattern was first sold to help raise money for her Mom's cancer treatment. This definitely would make a nice memory quilt with all the special meanings behind it.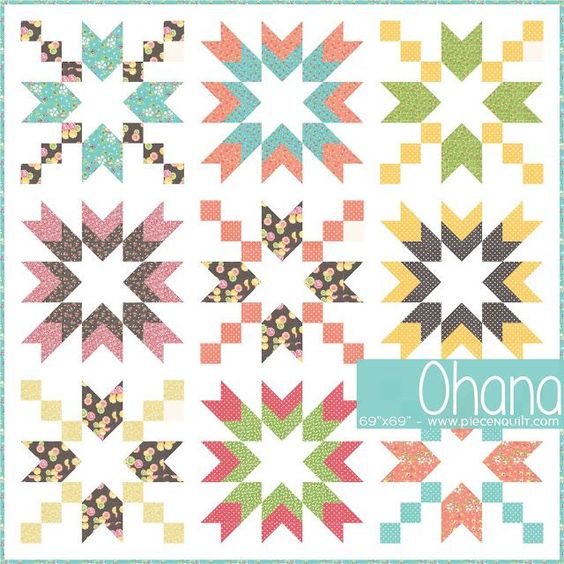 Wheelhouse by Coriander Quilts. Coriander Quilts has been offering up different patterns for her for $5.00 each week. I have been following along on Instagram. I like the two color version of this quilt.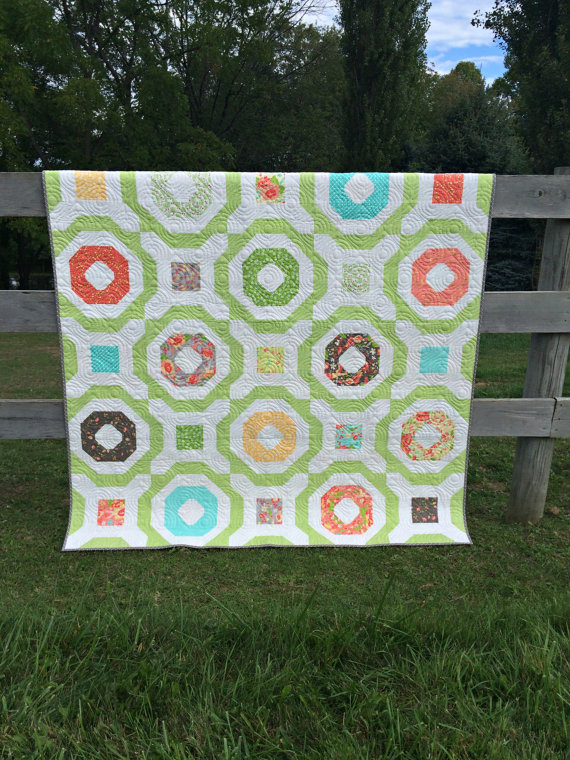 Open Heart by Lella Boutique. I love this quilt. I am looking to use it as a special memory quilt. I am attempting to cut this quilt out after I cut out the pieces for Dogs in Sweaters.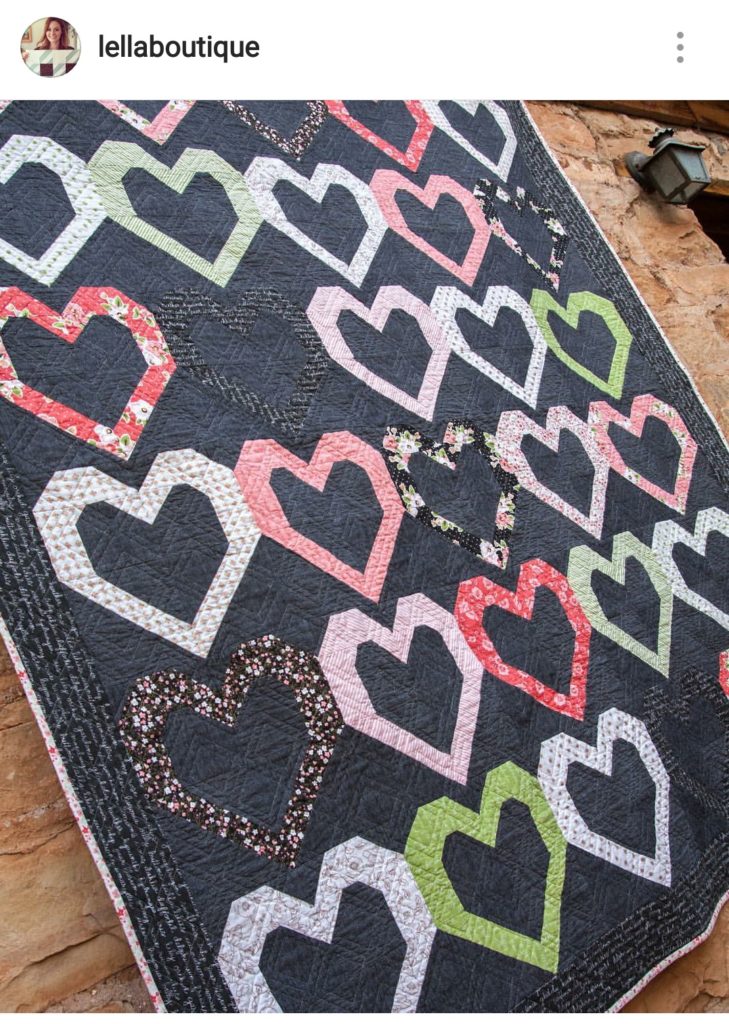 Sugar Cookie by Lella Boutique. Another neat charm square pattern. You only need 1 pack and you can make a 72″ quilt.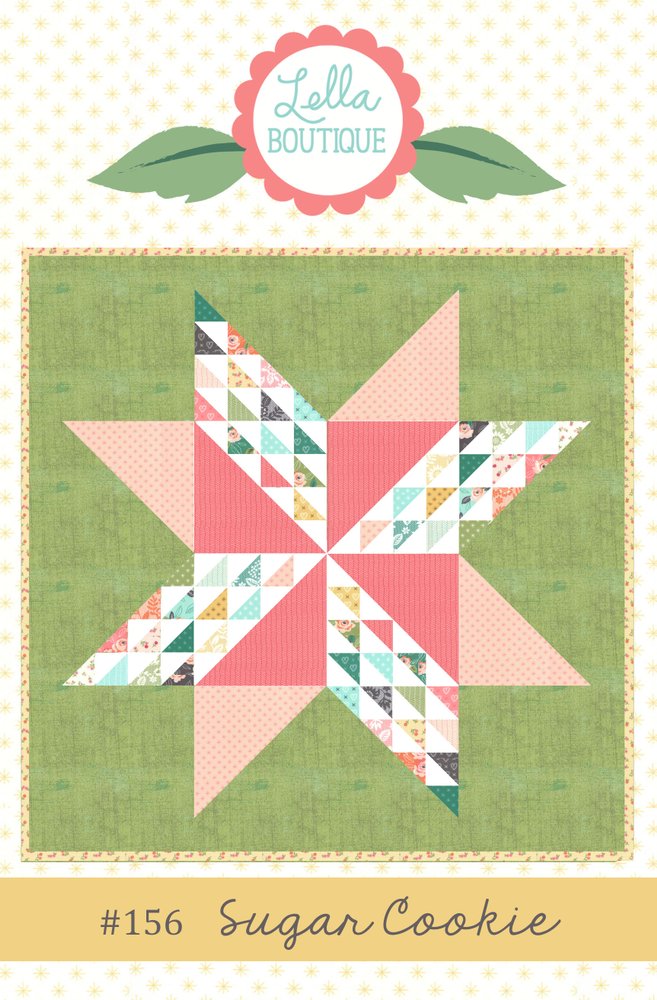 Geode by Blossom Hearts Quilts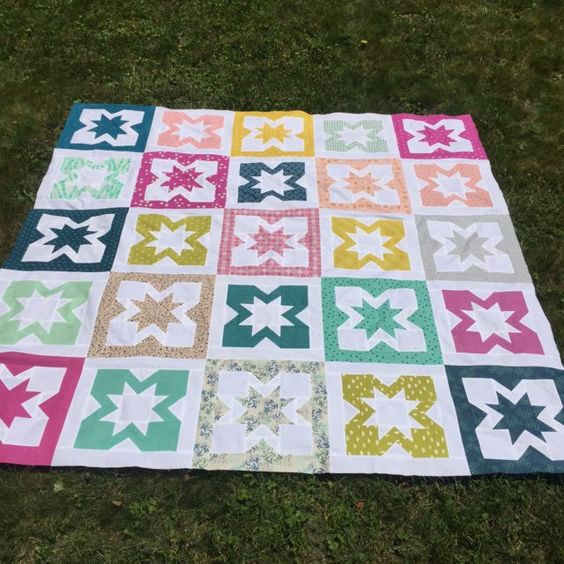 Alice by She Quilts Alot. I have been following Peta and her quilts on IG and I receive her newsletters. She had a pattern sale last month and I picked up 4 of my favorites.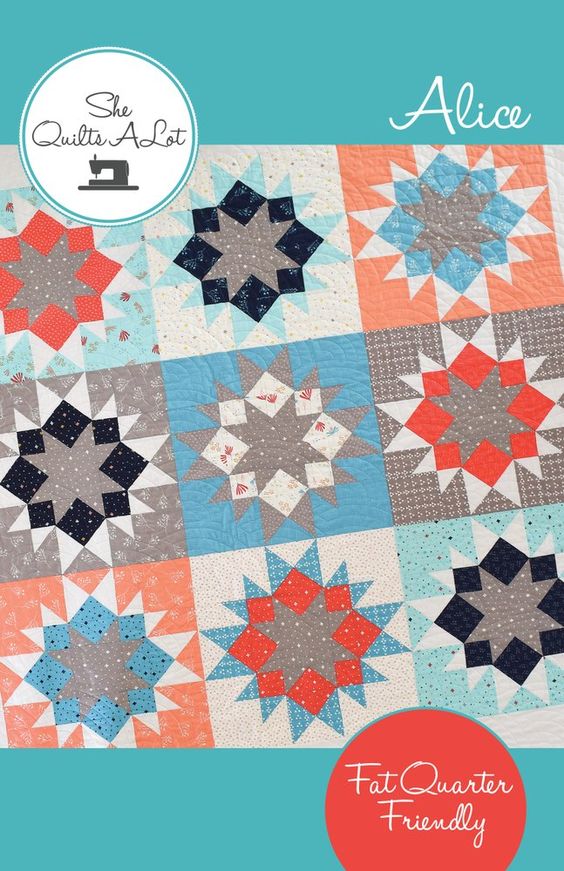 Spring by She Quilts Alot. I love that some of the blocks are 30 inches. I Love big blocks!!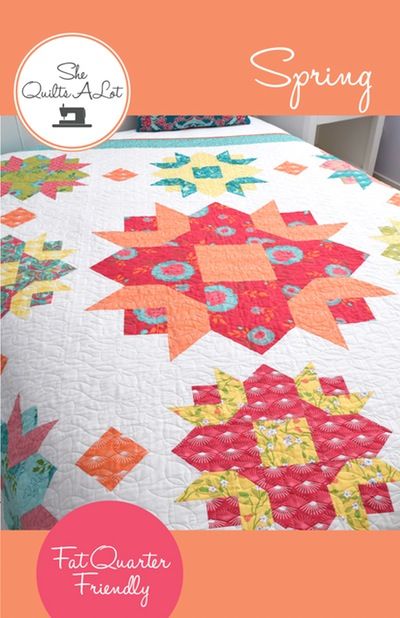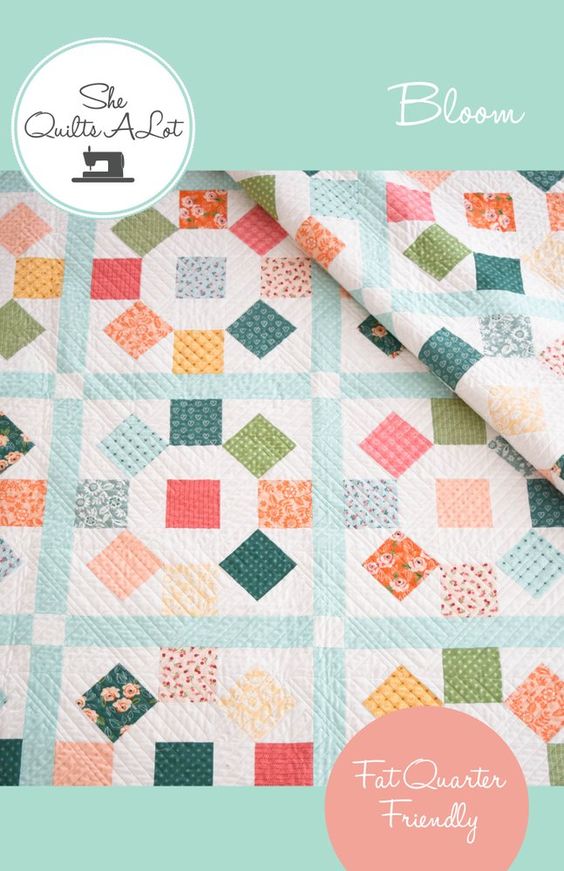 Pointed View by She Quilts Alot. I love the secondary pattern this design creates.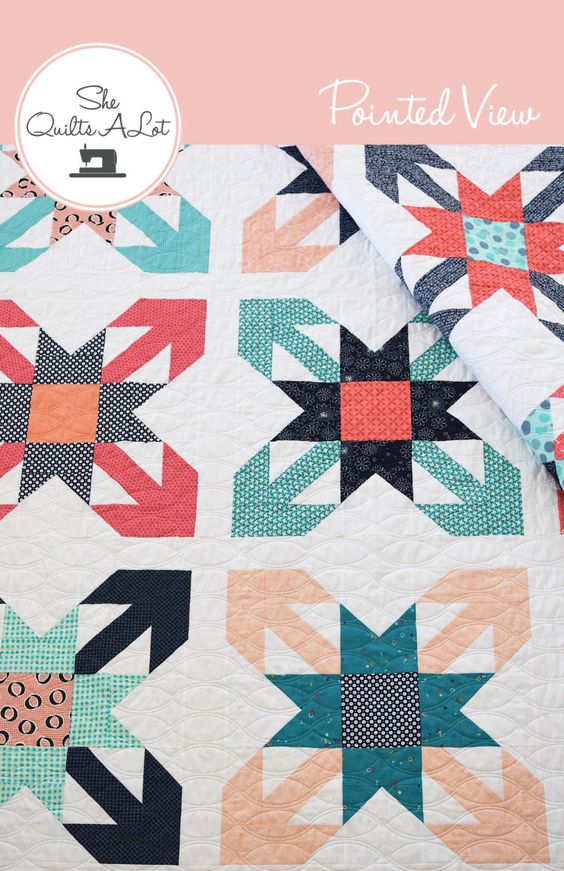 Big Dreams by Sterling Quilt Co. I love this pattern. This was my most recent purchase. It uses fat eighths. I have a set of fat eighths in Denyse Schmidt Hope Valley that I purchased from a detash sale from a fellow quilter on Instagram last year. I think this pattern is calling for them. Sterling Quilt Co. designed the Katie's Compass quilt pattern that I have all ready made.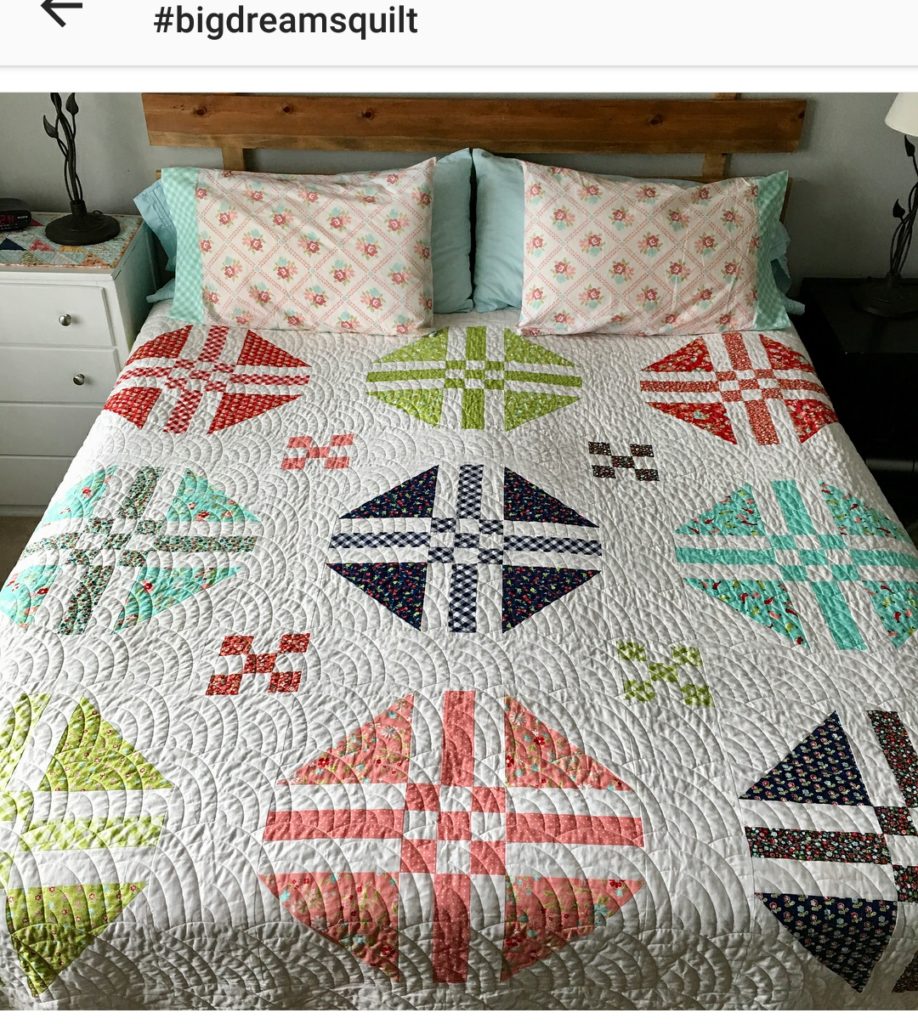 Hope that you enjoyed seeing all the lovely quilt patterns. If there is something you like, be sure to share the love and obtain a new pattern for yourself. Do you have any new favorite quilt patterns to suggest???
I heard back from the shop that my Mom purchased the Viking 990 sewing machine from. They stated that my problem with the walking foot continuing to sew after I take my foot off the foot pedal could mean that there is a bad part in the foot pedal or the circuit board is going out on the machine. They said you have to take the machine and pedal to a repair shop. If it is the circuit board, they are No longer Available for this machine. They did not state I could or should bring the machine to them to determine which problem it was. I did ask if they still repair the Viking Designer 1 machines as that is Mom's other machine. Yes, they do but there are some parts that might not be available. I am not sure what to do. The Viking 990 does seem to sew fine when not using the walking foot. It did fine last year after the first incident. I have pieced 12 quilt tops since then. No problems. I did quilt two tops this year before this last one when it acted up. Maybe it was over hot and the machine dirty. I don't know but I am going to try to sew with it again. I will watch it carefully and if something is wrong, I will stop using it. My sister and I have plans in the upcoming weeks to get together and teach our selves how to sew and embroider with our Designer 1s. It is not doing the machine any justice just sitting there.
I am linking up this post with Let's Bee Social and Needle and Thread Thursday and Finish It Friday.
Hope that everyone has a good weekend.
Happy Sewing,
Shelley
Save
Save
Save
Save
Hi, I am happy to share that I finally got my oldest WIP quilted and bound. It is my I SPY quilt that I started piecing the blocks on Super Bowl Sunday. It has upwards of 150 different fun prints that either boys or girls should find something they like in it.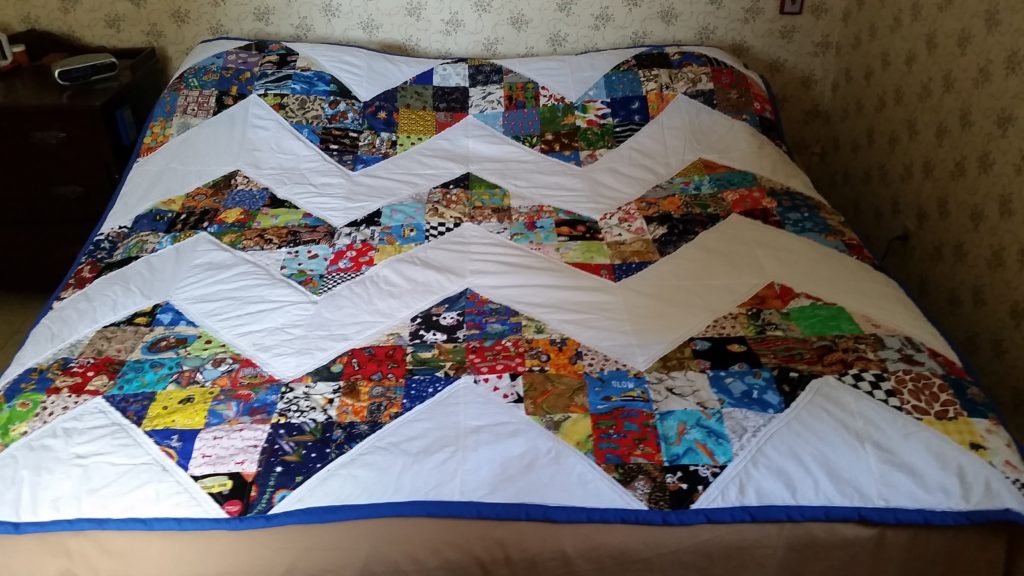 I quilted 1/4 inch in from the seams on the white chevrons with a multicolored Aurifil thread. It was my first time using it. I quilted 1/4 inch in from the charm squares with white thread.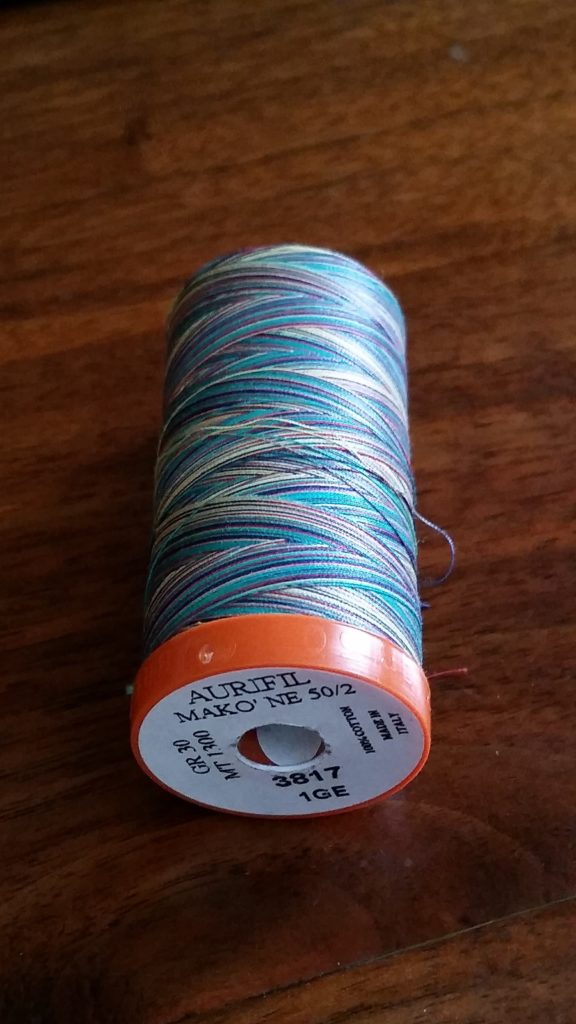 Here is a closeup of the quilting.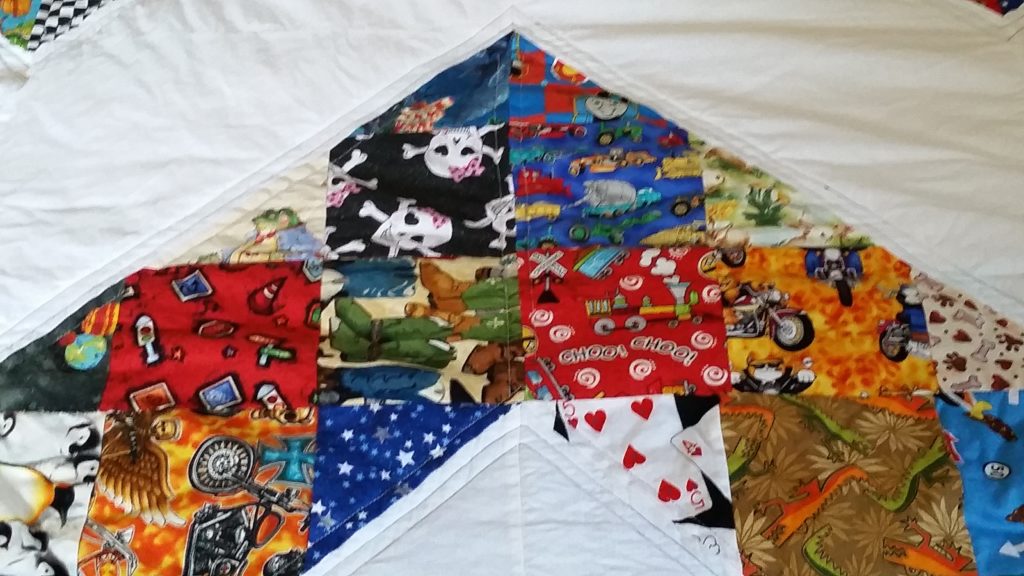 I chose a fairly simple backing using fabrics from my stash. Hoping that they would work for either boy or girl.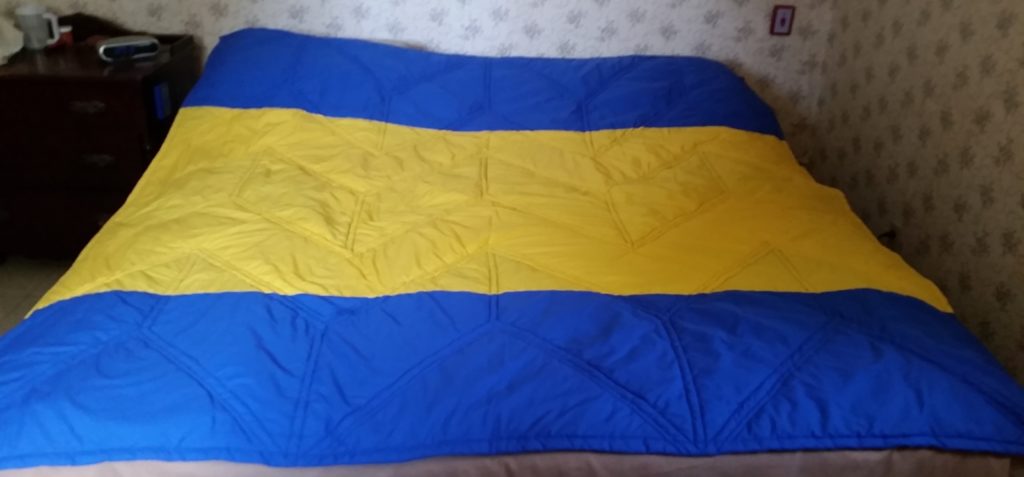 The quilt has been washed and dried and it quite puffy. It has a nice weight to it. It should stand up to lots of play and any needed trips through the wash and dryer. It finishes at around 74 inches square. You can read more about the quilt here. I am putting this quilt up for sale and would like $125 plus shipping.
While finishing quilting this top, my sewing machine started acting up. It is a Husqvarna Viking 990 computerized sewing machine. I was using the walking foot and when I would stop quilting and take my foot completely off the foot pedal, the walking foot would continue to walk or sew for a couple inches. It was kind of freaky the first time it did and luckily my fingers were out of the way. It didn't do it everytime but started doing it more times than not. I did have this happen once last year when it was a really hot spell. It was warm last week but not that hot in my sewing room. I didn't think I had been over working the machine this time. I thought I was working too hard last year. I have tried researching possible problems and solutions and don't really know what to think. It could be the foot pedal or something in the machine. A capacitor? Electricial problems scare me. So it is unplugged. I have tried pricing replacement foot pedals and of course they sell the main power cord for the sewing machine separate from the foot pedal. If you can find both, they can be around $180 together and one place said if they have them, there can be a 4 to 6 week wait. I inherited this machine when my Mom passed away. My Pfaff 1473 CD quit working 2 days before my Mom passed away. So this is a very touchy subject to say the least. I do have her Viking Designer 1 that was her baby and pride and joy. I have only used it once in 4 years as I have been using this one. I really didn't want to push that one through all the quilting that I do. I am sure it could handle it but she used it for her embroidery. It isn't doing it any justice sitting covered and not being used. She wouldn't be happy about that either I am sure. I have emailed the shop she bought all her machines for help. The tech guy was gone on Friday but they say they will get back to me on Monday.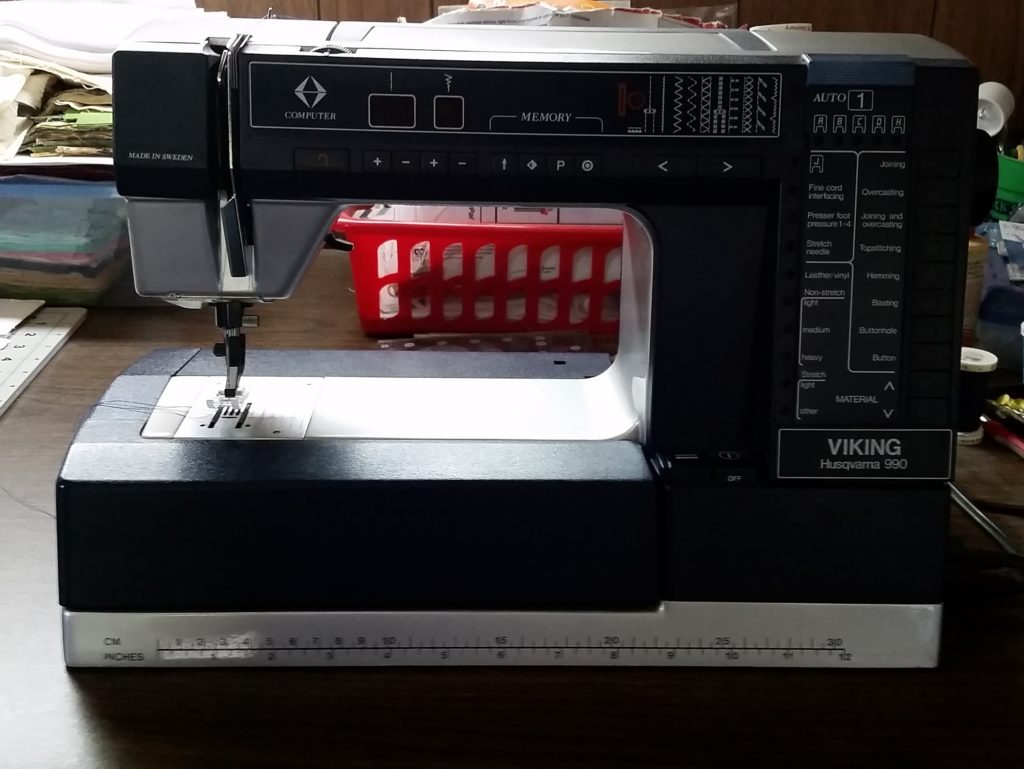 I still have my Jelly Roll Slice quilt for sale. I was asking $175 plus shipping but would drop that down to $150 plus shipping.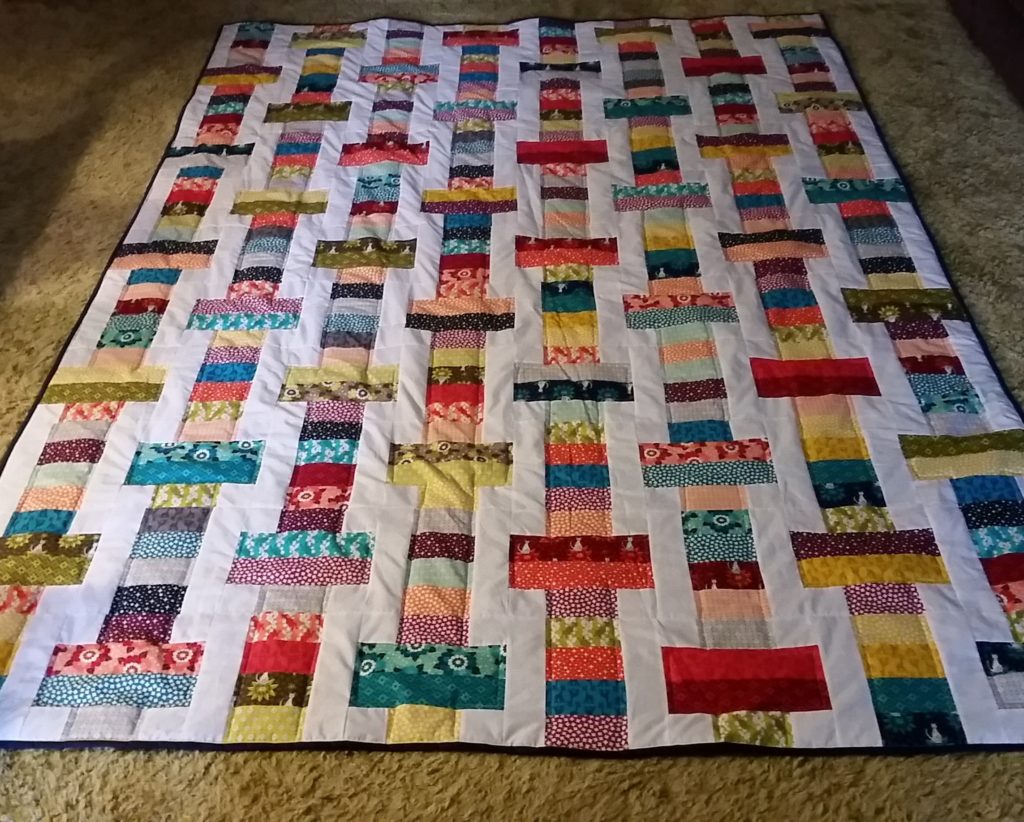 You can read more about the Jelly Roll Slice quilt here.
I am linking up this finish with Crazy Mom Quilts Finish It Fridays. and Oh Scrap.
Hope every one has a great weekend.
Happy Sewing,
Shelley
Save
Hi, I am Shelley and I blog as the Carpenters Daughter who quilts. I am hosting Thank Goodness It's Finished Friday. My project this week was to finish the flimsy that was my oldest WIP. I made an I Spy quilt using Jeni Baker's Patchwork Chevron quilt recipe from Moda Bake Shop. I started piecing the blocks on Super Bowl Sunday in 2012.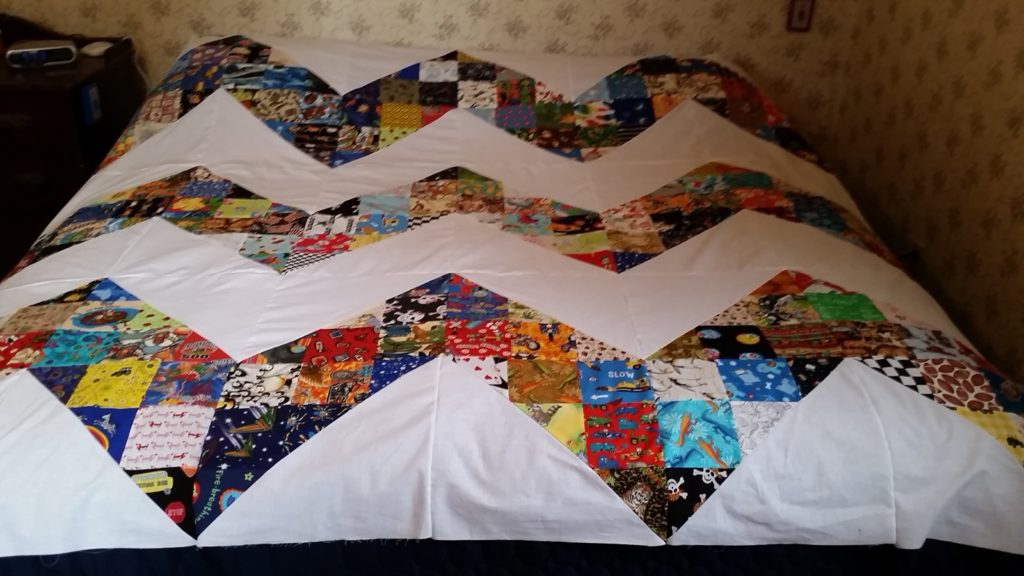 It is 78 inches square so it completely covers the top of our king size bed. I collected I Spy charm squares from sellers on Etsy and Ebay. I had over 200 charms and eliminated squares that didn't have that much of a design centered on them or I wasn't sure a kid would understand what it was depicting. There are a couple duplicates with there being over 150 different charms.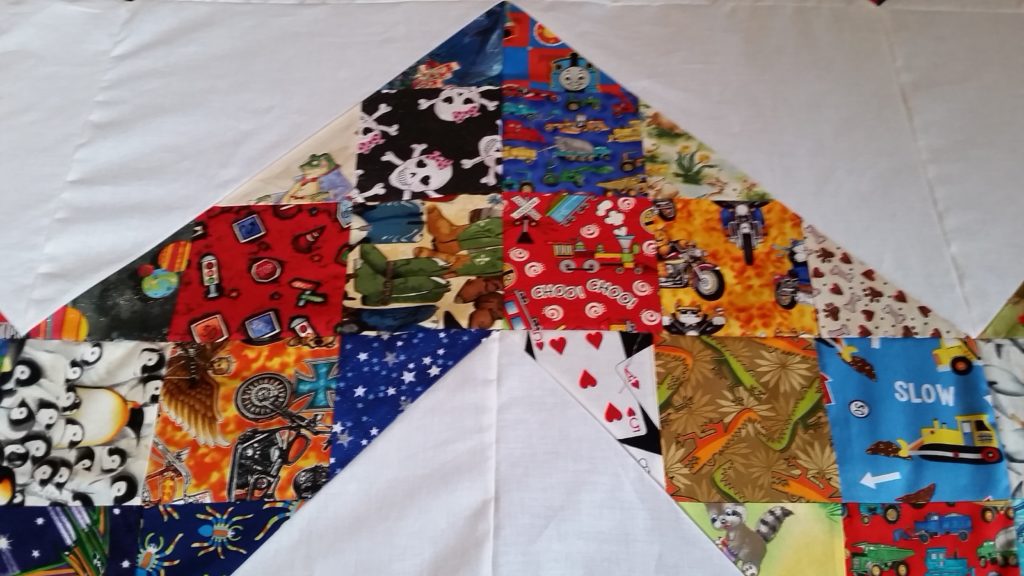 Here is some close ups of the fun prints.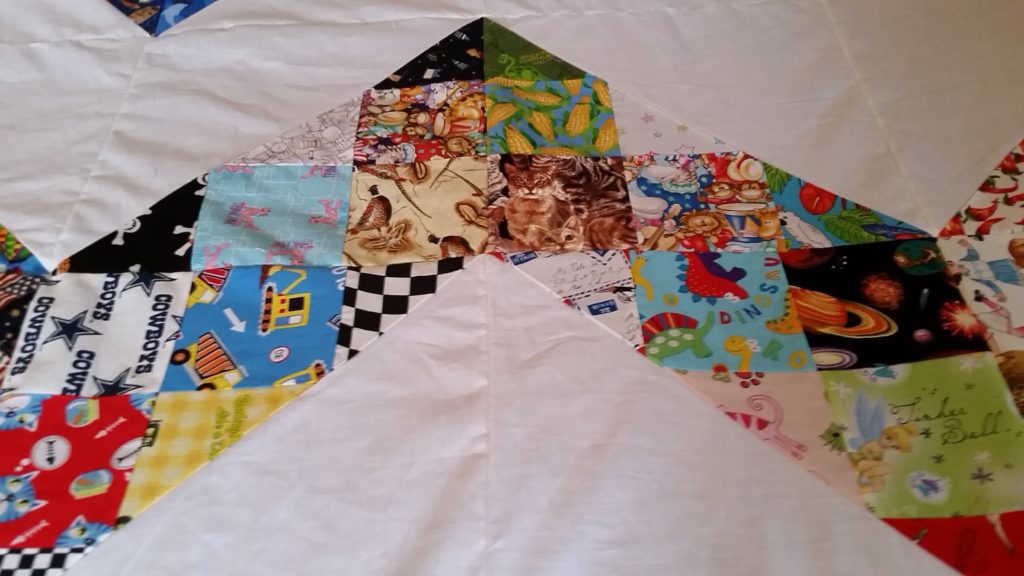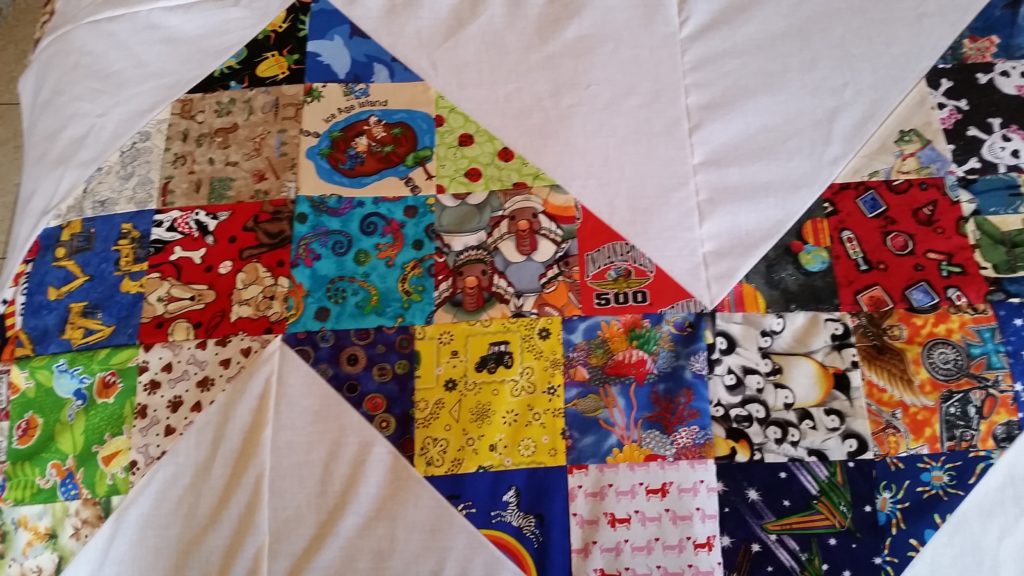 I love the turkey print. There is something that should appeal to both boys and girls in this quilt. I am planning on offering it up for sale after it's completed. I plan to make up some I Spy items lists so the kids can play the game and locate all the items.
I am currently working on quilting this quilt. I hope to at all possible have it completed by the end of this linky party and will link up my finish, if completed on time.
I did complete quilting two quilts that were tops from last year. They have their own blog post.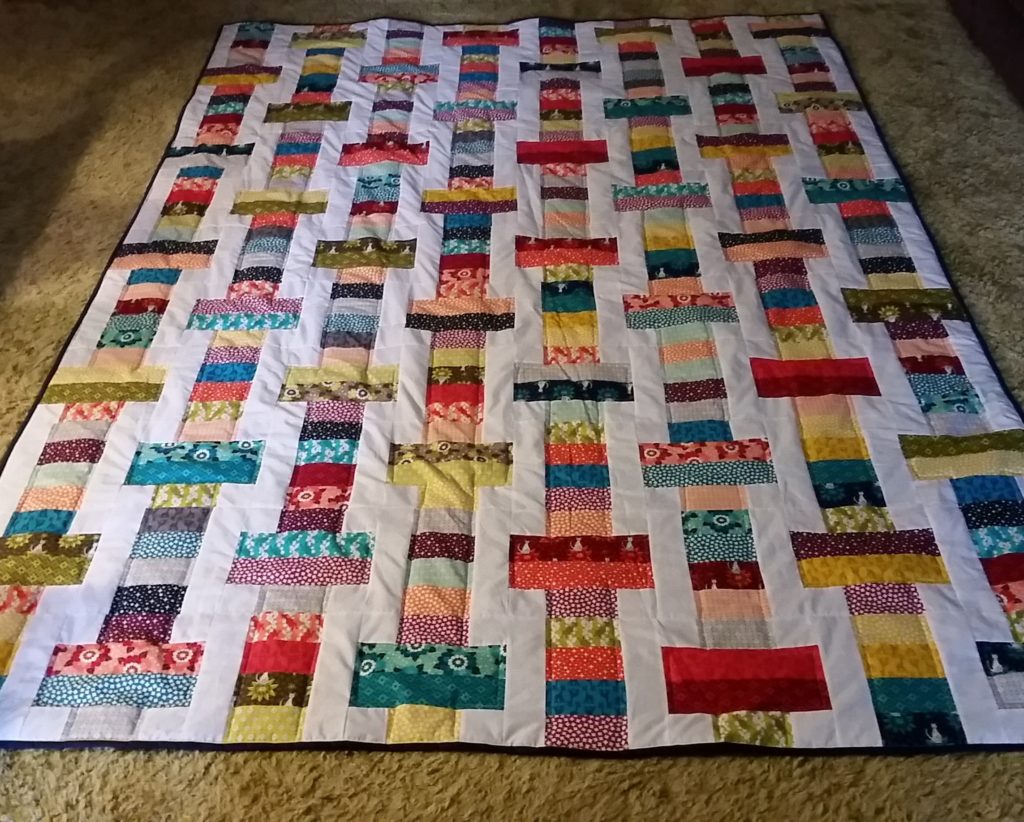 Jelly Roll Slice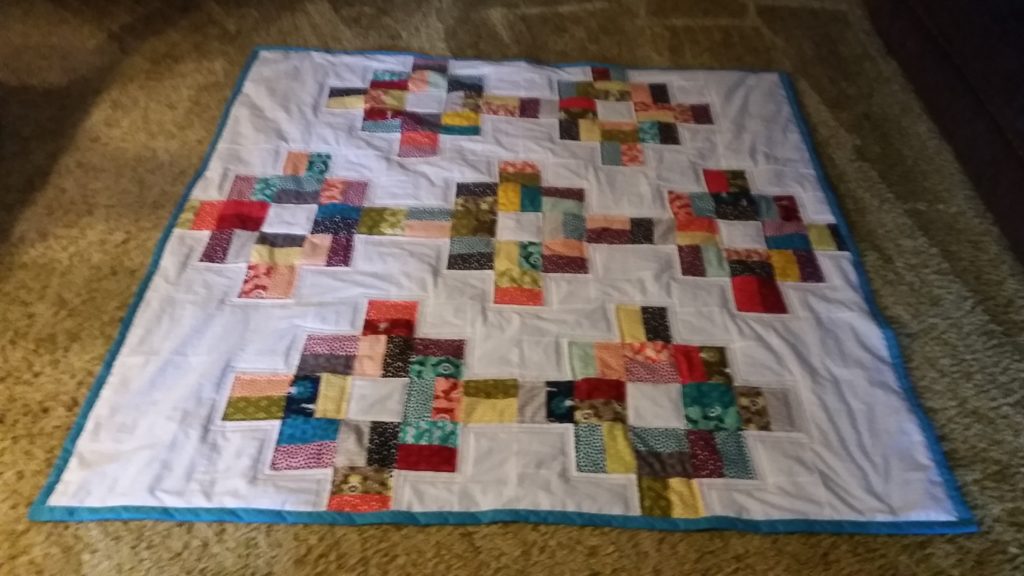 Katie's Compass which was created from leftover strips from the Jelly Roll Slice.
I decided to take a week off from working on my memory quilt projects. I need to make some room to be able to start quilting on them. I am up to 9 quilt tops from Dad's shirts.
Let's start this week's linky party. Please link up your week's finished projects and be sure to go check out as many of the other linky partiers as you can.
Happy Sewing,
Shelley
Save
Save
Save
Twitter