Prop-Up Kindle Tablet Case
Sew Can She is one of my favorite crafting blogs that shares wonderful tutorials of every type of craft you could want. I subscribe to her daily newsletters emails and there is something inspiring every day.  One of my favorite features of her blog is the Show Off Saturday Linky party, where crafters can link up and share their latest craft finishes and works in progress.
Recently I discovered a tutorial for a Kindle case that would fold up and prop your Kindle up for hands free reading. Both my daughter and I had pinned this tutorial to our Pinterest boards, so I thought it had to be a good project to try out.
I used the Prop-Up Kindle Table Case tutorial by The Inspired Wren blog.  I chose a turquoise multi-colored chevron print and turquoise solid cotton fabrics from my stash. This was a winning combination since my daughter loves turquoise and chevrons. She has used both in decorating much of her house.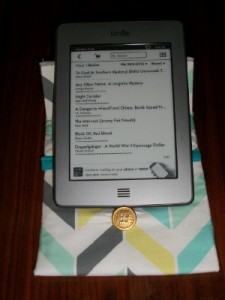 The tutorial's instructions were very well written. I chose to add a layer of fusible batting to the lining fabric while constructing the case. I thought it would provide some extra protection to her Kindle and it helped make the fabric just a little bit more sturdy feeling.  It has been a while since I have had to make any button holes so I was thankful I decided to make a test button hole on scrap material. I forgot that the button hole sewing sequence starts with zigzagging in reverse, so my test button hole ended up on the other side of my markings. After learning that, my button hole on the Kindle case ended up a success the first time on my actual fabric. I found a fun gold metal button that seemed to coordinate nicely with the fabrics also in my sewing supplies stash.  The tutorial called for using cardboard strips to make the boards that are inserted in the case to help hold up the Kindle. I happened to find some old linoleum type tiles in my sewing room that I used previously to make a case for my grandson's tablet. I was lucky the tile pieces were pretty close to the size I needed for this project. I took an old rotary cutter and scored the tile to correct size and was very lucky that they snapped off exactly on the line where I wanted them to.
I really liked how the Kindle case turned out and it does function well as a way to prop and hold the Kindle for hands free reading.
I am linking up my post with SewCanShe Showoff Saturday.
2 Responses to Prop-Up Kindle Tablet Case
Twitter