Batik Catawampus Flimsy:Friday Finish
It's better late than never. I have my own Friday Finish to share this week. I have been hosting TGIFF linky party today so it's only fitting that I get my top finished before the linky party ends.
This is my Batik Catawampus and Yes, it is a version of a scrappy Irish Chain (is described as that even on the pattern cover. ) It has 27 different batiks that I had scraps from making quilts over the last 5 years.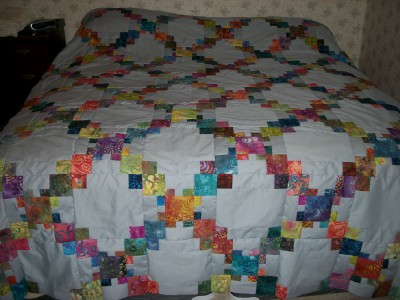 It finished off at the 100 inches square. I am thinking that I might want to add to the two sides to make it 110 by 100 as it does not cover the sides of bed as far as I would like.  I am thinking of add a strip of the solid gray and somehow incorporate the last few scraps I have.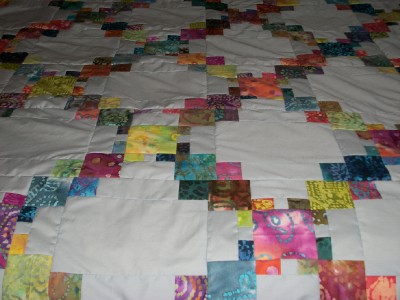 As for quilting this in the near future, I am thinking of some organic waves all across the quilt. I have never sewn or quilted with Aurifil threads as I live in the middle of nowhere and it just is not available around here. I did purchase a spool last year to try out sometime, and for some reason I picked a variegated color. I am thinking it will finally work with this project. It is Aurifil Mako'NE 50/2 in color 3817. Since I do not know much about this thread, I do not know whether the one fairly decent size spool will be enough to do what I need. I think I would just use as the top thread. For a back to this quilt, I am going to use gray and add some navy and possibly pull some of the bright colors from the front. I had planned on using some of the last scraps of the batiks for the backing but am thinking now that they might get all used up in extending a border.
It's been a long week's sewing but I feel quite successful in cutting all the multiple fabrics for the quilt and assembling the whole top with in a week's time. It has been fun having the chance to host TGIFF and I am enjoying seeing what everyone has completed. There is a lot of beautiful work and it's quite inspiring. Be sure to check it out if you get a chance.
I am linking up my quilt top with Crazy Mom Quilts, Can I Get a Whoop Whoop?, Oh Scrap and of course TGIFF.
Thanks for stopping by. I hope that everyone has a great weekend.
Happy Sewing,
Shelley
10 Responses to Batik Catawampus Flimsy:Friday Finish
Twitter