Almost Wordless Wednesday: WIP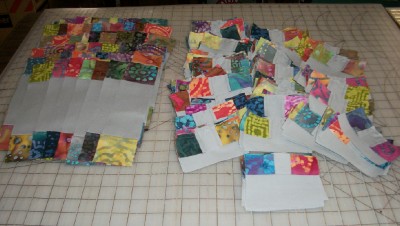 Just a quick peek at my lovely pile of batik pieced blocks. I have learned this morning, the very importance of keeping even the smallest scraps of fabrics. I finished piecing yesterday what I thought was 200 0f the smaller block components shown on the right side of photo. Well, I only counted 196, and with some quick scrambling and a few choice words, I pieced the missing four blocks.
Heads Up: I am hosting this Friday's TGIFF linky party.
I hope that all my quilty friends heading to Austin, Texas for QuiltCon have safe travels this week. Have lots of fun and take lots of photos!
Happy Sewing,
Shelley
One Response to Almost Wordless Wednesday: WIP
Twitter