#TBT Candy Scraps Paper Pieced Quilt
I thought I would share one of my recent quilt finishes as a Throwback Thursday blog post.
I made the Candy Scraps paper pieced quilt for a graduation gift for our niece. I used the Moda Bake Shop tutorial by Corey Yoder.
I started with 320 little 2.5 inch squares in 18 different shades of red and yellow, that I cut from fat quarters I purchased from JoAnn Fabrics. They were sewn into 160 pairs, paper pieced onto gray lattice strips, added 160 triangles to making 80- 8.5 inch squares. I spent 2 hours just weeding off the 400 strips of paper from the backs of the quilt blocks.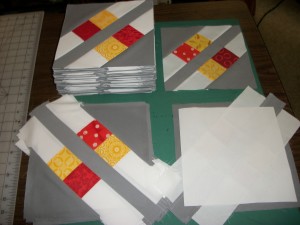 I thought for some reason I had 3 weeks to complete this project, guess I read the calendar wrong as when I started only had 12 days. I got it completed on time, with the help of last 3 nights up to 2 AM sewing. I have not paper pieced a quilt in like 10 years. Oh, this will be easier than strip piecing since I am only having to create one block. Yeah, right. The original quilt pattern only made 48 blocks for a small throw size quilt. Thankfully I can do Math and was able to make it the size I wanted and it actually worked out. I really like how nicely the reds and yellows went together with the gray. I think the red and yellow quilt was well received, especially since our niece is enrolled this fall at Iowa State University.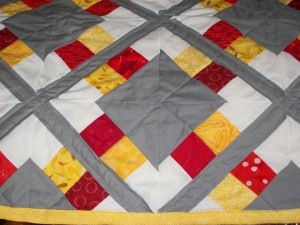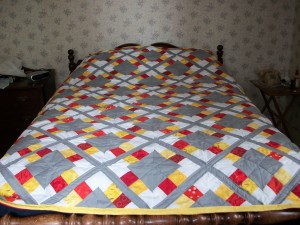 I am also linking up to Show Off Saturday Linky Party over at SewSheCan,  I am linking this post to Linky Tuesday at Freemotion on the River.
7 Responses to #TBT Candy Scraps Paper Pieced Quilt
Twitter