Sewing Machine Woes
Hi, I have been away from sewing and blogging the last few months as I have been having trouble with my sewing machine and have had things to deal with family and health wise.
My main sewing machine had been acting up earlier this year when I had trouble with the walking foot continuing to walk or quilt after I had stopped and had my foot completely off the foot pedal. I tried searching solutions online and even wrote the store that my Mom had purchased this machine and her embroidery machine from. They were not very helpful other than suggest that I could bring it in to be checked out. It could be a problem with the foot pedal or worst case scenario, it might be the mother board and parts are no longer available. I had all ready seen that by searching online even in Viking sewing shops in Canada. The machine seemed to work fine when not using the walking foot, so I thought I would continue to use it while I could. It didn't act up everytime I used the walking foot either, maybe just after I had been using it for an extended period.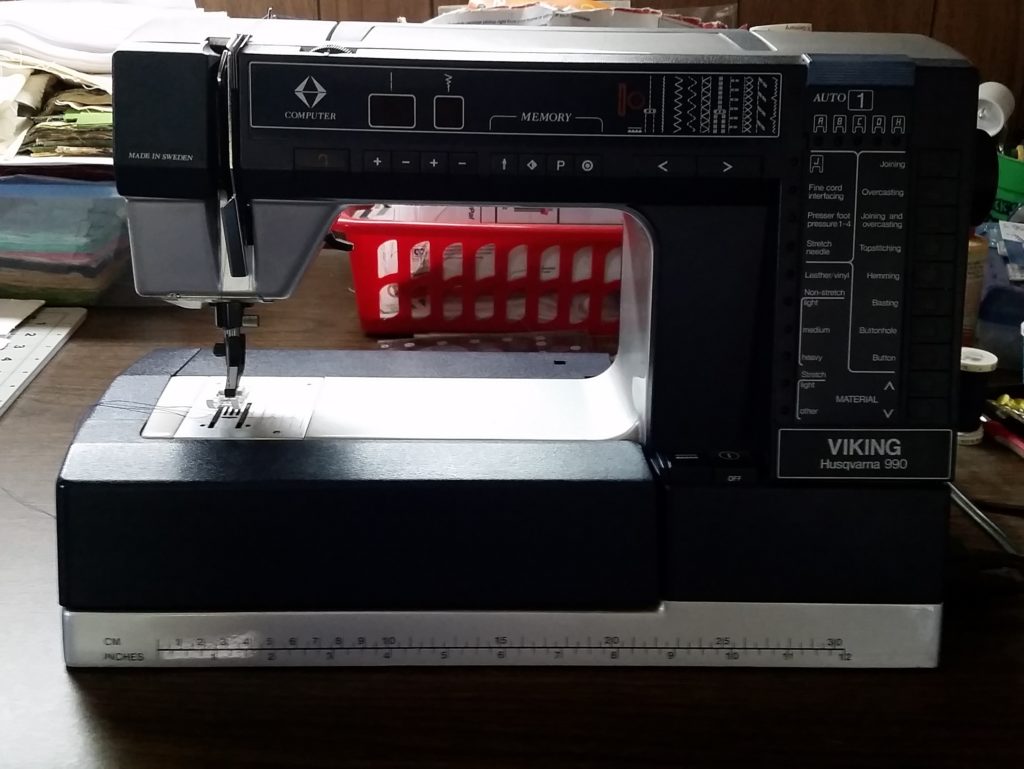 This is my Viking 990 sewing machine. I inherited it from my Mom when she passed away in June 2013. I have figured that I have pieced at least 40 quilt tops with it in that time.
Well, fast forward to first week of October and I am attempting to finish binding the Woodruff quilt. I have three sides bound and am working on sewing the fourth side down. I am maybe shy of 24 inches to completion. All of sudden I hear this sizzling sound like bacon cooking. (I can not really smell so didn't smell anything off). There was a loud pop and then lots of gray smoke comes rolling out of the above pictured machine. I have never moved so fast, shutting off things and yanking cords. I raced the machine outdoors to the concrete slab of our porch. I am no means an expert, but I am assuming this machine is TOAST. I assume the circuit board or something has blown. This machine had been emitting a sound for quite awhile. It sewed perfectly fine for the last 4 years other than the occasional hiccup with the walking foot. My Pfaff 1473 CD made a similar sound and the Pfaff tech guy said to use it until I couldn't as it was most likely mother board going out. The Pfaff never got to the point of going up in smoke. One day the lights just came on but nothing else.
I had to get out my inherited Viking Designer 1 to finish binding the Woodruff quilt.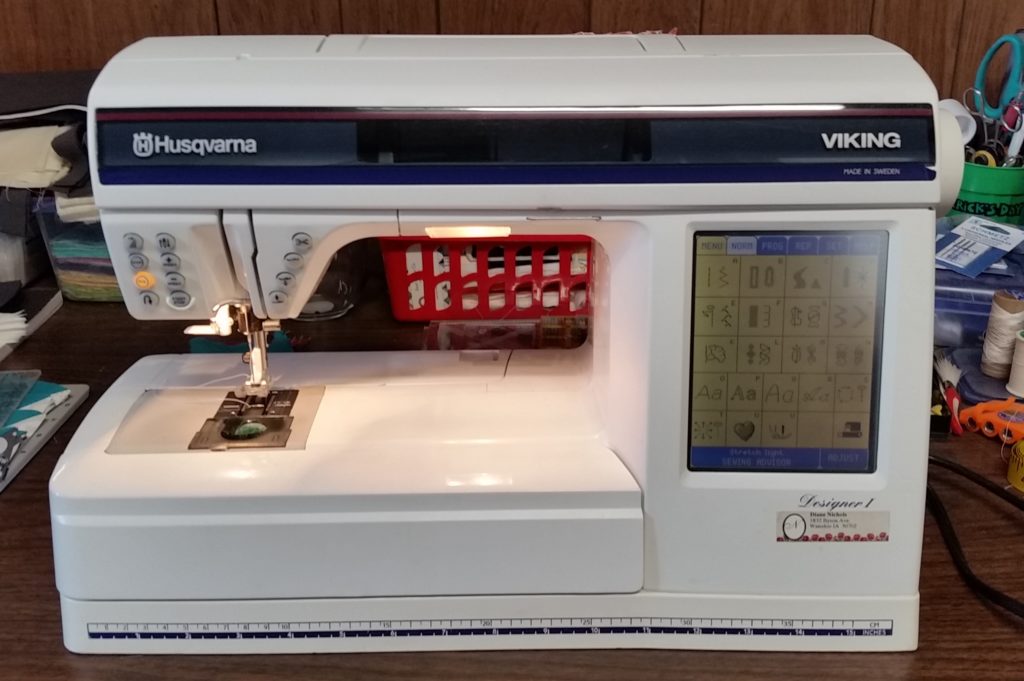 I had only sewn once on this machine in the last 4 years. I don't know why. I guess I let it intimidate me a bit. The big reason is that it was my Mom's pride and joy. She actually had two of the same Designer 1 machines and my sister inherited the other. This machine seemed to work fine sewing on the binding. I haven't sewn much since the first week of October as I am fighting it on getting it to do what I need it do.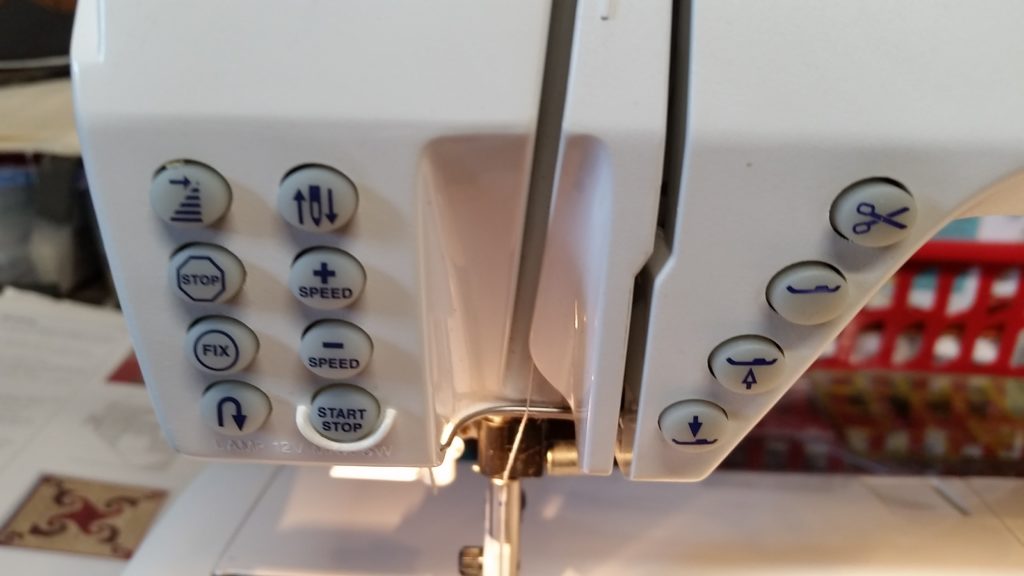 All this little push buttons literally push my sister and I's buttons. LOL We are so used to having some sort of lever to raise the presser foot up and down. There isn't one on this machine. A button to raise or lower the foot. The Fix It Button is a problem for us at times. On her machine, she says that Fix button starts lighting up and beeping at her as soon as she flips the On switch. We do not know why, but hope to sit down in the upcoming weeks together with both machines to see if we can figure it out. My main problem is figuring out how to get a scant 1/4 inch. I was first in a menu for stretch stitches by accident and it kept beeping at me about a stretch 75 needle, I had a 90/14 in as I always quilt with that size. I finally found the quilt stitch menu but I am having a skipped stitch problem besides it wanting to each my fabric. Mom never taught us how to use this machine or really even demonstrate it other than watching her embroider something once or twice. Our Dad was going to offer to send us and the machines down to the store for training after Mom passed but that never panned out and now the store seems to have forgotten she was a popular customer.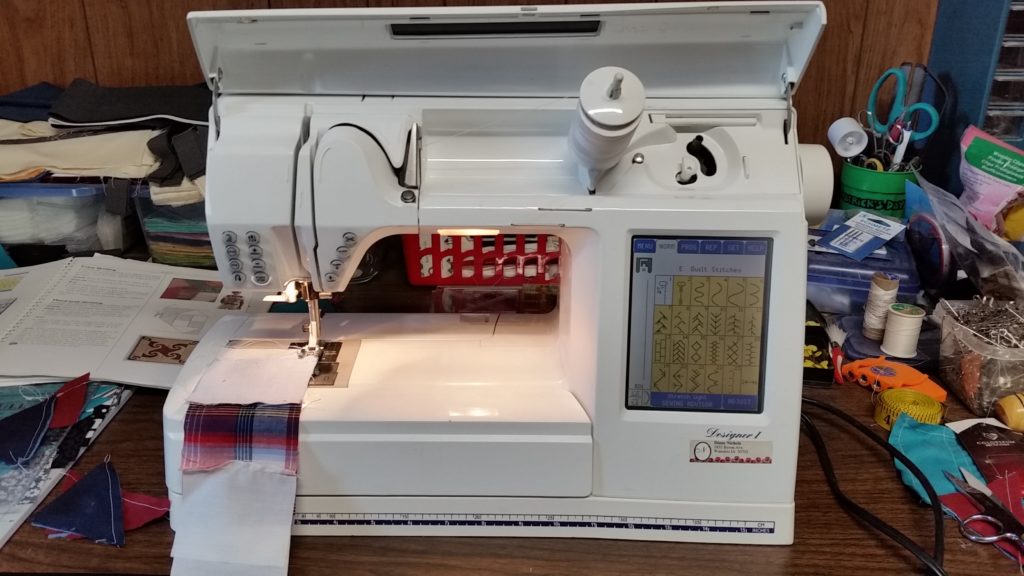 I think the machine doesn't like my large spools of thread. They have a large diameter cardboard tube opening and the spool cap leaves alot of play on the spool pin. I think the Gutermann spools fit better so may have to go back to them. I tried placing the spool outwards and it helped just a bit so thread didn't catch.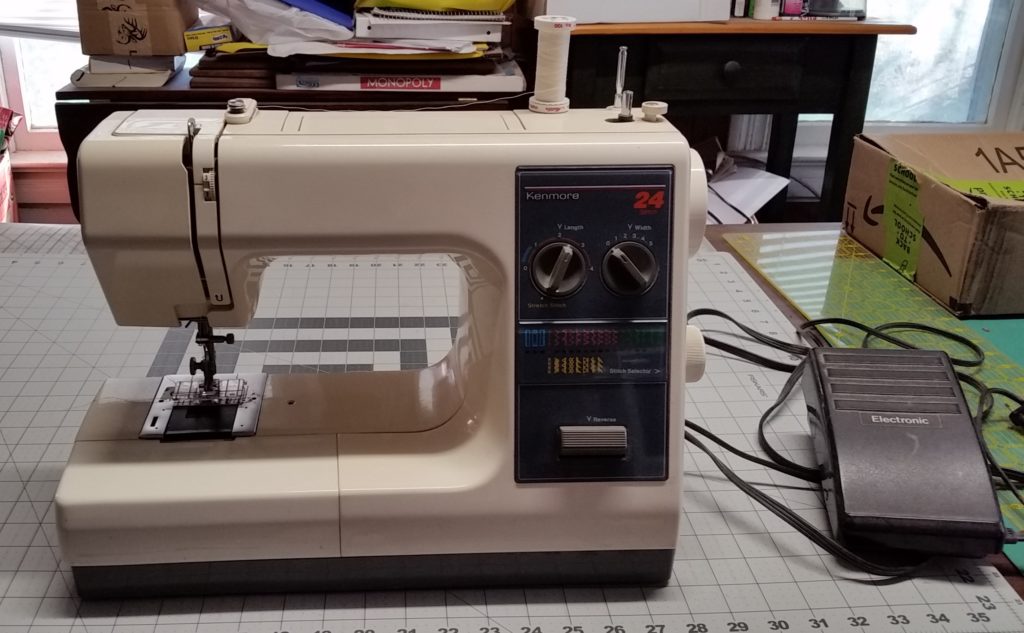 I have pulled this Kenmore 24 stitch sewing machine out of storage. I purchased it maybe 5 or 6 years ago off Ebay. It was a purchase with a rocky start as when the box arrived, the bottom of the shipping carton had gotten wet somewhere along the line. There was bubblewrap wound around the machine and there was actually moisture and condensation on the plasticwrap and machine. It really freaked me out and I wiped machine dry with a towel and let it warm up and couple hours before I would think about attempting to plug it in. The other big problem was that there was no thread holder pins on this machine. They had been broken off and were not found in the box. It sounded like maybe one was in machine. I wrote the seller a very upset email. She apologized and said she was out of town and her boyfriend shipped the machine for her. She would make it right and ordered me a set of spool pins from Sears. The machine does sew fairly nicely. I managed to have my Pfaff working one more time after this machine was purchased and then I inherited the Viking 990 and used it exclusively.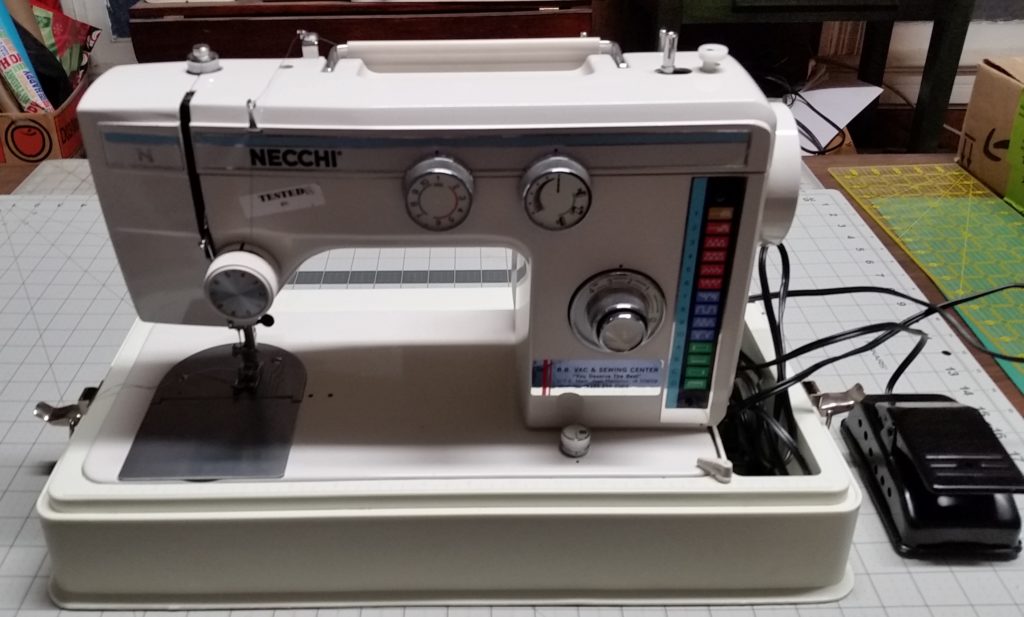 I purchased this Neechi 536 FB sewing machine last week at a local consignment shop for $25.00. It is all metal which I love. It was so clean and well taken care of. This purchase had the option of returning it for store credit within a week, if machine didn't do what it was supposed to do. I pulled up a You-Tube video where a gal demostrated how to use the machine as her sister had just purchased the machine. I looked all over the machine and I couldn't figure out where there was an on off switch. I had to Google that separately and come to find out, there is No On/Off button. If it is plugged in, then it is On. You open the front cover and push button to turn on the light bulb. I imagine this is because it was likely a former built in machine. I guess I will be using a power strip and just making sure to switch off the power strip. I only had to set the one tension knob to the number mentioned in the YouTube video and this machine sewed perfect tension right off with whatever needle was in it and the old Coats and Clark thread. The big win with this machine is that it uses Class 15 standard bobbins that my first older Kenmore machine used and I have multiple dozen bobbins. This machine takes low shank feet so would use the old Kenmore feet and has a snap on foot attachment on it currently so it can use the feet off the Viking 990 that just died. Winner, Winner Chicken Dinner. Now to get it so I can match up the scant 1/4 inch that I have on a couple current projects in the works.
I hope to be back to sewing and quilting this week on either or both the Kenmore 24 stitch and the Neechi 536FB.
Hope you all had a great weekend.
Happy Sewing,
Shelley
Save
Save
5 Responses to Sewing Machine Woes
Twitter