Woodruff Memory Quilt Finish: Dad's Shirts
Hi, I am happy to share my tenth memory quilt made from our Dad's plaid shirts. This is the first one that has been quilted and bound. It was on display at our niece's wedding in October at the reception. I wanted it finished in time so it would be like part of Grandpa was able to be there in spirit at their wedding.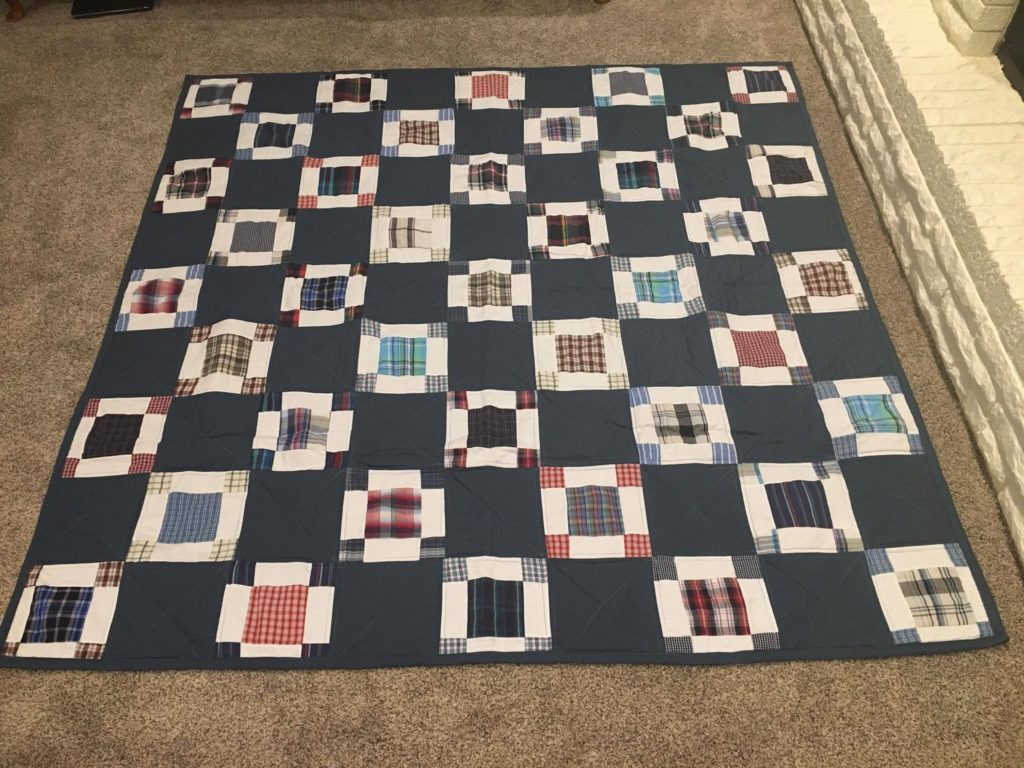 I used the Moda Bake Shop quilt tutorial called Woodruff designed by Nicola Dodd of Cake Stand Quilts. Nicola quilted her version in a neat all over petal quilt design and she shared how she did it on her blog. I had hoped to try it on my quilt but time got away from me and I hope to try it on another quilt in the future. She even shared a photo of my quilt when it was a work in progress on her blog.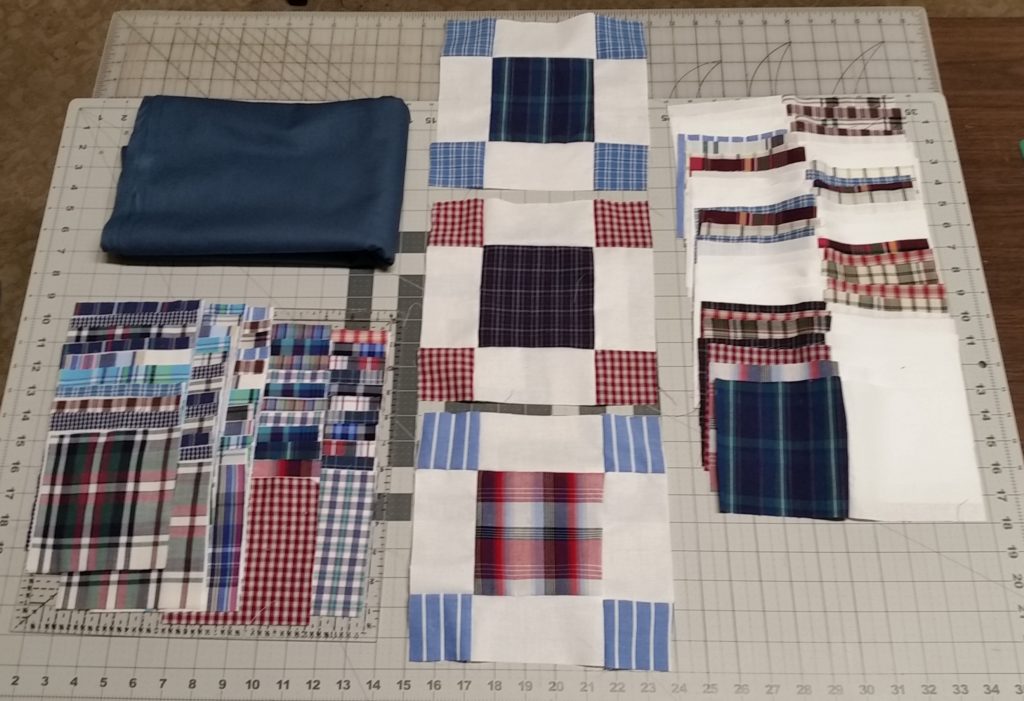 Here are my fabrics that I used in my quilt. I chose to use a denim solid cotton as my background squares.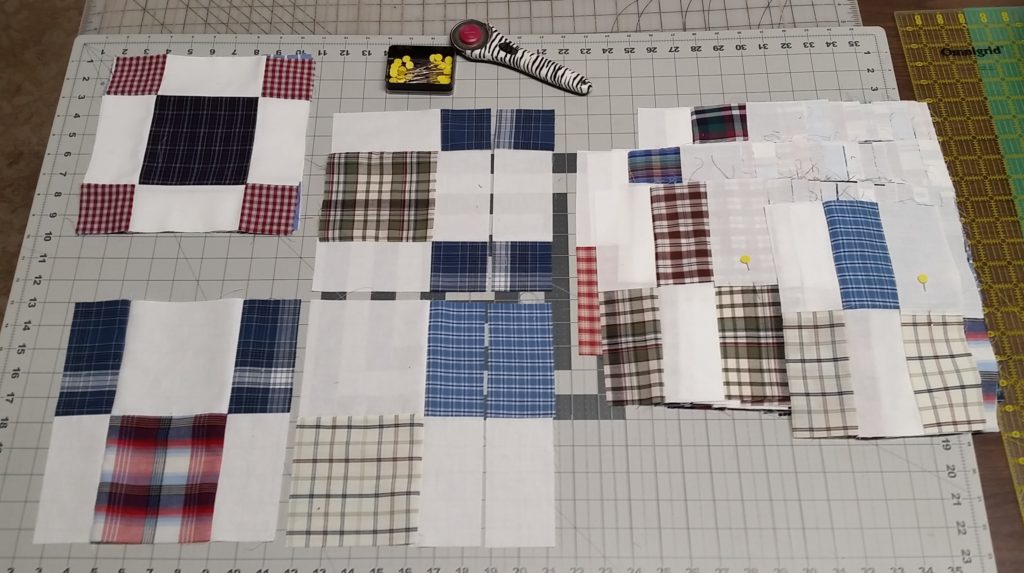 The blocks were alot of fun to make. It is a version of the disappearing four patch. I made 42 blocks of the pieced blocks instead of the 32 pieced blocks that Nicola made in her quilt.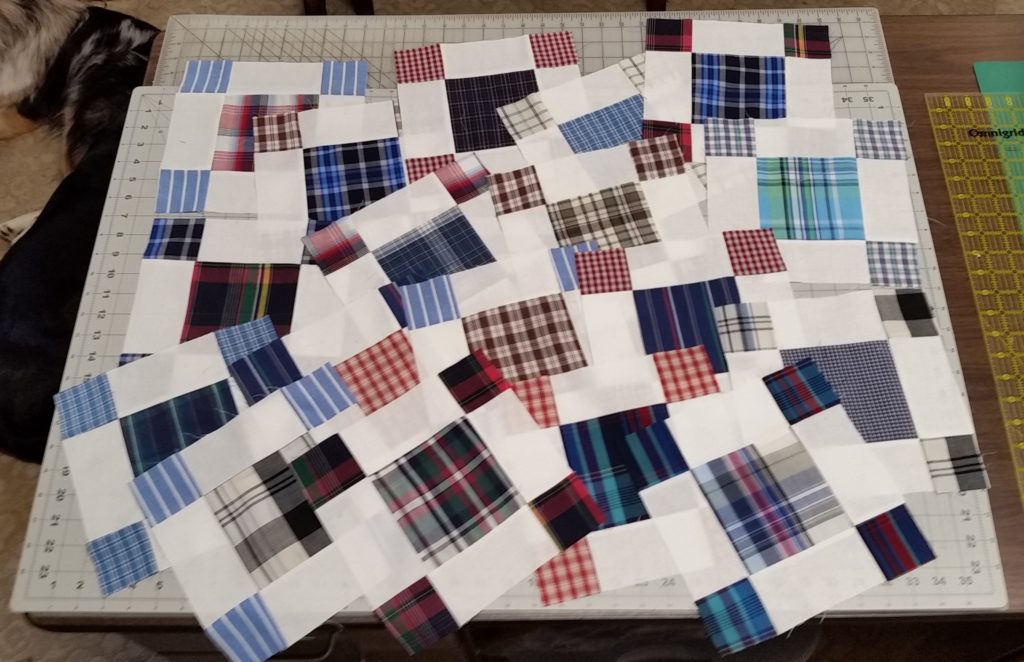 Here are all my completed pieced blocks. I used 20 different plaids in them. Even those this is my tenth quilt using these fabrics, sometimes I struggle when figuring out where to place them all in a quilt design, so the scrappy makes sense.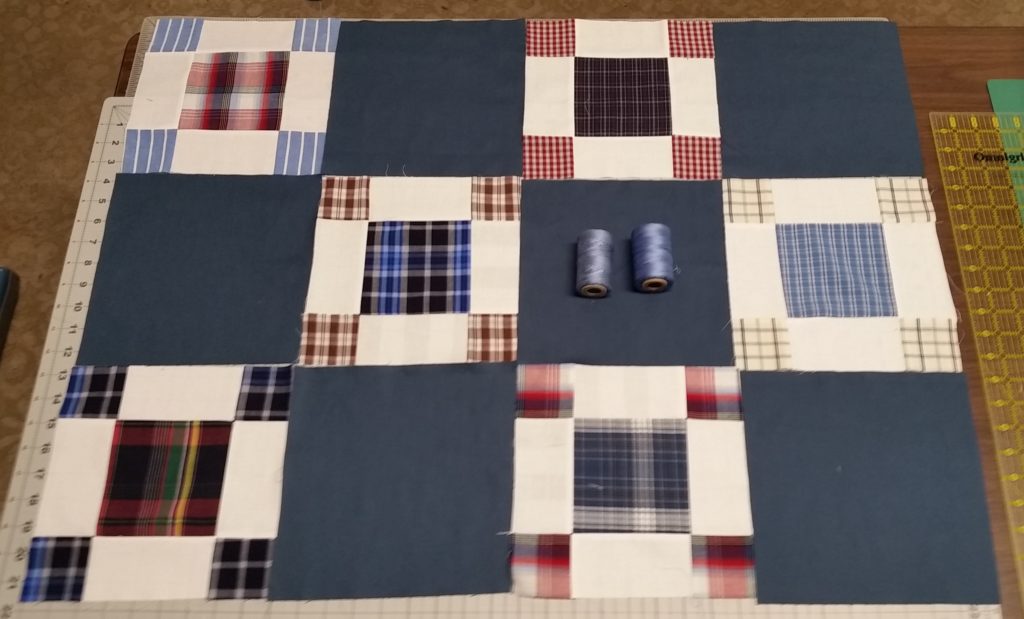 This is a sample of what the quilt would look like with it's background squares. Below is Nicola's version.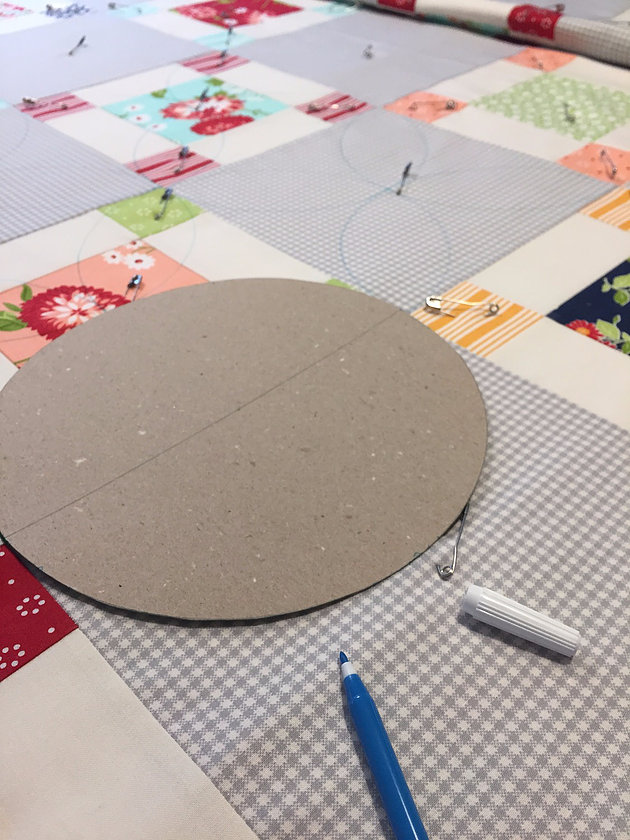 Nicola used a cute tiny gingham check as her alternate squares. I had enough going on with 20 different plaids and beside denim goes universally well with the plaids. I have very little left of Dad's denim work shirts. Their remnants will make it into some quilt project in the future. I had two diferent shades of denim blue variegated thread that I wanted to use to quilt this top. I used it for both top and bobbin threads.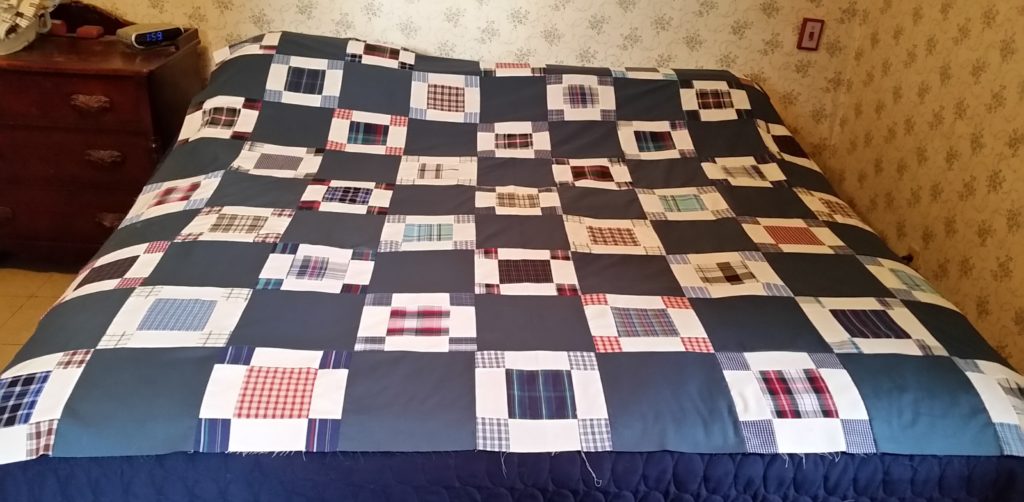 Here is the finished quilt flimsy laid out on top of our king size bed. My enlarged version finished at around 76 inches square.
My sister inlaw embroidered me a whole bunch of patches for all of my memory quilts. She is the Mother of the bride.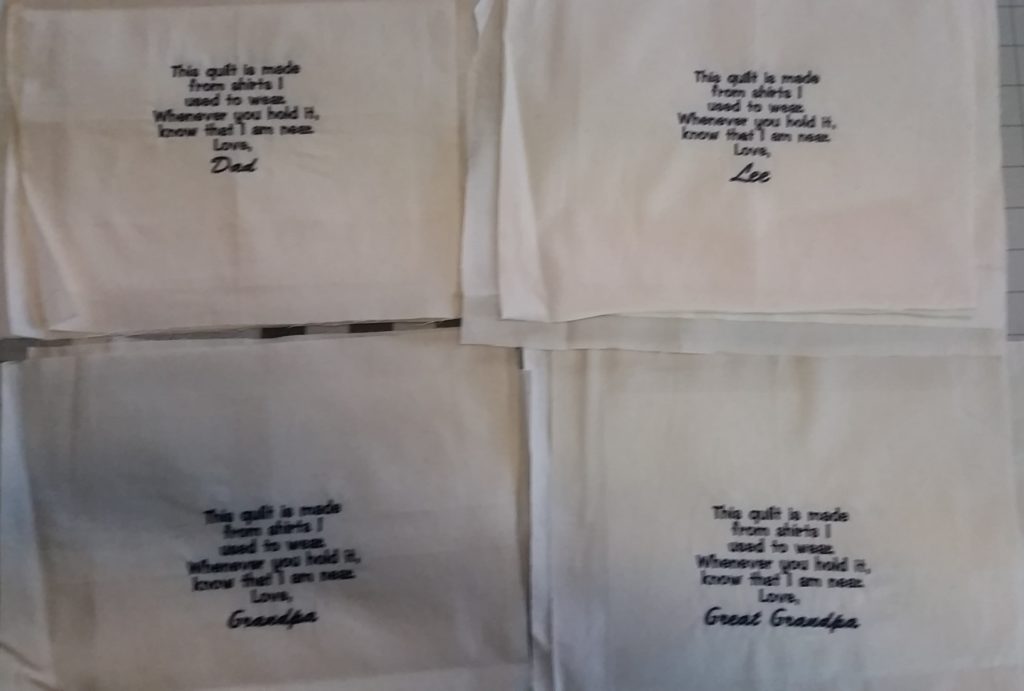 Here is my patch on the back of the finished quilt.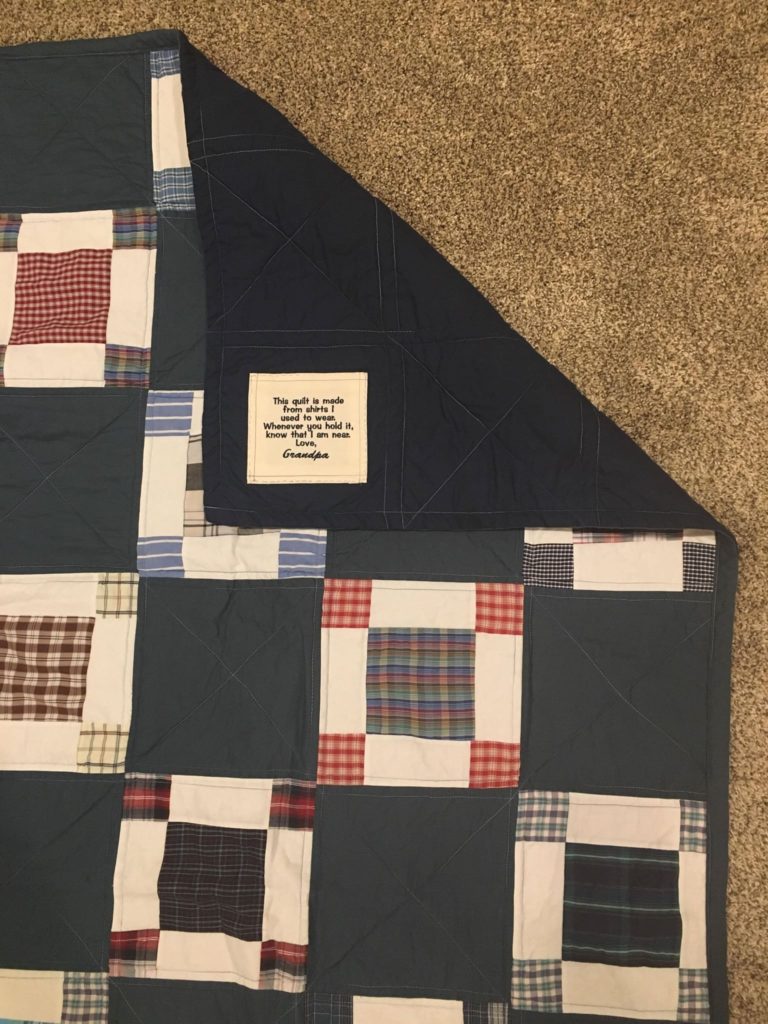 Here is a close up.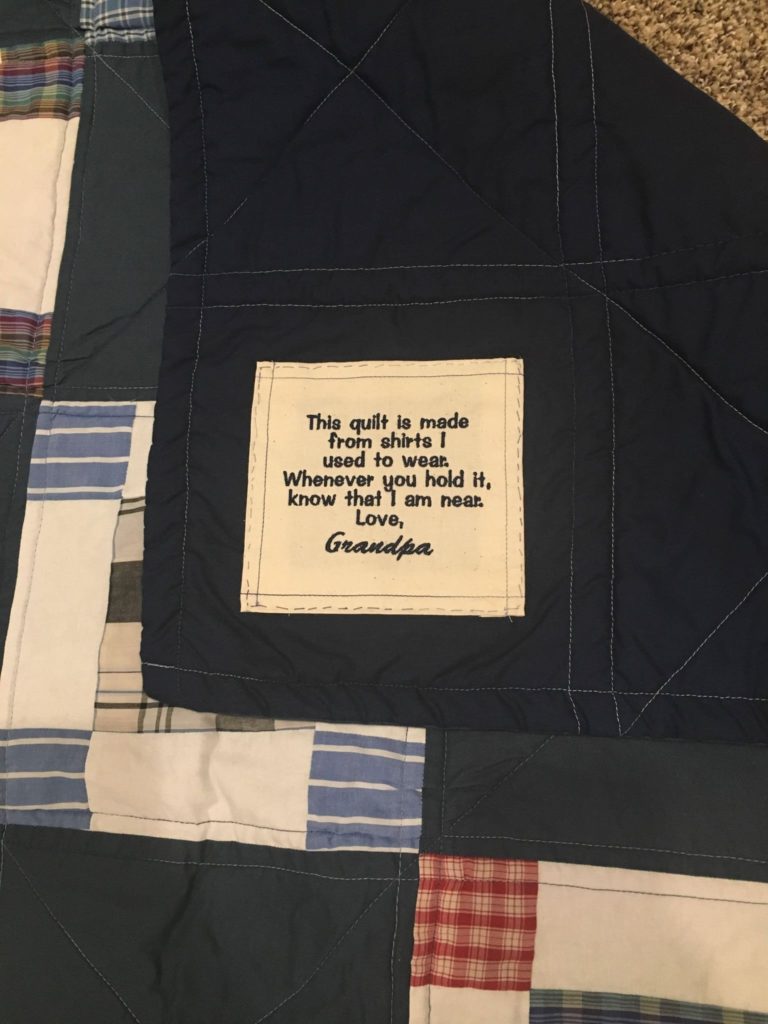 I really like how the finished quilt turned out. I wish I could afford an entire bolt of this denim background fabric.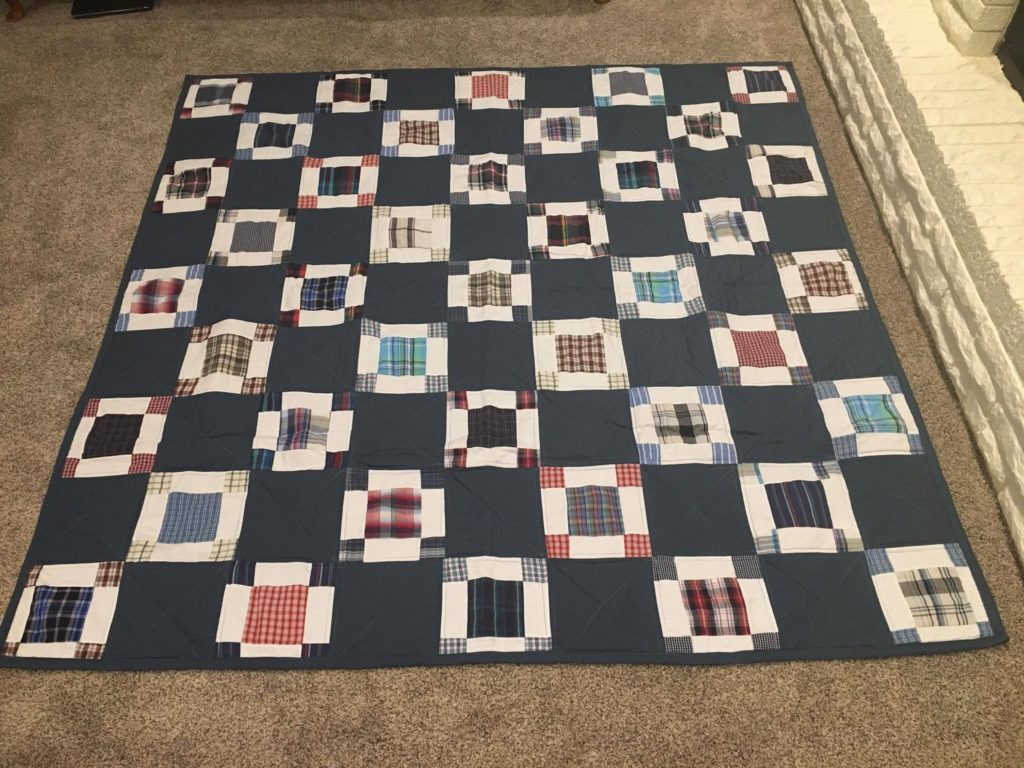 I will be linking up this quilt finish with Crazy Mom Quilts Finish It Up Friday. Thank you for stopping by my blog.
Happy Sewing,
Shelley
Save
4 Responses to Woodruff Memory Quilt Finish: Dad's Shirts
Twitter