Iowa State/U of I Tailgating Bag Trio
This Summer I was picked to participate in pattern testing for a new tote bag pattern designed by Sara Curtis of Radiant Home Studio.  Sara chose a dozen crafters to make up her tote bag pattern and send her photos of our completed bag with any and all feedback. Sara wrote The Coastal Tote pattern with clear and precise instructions, lots of great photos and diagrams, and well researched sources on where to purchase the rope she used to make handles for her original tote bag.  Many of my fellow pattern testers suggested adding a zippered pocket to the front of the bag.  Sara rewrote her tote pattern to include this great suggestion and she generously sent us all  a finished copy of the completed pattern for our help in this project. Sara has also designed a free tutorial for a simplified version of The Coastal Tote that she calls Cactus Beach Tote that can be found over at Spoonflower, the wonderful company that you can design your own fabric and have it printed.
For my Coastal Tote I chose to use an Iowa State collegiate team logo cotton fabric.  It was in my stash since I had made some other bags that will end up as part of this trio and I also had made my husband a quilt. I chose to use muslin as my lining. I know that probably was not a very interesting choice of fabric, but it allows the decorative features show up inside the bag. It also coordinated with canvas I used in my other bags. For the time frame we were given to complete our totes, I did not think I had time to order the suggested rope the pattern called for.  I looked all over the local JoAnn Fabrics, Hancock Fabrics and Walmart for a similar rope and was not able to find the size or style Sara used. I ended up using a black and red twisted nylon rope that my husband had spool of on hand. I hoped he would not miss 9 foot of rope. I liked how the red color in the rope went well with my red fabrics.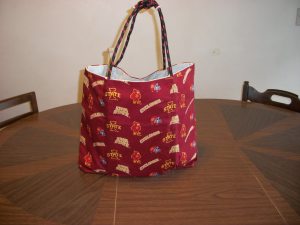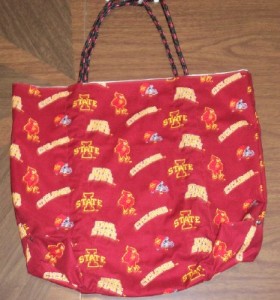 This pattern has some wonderful full size pockets inside the tote. They have divisions which were created when you sew the channels for inserting the rope handles. With how I cut my fabric initially, I ended up with an extra rectangle of ISU fabric so I decided to add the same style pocket to the other side of bag. Original instructions had only called for the one side of pockets. This bag was finished off on the inside with French Seams. I had not used them in quite a few years, so I read over the instructions a couple extra times to make sure I was starting my sewing with the needed side of fabric up on top.  The tote instructions also call for making a zippered pocket pouch that is sewn into the side seam. This is great for carrying a small wallet and your keys. I used a small scrap of a coordinating ISU print that was left over from my other bags.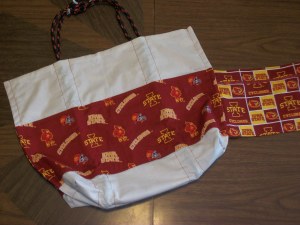 The Coastal Tote is a very versatile bag. I thought it would be wonderful to hold extra food items when going to tailgates or family reunions. Lots of room for plates, bags of chips, and liters of pop and stack of cups ( or one's favorite adult beverage makers if tailgating.) The pockets are great for holding silverware and other utensils.
The other bags in my tailgating bag trio are my two Iowa State casserole carriers. I made them out of the Iowa State fabric print that is shown as zippered pocket in above tote bag. I researched various casserole carrier tutorials after seeing many on Pinterest. I chose to use  the Casserole Carrier tutorial by 2 little Hooligans.  
I used an Iowa State University collegiate cotton print for the main body of my casserole carriers. I used cotton canvas that I upcycled from a cotton painters tarp that I purchased from Walmart. It was 9 x 12 foot and I threw it in the washing machine and dryer and it came out wonderfully soft. It was alot of good useable fabric for under $10.  I used the Insul-Bright thermal lining as suggested in the tutorial.  It is wonderful for making pot holders and other items you need to insulate from the heat or cold. It is a product that does what it says it does. My Mom always had always suggested keeping it in my sewing supplies.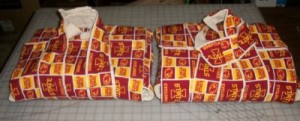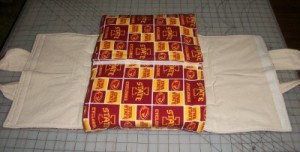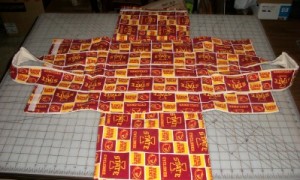 This weekend is very important in Iowa.  It is time for Iowa State University versus University of Iowa football.  It is a very important part of the Iowa Corn Cy-Hawk Series which is an annual sports competition that involves all sports and academics between the two state schools since 2004. The two schools play each other in 13 sports with the winner receiving two points except in football, which is worth three. Iowa State currently leads the Iowa Corn Cy-Hawk Series by a score of 2-0.  Our family of course is big Iowa State Cyclones fans. My husband and many of family members are all alumnus of Iowa State. A new generation of our family are currently attending ISU including two Nieces and a Nephew. We are a farm family that is preparing for fall harvest. So we will be unfortunately missing attending this game rivalry live in person. We will be anxiously listening to the outcome of this game on our radios. My tailgating trio of bags will get good use at upcoming family reunions and holiday get togethers.
I will leave you with GO STATE! BEAT THEM HAWKS!  LOYAL SONS FOREVER TRUE!!
If you like what you are reading on my blog,  please consider subscribing to my posts by Bloglovin or email. I also have a Facebook page that links to my blog. You can find links to everything on my main blog pages.  Thanks for reading.
I will be linking up with various linky parties this week.
Linky Party Tuesday  , Sew Cute Tuesday , And Sew We Craft's  Sew- Together Linky Party
Twitter