Swoon: Two Quilt Tops Complete
Hi,
I am happy to share some of my latest completed quilt tops. I have been sewing and quilting along with the #swoonalong and #swoonqal2017 groups on Instagram since the middle of January. I have four different Swoon quilt tops made in around 2.5 months time. I have made two of the original Swoon pattern that is made from 24 inch blocks and I have also made two of the scrappy patchwork Swoon pattern which is one large 72 inch patchwork pieced block. I will blog in a different post about the scrappy patchwork tops.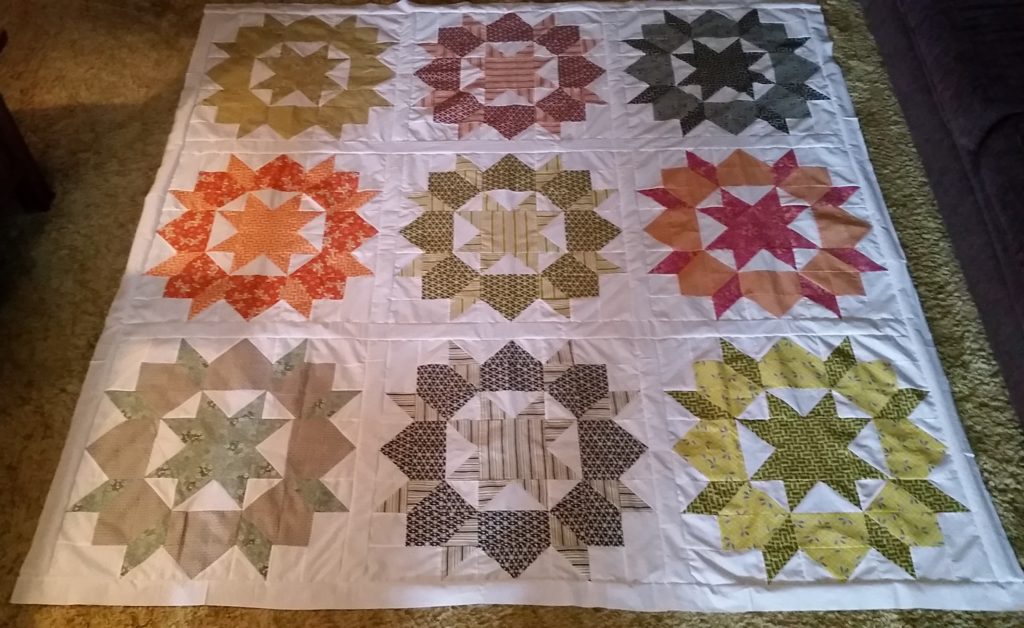 This Swoon is created from Denyse Schmidt's Hope Valley fabric line that I had in my stash since 2010. This was the first of the Swoon's that I started piecing. I had the blocks all pieced before I started on my memory quilt Swoon quilts. I had the other three completed before I finished sashing this one. I actually just finished this one last night. The sashing fought me on this one. I added the small pieces between the blocks and added the full sashing strips to the first and second rows. The first and second rows didn't want to join properly the first time. I had to take apart the middle of the row and flip it over and attempt to ease it back together. This seemed to work. Thankfully adding the last row went alot easier.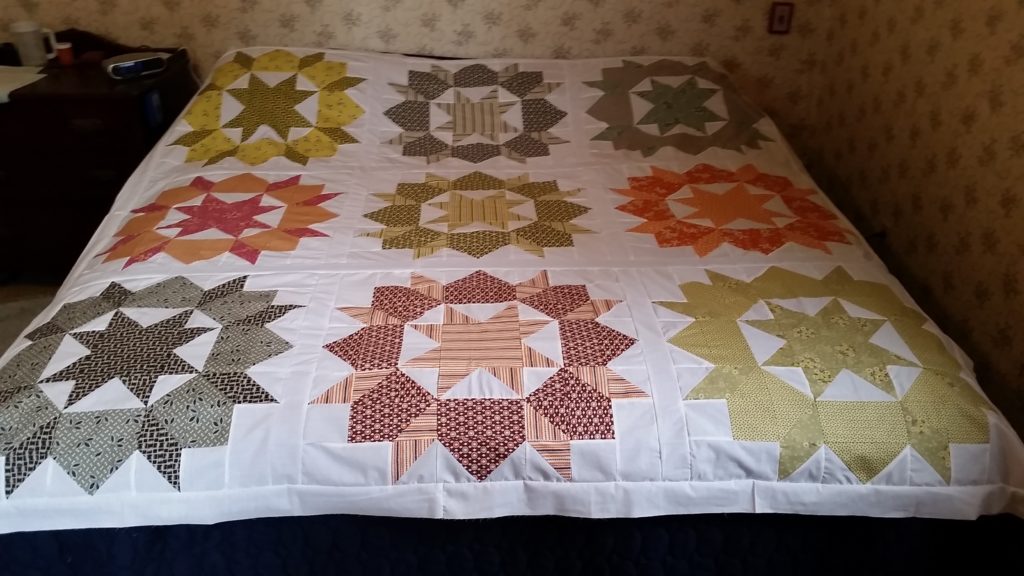 I always have to take a photo of the quilt on our king size bed to get the allover look of the finished top. It finishes at 80 inches square.
I decided to use up the extra six fat quarters in my set and make three additional blocks that I will piece in a strip across back of the quilt.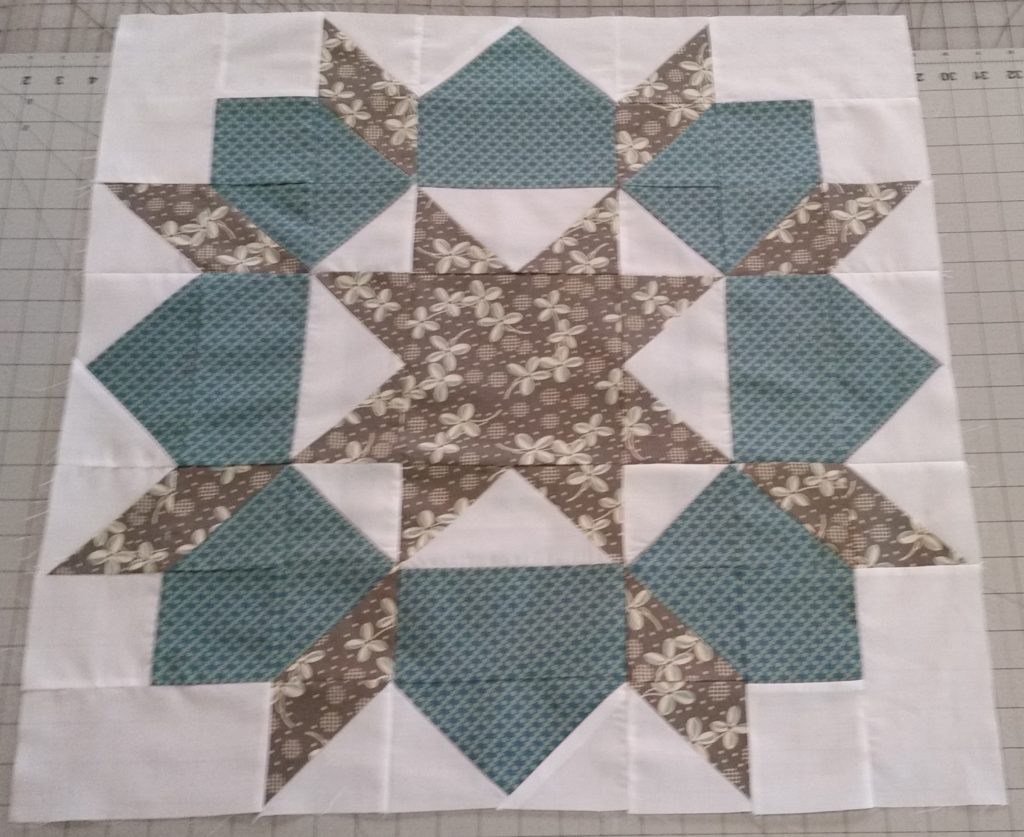 Block 1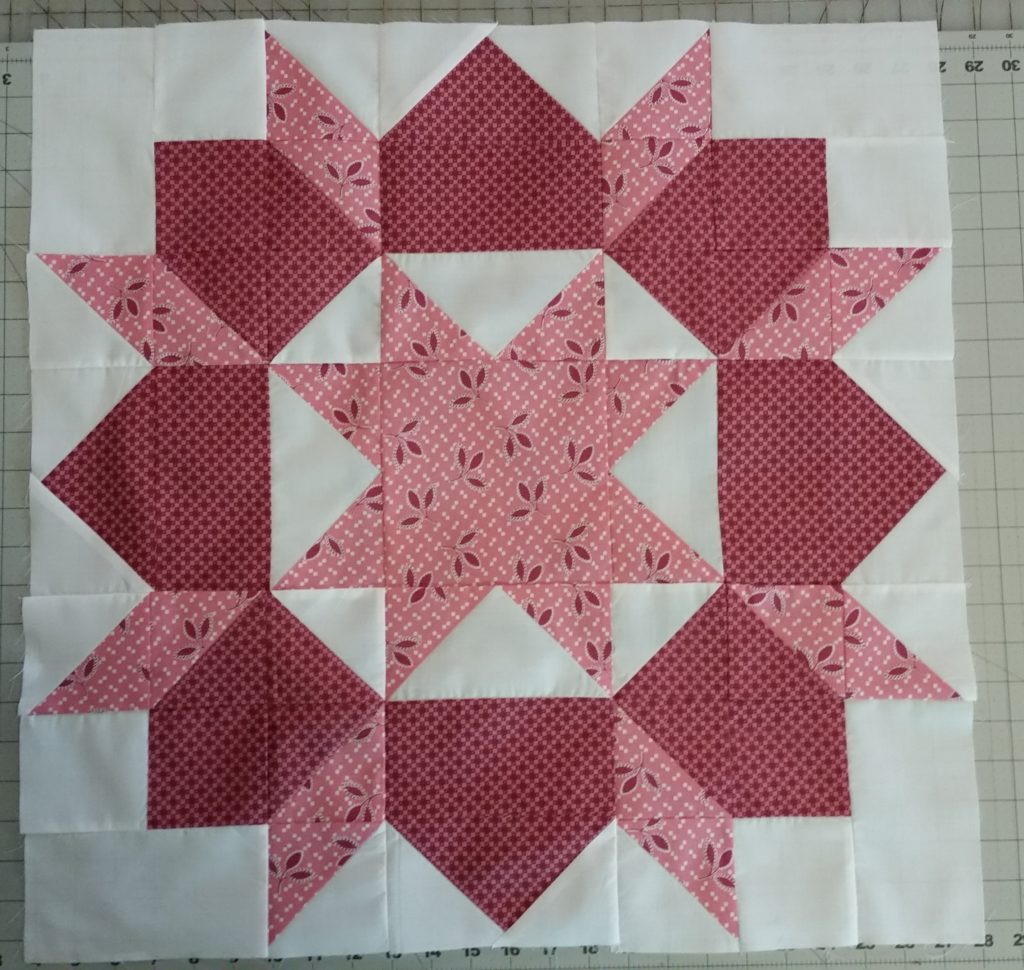 Block 2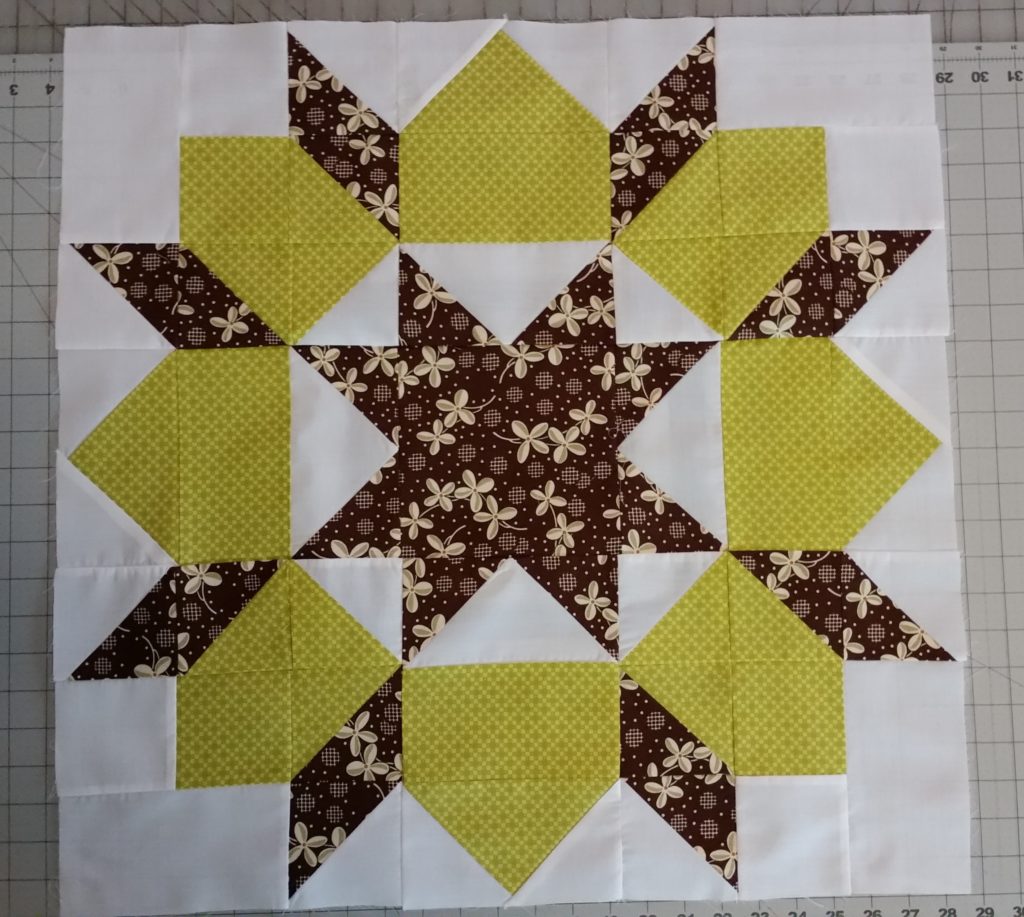 Block 3
These three blocks were made from more contrasting prints than the rest of quilt so they have a bit of different look to them. Actually the best Swoon blocks have lots of contrast or you can lose the design.
I haven't decided yet how I want to quilt this top yet. I originally wanted to try QAYG but after piecing the other tops decided to just get this one sashed as well so we could call it a completed top.
I have been making memory quilts from my Father inlaw's shirts since before Christmas. I had four quilt tops created so far and decided to ask my three sisters inlaw what they might like. I had plans for the next one but asked them if they liked the idea of it or gave them some options. I told them about the Swoon quilts and shared some photos off of Pinterest and Instagram. One sister decided on the original size Swoon and the other two decided they both liked the scrappy Patchwork version. I actually own all four Swoon patterns and said I would have been fine making the 24 inch, the 16 inch and a scrappy. Both liked the scrappy one.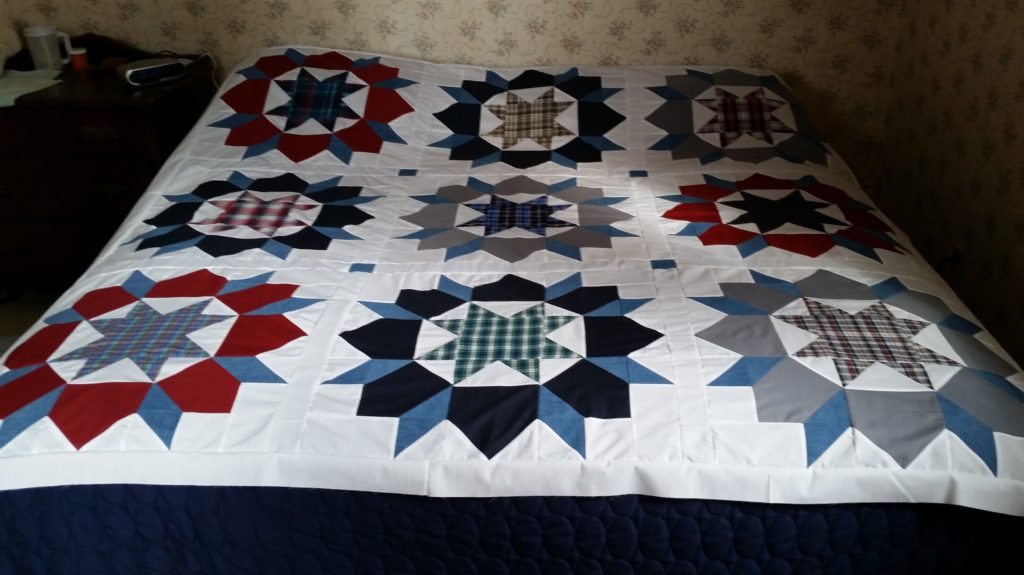 I love this quilt so much! It is the 24 inch block version of Swoon but I used the faster piecing technique from the Swoon 16. Boy,do this make it so much more fun to piece. I got inspiration from a photo on Pinterest to add the colored sashing stones. I have seen a really neat version where they added half square triangles to corners or snowballed the corners and with adding these sashing squares or stones, it will create a small churn dash block. Jenny Doan of Missouri Star Quilt Co has shown this technique on some of her quilts. The denim blue points in each of the Swoon blocks is all cut from one Carhartt denim shirt. It is wonderful material but added extra bulk I didn't need. I really think the Swoon 16 way of piecing the blocks helped eliminate even more bulk of the denim.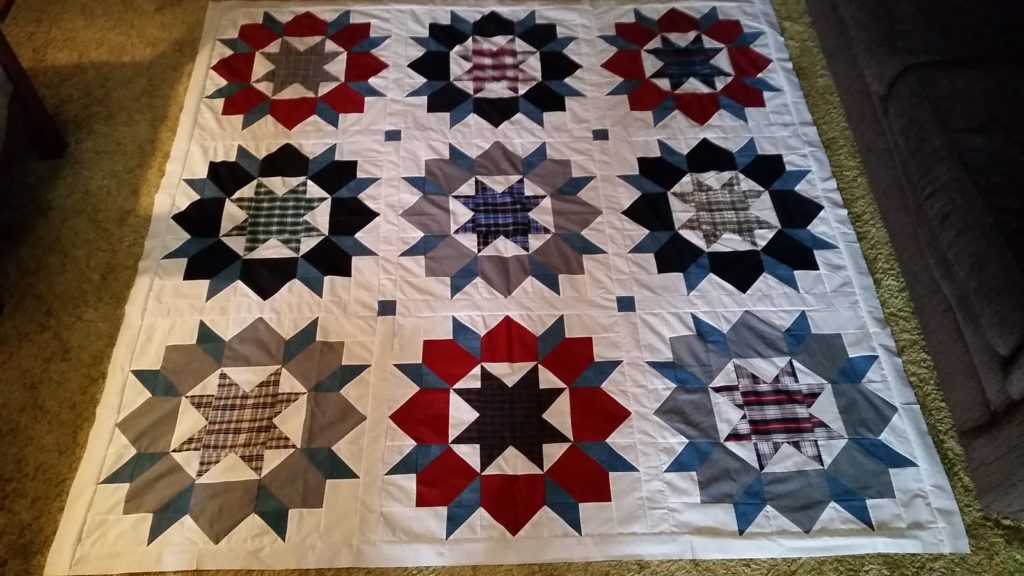 My husband really likes all of the memory quilts made so far, but when I showed him this one he said Wow! It is really going to be hard to give this one up. But I will… I have set aside what is left of these fabrics and I have extra of the solids (I really liked the pop of red, which surprised me). I hope I have enough to make myself a Swoon 16 since I haven't made that one yet. I would want to make extra blocks to make a larger quilt. I have to make a couple other family members quilts yet before I cut into this project.
I apologize for having been away from blogging the past couple months. I have been busy and dealing with some personal and family issues. Unfortunately many things on my blog have been taken care of and I hope to get back on track and share more of what I have been working on.
I am hosting Thank God It's Finished Friday this week. You will find a separate blog post for the linky party. I look forward to seeing what everyone has been working on this week.
Happy Sewing,
Shelley
4 Responses to Swoon: Two Quilt Tops Complete
Twitter