Uptown Flimsy: Dad's Shirts Memory Quilt 4
Hi, I am happy to share that I completed my fourth memory quilt top this week. I used the Uptown pattern by Cluck Cluck Sew. It is a simple constructed quilt design that lends itself to lots and lots of chain piecing. There was upwards of 18 steps to one block that could chain pieced. The design is similar to a stretched out Granny Square.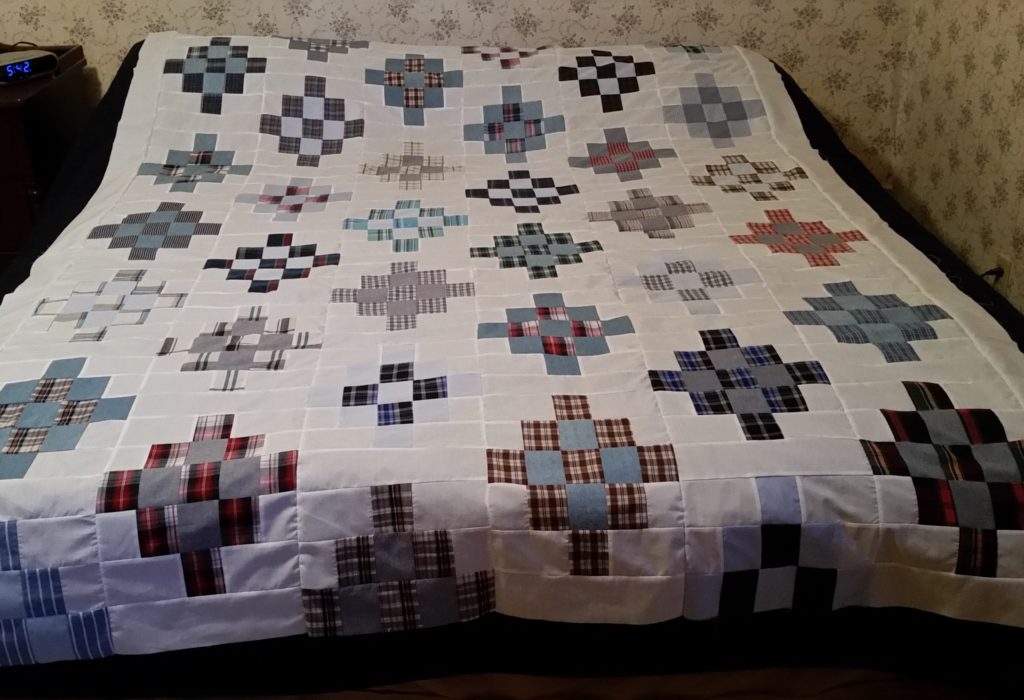 Here is a closeup of the top.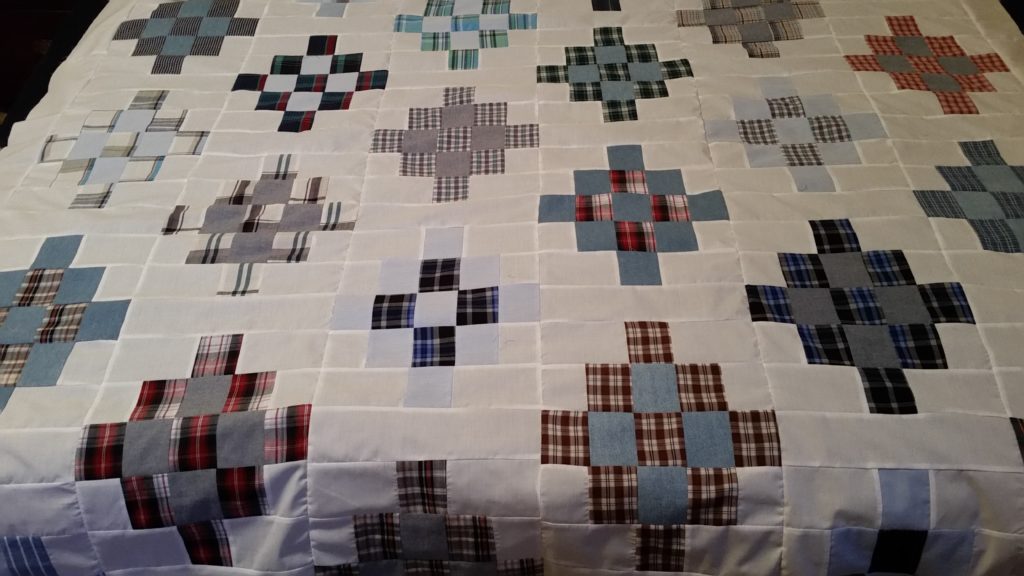 I think I used some of all 30 shirts in piecing this quilt. Some of the plaids that are large and widespanned do not cut down into small squares. The design gets lost. Some of my denims and chambrays photograph very light in color as well.
I am busy cutting out another memory quilt this weekend. I need to make two more quilt tops this week. I am hoping to have them pieced by next Sunday,the 19th so that gives me a month to get the 5 or 6 of them quilted. I am currently cutting fabric out for a Jelly Rings by Emily Dennis. I am looking at making this one row larger so it is 72″ square. I can make one design from each shirt and add six more to make the needed 36 blocks. I am thinking if I have enough denim to have a denim as part of each center four patch. I have to save some back for another quilt project. I cut extra pieces when making the Uptown quilt and they can be trimmed and used in making the four patches.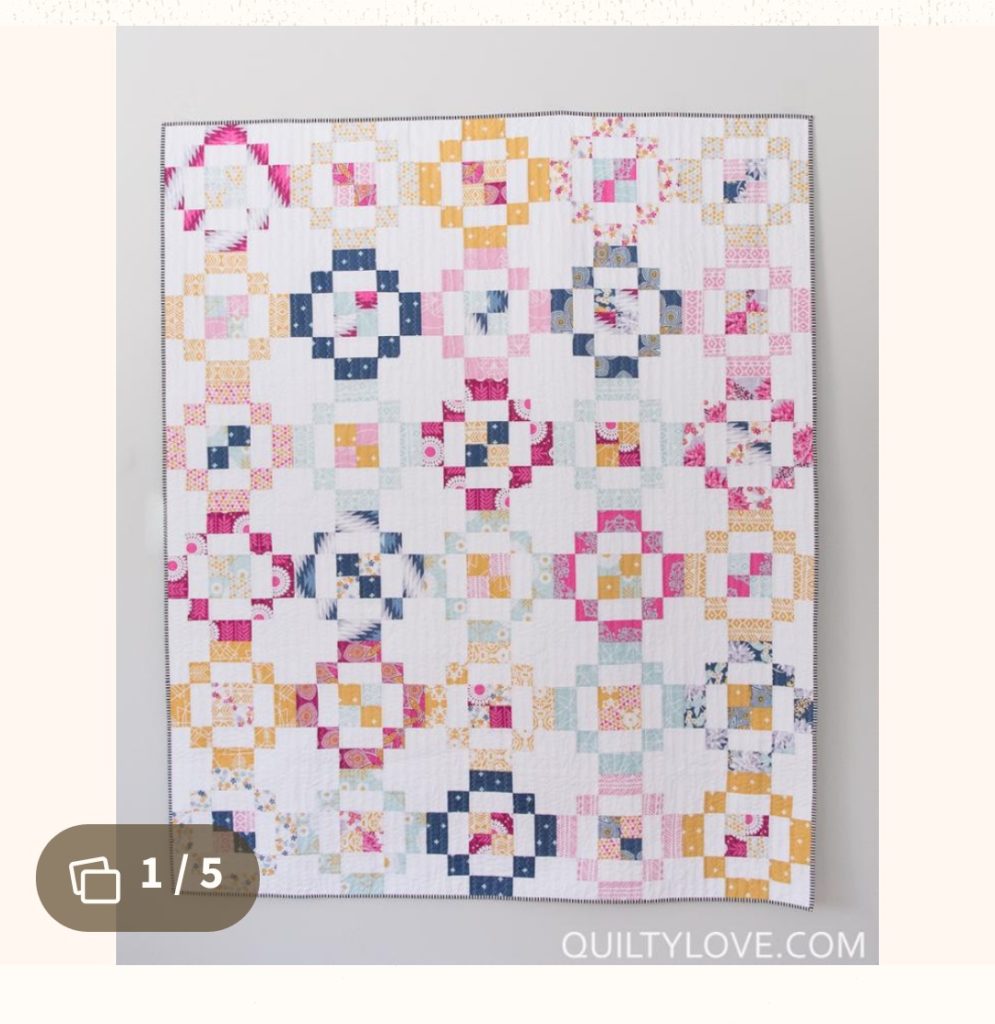 I am also working on piecing three additional Swoon blocks from the last of my fat quarters. I will piece them into a backing. I think I will be finishing my top with the added sashing so I can be entered into the contests on the Swoonqal2017 that they are giving away two different long arm quilting services to have your Swoon quilt long armed.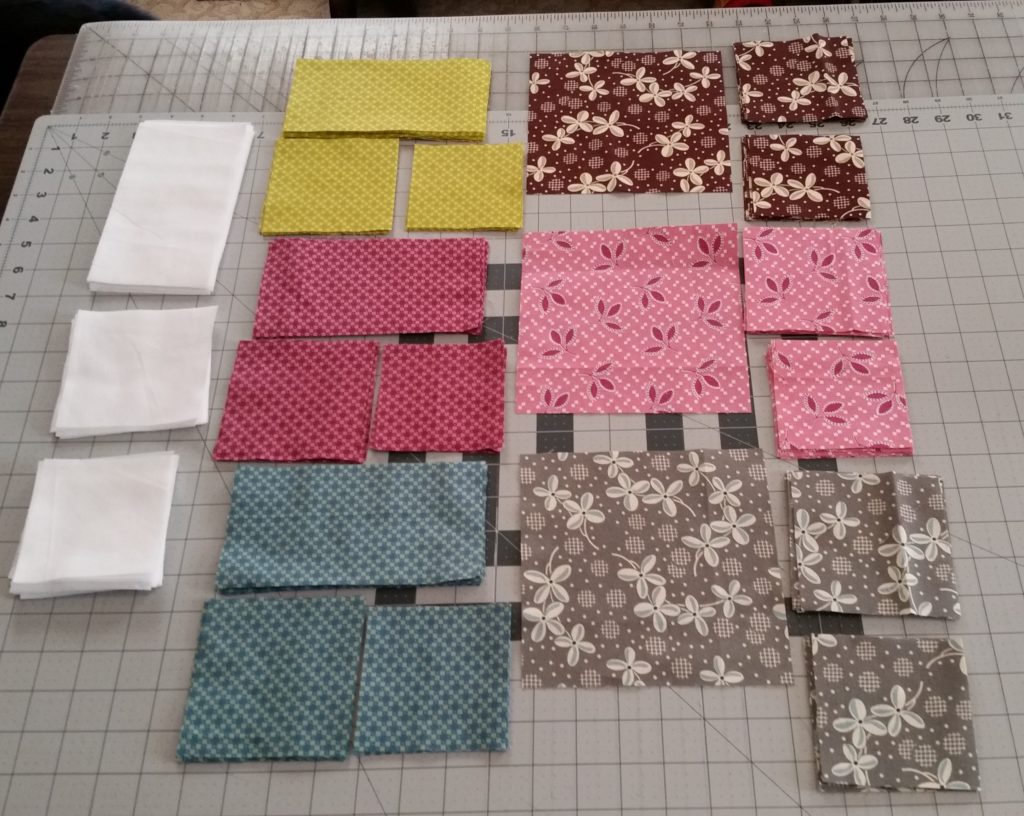 I hope to have these blocks finished by Monday. I have them all marked and laid out ready for sewing. I use a large disposable foil pan to hold my pieces layered with sheets of card stock between the blocks.
My family has been under the weather with sinus infections and colds the past week and now I seem to be getting sick too. Thankfully it wasn't the Flu. I have alot of blog correspondence to catch up on. Puppy training takes up so much of my time still. Gracie is growing and continues to find new ways to cause mayhem in our house. She ate my husband's phone charger. Bit the USB end of the cord while it was still plugged into the power strip. She loves to play in the water dish and getting into the litter boxes. It is apparently fun to do both and make mud on the kitchen floor.
Hope everyone has a great weekend.
Happy Sewing,
Shelley
Save
9 Responses to Uptown Flimsy: Dad's Shirts Memory Quilt 4
Twitter