Swoon Quilt Along and Other WIP
(Updated as of 6:45 PM 1/21/17)
Hi, I decided to start off 2017 big by participating in the 2017 Swoon Quilt Along that is currently running on Instagram. There are actually two Swoon quilt alongs, one by Camille Roskelly of Thimbleblossoms and Melinda who is known as Mel_is_a_swapaholic on IG. You can follow them and see all the lovely photos by searching for #swoonalong and #swoonqal2017. I think Camille's has been running since beginning of the year and Melinda's is running from January 8 to April 9th.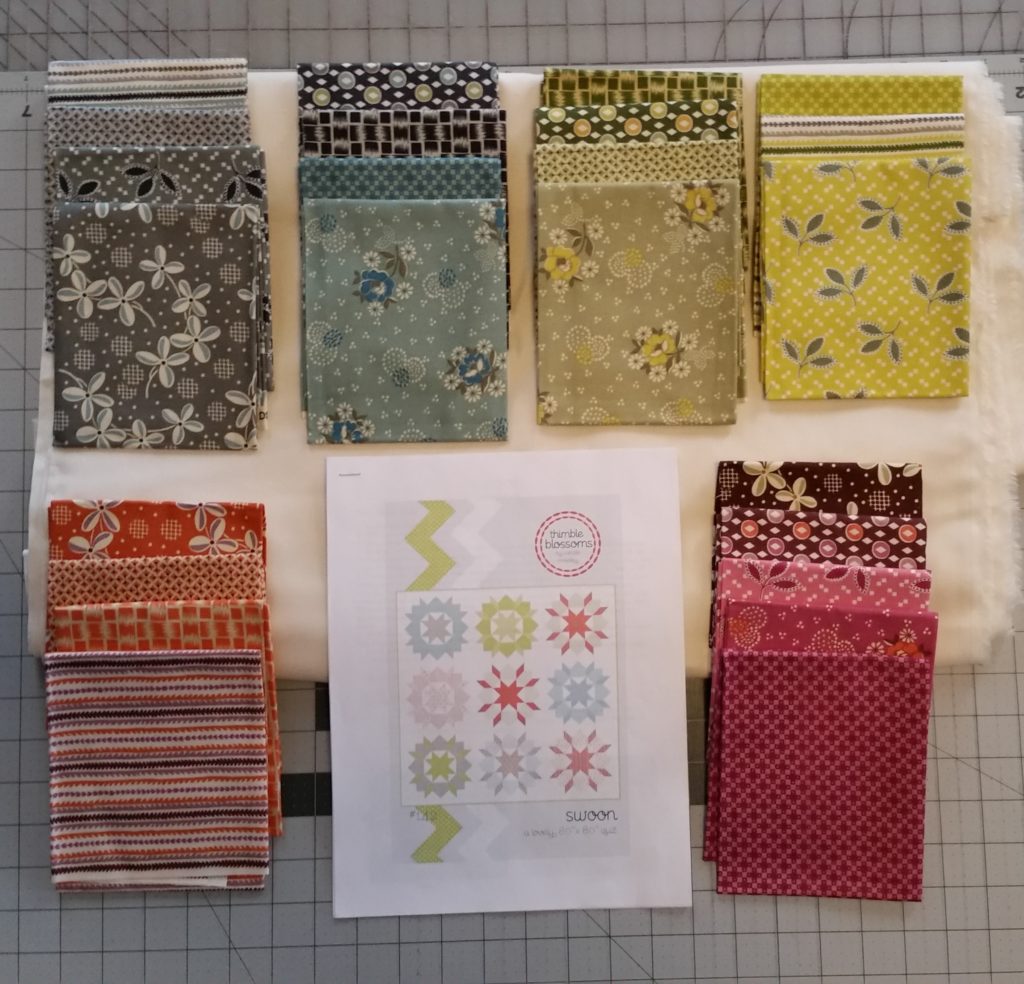 I have decided to make my Swoon using the original pattern making 9 of the 24 inch blocks. I am using my Denyse Schmidt Hope Valley prints that have been in my stash since March 2010. I am using white as the background, this photo shows ecru.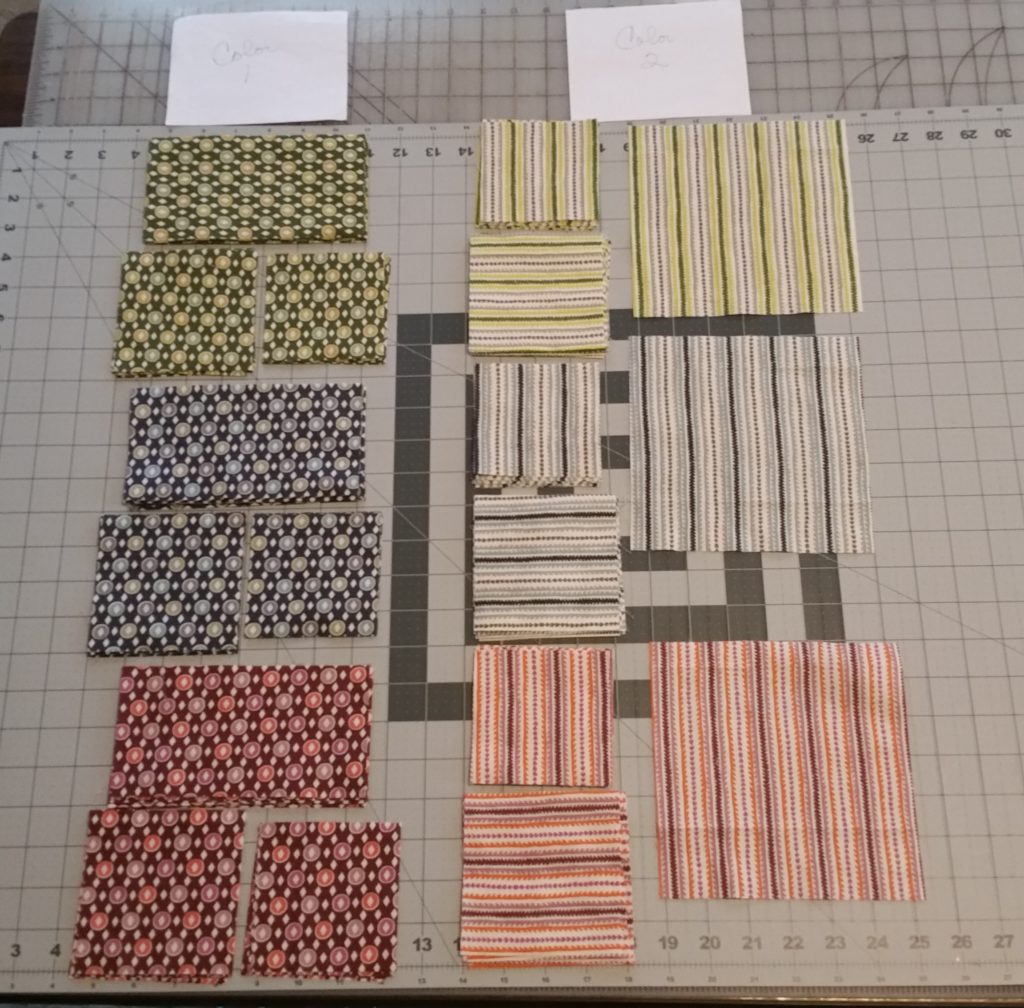 Here is one combination of prints that I am using for my blocks. (this is what block 3 is made from.)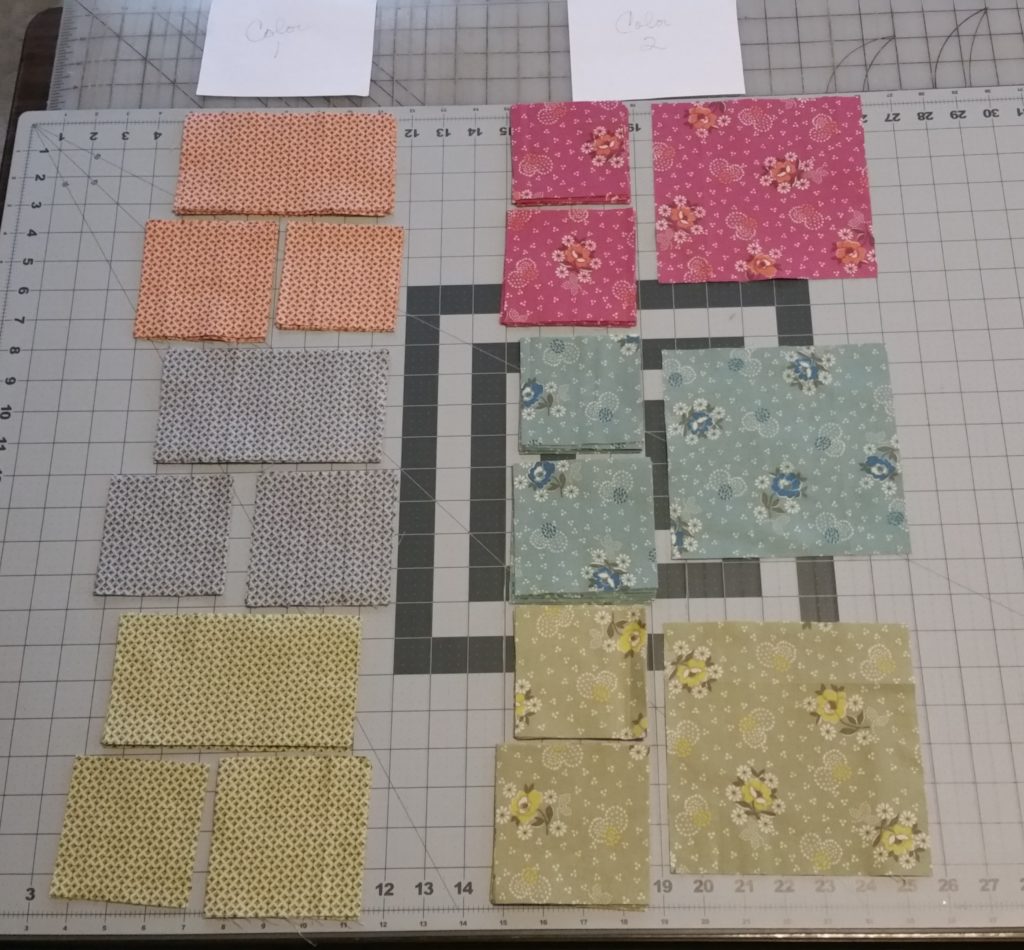 Another block combination. (this is what block 1 is made from.)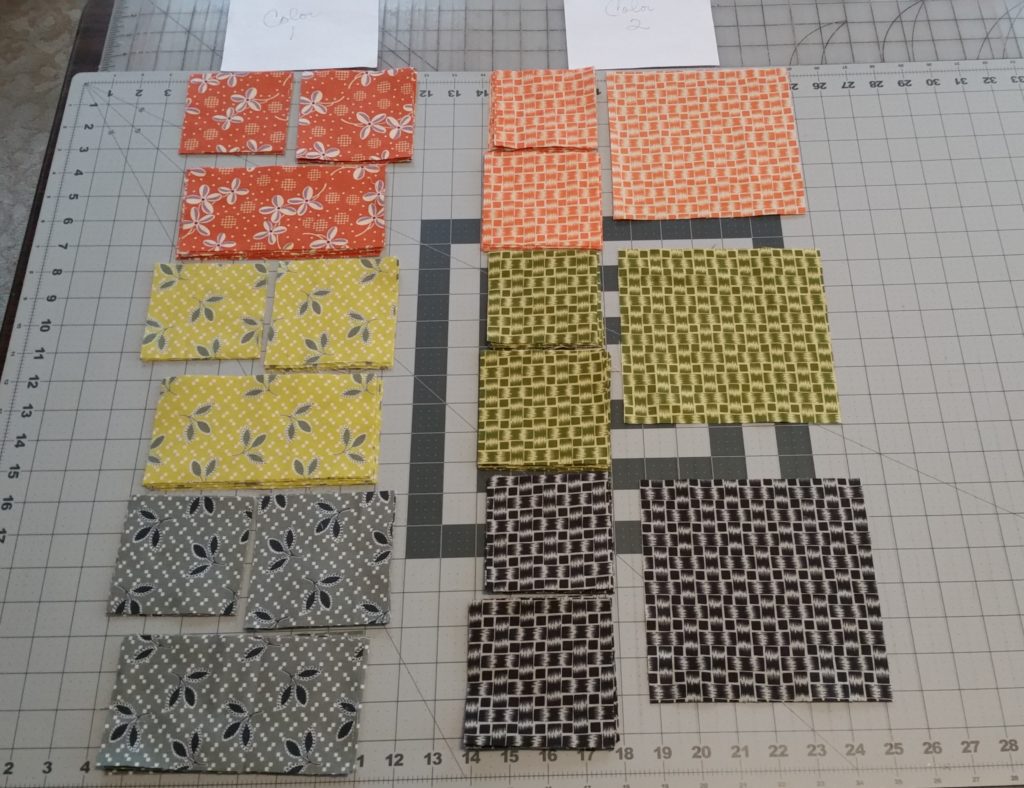 The last block combinations (this is what block 2 is made from.)
This is my first Swoon block created. I was not sure about the orange print. I really didn't care for it much. I was contacted by Camille of Thimbleblossoms on IG and she said she wouldn't change a thing with my block print combination choices, so that gives me a more faith in the final outcome of the quilt.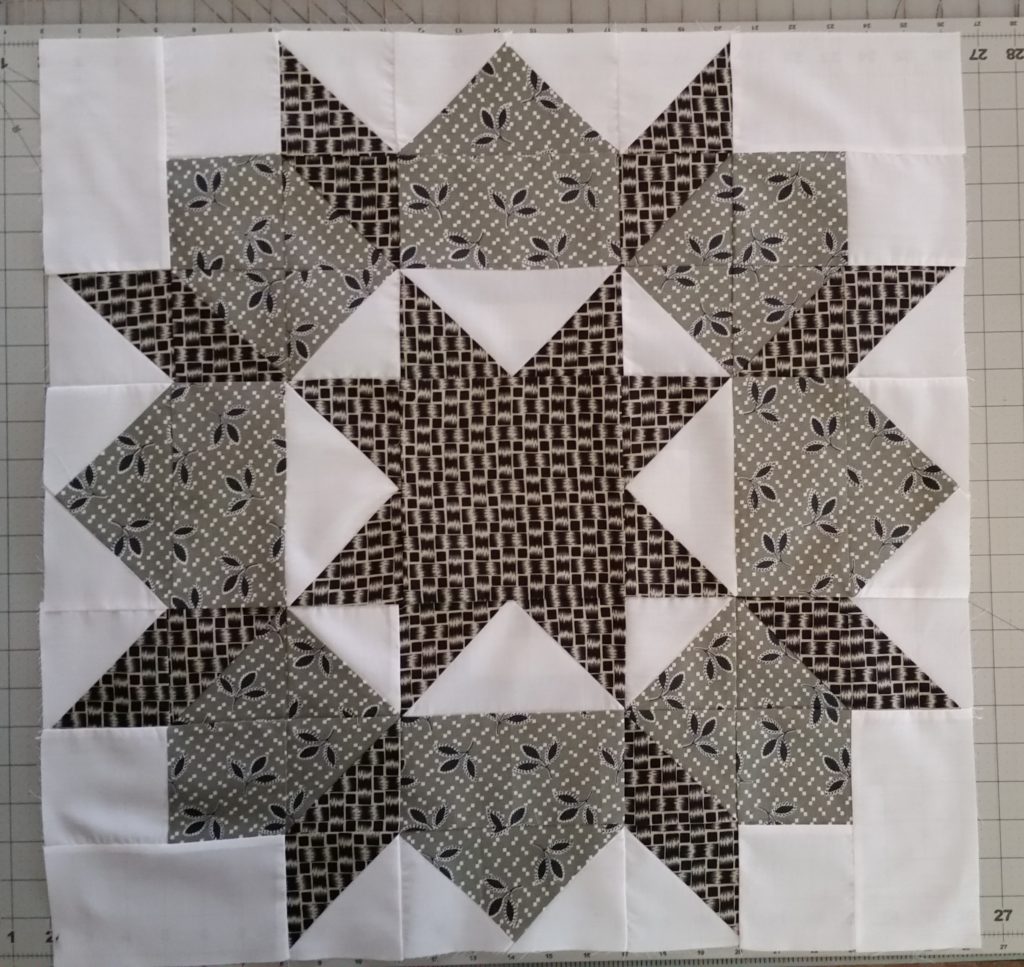 This is my second Swoon block. I really like it.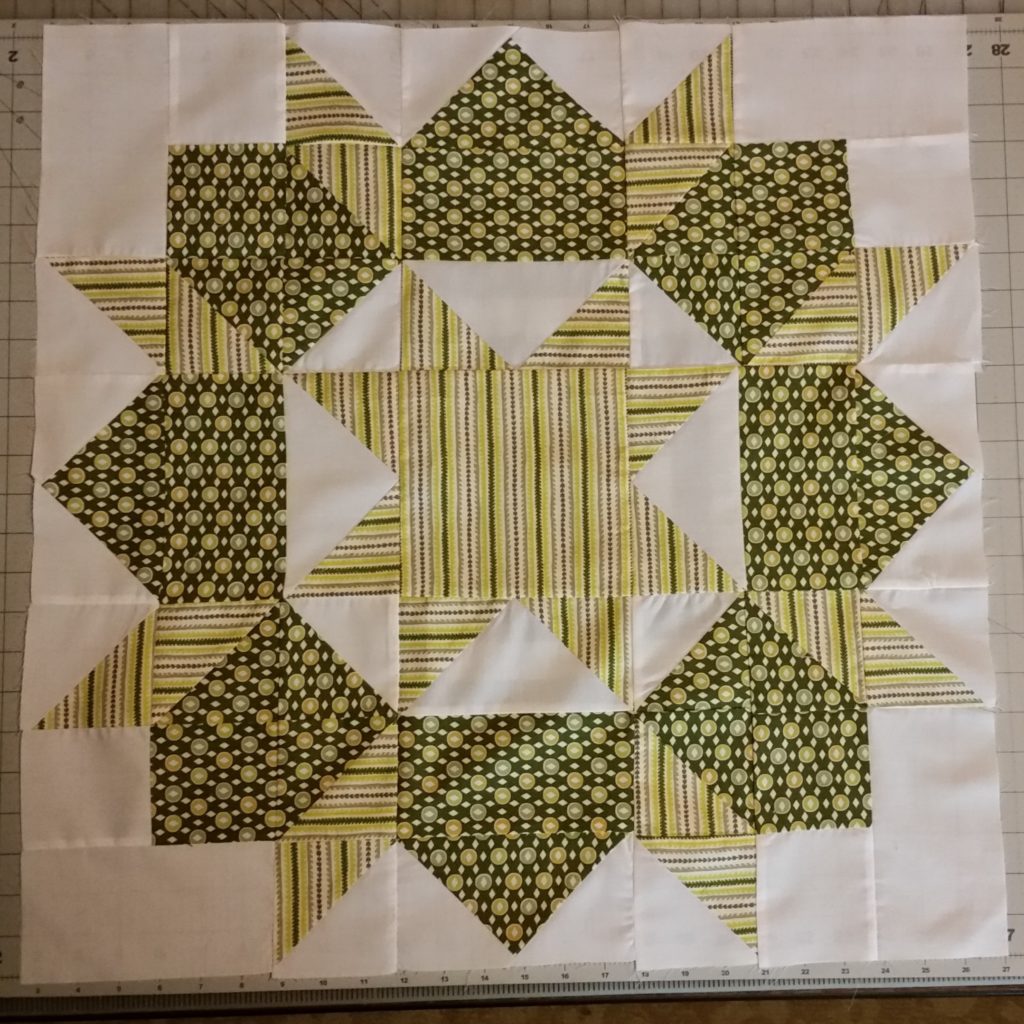 This is my third Swoon block. I cut all my pieces with the green stripes going vertical as the fabric comes off bolt. As I was laying them out to piece the HST, I decided to turn them horizontal as it appeared then they would be up and down as I thought they should be. Well, that works on half of them and half of the flying geese sides. I was told it looked neat that way, even if it wasn't intentional. I guess I will have to remember what I did so the other two color ways of these print combinations turns out the same way.
I have taken time off the end of this week to try and get back sewing on my memory quilt project. I have one in the process of cutting out the fabric. Another I have it planned out (another of the workshirt mosaic design but reversed where all plaids and one denim). I also have a rather different idea for a quilt for my son but the pattern is not released until late February. I need to be caught up with the others before then. My deadline is by March 19th.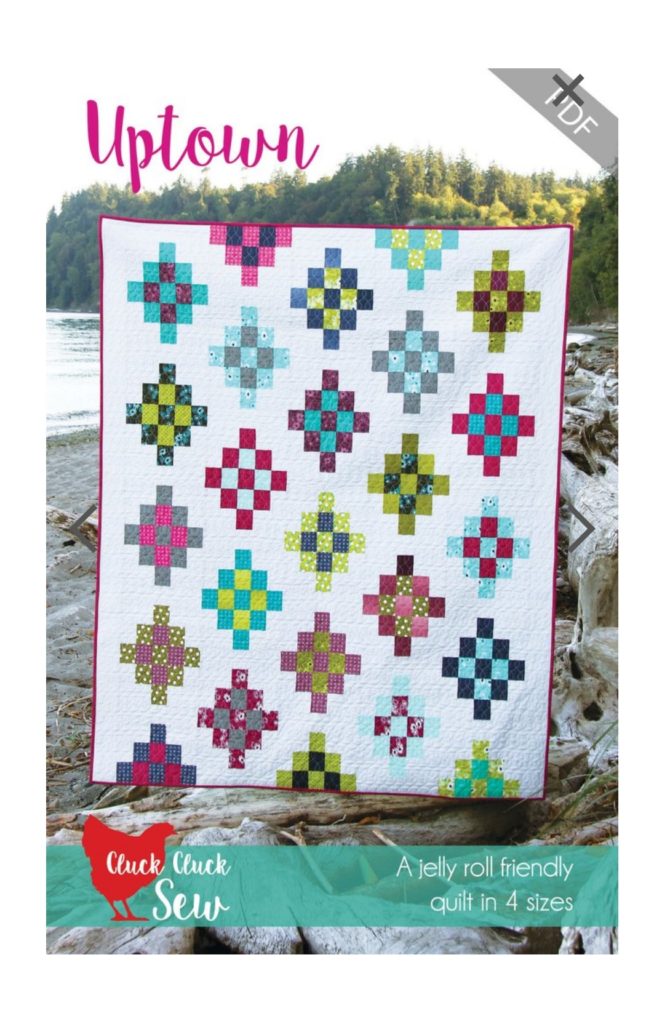 I have chosen to use Uptown by Cluck Cluck Sew as another pattern for one of my memory quilts. I am making the twin size quilt and it takes 39 blocks. I am making 13 of them with denims as the outer rings and plaid shirts as the middle rings. The other 26 blocks includes 6 half blocks, and all of these will have a plaid outer ring and denim inner ring.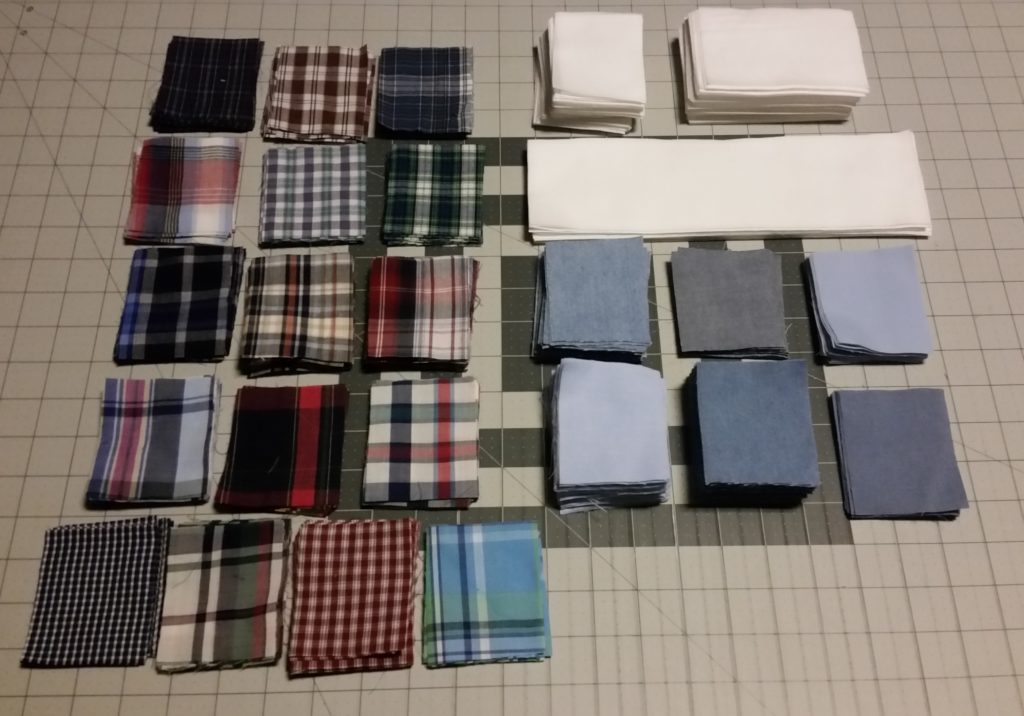 I am still in the process of cutting more plaid and denim rectangles.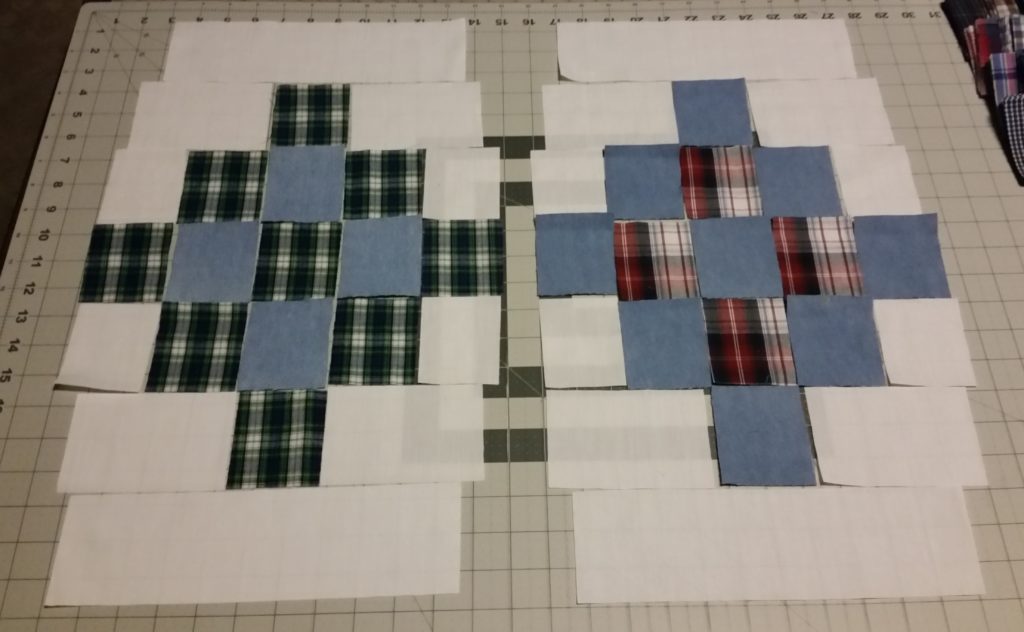 Here is a layout of the two different style blocks.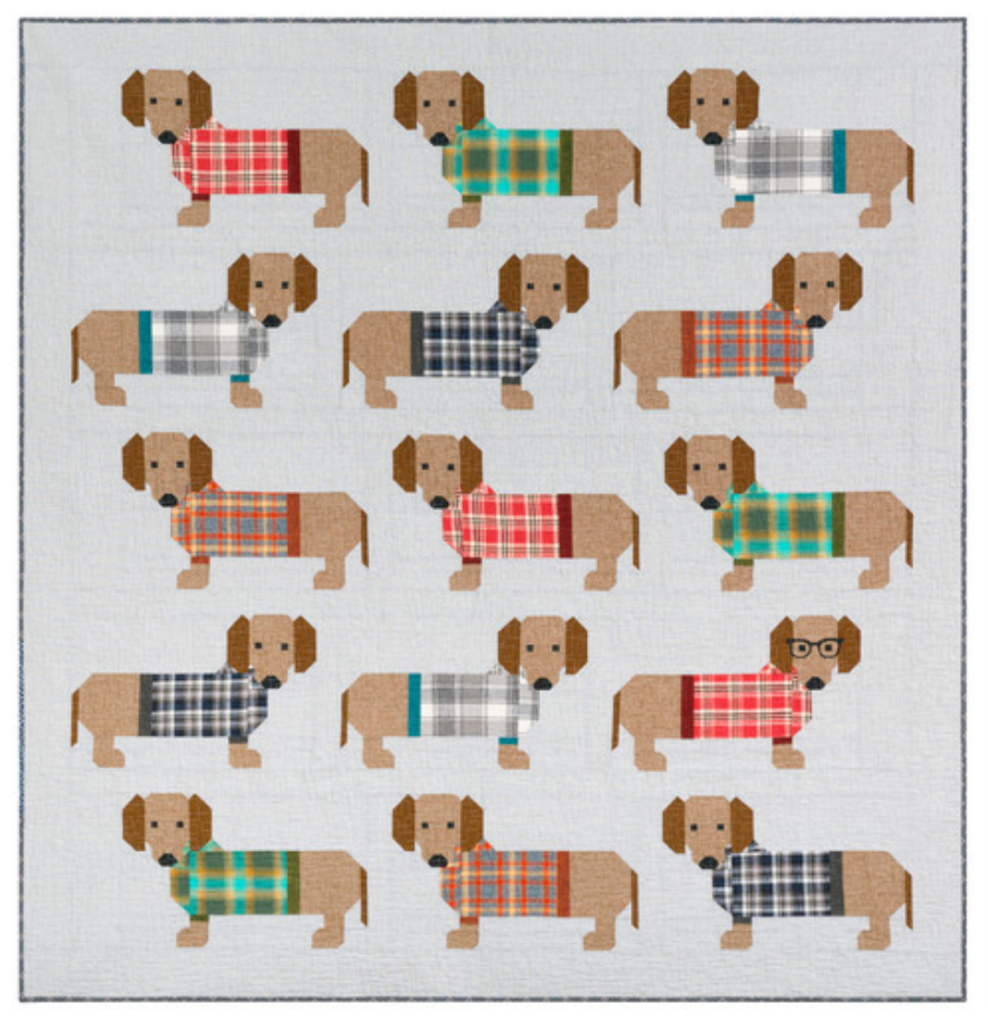 This is Dogs in Sweaters, a new pattern from Elizabeth Hartman that is to be released for sale in February. I think it would make an awesome quilt for my son and his fiancee. They have a little dog who loves wearing sweaters. I am thinking it would be possible to make each dog sweater from a short sleeve's worth of material. Not sure as I haven't seen the pattern but I am setting aside sleeves just for that purpose.
Speaking of Dogs, we have a new family member as of December 30th. Meet Gracie, our new Black Lab/Australian Cattle Dog puppy.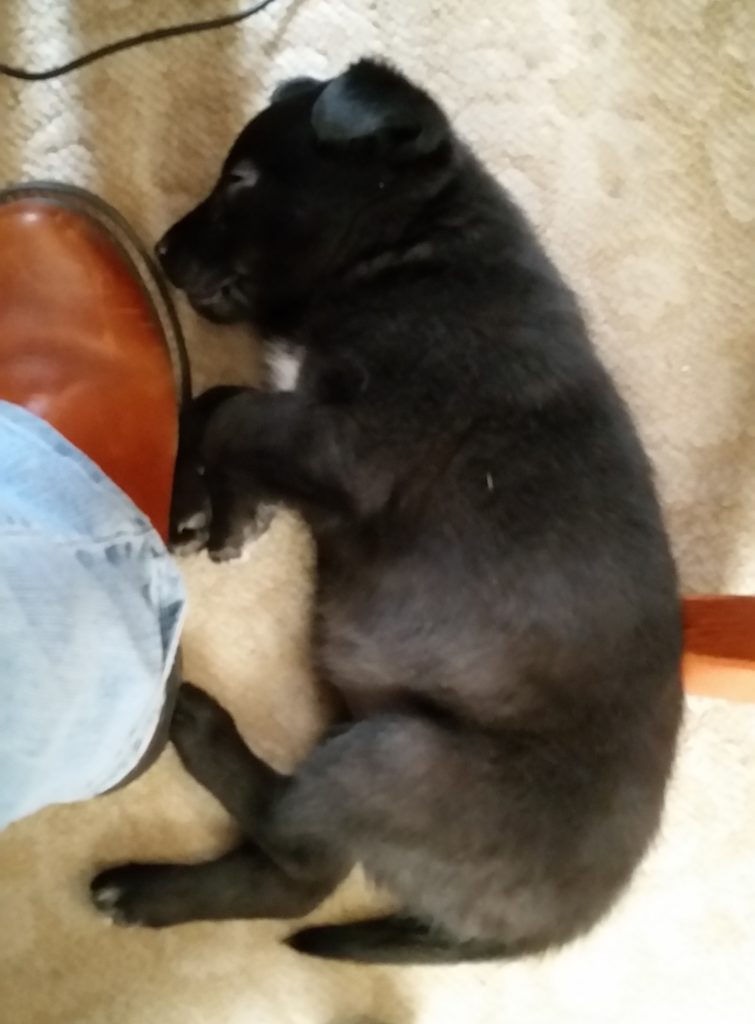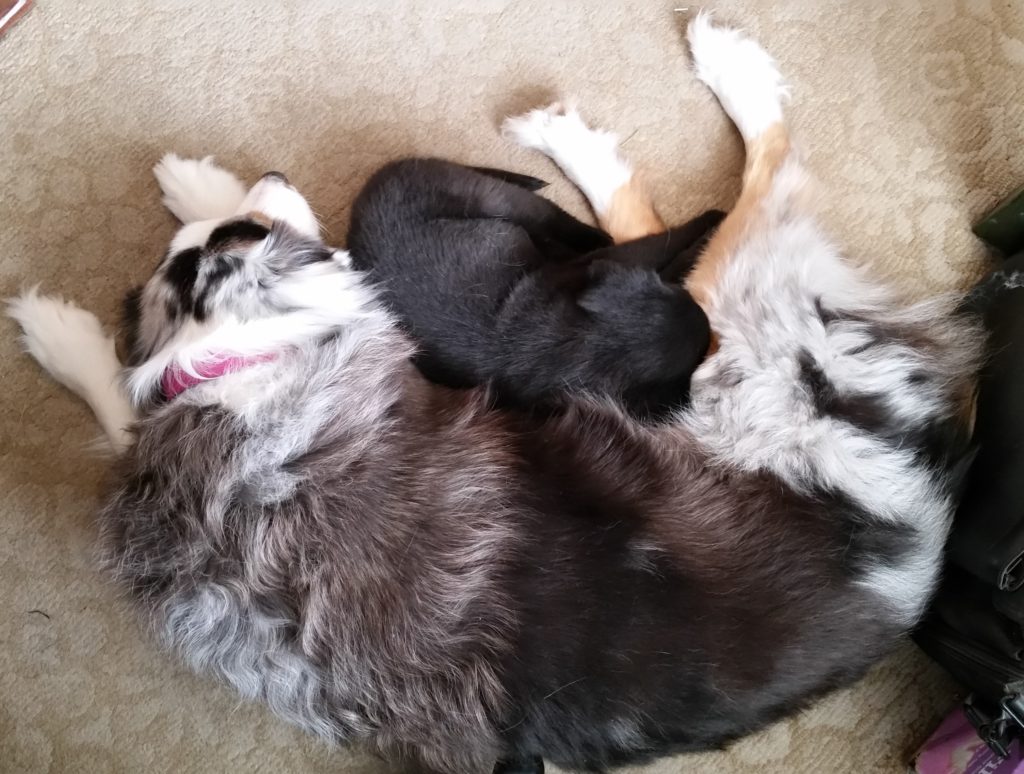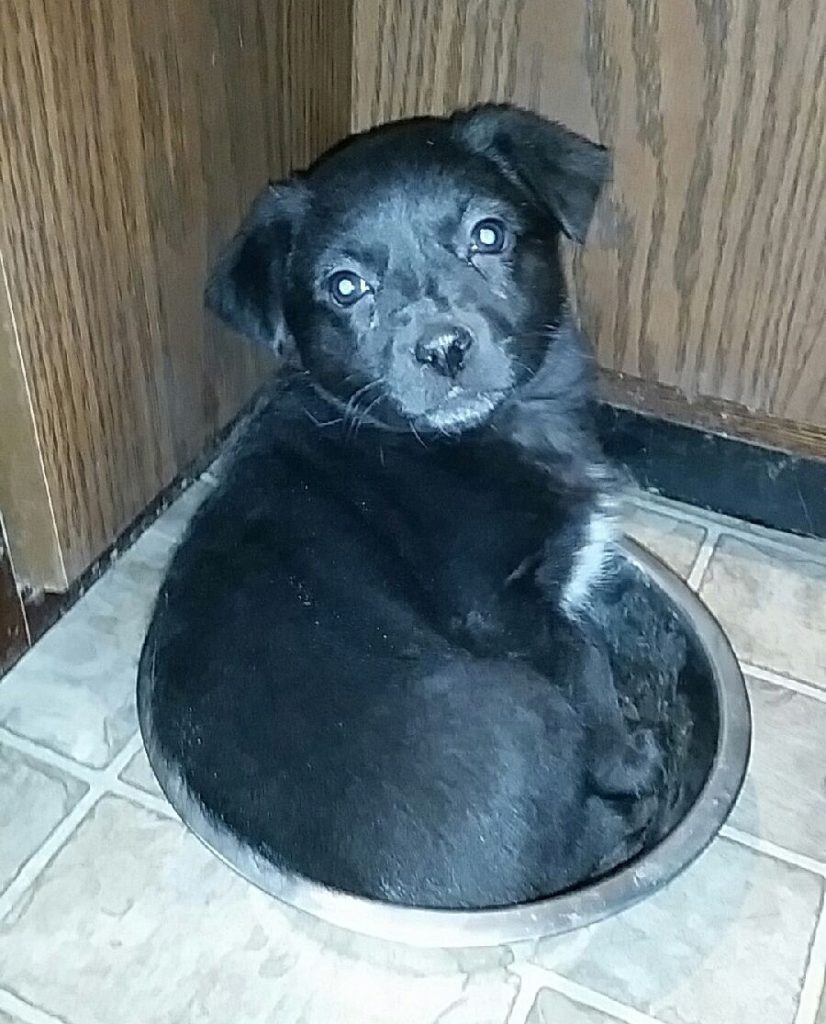 Don't let Gracie fool you! She looks so cute and sweet at times….But oh boy, can the Heeler part flare up and she is a real pistol. She gives poor Lyric a run for her money. She can be quite mean to Lyric, biting and wrestling with her and on her. But then you will find them curled up together and sleeping. We were thinking getting the puppy was helping Lyric come out of her shell, as she started playing with Gracie. Lyric still will not let my husband touch her other than taking food from his hand. We can tell that Lyric was likely a pretty good Mama when she had her batches of puppies. She is pretty tolerant to all the chewing and climbing on her. Last night, Lyric took over Gracie's woodchip lined dog bed (which had been Abbey Rose's) and also started chewing on her toys. The girls started playing tug of war.
This is what I come home to tonight after being gone for 5 hours shopping/errands.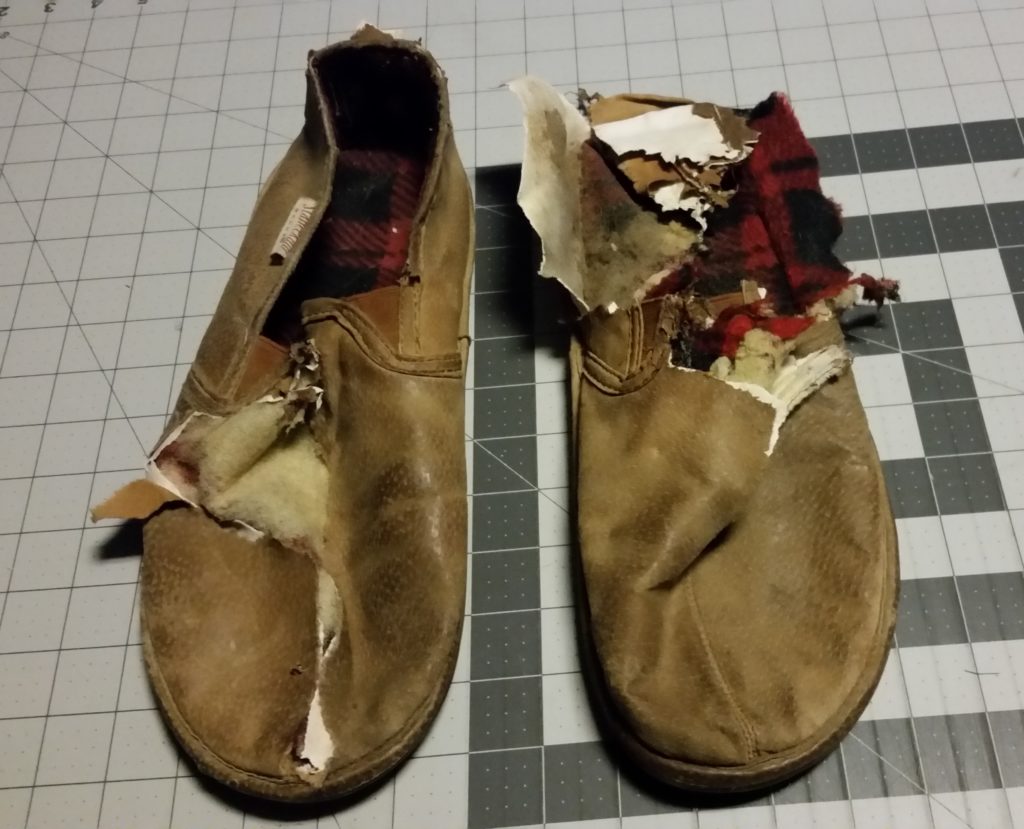 Oh, no who ate Daddy's slippers??? These were deer skin slippers lined with wool batting and Woolrich wool blankets. My husband wasn't wearing them anymore as the rubber on bottom was cracked and had a hole started. I am thinking that Lyric had to be the big party to this mass of destruction. No way that Gracie could have done all that damage. This worrys me as my daughter owns numerous pairs of expensive cowboy boots. Lyric has never shown an interest in chewing on anything. The Heeler puppy has ruined her in a matter of days. LOL
I will leave you with this. Ihope to get sewing up some of the Uptown blocks tomorrow and layout more of the Swoon blocks so I can make up some of the HSTs ahead of time.
Thanks for reading my blog posts.
Have a great weekend.
Happy Sewing,
Shelley
Save
5 Responses to Swoon Quilt Along and Other WIP
Twitter