Dad's Shirts: Memory Quilts in works
Hi, I would like to share my current works in progress. I am working on creating as many as possible memory quilts from my Father inlaw's plaid western shirts and some of his chambray/denim work shirts. I have managed to gather 21 different plaids/striped shirts and 7 chambray/light denim shirts. I do hope to get more in the future, as I think there is a whole closet of summer shirts to go through yet.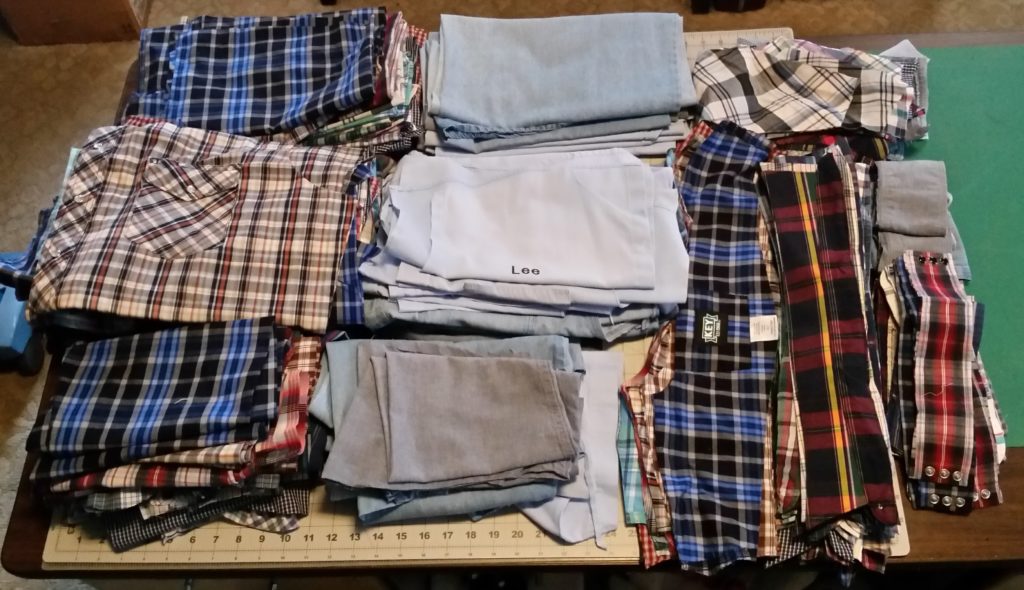 At first, I thought it would be quite a bit of work to disassemble the shirts into working material. I saw a couple tutorials on Pinterest. I laid each shirt out on the cutting mat, and with my rotary cutter cut along the shoulder seams freehand taking off the sleeves. I rotary cut off the entire collar next and separated the collar away from the band as well. I opened up the shoulder seams next and if there was yokes on that particular western shirt, I cut them away from the fronts and back of the shirts. I cut open the side seams and made piles of the shirt fronts and backs. If the shirts had long sleeves, then I cut off the cuffs. All sleeves were opened flat by cutting off the seam. I cut away the plackets that had snaps and if shirts had buttons, they were saved in a ziplock bag. So far there was very little tossed away, just serged seams.. If there was double layed yokes, they can be used for a small square of fabric or in some string pieced or paper pieced project. Some night I will take a seam ripper to the shirt cuffs, to make salvageable pieces as many didn't have the interfacing totally fused to the cuffs, or maybe only one side of cuff.
My first quilt design that I am working on from all these fabrics is called My Guy. It is a pattern by Weeks Ringle and was published in the American Patchwork & Quilting magazine June 2009 issue. I missed that issue, but after discovering this pattern found a used copy of the magazine on Ebay. I have had this quilt design pinned on my Pinterest boards for years.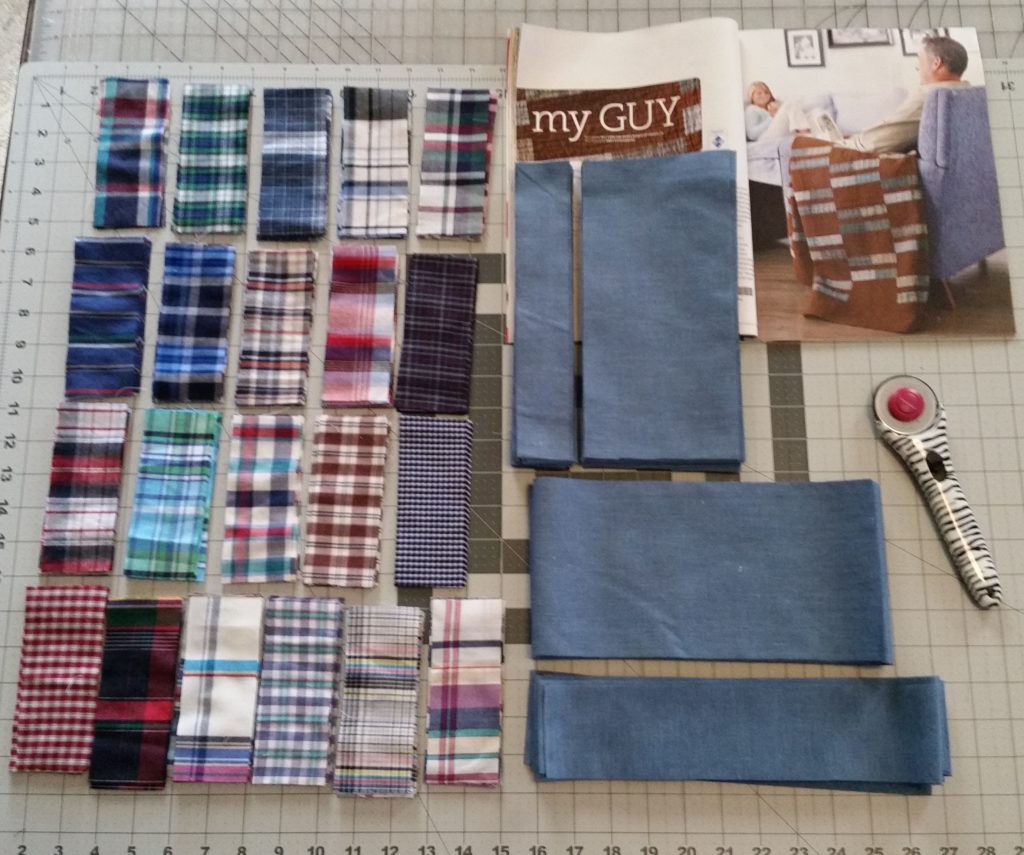 I found a chambray colored solid cotton at JoAnn's. I had a gift card from my birthday and purchased 10 yards navy, 5 of the chambray and 5 yards of a steel gray. I first intended them to be backings for up to 4 quilts. I decided I needed the chambray for this quilt. I am left with close to a yard that will be an accent color in another quilt project.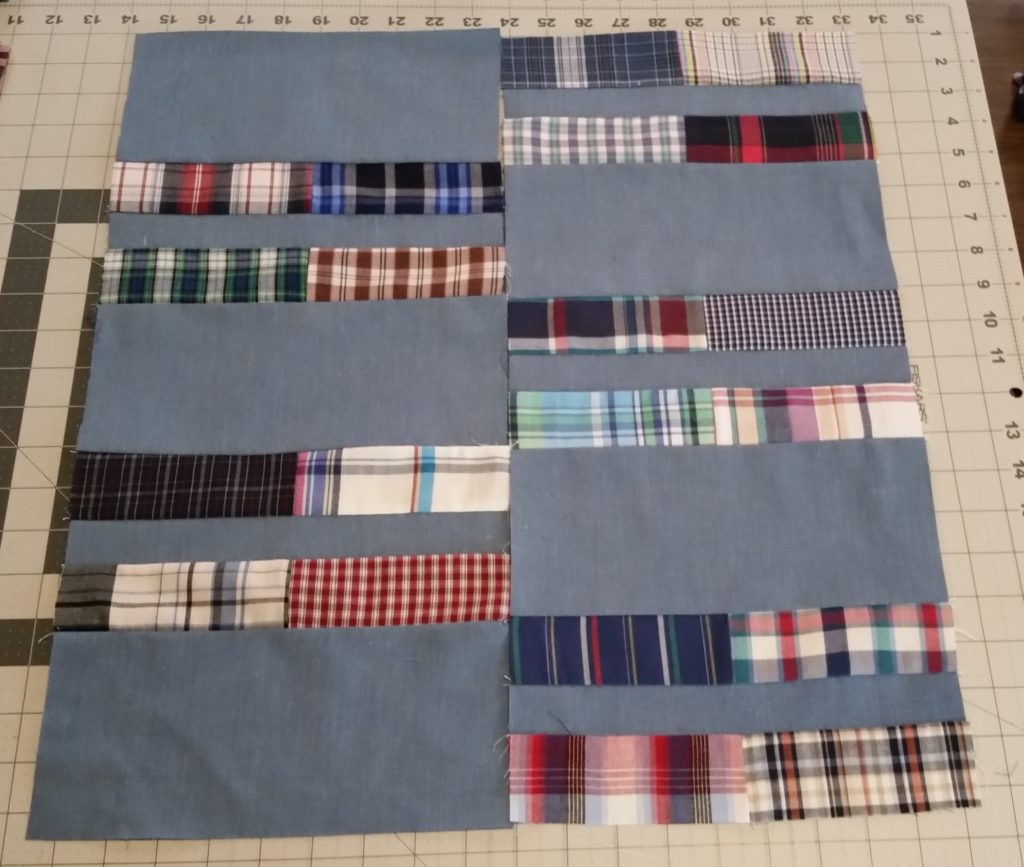 This is a mockup of the first My Guy blocks. I used a shirt front around the pockets to get material for these blocks. I had to go back and cut 6 rectangles as I was short on two completed blocks to make the entire quilt as the pattern called for.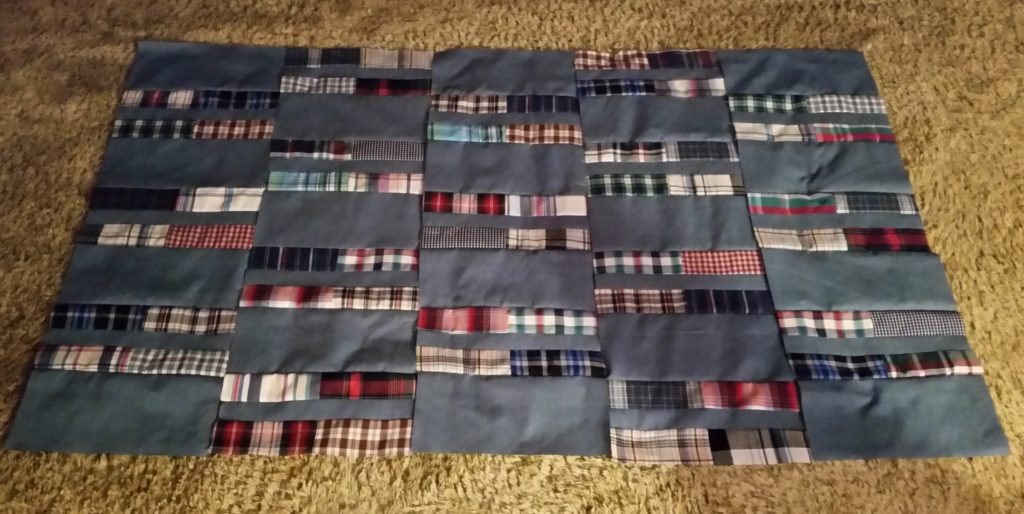 This shows the start of the rows needed to complete the My Guy quilt. I needed to finish 3/4 of the block piecing yet.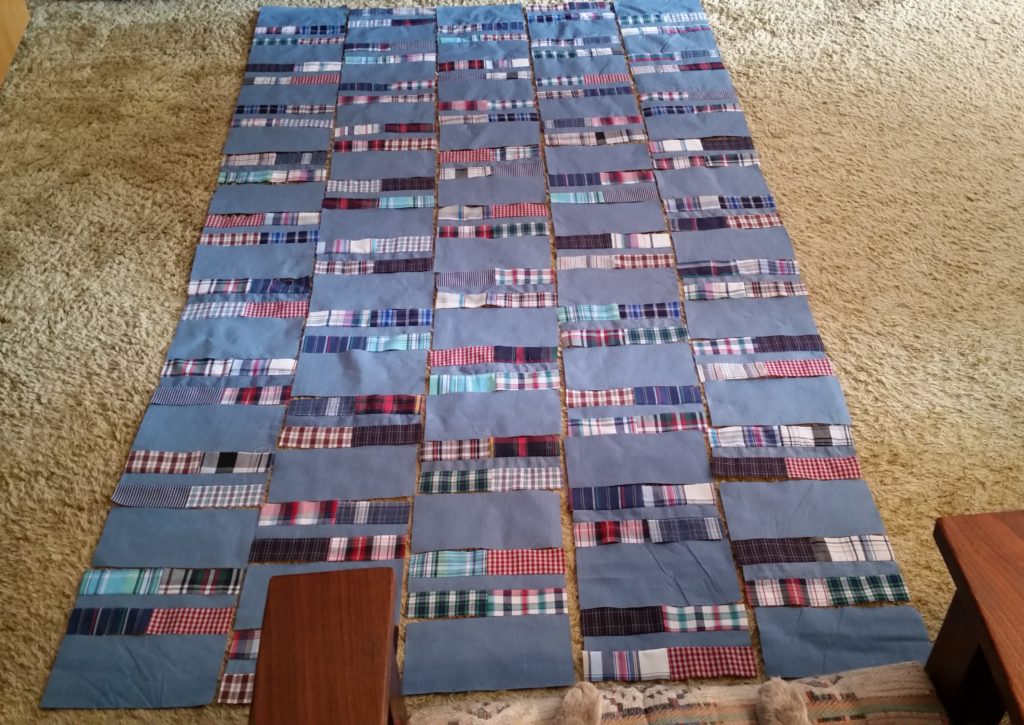 This is the quilt top waiting to have all the blocks assembled into their rows. There is a 5 inch all around border in the chambray to be added yet. The quilt top finishes at 54 by 85. I wonder about adding a possible navy solid border to add extra width, but I really do not want to add to the length.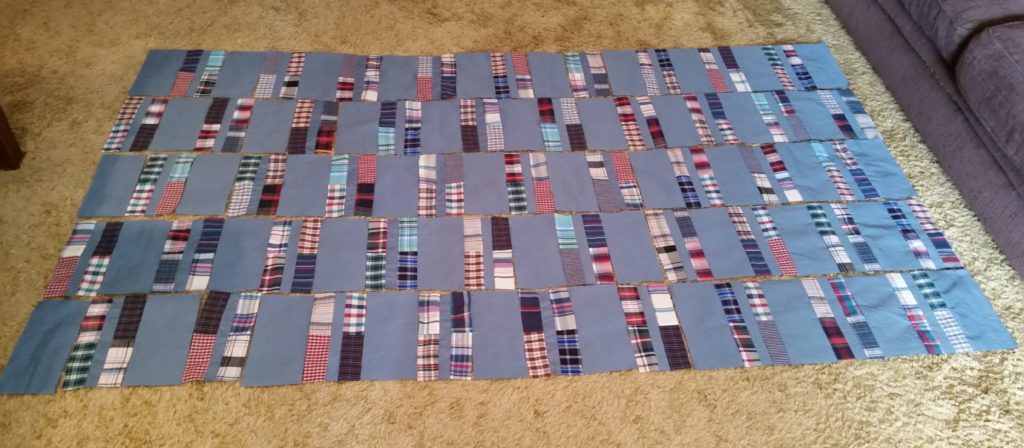 Here is the quilt layed out cross wise so one can see it all. Ireally like how it is all coming together. I have an allover railroad scenery themed print fabric that has alot of chambray blue colored sky background. It will work for both Dad's and my husband's likes.
My second quilt project that I am working on this month with these fabrics is a charm square mosaic design for lack of a better name. I took inspiration from a charm square quilt that Emily Dennis showed on her blog, that she created from white and navy charm packs. I sketched out her design on graph paper and decided to fill out some of the design to make a slightly larger quilt top. I am known for bigger is better, but I am trying to keep all these quilts with in the finished quilt batting size 81 by 96 as I can get poly batts for $5.97 (budgeting and it is winter so I do not travel too far, works with what I can get my hands on.) I plan on our quilts being used and washed alot.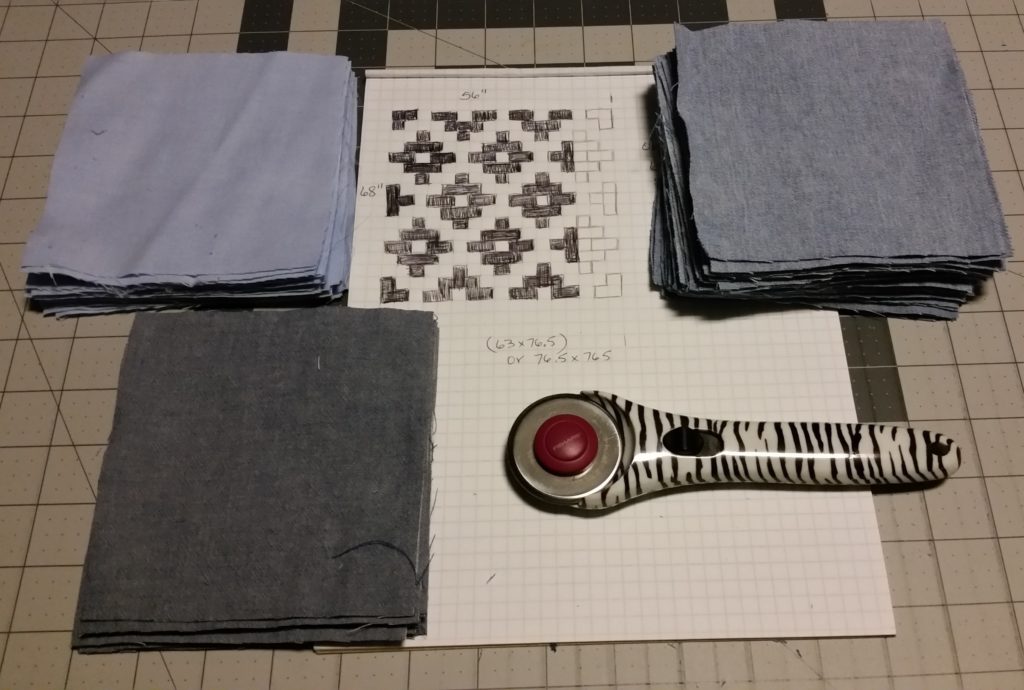 I ended up with 4 different shadings of chambray or denim to cut squares from. My Mother inlaw thought I was off my rocker when I asked about Dad's workshirts. But they are all plain??? Yes, can use as accent or sashing etc. That was before I read this blog article on Emily Dennis website. I had various different ideas saved to Pinterest and didn't realize how easy it would be to work out the designs.

This was a quick mockup of the charm square mosaic on my work desk. Definitely calls for larger working space. I am adding one of my favorite of the plaid shirts as an accent. I remembered purchasing this one for his birthday one year.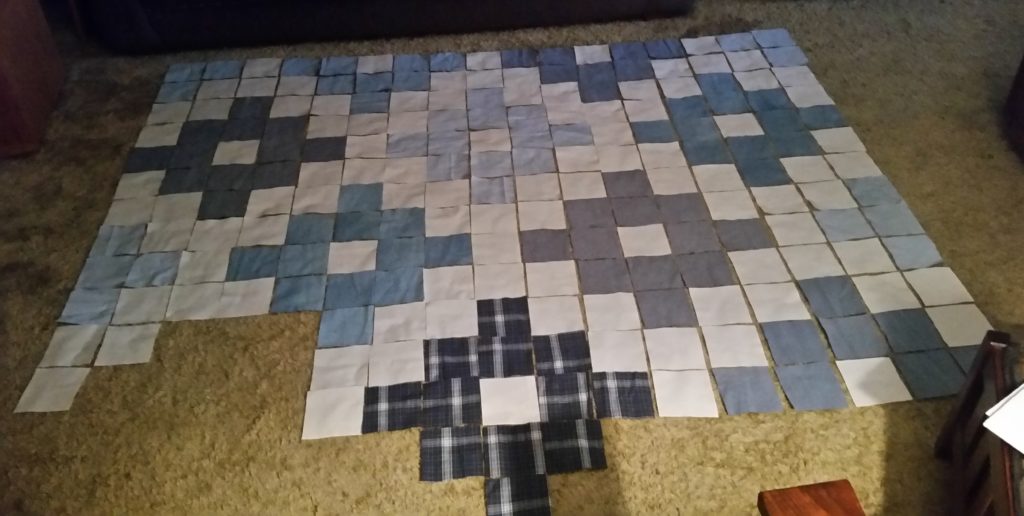 This what the full width of the quilt design will look like pieced together. I need to cut more of the chambray shirts into squares. I decided to move the blue plaid design down to the center of the quilt.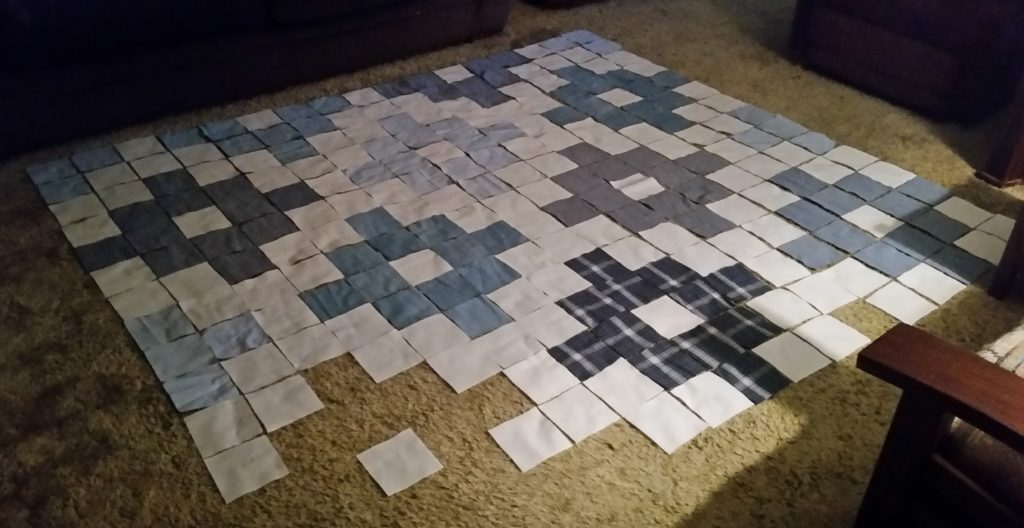 Here is the top in squares taken at an angle so one can see more of the design elements. This photo was taken just before Clarence, our three legged cat woke up and decided to sit in the middle of my squares. He walked off with a couple charms stuck to his side from static cling. I crawled around the floor and picked up and numbered the first 10 full rows and then the next 5 partial rows.
My third quilt project is Plus Squared by Emily Dennis. A pattern first published in Love Patchwork & Quilting magazine issue 32 which was out in March 2016. She has since released the pattern in paper and pdf from her website as well. I have an online copy of the magazine through the Zinio app I read on my phone and tablet.
I actually have the most completed so far on this quilt project. All blocks pieced and just need to add sashing between blocks and the rows. Adding that will take the most of my patience lining up the blocks to the rows with alot of pinning. I used all the 21 plaid prints with 4 different ones in each block with one shade of chambray workshirt as the center square.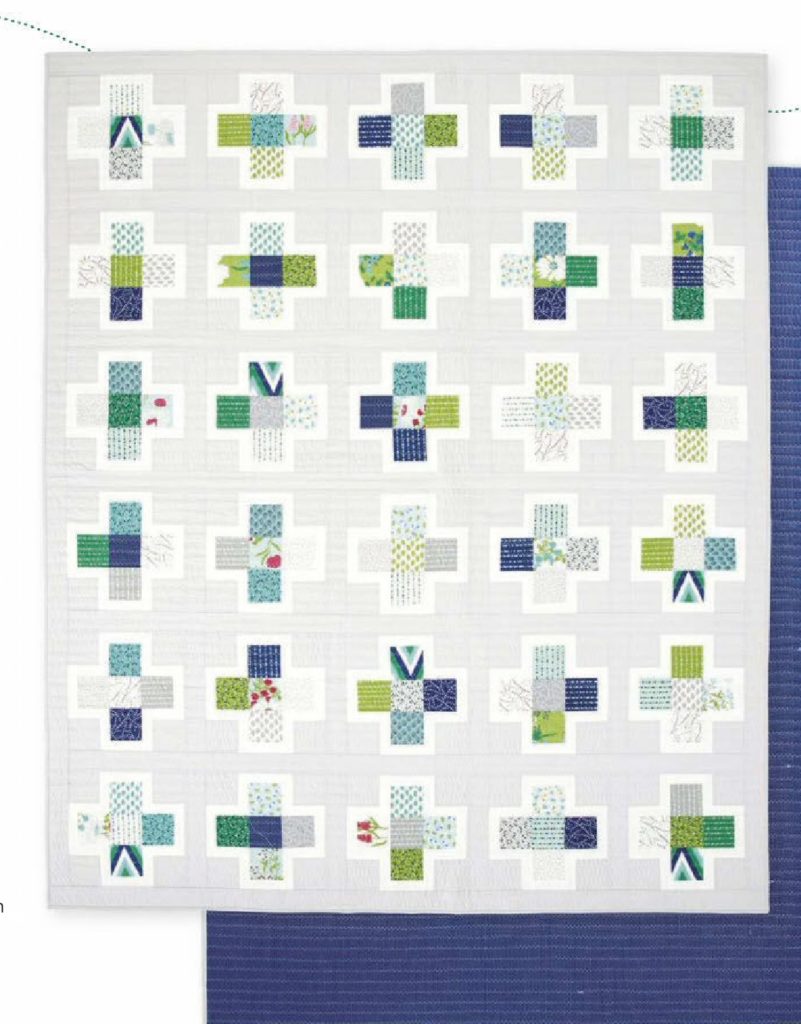 This is Emily Dennis' finished Plus Squared quilt from the Love Patchwork & Quilting magazine.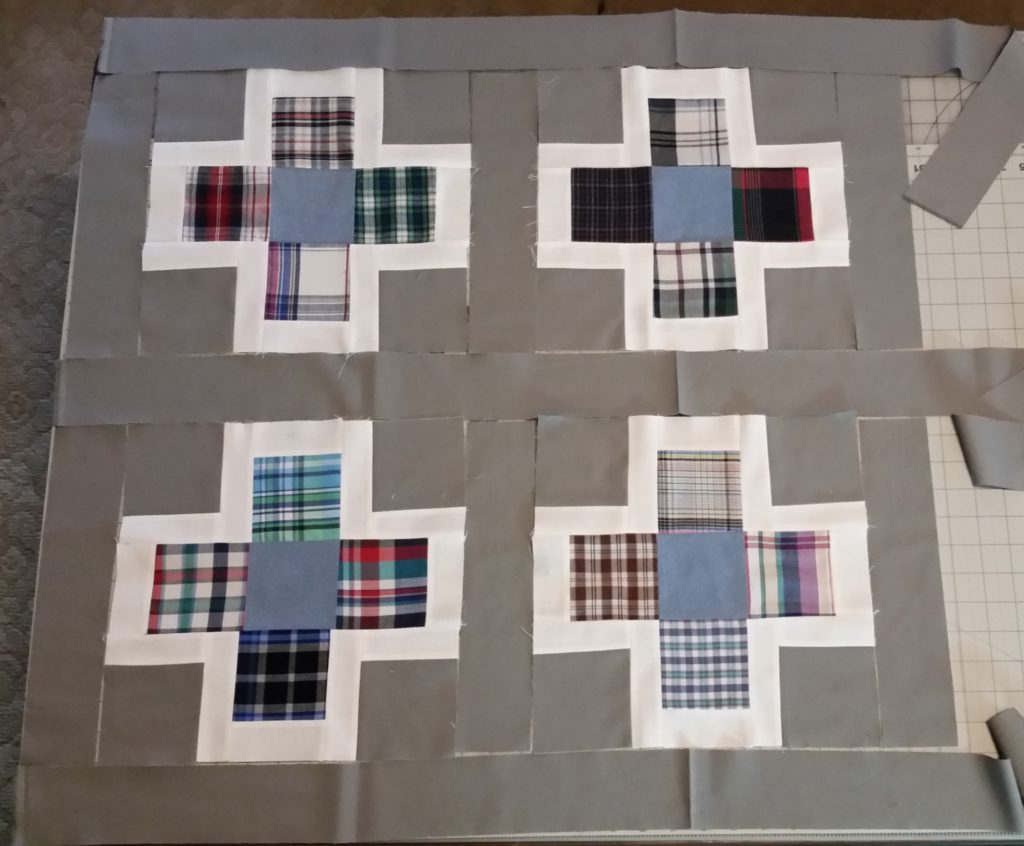 This is a mockup of four of my blocks and what they will look like with the sashing added.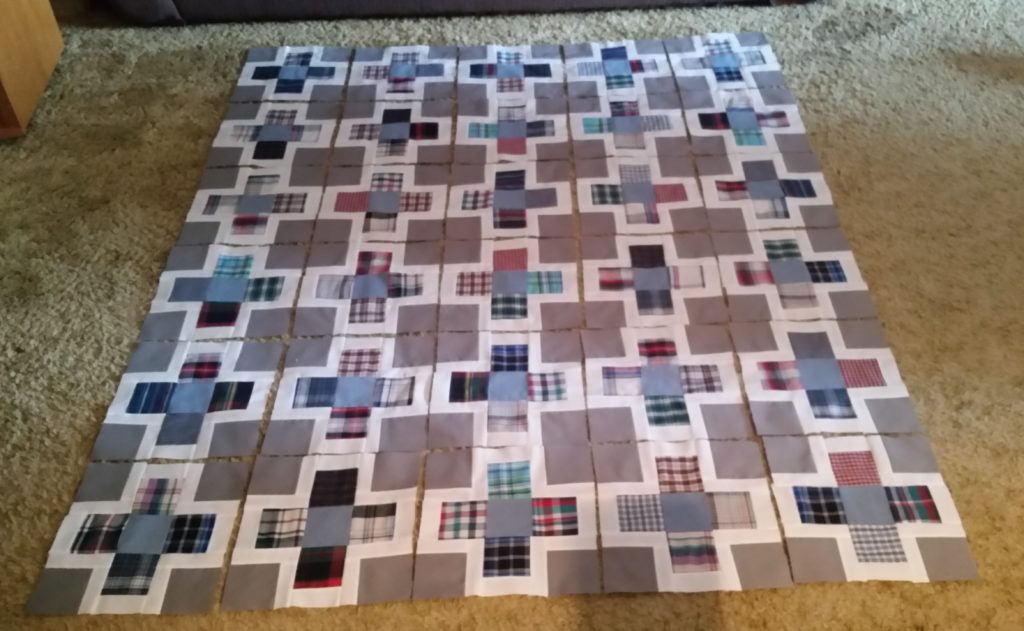 These are all my completed Plus Squared blocks. I started out pressing all the seams open on the white and gray strips. I was planning to press all seams open on the entire block but I started having trouble getting the center row to match up with the first row, if I pinned or didn't pin. I found out that centers matched up almost everytime if I pressed the seams to either side and nested them together no problem. The plaids are very soft and stretchy since they have been washed multiple times. I eliminated shirts that were too thin and well worn. That was why I ended up with less chambray shirts as well.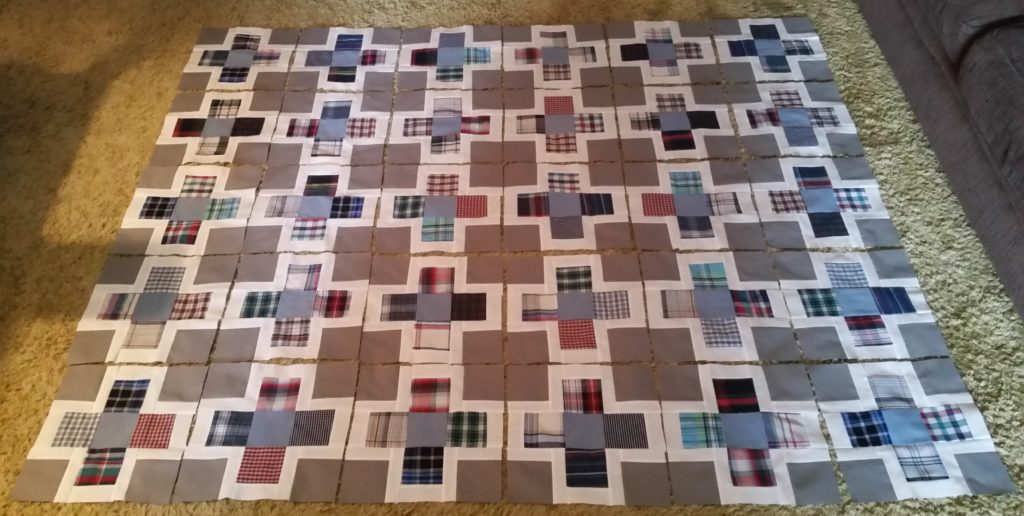 Here is one more shot of the Plus Squared layed out crosswise. I really like how this is coming together as well. My Mother inlaw thought it was quite pretty.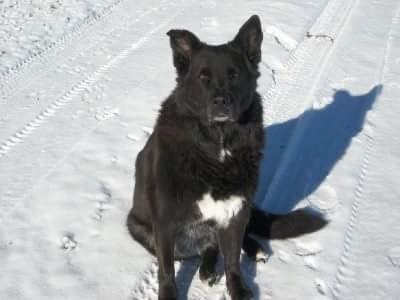 Abbey Rose
(August 2005 to December 3, 2016)
The last couple weeks including Thanksgving were quite rough for my family. My 11 year old Black Lab/German Shepherd cross dog Abbey Rose was in poor health. We thought her arthritis was getting worse when she fell down the upstairs around Halloween. She started to be able to maneuver stairs and getting in and out of the house less and less. She had lost alot of weight. The night before Thanksgiving, she wasn't eating and drinking like she should. Last week, she really went down hill fast, and hadn't eaten much for 3 days and couldn't go out on her own with out being carried. We hated to have to make the decision but she was put to sleep Saturday morning. I had really hoped to never have to experience that again, after losing my husband's 14 year old Aussie last year. Life has not been fair to lose 2 dogs and 1 cat to old age in 18 months and a puppy in that time to a car accident as well. Abbey was my 40th birthday present and was my best friend. We went through alot together in our 11 years together.Lyric, our rescue Aussie is not sure what to do. We know she misses Abbey. She followed Abbey around all the time. Lyric will still not allow my husband to touch her other than eat food out of his hand. This past week, she has taken to sitting very close to him while he eats, but don't touch me. We look forward to adding an Aussie or Black Lab puppy to the family in the new year.
It is snowing here today in Iowa and supposed to get bitterly cold the beginning of the week. My plans are to keep sewing and do some Christmas shopping online. I spotted 2 additional quilt patterns today that would work with these fabrics. I plan to get a few tops made and then family can help decide which one goes to whom. I did finally get all the quilting stitches removed safely from my Jelly Roll Slice quilt top and I hope to finally get it back on the machine to quilt it. I have plans to list a couple finished quilts for sale before Christmas. I need to help pay off some medical bills and such.
Thanks for stopping by my blog. I am told that an update to my blog should take care of the problems of why many were no longer receiving word of new blog posts. I will be linking up with various end of the week linky parties. The links can be found at the top of the blog.
Happy Sewing,
Shelley
Save
10 Responses to Dad's Shirts: Memory Quilts in works
Twitter