Watchtower Quilt Flimsy Complete (Patriotic Version)
Hi, I am happy to share that I had a Friday finish this week. I had to wait til this morning to get photos of it. I have completed a squared off queen size (88 inches square) Watchtower quilt. The pattern design is by Amy Smart, Diary of a Quilter.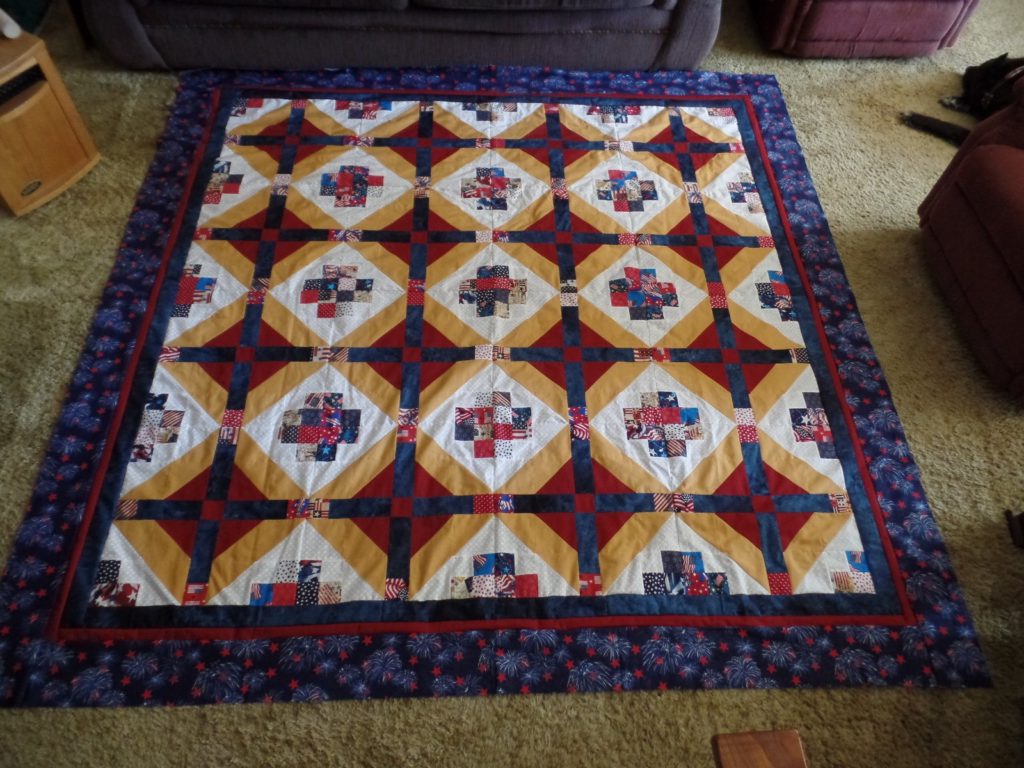 It went together nicely. The half square triangles are created 8 at a time. I do not use jellyroll strips too often and sought out a variety of patriotic prints that I purchased off of Ebay from Material Maven. I purchased the white on white star print from JoAnn's. The denim blue Stonehenge and Patrick Lose brick red plaid came from a local quilt shop. The gold solid was from my stash and I think came from Walmart. The fireworks patriotic print was from my stash and came from JoAnn's.
I was delayed a couple weeks in finishing this top because I hurt my shoulder. I am not quite sure what I did. I am right handed and guess it took a bit of abuse from all the finger pressing seams open, rotary cutting and trimming up HSTs. The final straw was then trying to keep all the seams open while hitting them with the iron. I was able to meet and keep pretty much all points, only struggle was was adding in the center strip to the blocks. I would try to sew with out pins, with pins, flip over the other direction to allow feed dogs to ease in any extra fabric. Some times it would turn out great, others off a thread or so. Ugh. It will quilt out and/or crinkle up with wash and dry.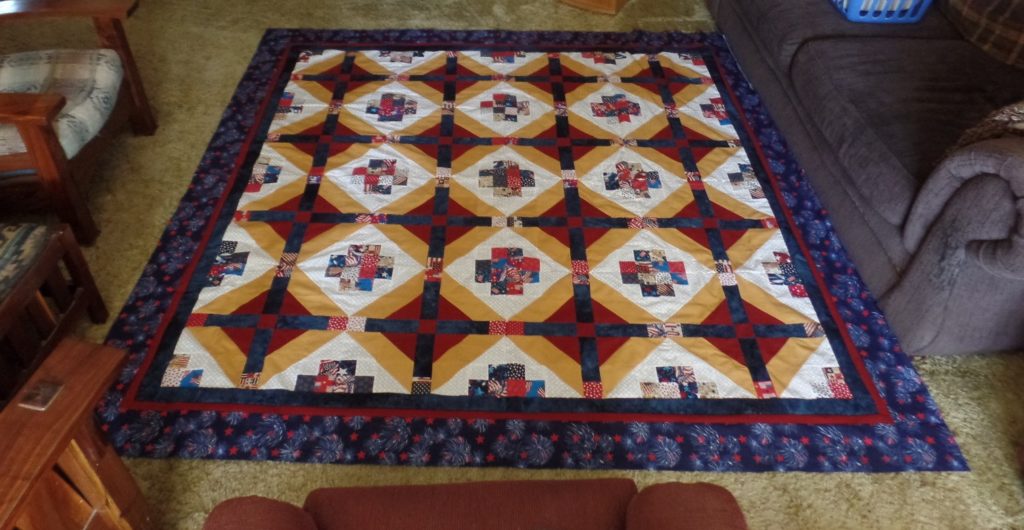 At 88 inches square, this top takes up most of my main living room. I knew that it would be hard to photograph this top from being placed on our bed.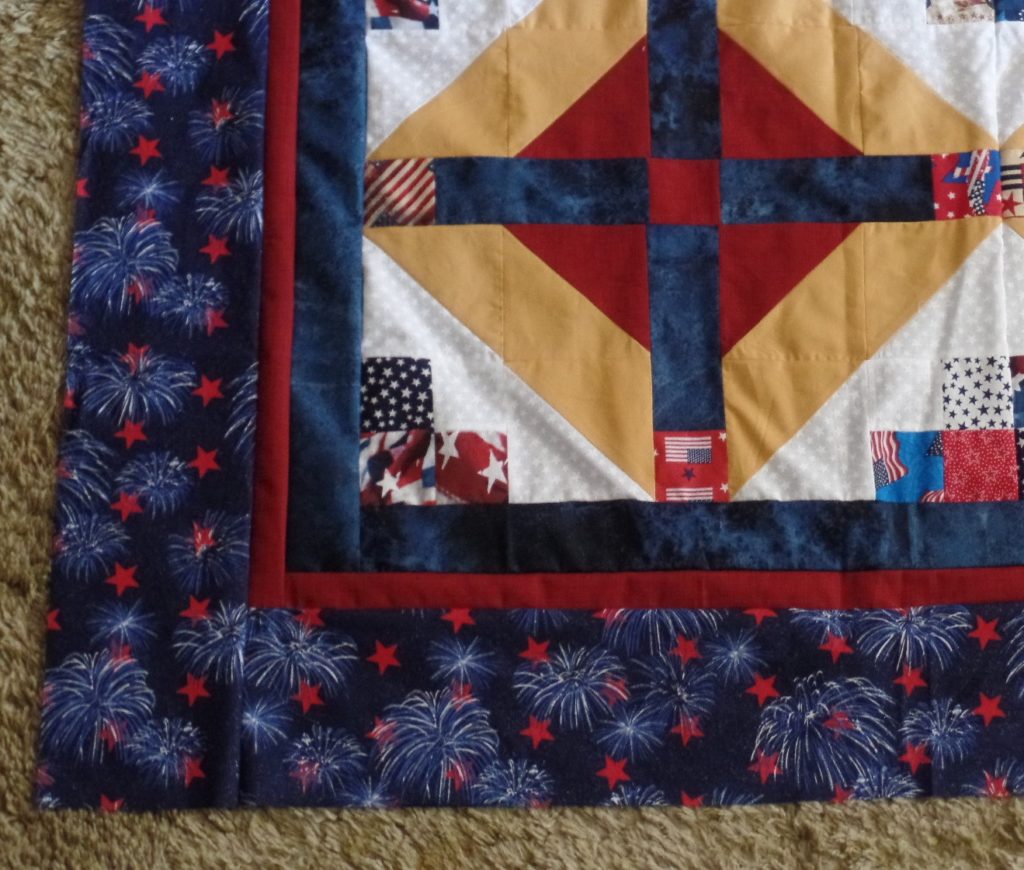 This is a closeup of the borders. I wanted to keep the fireworks design looking like they were raining down. I had to think about how to cut the fabric. I ended up cutting the top and bottom border strips across the width of yardage. For the long sides,I then opened up the remaining yardage and cut my strips from the length.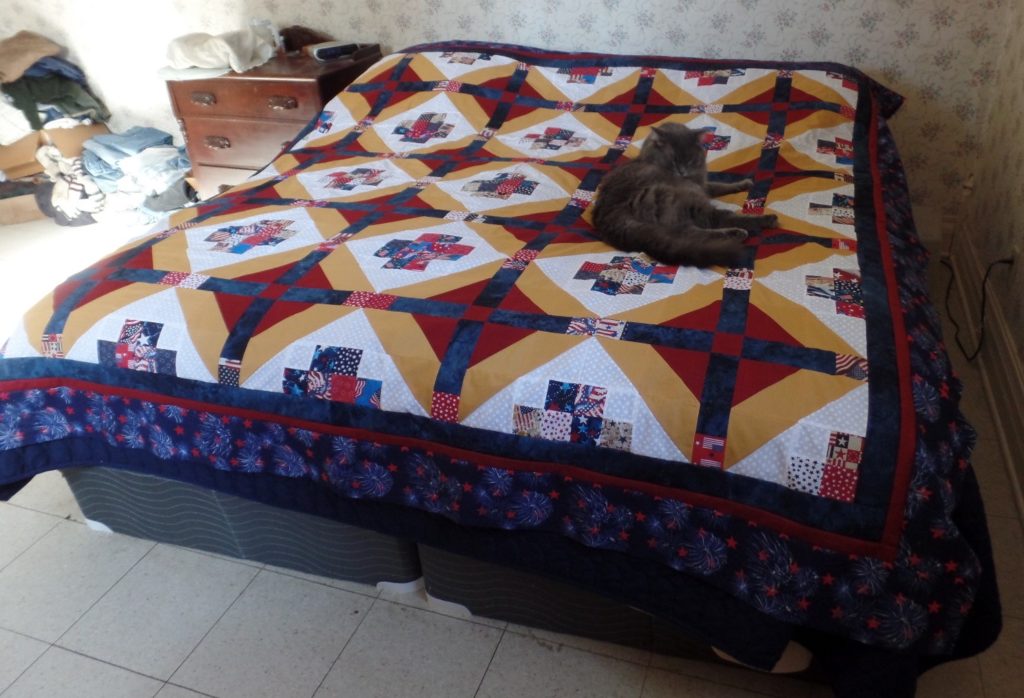 When I went to try and photograph the quilt from our bedroom, I found Clarence, our 3 legged rescue cat on our bed. I removed him and no sooner had I placed the quilt top on the bed, he was on top of the quilt and grooming himself.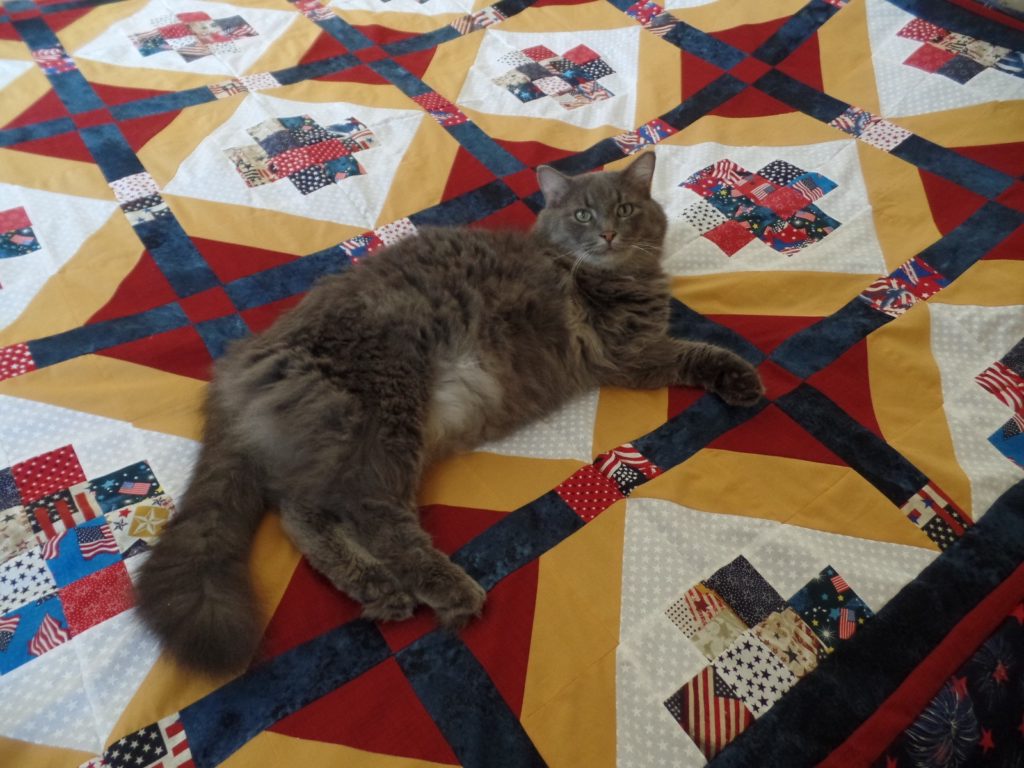 You Made This for Me, Right??
It was Halloween this week, so of course the dog needs to try out a costume. Here is Lyric, doing her best impression of a cheetah.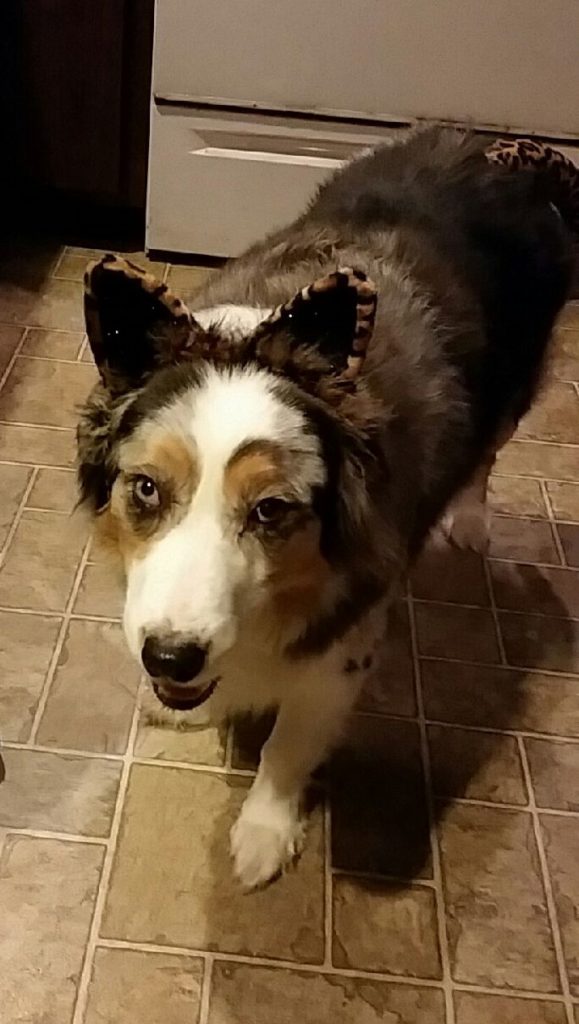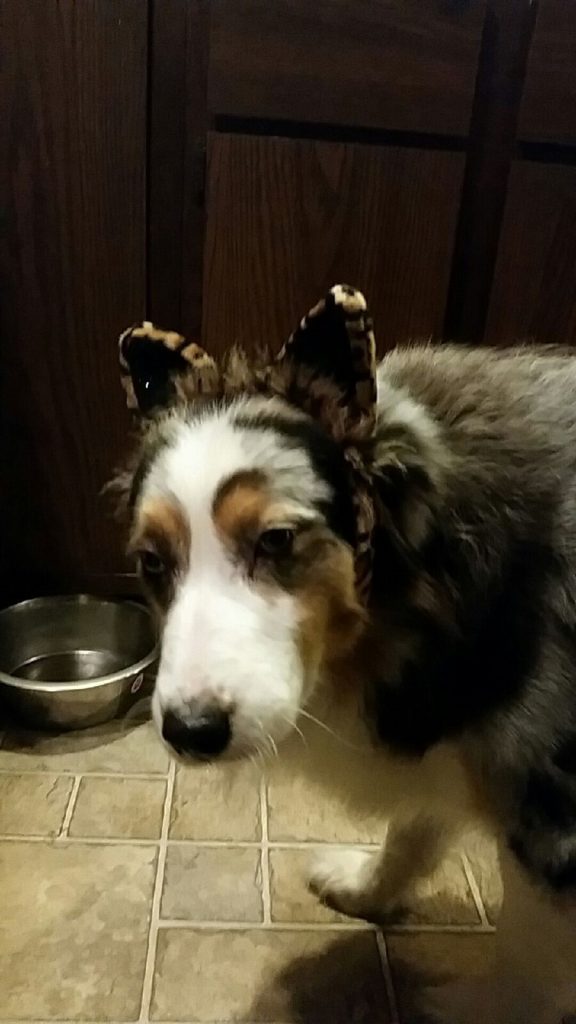 How Do I Look??
Lyric decided to have fun on Halloween and unknown to me, brought something very nasty into the house after being let out first thing in the morning in the dark by my husband. We did not find out til after he came home from work at 6 that night, that 12 hours before she had brought half of a dead bunny with a leg upstairs and preceeded to bury it in the clothes closet in our bedroom under a pile of clothes and blankets that she has built a nest. I do not have much of sense of smell. Thank you for passing that on, Mom! The week before, she brought a fresh killed squirrel into the house, but my husband beat her to the upstairs door and slammed the door scaring her so she dropped it. New rule in this house, the lights must be on when Lyric goes in and out.
I have not had a chance to start quilting on my Lightning Striked quilt. My shoulder is feeling better and I didn't want to hurt it more. Lightning Striked is at the top of the list to be quilted. I still have Jelly Roll Slice still pin basted and plan on working on finishing quilting that this week as I need to make room to work and free up the pins.
Thanksgiving is coming quick just a little over 2 weeks and we are having dinner for our family this year. My husband plans to smoke the turkey. This is our first Thanksgiving with out Dad, and the start of us making new family memories. I have Alot of house cleaning and rearranging to do by then. I do not plan to start any new quilts before the holiday, but do hope to get a few quilted as I have a good dozen tops needing quilted.
Thanks for stopping by my blog. I will be linking my Friday finish with Crazy Mom Quilts and Show Off Saturday and  Finished Or Not Fridays
Happy Sewing,
Shelley
4 Responses to Watchtower Quilt Flimsy Complete (Patriotic Version)
Twitter