Memory Quilts in the Works
Hi, I have been sitting on a stack of tshirts and sweatshirts that I inherited from my Mom passing away 3 years ago. My sister thought we should make some sort of memory quilts out of them.  Mom machine embroidered on almost everything. My sister and I each inherited a Viking Designer 1 sewing/embroidery machine.
Back in July, I read an interesting blog post over at I'M Feeling Crafty titled  A Memory Quilt Using the Complete Quilt Design Planner. The Complete Quilt Design Planner is a neat quilt pattern idea designed by Blair Stocker who designs as Wisecraft. It comes with printed graph sheets to help you design your own quilts all from 5 inch squares.There are other sheets that will help you do the "quilty math" to figure out how much fabric you need. I had been thinking about purchasing the pattern since the May is for Maker's Indie Pattern Designer campaign. After reading about and seeing what I'M Feeling Crafty was creating for memory quilts by using this pattern., I had to have the pattern.
I decided to dive head first into seeing what we can create from what we had for shirts. There was 16 decorated tshirts and 54 decorated sweatshirts. I have left the sweatshirts in their tall bag, as I am still not sure what to do with them. Most have seen their better days and some I do not think Mom embroidered them, maybe just a purchased sweatshirt.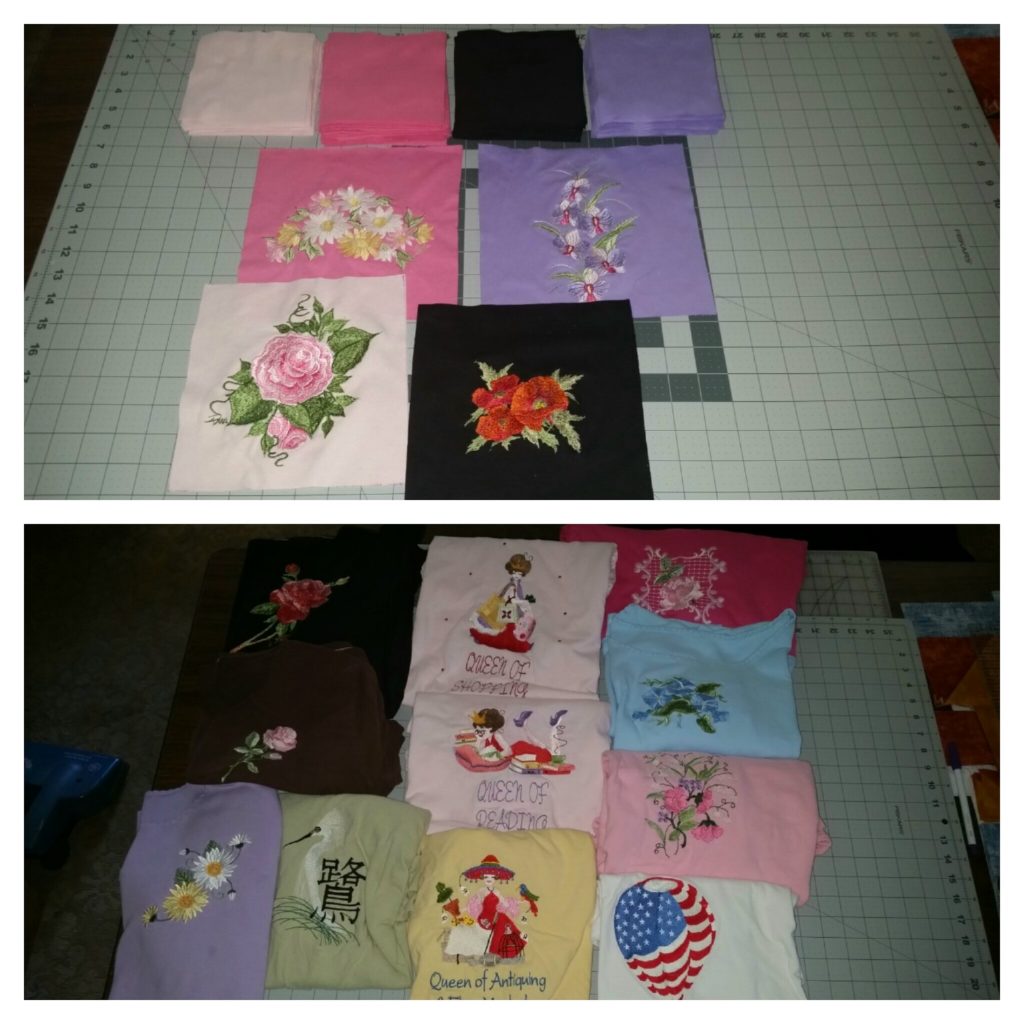 These two photos show the various embroidered tshirts that I had to work with. The top photo shows how I chose to cut out some of the embroidered designs. I think I chose a 7-8 inch square if the design placement allowed it. Mom would alter the necks on some shirts and almost all shirts were shortened as she liked her shirts to sit a certain way .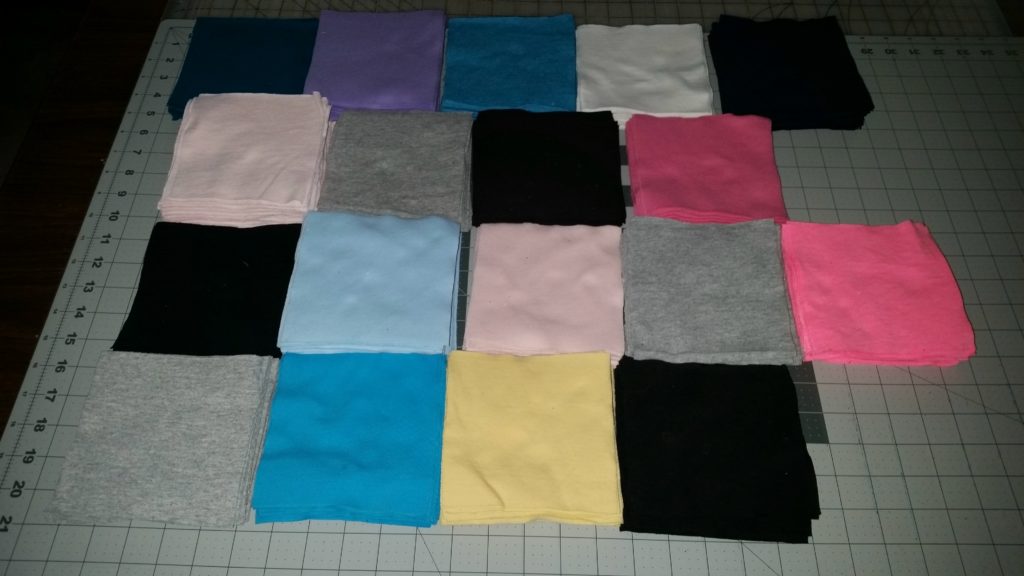 I managed to cut anywhere from 26 to 32 – 5 inch squares from the various tshirts, depending on whether it had much of a sleeve. Since we do not have many colors to work with, I am adding in a couple thrifted gray, black, navy and white tshirts. I have purchased a new set of men's 4X white shirts for a different sewing project and will cut up one or two of them to add to the mix as filler blocks. I still have a small stack of tshirt panels to cut down to add to these piles yet. Everything is stashed away in two of the extreme big ziplock bags you can find at Dollar Tree stores.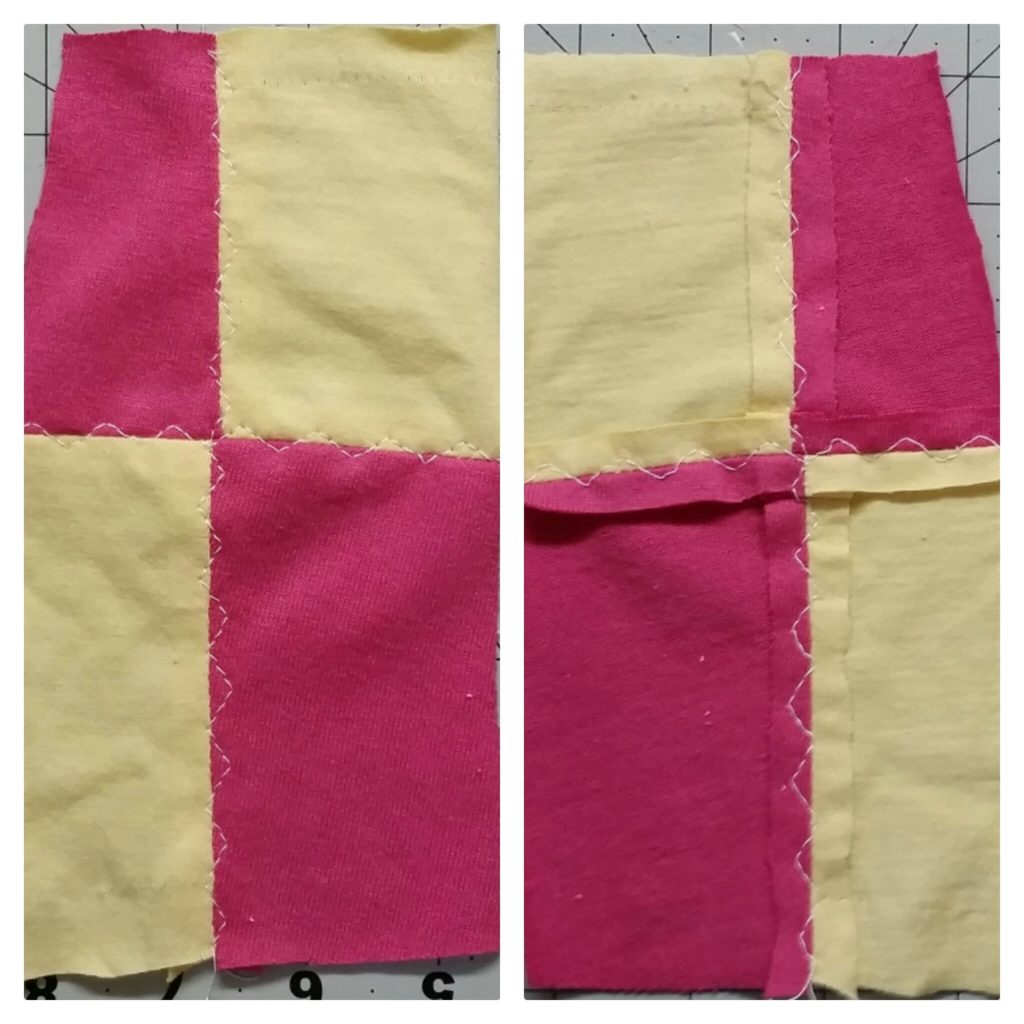 I decided to do some test sewing and quilting on the knit fabric scraps. This is with no interfacing and seams pressed on. I used the multi step zigzag I have used to quilt with, over the seams. It lays quite flat and didn't really pucker any. And this was a normal sewing needle not knit specialty needle and standard foot not walking foot.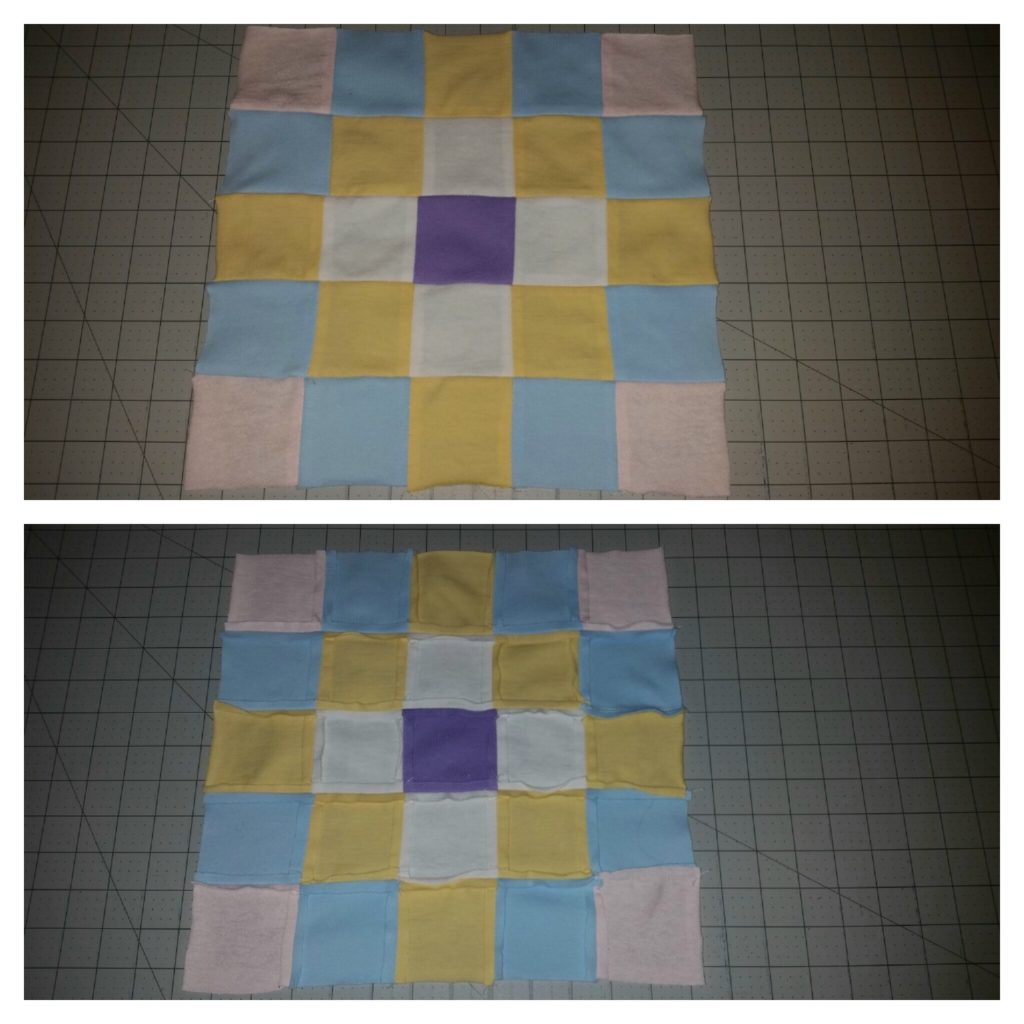 I sewed up a sample granny style quilt block made from 3.5 inch squares from leftovers from shirt sleeves. All seams pressed open and again no knit needle. (I do own about every proper needle under the sun, just decided to see how the knit would handle.) I have intended to get this sample quilt block quilted but got sick after getting this far with the project this summer. It is hard work rotary cutting tshirt knit, it causes havoc on the blades.
There can be a heated discussion on whether to use fusible interfacing in making tshirt quilts. I will admit that I have not personally made one myself yet. I do understand the concept and even my Mother who was not a quilter had told me before that one would have to fuse the tshirt backs all with some sort of interfacing. I have not done that yet. The embroidered tshirt designs do have stabilizer of various sorts on them still. I would expect to apply a fusible to them when we decide how we intend to use them in a quilt project. If you will read the blog post by I'M Feeling Crafty that started me on this memory quilt project, you will see that she only fused interfacing on the thinner of her knit shirts. A couple other quilters have written me and told me that they had success combining various different materials into a quilt top with out interfacing everything. I intend to go along without it until I determine the need for it. I want to see how the above pieced granny square quilts up without interfacing.
Our family recieved sad news on August 15th. Our dear friend, Glenn passed away. He fought liver cancer for 7 months. I made him and his wife the Double the Plus quilt for their 60th wedding anniversary in May. (My crazy quilt project that had me up 38 hours straight.) We were fortunate to have a few wonderful visits with him and his family this summer. He will be greatly missed. Such a sweet man that is like losing a Dad all over again.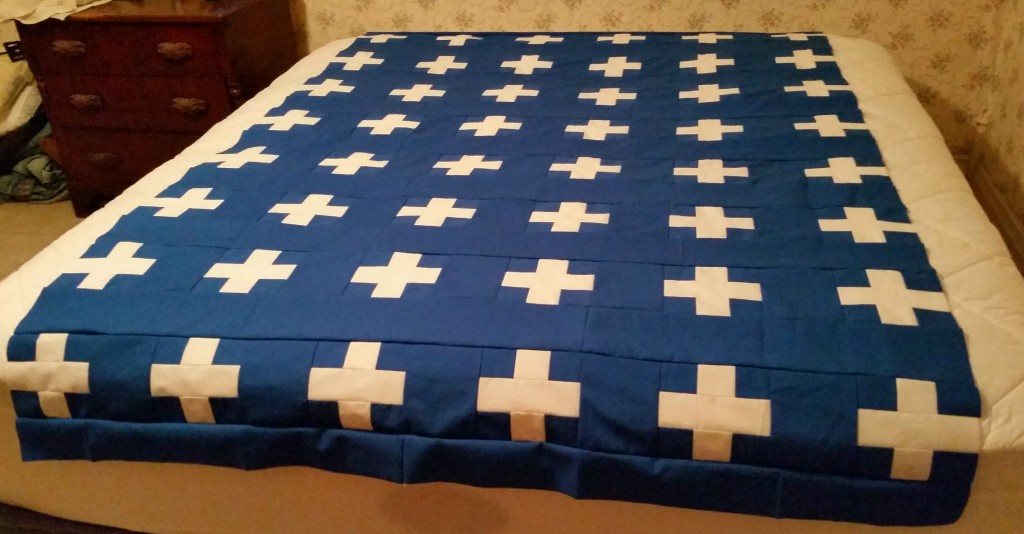 On August 27th, our family had the honor of riding and participating in a memorial speeder car ride for my father inlaw, Lee Folkerts.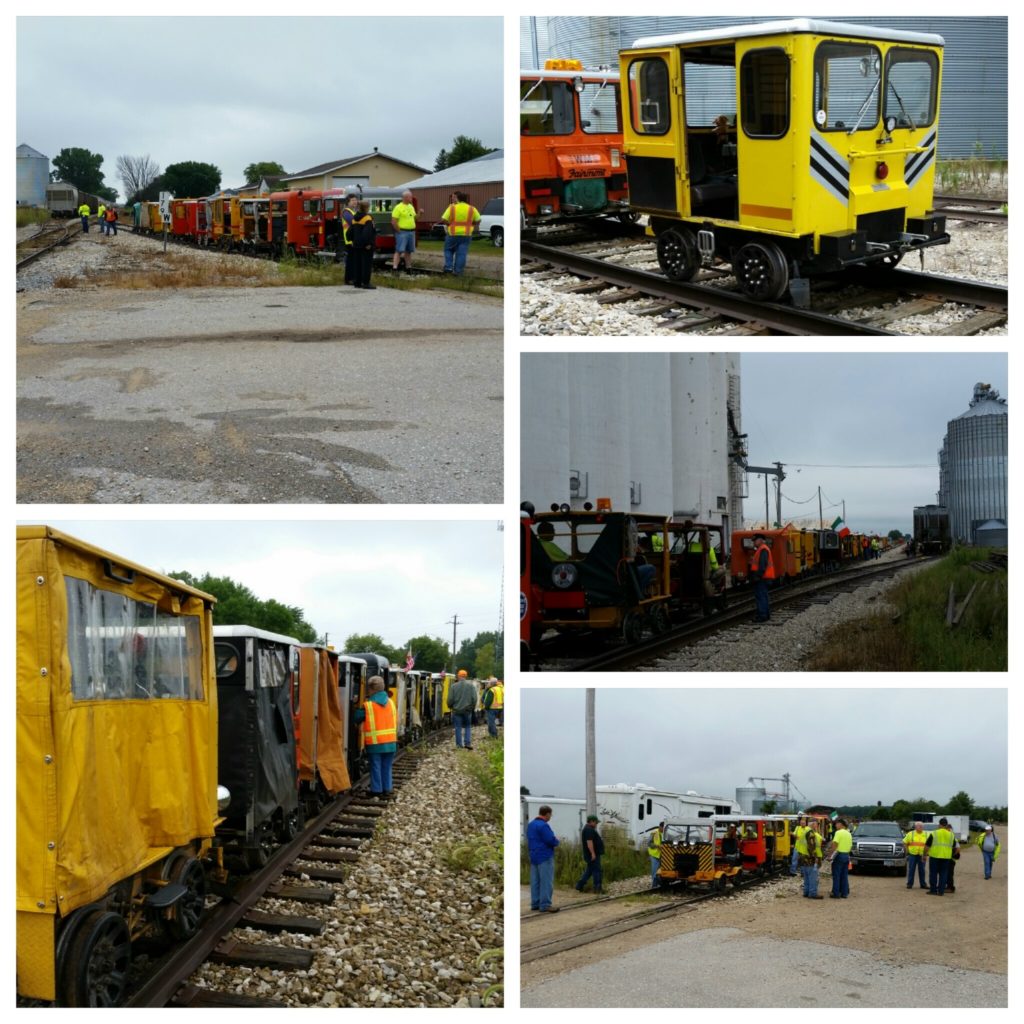 Dad belonged to the 1st Iowa Division of the North American Railcar Operators Association. This memorial ride was attended by over 40 railcar operators from across the Midwest. We rode on the Iowa Northern Railway from Clarksville, IA to Manley, Iowa. I never had a chance to ride with Dad on one of the many rides across Iowa and other parts of the US that he participated on. I did have the honor of riding along in the yellow car in the single photo which was owned by Mike K. of Illinois. My job was to wave the flag at all the intersections we crossed. We all had a great day. We all even made the local newspaper.
Thanks for stopping by my blog and letting me share a few more of my quilt projects from this summer.
Happy Sewing,
Shelley
2 Responses to Memory Quilts in the Works
Twitter