Coming Soon: 2016 Cloud 9 New Block Hop
Hi, I am participating in the 2016 Cloud 9 New Block Hop. I am designing a 12 inch finished quilt block with tutorial. This year I am working hard on actually making a quilt from my block and will share the instructions for it as well. My block and tutorial will go live on my blog on September 14th.
These are the fabrics that we are designing our blocks from. They are quite lovely. It was odd to me to not have any white to work with like in the last two new block challenges I have participated in.
I can not show you my block until the date of the hop, but I can share a couple sneak peek photos of my quilt top project. I am not making my top in the actual Cloud 9 fabrics, but as similar of colors as what I had available. I was using my Quilter's FabriCalc fabric estimating calculator to help me determine how much fabric to purchase for all the blocks I needed. It ended up being quite comical as it definitely ROUNDS UP the amounts. I will "chicken scratch" and verify with another calculator all math before publishing my tutorial. I will be designing a 36 block quilt design that would finish at 72 inches square.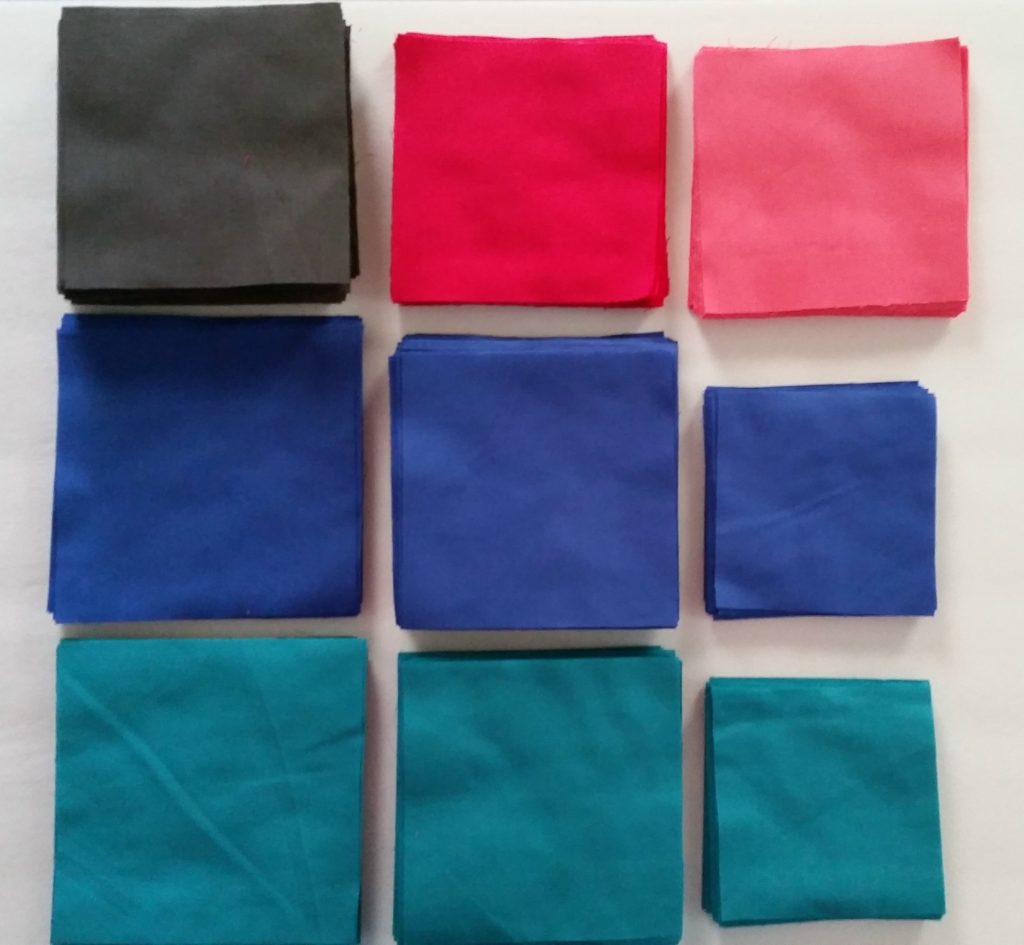 Thank goodness for BlocLoc rulers and a rotating cutting mat. I do not know why I fought purchasing a BlocLoc ruler for so long. So far I can do most of what I need with the 6.5 inch BlocLoc HST ruler. I am trimming 200 some HST for my quilt top.
Here is a list of all the upcoming 2016 Cloud 9 New Block Hop participants and when their blocks/tutorials will be available.
Monday, September 12th
Abigail @Cut & Alter
Janice @Color, Creating, and Quilting!
Lorinda @Laurel, Poppy, and Pine
Melva @Melva Loves Scraps
Renee @Quilts of a Feather
Kathryn @Upitis Quilts
Kim @Leland Ave Studios
Amanda @this mom quilts
Holly @Lighthouse Lane Designs
Irene @Patchwork and Pastry
Jennifer @Dizzy Quilter
Karen @Tu-Na Quilts, Travels, and Eats
Anne @Said With Love
Suzy @Adventurous Applique and Quilting
Sharla @Thistle Thicket Studio
Kathleen @Smiles From Kate
Amanda @Gypsy Moon Quilt Co.
Sarah @Sarah Goer Quilts
Chelsea @Patch the Giraffe
Jinger @Trials of a Newbie Quilter
Anja @Anja Quilts
Daisy @Ants to Sugar
Tuesday, September 13th
Miranda @I Have Purple Hair
Jennifer @The Inquiring Quilter
Sarah @123 Quilt
Leanne @Devoted Quilter
Jen @Patterns By Jen
Jennifer @RV Quilting
Amanda @Quiltologie
Sharon @Yellow Cat Quilt Designs
Jen @A Dream and A Stitch
Jen @Faith and Fabric
Carole @Carole Lyles Shaw
Stephanie @Quilt'n Party
Susan @Sevenoaks Street Quilts
Katrin @Now What Puppilalla
Amista @Hilltop Custom Designs
Nicole @Handwrought Quilts
Marla @Penny Lane Quilts
Silvia @A Stranger View
Sarah @Smiles Too Loudly
Carrie @the zen quilter
Mary @Quilting is in My Blood
Velda @GRANNYcanQUILT
Wednesday, September 14th
Kathy @Kathys Kwilts and More
Paige @Quilted Blooms
Mary @Strip Quilts Pass it On
Allison @Woodberry Way
Seven @The Concerned Craft
Olusola @Alice Samuel's Quilt Co.
Ann @Brown Paws Quilting
Jodie @Persimmon + Pear
Vicki @Orchid Owl Quilts
Kitty @Night Quilter
Francine @Mochawildchild
Shelley @The Carpenter's Daughter who Quilts
Jayne @Twiggy and Opal
Geraldine @Living Water Quilter
Shannon @Shannon Fraser Designs
Lisa @Sunlight In Winter Quilts
Jessica @Quilty Habit
Cassandra @The (not so) Dramatic Life
Deanna @Stitches Quilting
Denise @Craft Traditions
I hope you all will come back to check out my block and quilt along with all the other lovely designs that will be coming that week.
Happy Sewing,
Shelley
One Response to Coming Soon: 2016 Cloud 9 New Block Hop
Twitter