Go West King Sized Flimsy Completed
Hi, I am happy to share that I finished the flimsy for my supersized King  Go West quilt.  I actually finished piecing it on August 10th and shared a photo of it on my Instagram at that time. I have been under the weather for a portion of the summer. Apparently I had been walking around with really high blood pressure and when put back on meds, they really made me tired. I am just taking a double water pill now instead, and am feeling alot better. I have a lot of projects piling up and need to play catch up. Designing a block for the Cloud 9 Fabrics New Block Blog Hop in September. I am designing a quilt from my block and am working on that now. I am working on a memory quilt from my Mom's shirts and also have two new quilts cut out or in process of cutting and piecing.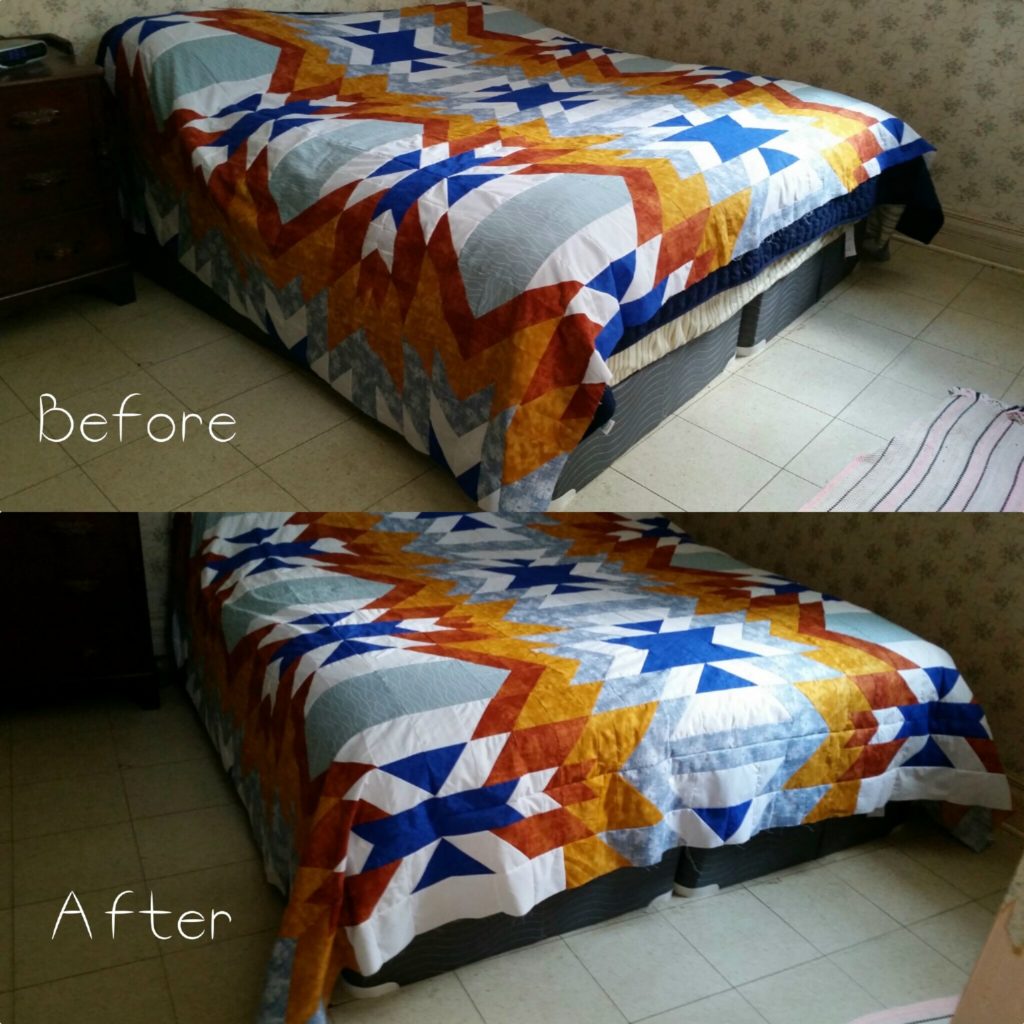 This shows how much length I was able to add to the quilt top. I managed to add 3 rows to the bottom. I had to get creative with my pieces as I miscut the rust grunge (cutting at finished hst size instead of the larger strip I needed). This really didn't short me much, as I cut the miscut pieces down to other sizes I needed. I just didn't have enough of the rust and orange for all the pieces I wanted. The fabric requirements for the pattern are more than enough to make the pattern as it is called for, and doubling it to make the two twins to attach to each other to make a king even leaves you with extra fabric. It was my choice of trying to add to the 84 inch length that made me short in some colors. This quilt now finishes at 120 inches wide by 94 inches long. (Kirsty's doubling of the top should create a quilt 128 by 84 inches. I didn't need 128 width as our box springs are still on the floor.) I am thinking that I may flip the top around so the new section is in the pillow area.
I will be writing a couple extra blog posts this weekend, possibly yet today that will show my other WIP quilt projects that I have been working on since my last blog post in July. I will link them up to this post so they can be found easier. I am linking this top finish with Crazy Mom Quilts Finish It Fridays.
Link to blog post about the 2016 Cloud 9 New Block Blog Hop I am participating in found here.
Link to blog post about memory tshirt quilt project found here.
I hope all my US readers enjoy their 3 day holiday weekend.
Thanks for stopping by my blog.
Happy Sewing,
Shelley
3 Responses to Go West King Sized Flimsy Completed
Twitter