Go West King Sized Quilt Top Update
HI,
I am happy to share this week my progress on supersizing my Go West by Bonjour Quilts quilt top into a king size quilt. It took a lot of pondering on just how far to take the design to get the size I thought I needed to fit our king bed. I started with the twin size finished top at 64 by 84 inches and I am currently at 120 by 84 inches. After laying it out on our bed, I do know I really want to add to that 84 inch length as it does not cover the mattress as far as I want. It all depends on how far the leftover fabric goes in creating all the new half square triangles, if I add two rows to the bottom or also two rows to the top. I know it will shrink up with quilting and washing and drying. I just do not want to short myself.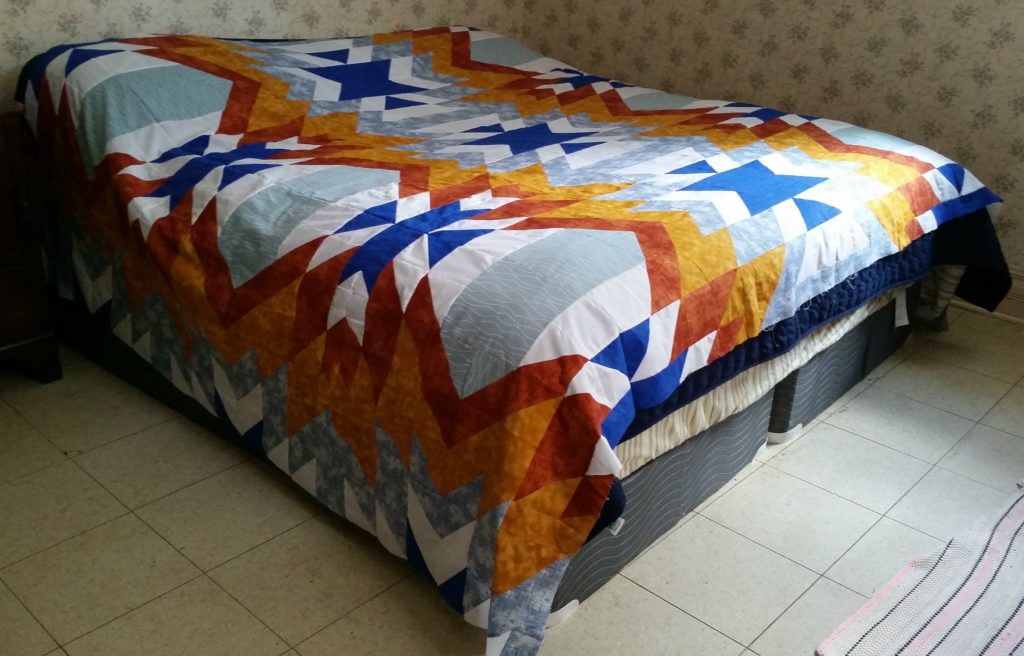 The quilt is certainly bright. It makes me really dislike my walls and that they were white or any color paint instead of wall paper from the 70's.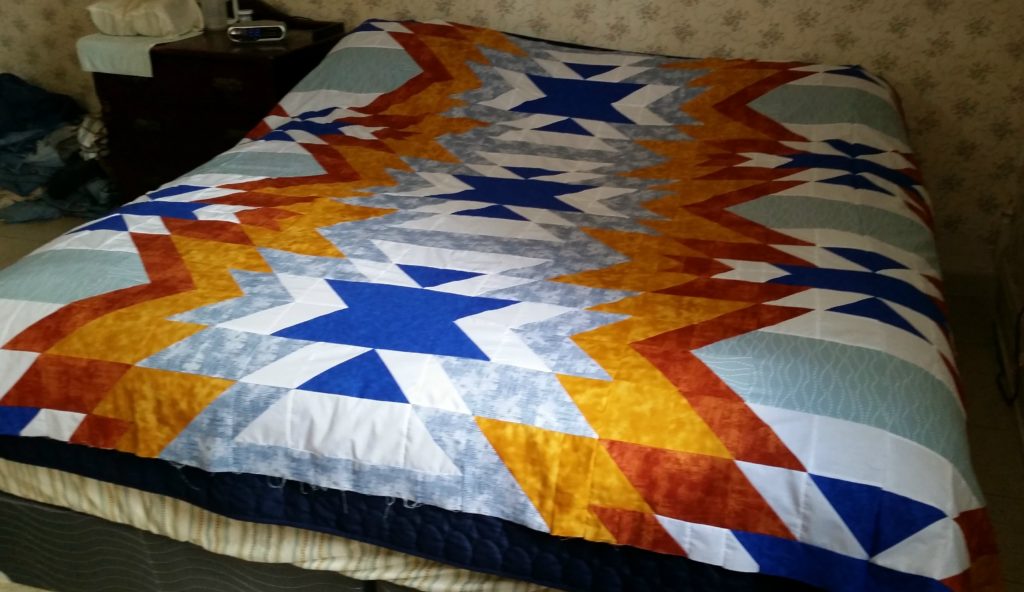 I really like the center panel and how it shows the design off . Of course it is next to impossible to photograph. I am going to have to find a new large place to photograph this quilt properly once it is finished and quilted.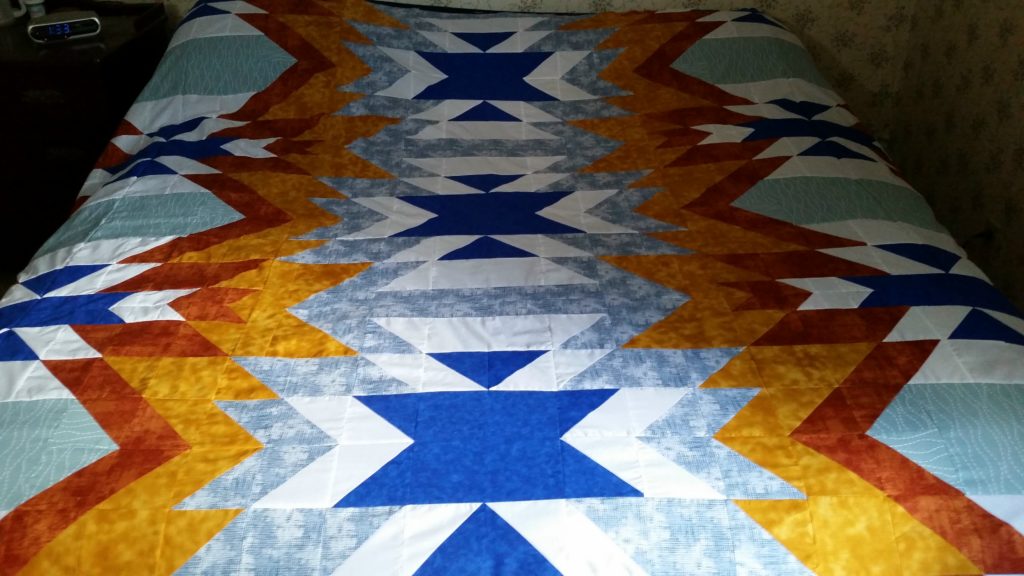 I love love the copper penny and pumpkin spice colored grunge type fabrics with the bright blue.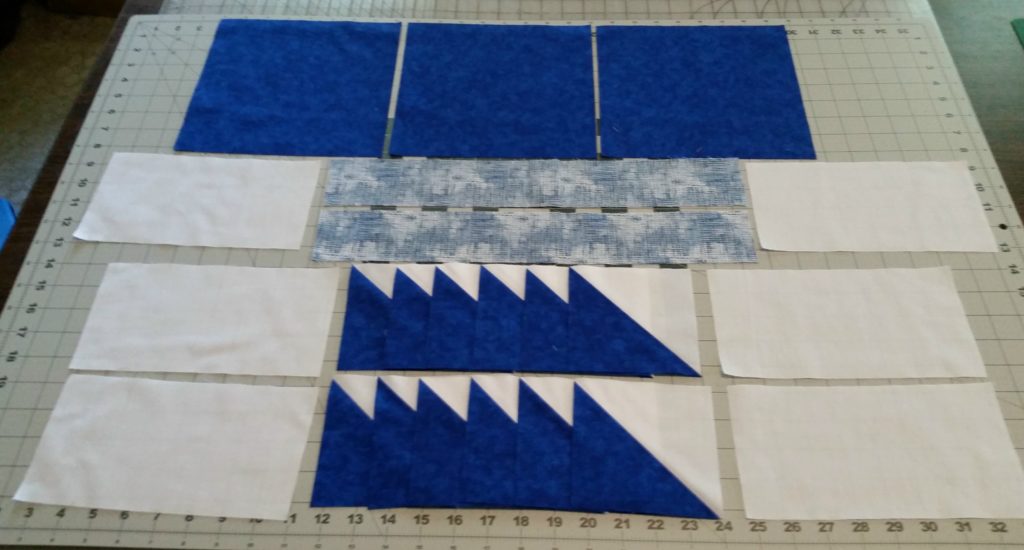 This is all I have left from my original blocks I made from making two twin size pieced tops per Kirsty's instructions for the this quilt pattern. I basically did not make the very center horizontal row of the second twin. I deconstructed the second twin by add sections to either side of the first completed top to get to the size I am at. I can use these leftover blocks in my additional rows needed. Yeah, just a few less HSTS to make! It shouldn't be too bad as the finish is near….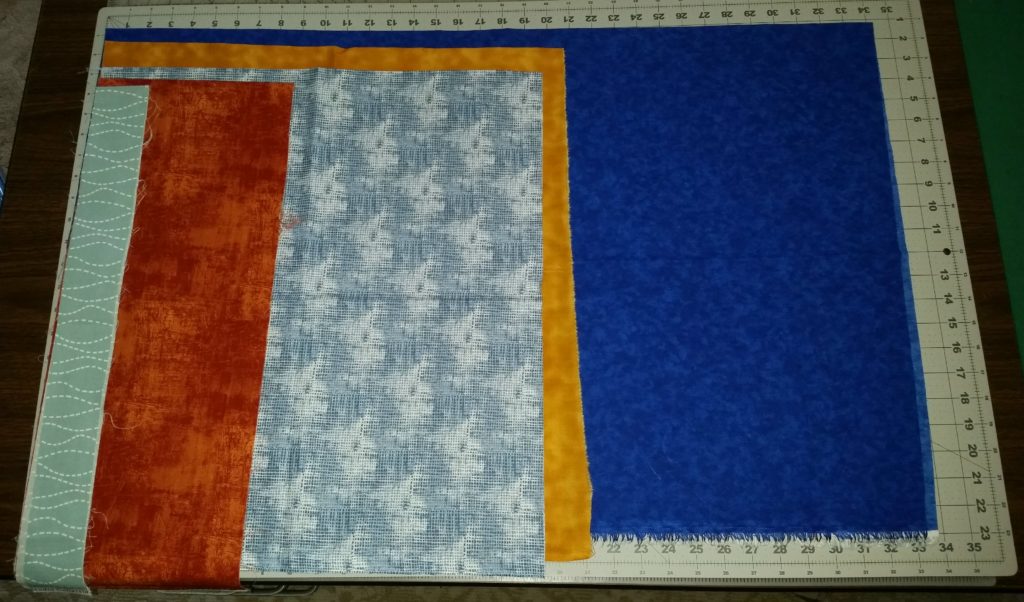 This is what I have for fabric leftover from initially cutting out my quilt blocks. Kirsty was generous in her instructions. Remember this is a doubled amount. I did buy exactly what she stated in the instructions and doubled each amount. Since I am so short on that one color it does limit me on how far I can add rows to the quilt. I can add up to three rows in each direction before I would need that last color. I will be sure to careful tally up each size needed before cutting into these extra pieces.
My plans in the upcoming week are to finish this top and start cutting out the HSTS for my daughter's Go West. I need to finish up quilting a couple quilts (Jelly Roll Slice and Katie's Compass) before I get too involved in creating my daughter's quilt top.
Hope everyone has a great weekend. I will be linking up with Crazy Mom's Quilts and Finished or Not Friday's.
Happy Sewing,
Shelley
6 Responses to Go West King Sized Quilt Top Update
Twitter