Katie's Compass Flimsy and other current WIP
Hi, I would like to share my finished quilt top Katie's Compass by Sterling Quilt Co. This pattern was one of my May is for Maker's  indie pattern purchases. I finished piecing the top before Memorial Day but did not get a chance to blog about it. I did share photos on Instagram.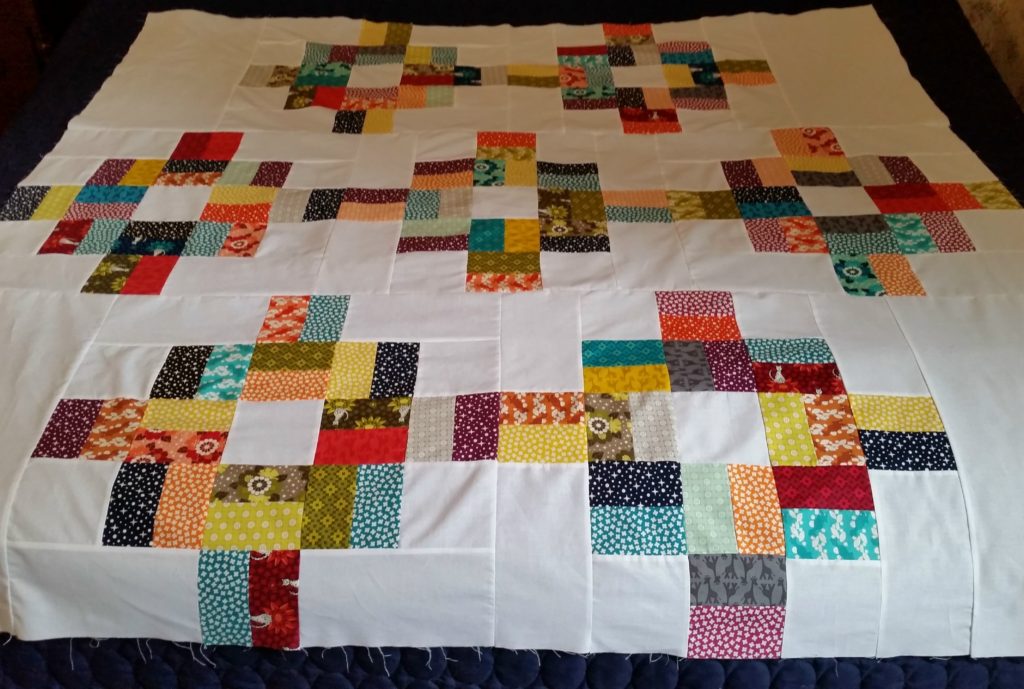 This quilt top went together very easily. It was even easier for me because I had a good portion of what I needed for blocks all ready pieced into strips from the leftover cuttings from my Jelly Roll Slice quilt top.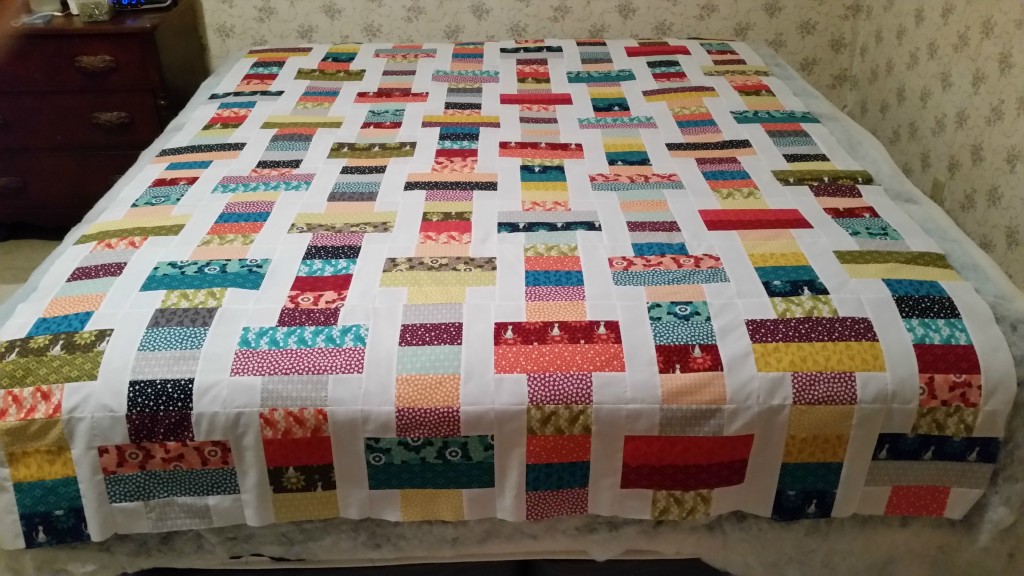 Here is a photo of the Jelly Roll Slice quilt made from the Fat Quarter Shop's quick tutorial video and pattern set. I have this basted to quilt and had started in quilting with a serpentine type zigzag quilting but I was not happy with it. I am going to take out the 6 or so rows of stitching and rebaste and start again. I can quilt both quilts now at the same time I guess.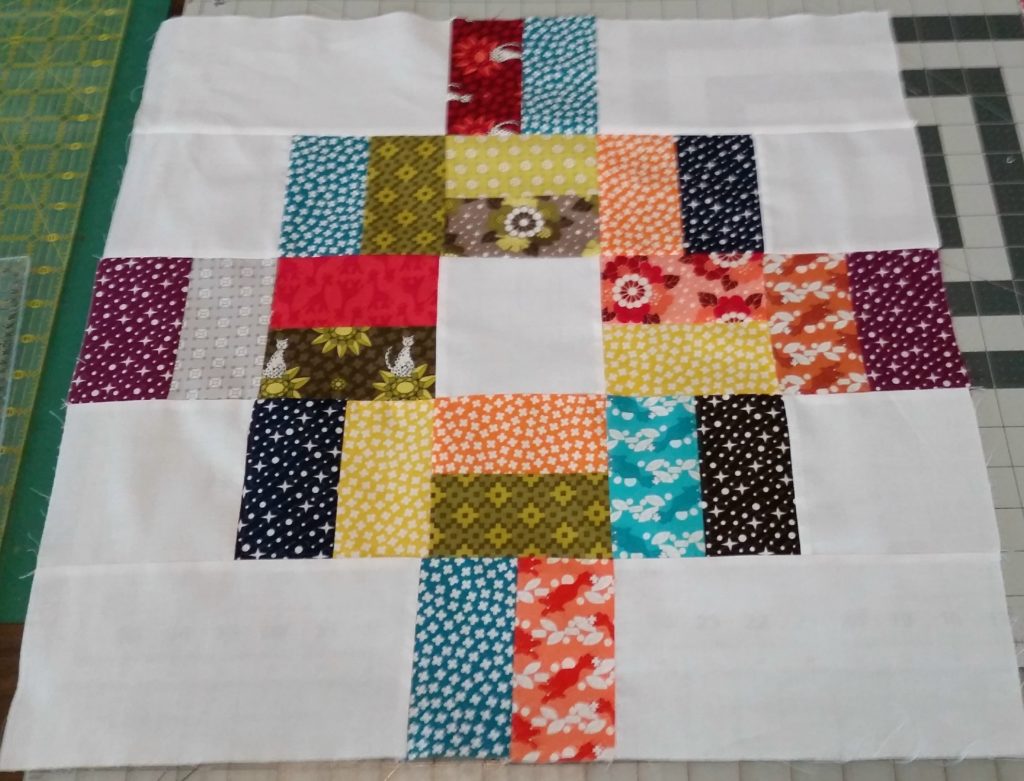 This is a single block of Katie's Compass and it finishes at 20 inches. The quilt finishes at 60 inches square. It can be made from two charm packs or half of a jelly roll set.

This is what I am using for my backing. I used up all the pieces leftover from making the backing for the Jelly Roll Slice quilt's backing.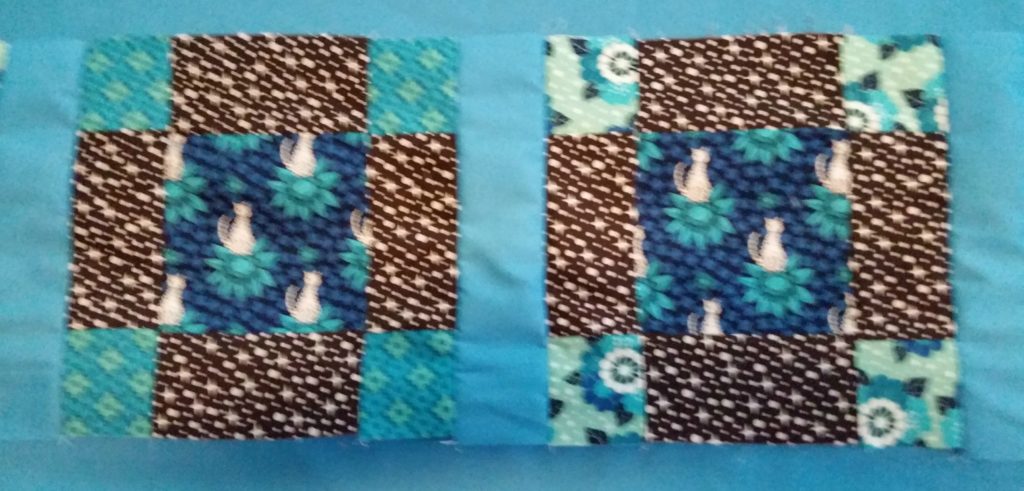 That black and white print is rather blinding when taking a photograph of it. I had enough of the cat print to cut 6 – 5 inch squares and I built my blocks around them. I had enough of each teal print to make 2 blocks and then last 2 of the 6 blocks got white solid added to them. The turquoise solid was in my stash from a Hancock Fabrics Black Friday sale purchase.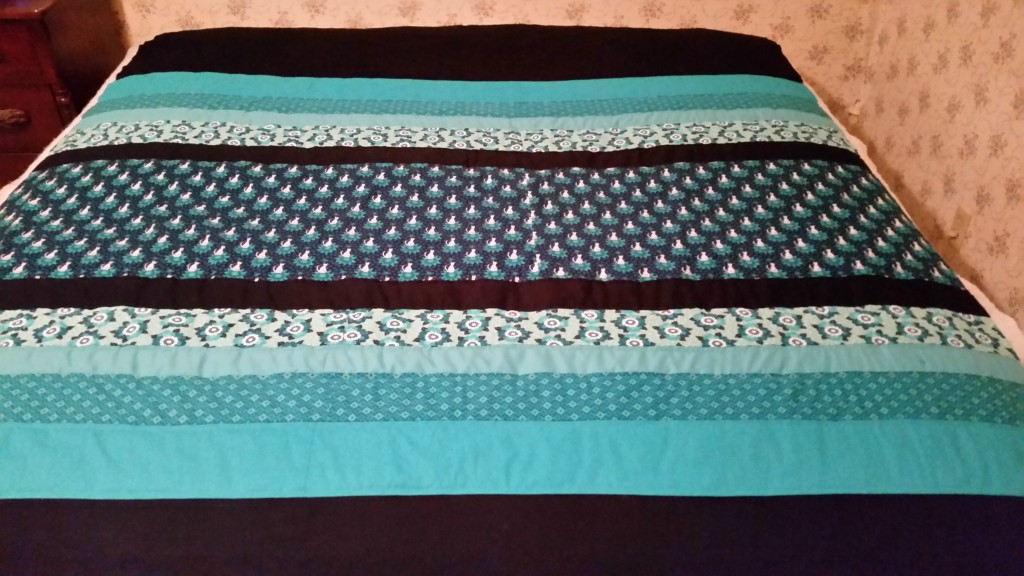 This is the backing I made for the Jelly Roll Slice quilt so you can see where my leftover scraps came from.
I am also currently working on 2 other big quilting projects that actually will make 3 Queen sized quilts. I am making two supersized Go West by Bonjour Quilts, one in fabrics I picked out and one that my daughter picked out for herself. Kirsty at Bonjour Quilts shared recently how to enlarge her quilt pattern by making two of the twin size tops and in a couple different layouts it will make a queen/king size quilt.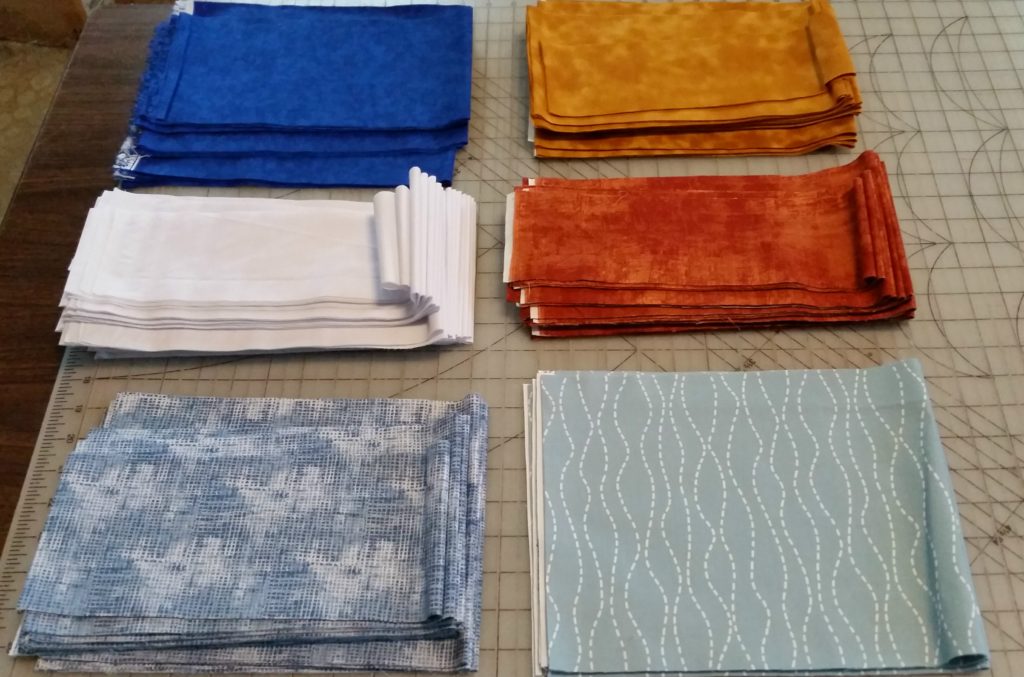 These are my fabric choices for Go West. The bright blue is the center of the southwestern style blanket design. White is the background. I do have this cut into all the appropriate squares and have started in making a few of the numerous half square triangles needed for the top.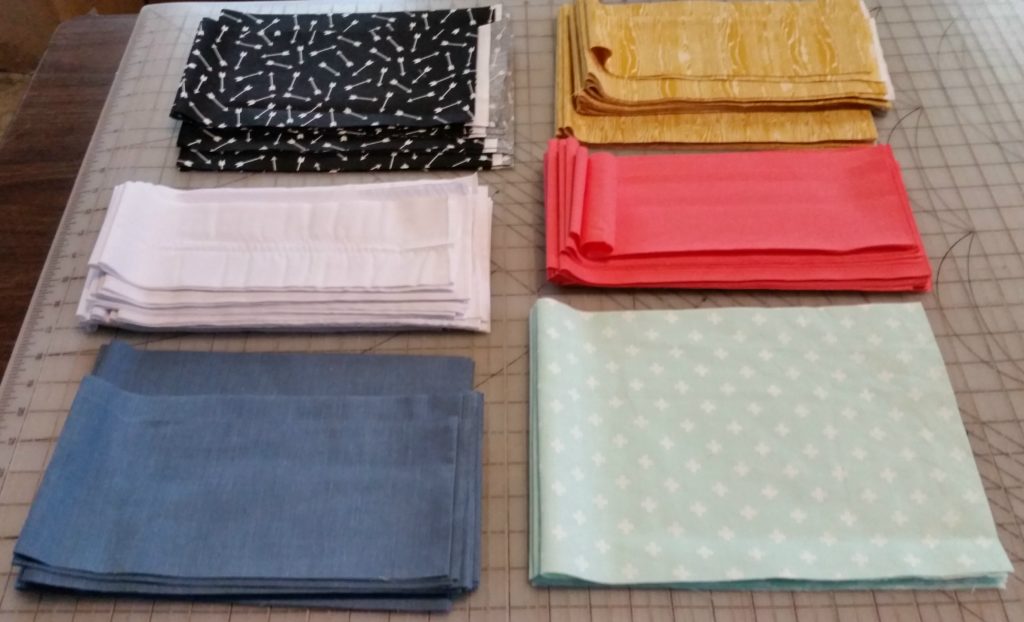 This is my daughter Holly's fabric choices. She chose the black with white arrows as her center design fabric. White will also be the background fabric. All of our fabrics were from JoAnn's but her yellow tree bark print is from Fabric.com.
The other large quilt project that I have started is City Tiles by Emily Dennis (Quilty Love). I fell in love with her quilt design from all the in progress photos she had on Instagram and I purchased the pattern the day she released it. I am making it from the Color Theory by V & Co. fat eighth bundle that I won back in December 2014. I have chosen to make extra blocks (because that is what I do…lol) and will take the quilt from 25 to 36 blocks to make it 90 inch squarish.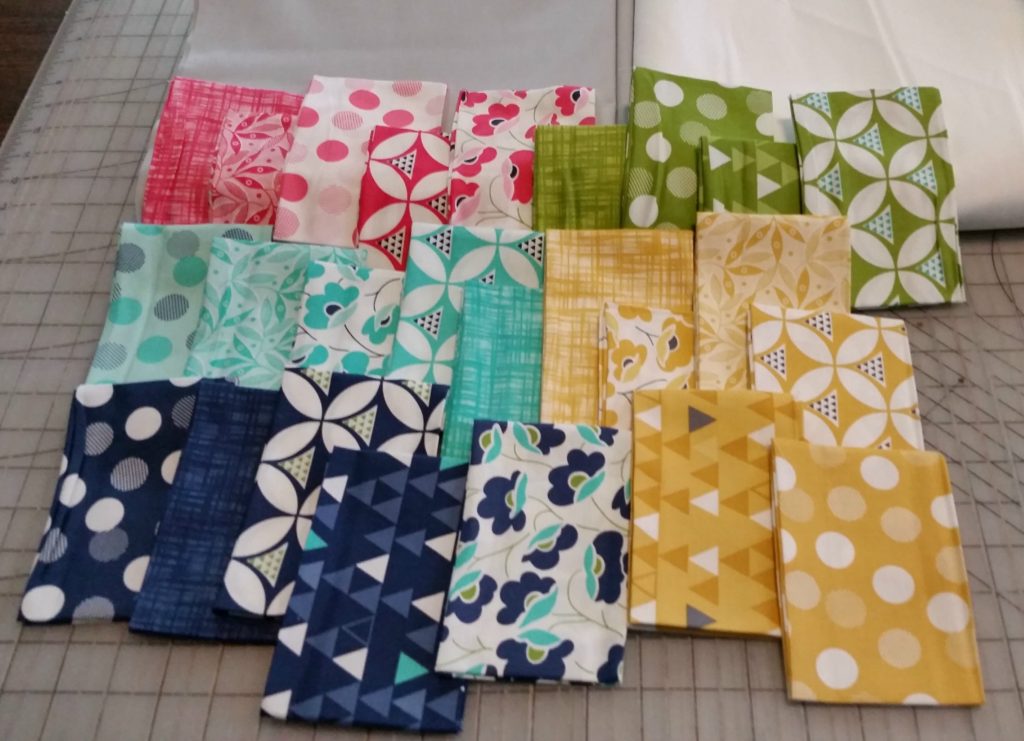 I picked out the most prominently colored prints from the fat eighth bundle of 40 prints. I also pulled out and set aside the variegated solids.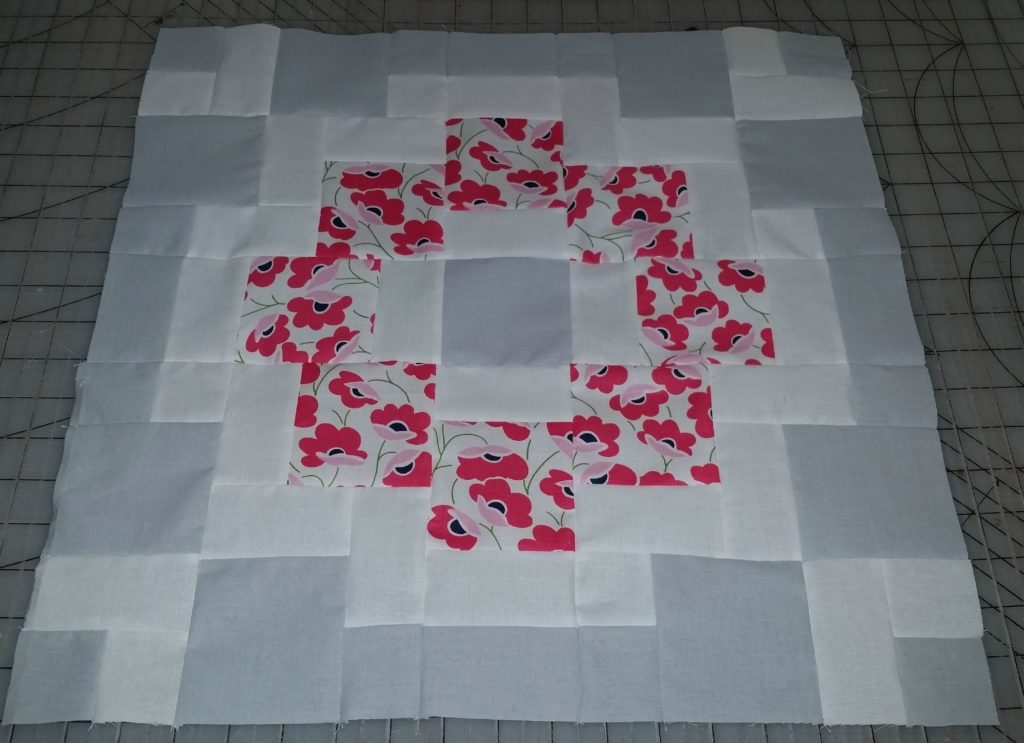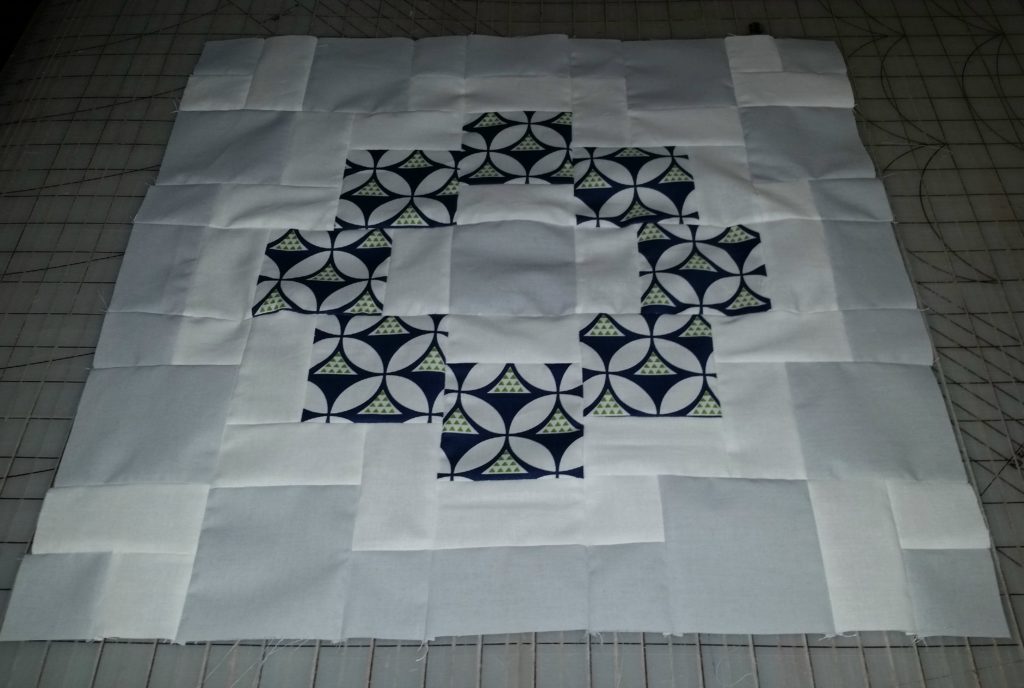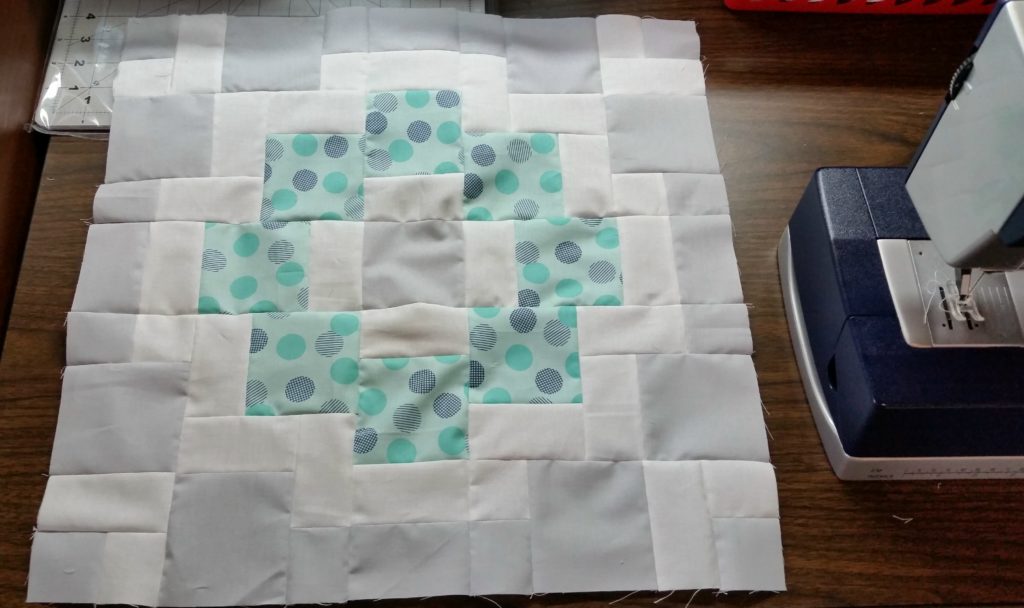 These 3 photos are the first City Tiles blocks that I have completed. I really like how they are coming together. I hope to be able to chain piece most of the block segments. I need to lay out the colored main pieces in order to keep their orientation the same in the block. That makes it just a little tricky. I have been finger pressing open each and every seam in the blocks and it makes them lay so nice and flat when I go to give them the final press with the iron.
I will be sharing this post with the various weekend linky parties. You can find my linky page at the top of my blog.
I hope everyone has a great weekend. It is getting really hot here in Iowa this weekend.
Happy Sewing,
Shelley
4 Responses to Katie's Compass Flimsy and other current WIP
Twitter