TBT: Rocky Mountain Sparkler Quilt
On the first Thursday of the month, Jenn who blogs over at A Quarter Inch From the Edge holds a Throw Back Thursday linky party. You are able to share any quilts whether they maybe good, bad or ugly from your pre-blogging days. This will be my first time sharing one of my quilts there. I have shown pretty much all my pre-blogging days quilts all ready on my blog that I had photos of. There are numerous ones that did not get photographed that I wish I now had a record of making. This quilt that I am sharing today is one of my favorite smaller quilts that hangs currently from a quilt rack in our living room. (My WordPress was not allowing me to write or edit my posts, but after upgrading it appears to be working again. So my Thursday posting is now a Sunday post.)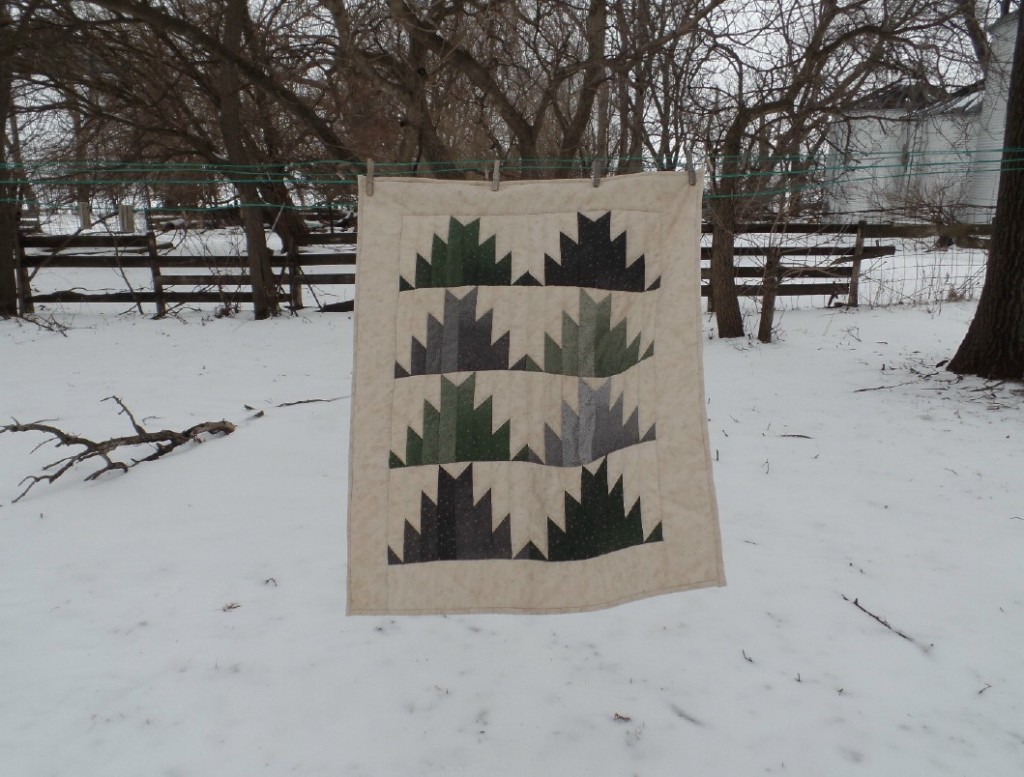 I made this quilt back in 2000 if I remember correctly. It is made up of blocks that are called Rocky Mountain Sparklers. Rocky Mountain Sparklers are the western cousins of the Delectable Mountains quilt blocks.  I do not remember the line of fabric but I think it is really cool as it is ombre and you could get a lot of different looking squares from one cutting. This is made with a tea dyed muslin for the background material. I quilted around the mountain blocks an 1/8th to 1/4 inch away from the seams. I am surprised looking back at some of my older quilts and seeing how well I managed to keep my points. These were made back before learning all the time saving techniques and using a more simple non computerized sewing machine.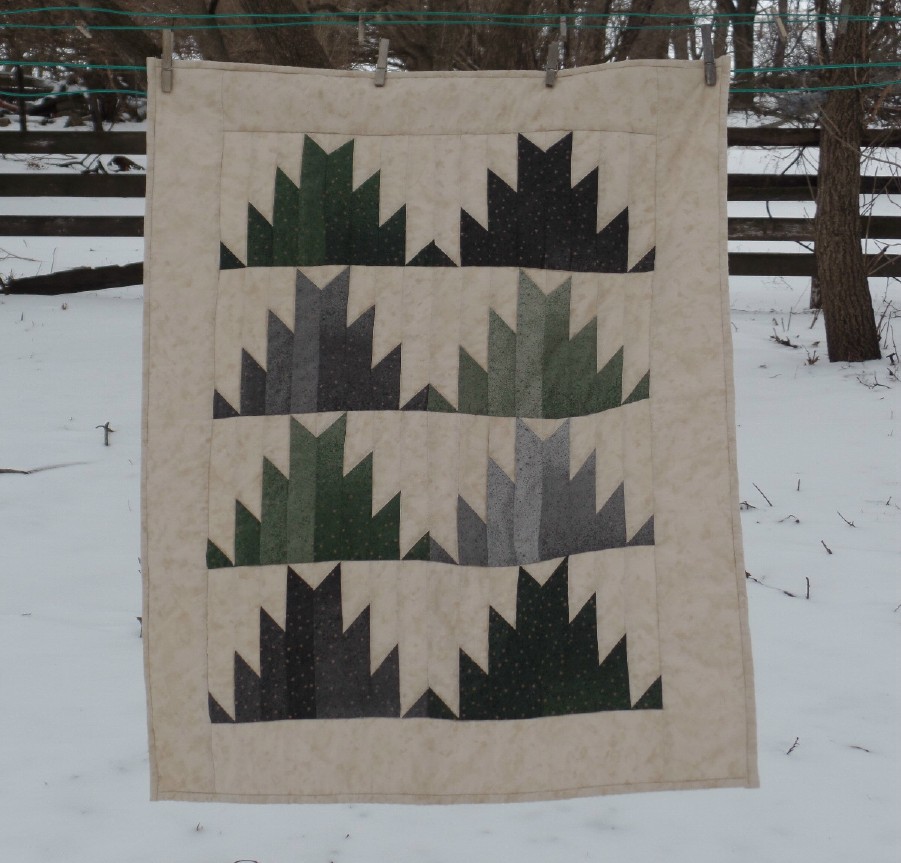 The pattern and instructions for this quilt can be found in the Start With Squares: Speedy Square Piecing for Scrap Quilts by Martha Thompson.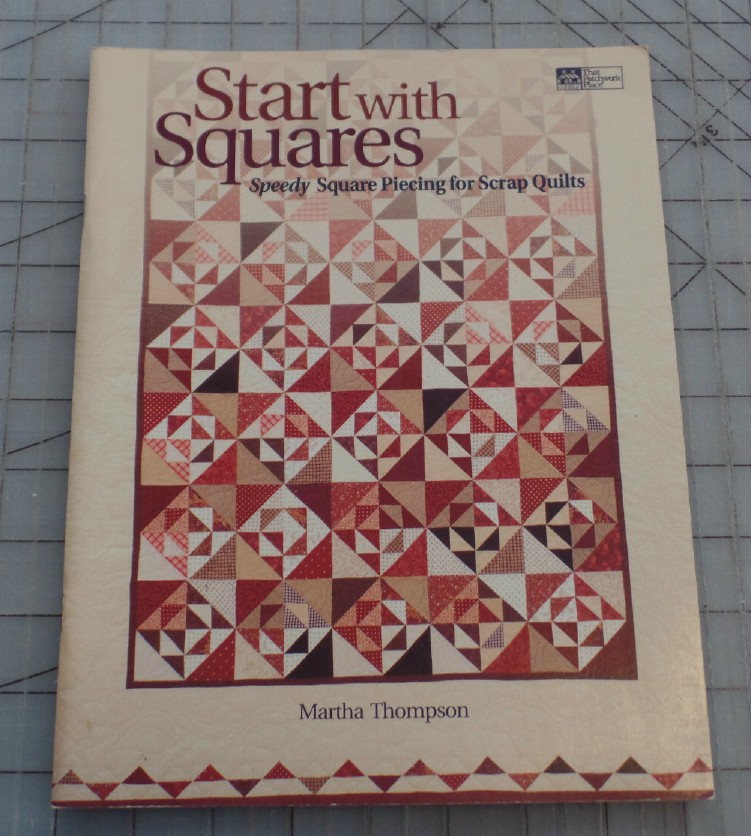 Here is what the original quilt design was to look like. I changed the alignment of blocks and did not make mirror images.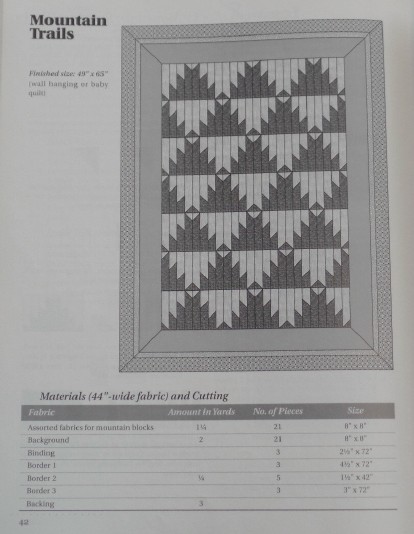 I found in my stash that I have a stack of 6.5 inch cut squares from this quilt's fabrics. I have squares in colors that did not end up in this quilt. I am not sure why they all were cut to this size as the Rocky Mountain Sparkler blocks are made from a larger square.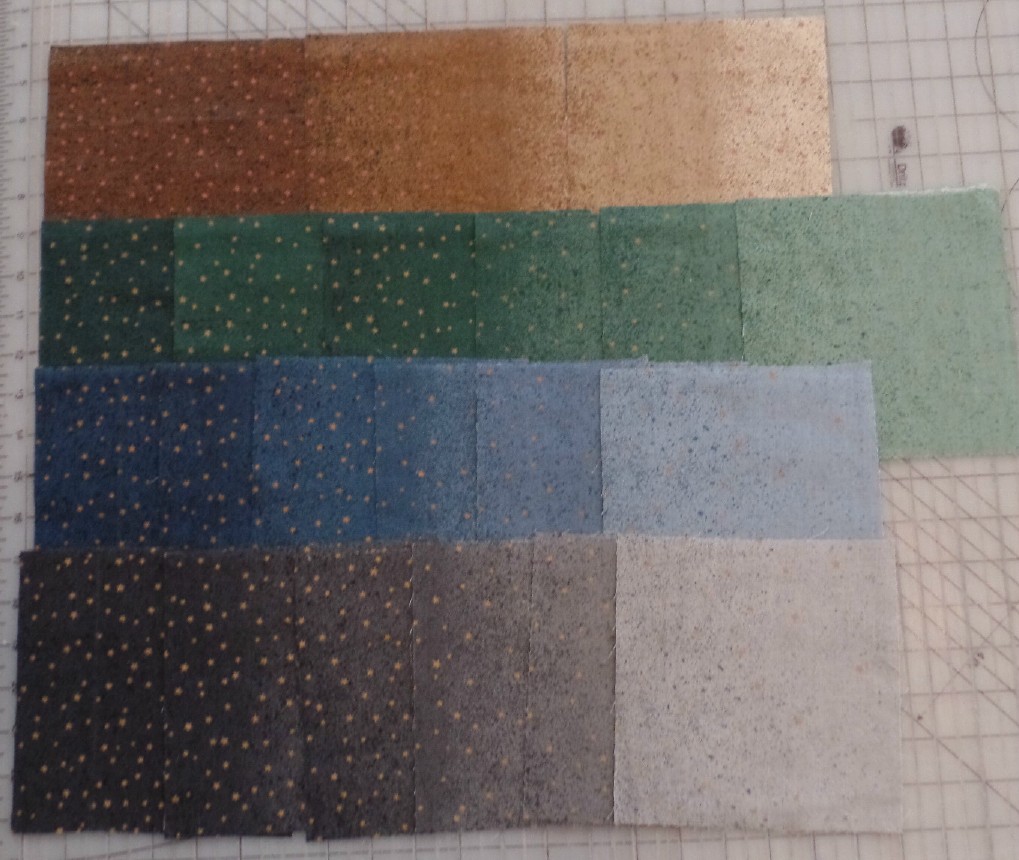 I am looking forward to using these print squares in a possible mini quilt in the future. Possibly sizing down the Rocky Mountain Sparkler block or some 4 at a time flying geese blocks. The varigated colors of the ombre might show up nice in the flying geese blocks.
Please head over to Jenn's page and check out the neat quilts that have been shared this week on Throwback Thursday.
Thanks for stopping by my blog.
Happy Sewing,
Shelley
4 Responses to TBT: Rocky Mountain Sparkler Quilt
Twitter